This Traeger Roast Beef Bowl is a hearty bowl of comfort foods. You have tender bits of leftover roast beef smothered in warm rich gravy. Serve this hearty meal over a bed of french fries, mashed potatoes, or even as the ultimate loaded baked potato.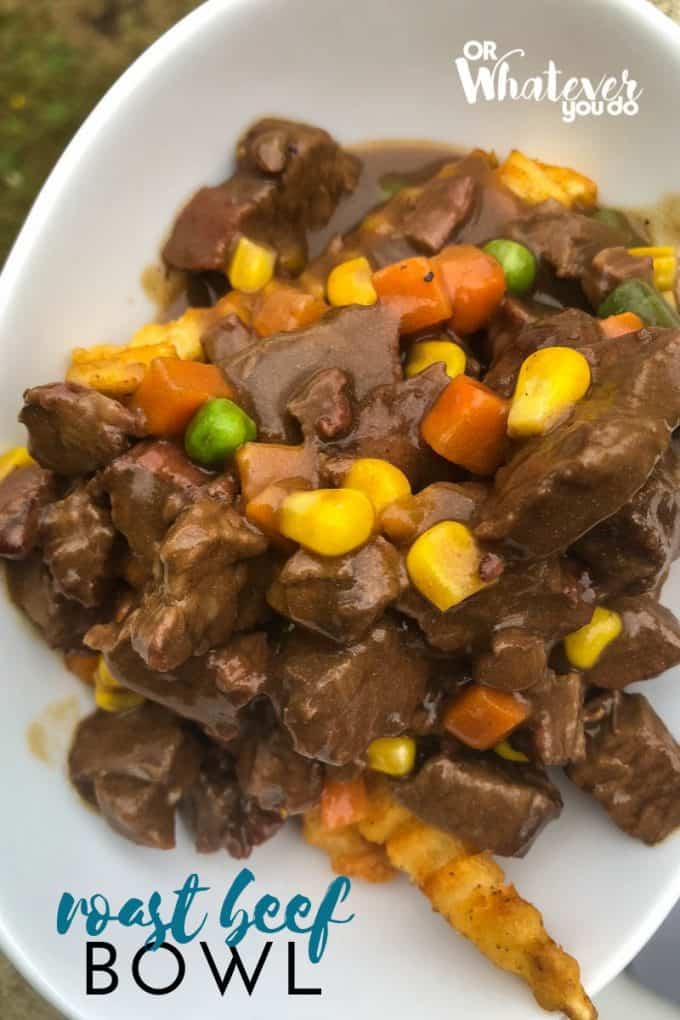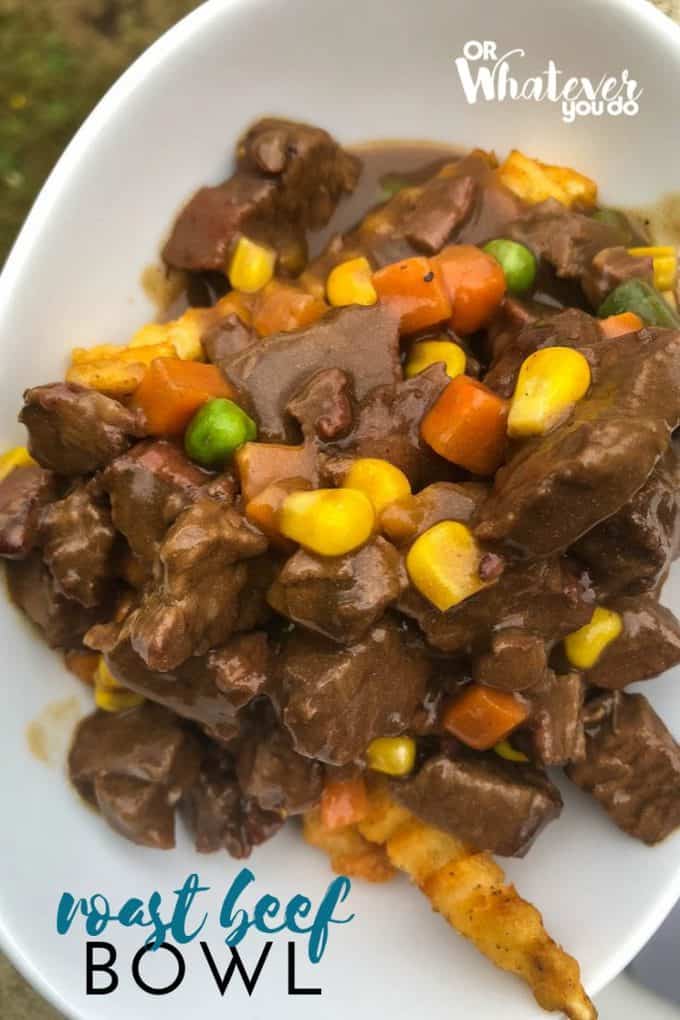 Traeger Roast Beef Bowl
Feed your hungry masses with some super traditional, old-fashioned, Midwest comfort food, no matter where you are in the world.
I love a good gravy fry, and it got me thinking. Why not create a loaded gravy fry that is full meat and veggies for a hearty dinner that kids and adults will both enjoy?
When I served this up, you should have seen the look on my kids' faces. They love a good gravy fry too, so they totally devoured this within minutes with barely any audible complaints about the vegetables all up in their meal.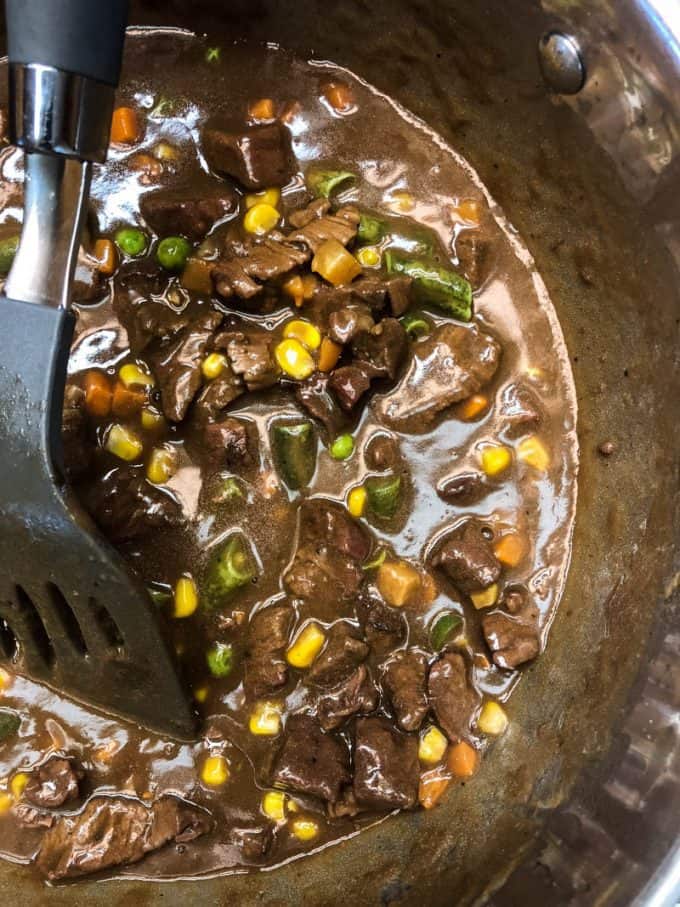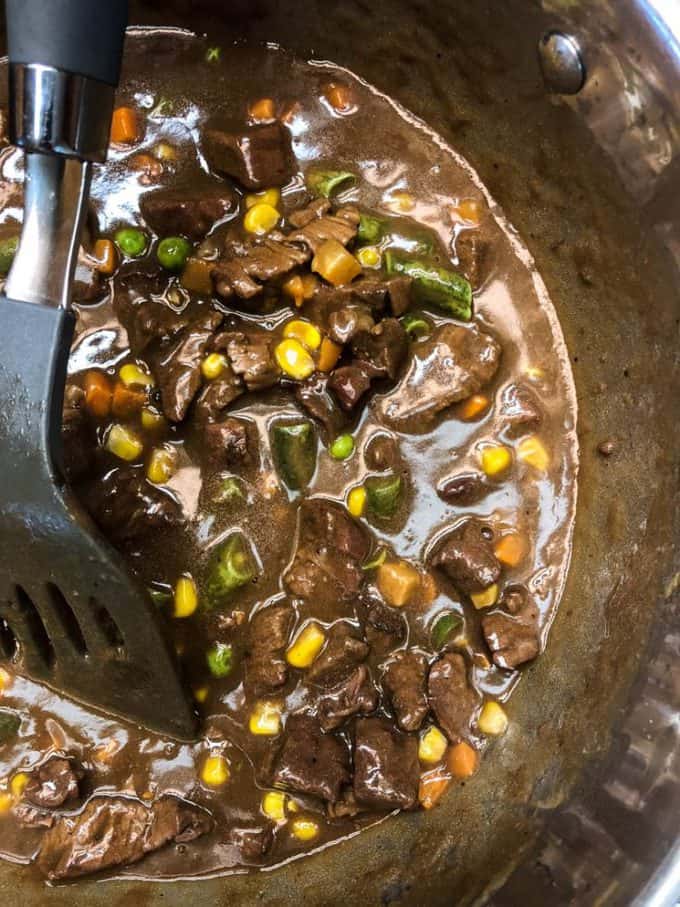 More Recipes Using Leftover Roast Beef or Steak!
Savory Roast Beef Bowl
We made our roast beef bowls using a Roast that we made on our Trager pellet grill, but where the beef comes from isn't super important. I've made this using deli roast beef in a french-dip style. Still awesome.
Just imagine eating an open face roast beef sandwich, but the kind that the teenagers on "That 70's Show" probably would've went a little nuts for. That the best way I can explain this.
I love a good french fry, and especially when they are golden brown and crispy on the outside and soft and light on the inside. These fries that I used here were frozen bagged fries that were cooked in the oven, but if you really want to do this right you should make my homemade crispy french fries instead.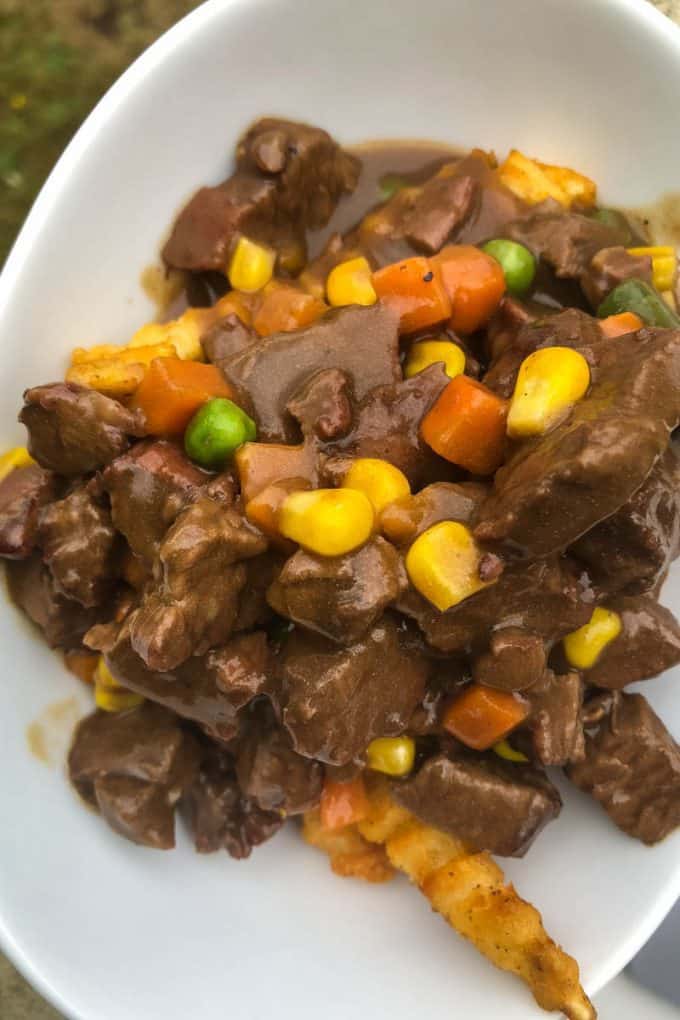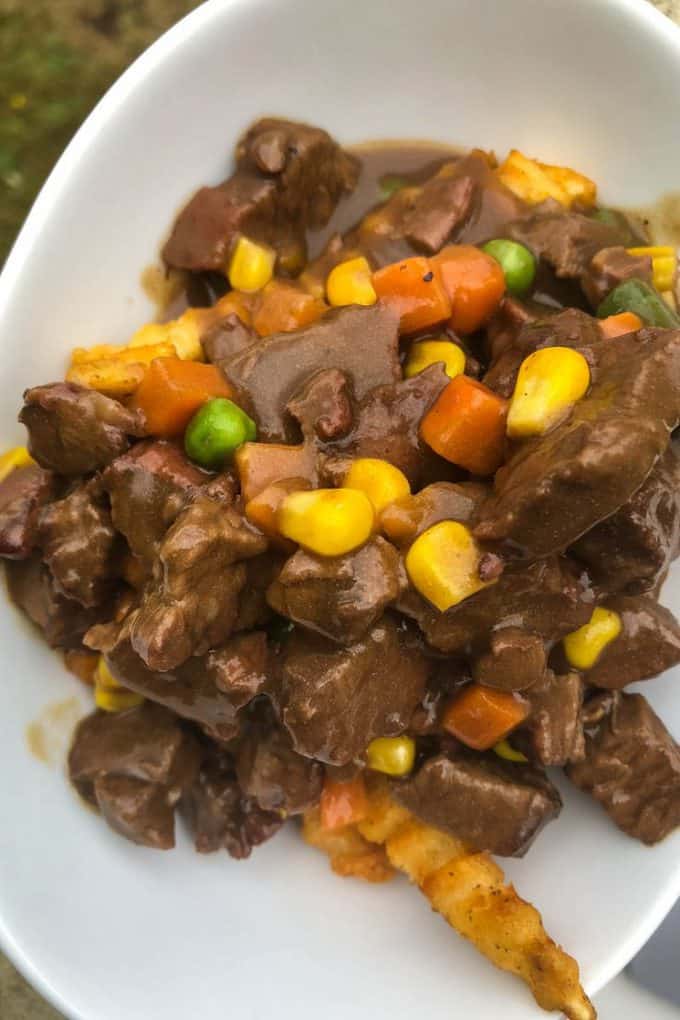 All about gravy
I have to qualify this. There have been very few gravies in my life I'd classify as bad gravy. But there have also been very few that I'd call "GREAT" gravy too. Great gravy takes work, and that is not always something we can have on hand.
If you have it available, use a homemade beef-fat gravy that's made from home roasted beef bones and a long cook time. The kind of broth that turns into jello in the fridge, it is so good. That'll make you some life-altering gravy. If you have that, use it.
If you don't have that, don't let that stop you from making this meal. There's a lot of room between "bad" and "great", and some gravy is always better than NO gravy, so just whip out that package of gravy mix and leave that nagging voice in your head WAY in the dust.
Hopefully, you don't have that nagging voice in your head that bashes you for using quick ingredients. Mine comes and goes.
The real secret to a GOOD gravy no matter if you have that magic homemade everything or not, is to start with a good roux. A GREAT roux can turn a boring packet of gravy into something pretty passable, and bordering on THIS IS REALLY GOOD.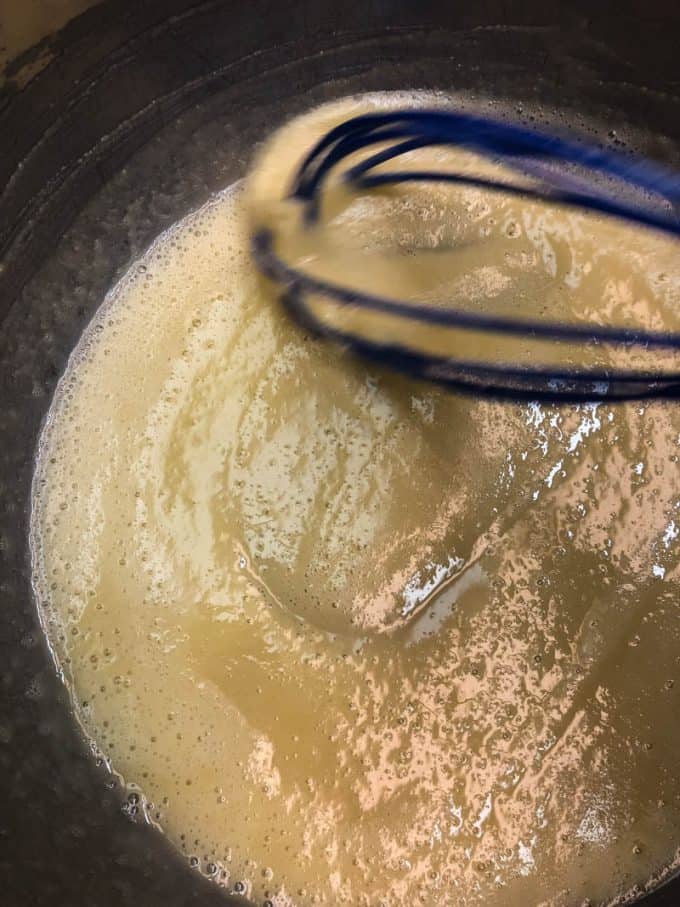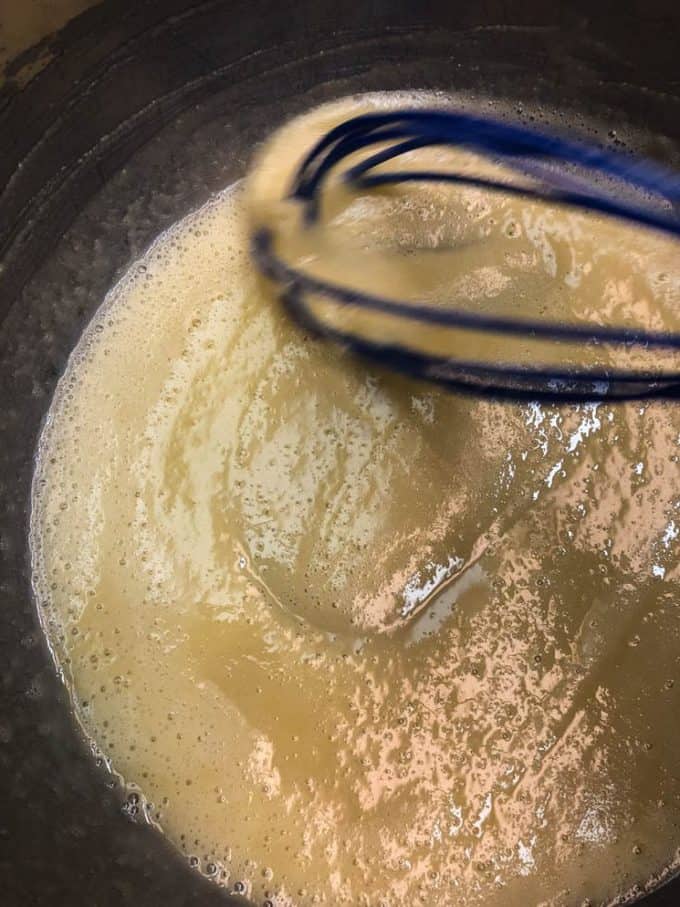 Smother your beef and fries, and enjoy the messy meal in all its goodness.
If your kids will freak about the vegetables, you can make them on the side or just feel free to leave them out. I like to try to make our meals all around so tossing in some veggies is a great way to ensure the kids get the nutrients. But sometimes the battle isn't worth it.
I have also added shredded cheese over the top, which is extra delicious. This roast beef bowl recipe is versatile so use whatever you and your family like the best.
Is Beef Tenderloin Healthy?
Beef tenderloin is one of the leanest cuts of beef. If you want to make it a healthier protein you can trim any fat, you might have on your tenderloin. It is an excellent source of protein. Now, you have to remember that the fat helps flavor the meat as it cooks. When you cut out a lot of the fat, you can end up with a drier texture. I always cook it with some fat on and then trim the fat off before serving.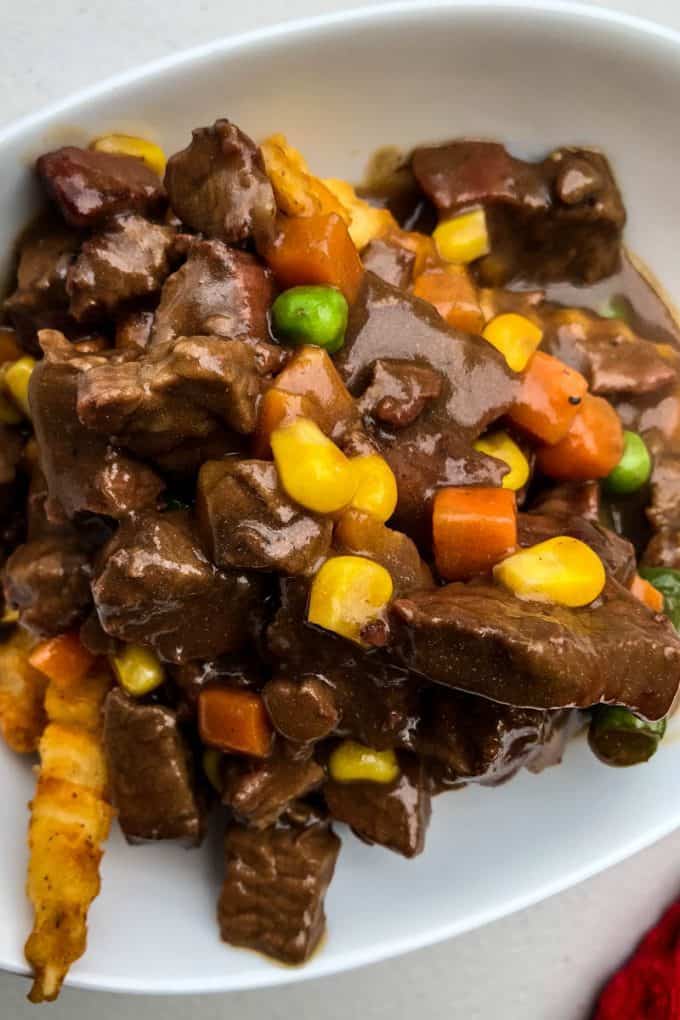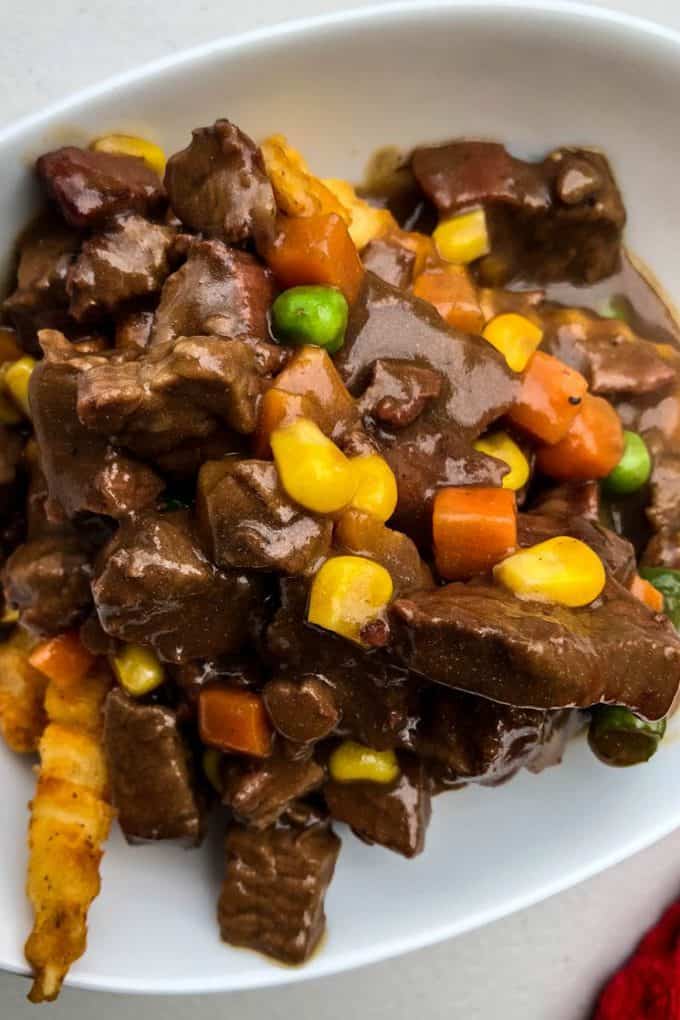 Using a Traeger-Grilled Roast
We get a lot of use out of our Traeger grill. If you are not familiar with a Traeger grill, it is a wood pellet grill. Instead of your traditional propane or charcoal, the pellet grill has an auger that feeds pellets into the firebox. You can get a warm smoke flavor that works into your meals as you cook. You can grill steaks, salmon, and even baked items like cakes, meatloaf and more.
Pellet grills are so versatile in what you can cook on them, and they offer a great way to monitor the temperature you are cooking at. Our Traeger grill is digital, so I can choose what temperature to cook the food at, and it will maintain that temperature the entire time I am grilling. Falllllll comfort foods are my favorite! Gravy is my favorite food group.
That is so handy to know how hot your grill is. There are some swings, as is natural with any kind of wood-fired food, but the flare-ups and hot spots are not nearly such an issue as they are with gas, especially.
Many households are switching to pellet grills, as they are easy to use. Within ten to fifteen minutes of turning your grill on you can be up to temperature and ready to cook. Using your Traeger won't heat up your home, and your grill can be used all year round.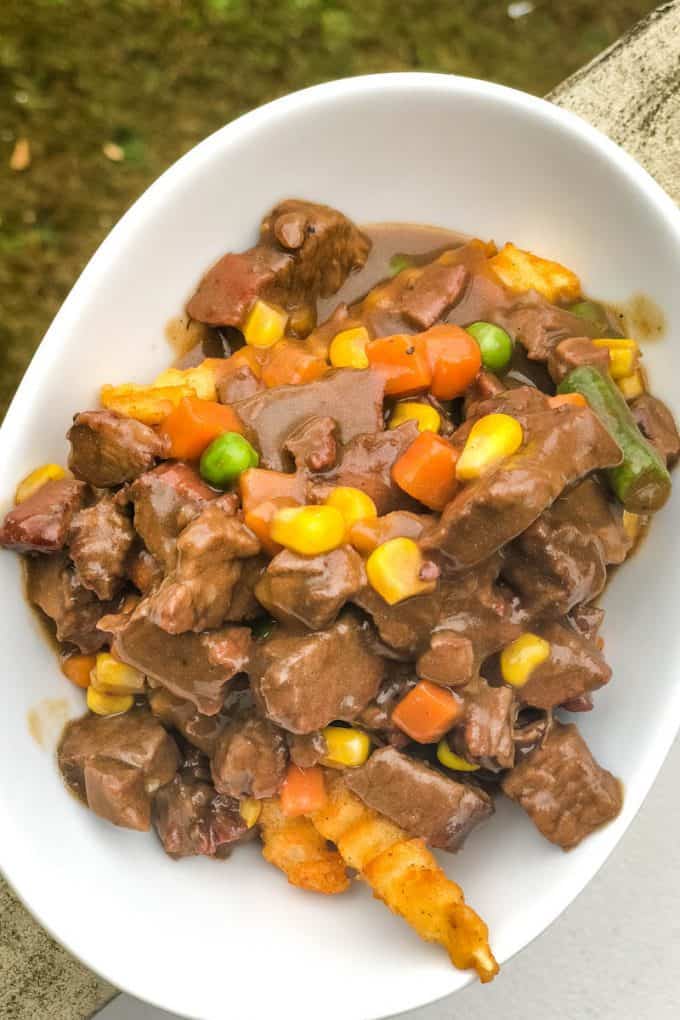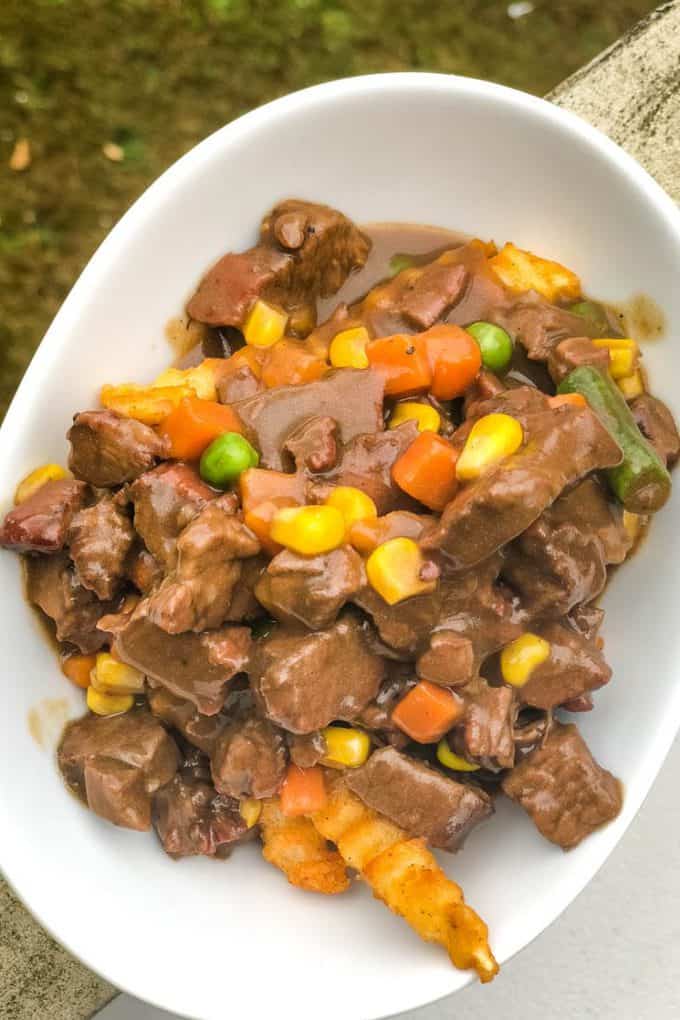 Popular Traeger Recipes
This Roast Beef Bowl is super simple to make, and a great way to change up those leftovers.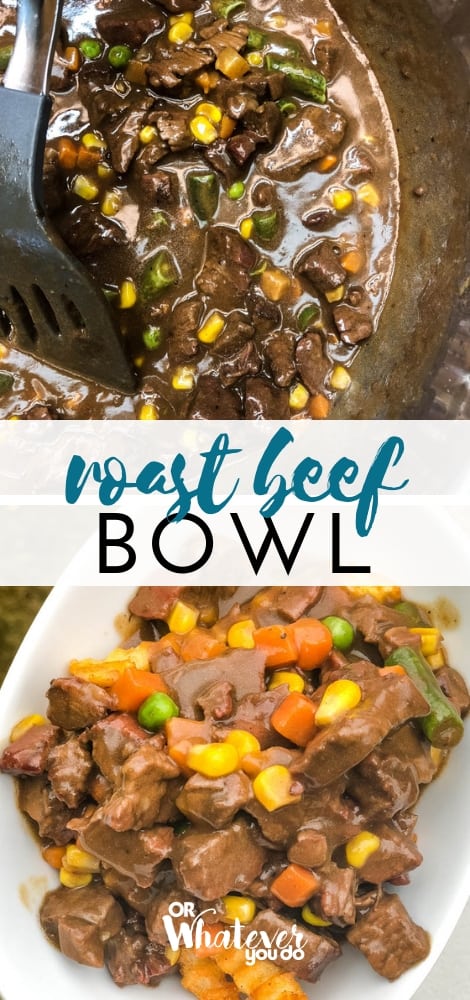 Share your favorite way that you like to use up any leftover roast beef below.
Yield: 6 servings
Traeger Roast Beef Bowl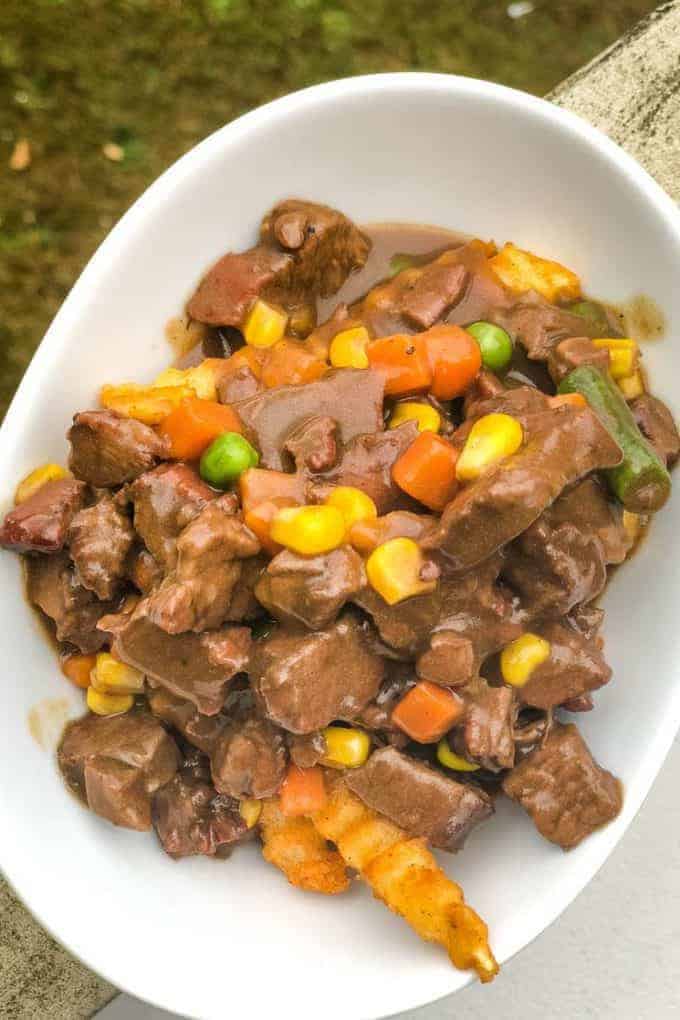 This easy Roast Beef Bowl is made with leftover steak or pot roast! A delicious way to use up that extra food and make it into something extraordinary!
Ingredients
Roux
1/2 cup butter
1/3 cup flour
Beef Mixture
4 cups leftover roast beef
1 medium onion, diced
1/2 cup carrots
1/2 cup green beans
1/2 cup corn
Gravy
4 cups beef stock
1/2 cup red wine
Instructions
Make the Roux
Start by melting your button in a large non-stick skillet over medium heat. Whisk in the flour, and reduce heat to medium-low, and stir frequently.
Allow the butter to brown, creating a roux. Remove from the heat and set aside.
Chop Your Ingredients
Dice your beef, onion, carrots, and green beans (if not using frozen pre-cut vegetables.)
Make the Gravy
In a medium-to-large sized stock pot, pour in the beef broth & red wine. Heat until simmering, and then whisk in the roux to combine and turn heat to medium.
Add in the beef and vegetables.
Bring up to a slow simmer, and cook, stirring frequently, until thickened and the vegetables are fork tender.
Pour mixture over mashed potatoes, french fries, or baked potato.
Recommended Products
As an Amazon Associate and member of other affiliate programs, I earn from qualifying purchases.
Nutrition Information:
Yield:
8
Serving Size:
1
Amount Per Serving:
Calories:

299
Total Fat:

16g
Saturated Fat:

9g
Trans Fat:

1g
Unsaturated Fat:

6g
Cholesterol:

88mg
Sodium:

1303mg
Carbohydrates:

11g
Fiber:

1g
Sugar:

3g
Protein:

25g