Pellet Grill Potatoes are tiny new potatoes roasted on your Traeger Pellet Grill with simple seasonings until they are fork-tender and delicious!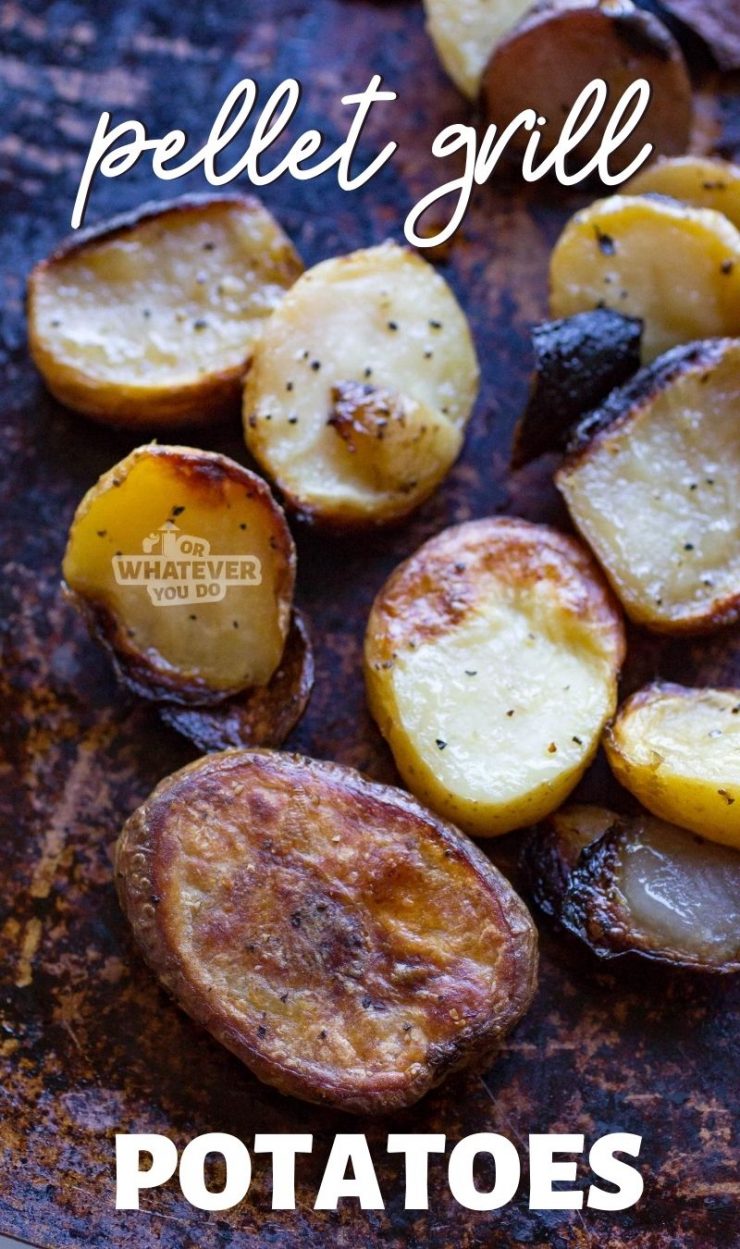 Pellet Grill Potatoes Recipe
There is something that happens when you cook potatoes over a live wood fire that is magic. They don't taste "smoked", but the live fire definitely leaves its mark.
Sometimes when you are having a big juicy ribeye, you only want a giant baked potato to go along with it. I get it.
These are entirely different in that there's more of the cooking surface in contact with the food, and that means more of a crispy exterior.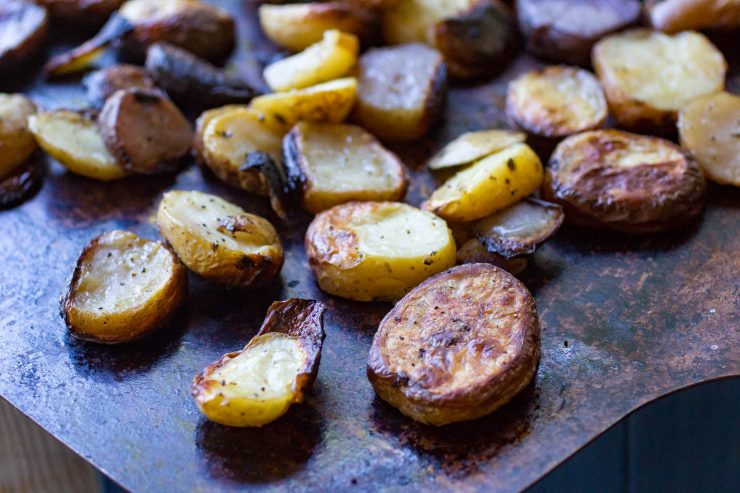 How to prep pellet grill potatoes
These are one of the easiest preps ever. You need to wash them well since you'll be eating the skins on these, and then let them dry COMPLETELY (essential if you want crispy skin).
Next, and this step is optional but I never skip it, is you stick the potatoes in the microwave for a few minutes. This cuts down the cooking time on the grill substantially and is one of my favorite shortcuts when I'm cooking potatoes.
Then you toss the potatoes in oil, season them, and you're off to the races.
More Easy Traeger Recipes here!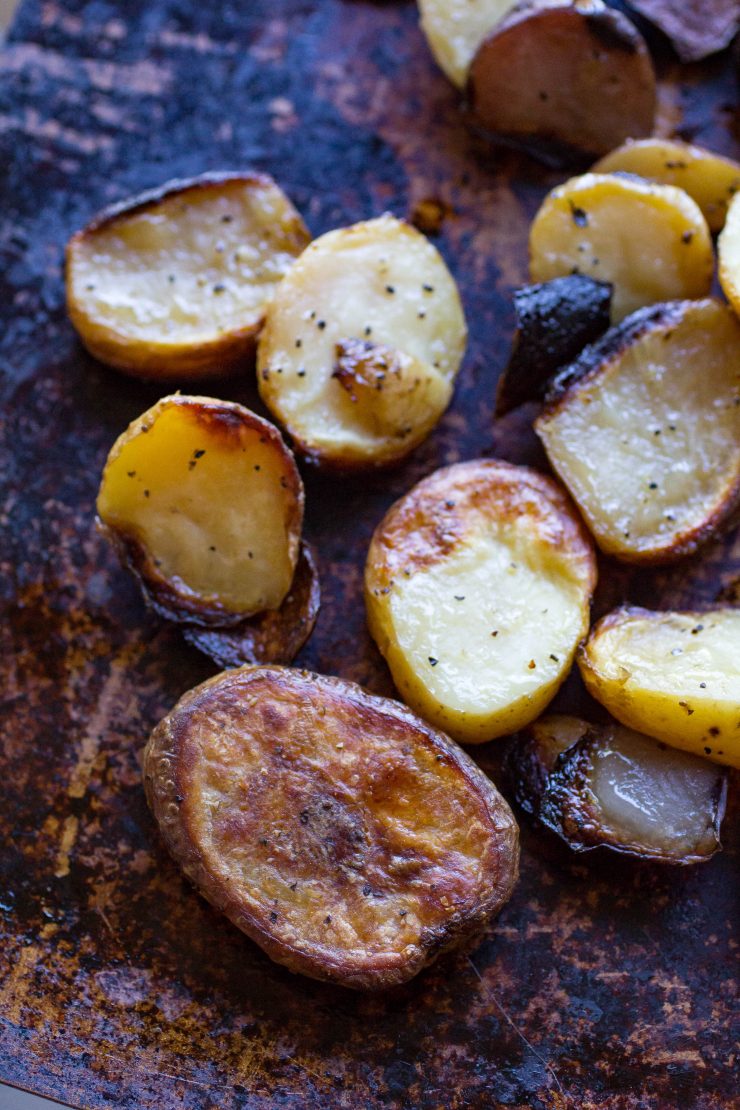 What kind of potatoes work best?
My favorite potatoes to use for this are yellow or red potatoes that are medium-sized and cut into halves or thirds.
You *could* use russet potatoes if you wanted to, but sometimes they tend to get a bit crumbly in this preparation, so beware of that as a possibility.
You can also use the tiny baby potatoes if you'd like. They are perfect for this too.
Get my easy Side Dish recipes!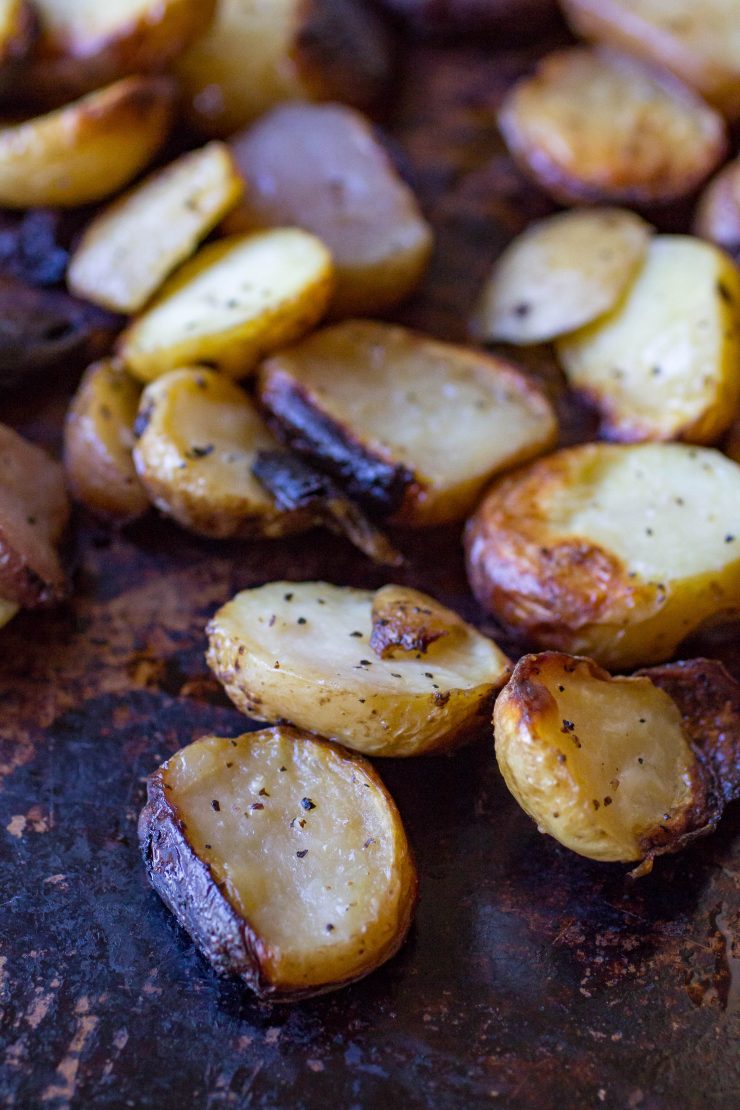 What else can you serve with Pellet Grill Potatoes?
I love these on the side of a nice grilled steak like our Traeger Ribeye, or alongside a Smoked Beef Tenderloin.
They would also work really well with my Traeger Beer Can Chicken, Smoked Pork Chops, or under our Traeger Walleye with Lemon Cream Sauce.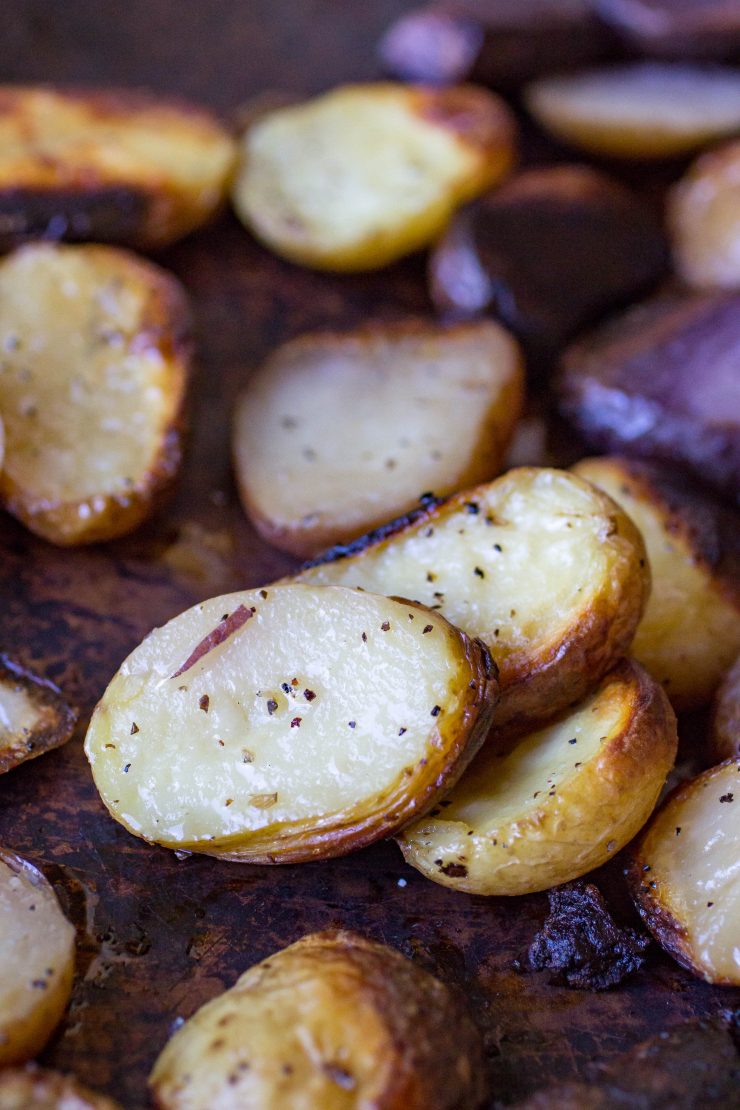 How should you store leftover grilled potatoes?
In the fridge, in a covered container or baggie is best. Eat them within 3-4 days, at most.
You can also freeze them in individual portions if you'd like. They'll last longer in the freezer if you vacuum seal them, but you can use the "straw in a freezer bag" trick too and just get as much air out as you can.
Buy Pellets here!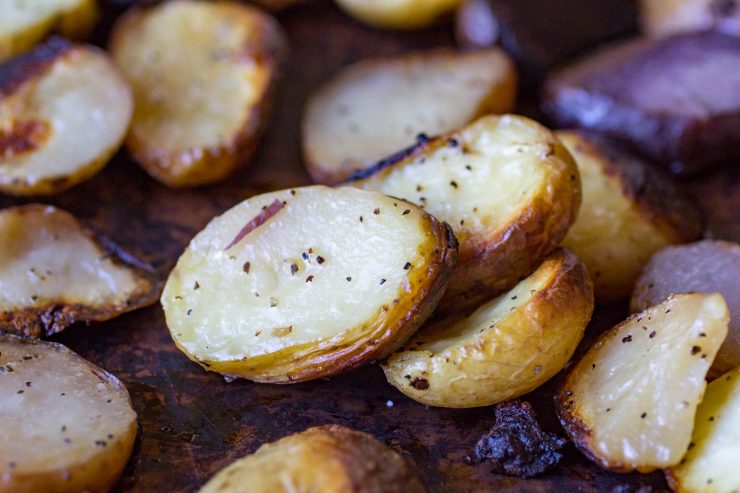 How to reheat grilled potatoes
You can reheat these in the microwave, on the stovetop, in the oven, or on your grill. Any of those will do just fine. Just heat until hot, and you can re-crisp them again if that suits you. It depends on how hungry you are, and how much you like crispy potatoes, I guess!
Get more recipes for your cookout here!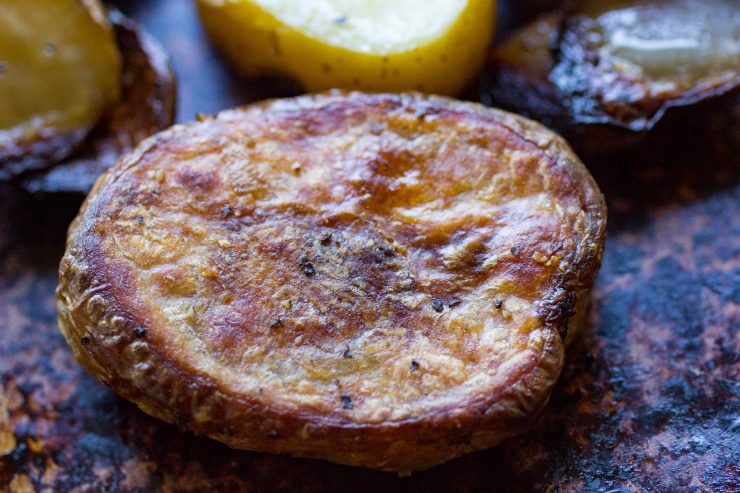 HELP! I made too many and have leftovers for DAYS.
Never fear! I'm a professional at repurposing leftovers into other dishes.
These potatoes would be perfect to turn into a breakfast hash. Just cut them up, toss them on your Blackstone with some onions, green peppers, and garlic.
You could also put them into clam chowder, corn and potato chowder, my ham chowder, this steak and potato pot pie (use up a leftover steak or roast too! Bonus!), or in my loaded baked potato salad.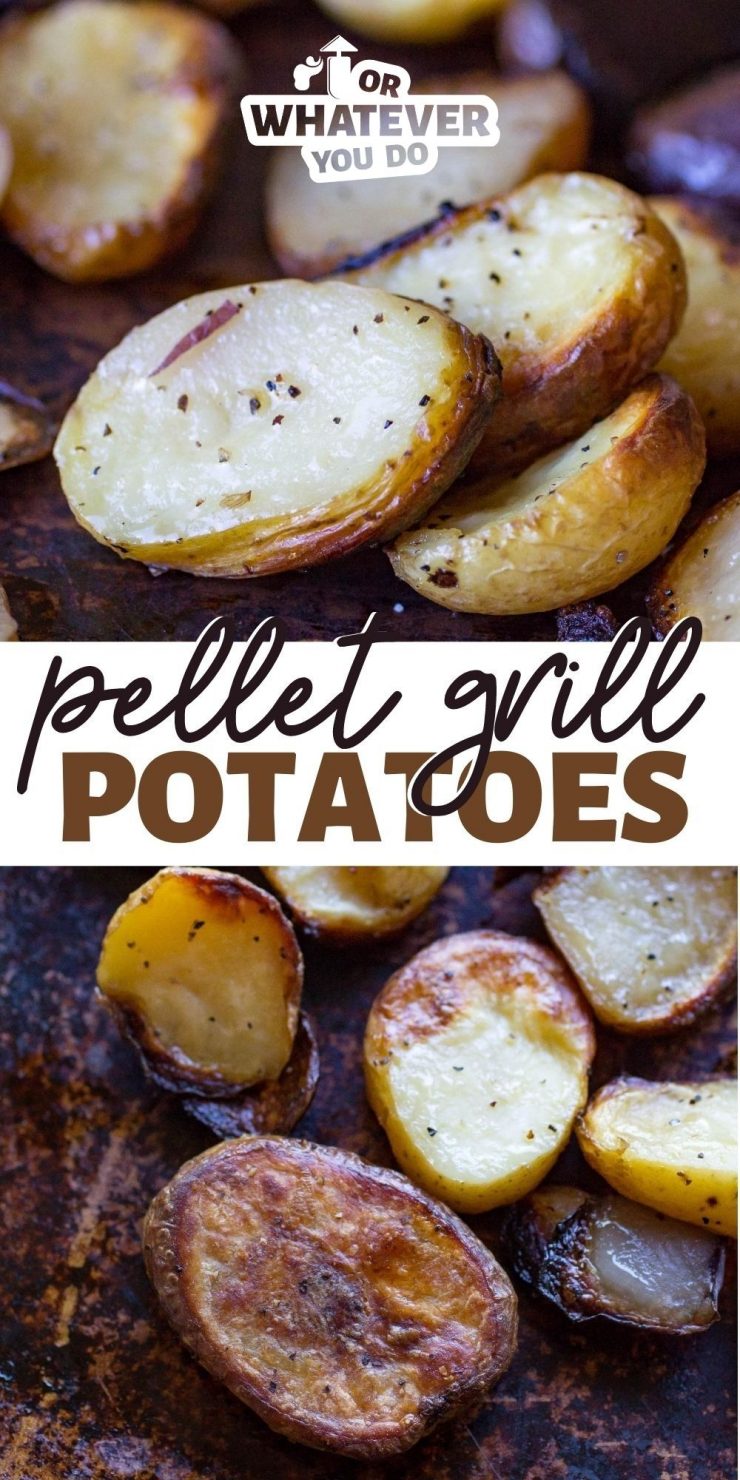 Yield: 6 servings
Simple Grilled Potatoes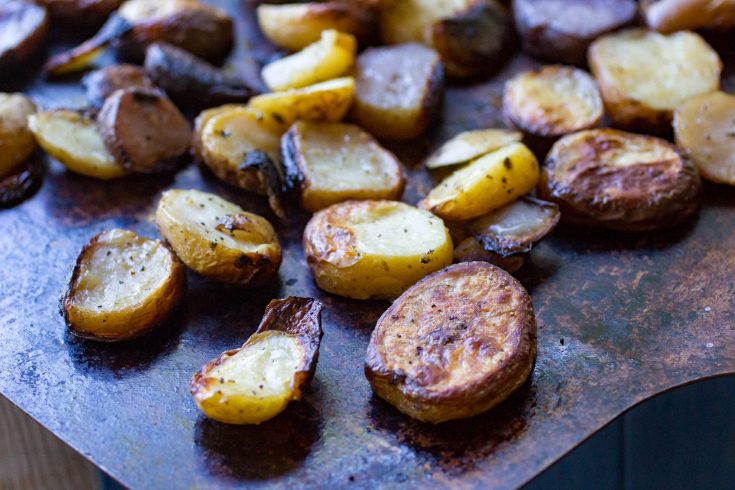 These easy Traeger Pellet Grill potatoes are perfectly seasoned and have crispy skins and the best bite! One of my favorite simple sides to go with any meal.
Ingredients
2 pounds small to medium yellow or red potatoes
3 tablespoons avocado oil
1 tablespoon kosher salt
1/2 teaspoon garlic powder
1/2 teaspoon seasoned salt (like Johnny's or Lawry's)
1/2 cup salted butter, melted
Instructions
Preheat your Traeger to 375°.
Wash your potatoes well, and slice in half or thirds. Let the potatoes dry completely.
Place the potatoes into the microwave. Cook on high power for 3-4 minutes, or until fork-tender.
Place the potatoes into a 10X13 pan with sides on it, and put the oil and melted butter in the bottom of the pan.
Put the potatoes into the pan and turn to coat with the butter and oil. Sprinkle the seasonings on.
Place the pan on the grill and cook for 25-30 minutes, or until the bottoms are crisp!
Notes
If you'd rather skip the microwave, you are welcome to! It'll add substantial time onto the grilling portion of the cook though, so take that into account!
Recommended Products
As an Amazon Associate and member of other affiliate programs, I earn from qualifying purchases.
Nutrition Information:
Yield:
12
Serving Size:
1
Amount Per Serving:
Calories:

337
Total Fat:

22g
Saturated Fat:

11g
Trans Fat:

1g
Unsaturated Fat:

10g
Cholesterol:

41mg
Sodium:

2252mg
Carbohydrates:

32g
Fiber:

3g
Sugar:

2g
Protein:

4g