I am a BIG fan of enchiladas. Especially cheesy chicken enchiladas topped with my homemade enchilada sauce. I even snuck in some refried beans into the mix for a little addition to the vegetable garden that my kids generally avoid completely. Refried beans may not qualify as a "vegetable" for most, but I will take what I can get when it comes to feeding these picky monsters! Three out of four kids liked these, which is a winner in my book. No one will argue that these are super authentic. You probably wouldn't find these on the menu of your local Mexican joint, but the sauce tops the stuff that comes in the cans in the "world" section of most grocery stores by FAR.
These would work really well as a freezer meal. You can even freeze them in smaller containers for more individual sized portions. I cook for an army, but most of my recipes can be down sized for smaller families, or broken up and frozen in individual serving sizes. Foil bread pans would work great for this, and still be oven safe. This would also work fine in a crock pot on low heat for several hours.
Start these out by seasoning a few BIG chicken breasts with salt, pepper, garlic powder, chili powder, and onion powder. Put a few tablespoons of oil into a pan, and brown on both sides.
While those are browning, start your enchilada sauce by placing the oil and garlic into a medium sauce pan. Cook garlic over medium heat for about 1 minute, and then add the rest of the ingredients for the sauce.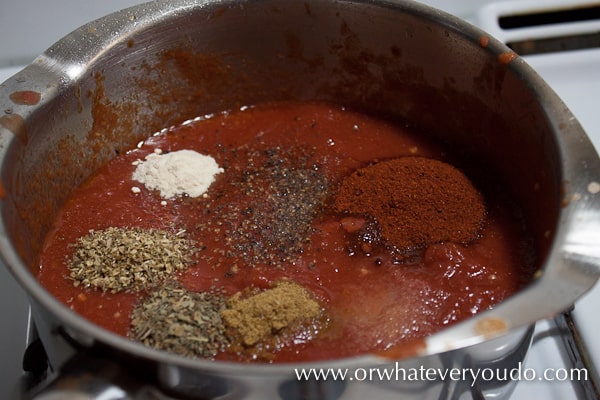 Stir that up well, and let simmer over low heat while the chicken is cooking.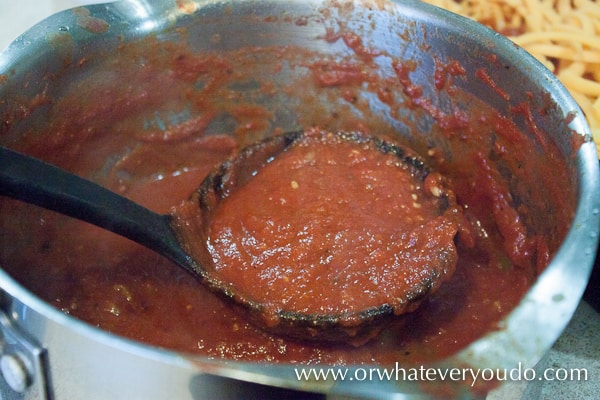 After the chicken has browned, I added about 1/2 cup of water into the bottom of the pan and covered the pan to finish the cooking. My breasts were pretty large, so they needed this moist cooking to make sure they cooked through but didn't dry out.
When the chicken is cooked through, shred it thoroughly. Did you know you can use your stand mixer to shred chicken? SO much easier than by hand. Toss it into your mixer bowl, attach your beaters, and beat on low for about a minute, or until the chicken is shredded. Perfect.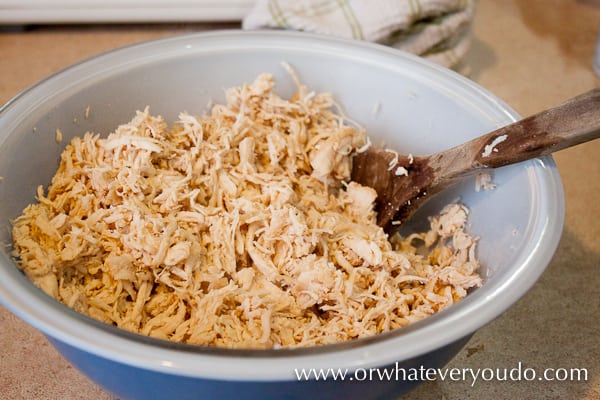 Now make your refried beans. I used a can of the regular style, then added 1/2 cup of shredded cheddar cheese, and 1/4 cup of salsa. Heat well, stir to combine, and then mix in with your chicken. Generously fill a taco size flour tortilla with the mixture.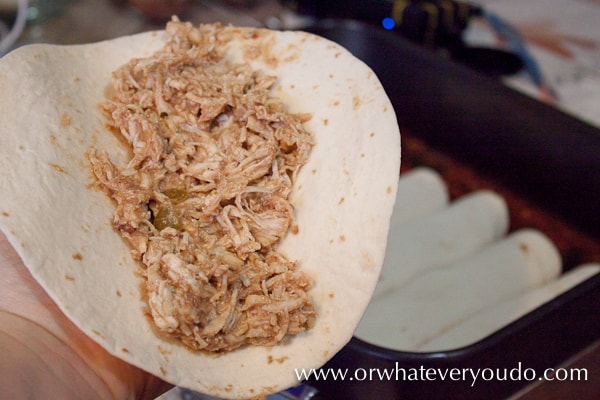 Roll them up well and place into a pan that has been sprayed with cooking spray, and has been covered with enchilada sauce.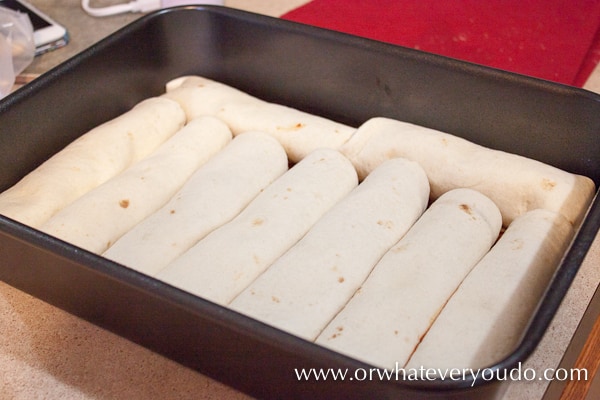 Cover these with your enchilada sauce. As much or as little as you would like. I tend to like things SAUCY, so I go a bit crazy with it. After the enchiladas are sauced, cover with cheddar cheese.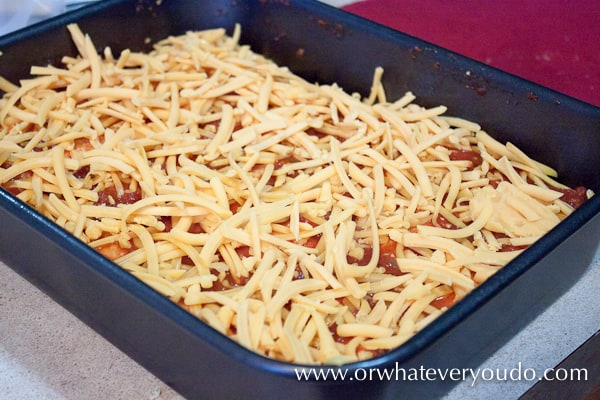 Bake in a 350 degree oven for 30-45 minutes, or until the cheese is bubbly and the whole thing is heated through. Serve with sour cream and salsa.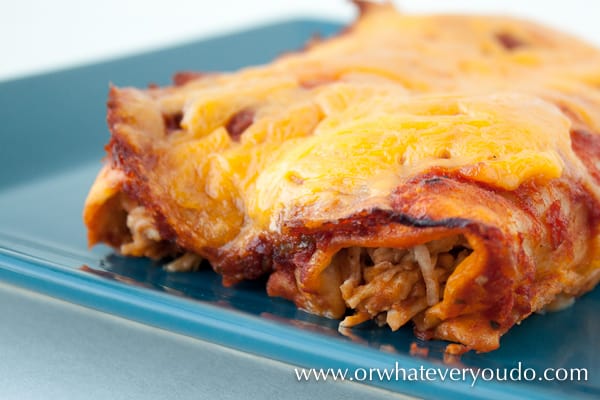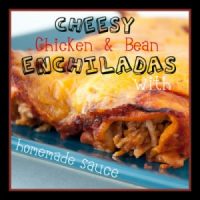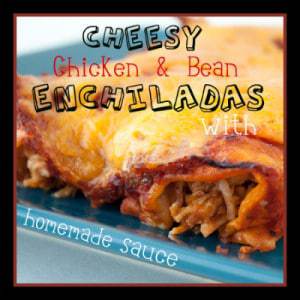 Cheesy Chicken Enchiladas with Homemade Sauce
Total Time:
1 hour
15 minutes
Easy Cheesy chicken enchiladas!
Ingredients
Chicken Mixture:
2 lg chicken breasts, approximately 1 lb of chicken
Seasonings - salt, pepper, garlic powder, onion powder, chili powder
2 TBSP vegetable oil
1/2 cup water
1 can refried beans
1/2 cup shredded cheddar cheese
1/4 - 1/2 cup salsa
Enchilada Sauce:
1 TBSP Vegetable Oil
2 cloves garlic, crushed
1/2 tsp oregano
1/2 tsp basil
1 TBSP chili powder
1/8 tsp black pepper
1/4 tsp salt
1/4 tsp cumin
1/4 cup salsa
28 oz can crushed tomatoes
Enchiladas:
8-10 small flour tortillas
2-3 cups cheddar cheese, shredded
Instructions
Season chicken breast and brown in a pan. Once both sides are browned, add 1/2 cup water to the pan, cover, and finish cooking. When chicken is done cooking, drain water and shred either by hand or with your mixer.
In a medium saucepan, saute garlic in the vegetable oil for 1 minute over medium heat. Add the rest of the enchilada sauce ingredients, stir well, and reduce heat to low. Cook over low heat, stirring frequently, for about 10-15 minutes.
Heat the refried beans in a small pan and mix in salsa and cheese. Stir the bean mixture into the chicken.
Generously fill tortillas, roll, and place into a pan that has been prepped with cooking spray, and the bottom covered lightly with enchilada sauce. Top with enchilada sauce, and cover with cheese.
Bake in a preheated 350 degree oven for 30-45 minutes, or until heated through and cheese is bubbly.
What are your favorite Mexican meals that you make at home?