My Traeger grilled bacon-wrapped pork chops with rosemary are an easy dinner that go right on the pellet grill and are done in about a half hour. Buy them pre-wrapped, or DIY. Either way your family is going to love this delicious pork chop dinner!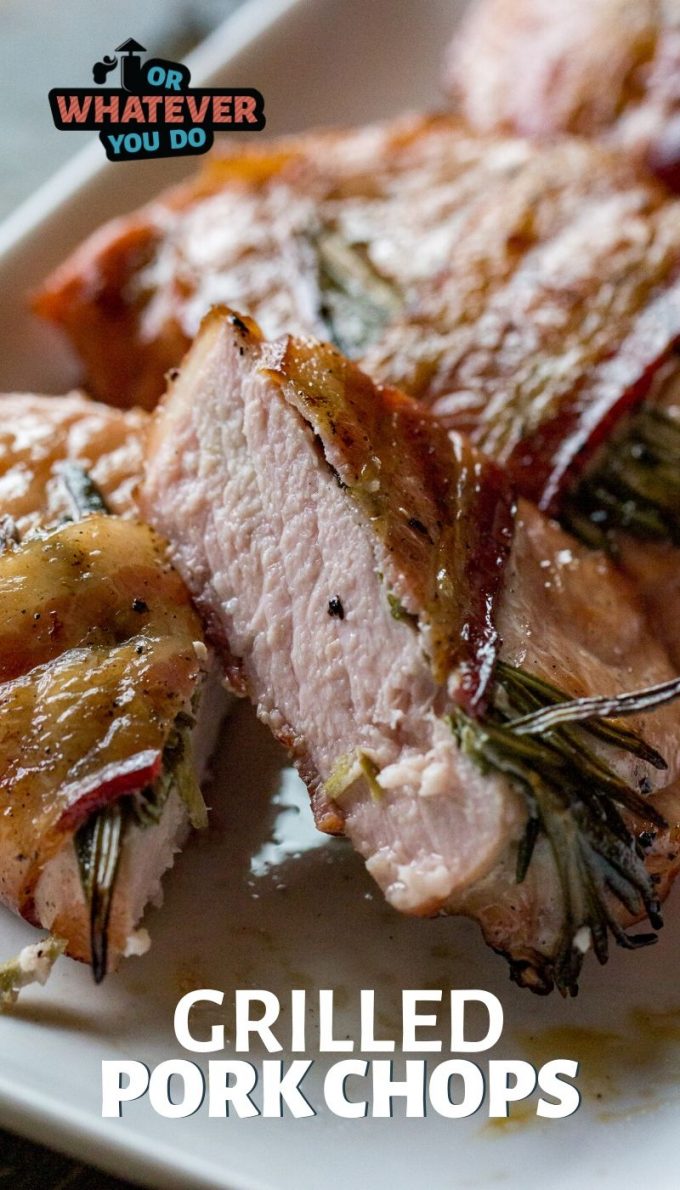 Bacon-Wrapped Pork Chops with Rosemary
They say everything goes better with bacon. Pork chops with smoked bacon? That is good plus great equaling amazing.
Can it get even better? Yes, because I got took advantage of the Purdue bundle boxes. Out of the box and into the oven. I didn't even need to make a stop at the fridge.
Where to get pre-wrapped Bacon Wrapped Pork Chops With Rosemary
Last month Perdue reached out to me to try out their Bundles, and write a review about my experiences. These pork chops were a part of that bundle.
I was hooked.
I love it when brands I really love and enjoy cross my path. If I am excited about Purdue's bacon wrapped pork chops, it is because they won my confidence. That means not just pleasing me, but making my entire family happy.
That is a pretty tall order. Safe to say, Purdue definitely knocks one out of the park with their convenient bundles.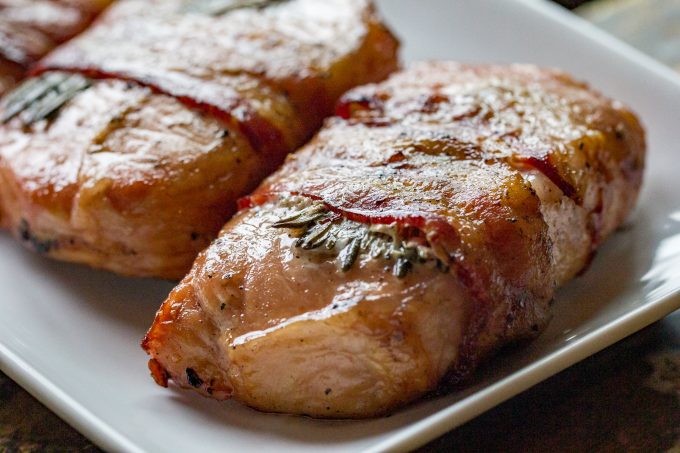 Can I wrap my own pork chops?
You sure can! If you don't want to order up a bundle or a box of these pre-wrapped chops, you can definitely wrap your own. Just grab some fresh rosemary, some pieces of bacon, toothpicks, and go nuts.
I suggest seasoning with your favorite BBQ Rub, and following the directions here for cooking.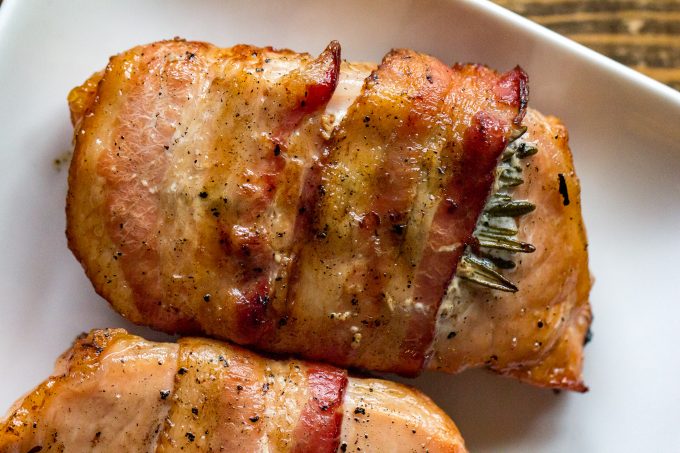 Purdue Bundle Boxes
I am sure you have heard of Purdue before. Maybe you even read my full review of their bundles. Chances are you thought of them only in terms of chickens. But, they don't stop there. In fact, they offer a wide selection of bacon, sausage, pork chops and other meals as well.
You can order online and save yourself a trip to the grocery store. If you add up the time you save not having to go to the market, combined with the ease of preparation and cooking and all of the extra "stuff" you don't throw in your cart, you are saving more than just time.
Over a week, a month, a year… that time seriously adds up. You may even find yourself wondering "what are you going to do with all that time?"
Enjoy it! That's what you are going to do!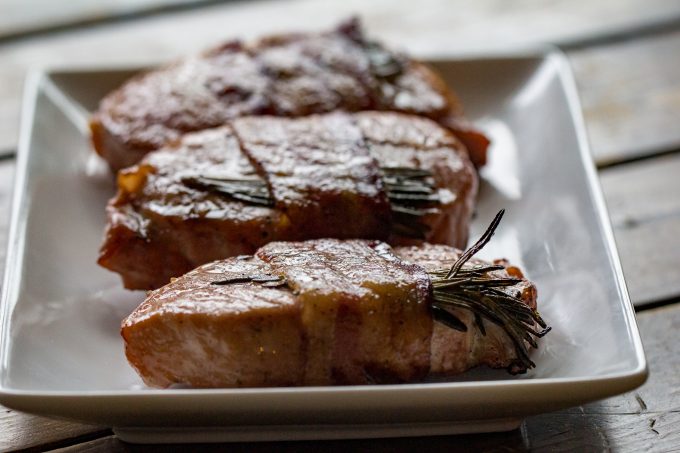 Why I order my meat online
The Purdue bundle boxes represent a wide selection of brands. Purdue, Niman Ranch, Draper Valley, and Simply Smart Organics as well as others too.
Honestly, I used to think that going to the market was 100% necessary but since I have been so busy being a full time mom and working full time I had to try ordering. What the heck was I thinking?
Why did this take me so long?
Did I just love buckling up multiple car seats and then wondering if they were all really clipped in as cars zipped by me recklessly on the freeway? (Too fast to even see my "baby on board" sticker.)
No, the less I have to endure that nightmare, the better.
I wish I had started ordering online sooner. I am not only saving time but also a ton of money. Every penny counts, but dollars count a lot more.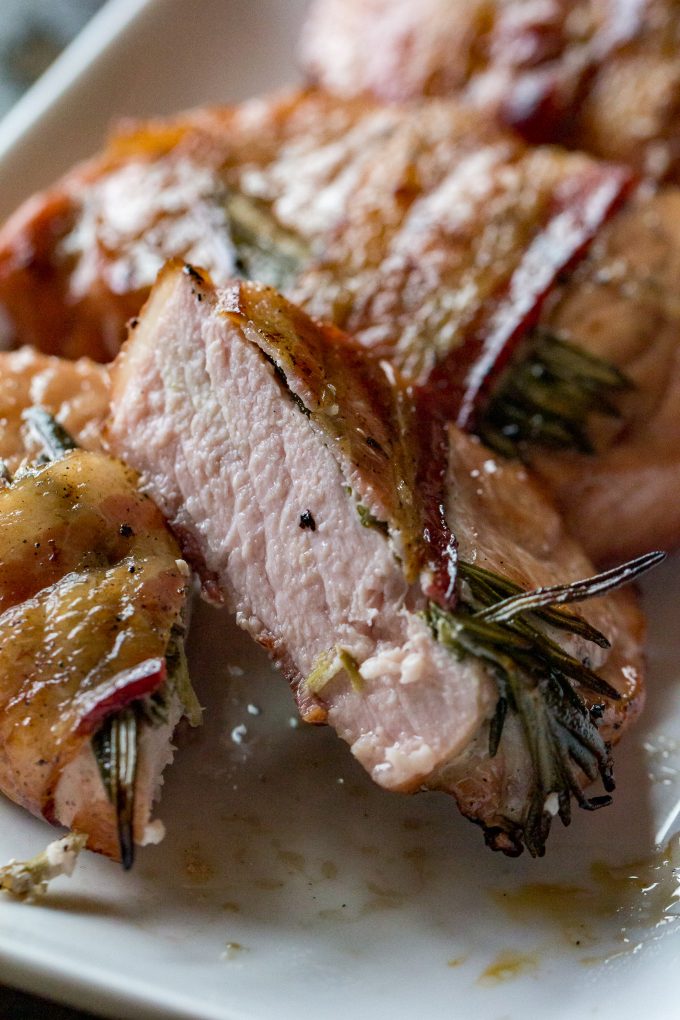 Do You Recommend Any Sauce Or Gravy With The Pork Chops?
Honestly, the smoked bacon-wrapped pork chops with rosemary from Niman are fabulous as is. If you cook them just right then the bacon is crispy on the outside and the pork chop is wonderfully tender and juicy on the inside.
Still, you might be tempted to whip together a suitable sauce or gravy to go with it. You could try my mustard sauce. Or maybe go in an Asian themed direction with potsticker sauce.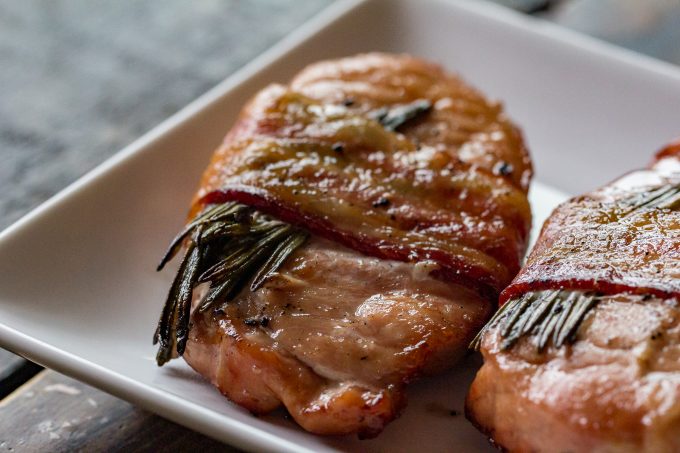 What Would You Serve With A Smoked Bacon-Wrapped Pork Chop?
Of course mashed potatoes with gravy come instantly to mind. But if you want to keep it lighter and brighter, and a bit more diet friendly, then go with this crisp green Greek salad.
Since the smoked bacon pork chop with rosemary is such a savory entre, the kids love my creamy noodles alongside. Or a touch of sour like the balsamic vinegar in this caprese with balsamic reduction.
Some grilled carrots work great too.
If you go with a Purdue box, or order online for any other grocery needs, then you will have plenty of time to make a decision. Enjoy, because you will find yourself eating smarter and wasting less!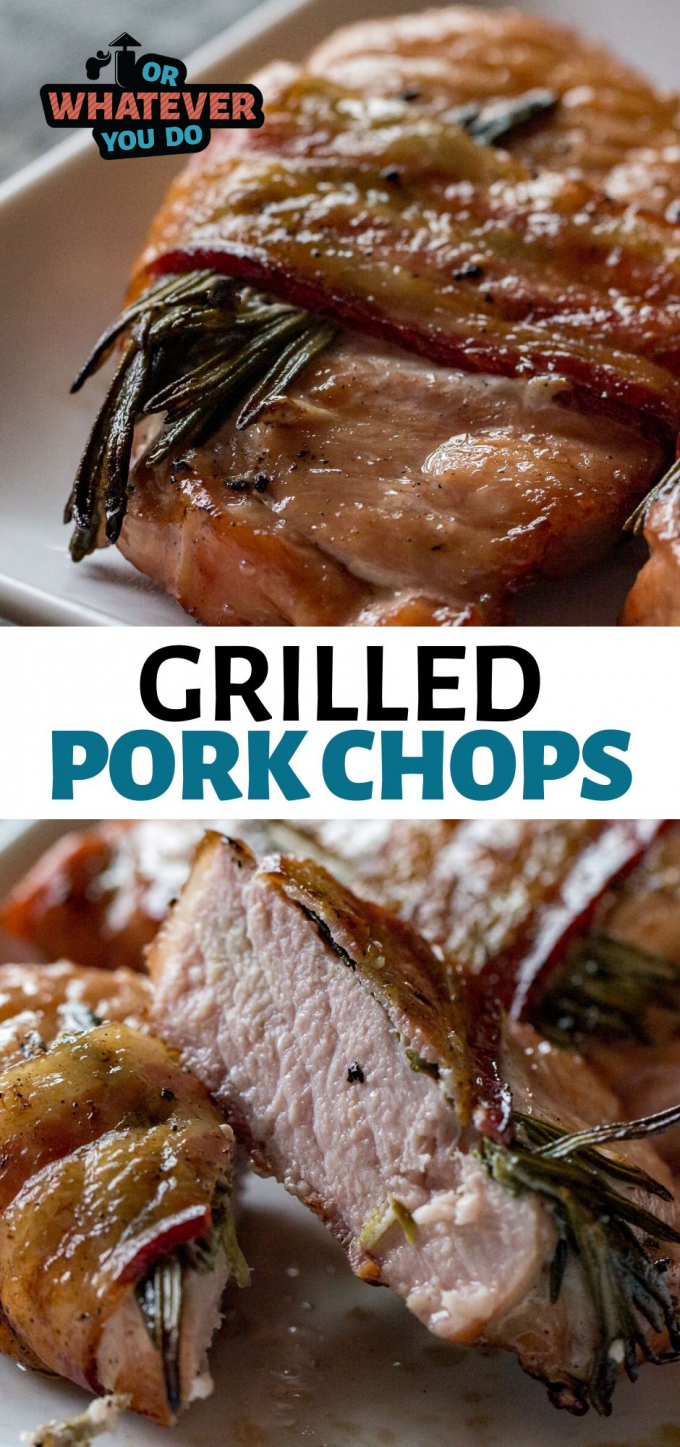 Yield: 6 servings
Bacon-Wrapped Pork Chop with Rosemary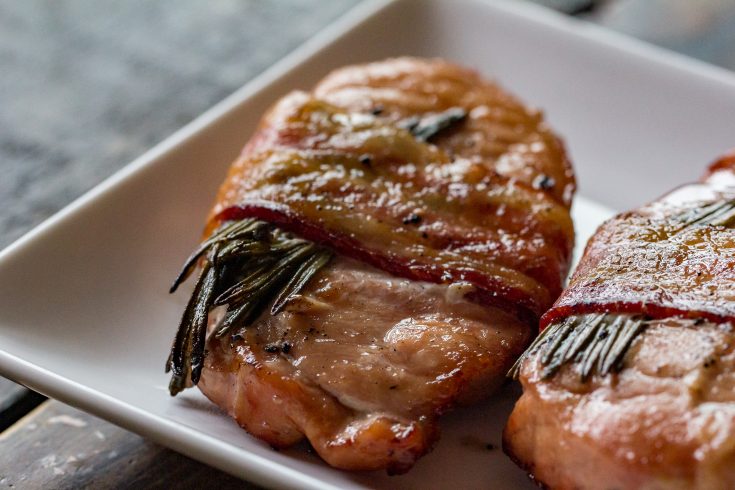 Tender center-cut pork chops are wrapped with bacon and rosemary are grilled on the pellet grill at 325° until the internal temperature is 145° and the bacon is crisp.
Ingredients
6 center-cut pork chops
2 tablespoons dry bbq rub*
6 sprigs rosemary
6 slices of bacon
Instructions
Preheat your Traeger to 325° and liberally coat the pork chops with the dry rub.
Place a sprig of rosemary on top of each pork chop, and wrap in bacon. Secure with a toothpick, and place each on the grill.
Let cook for 10 minutes and flip. Continue cooking until the internal temperature reaches 145°.
Remove from the grill and serve hot!
Notes
You can substitute your favorite store-bought dry rub if you'd like!
You can crisp up the bacon further in a hot cast-iron skillet after these come off the grill, if you would like. Don't cook it took long though or you'll continue to cook the pork chop as well!
Recommended Products
As an Amazon Associate and member of other affiliate programs, I earn from qualifying purchases.
Nutrition Information:
Yield:
6
Serving Size:
1
Amount Per Serving:
Calories:

395
Total Fat:

22g
Saturated Fat:

7g
Trans Fat:

0g
Unsaturated Fat:

11g
Cholesterol:

145mg
Sodium:

315mg
Carbohydrates:

2g
Fiber:

1g
Sugar:

1g
Protein:

45g
Nutrition data provided here is only an estimate.