This Farfalle and Meat Sauce is the epitome of classic comfort food. Farfalle noodles cooked al dente and smothered with hearty meat sauce, then adorned with copious amounts of freshly shredded Parmesan cheese. This dish is a hit with me and my family, and anyone who loves Italian cuisine.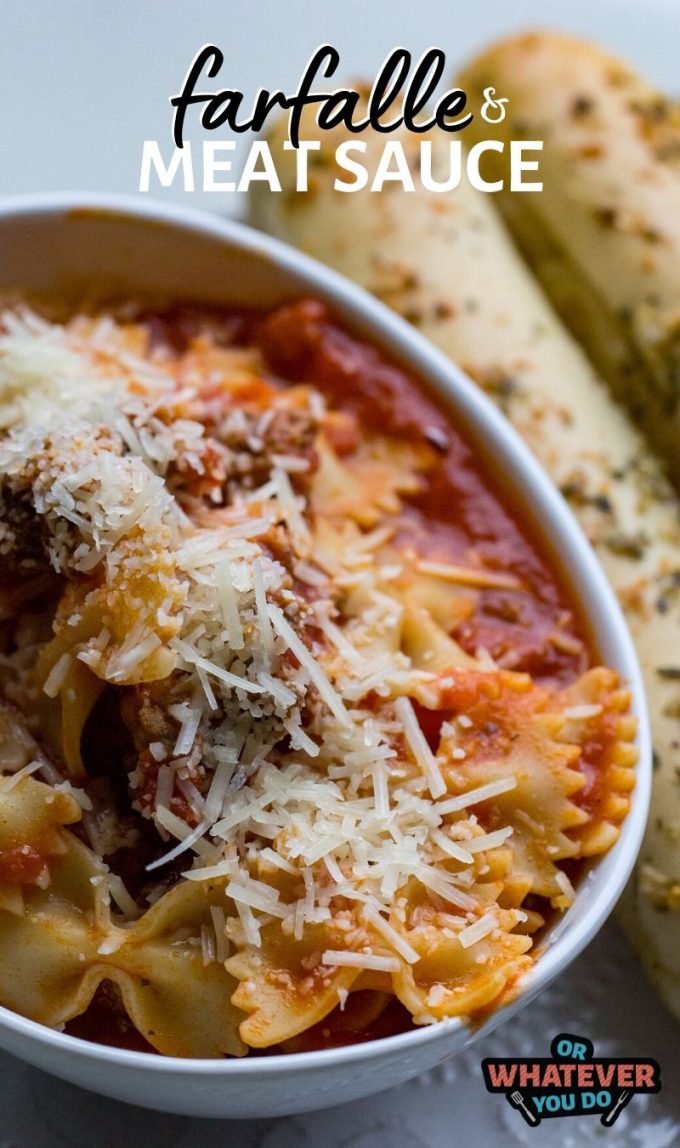 Farfalle with Meat Sauce
Noodles and tomato based sauces are my favorite meal, and I don't think I will ever tire of it. This meal is so easy to make, any day of the week, and for any number of guests you are serving.
I highly recommend that you try my recipe for Hearty Meat Sauce, as it is my "go to" recipe for anything that calls for a red sauce. This recipe makes a lot of sauce so feel free to freeze leftovers for other dishes, such as my recipe fo Lasagna, or a quick spaghetti dish for dinner.
You just drop your frozen sauce into your crockpot, dial to low and after work your meal is basically done. All you have to do is boil some pasta and you're eating dinner.
If you're really short on time, a jar of store bought spaghetti sauce will do. But it really is worth the little bit of effort to make homemade, and my recipe is super simple and economical.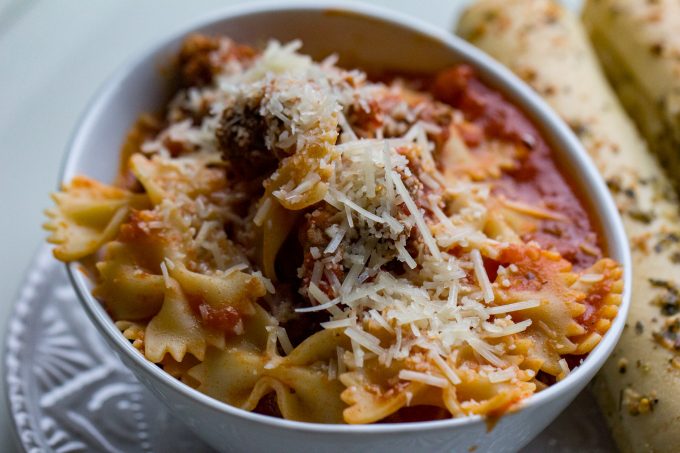 What is farfalle pasta?
Most of us know Farfalle (far-FALL-lay) Pasta as bow tie pasta. Sometimes it is also called butterfly pasta.
This pasta is delicious with marinara sauces or cream sauces, or used in cold salads such as my Greek Pasta Salad.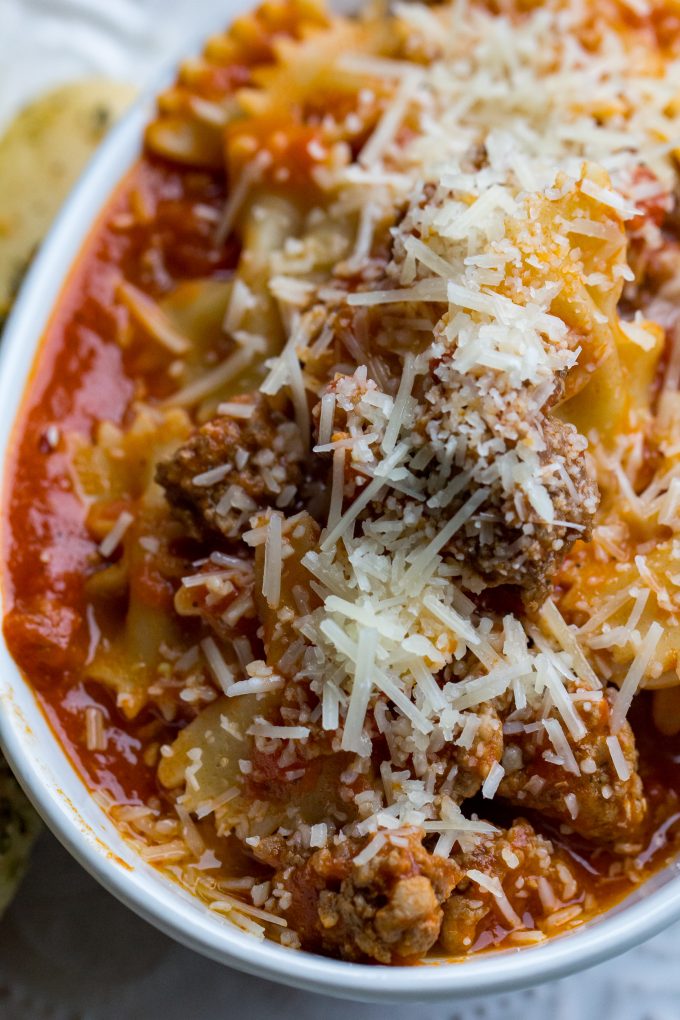 Could I use another kind of pasta for this dish?
Of course!
Whatever your favorite pasta happens to be, it can definitely be used for this dish.
In fact, for future reference, I will list a few varieties and they're best uses.
Campanelle: A "bellflower" shaped pasta that's perfect for any kind of meaty, creamy or cheesy sauce.
Orecchiette: A shell shaped pasta (or Italian for little ears) that would also be perfect for catching meaty, rich sauces.
Penne: A tubular shaped pasta that is cut diagonally, great for baked dishes with hearty sauces and cheeses.
Fusilli: This is your basic "corkscrew" pasta. Also great for casseroles, cheeses, sauces and even cold pasta salads. The corkscrew shape allows lots of sauce and veggies and dressings to be captured in every little groove.
These are all great options for this dish.
Then of course you have your spaghetti, angel hair, vermicelli, fettuccini, and linguini for your spaghetti and meatball and Alfredo type dishes.
There are many varieties of pasta available in your local grocery store, you can take your pick.
Get all my favorite Pasta Recipes here!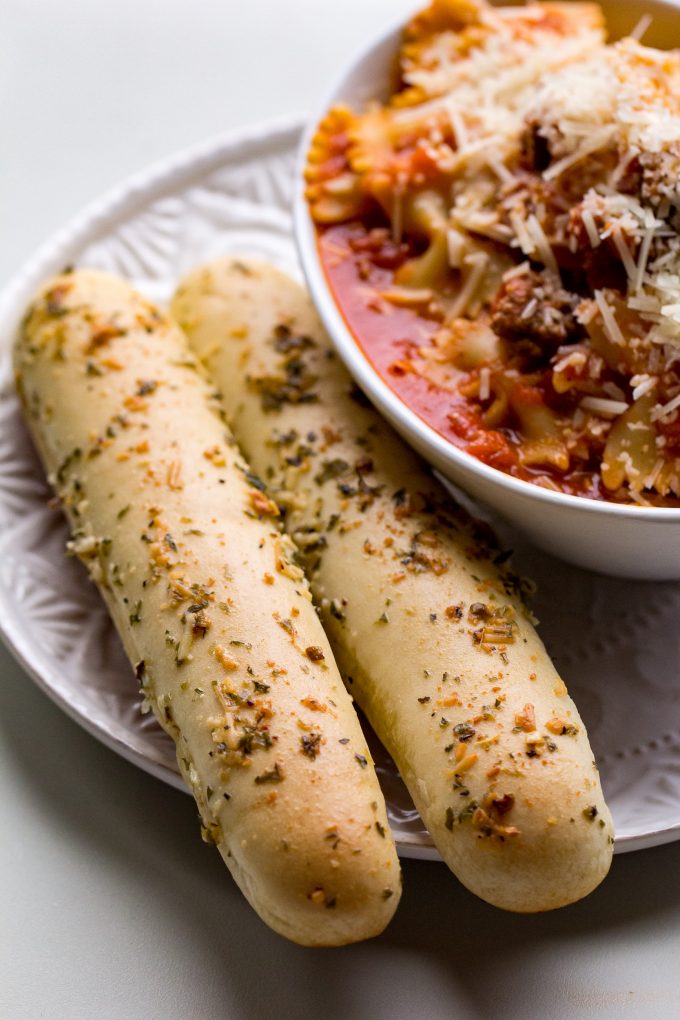 What should I serve with this dish?
I recommend my Garlic Breadsticks to compliment this meal, they're easy to make and you cannot beat homemade bread in any form!
Or if you'd rather not, then buy a good, fresh loaf of French bread and whip up a batch of my Homemade Garlic Butter to slather on, top with lots of cheese such as mozzarella, provolone, or parmesan (or a mixture of all three), and toast in the oven until golden and bubbly brown. Delicious to sop up all of that extra sauce with.
Serve with a great salad like a Greek Salad, or whip up a batch of my homemade Caesar Salad Dressing.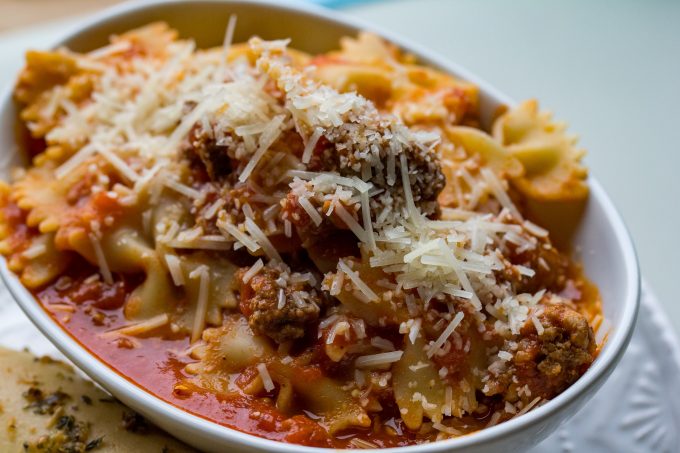 How can you store the leftovers?
Any leftovers can be stored covered, in the fridge, for 3-4 days. I prefer to store the sauce and noodles separately, as I think they reheat better separately, but if you are a mix-it-all-together kind of person I won't be mad at you.
Want something greener? Try this amazing Eat Your Greens Pasta from Sugar Dish Me!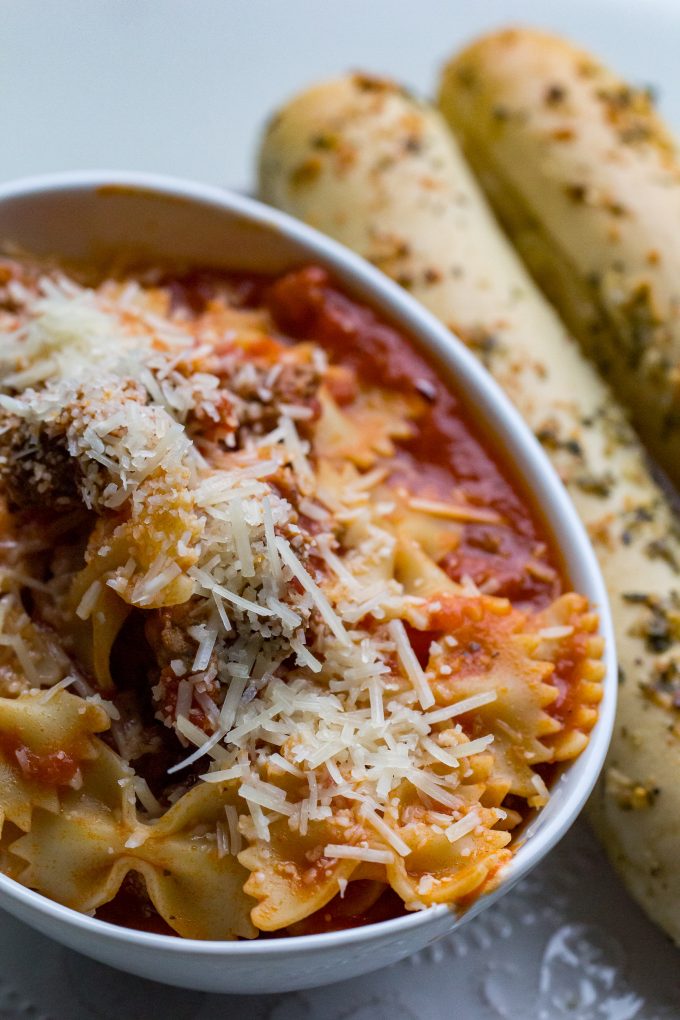 Can you freeze Farfalle and Meat Sauce?
Yup! But set your expectations well when you are dealing with frozen pasta. Farfalle usually does pretty well in the freeze/reheat process, but it definitely won't be the same as it would be if it were not frozen.
If you are specifically making this as a freezer meal, I'd undercook the pasta by half, as it'll cook more in the reheating process.
This is a great way to make meals you can bring to friends and family when they are sick or have just had a baby. Or if you want a quick, no-fuss dinner that you just have to toss in the oven.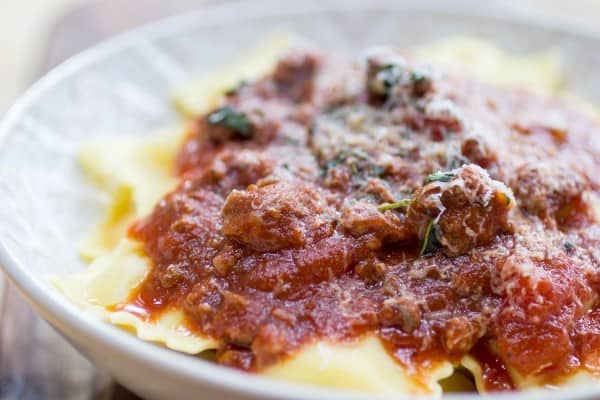 How do you reheat leftover farfalle hot dish?
We typically reheat refrigerated pasta leftovers in the microwave, one portion at a time. I make a ton of extras just for this, in fact. My teenagers love to have this available as a hearty after-school "snack".
If you are reheating from frozen, ideally you'd take it out a day ahead so it can thaw before heating, but I've successfully thrown this from the freezer into the oven too. Set the temperature to about 325°, and cook until it is hot and bubbly. Make sure to check the center because that's the part that'll heat the slowest. It should reach 165° for food safety.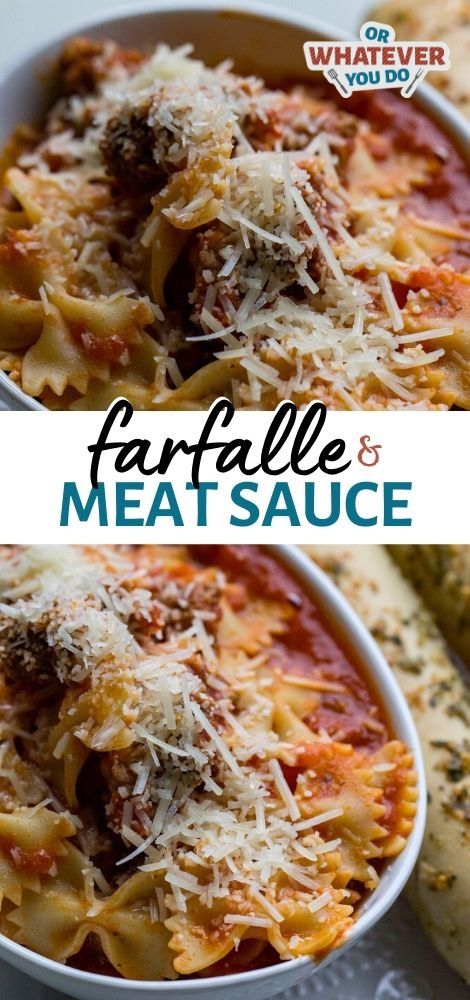 Yield: 8 servings
Farfalle with Meat Sauce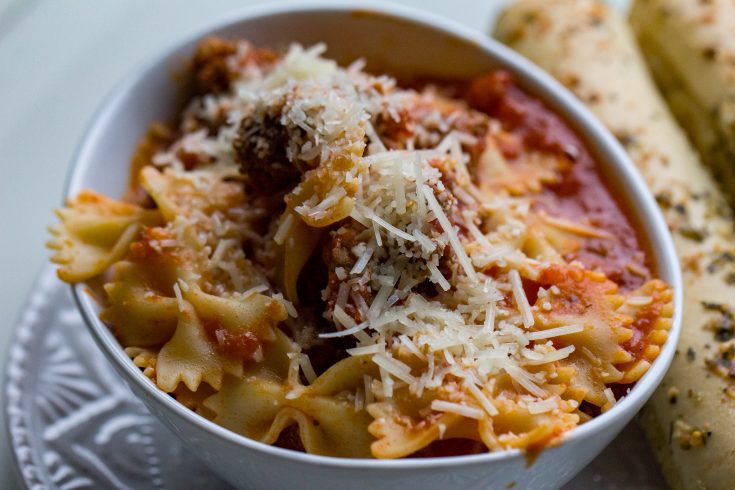 Nothing is better or more well-loved than a big bowl of farfalle with meat sauce. One of my favorite hot dishes, and an easy weeknight dinner that your whole family will love.
Total Time
2 hours
15 minutes
Ingredients
Meat Sauce
1 medium yellow onion, diced
2 cloves garlic, minced
1 1/2 pounds ground beef
1/2 teaspoon salt
1/4 teaspoon pepper
1/4 teaspoon garlic powder
1/4 teaspoon onion powder
1/2 teaspoon dry oregano
1/4 cup extra virgin olive oil
1 28-ounce cans crushed tomatoes
1 28-ounce can diced tomatoes
1 28-ounce can tomato sauce
1/2 cup red wine, like Malbec or Pinot Noir
1/2 teaspoon oregano
1 teaspoon dried basil
1/2 teaspoon dried red peppers
Pasta & Cheese
1 pound farfalle noodles
1 cup parmesan cheese
1 cup shredded mozzarella
Instructions
Place the onion, garlic, and ground beef in a large stockpot over medium-high heat along with the salt, pepper, garlic powder, onion powder, and dry oregano. Stir frequently and break up the meat as you brown it.
Add the rest of the ingredients to the pot and let cook for 1 hour.
Boil the noodles until they are al dente, according to package directions, in well-salted water.
Combine the sauce and noodles, top with the cheese, and put it in the oven briefly to melt the cheese.
Notes
You'll likely have leftover sauce. Make the pasta as saucy or not as you'd like, and save the leftovers for later.
Recommended Products
As an Amazon Associate and member of other affiliate programs, I earn from qualifying purchases.
Nutrition Information:
Yield:
8
Serving Size:
1
Amount Per Serving:
Calories:

590
Total Fat:

29g
Saturated Fat:

10g
Trans Fat:

1g
Unsaturated Fat:

15g
Cholesterol:

93mg
Sodium:

1318mg
Carbohydrates:

40g
Fiber:

7g
Sugar:

12g
Protein:

36g
Nutrition data provided here is only an estimate.