This simple Grilled Spaghetti Squash is one of the easiest and tastiest ways that I've found to cook this versatile vegetable. Drizzled with browned butter and finished with fresh herbs, it'll make a squash-lover out of even the pickiest of eaters.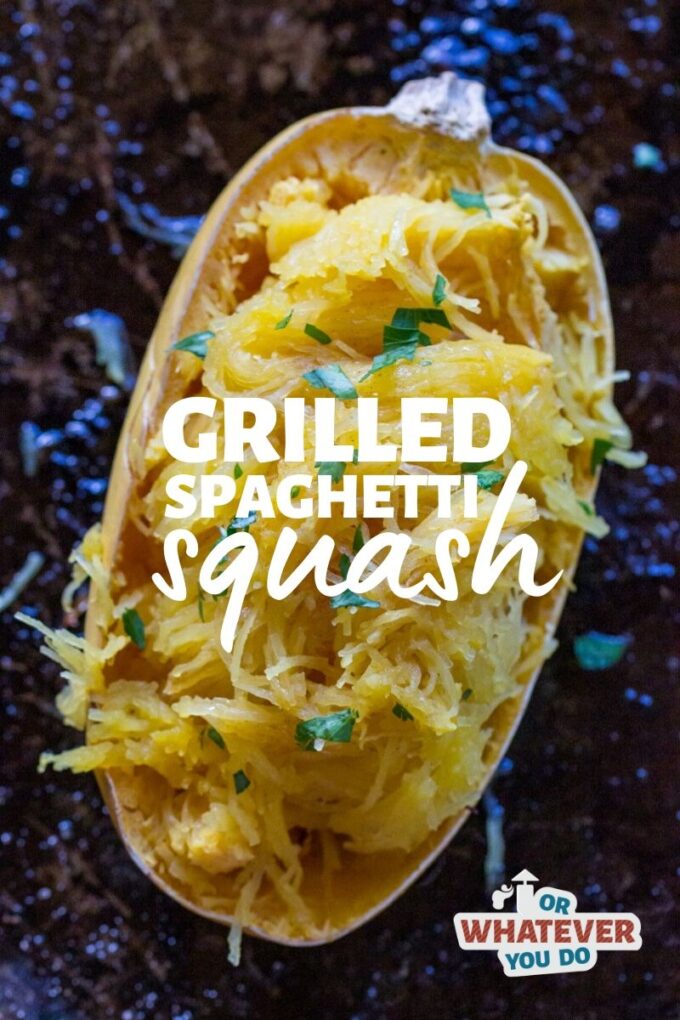 Grilled Spaghetti Squash
Traeger grilled spaghetti squash makes spaghetti squash way more interesting! I have to admit, for a while, the idea of spaghetti squash was more appealing than the execution. I liked the dish from a health perspective, but…
If you ask would I rather have flour style spaghetti vs spaghetti squash then the former would take it hands down, every time. However, then I tried spaghetti squash on the Traeger. Why not? Everything else tastes great coming off that grill.
Side note: This dish is the perfect side for my Traeger Smoked Turkey!
Doing spaghetti squash on the Traeger took away everything "blah" about spaghetti squash and turned it into "ahhh". The flavor, the texture of the "noodles", and suddenly grilled spaghetti squash is one of my favorite dishes.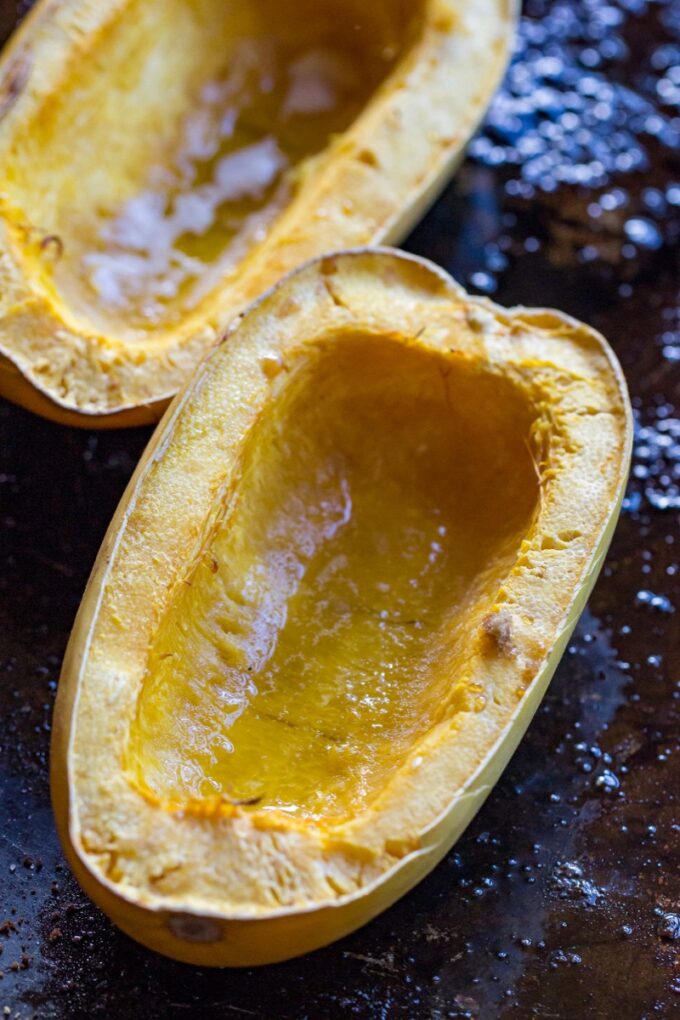 Baking Spaghetti Squash On The Traeger Grill
I love my Traeger, but if you don't have one then any grill will do. The key is to getting even medium heat and no direct flames on the spaghetti squash. You want plenty of low and slow, and of course a bit of smoke.
The smoke works wonders. It takes away that sort of bitter quality of the squash, then replaces it with magic. The smoky notes compliment the sweetness of the caramelized squash noodles perfectly, without overpowering it.
More Easy Traeger Recipes here!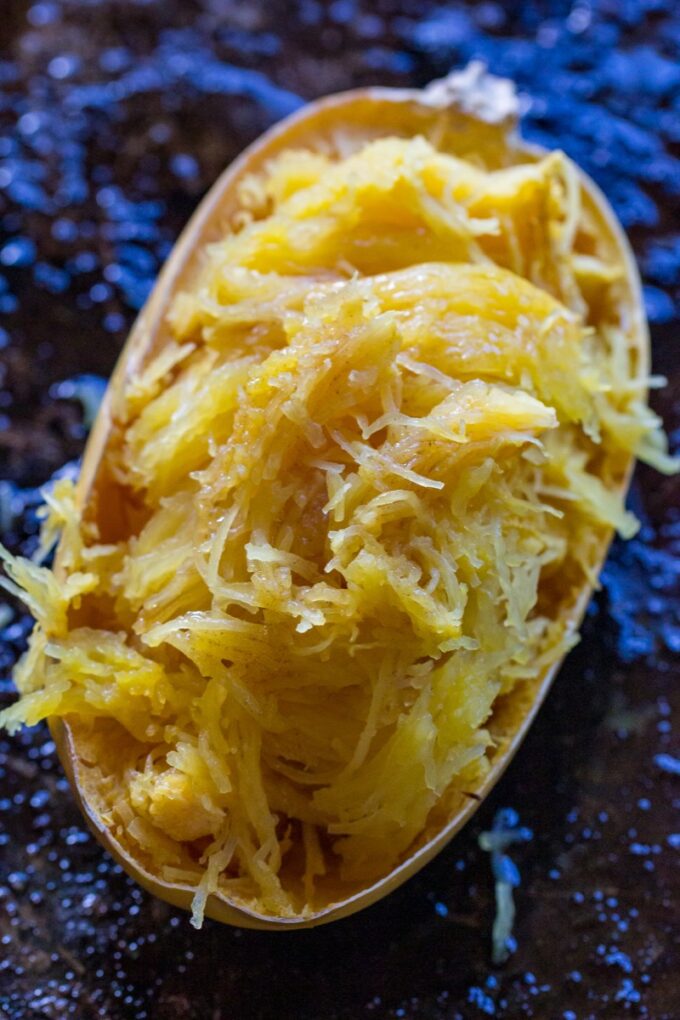 How To Grill Spaghetti Squash On The Traeger
You can bake the squash easily and quickly by cutting it in half lengthwise. Be careful cutting it. I recommend cutting off just a bit of the side of the squash first and putting that side down. It helps prevent the squash from rolling as you try and chop it in half.
Season it with salt and pepper and olive oil, then put it on the grill. The temperature needs to be about 325°.
You can bake it skin side down for the duration, or you can choose to flip it halfway through. If you flip it, then start inside of the squash side down first, then finish with the skin side down.
When it is close to done you can brown the butter. Make sure not to burn the milk solids in the butter!
Get my easy Side Dish recipes!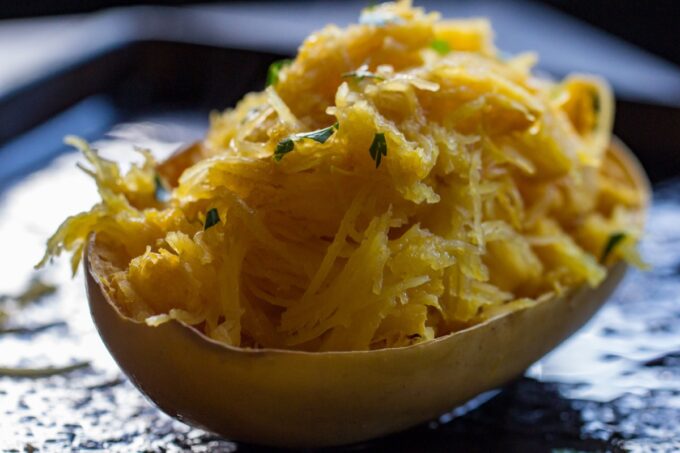 Why Is It Called Spaghetti Squash?
I know there are still some people out there that haven't yet tried spaghetti squash. If you have never tried it, then time to reconsider!
Spaghetti squash looks like an ordinary squash. They come in a few colors, including white, orange, and yellow. Cut them open and it still looks like any other squash. However, when it cooks, the squash separates into long strands of fibers that resemble spaghetti.
Not only that, but the texture feels like eating spaghetti noodles as well.
However, that is where the similarity ends. Because spaghetti squash has so many more health benefits than typical flour noodles, it is much healthier than regular spaghetti noodles. Full of vitamins, minerals, fiber, and it even has a bit of protein. Super low fat, but the healthy kind. No gluten. You get the picture.
Healthy, and tasty, spaghetti squash stands up to all the same sorts of sauces you put on any other type of spaghetti noodles if you are cutting carbs or just looking to make some different choices with your diet and incorporate more vegetables.
Follow me on Instagram!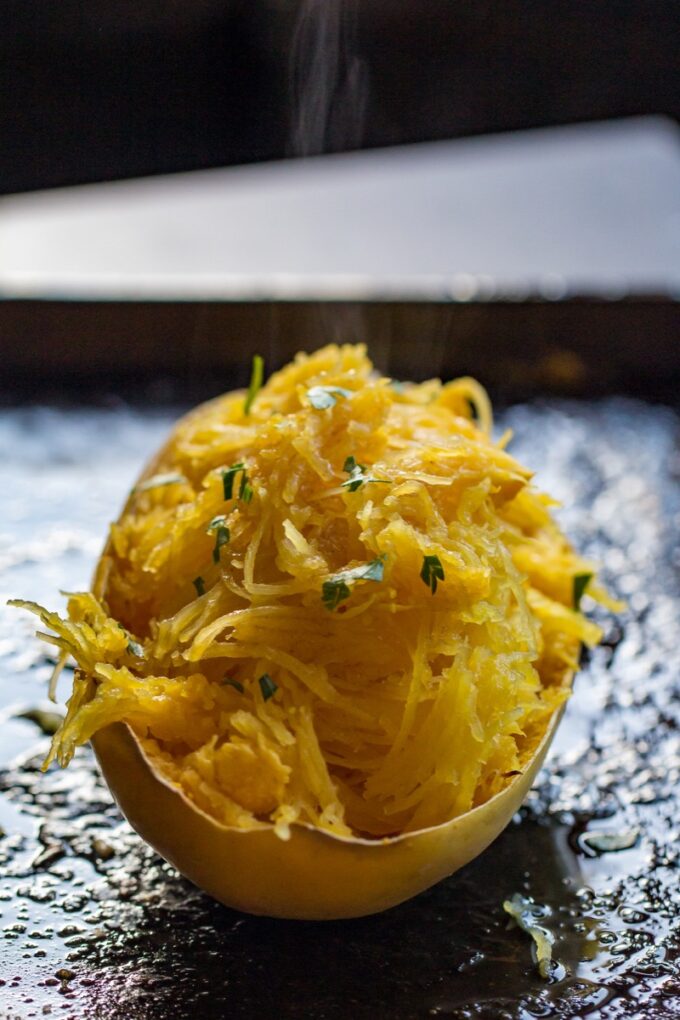 Sauce For Grilled Spaghetti Squash
With the browned butter, you really don't need any other type of sauce. The browned butter with the other seasonings really completes the dish. Really good spaghetti noodles with olive oil and a bit of seasoning don't necessarily need marinara or meat sauce to be delicious.
The simplicity of a bit of salt, pepper, and a wash of browned butter over the squash noodles needs no further improvement.
But, if you do feel like doing a sauce for your grilled spaghetti squash, then I certainly want to set you up with some worthy suggestions!
Spaghetti squash noodles do just as well with any sauce you can imagine on regular spaghetti noodles. If you want to keep things vegetarian, then go with a tomato sauce like my pizza sauce. Want a meatier dish? Then go with this meat sauce.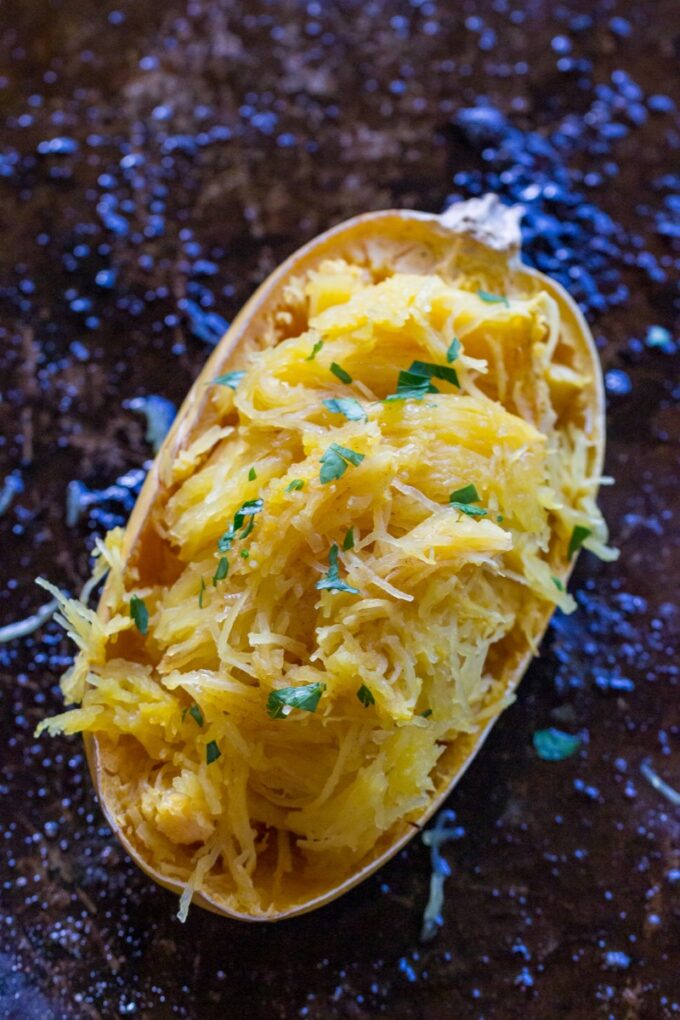 However, there are so many other sauces that work well too.
Cilantro cream sauce – borrow this one from my chicken recipe. Works great on squash noodles too.
Honey ginger sauce – This sauce works on just about anything. You could pour it on a shoe and it would still be delicious. Put it on some grilled spaghetti squash. You won't have to explain having shoe laces in your teeth.
Mushroom cream sauce – Yes, cream sauces really do work as well as tomato based sauces. Mushrooms go really well with squash too!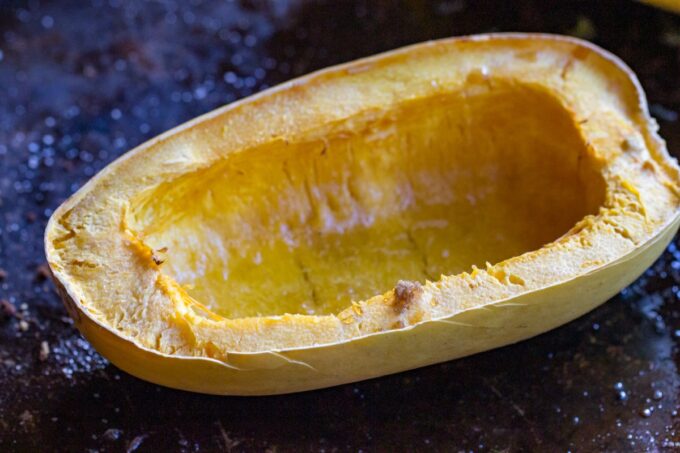 What else can I serve with grilled spaghetti squash?
For me, spaghetti squash is a thing that goes with all of the fall foods, and that includes my favorite fall holiday, Thanksgiving. Here are some good options to serve with this squash!
Pin For Later!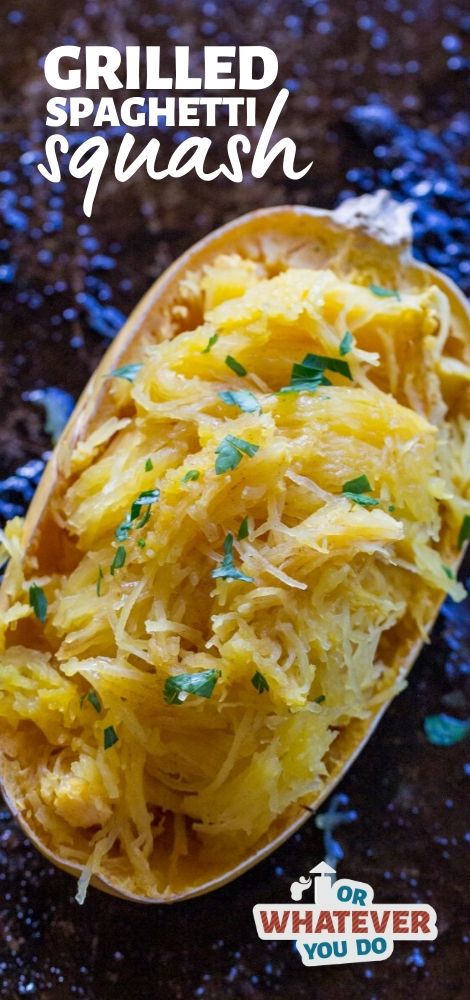 Yield: 8 servings
Grilled Spaghetti Squash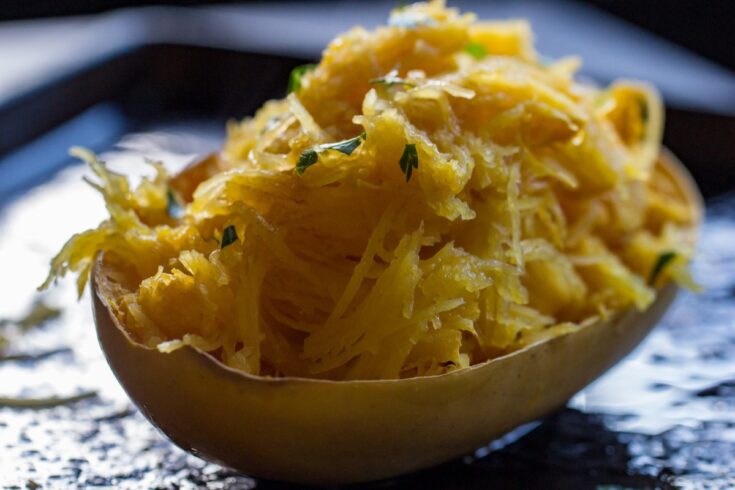 Simply grilled spaghetti squash cooked right on the pellet grill! Served with browned butter and fresh herbs.
Ingredients
1 spaghetti squash
4 tablespoons butter
1/2 teaspoon salt
2 tablespoons brown sugar
Browned Butter
1/2 cup butter
1 teaspoon fresh chopped parsley
Instructions
Preheat your grill to 350° according to factory instructions.
Cut your squash in half, lengthwise, and scoop out the seeds (save the seeds they are great for roasting!)
Sprinkle both halves with the salt and brown sugar, and then place pats of butter on each. (If you are going to start these face down on the grill for more wood-fired flavor, wait to put the salt, butter, and brown sugar on until after you flip them skin-side down.)
Place the squash on the grill and cook for 30-45 minutes, or until a fork goes in VERY easily into the meat.
While the squash is grilling, brown the butter by cooking over medium heat, stirring occasionally, until the milk solids are golden brown.
Remove from grill, and separate the strands with a fork. Drizzle with browned butter and some more salt, if that's your jam.
Serve hot, in the natural serving vessel (the shell).
Nutrition Information:
Yield:
8
Serving Size:
1
Amount Per Serving:
Calories:

195
Total Fat:

18g
Saturated Fat:

11g
Trans Fat:

1g
Unsaturated Fat:

5g
Cholesterol:

46mg
Sodium:

291mg
Carbohydrates:

10g
Fiber:

2g
Sugar:

6g
Protein:

1g
Nutrition data provided here is only an estimate. If you are tracking these things for medical purposes please consult an outside, trusted source. Thanks!