Spaghetti and meat sauce is my favorite meal…ever. I love almost any iteration of it, but this one especially is my very favorite. Which is good, because its also really, really easy. Fresh onions and garlic get sautéd with lean ground beef, hit with a generous splash of your favorite red wine, some beef bouillon, and lots of tomato sauce.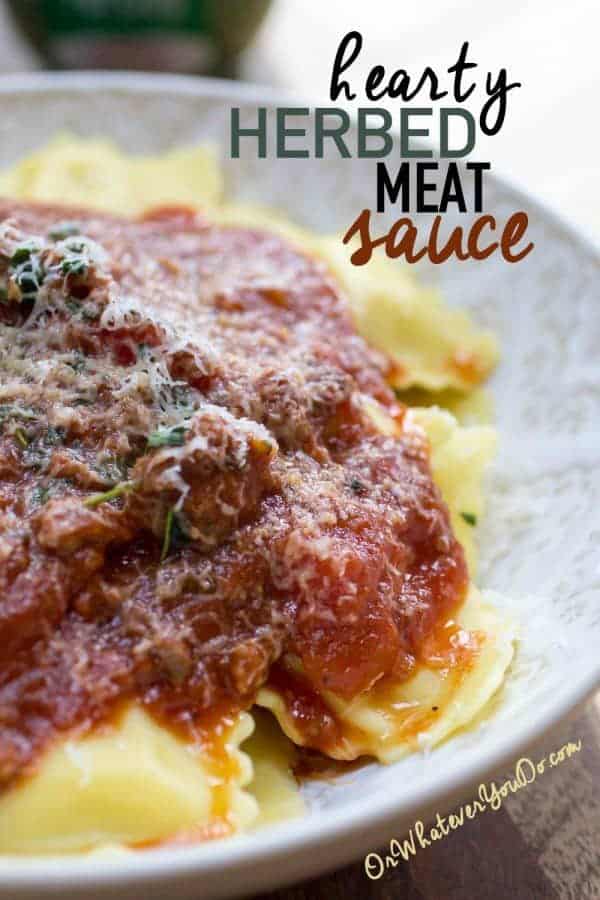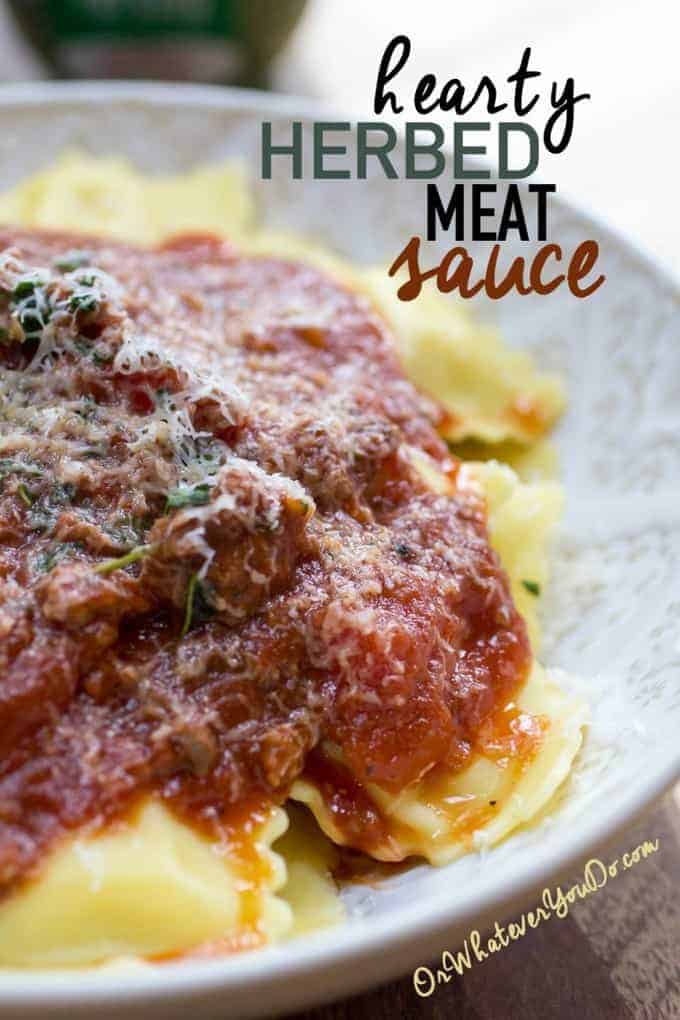 Where did February go? I can't believe March is almost here. The lengthening daylight hours are surely welcome though. The chickens are starting to lay again. We got 6 more chicks that are currently staying warm in my entry way, and the kids can FINALLY play outside after school for a while instead of it being dark 30 minutes after we get home.
That also means that summer is getting closer, which is a love/hate thing with me. I love the weather, and the lack of schedule, the kids sleeping in and the no homework, but ugggghhhhhh. Working at home with 7 kids here? The local Mexican restaurant and Starbucks are going to be seeing a LOT of me over the summer.
Thankfully – dinners like this hearty herbed meat sauce come together really quickly, which helps ANY time of year.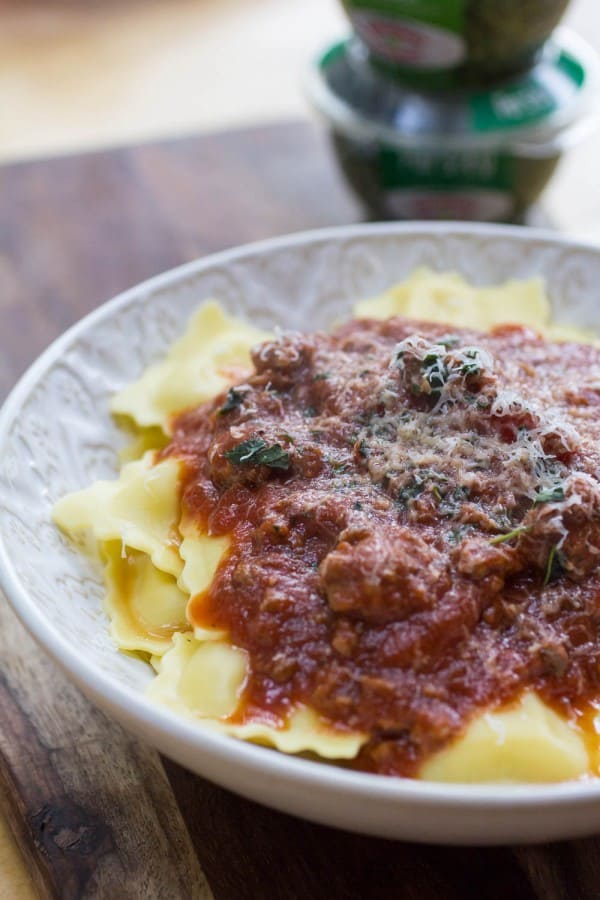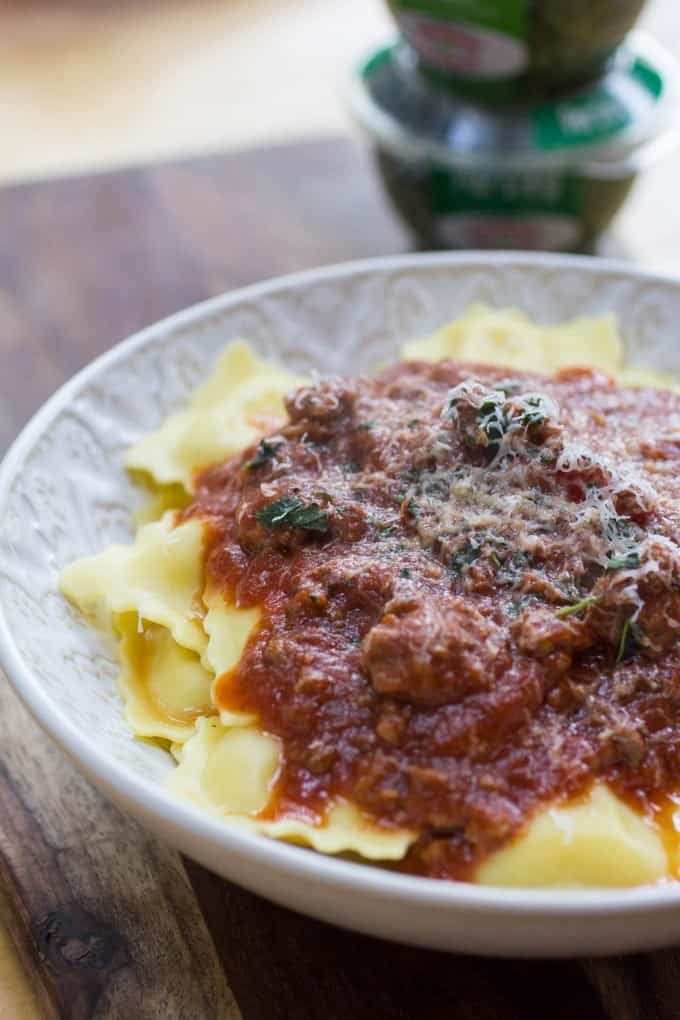 You can serve this with ravioli, spaghetti, or whatever your favorite noodle is. It is fantastic in lasagna, or over stuffed manicotti. Make a double batch and freeze half for an even easier dinner. You can stick the frozen brick of sauce in the crock pot in the morning and come home to simmering bubbling meat sauce.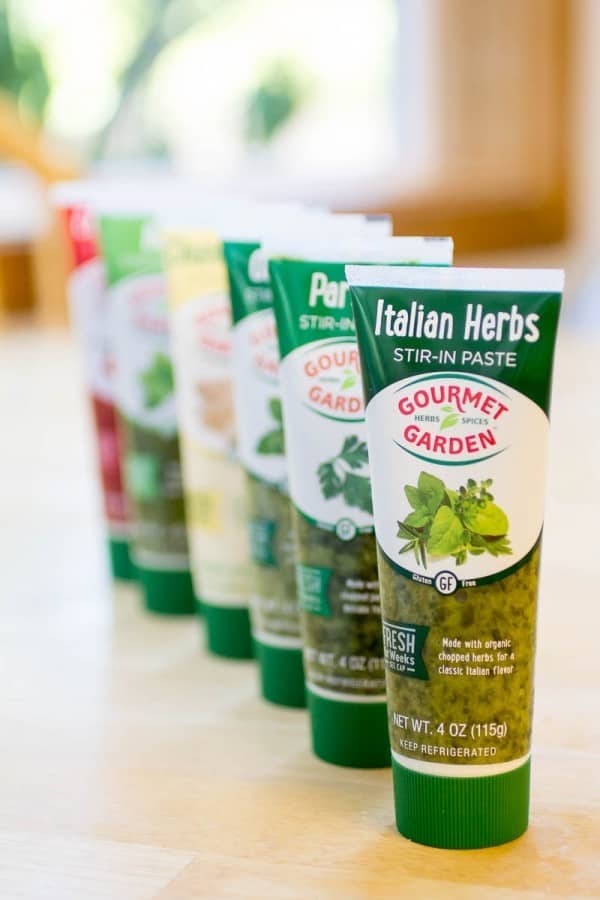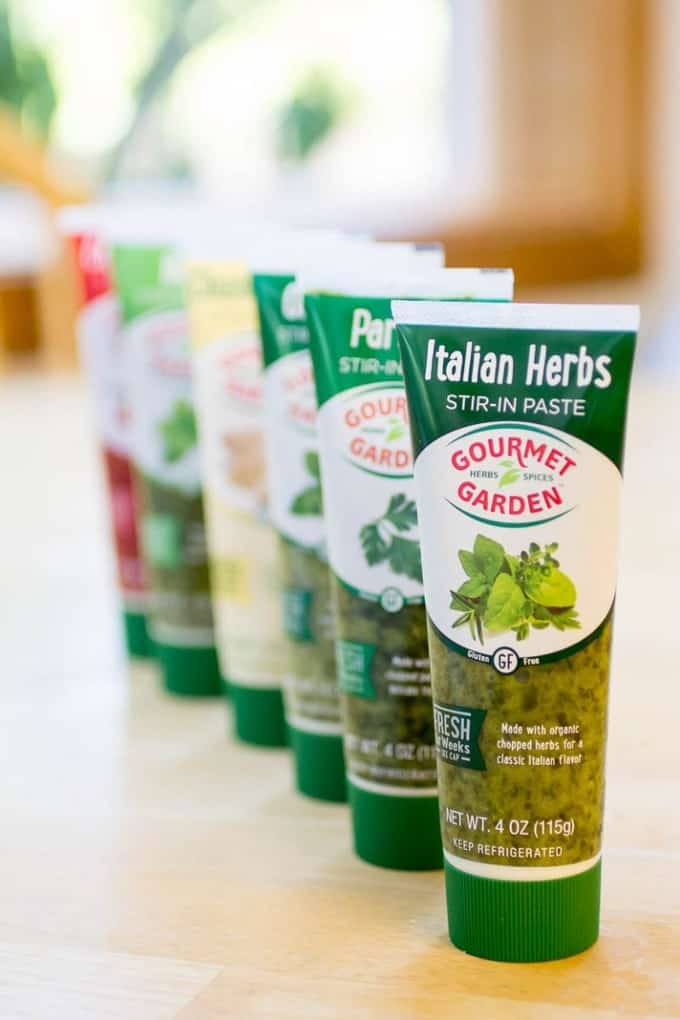 I lean heavily on my Gourmet Garden herbs for this sauce too. It is heavy on the Italian Herbs, and with some extra Lightly Dried Basil as well. I love my red sauce to be pretty heavily flavored with basil, and this adds that fresh basil flavor without having to go and buy a whole bunch of it that'll just go bad before it can all be used.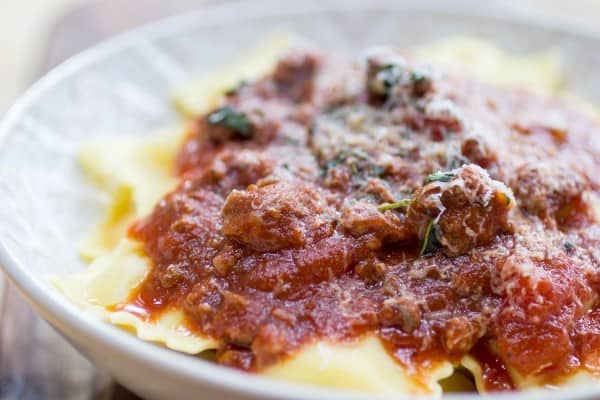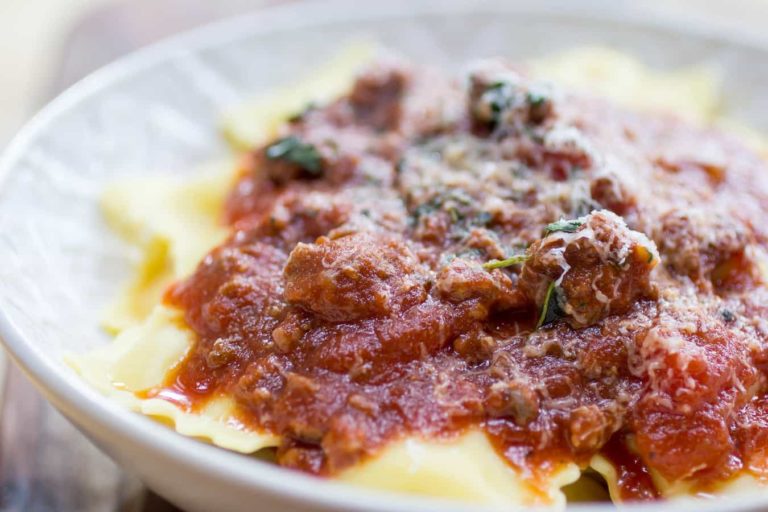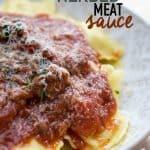 Hearty Herbed Meat Sauce
Ingredients
1

medium to large yellow onion

diced

3

cloves

garlic

minced

2 1/2

pounds

extra lean ground beef

1/4

teaspoon

salt

1/4

teaspoon

pepper

1/4

teaspoon

garlic powder

1/4

teaspoon

onion powder

1/2

teaspoon

dry oregano

1/4

cup

extra virgin olive oil

2

teaspoons

beef Better Than Bouillon

or comparable beef base

2 - 6

ounce

cans tomato paste

3

cups

water

3 - 28

ounce

cans tomato sauce

1/2

cup

red wine

like cabernet or pinot noir

1

tablespoon

Gourmet Garden Italian Herb Stir-in Paste

2

teaspoons

Gourmet Garden lightly dried basil

1/2

teaspoon

pepper

1

teaspoon

Gourmet Garden Chili Pepper Paste

salt to taste
Instructions
Place the onion, garlic, and ground beef in a large stock pot over medium-high heat along with the salt, pepper, garlic powder, onion powder, and dry oregano. Stir frequently and break up the meat as you brown it.

Add the olive oil, bouillon, and tomato paste into the pot. Stir well to combine, and reduce heat to medium-low. Cook for 2 minutes, stirring constantly.

Add in water, tomato sauce, wine, and herbs.

Simmer over low heat for 30-45 minutes minimum. More is better, but not necessary. Enjoy over pasta!
Recipe Notes
This makes a lot of sauce! You'll definitely have leftovers. We do - and I feed 9 here! That is by design. I like having lunches for a few days, or leftovers for another night later in the week, or another meal to freeze.
Need something to serve with your pasta? Try some of my friend's recipes!
Garlic Bread
Garlic Bread with Fresh Garlic and Parsley from Five Heart Home
Garlic Parmesan Bread Sticks from Simply Gloria
Roasted Garlic Parmesan Bread from Yellow Bliss Road
Caesar Salad
Homemade Caesar Dressing from Joyful Healthy Eats
No Egg Light Caesar Dressing from Will Cook For Smiles
Easy Homemade Caesar Dressing from A Dash of Sanity
Want to make your own pasta?
Cooking and Beer will show you how!
A Dash of Sanity will too.