If you are a fan of grilled steak, this Traeger Ribeye needs to get on your grill. This perfectly grilled, juicy, melt in your mouth steak will be your family's top request for BBQs this summer.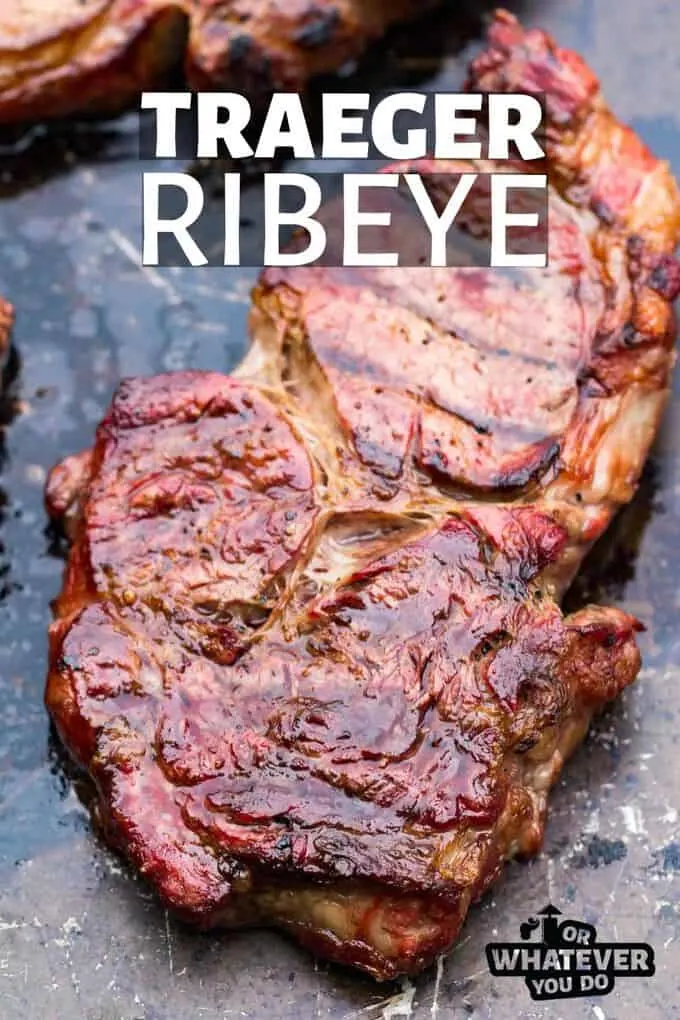 Traeger Ribeye
Let's face it, Ribeye is one of the best cuts of beef, and one of the most requested cuts of steak available at your local butcher and grocery stores.
Ribeye is one of the most tender and flavorful cuts for grilling. If you've never splurged before, do yourself a favor and get some at least once this summer. It is worth it!
Get our 75 ESSENTIAL Traeger Recipes here!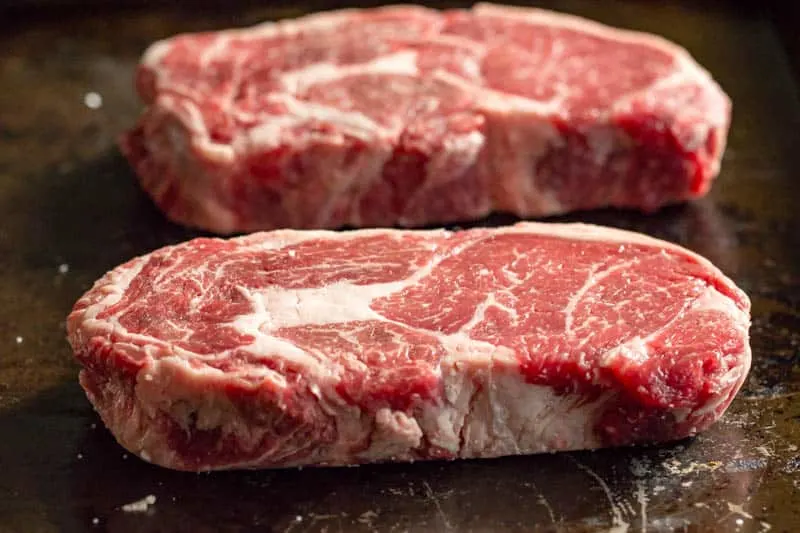 What makes a Ribeye one of the best cuts of steak?
The Ribeye is considered to be one of the most flavorful and tender cuts of steak available.
This cut comes from an area of the animal that gets little to no exercise, so it tends to have more marbling than other muscles that get used more often on the muscle.
The Ribeye steak is cut from the prime rib, or the standing rib roast.
More Traeger Beef Recipes here!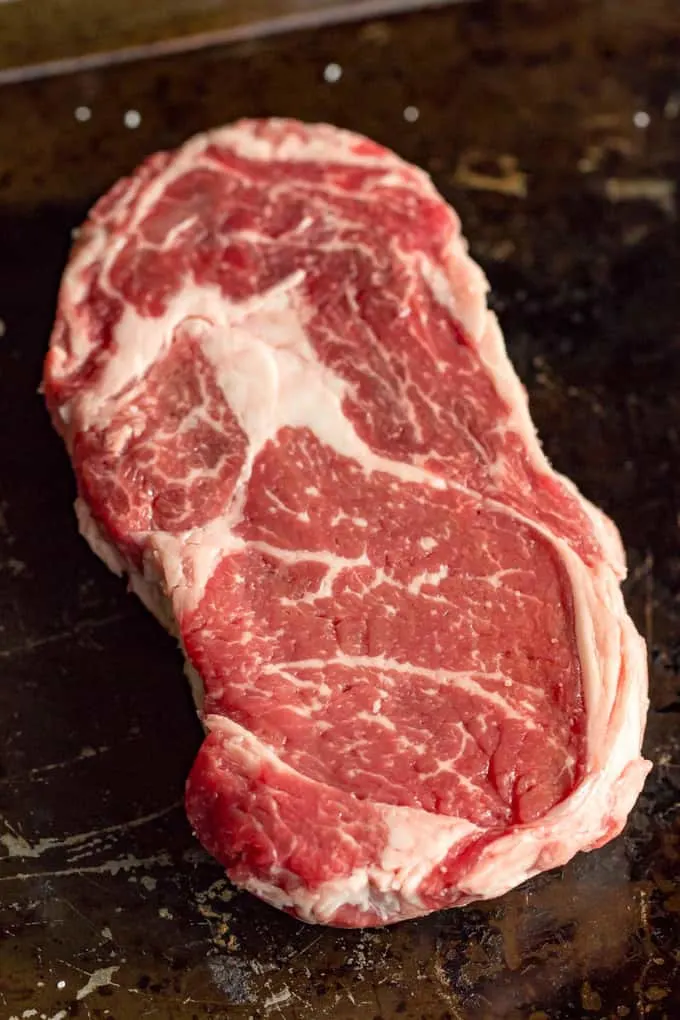 How to pick the best steak
The very first thing you should look at when buying your steak is the USDA's grading system for quality. "Prime" is the best quality, "Choice" is 2nd in line, and "Select" is on the bottom rung. Go for Prime or Choice for steak whever you can.
Prime steak can be hard to find in regular grocery stores, but we've had good luck at Costco.
You should always choose your cut of meat according to how you plan on cooking it.
If you're cooking meat well-done you should choose a cut that will remain tender.
Choose tougher cuts of meat for stewing and roasting, as the longer cook time will allow time for the meat to tenderize as it breaks down the connective tissue.
Don't be afraid to ask your butcher questions, that's what they're there for!
Steaks are best grilled, but you can pan fry if you have to at a high temperature, and usually a medium-rare temperature allows for a tender, juicy piece of meat.
Tenderloin, or Filet Mignon, has less marbling and fat than the ribeye and is considered to be the most tender cut, but can be wallet-busting, and in my opinion has less flavor than a ribeye.
Sirloin is a leaner cut of meat that is better on your budget but be careful if cooked too long can tend to be tougher and chewier.
The T-bone or Porterhouse is the best of both worlds, as on one side of the bone you have a small piece of tenderloin, and on the other a nice sized New York Strip. Great for grilling, but remember, you're also paying for the bone as you pay per pound when buying any kind of meat.
I'm also a big fan of the flat iron.
See all of my Easy Traeger Recipes here!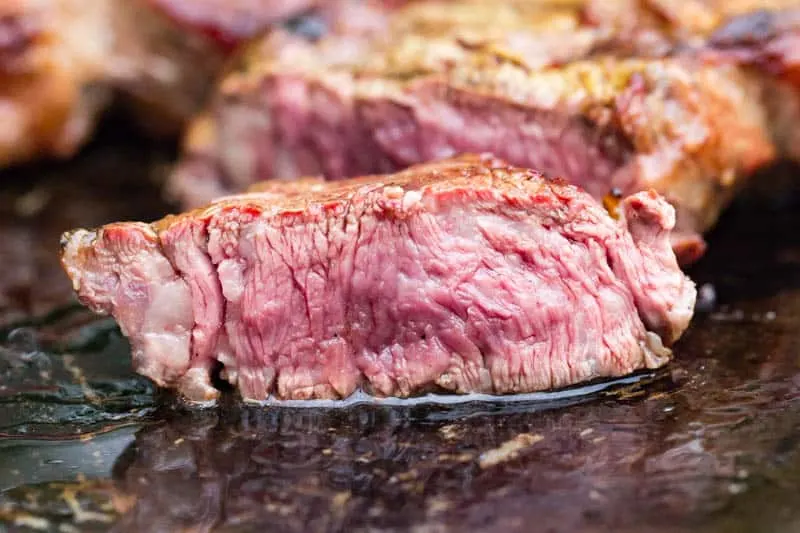 How to grill a ribeye on the Traeger
For the best and most evenly cooked steak, you'll want to take your steaks out of the refrigerator and allow to reach room temperature for about 30 minutes before you plan on grilling them. This allows the steak to cook more evenly.
There's no need to pre-season your steaks at this point, but you will want to make sure that the surface is dry before putting them on your grill. So give them a shake of salt and pepper right before they hit the grill but after you pat them dry with a paper towel.
The key to a good sear is high temperature. So get it hot and let the grill do its thing if you are doing a traditional grilled steak.
I'm including instructions here for both a traditional grilled steak and a reverse seared steak also. I prefer the reverse sear, but it takes about 3x as long as a regularly grilled steak so if you are pinched for time, either option is totally awesome.
Get my easy Side Dish recipes!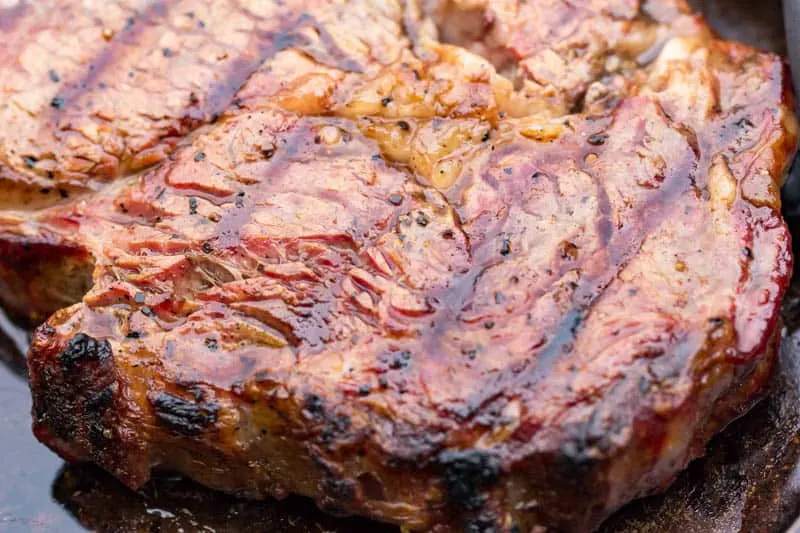 How do you know when your steak is done?
You must rely on a really good meat thermometer, this is a MUST! An instant-read digital thermometer is the best and easiest to use. This is the safest way to ensure your internal temperatures are accurate and the meat is safely done for consumption.
I use the ThermoWorks thermometers, and they are amazing. I have the Thermapen and it is one of my favorite pieces of kitchen equipment. I also have the Smoke which is a wireless leave-in probe and is one of my most-used grilling tools.
Join our Easy Traeger Recipes Facebook Group!
For all of your wireless grilling needs, the Smoke is the most reliable wireless thermometer I've ever used.
Temperature Guide for Steak:
Rare: 120-125 degrees Fahrenheit
Medium Rare: 130-135 degrees F
Medium: 140-145 degrees F
Medium Well: 150-155 degrees F
Well Done: Just have a cheeseburger
Remember that your meat will continue to cook after you remove it from the grill, so allow for a 3-5 degree rise in temperature while resting. Check, check, check that temp!
Speaking of resting, always allow your steak to rest for 5 minutes before serving. This allows the juices to tame down and remain in the meat when you start cutting into it.
Follow me on Instagram!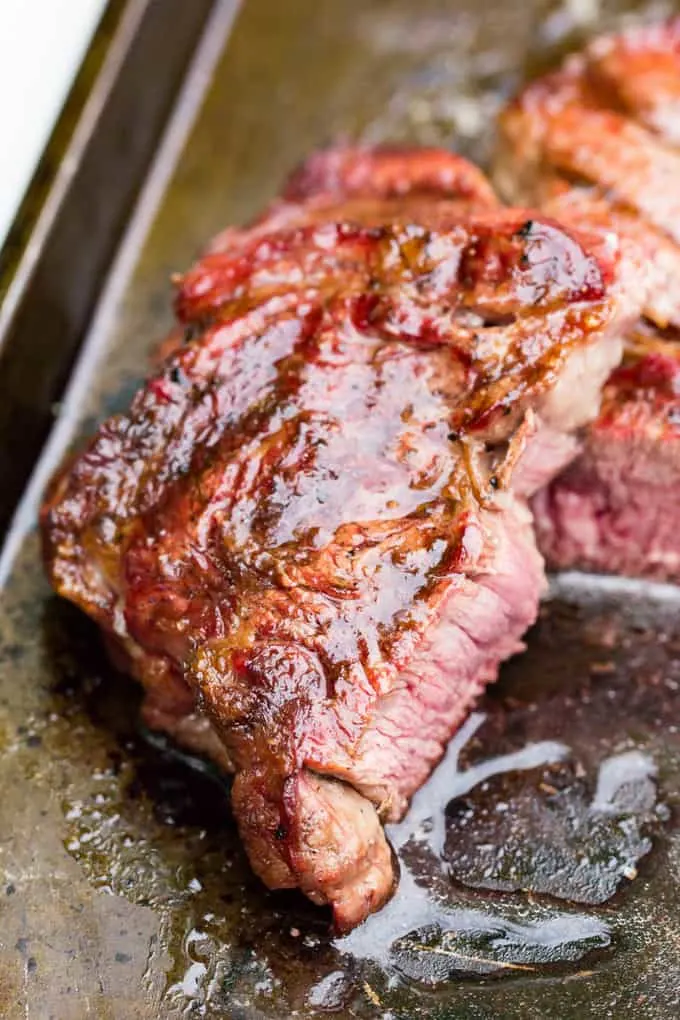 What should you serve with ribeye?
We have all of the BBQ Side Dishes you ever need, but if you want some specific suggestions, I recommend a few of the following:
Featured Reader Reviews
"The cooking suggestion for the ribeyes was so perfect. The steak was cooked perfectly, was very tender, and the flavor was throughout the entire meat. Keeping this as my go to recipe."

– Amie Crowder from Pinterest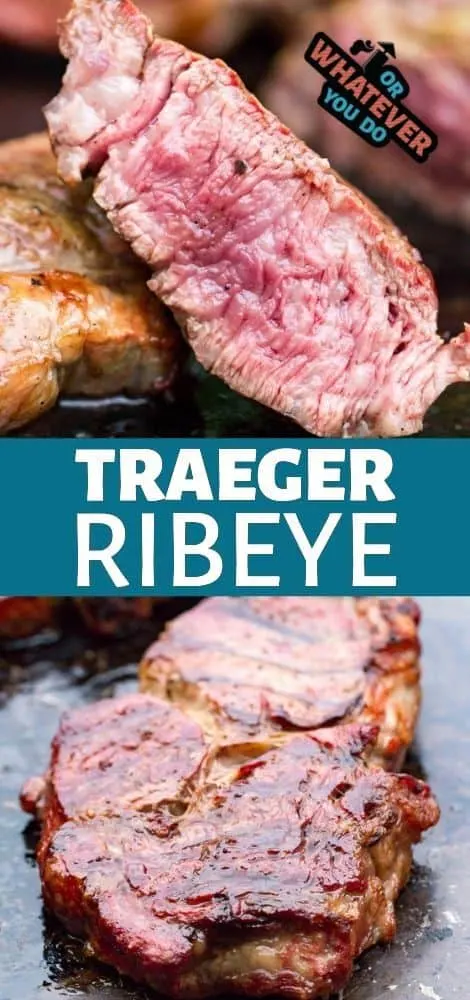 Yield: 4 servings
Traeger Ribeye
This is Traeger Ribeye is cooked right on the pellet grill. Instructions included here are for both a traditional sear and a reverse sear. Choose your own adventure, as long as it includes Berta beef, s&p, 4 minutes a side, down the hatch.
Ingredients
2 pounds Ribeye Steak
salt & pepper
Instructions
Traditional Sear
Preheat your grill over high heat following factory instructions. Let the beef come to room temperature, pat dry with paper towels, and coat with salt and pepper liberally.
Place on the grill and grill for 4-5 minutes per side, depending on how done you like your beef. The best way to tell is to use an instant-read thermometer, such as the Thermopen. (Link below)
Remove from the grill when it reaches 4-5 degrees below your desired level of doneness, and let rest for 5 minutes before serving.
Reverse Sear
Preheat your grill to 225° following factory instructions. Let your beef come to room temperature, pat dry, and then liberally salt and pepper the meat.
Place the meat on your pellet grill and shut the lid. Grill until the center reaches 125° for medium rare, or 130° for medium. With the reverse sear you want to pull them about 5-7° under where you ultimately want them to end up.
Preheat a cast iron skillet on a stove or a flat top grill over high heat. Throw down a little bit of high-smoke-point oil, such as avocado oil.
Place the steak on the pre-heated skillet or flat top and let cook for about 2 minutes per side, or until a crust has formed.
Remove, let rest for 5 minutes, and eat!
Notes
Rare: 120-125 degrees Fahrenheit
Medium Rare: 130-135 degrees F
Medium: 140-145 degrees F
Recommended Products
As an Amazon Associate and member of other affiliate programs, I earn from qualifying purchases.
Nutrition Information:
Yield:
4
Serving Size:
1
Amount Per Serving:
Calories:

615
Total Fat:

43g
Saturated Fat:

19g
Trans Fat:

0g
Unsaturated Fat:

23g
Cholesterol:

177mg
Sodium:

205mg
Carbohydrates:

0g
Fiber:

0g
Sugar:

0g
Protein:

56g
Nutrition data provided here is only an estimate. If you are tracking these things for medical purposes please consult an outside, trusted source. Thanks!