Pellet grilled spinach is so easy to make and helps add an entirely new dimension to spinach. If you have spinach on the stem, which is also very nutritious and quite edible, then it is easy to cook on the grill.

Traeger Grilled Spinach
For obvious reasons, I don't recommend using the de-stemmed spinach for this recipe, only because you would have to use a pan to prevent the leaves from falling through the grates and into the grill. You can do that if full sprigs of spinach are not available, but using whole spinach makes a better end result.
Either way, you will still get the smoke flavor from the pellets into the grilled spinach and that is what makes it so tasty.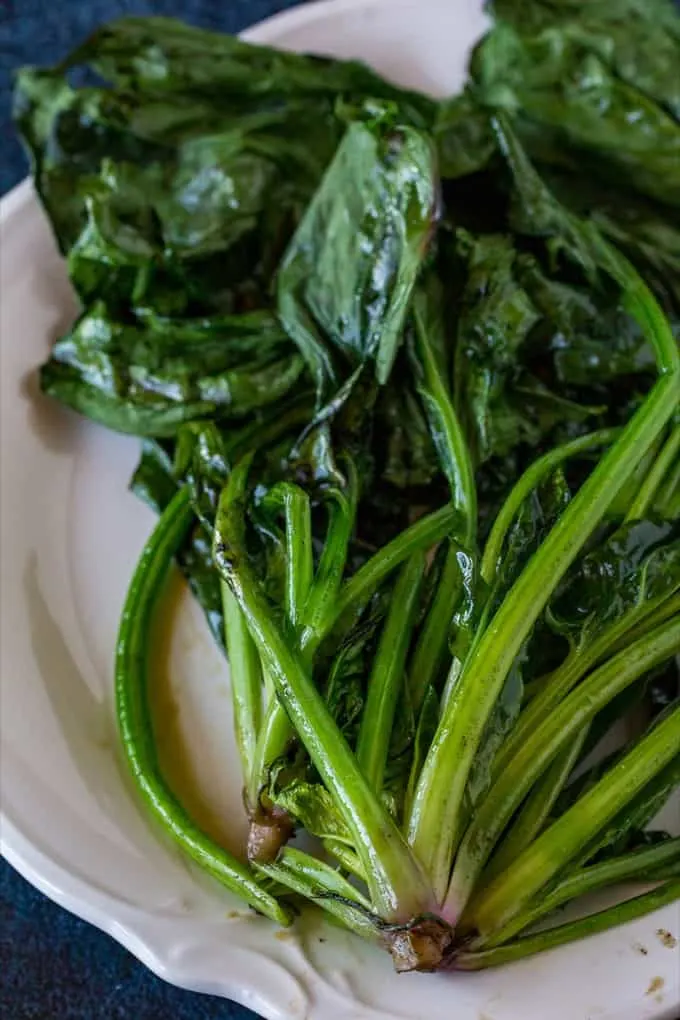 Where do I find the spinach with the stems in the grocery store?
Generally, the spinach with stems intact will be by the greens like celery and lettuce. Typically it is not by the pre-cut salad greens in the clear plastic containers featuring lettuce, arugula, mustard greens, spinach and various combinations of those.
Sometimes it gets buried in the sea of leafy greens, but usually you can find it. Oftentimes it comes wrapped in a clear plastic wrap similar to how you find fresh uncut basil. On that note, make sure not to confuse it with the basil.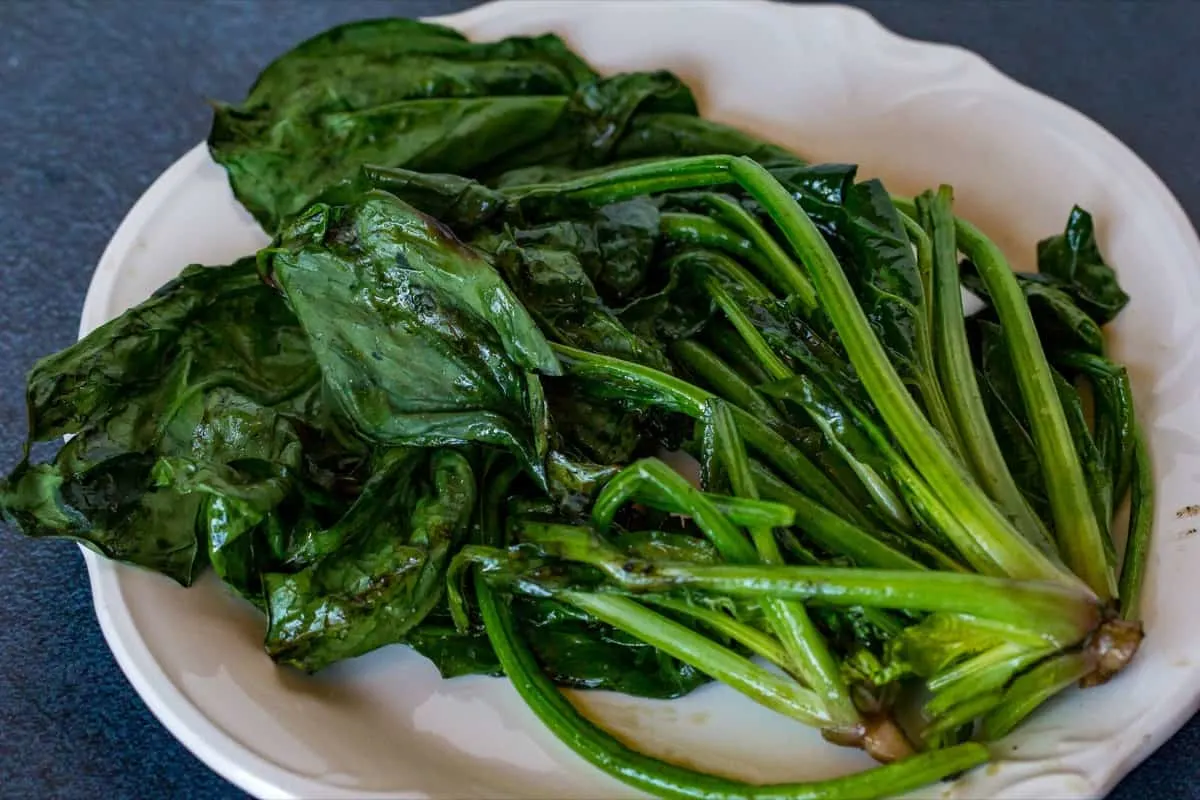 What kind of oil works best for grilling spinach?
You can use any kind of oil to lightly coat the spinach prior to grilling it. However, I recommend using an olive oil mist. You can find cans of aerosolized olive oil that spray on easily. Or look for a pump style mister on the kitchen utensils aisle in the grocery store.
Those are more environmentally friendly and last much longer and can also be refilled easily.
Other types of oil that work include sunflower oil, or if you want to add another flavor element then mist on sesame oil or coconut oil.
How long does it take to cook pellet grilled spinach?
With your pellet grill temperature at approximately 325 degrees, you will only need a few minutes to properly wilt the spinach. Wilting the spinach helps remove that slight bitterness spinach has, and so does the sea salt.
Spinach is easy to overcook though so keep an eye on it! If you over do it, then it will be tough to remove from the grill.
See more of my Easy Traeger Recipes here!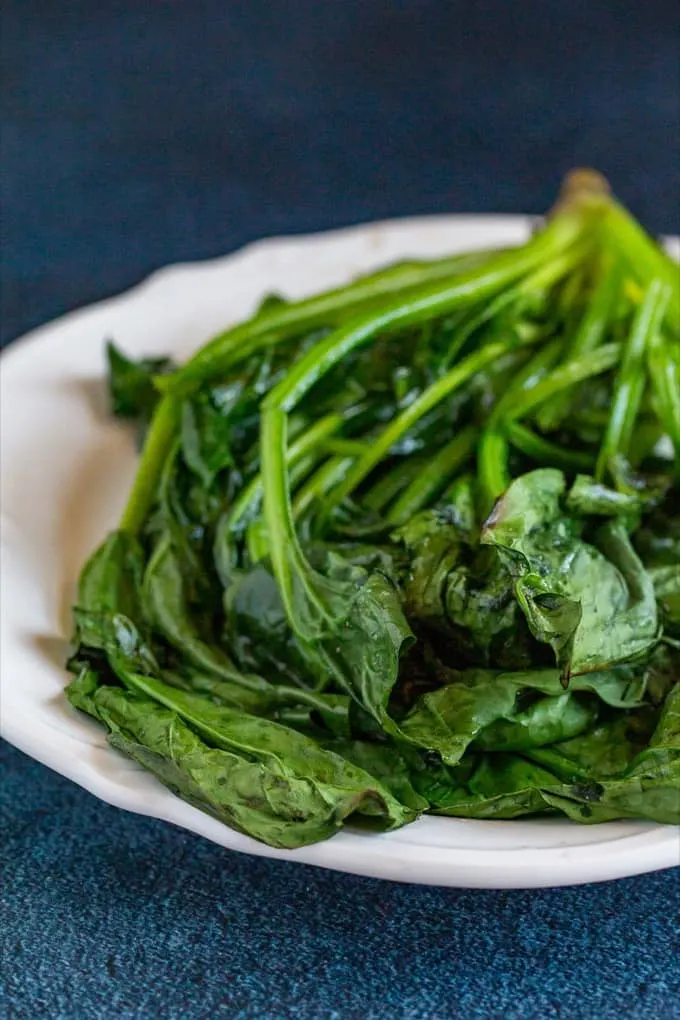 What if I am using a pan to hold leaves of spinach over the grill?
Same rules apply here as they do if you are cooking right on the grates.
Don't over cook.
When the leaves look a dark yet luminous green and have an oily shine, then take them off. They will still be cooking when you remove them and it is better to under cook than over cook them and have the leaves become a mushy mess.
What other greens work with pellet grilling?
Spinach is not the only green that grills very nicely. You can also use the same techniques and cook with the same ease and speed various other greens.
Mustard greens – like spicy spinach these work particularly well on the grill too.
Kale – Making kale chips is great but a change is always nice. Try grilling kale too; the tougher fibers of kale actually hold up pretty well on the grill too.
Romaine lettuce – lettuce doesn't instantly come to mind as something you would throw on a grill, but grilled romaine is great and you can even grill the interior of the romaine that you might not otherwise use since it is more bitter than the big green leaves. The pellet grill adds smoke and helps caramelize the more bitter center so it loses the bitterness and tastes amazing. Pro tip, use grilled romain in my Caesar Pasta Salad recipe!
Endive – The best way to enjoy endive is off a pellet grill! More bitter than spinach or even the heart of romaine, endive also loses the bitterness on the grill. Cut them in half along the long side, then cut those two halves down to quarter inch wedges. They take a bit longer to cook than spinach but it is worth it.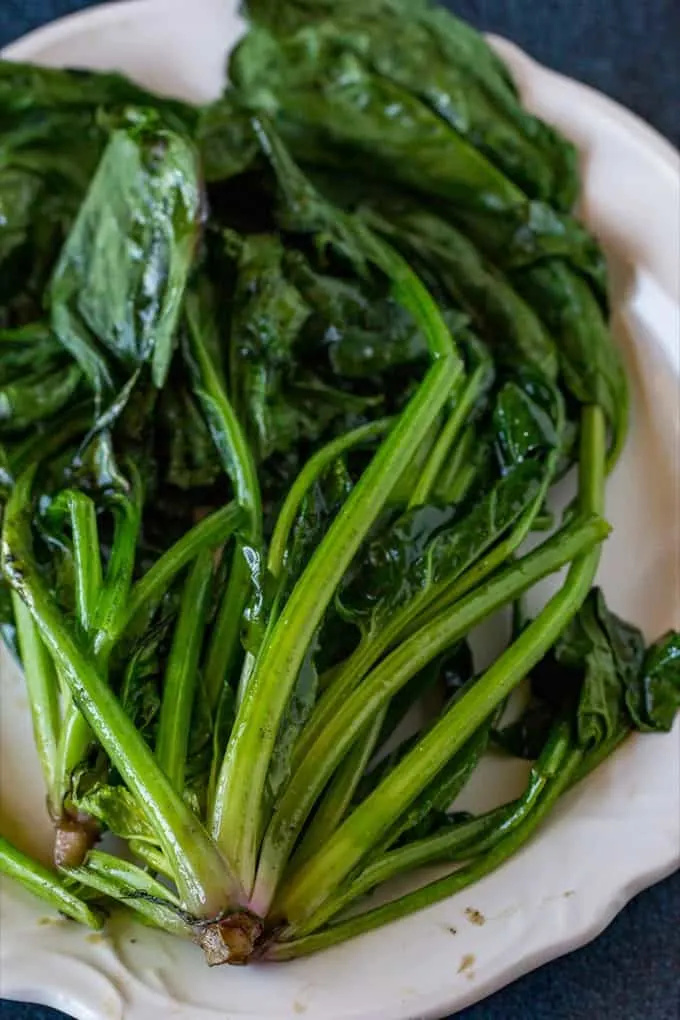 What is ideal to serve with pellet grilled spinach?
Pellet grilled spinach makes an excellent side dish. Spinach goes well with seafood, beef and lamb, as well as poultry. So you have tons of options that work really well with the grilled spinach.
Here are some recipes that I can recommend from experience:
Crab-Stuffed Lingcod

– You'll see this spinach featured in this post as well because this is what we served on top of our grilled spinach. It was amazing, and a really nice substitution for the starchy things I'd usually eat with that dish like pasta or rice.
Blackstone Grill Steak – The dark green spinach and the grilled steak look as good as they taste together. Plus you get such a great combination of B vitamins from bringing these two together
Traeger grilled zucchini and yellow squash – If you want to keep things vegetarian, then I recommend this summer squash recipe. Zucchini and yellow squash both work really well on the grill too
Traeger grilled chicken breast – Spinach is green with more flavor than simple lettuce so it helps add a great herbal element to grilled chicken too.
Traeger grilled crab legs – Crab legs cook equally fast on the grill so they offer the convenience of timing with the short cook time fo the spinach.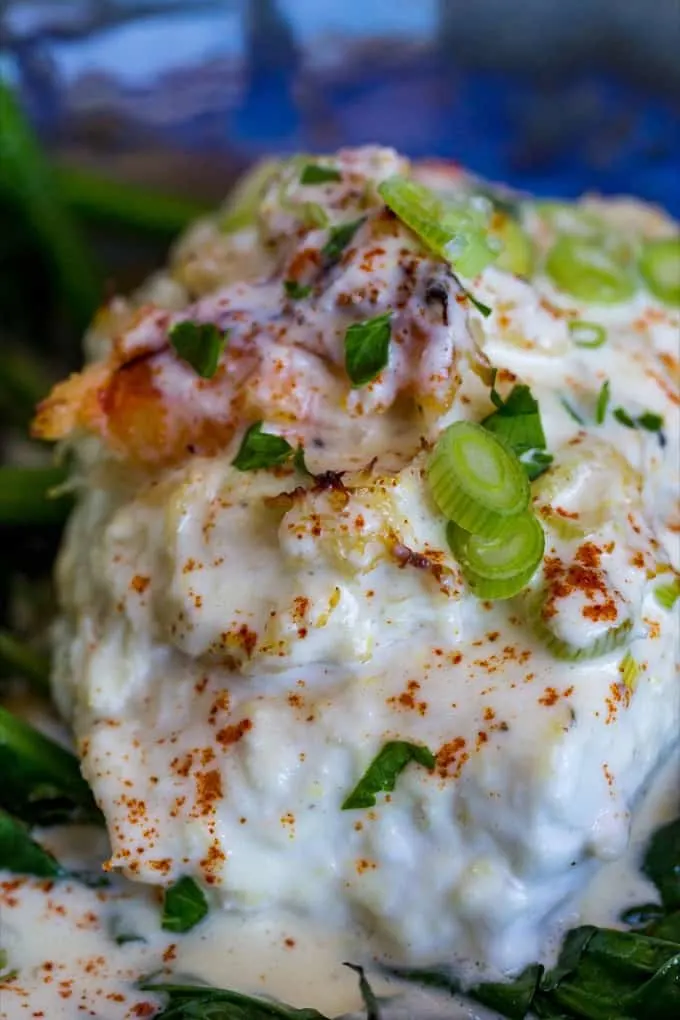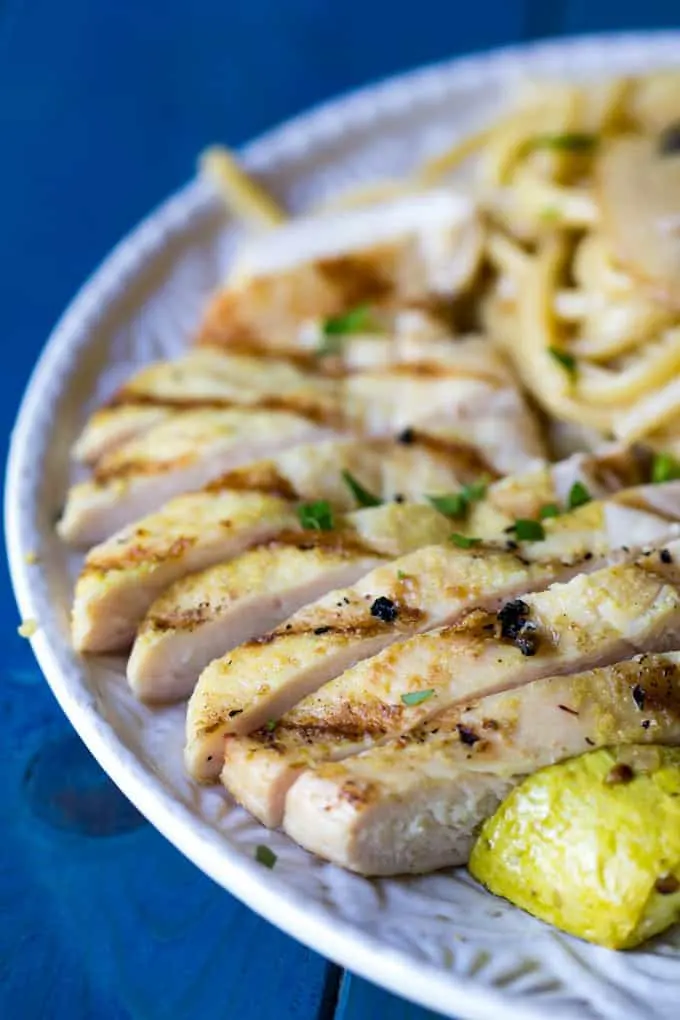 Pin for later!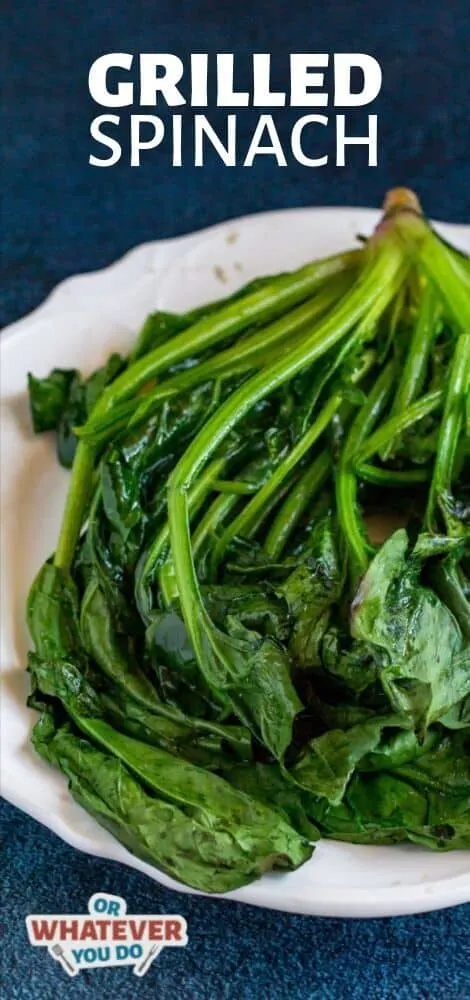 Yield: 6 servings
Traeger Grilled Spinach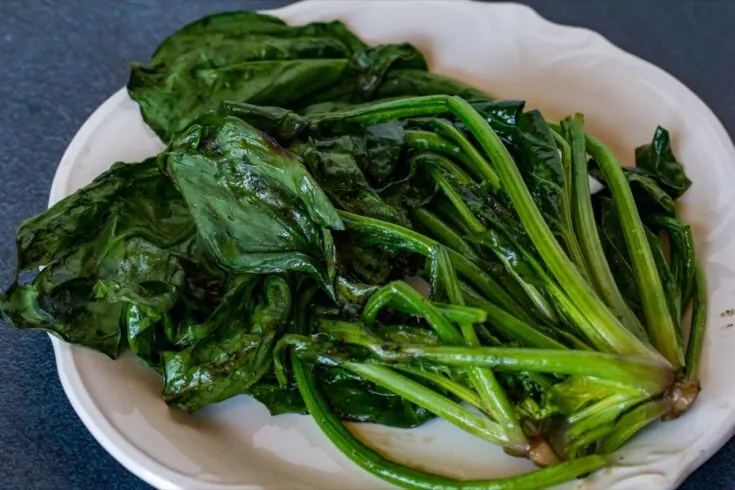 This easy pellet grill spinach is drizzled with oil and sprinkled with salt and then quickly grilled on my Traeger pellet grill. It wilts and gives it just a touch of wood-fired flavor, and is one of my favorite summer sides!
Ingredients
2 bunches fresh spinach, on the stalk (washed and dried)
1 teaspoon avocado oil
1/2 teaspoon salt
Instructions
Preheat your grill to 400-425° following factory directions.
Drizzle your spinach with the avocado oil and sprinkle with salt.
Place the spinach on the grill, and cook for about 4-5 minutes, or until the spinach is wilted and bright green.
Remove from the grill and serve warm!
Recommended Products
As an Amazon Associate and member of other affiliate programs, I earn from qualifying purchases.
Nutrition Information:
Yield:
6
Serving Size:
1
Amount Per Serving:
Calories:

33
Total Fat:

1g
Saturated Fat:

0g
Trans Fat:

0g
Unsaturated Fat:

1g
Cholesterol:

0mg
Sodium:

266mg
Carbohydrates:

4g
Fiber:

2g
Sugar:

0g
Protein:

3g
Nutrition data provided here is only an estimate. If you are tracking these things for medical purposes please consult an outside, trusted source. Thanks!