Easy Traeger Grilled Lamb Chops cook quickly, are easy to prepare and are the perfect bite served with some easy sides for a quick weeknight meal.

Traeger Lamb Chops
Traeger Grilled lamb chops seasoned with Spiceology's Greek Freak seasoning cooks quickly on your Traeger pellet grill, but their flavors are timeless. A simple blend of seasonings, tender lamb chops, and some fire and smoke are all you need for one of the best meals you'll have this week.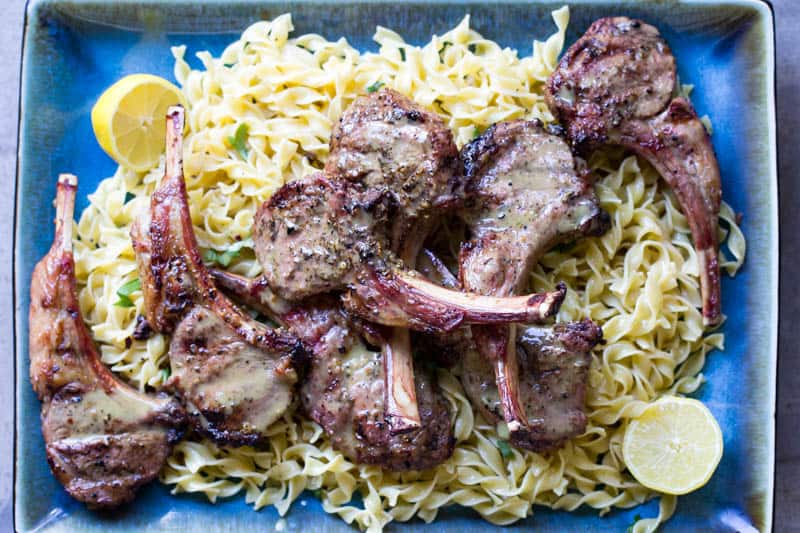 Which cut of lamb chop do I need for this recipe?
The difference between the lamb chop and the lamb loin chop is whether the rib comes from the side or lower portion of the lamb's rib or the top of the rib. Pricy "rack of lamb" is the loin chop which is considered the most tender meat.
Either one works fine, and what you pick will probably be a combination of availability and price. In terms of flavor, both are delicious, don't taste gamey, and work great on the grill.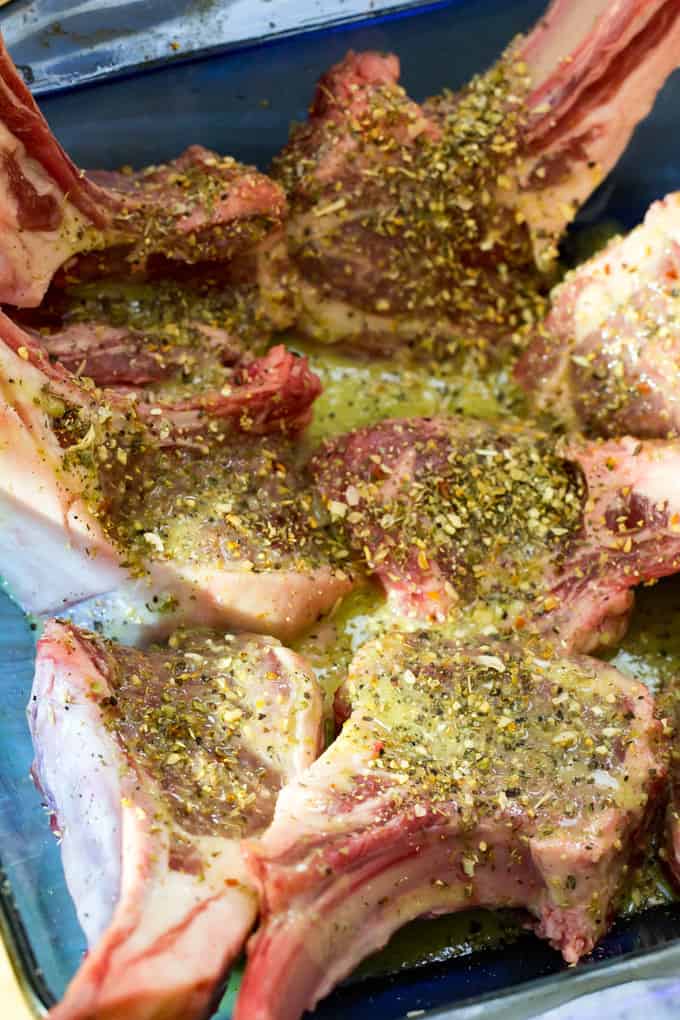 How do I prepare the lamb chop with Mediterranean Seasoning?
Sprinkle the seasoning liberally over the lamb chop, then drench it with olive oil. Make sure both sides are well coated with seasoning and olive oil.
I like to let the chops marinate in the seasoning for an hour or two prior to grilling to allow the seasoning to permeate the meat.
If you decide to whip up a batch of our Lamb Sauce, you can also marinate in that as well and then hit the chops with the Mediterranean seasoning right before it hits the grill.
If you are a big fan of garlic, then chop some up and add them to the marinade. There is some garlic in the Greek Freak seasoning, so you are not missing out by not adding it. Some folks just really love their garlic though. For them, a few extra cloves is always the way to go.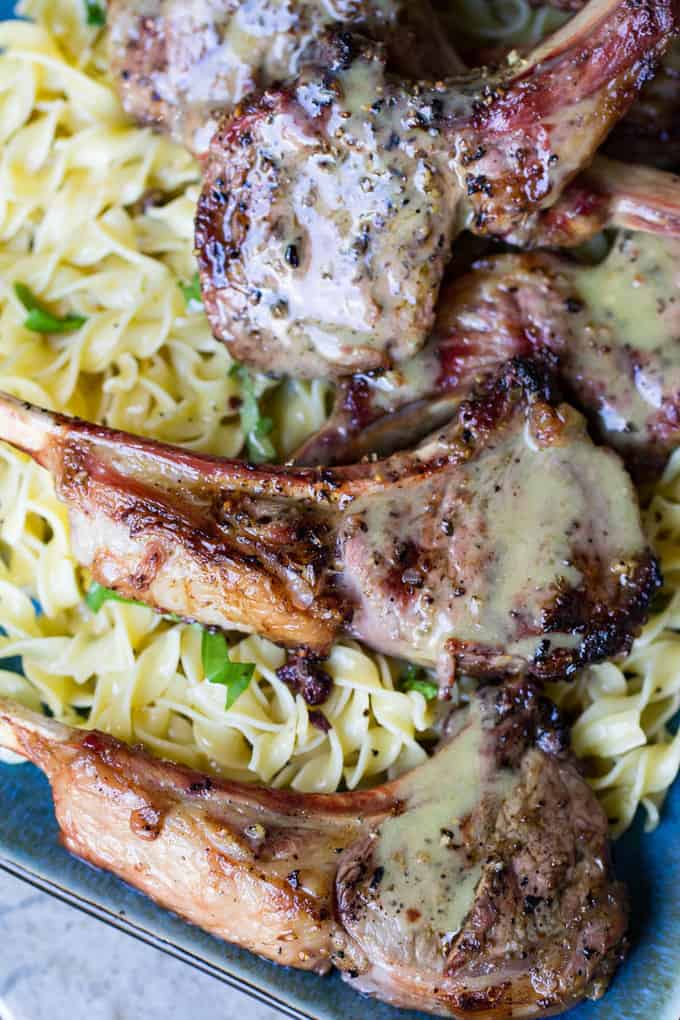 What is the perfect cooking temperature for the grilled lamb chops?
The first rule of grilling lamb chops is that you need to make sure your grill is HOT. Grilled lamb chops cook very quickly, at about ten minutes per side. You ideally want a temp between 450 and 500 degrees f.
The meat goes on for a high and hot sear to lock in the juices. Medium rare to medium is ideal for lamb. Rare is 120°F, medium rare 125°F, medium 130°F, and well done is 145°F and higher. Just remember, grilled lamb can taste slightly gamey when cooked past medium.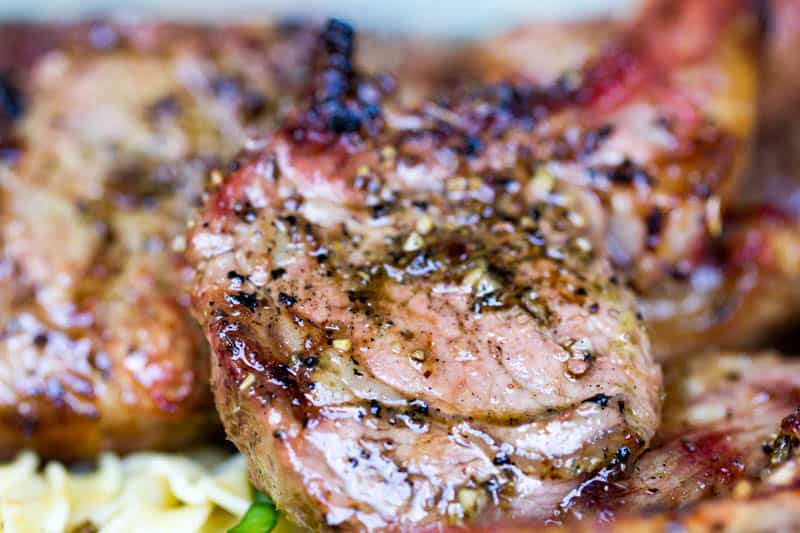 If you are feeling it, and want everyone to admire your hatch style grill marks, then make sure you do a 45 degree turn of the meat each time you flip it to create great grill marks, flipping every five minutes.
When you take the meat off the grill let it rest for about five minutes.
If you want the meat to have a bit more smoke flavor, then smoke the meat first in your Traeger or other brand of pellet grill or smoker for about 20 minutes at 180-225° in heavy smoke. It won't cook much, but you will definitely add some additional smokiness.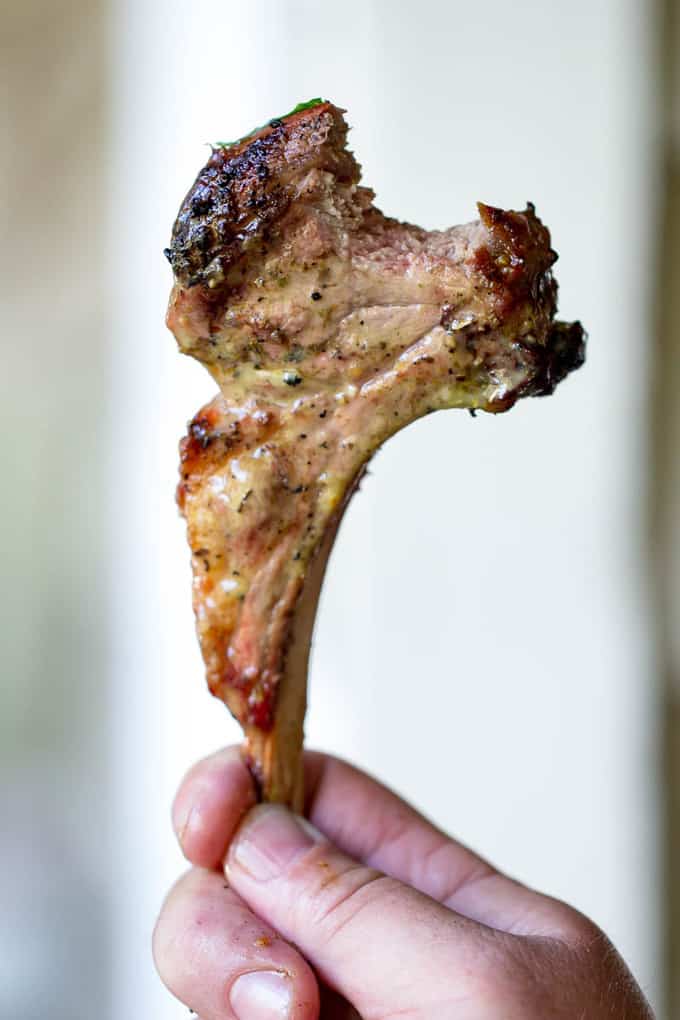 How to make homemade mint sauce
Homemade mint sauce is super easy to make, and not only is it used in the marinade for these grilled lamb chops, it is also wonderful poured right over the top after they come off the grill.
Mint Sauce Ingredients:
olive oil
garlic
salt
black pepper
oregano
lemon juice
mint
parsley
Just toss all of that into a blender and pulse until it is combined.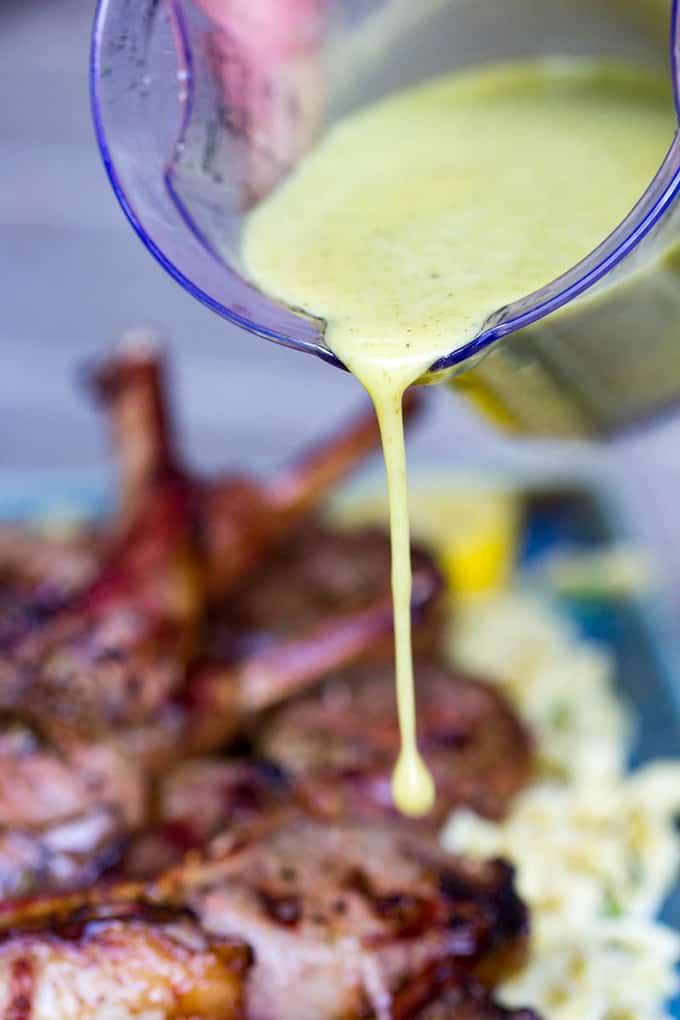 What should I serve with grilled lamb?
I like to serve pasta or rice with lamb chops, personally. I recommend my Easy Buttered Noodles, which you see pictured with these easy chops.
You could also make my Creamy Noodles if you want something a little heartier or my hearty mushroom pasta would be great too.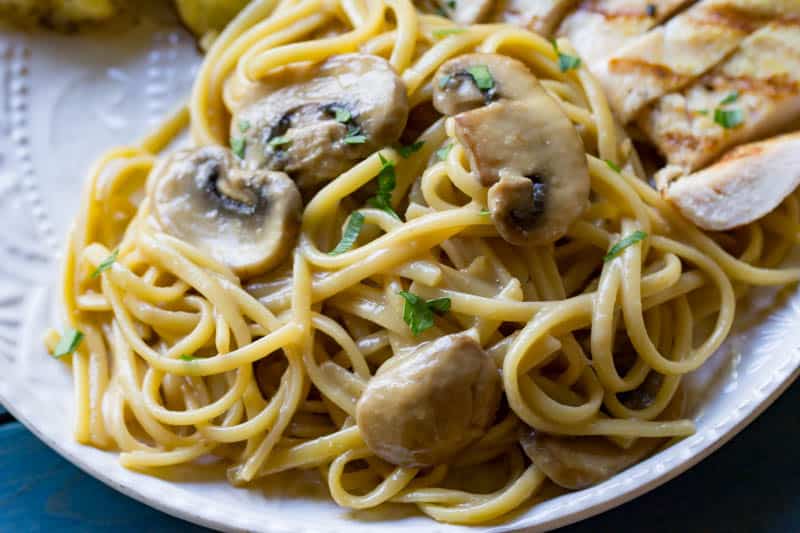 Make up my easy grilled spinach for some more green things in your life. If you are in the mood for salad but don't think you can handle any more Greek Freak in your life, I highly recommend my homemade Caesar dressing.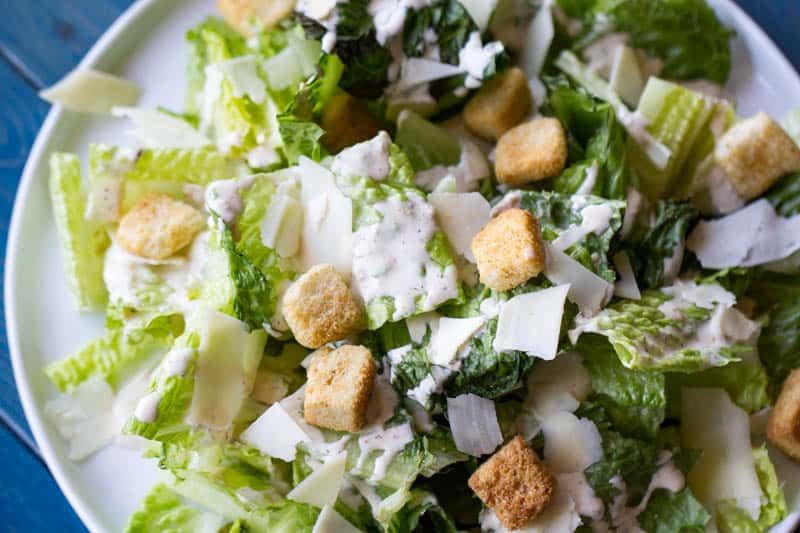 What is Greek Freak seasoning from Spiceology?
Greek Freak seasoning from Spiceology is a blend of herbs and spices that is PERFECT in this recipe. We LOVE Spiceology here. They are high quality, don't have fillers, and are super reasonably priced. I have almost their entire line of giant food-service-sized containers and when I can help it, I never use anything else.
The spices include onion, dried orange peel, garlic, parsley, tomato, chili, sunflower oil, and salt. Really simple ingredients that come together to create something wonderfully complex, and they all work amazingly well on the grill.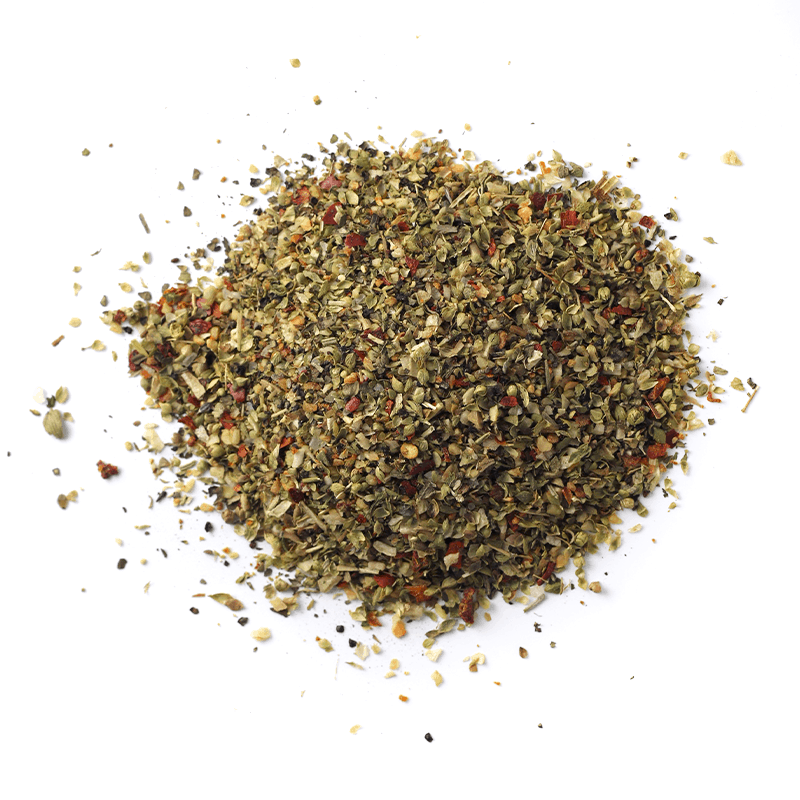 What else can I make with Greek Freak?
Need some ideas to use up that Greek Freak Mediterranean seasoning? I have lots on the site that you'll love! See the whole list of my Greek Freak Recipes here.
Greek Pasta Salad is one of my favorite summer salads. It is colorful, easy to make, and uses a homemade Greek-inspired dressing.
Greek Freak Dressing recipe doesn't have to be used just on salads. You can just as easily use this as a sauce or dip for your Traeger grilled lamb chops too. It is also the dressing featured in my Greek Pasta Salad above!

Greek Ground Beef Empanadas

are a fun twist on a classic Spanish dish. Use Puff Pastry for the dough to make these super-fast, and you'll have a quick and hearty meal that everyone will love. Also super portable if you need to take dinner on the go!

Grilled Zucchini and Yellow Squash

are an easy way to put out some vegetables on the table and these are cooked right on the grill.
Salmon Orzo Pasta Salad is another one that features that awesome Mediterranean Greek Freak seasoning as well as grilled salmon! So delicious!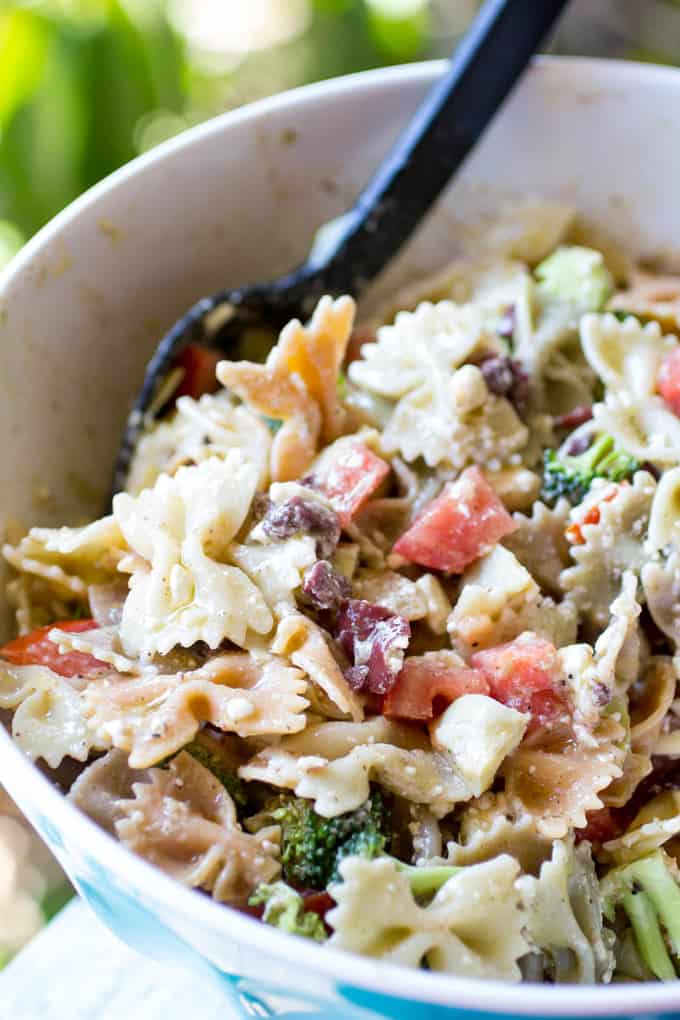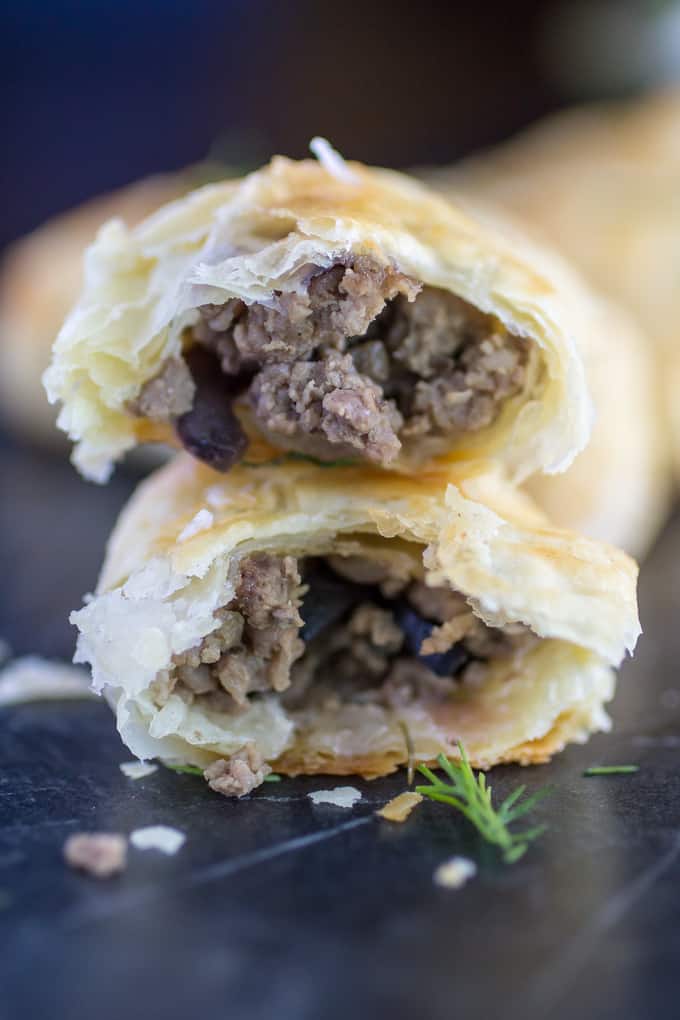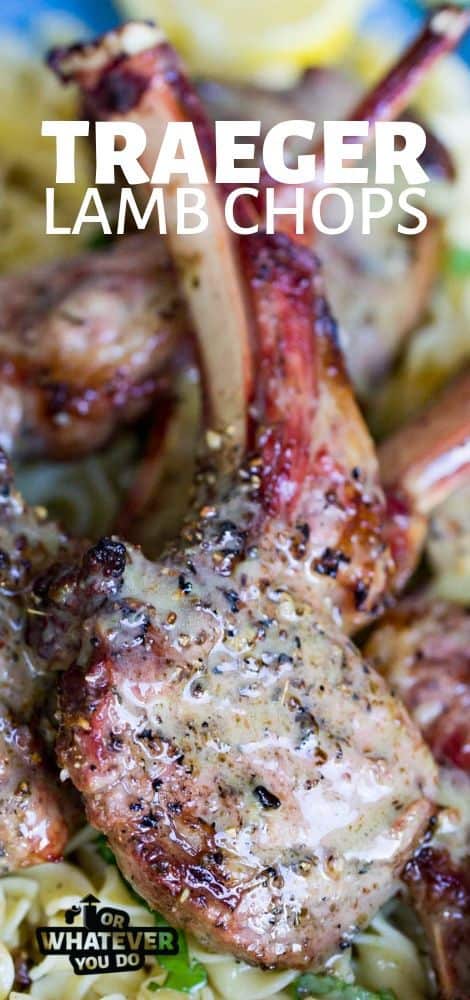 Yield: 8 servings
Traeger Grilled Lamb Chops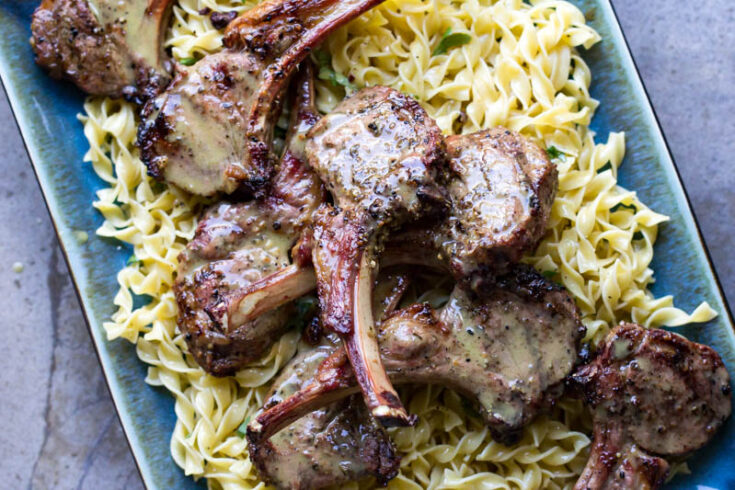 Tender lamb chops seasoned with Greek herbs and spices and topped with a delicious mint sauce.
Ingredients
Lamb
16 lamb chops
2 tablespoons avocado oil
2 tablespoons Greek Freak seasoning
Mint Sauce
1 cup olive oil
10-12 cloves garlic
1 teaspoon salt
1/4 teaspoon fresh ground black pepper
1/4 teaspoon dry oregano
3/4 cup lemon juice
1 tablespoon chopped mint
1 tablespoon chopped Italian parsley
Instructions
Place the lamb chops in a baggie with 1/4 - 1/3 cup of the mint sauce and let marinate for about 30 minutes.
Remove from the marinade and discard the sauce that had the raw lamb in it.
Preheat your pellet grill to 450°, sprinkle the chops with the Greek Freak seasoning, and place your lamb chops on the grill.
Cook for 3-4 minutes per side, and remove to rest before serving.
Recommended Products
As an Amazon Associate and member of other affiliate programs, I earn from qualifying purchases.
Nutrition Information:
Yield:
8
Serving Size:
1
Amount Per Serving:
Calories:

362
Total Fat:

26g
Saturated Fat:

12g
Trans Fat:

2g
Unsaturated Fat:

13g
Cholesterol:

98mg
Sodium:

1225mg
Carbohydrates:

0g
Fiber:

0g
Sugar:

0g
Protein:

31g
Nutrition data provided here is only an estimate. If you are tracking these things for medical purposes please consult an outside, trusted source. Thanks!