Caprese Pasta Salad is all of your favorite flavors all mixed into a pasta salad! Fresh mozzarella, tomatoes, and basil shine in this easy barbecue side dish.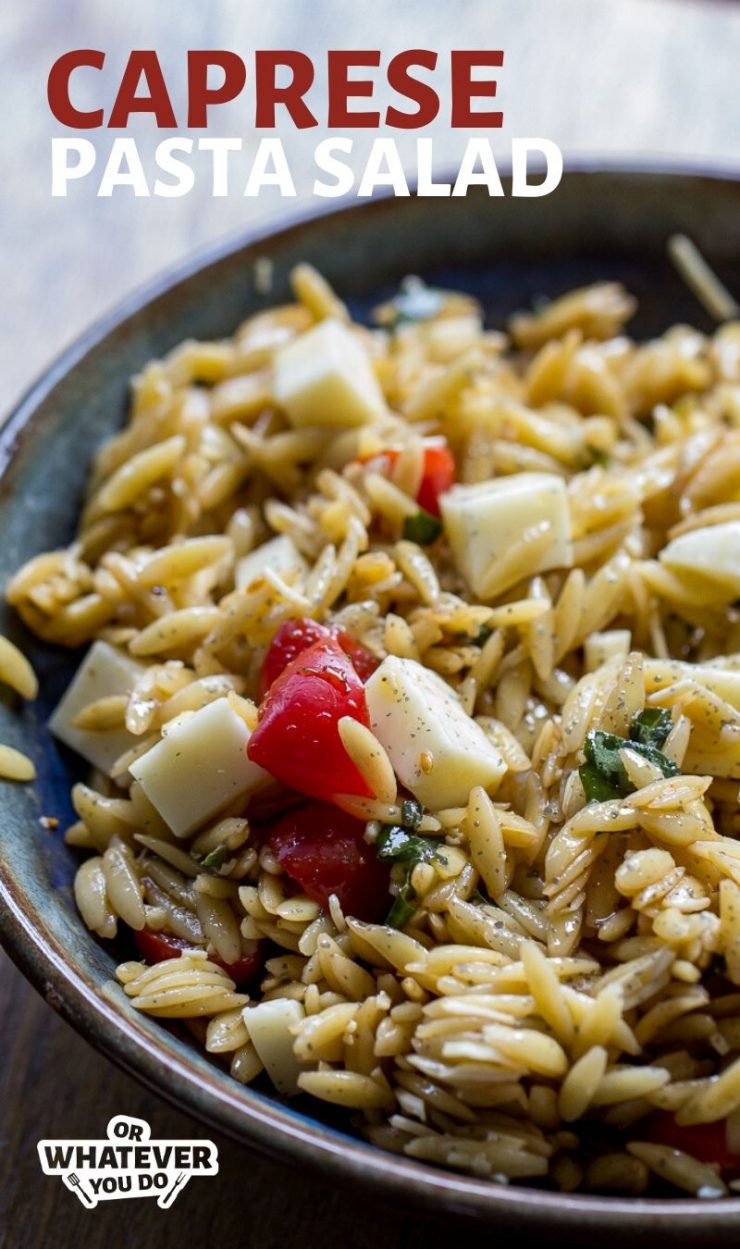 Caprese Pasta Salad Recipe
Caprese Pasta Salad takes the classic Caprese-style Italian salad and tosses some pasta into the equation. If you are unfamiliar with what a Caprese salad is, it is typically fresh tomatoes, some very fresh mozzarella cheese, and fresh basil. All drizzled with extra virgin olive oil and dashed with a pinch of salt.
I have a Caprese salad recipe if you want to try doing just the salad without the pasta. Or if you get a little overzealous in your Caprese you can use the leftovers in this pasta salad too.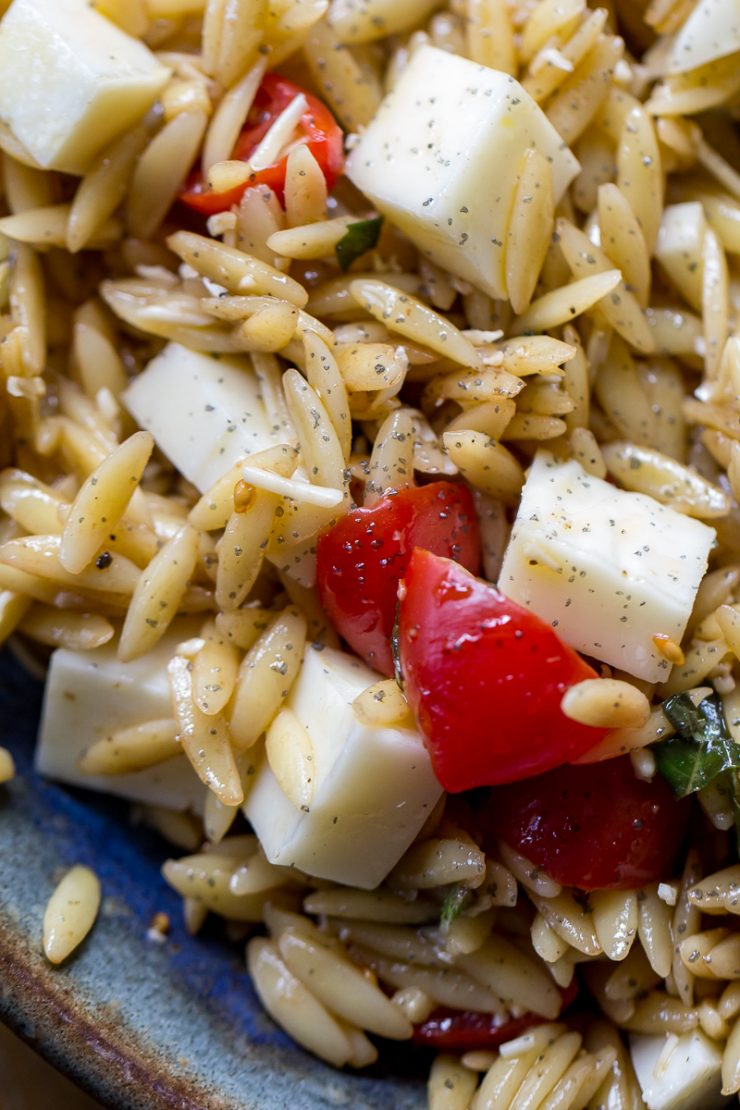 Light and easy Caprese pasta salad
Sometimes Caprese salads also include arugula, and you are welcome to add some of that too if you would like. If it works in a regular Caprese salad, then you can rest assured it will also be amazing in the pasta salad version as well.
The real key to making this is choosing quality ingredients. Try to find vine-ripened tomatoes. Use only the best quality extra virgin olive oil. It the olive oil doesn't have that light vegetal smell, then it is probably an olive oil blend and not 100% EVOO.
Most importantly, seek out the super fresh buffalo mozzarella cheese. This is the cheese you typically find floating in water at the salad bar in the market. Or you might find it in packages in the cheese area of the dairy aisle.
It is lighter in color, and less salty that the more aged version of mozzarella that you slice or shred for making pizza, for example.
Even the type of salt you use makes a big difference. Try to use a large and flatter grain of salts like most sea salts or Himalayan salt. Once again, any type of salt works, but ingredients matter!
Get more recipes for your cookout here!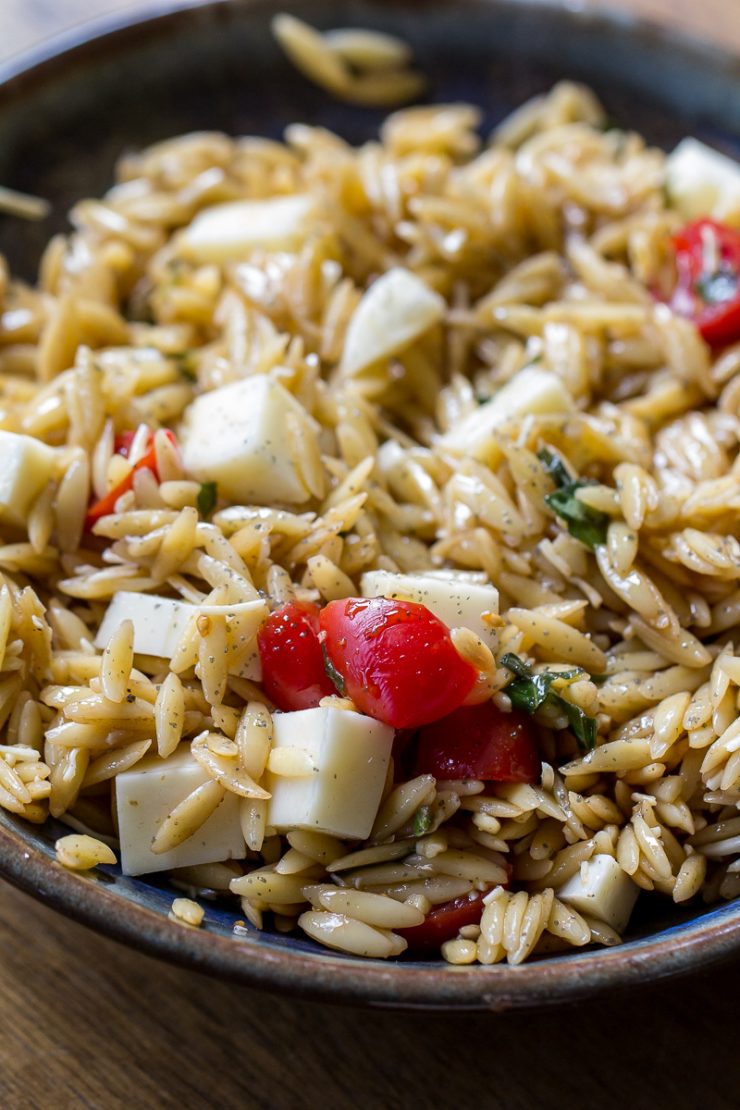 Orzo is the ideal pasta for pasta salads
I love using orzo for pasta salads. Although orzo is a pasta, most people don't really think of it as a noodle per se. Instead, orzo is intentionally shaped like a giant piece of rice. Like rice, it has a nice texture for salads.
It doesn't break up easily. The pasta easily coats with the dressing. And best of all, it is easy to eat with a fork or a spoon. It also maintains its "bite" even when held for a day or two in the fridge, which is my biggest complaint about pasta salads with less sturdy pasta. I want the leftovers to be just as good as the first time we ate it.
If you don't have any orzo handy, then you can substitute other types of pasta. If that is necessary, then I recommend smaller noodles like small macaroni.
Get my easy Side Dish recipes!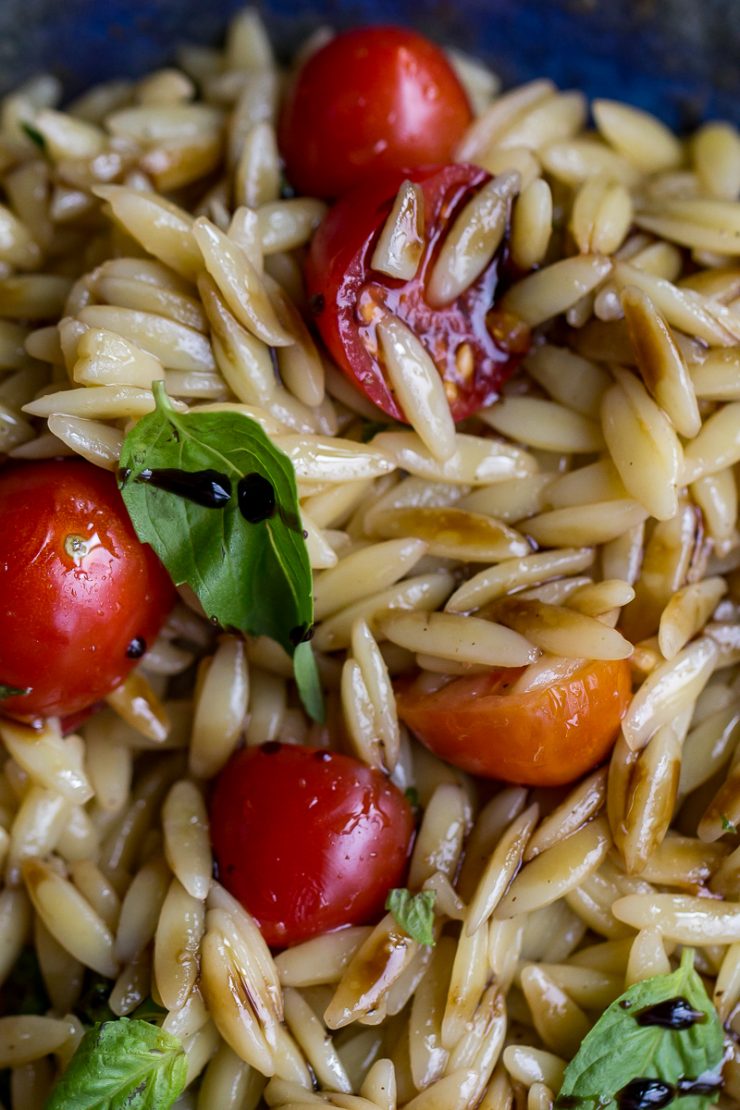 More about buffalo mozzarella
Authentic buffalo mozzarella cheese is a fresh cheese made from the milk of a Mediterranean buffalo. The cheese is known as "the pearl of the Mediterranean". It is a very mild tasting cheese that has a great melting point.
The cheese has a long and cherished history. For good reason, it is the perfect cheese for pizza of course. However, in a Caprese salad buffalo mozzarella gets to be the star, and for the pasta salad version, the mozzarella still makes the dish.
Get all of my easy dessert recipes here!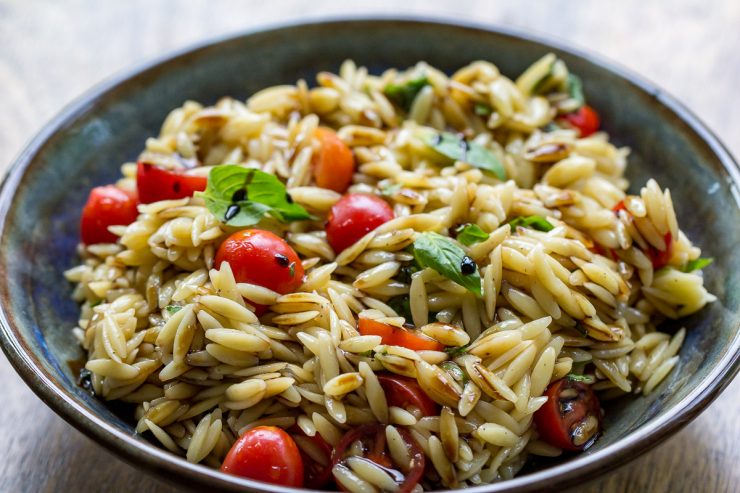 What is the best tomato for Caprese pasta salad?
Tomatoes are such an important part of the overall flavor profile of Caprese salad, and the pasta salad version is no different. The more ripe and flavorful, the better. For pasta salad, I like to use small grape or cherry tomatoes that are sliced in half, but if it is tomato season where you are a big beefy heirloom varietal that's been ripened on the vine would be perfect here too.
In southern Italy, even green tomatoes are commonly found in Caprese salads. If you do want to try this variation, then only use a few. They add some tanginess, but the red tomatoes are best.
Make sure you don't store your tomatoes in the fridge!! They will get more watery and they stop ripening in the fridge.
Some tomatoes don't have a lot of flavor. If you want to get more tomato flavor from your tomatoes, then put them in the broiler for about ten minutes. Roasting them will help add much more flavor. Just make sure to let them cool before you add them to the salad.
Have a Cocktail with dinner!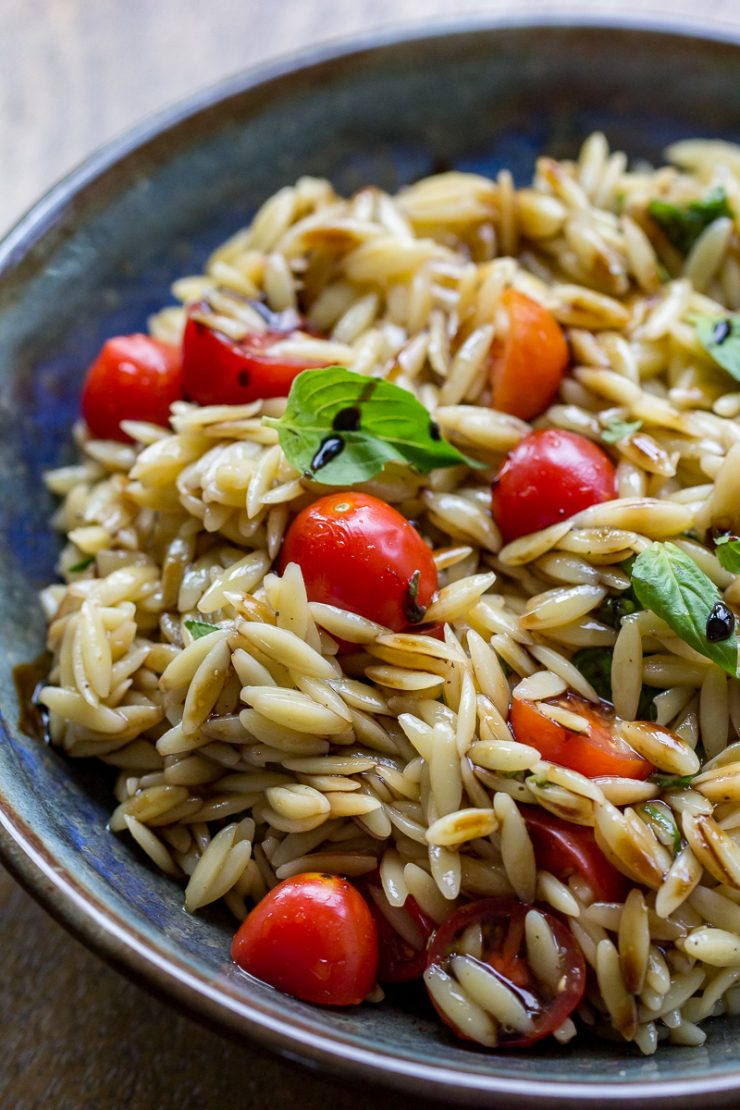 Some other orzo pasta salad recipes
Orzo pasta salads are so versatile. You can create infinite variations of pasta salads with it. The rice-shaped grain cooks very quickly and cools just as easily. So, it comes in handy even if you need to make it in a hurry and don't want to worry about mixing hot and cool ingredients.
Here are a few suggestions to check out:
All the ORZO recipes, in one spot!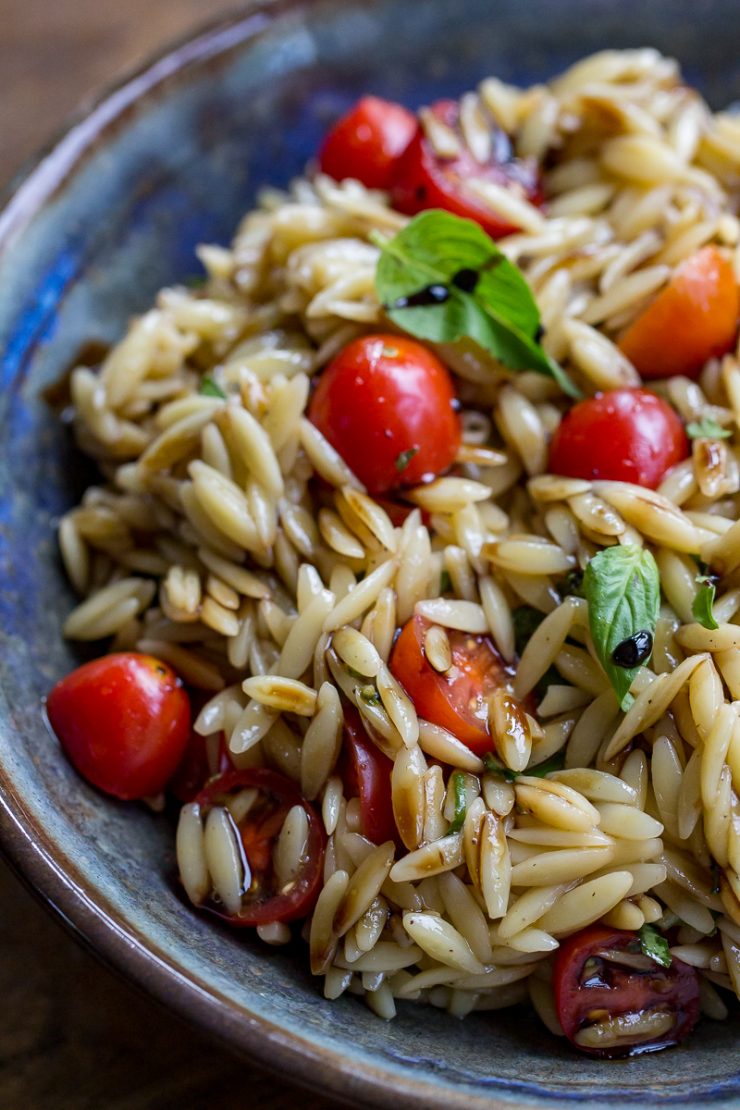 GIVE ME MORE CAPRESE
LOVE Caprese flavor and want more of it in your life? I've got some great options for you!
More recipes to love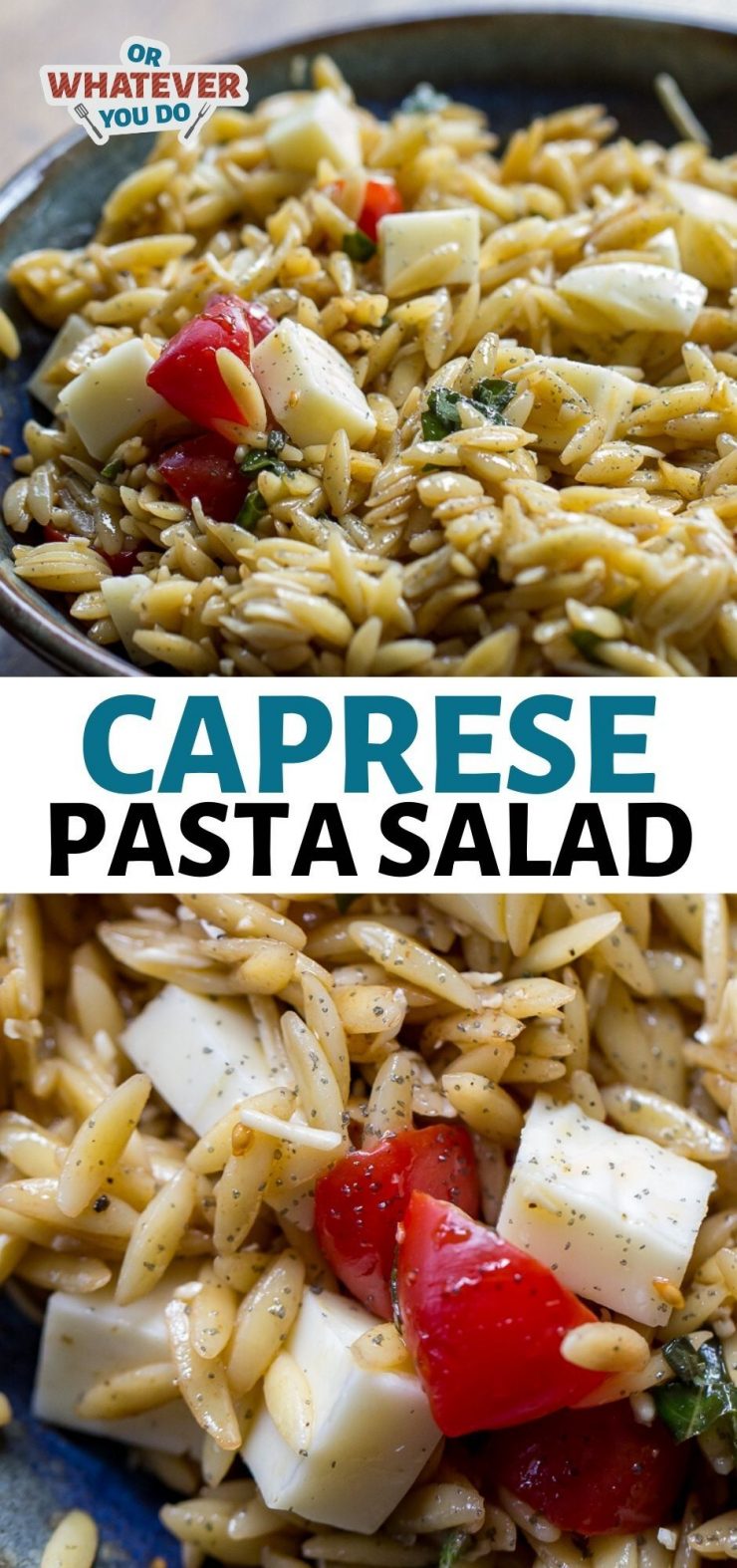 Yield: 8 servings
Caprese Pasta Salad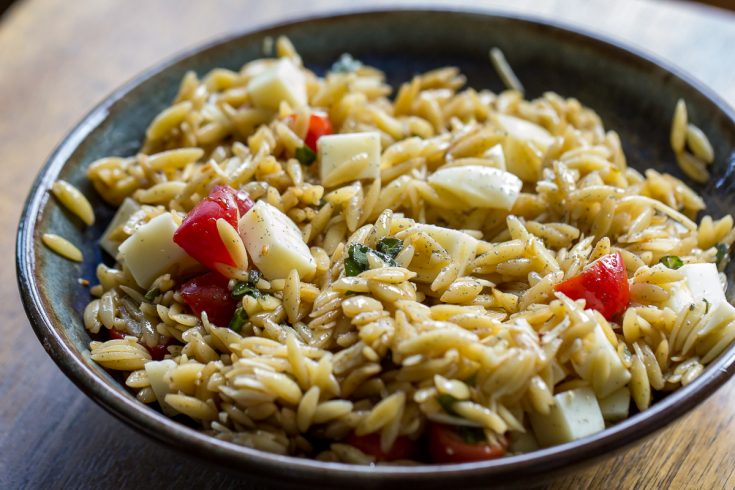 Homemade Caprese Pasta Salad with orzo, fresh tomatoes, mozzarella, and basil is a perfect side dish for your next barbecue, cookout, or pot luck!
Ingredients
1 pound orzo
2 cups fresh diced tomatoes
2 cups fresh mozzarella balls
6 large fresh basil leaves, chopped
1 cup balsamic vinaigrette
1/8 cup balsamic reduction
Instructions
Boil the orzo in well-salted water until it is al dente. Drain and rinse in cold water.
Combine the orzo, cheese, tomatoes, and basil and then mix in the balsamic vinaigrette.
Chill for 4 hours, minimum, before serving.
Drizzle with balsamic reduction right before serving.
Nutrition Information:
Yield:
12
Serving Size:
1
Amount Per Serving:
Calories:

237
Total Fat:

11g
Saturated Fat:

5g
Trans Fat:

0g
Unsaturated Fat:

6g
Cholesterol:

24mg
Sodium:

436mg
Carbohydrates:

23g
Fiber:

1g
Sugar:

6g
Protein:

10g
Nutrition data provided here is only an estimate.