Serve up this Togarashi Grilled Asparagus as an easy side dish this summer. Togarashi is a Japanese spice blend that uses chili peppers to give your asparagus a new element of flavor. Nothing beats a simple grilled asparagus in my books. The smoky flavor, char marks, tender but still offers that hint of crunch, and with this seasoning, it cannot be beaten.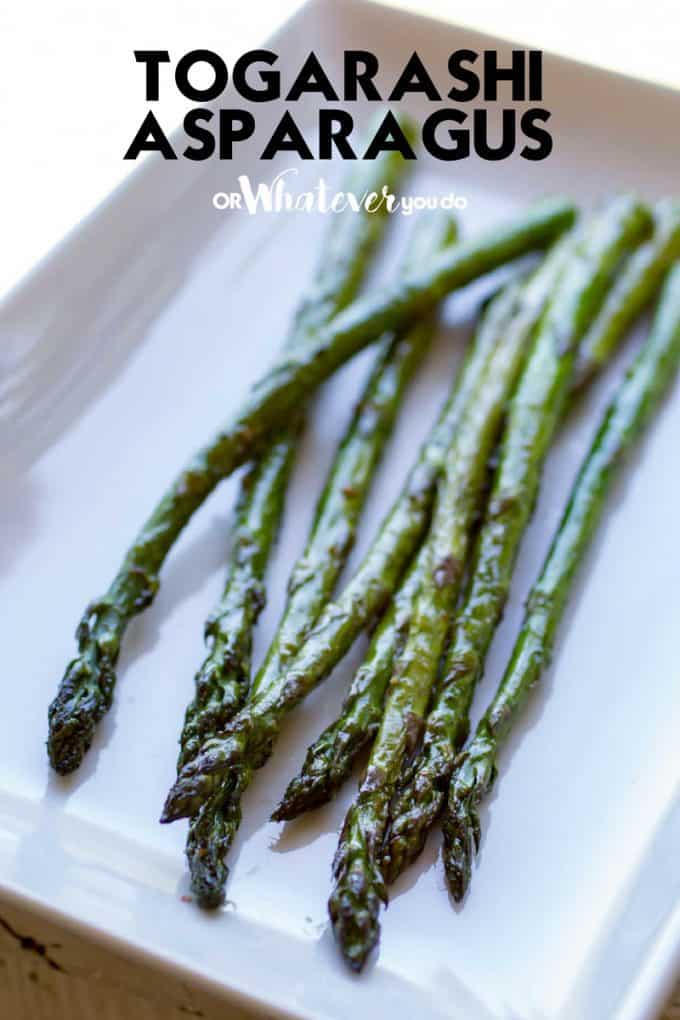 Togarashi Grilled Asparagus
This asparagus is so good, I could eat them like french fries. This grilled asparagus recipe is so addictive! Any asparagus lover will appreciate the new elements of flavor from the Togarashi.  
I am a huge fan of grilled asparagus, I know you can bake, sautee, and even steam it, but nothing tastes better than classically grilled asparagus.
I love the traditional flavors of butter, parmesan, garlic, and a straight salt and pepper. Today I wanted something more, something different, something that could steal the show from the main dish even!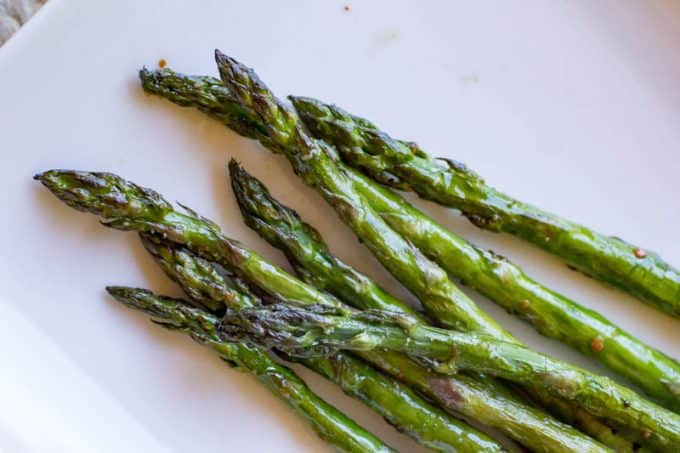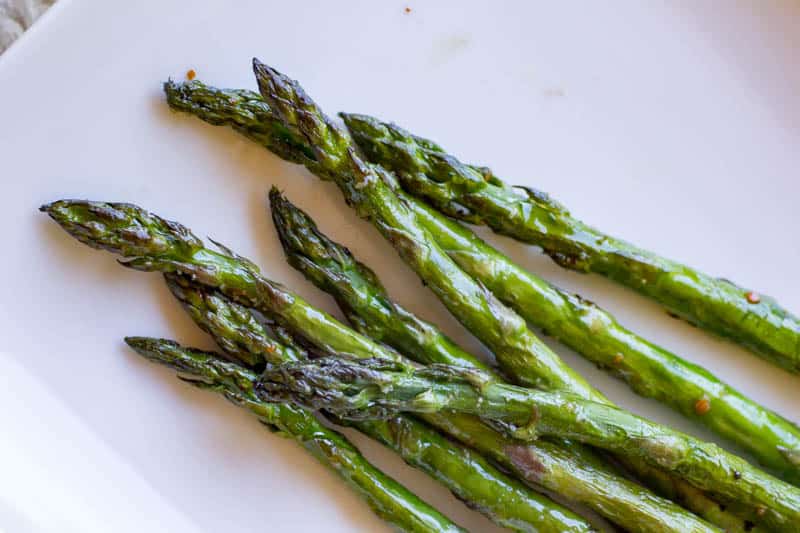 Who said side dishes couldn't be the highlight of the meal? I love making side dishes unique, and the star of our dinners.
This Togashi grilled asparagus is so fantastic and perfect to serve up this summer at your summer parties. Your guest will love it, and it takes minimal effort to make. Asparagus is an excellent source of fiber, antioxidants and more. Asparagus is full of key nutrients that our body needs, and it couldn't taste any better than fresh off the grill!
Do you need something to serve this with? Highly recommend this Garlic Butter Shrimp recipe from The Cookie Rookie!
Togarashi Japanese Spice Blend
If you have not heard of togarashi, you have to try it out! Togarashi is a mixed spice blend that offers that sweet, toasty, and a little heat to your dish. Togarashi is a hot red Japanese chili that you can find dried or even fresh. It is a trendy spice blend that can be used on proteins, side dishes, or to top your sushi or favorite slice of pizza.
Amazon Affiliate Ad Below
(clicking that earns me a very small commission on your purchase, but doesn't add anything to your purchase price)


How I use is it our home is in dishes I would use red chili flakes. Sometimes, Togarashi just gives it a nice little kick.
Or I sprinkle onto foods that I want a little bit more flavor from. It offers a really nice complexity to a dish, and it is different than a splash of hot sauce. It doesn't have that acidic/vinegar element that hot sauce does.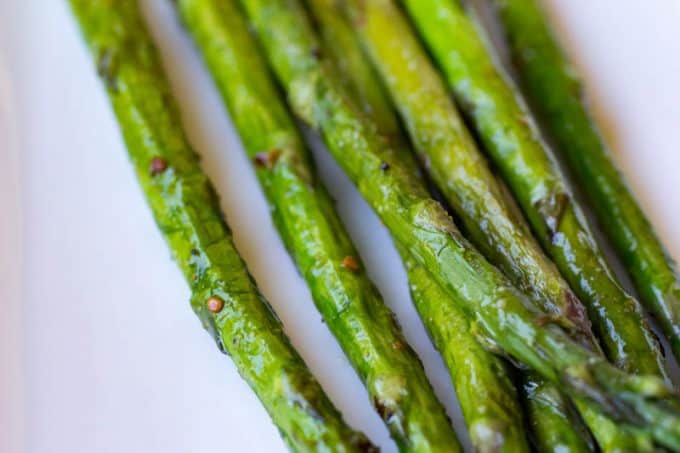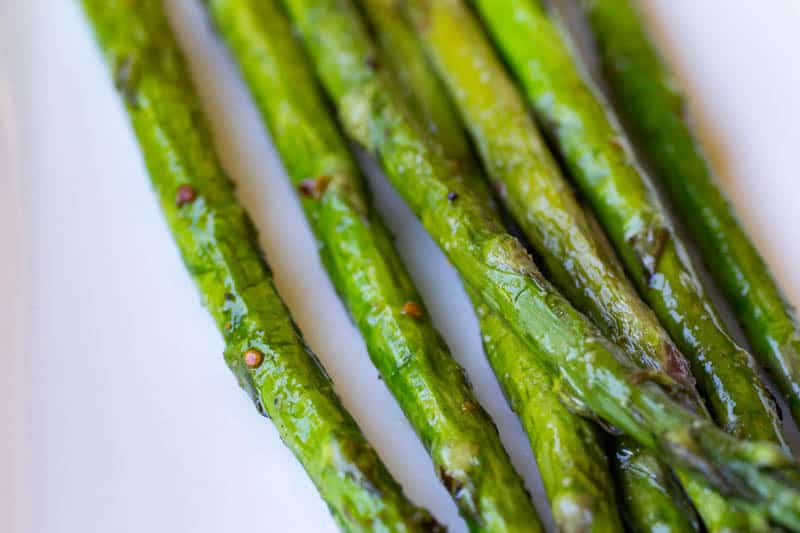 You can even sprinkle in soups to give a mix of sweet and spicy. It isn't super spicy though like hot sauce can be. You find sweet from orange zest, and ginger, and then you get the heat from the red chili in it.
Dishes That Togarashi Compliments Well
Like I said above, you can use this spice blend pretty much anywhere you think it would be a good fit. Of course, I love it on asparagus, but you can use this seasoning for anything your little heart desires. I love introducing new spices into our meals; it helps transform the food in a new way that makes it help us not to get tired of the same old meals.
Cooked Eggs

Salmon

Popcorn

Slice of Pizza

Sushi

Avocado Toast

Potatoes

Rice

Asparagus

Corn on the Cob
The possibilities are truly endless. If you love to venture out on spices, give this one a go. I think you will really enjoy it.
What Should I Serve with Togarashi Grilled Asparagus?
Good question! I've got lots of great options for you in my Traeger Recipe Ideas section, and some of my favorites are my Traeger Grilled Pork Chops, the Traeger Smoked Shrimp, and of course the Traeger Prime Rib Roast.
Tips for Preparing Asparagus For Grilling
Snap off the ends, instead of cutting
You can snap off the ends of asparagus, instead of cutting it. You just hold the asparagus spear with your hands and firmly bring your hands together bending the spear and let it naturally break. It will break where it becomes tough, saving you time guessing where to cut. I learned this years ago, and I have found it to be instrumental in getting rid of the woody part of the asparagus.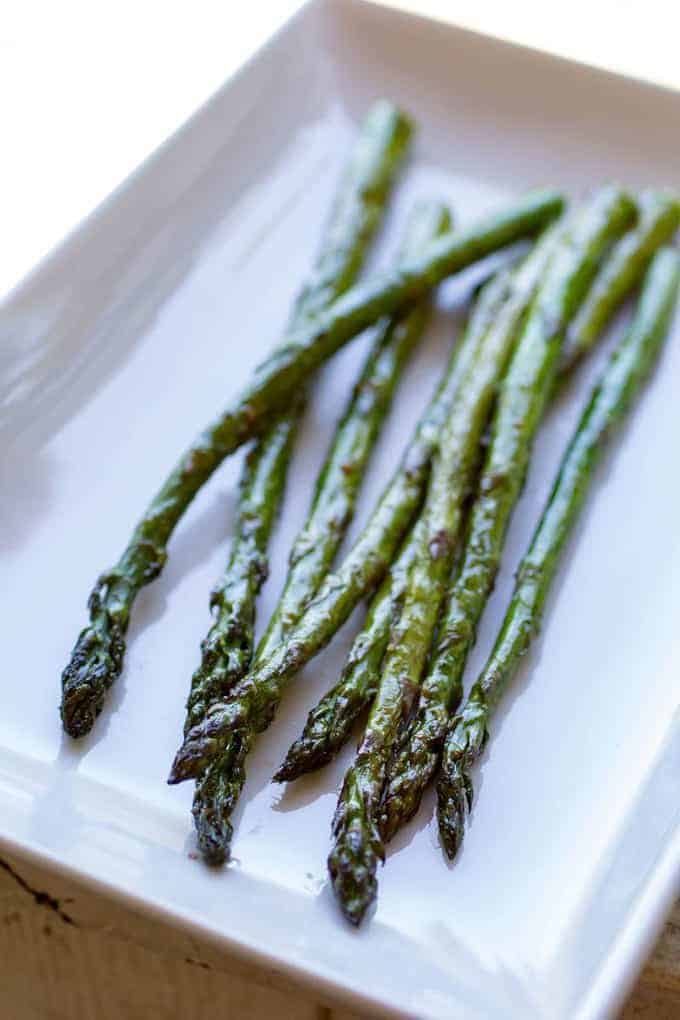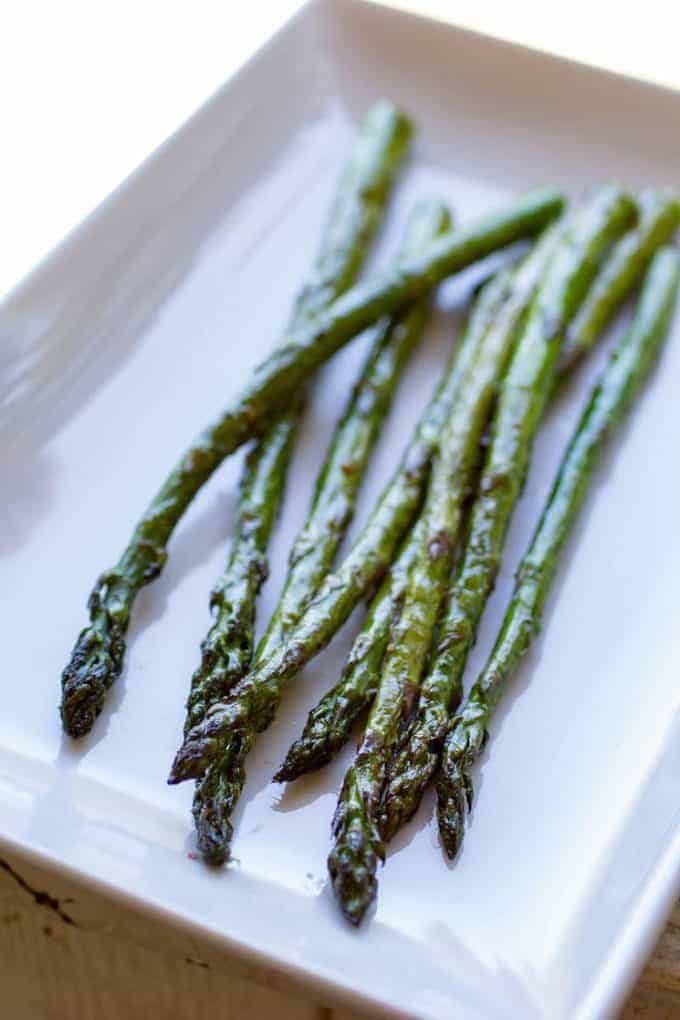 What if I can't grill them right on the grates?
If you have troubles with wide grill grates and don't want your vegetables directly on the grill, another great tip is to use a broiler pan for grilling. It keeps your asparagus contained, so they don't slide through the grates but allows some smoke to get through from the bottom.
You can put skewers through the asparagus so that you can easily flip multiple asparagus spears at a time. I prefer the aluminum foil, but those are two options I find helpful. If you do use the skewers, make sure you don't have pencil-thin spears or you'll have trouble!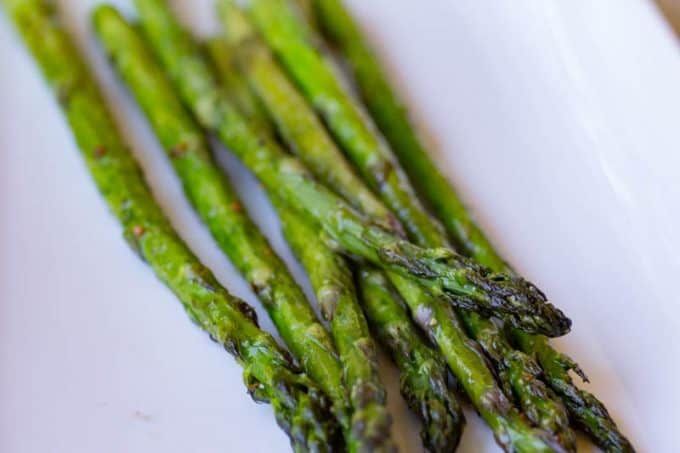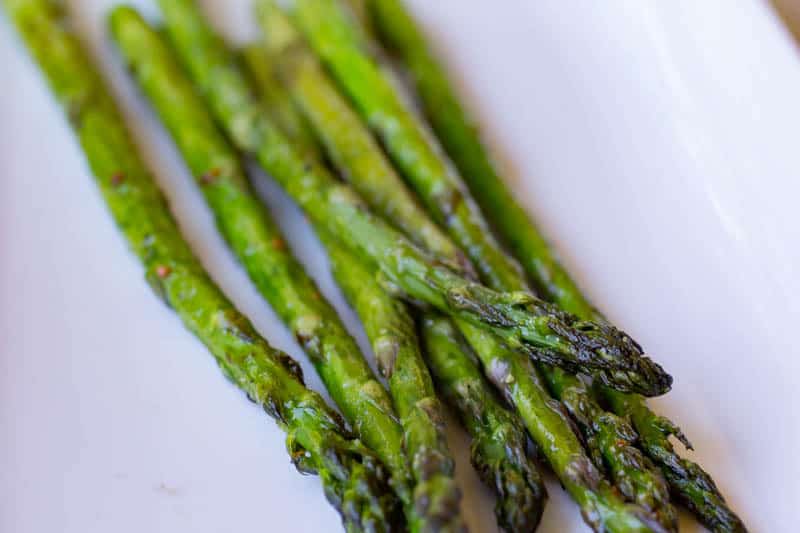 As a guide to when you shop know that around 1 pound of fresh asparagus will leave you with about 16-20 spears. So this can be a good gauge as to how much fresh asparagus to buy to feed your family or guests. Almost err on the side of making MORE than you think you need though with these grilled asparagus recipes. People really gobble them up!
Hope these tips can help you with your asparagus grilling!
Pin Me By Clicking The Pin Button on the Image Below!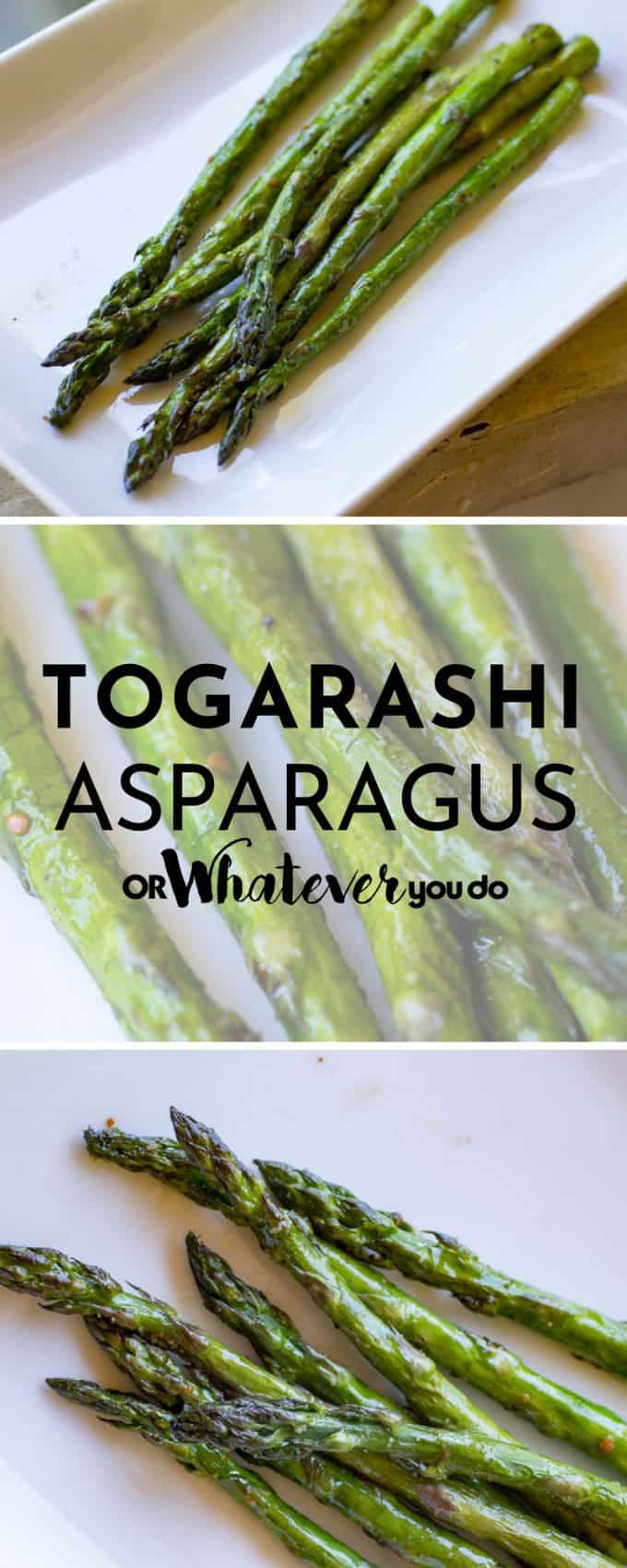 Yield: 4 servings
Togarashi Grilled Asparagus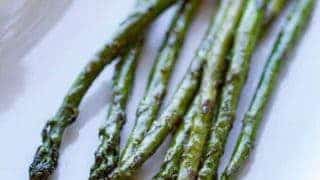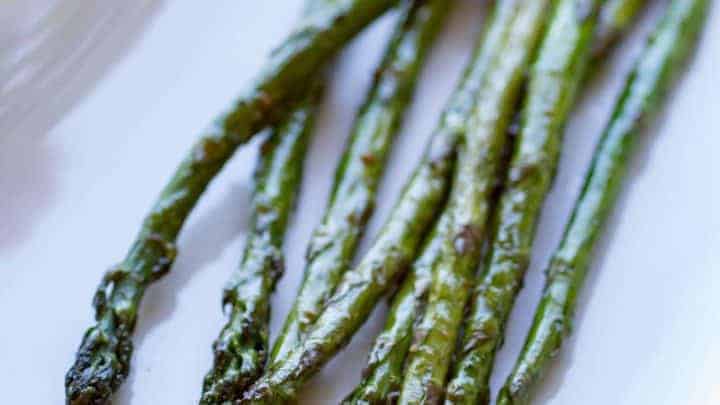 Delicious Togarashi Grilled Asparagus uses a super flavorful Japanese seasoning mix to make grilled asparagus even more amazing than it already was. Like whoa.
Ingredients
1 bunch asparagus
1-2 tablespoons oil, avocado preferred
1/2 teaspoon kosher salt
2 teaspoons Togarashi
Instructions
Break the ends off the asparagus, and put onto a large sheet pan.
Drizzle the oil over the asparagus and roll them around on the pan to evenly coat all sides.
Sprinkle evenly with salt and togarashi.
Turn your grill up to 400 degrees (or high, if you cannot control so precisely), let it get hot, and then carefully place the asparagus directly on the grates. If your grill doesn't allow for this, place the on a broiler pan and then onto the grill.
Cook for 5 minutes, or until tender crisp.
Remove and serve immediately.
Recommended Products
As an Amazon Associate and member of other affiliate programs, I earn from qualifying purchases.