My Tuna Pasta Salad is one of my very favorite sides to serve at summer barbecues. Full of tender pasta, baby peas, pickles, and a classic pasta salad sauce that'll have everyone going for seconds!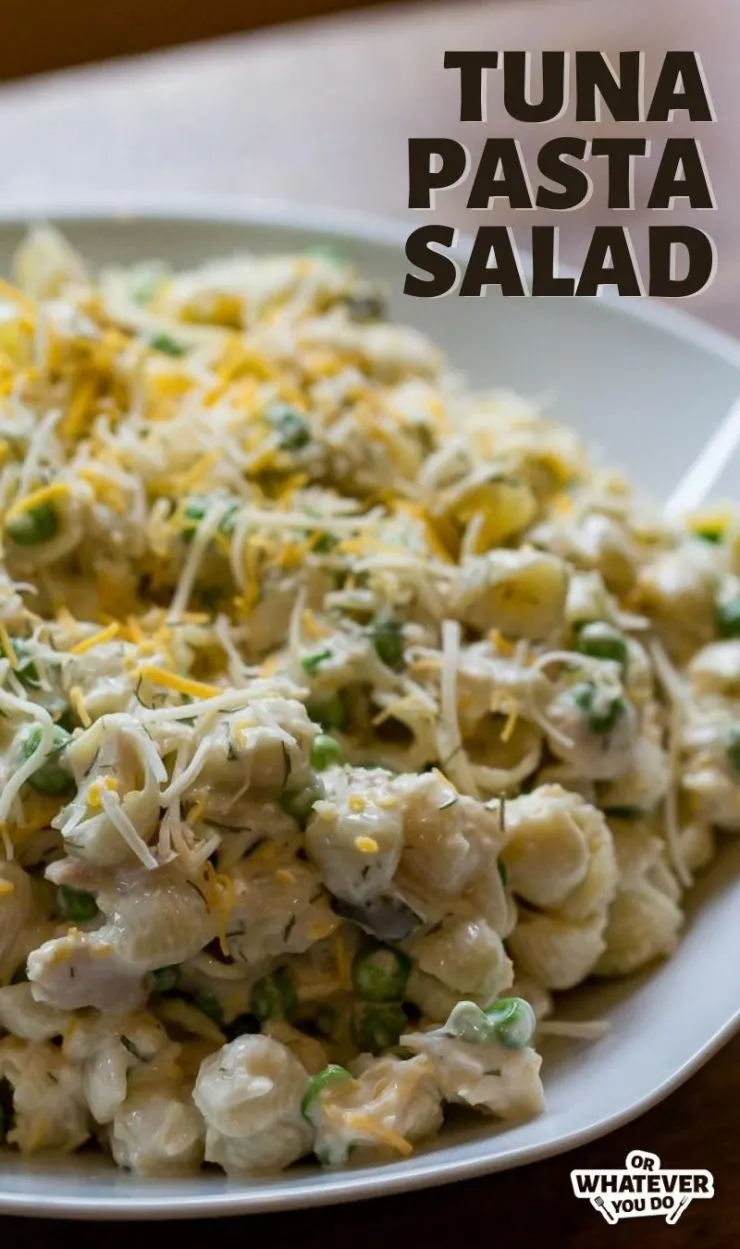 Tuna Pasta Salad with Dill
Pasta salad can go with almost anything from burgers and hot dogs to steaks, ribs, or pork!
It doesn't matter what is going on that grill, really. If it's warm out and we're firing it up, and I've got a pot of water boiling and the tuna salad sauce getting mixed up.
Pasta salad always reminds me of summer. Every BBQ, every picnic, every pot-luck; it just isn't right without some sort of pasta salad.
When we lived in Saint Paul back in 2003-2004ish, we went to an awesome church that had a pot-luck every week before the mid-week service.
We'd meet in a park, they would have a huge grill with tons of meat cooking. Every week I'd make a HUGE batch of this tuna salad.
My pastor hated tuna. So much so that I think I made it into the sermon a couple of times.
Even though Pastor Chik wasn't much of a fan of my pasta salad, I'm still watching his weekly sermons (on Facebook these days instead of in-person) and tuna salad is still one of my favorites.
It is fast and easy to throw together and is always a crowd-pleaser (as long as the crowd contains more people than just Pastor Chik).
Below is my favorite recipe for tuna salad.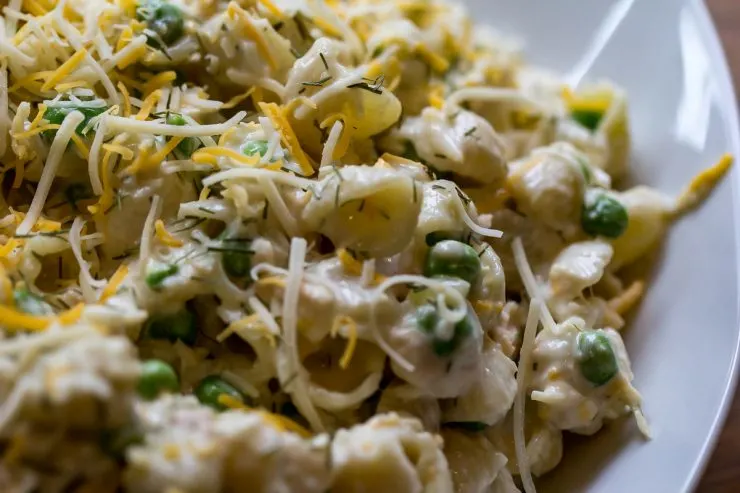 Delicious and nutritious tuna pasta salad
Tuna salad usually is found between two slices of bread, but tuna pasta salad means no bread required. Pasta fills in for the carbs and works quite nicely in the role. Also, don't shy away from this thinking it is going to be one of those tuna salads that should be called "mayo salad with tuna", instead of the other way around.
I am not a fan of those gloppy tuna salads either, so don't skimp on the tuna!
Get more recipes for your cookout here!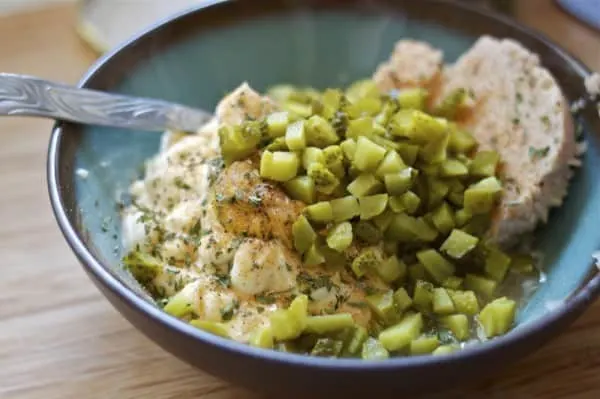 The best pasta for pasta salad
Whatever kind of pasta you normally use for pasta salads is best. I think some are better suited than others for specific types of pasta salads. Most importantly, don't overcook the pasta so it isn't falling apart by the time you serve it. (Cook it al dente so it stays firm).
The easy way to avoid problems with the doneness of the pasta is to pull it off and rinse under cool water right as soon as it is soft all the way through. That prevents it from continuing to cook and rids it of any extra starchiness.
For this salad, you can go with anything from orzo to fusilli, elbow macaroni to farfalle. Small shells make an appearance pretty often when I cook this. The kind of pasta you use really doesn't matter. In fact, whatever you have handy in the pantry is the best one to use.
The only thing that matters is cooking it properly.
Follow me on Instagram!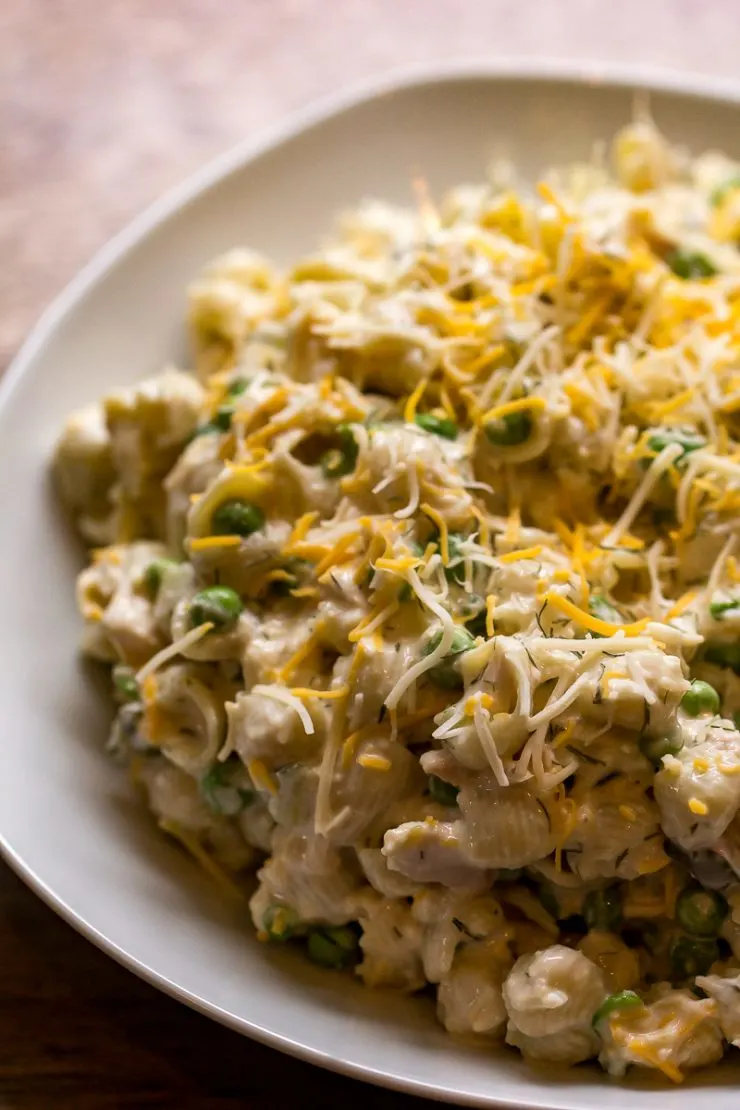 Picking a sustainably harvested tuna
The type of tuna you use matters a whole lot more. Because tuna is a great fish and we want to keep enjoying it. So making sure to try and use sustainably harvested tuna helps ensure the populations are not overfished.
Yellowfin, skipjack, and albacore are the most recommended, and those are fairly well regulated. The brands Wild Planet, Sunkist, and Bumblebee all get good marks for using sustainably harvested fish. Wild Planet gets the best grades and you can find it everywhere from Whole Foods to Grocery Outlet.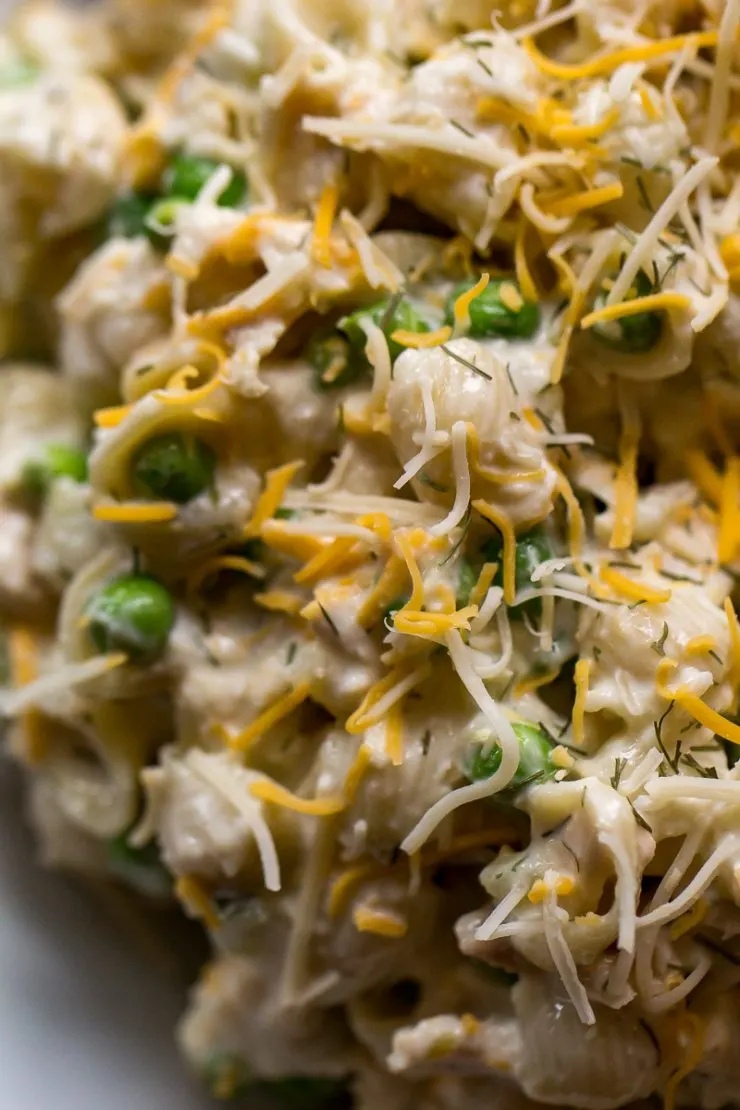 To drain or not to drain the tuna fish
Ok, most people don't even think twice about draining a can of tuna as soon as they open it. It is just the way we are all taught to do it. However, try and overcome the reflexive urge to drain it. Keep the liquid. You can use all that liquid in the dressing.
If your tuna is packed in oil, I would drain most of that off. This advice is for the tuna that is packed in water.
You need more PASTA in your life.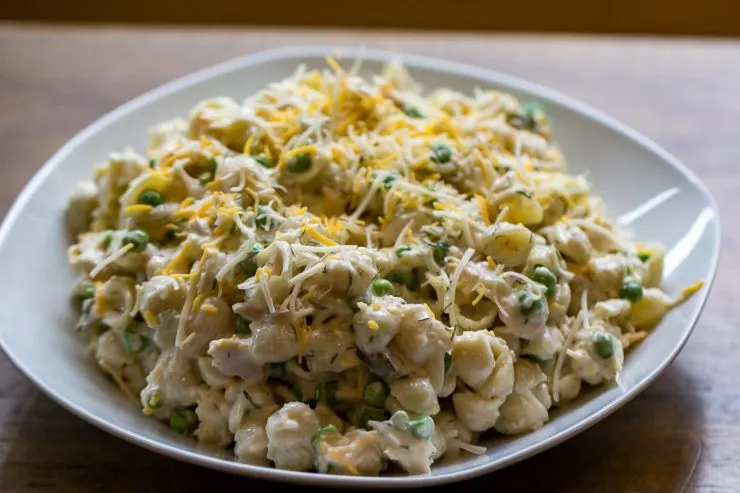 How to make tuna pasta salad
Start by boiling your pasta to al-dente. I prefer to use small shells or macaroni, but you can use almost any kind of small pasta. Just pick your favorite.
While the pasta is boiling, mix together your sauce.
Mix the tuna, onion, mayo, mustard, garlic powder, salt, pepper, seasoning salt, onion powder, & pickles in a bowl.
When the pasta is done, rinse until cooled completely under cold water. Drain well, and toss with the sauce mixture.
Next, add in your frozen peas & shredded cheddar. Adding the peas in while still frozen helps chill the whole dish, and can help keep it cooler for transport.
The pasta salad will be ready to eat in 20 minutes.
More Easy Traeger Recipes here!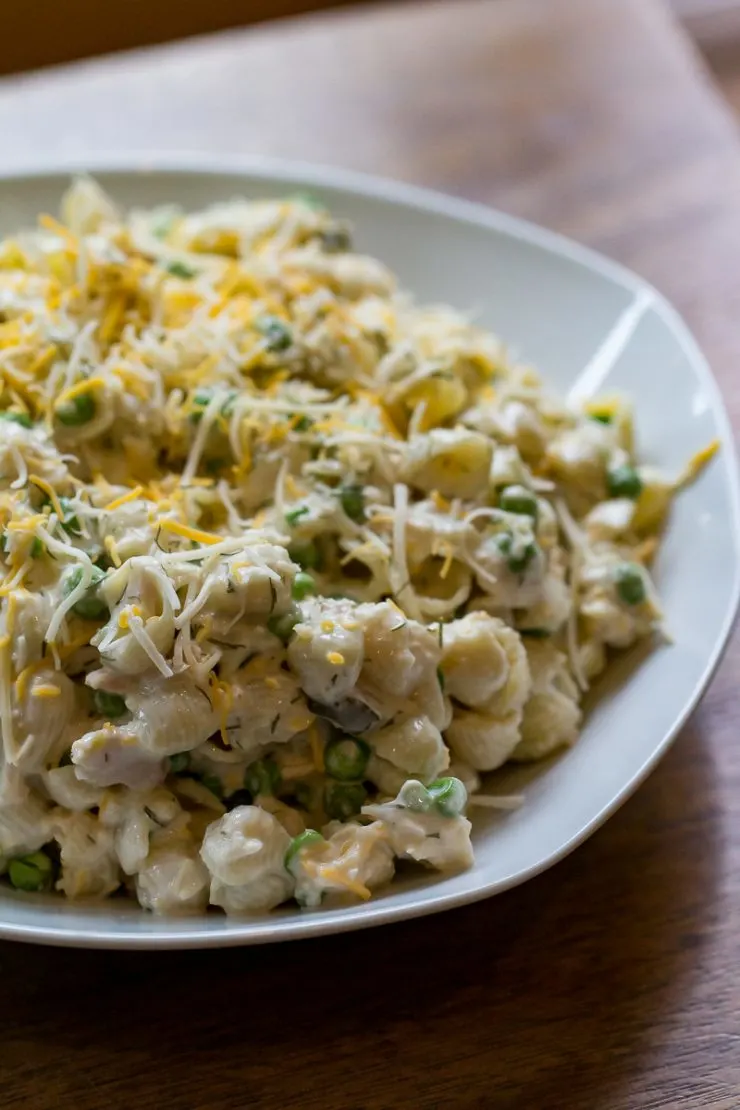 More pasta salads to check out
Pasta salad is so handy. You can keep it in the fridge for a week, so it is easy to take out and enjoy a snack or lunch later in the week. Just make sure you don't leave it out too long, and keep it chilled while it is out. If you leave it out for more than two hours, then you are going to have to dump it.
If you are a pasta salad fan, then here are some more to check out too: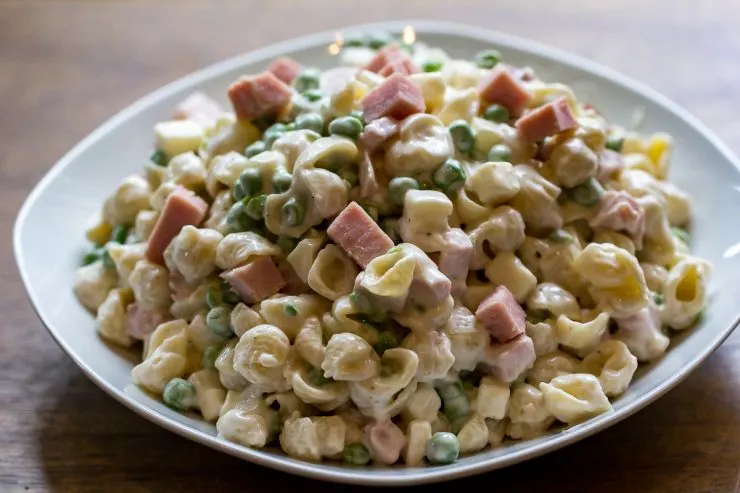 More BBQ Recipes to enjoy
What are some of your favorite barbecue recipes?
I make this Perfect Grilled Asparagus A LOT. If you don't like tuna, try my Zesty Italian Pasta Salad.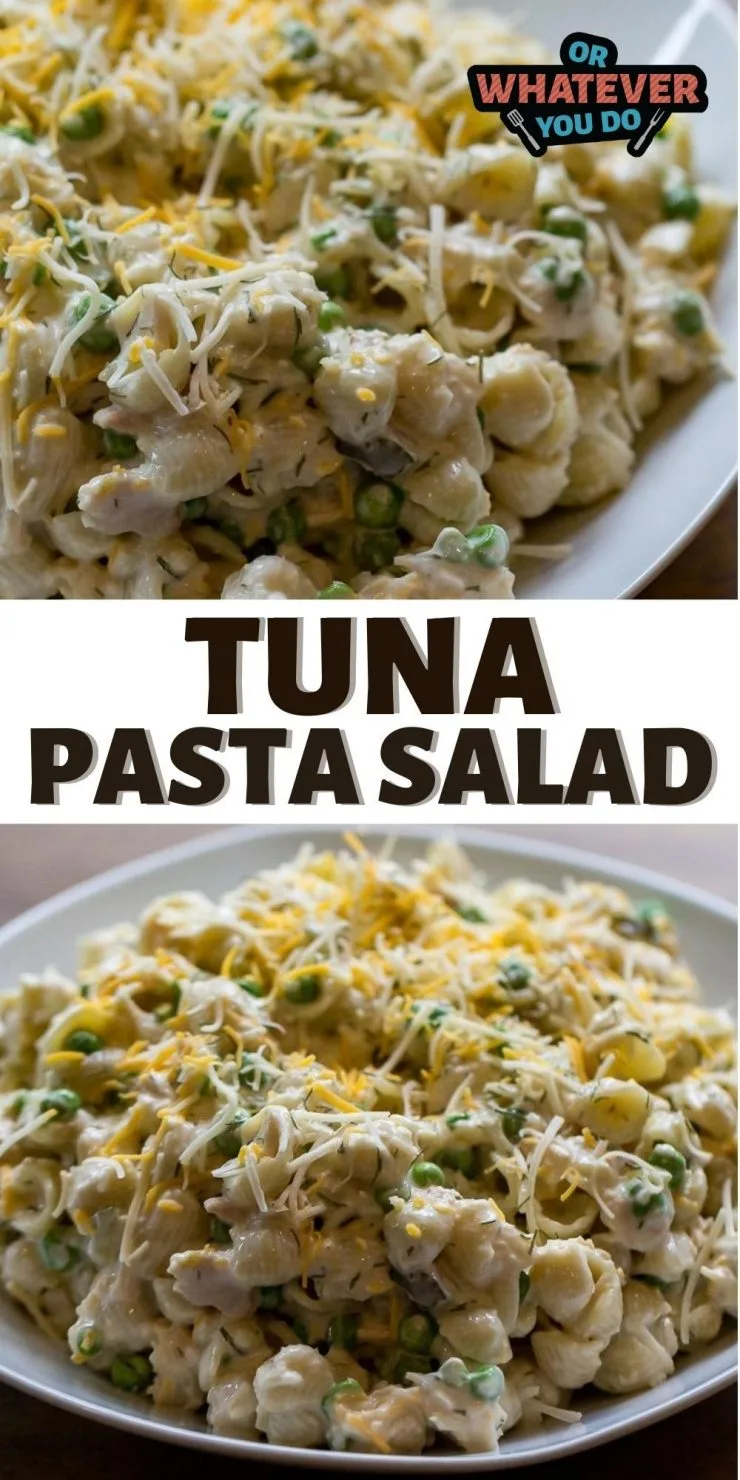 Yield: 12 servings
Tuna Pasta Salad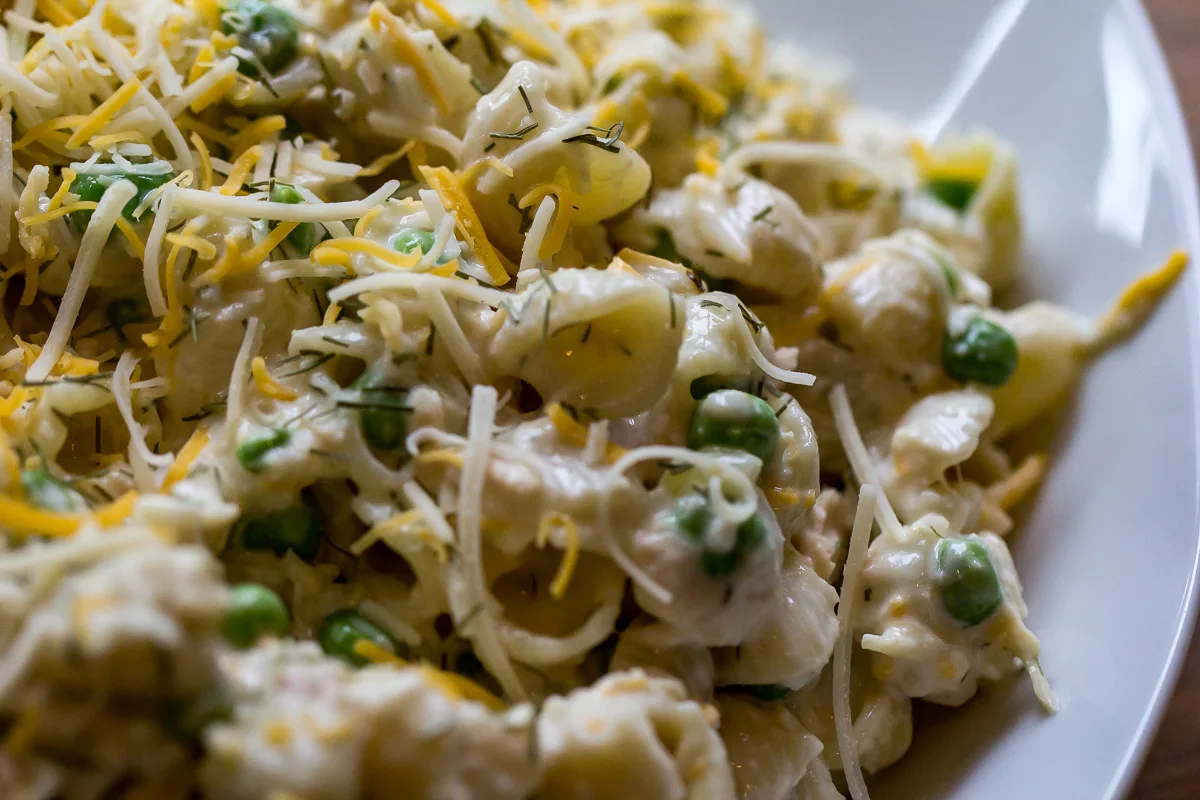 Delicious dilly tuna pasta salad is a perfect pair for any of your summertime gatherings!
Total Time
3 hours
20 minutes
Ingredients
5 ounces solid albacore tuna packed in water, do NOT drain
1 cup mayonnaise
1/2 teaspoon yellow mustard
1/2 teaspoon garlic salt
1/2 teaspoon onion powder
1/2 teaspoon dill
1 pound macaroni noodles, cooked al dente, drained and rinsed in cold water
1 cup frozen baby peas
1/2 cup dill pickles, diced
1 cup colby jack cheese, diced or shredded
3 hard-boiled eggs, diced
Instructions
Combine the tuna, mayo, mustard, garlic salt, onion powder, and dill in a large bowl. Mix until combined.
Gently stir in the cooked pasta, baby peas, pickles, cheese, and eggs. Toss well to coat in the sauce.
Chill for at least an hour, and serve with your favorite summer bbq foods!
Notes
Leaving the tuna undrained helps thin out the sauce a bit and adds some extra tuna flavor into the dish.
If you add the peas in frozen, it'll help keep the dish cold a bit longer. Frozen peas will also chill the salad faster.
Nutrition Information:
Yield:
12
Serving Size:
1
Amount Per Serving:
Calories:

251
Total Fat:

18g
Saturated Fat:

4g
Trans Fat:

0g
Unsaturated Fat:

13g
Cholesterol:

22mg
Sodium:

343mg
Carbohydrates:

14g
Fiber:

2g
Sugar:

1g
Protein:

8g