BLT sandwiches are great, but pretty hard to serve at a party. Enter our BLT Pasta Salad. The creamy avocado, crisp lettuce, and nutrient-rich spinach make sure you get all of your veggies too.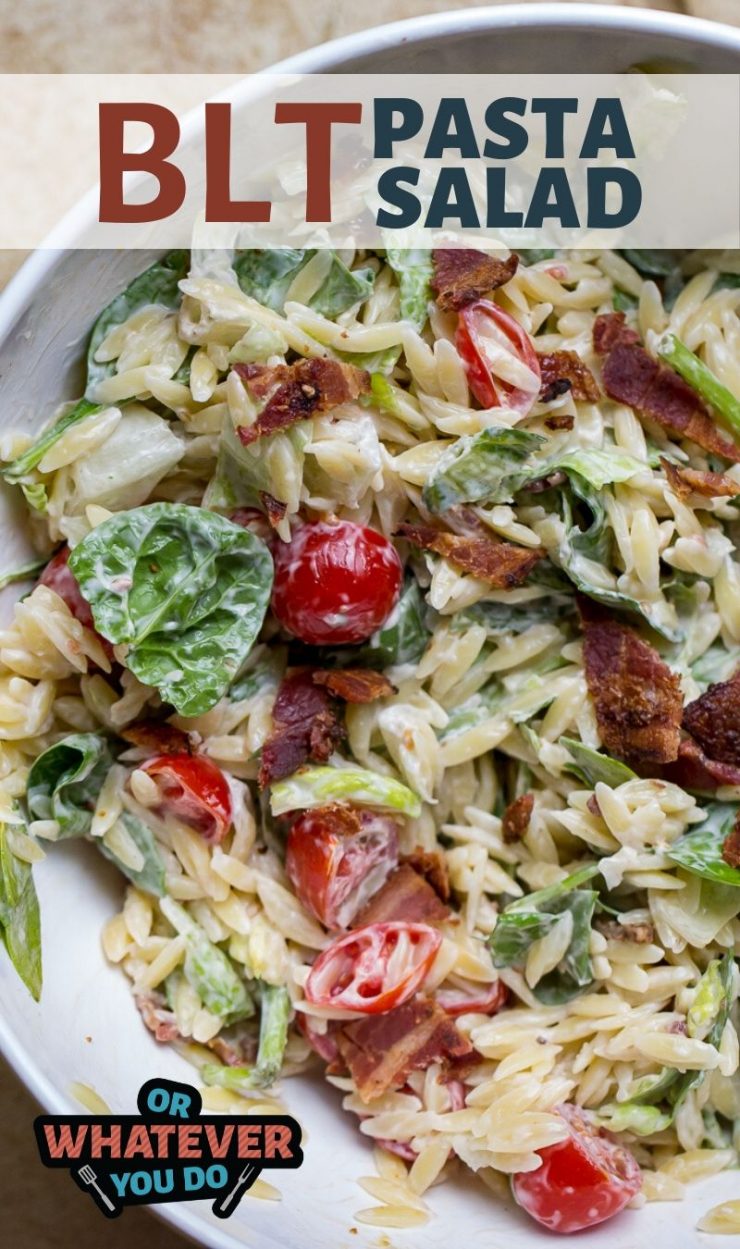 BLT Pasta Salad Recipe
A BLT Pasta Salad is the perfect way to enjoy bacon, lettuce, and tomato, but with a twist. Instead of two slices of bread, you use orzo pasta for the carby part of the equation. This dish travels very well, so it is ideal for picnics and tailgating. As long as you can keep it iced until you are ready to serve, it will be good to go.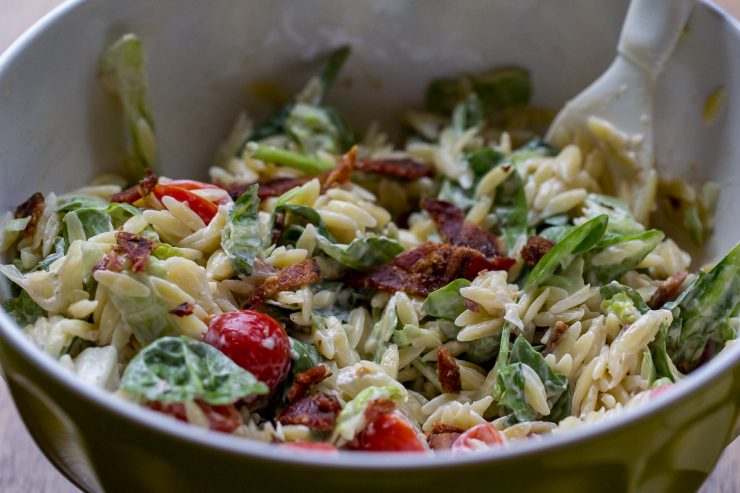 What bacon is best for BLT Pasta Salad?
Thick sliced bacon that's cooked crispy is the way to go for this recipe. Use my No-Flip Bacon method if you have a pellet grill! You could also likely use that method in a convection oven too.
If you are bringing this somewhere it would be best to keep the mix-ins out of the bowl until you get there.
To make things super simple, just carry a big enough lidded container where you can throw in all the ingredients, slap on the lid, then shake to mix.
Follow me on Instagram!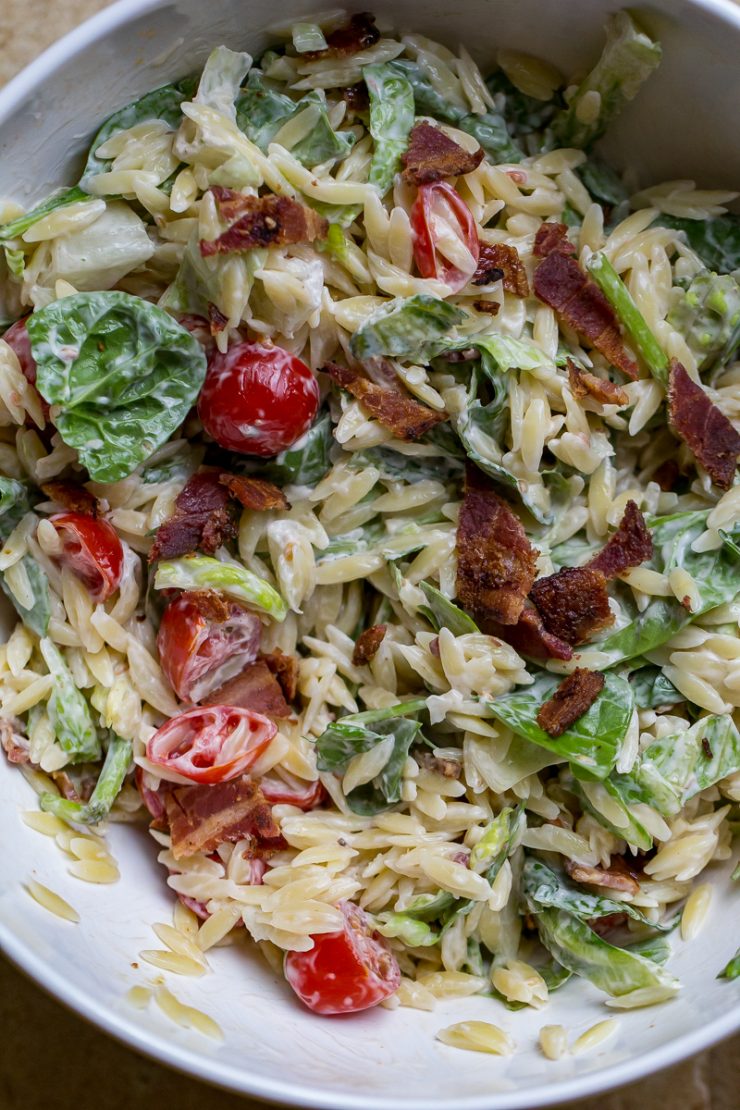 How to store pasta salad
In the fridge, you can keep this salad for three or four days. I do not recommend freezing pasta salad. I would also recommend only mixing together as much as you are going to eat in a day since there's lettuce in the mix.
Lettuce doesn't like to be dressed for too long. Much like me, in 2020.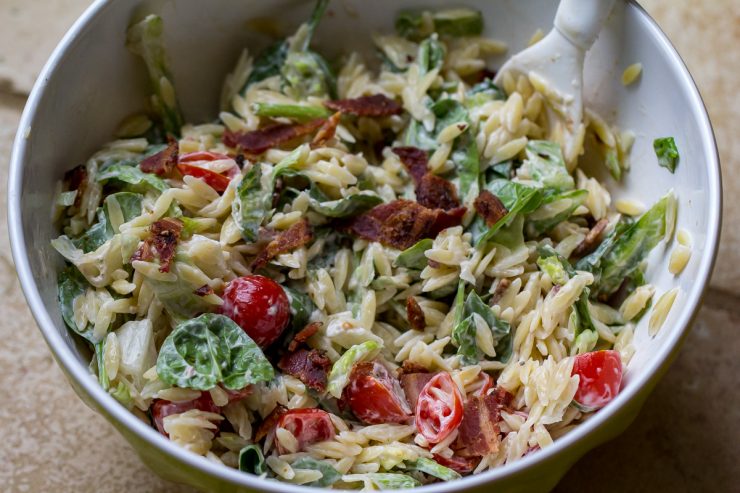 The best lettuce for BLT pasta salad
Chopped dark green romaine gets my vote here. I always like romaine better than iceberg lettuce in my BLT sandwiches, and the salad benefits from it too.
If you are feeling on the adventurous side and ready for some variations on the good old standby of regular old lettuce, then try using arugula or mustard greens.
I recommend staying away from the more bitter leafy veggies unless you are able to grill them first. Grilling will reduce the bitterness and bring out nice sweet caramelized qualities of things like endive or escarole.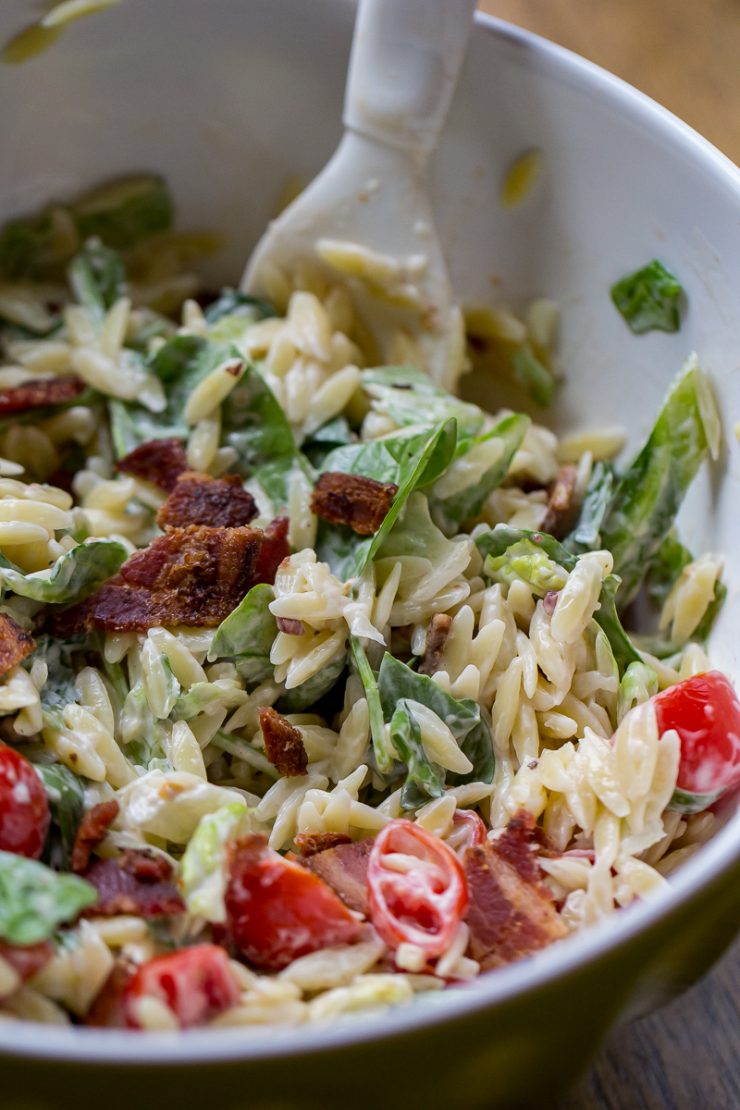 The perfect tomato for a BLT pasta salad
If we were talking sandwiches, then the big tomatoes like beefsteak tomatoes work wonderfully, but for a nice orzo pasta salad, you can't go wrong with cherry tomato halves. The size works wonderfully, plus they don't tend to get too soft too fast..
You can find cherry tomatoes in a variety of really cool colors like purple, yellow, and orange. So you can really add some appetizing colors to the dish as well.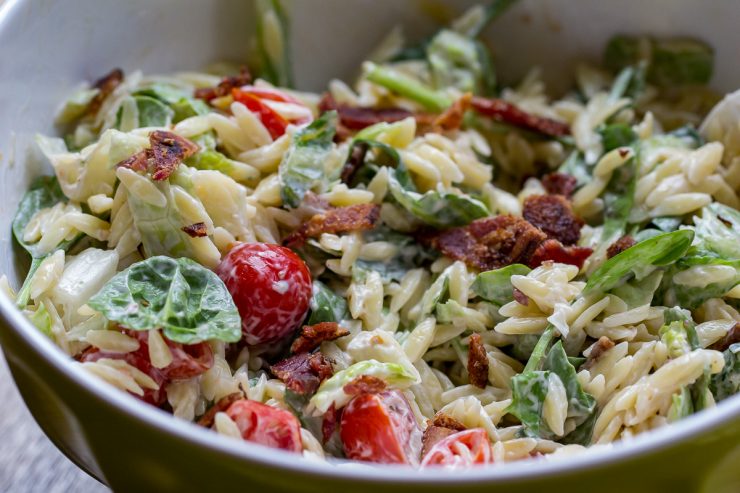 The perfect dressing for your BLT pasta salad
A pasta salad is only as good as the dressing it is tossed in, and this one is no exception.
To help bring in more of that classic sandwich flavor, I dress this in a tangy mayo-based sauce with herbs that's basically a creamy balsamic vinaigrette.
Keep in mind, the avocado will mix into the dressing to add creaminess too. Luckily, the vinegar in the dressing will also help prevent the avocado from browning too quickly as well.
More BBQ Side Dishes to enjoy!
More orzo recipes to enjoy!
Orzo is great for pasta salads. Although it is pasta and made of flour, it is intentionally shaped to resemble rice. Like a giant grain of rice, it is the perfect pasta for pasta salads. It is quick to cook to al dente, and it holds up well in pasta salads.
I have a few orzo pasta salad recipes to recommend.
Salmon orzo pasta salad is one you can make a meal out of!
Orzo with Swedish meatballs has a nice thick and hearty sauce along with nice big meatballs.
Broccoli cheese orzo is every bit as delish as any style of mac and cheese, and adds broccoli to make sure the veggies get eaten too.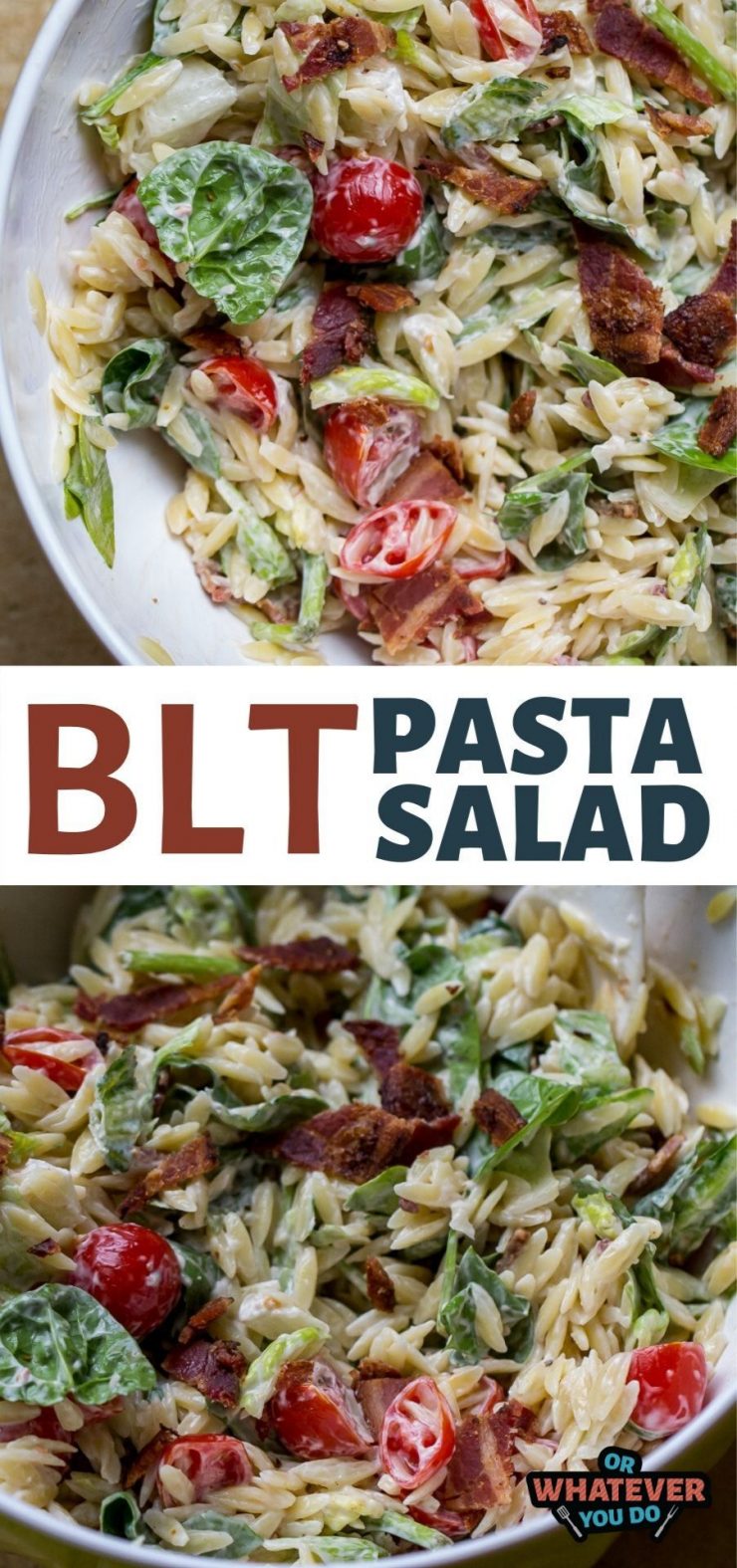 Yield: 8 servings
BLT Pasta Salad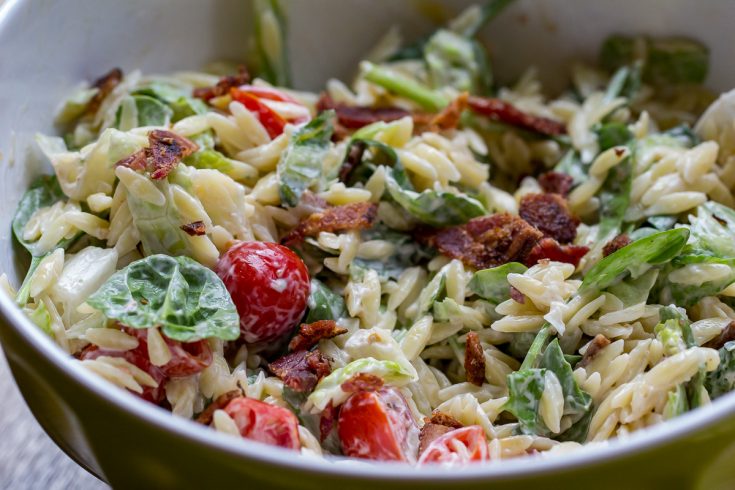 Delicious BLTS Pasta Salad has all of the flavor of your favorite bacon-filled sandwich, plus some pasta to make it amazing.
Total Time
4 hours
40 minutes
Ingredients
1 pound orzo pasta, uncooked
1/2 pound bacon
2 cups diced tomatoes
4 cups chopped romaine
1 cup croutons (optional)
1 large avocado, diced (optional)
Sauce
1/2 cup mayo
1/2 cup sour cream
1/2 cup balsamic vinaigrette or creamy balsamic dressing
Instructions
Cook the pasta in a large pot of well-salted water. Cook the bacon at the same time until it is crisp. When the pasta is done, drain and rinse in cold water. When the bacon is done drain on paper towels and chop roughly.
Combine the sauce ingredients together and whisk to combine.
Toss the pasta with your lettuce, tomatoes, and avocado (if using). Gently stir in the dressing until it is well-incorporated.
Chill for 3-4 hours, and top with bacon right before serving.
Recommended Products
As an Amazon Associate and member of other affiliate programs, I earn from qualifying purchases.
Nutrition Information:
Yield:
12
Serving Size:
1
Amount Per Serving:
Calories:

395
Total Fat:

22g
Saturated Fat:

5g
Trans Fat:

0g
Unsaturated Fat:

15g
Cholesterol:

29mg
Sodium:

586mg
Carbohydrates:

36g
Fiber:

4g
Sugar:

4g
Protein:

13g
Nutrition data provided here is only an estimate.