My easy Ham and Pea Pasta Salad is the perfect side to bring to any barbecue or cookout! Use a good deli ham steak, or my leftover Double-Smoked Pineapple Glazed Ham if you really want to win bbq friends, but either way, it'll be delicious.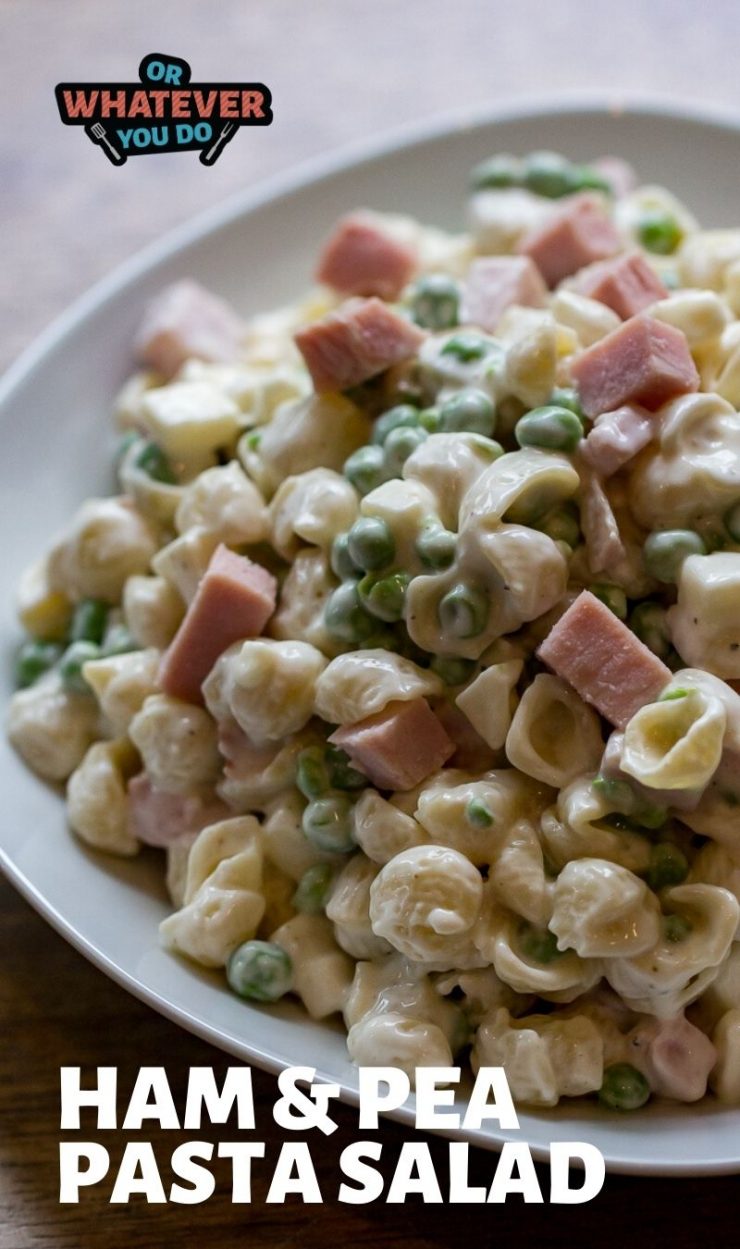 Ham and Pea Pasta Salad Recipe
Ham and pea pasta salad offers a spin on my macaroni salad. Ham and peas add plenty of protein to macaroni salad so it is like a bit of an upgrade on the filling and fulfilling side of a typical pasta salad.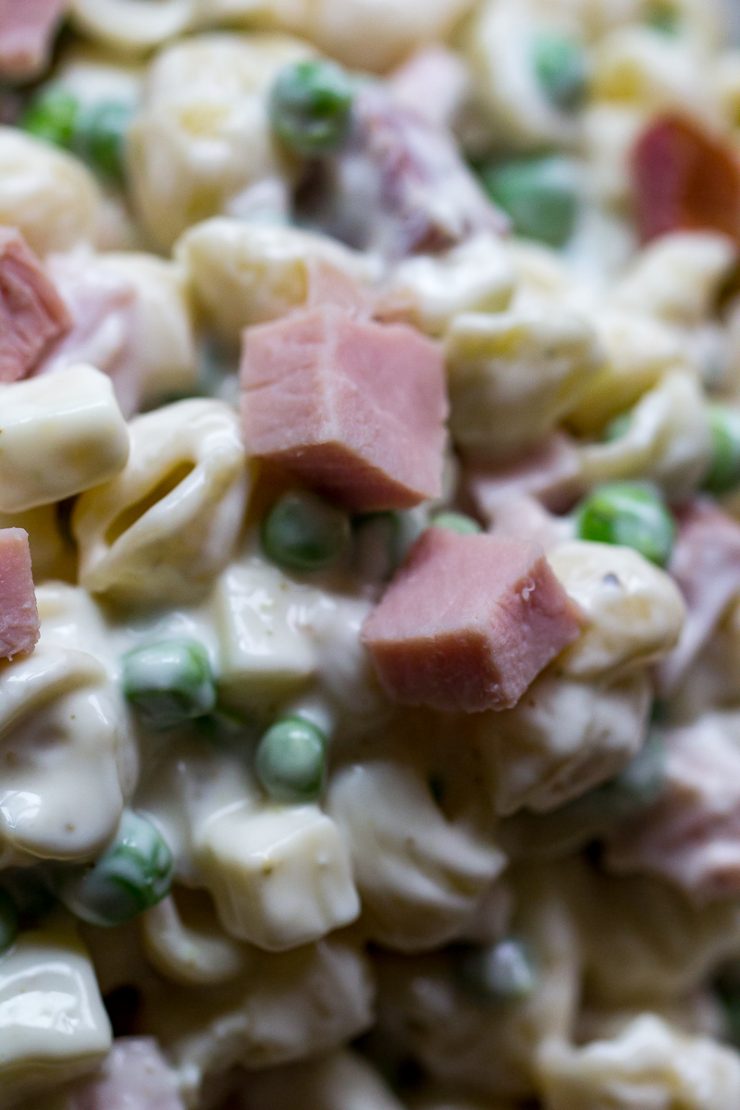 Quick and easy pasta salad
The key to a good pasta salad is the pasta. You need to make sure the pasta is cooked al dente. Even a little bit overcooked then you end up a mushy mess.
No one likes overcooked pasta, and especially not in a cold pasta salad. It already soaks up significant amounts of the sauce and softens more the longer it chills, so keep that in mind.
Al dente literally translates as "to the tooth". It refers to the texture of the pasta having a bit of "bite" to it. In reality, what that boils down to, no pun intended, is pasta that is slightly undercooked.
With fresh pasta, it is pretty easy to do because fresh pasta will cook in about a minute or two and float, so you know it is ready. With dried pasta, the line is not so obvious. Throwing it at the wall to see if it is ready is not the most practical test of readiness either.
So, the idea is to pull the pasta as soon as it is cooked through to the point where it is no longer crunchy. But that usually isn't enough. In this case, you need to stop the pasta from cooking further as it sits, so running it under cool water to rinse it is a good trick to keep up your sleeve.
The cool water rinses off the extra starchiness and it stops the noodles from continuing to cook too. Bonus!
Get more recipes for your cookout here!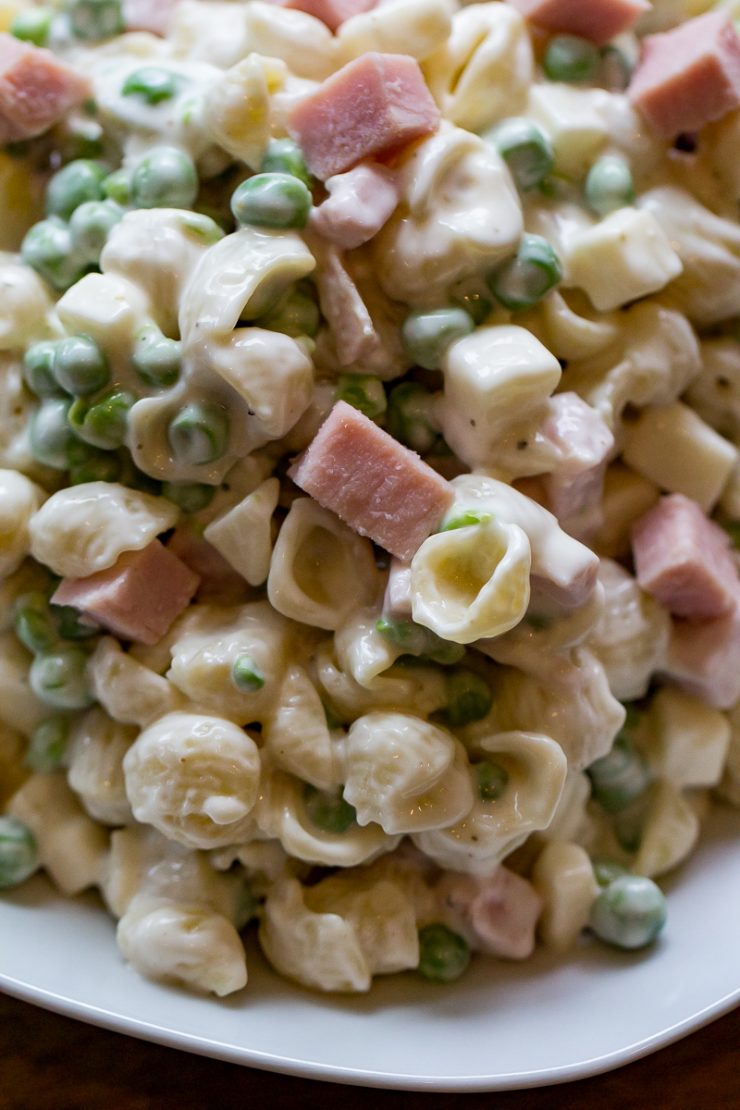 Dressing for macaroni salads
A creamy sour cream dressing brings in a bit of tang and wakes the salad up nicely. My creamy dressing also uses mayo, so like all summer salads – chilling is a must.
You need more PASTA in your life.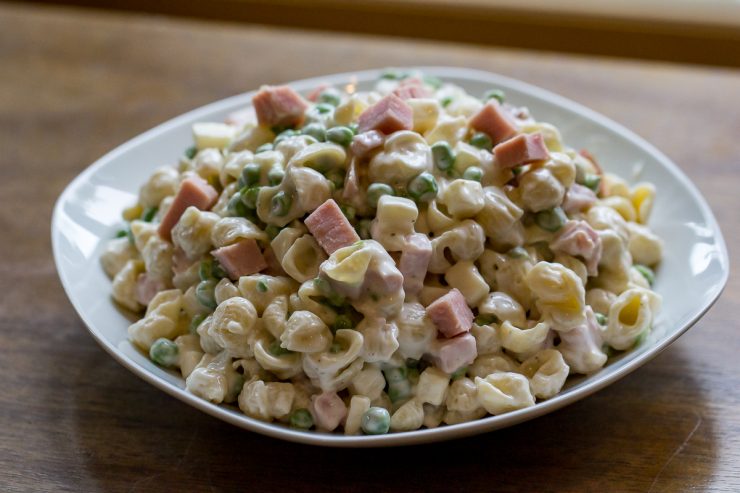 Storing ham and pea pasta salad
Since the recipe uses sour cream as well as mayo, try avoiding leaving it out too long. If you have left it out at room temperature for two hours or longer, then you will have to toss it.
You can use a bowl of ice, then set the serving bowl inside it. Another option, just only serve what is going to be eaten immediately. Keep the rest in the fridge and refill the serving container as needed.
As long as you keep it chilled, then it will last 4 to 7 days.
Ham is salty enough to stay stable a while. Peas are naturally resistant to molding and decomposing. So the main concern is the mayo and sour cream.
I do not recommend freezing this dish.
Follow me on Instagram!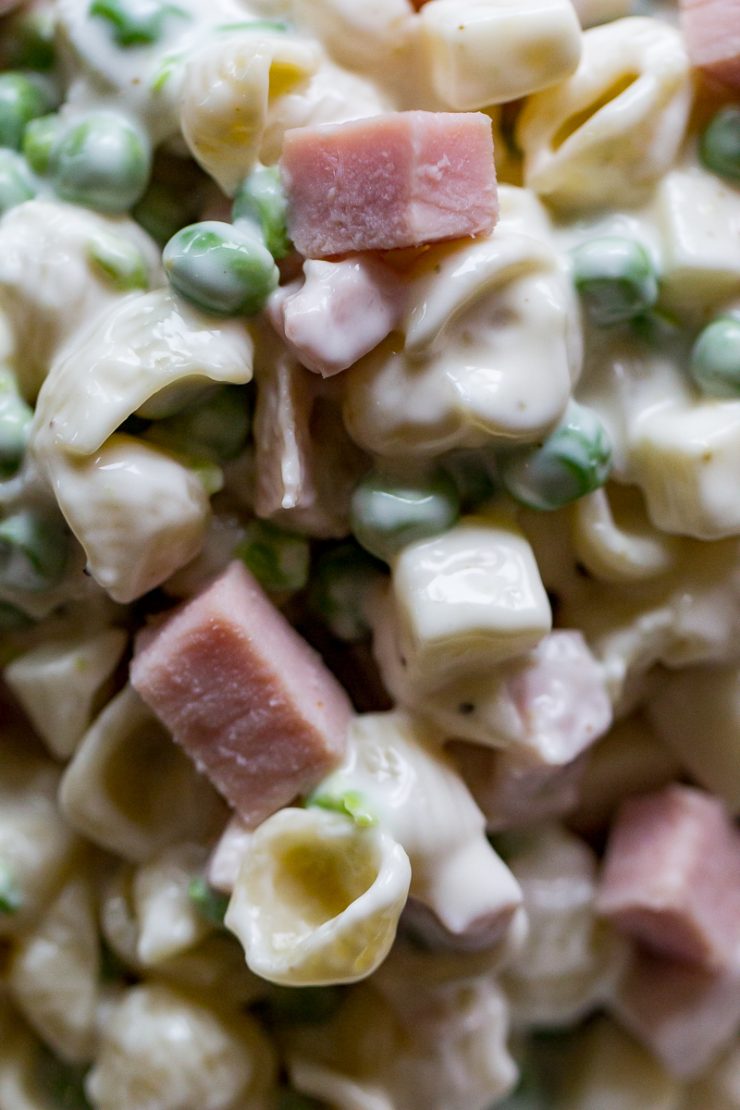 Best pasta for ham and pea pasta salad
For this particular recipe, I used small shells. I think they work really well in these kinds of dishes. Really, any of the smaller salad pastas will work though!
Bow tie pasta, rotini, or macaroni work nicely too.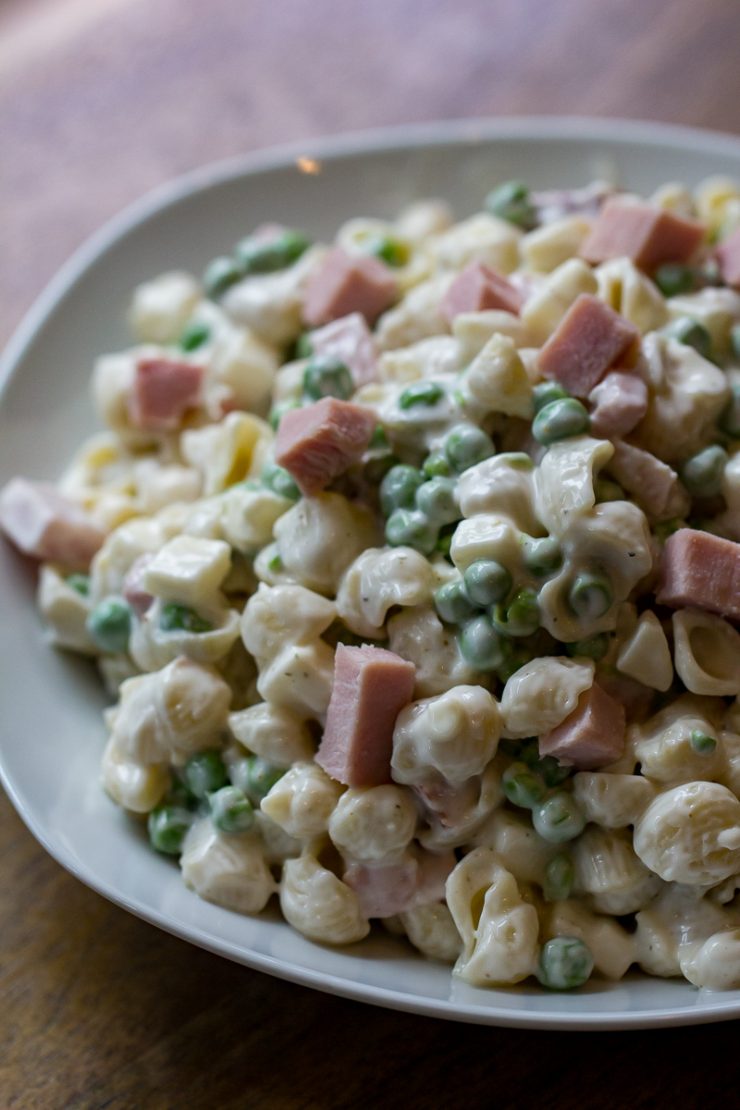 More pasta salad suggestions
Ham and pea pasta salad works for brunch, lunch, or dinner. You can do it as a side or a main. Here are a few more recipes to check out for pasta salad ideas.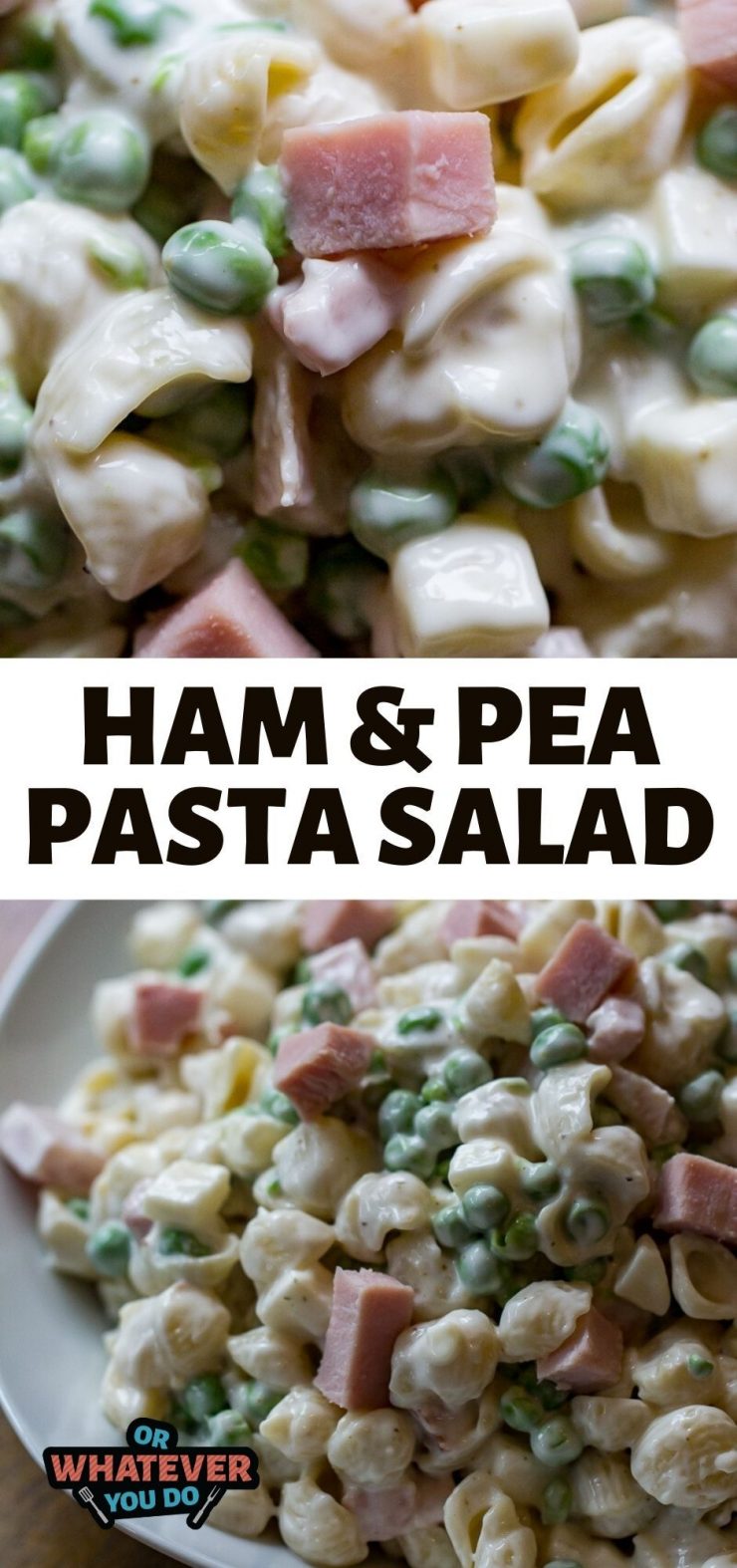 Yield: 12 servings
Ham & Pea Pasta Salad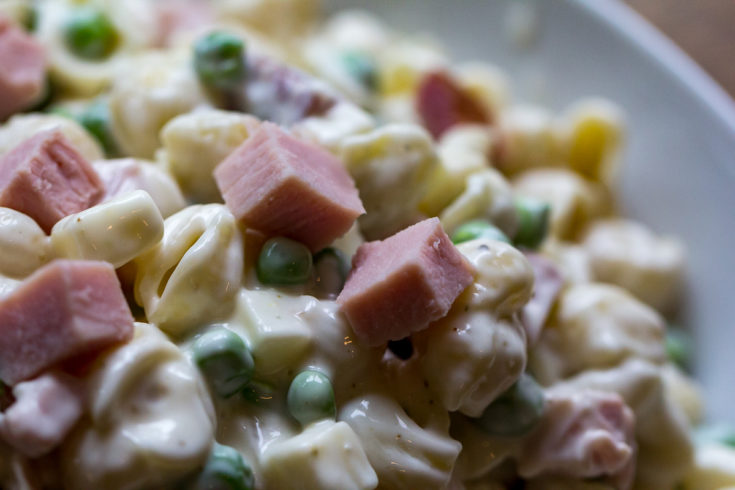 Homemade Ham & Pea Pasta Salad is the perfect side to accompany any barbecue dish you can throw at it! Cubed ham, fresh peas, and all of the pasta and cheese you could ever want.
Total Time
4 hours
20 minutes
Ingredients
1 pound small shells
3 hard-boiled eggs, sliced
1 stalk celery, diced
2 cups diced ham
1 cup fresh peas
1 cup diced white cheddar cheese
Sauce
1/2 cup sour cream
1 1/2 cups mayo
1 tablespoon apple cider vinegar
1 1/2 tablespoons Dijon mustard
1 1/2 tablespoons sugar
1/2 teaspoon salt
1/2 teaspoon garlic powder
1/2 teaspoon onion powder
1/2 teaspoon celery seed
Instructions
Salt your water well, and bring it to a boil. Cook the noodles until they are al dente. Rinse with cold water and set aside.
Combine the sauce ingredients and stir well.
Stir into the pasta along with the ham, peas, celery, and cheese. Gently fold in the eggs.
Chill for several hours before serving.
Recommended Products
As an Amazon Associate and member of other affiliate programs, I earn from qualifying purchases.
Nutrition Information:
Yield:
12
Serving Size:
1
Amount Per Serving:
Calories:

316
Total Fat:

26g
Saturated Fat:

5g
Trans Fat:

0g
Unsaturated Fat:

19g
Cholesterol:

25mg
Sodium:

434mg
Carbohydrates:

16g
Fiber:

1g
Sugar:

3g
Protein:

6g