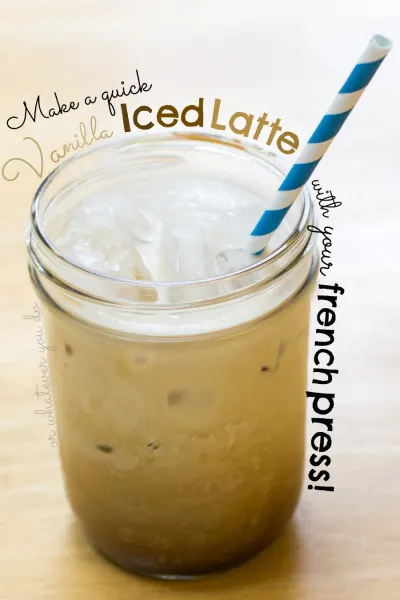 Quick Iced Latte
Iced coffees are one of my favorite things about summer. I LOVE coffee in almost all forms, but there is something special about an ice cold glass of sweet creamy coffee that just hits the perfect note on a warm spring or summer day.
The only thing I don't like about it is the ridiculous price that the coffee shops charge for them. The day I figured out how easy is was to emulate a great iced latte I did an actual fist-pump and then went on a caffeine bender that has never been matched, and I highly do NOT recommend.
Spring has regressed a bit here in the Puget Sound region, but these showers and temps can't last forever!
I have been fighting off strep, and now a wicked chest cold for the past week, so I am kind of thankful I haven't missed out on much weather. I'm just getting back into the swing of things between coughing jags the last couple of days, and I don't think my laundry pile had ever been any higher.
Sometimes I get SO behind on my laundry that I find stuff at the bottom of the clean bin that I haven't seen in months. We always, always have clean clothes to wear. That in itself is an accomplishment in my book when you are laundering for 7 people. Sometimes those clothes live in a giant heap in my laundry room though, and not so much folded and put away in the appropriate drawers in the correct bedrooms.
I go clothes fishing more days than I care to admit, making sure that all the boys have all necessary garments and if their socks don't match don't judge me because at least their underwear are clean. Clearly, I am not a natural housekeeper.
It is a struggle that thus far no amount of scheduling has been able to overcome.
But not this week because I've been making actual progress! I FOUND the bottom of the laundry bin! The clothes are folded, and mostly put away. The dirty pile is slowly shrinking into something that could be done in less than 2 days of constant washing. This is good. Very good.
I'd better not get TOO full of myself and declare myself "caught up" though because that's when the cleaning part of my brain forgets about this laundry business until I can't walk in the laundry room anymore, and the vicious cycle begins again. At least with the iced coffee I would have the energy to DO days and days of laundry though.
Back to the coffee. Do you have 5 minutes? That's all you need. 5 minutes, some good coffee, and a french press.
First brew some triple strength coffee in your french press. You could also do this in a drip machine, but I prefer the quicker press method. All coffee is better than no coffee though, in almost all instances, so brew whatever way you have available to you! Just make it strong, and hot. There's a joke in there somewhere, but lucky you…I am not funny!
Now fill your glass with ice. YUM. Mix in the desired amount of sugar into the hot coffee, and stir until dissolved.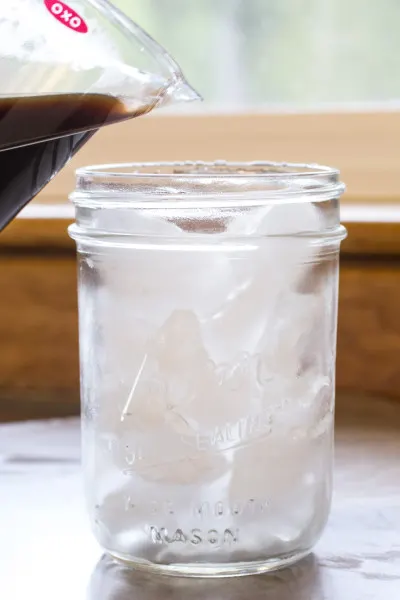 Pour the coffee over the ice.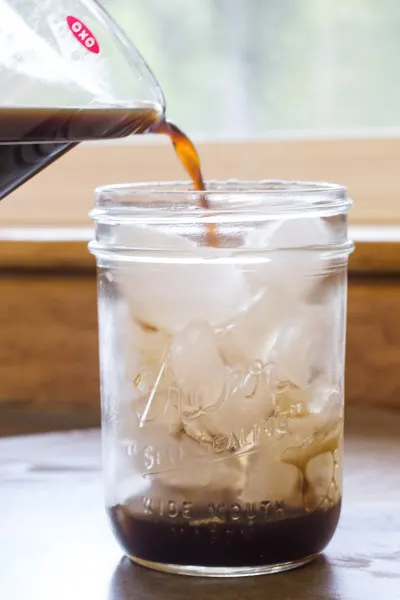 I probably could've skipped the play-by-play here, huh? Oh well. Let's carry on!
Keep pouring! The more coffee concentrate, the more awesome coffee flavor!
Next add your half-and-half. I used about 1/4 cup. Feel free to sub in whole milk or 2%. It won't be as creamy, but will do the trick.
---
More delicious drinks and cocktails for you are waiting!
Fresh Cherry Pina Colada
Lemongrass Lemon Drop
Grown-up Pink Lemonade
Rumberry Punch Cranberry Cocktail Recipe
Holiday Wine Spritzer
Raspberry Sangria
---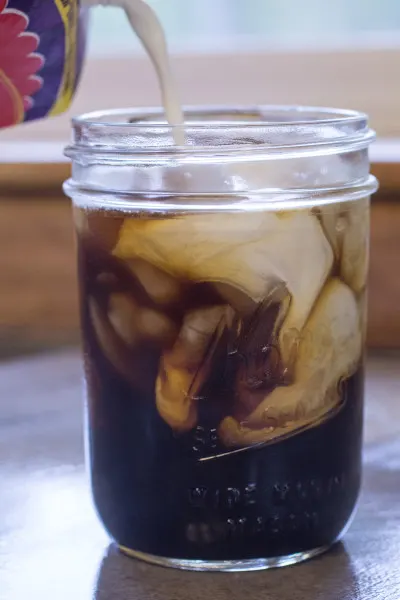 Drip in some vanilla to taste.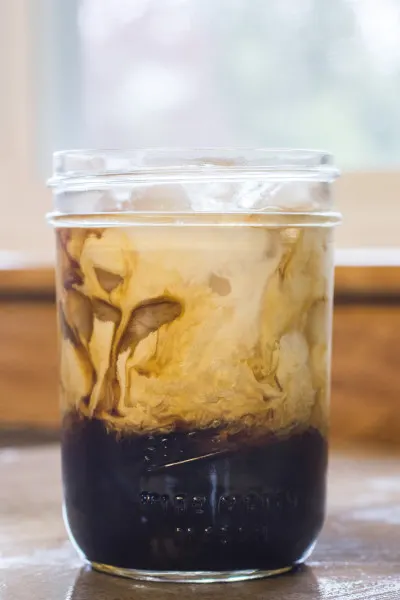 Give a few swirls, and enjoy. You deserve it after all that laundry, dishes, diapers, work, driving, correcting, hugging, kissing, fight-breaking-upping, cooking, cleaning, awesomeness you call life.
Yield: 1
Quick Iced Latte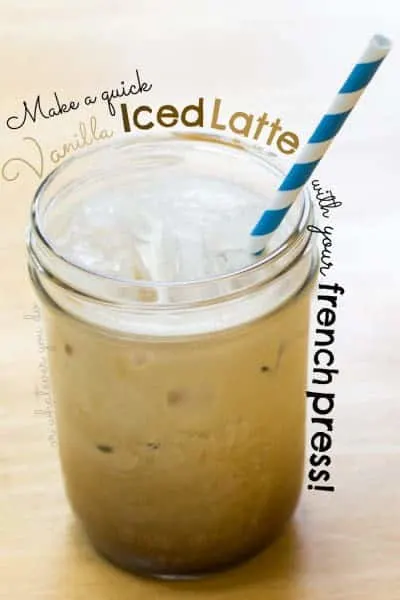 Homemade iced coffee has never been easier. You can whip this up in no time and skip the coffee line!
Ingredients
1/2 cup coffee concentrate
1/4 cup half and half
2 tablespoons sugar
a few drops of vanilla extract
amounts are very forgiving - adjust to your specific tastes
Instructions
Press coffee at triple strength, pour and mix with desired amount of sugar.
Pour over ice and top with half and half and vanilla. Mix, and enjoy.
Nutrition Information:
Yield:
1
Serving Size:
1
Amount Per Serving:
Calories:

185
Total Fat:

6g
Saturated Fat:

4g
Trans Fat:

0g
Unsaturated Fat:

2g
Cholesterol:

21mg
Sodium:

40mg
Carbohydrates:

28g
Fiber:

0g
Sugar:

28g
Protein:

2g