Roast beef dinner is a classic for me. Mashed potatoes, gravy, corn, and carrots, with some freshly baked rolls? I'm a very happy lady. Another thing I love about this is that it is SUCH an easy dinner to make and make well. It can be easily scaled up or down to adjust for how many mouths you have to feed, and makes great leftovers!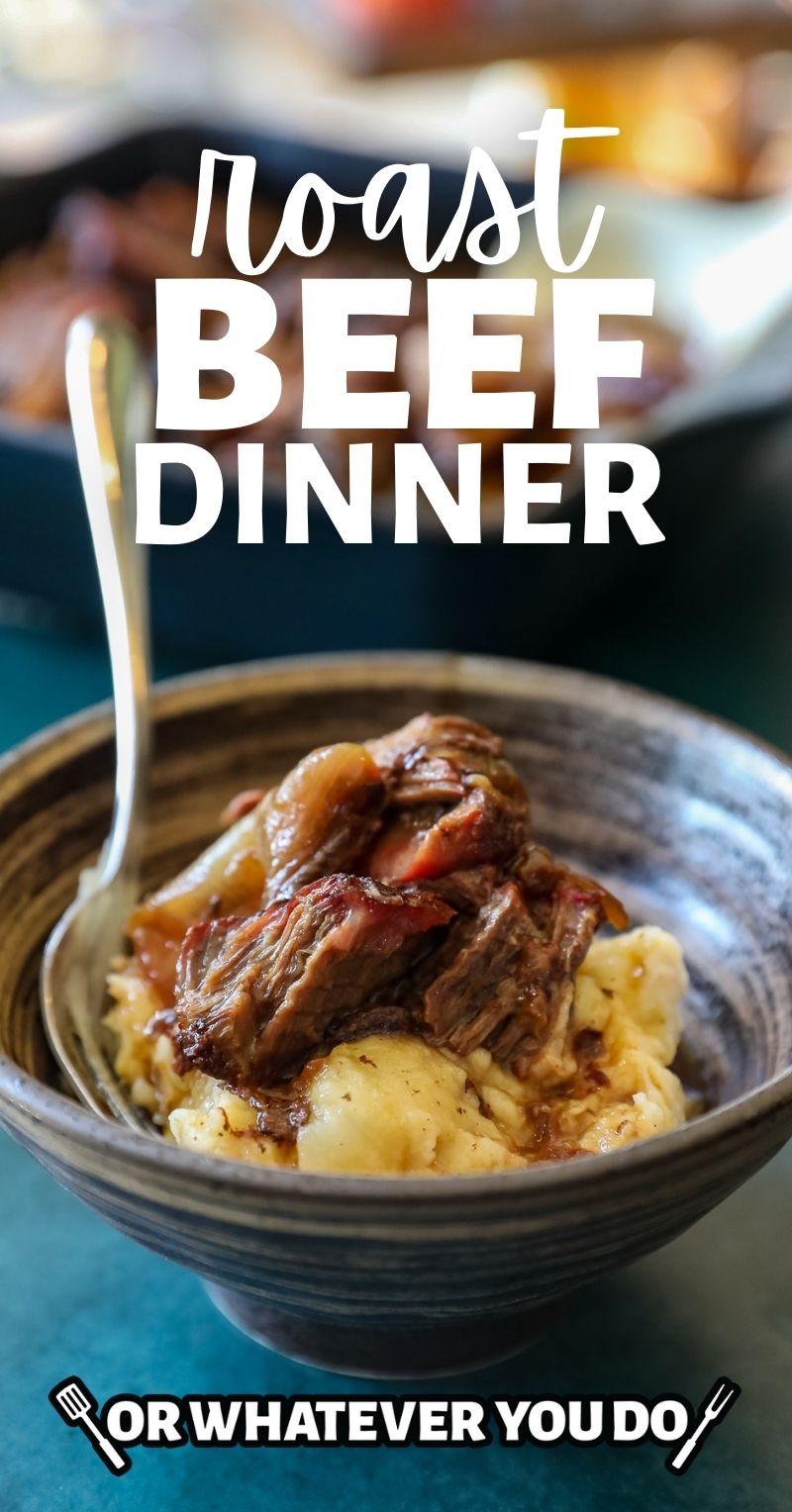 Roast Beef Dinner
Roast beef, also known as hot roast beef in some parts of the country, served with mashed potatoes, gravy, corn, carrots, and really good crusty bread – is one of my all-time favorite meals, ever.
You might hear me say that a lot because I have a lot of favorite meals, but this is one that is constantly bouncing between turkey dinner, spaghetti, and pizza. All four trade places depending on what one I'm eating that second, and how good it turned out that time.
Get all of my Easy Traeger Recipes here!
Roast Beef Dinner shopping list
Wondering if you have to hit the store? Here's the list of items you'll need to make this recipe. For specific amounts, please refer to the printable recipe card at the bottom of the post.
oil
chuck roast
carrots
onion
dry red wine
seasoning salt (like Lawry's or Johnny's)
garlic powder
pepper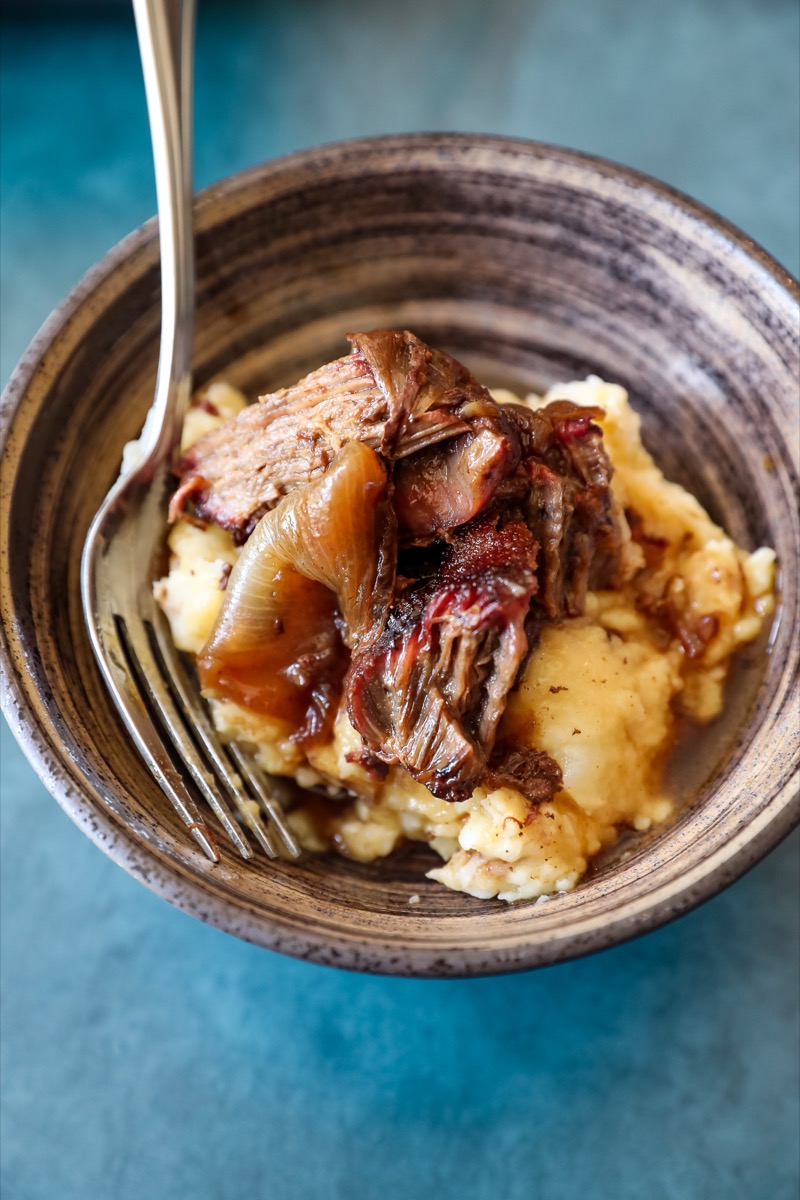 How to make a Roast Beef and Gravy Dinner
This is just the overview so you can see what you're actually getting into here. When you are cooking, you'll want to use the full recipe at the bottom of the page.
Buy a good roast
Buy a good chuck roast, anywhere from 2-4 pounds is what we go for. You want a shoulder roast with lots of marbling, but not many huge veins of fat visible. If in doubt, have the butcher or meat counter staff help you pick out a good one. I like to order chuck roasts in my monthly ButcherBox, or to spring for a fancy one from Crowd Cow. Season liberally.
Sear everything
Carrots, onions, and the roast all should be seared prior to slow cooking. So, peel your carrots, cut off the ends, and slice them diagonally. The thicker ones you can slice in half vertically as well. You are aiming for lots of surface area to brown. Use a Blackstone Griddle or a cast-iron pan with some oil in the bottom to brown your vegetables. Remove when they have some color, and do the same with your seasoned roast. Put them both into an oven/grill-safe baking dish. Pour in the wine and beef broth.
Braise it
Whether you are using your oven, slow cooker, or even your pellet grill for this portion, pre-heat your device to about 275°. Stick the pan in, (covered, if you are using the oven or crockpot, uncovered if you are using your pellet grill) and cook for 3-4 hours, or until the roast is fork-tender. If you are cooking uncovered, you will likely need to add additional beef broth to make up for evaporation.
Make the gravy
If you like gravy that is thicker, you'll need to thicken your cooking liquid. To thicken gravy, the best thing to use is a roux. Some people make roux from butter and flour that's mixed together and gently cooked for a bit on the stove, and others just mix some cold water with flour or corn starch to thicken. Still others, like me, like to make roux for beef gravy with the beef fat that rises to the top of the braising liquid. Pick your favorite way to thicken, or skip the thickening altogether and go with a thin gravy.
Shred and serve
Go with a midwest special "Hot Roast Beef Sandwich" and serve the shredded beef piled up on toasted white bread, covered with gravy, and alongside a pile of mashed potatoes, carrots, corn, and those roasted onions.
See my recipes using leftover roast beef!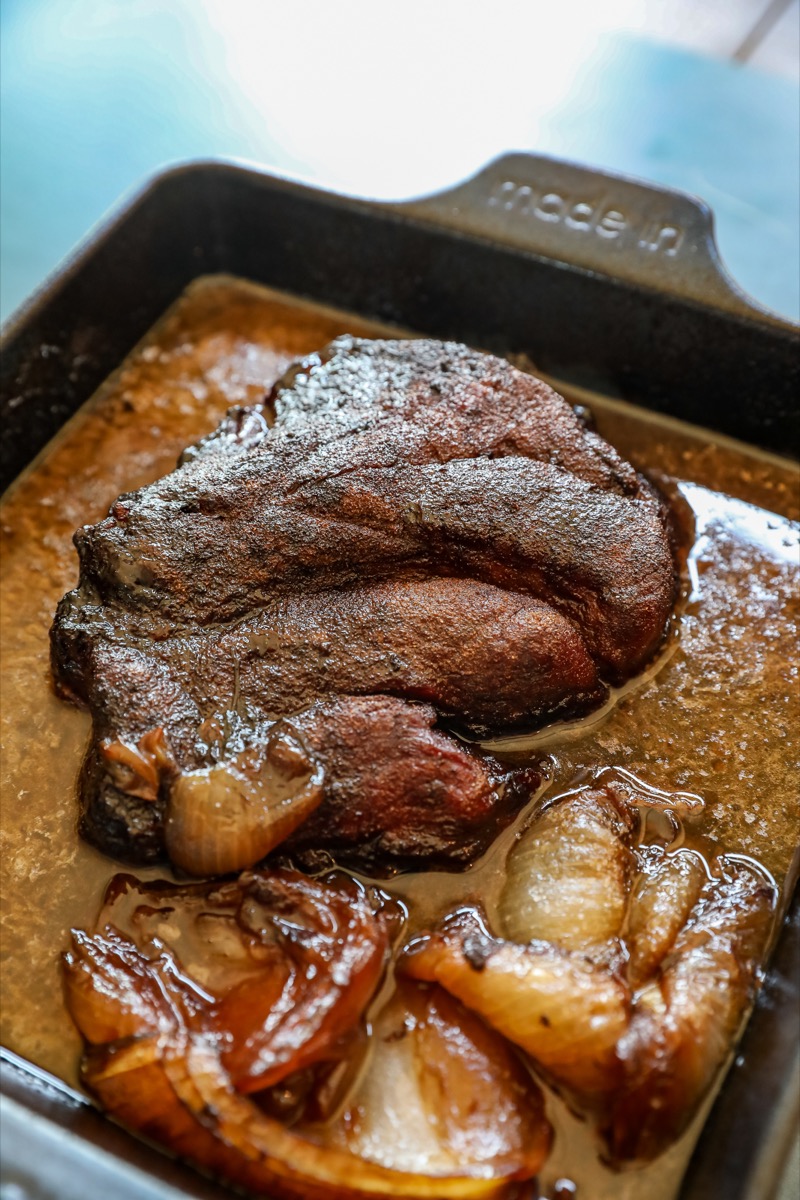 How to make the best gravy with beef drippings
Beef gravy, when done right, is one of the best sauces, gravies, or condiments there is. In my opinion, the BEST beef gravy is made with a roux made from beef fat. That isn't the only way to get to great beef gravy, but it is my favorite way, and the one I'm going to describe below.
Separate the fat from the cooking liquids
Heat the fat in a saucepan, and cook off any remaining liquid.
Whisk flour into the hot fat.
Cook, whisking constantly, over medium-low heat, for 3-4 minutes.
Heat your beef broth/braising liquid in a saucepan to a high simmer.
Whisk in the hot roux into the simmering broth. Let simmer, while whisking, until thickened.
Add more roux or more liquid, as needed, to get to the consistency you prefer.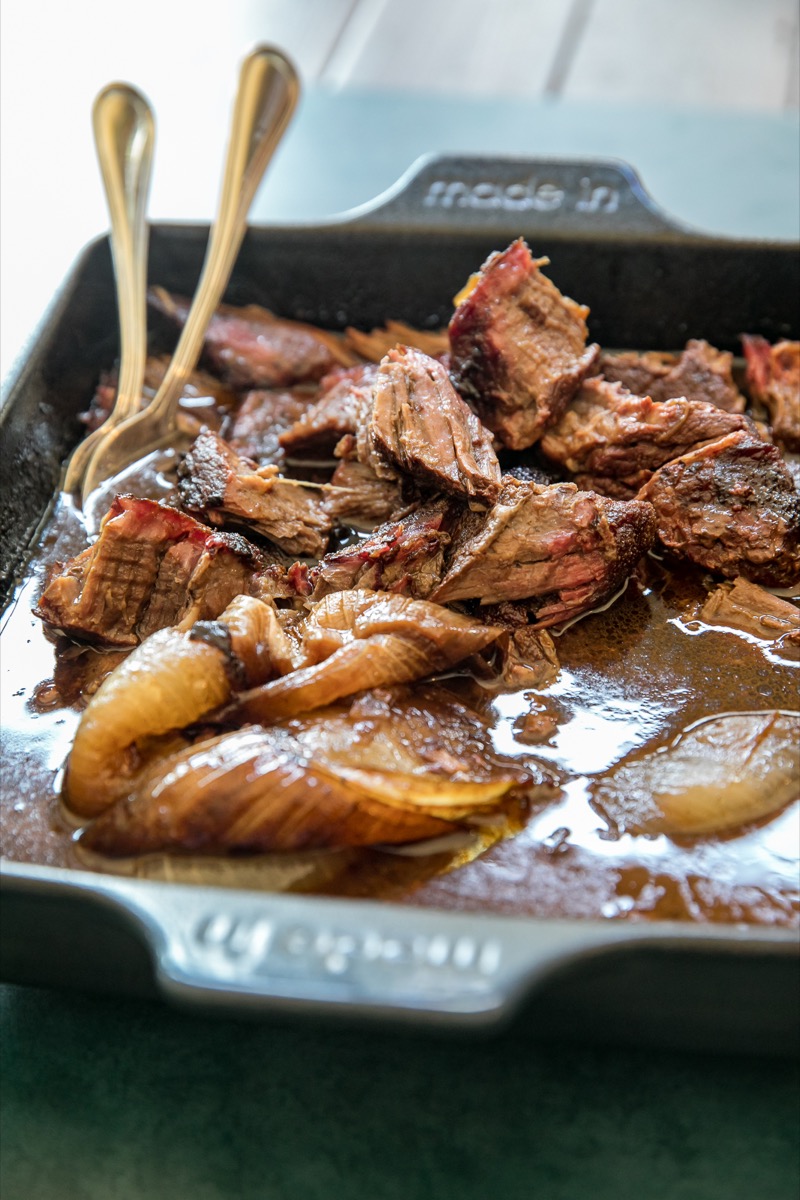 More Recipes using Chuck Roasts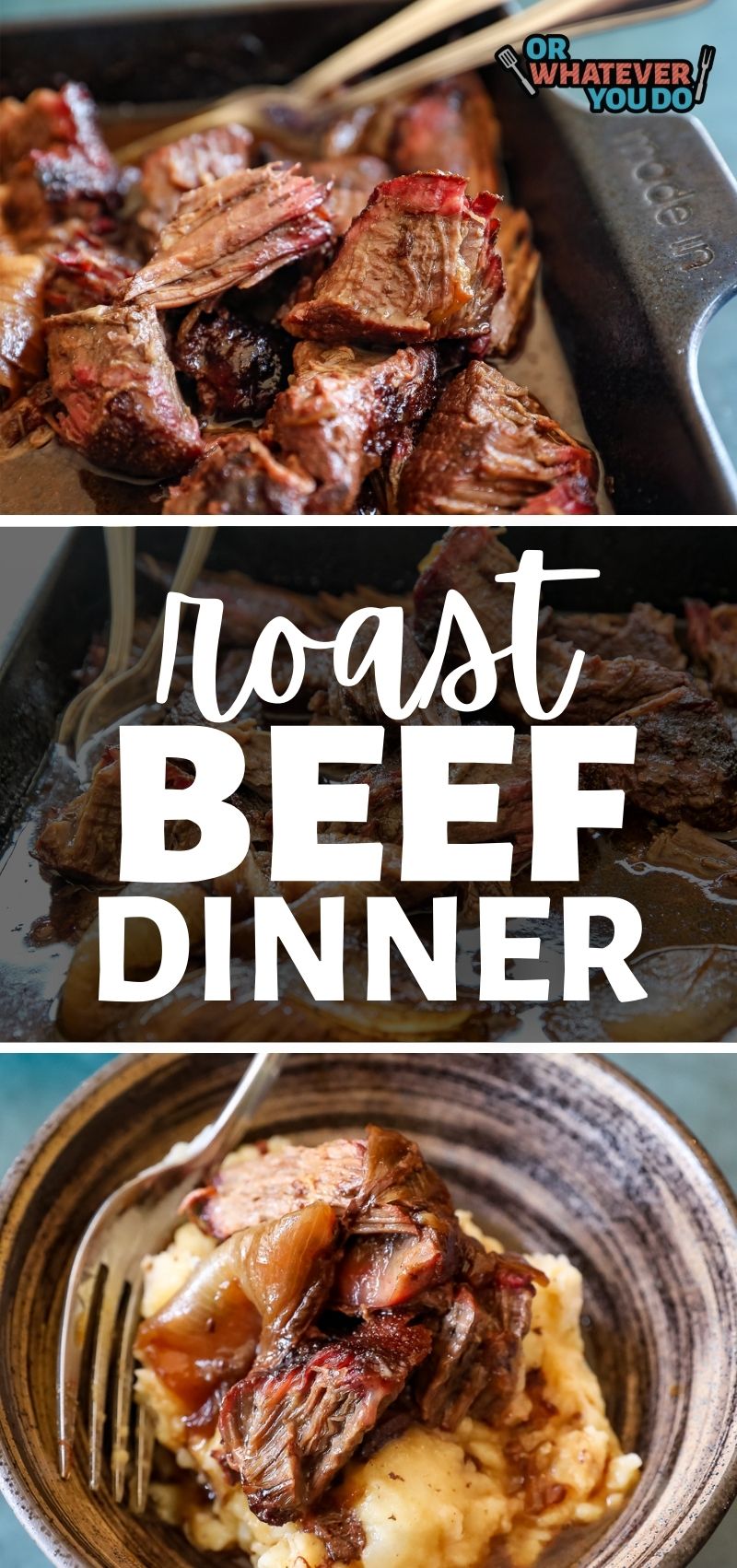 Yield: 8 servings
Roast Beef Dinner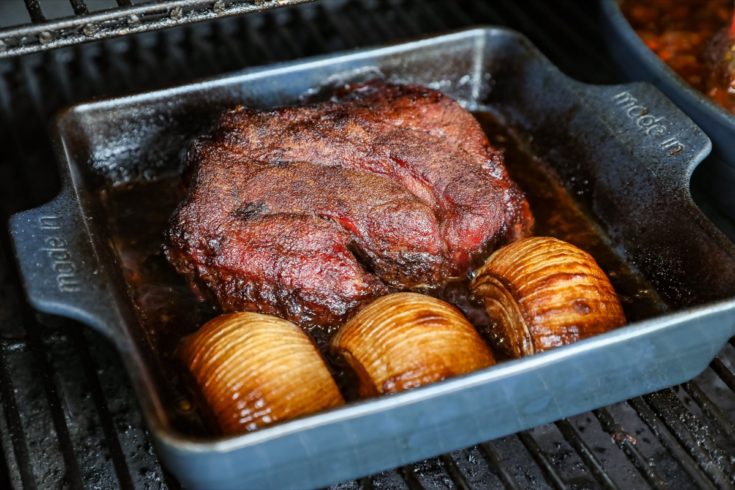 Homemade roast beef dinner! This makes the BEST roast, ever. Super traditional, super easy, You need this in your winter recipe rotation!
Total Time
4 hours
15 minutes
Ingredients
3-4 pound chuck roast
1 teaspoon seasoning salt
1 teaspoon garlic salt
1/2 teaspoon pepper
1 pound carrots, peeled and cut into large chunks diagonally
1 in large onion, peeled and sliced half
1/4 cup canola oil
1 cup red wine
2 cups beef broth
Instructions
Preheat your oven or pellet grill to 275°.
Place a couple tablespoons of oil in a large (cast-iron preferred) frying pan or on a Blackstone griddle. Heat over medium-high heat.
Place carrots and onion into the pan and brown lightly on all sides. Remove from pan and set aside.
Add another couple tablespoons of oil to the pan, and allow to pan to heat up again. Season roast liberally with the seasoning salt, garlic salt, and pepper, and place into the preheated pan to brown well on both sides.
Add 1 cup of dry red wine to the pan. Deglaze the pan and get all of the bits off the bottom, and then put the roast, pan juices, beef broth, carrots, and onion into a roasting pan.
Cover and place into the oven and cook for 3 hours. If you are using the pellet grill, leave uncovered.
Braise for about 3 hours and take a peek. Stick a fork into the roast. If it goes in easily and you can twist and shred the meat, it is done. If not, it needs more time. Check the roast periodically and add more beef broth, as necessary, to maintain the liquid level in the pan.
When the roast is done, pull out the pan juices. Using a fat separator, separate the liquid from the fat. If you don't have a fat separator you can also tent the roast with foil and stick the pan juices into the fridge or freezer for 15-20 minutes. The fat will rise to the top and can be carefully spooned off at this point.
Heat the fat over medium to medium-low heat, and whisk in enough flour to make a smooth, pourable, paste. It should be whiskable. If you go too far with the flour, add in a couple of tablespoons of butter. Cook, stirring constantly, for about 2-3 minutes. Remove from heat and set aside.
Place the rest of the liquid pan drippings into a sauce pan and bring to a boil. Extend with beef broth if there isn't enough. Whisk in the roux and simmer until thickened. You may need to add a little additional flour/water roux to get to the thickness you prefer. Gravy isn't an exact science, so don't be afraid to play around a bit to get it right where you want it.
Shred or slice your beef and serve hot with the gravy, mashed potatoes, carrots, and onions.
Recommended Products
As an Amazon Associate and member of other affiliate programs, I earn from qualifying purchases.
Nutrition Information:
Yield:
8
Serving Size:
1
Amount Per Serving:
Calories:

649
Total Fat:

42g
Saturated Fat:

15g
Trans Fat:

2g
Unsaturated Fat:

24g
Cholesterol:

188mg
Sodium:

818mg
Carbohydrates:

7g
Fiber:

2g
Sugar:

3g
Protein:

57g
Nutrition data provided here is only an estimate.