Fire up the pellet smoker because not only are we making an epic batch of Smoked Over The Top No Bean Chili today, we're going to build that into the best Traeger No-Bean Chili Dog you've ever tasted. Live wood fire-cooked hot dogs are the best kind of hot dogs, and matched with this big bold chili – you're going to love it!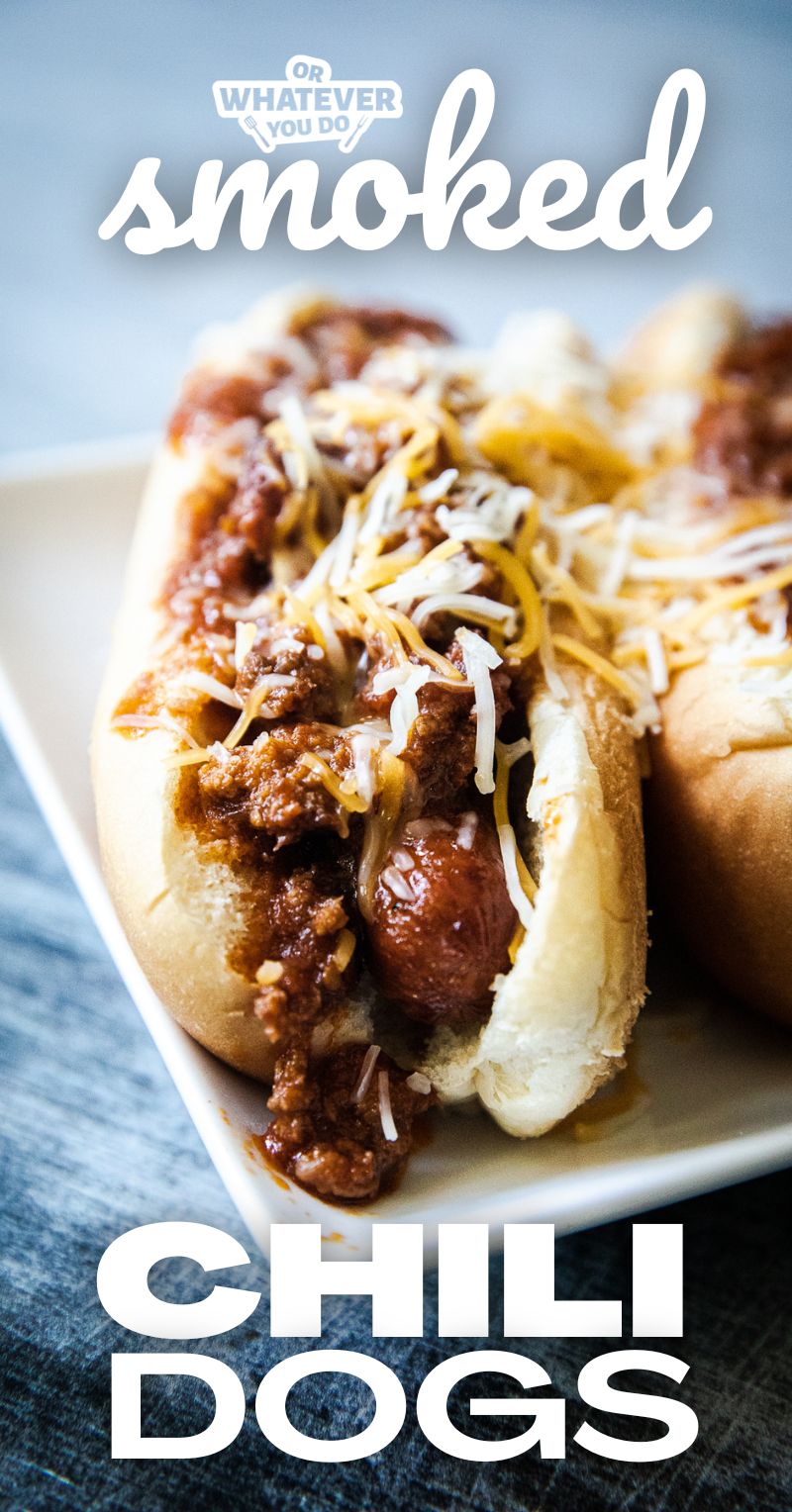 Smoked No-Bean Chili Dogs
Chili dogs are an underrated barbecue option. Not only can you infuse both the dogs AND the chili with some smoke, which works really well with all the other flavors that you've got going on, but it is also SUPER easy to do. You can make most of this a day or two ahead of time and just reheat and grill the dogs right before servings. Perfect for game day, parties, or just to get a houseful of teenagers out of your kitchen for a while, our Traeger Chili Dogs are going to hit the spot.
Get all of my Traeger Recipes here!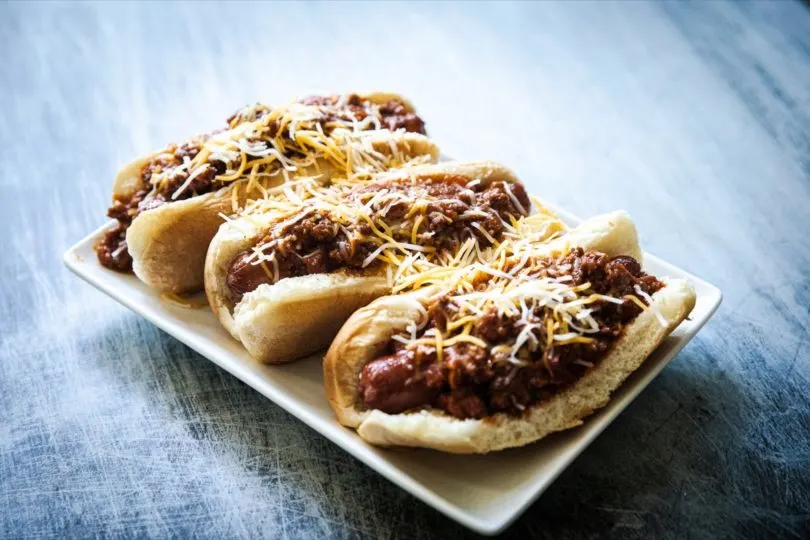 No-Bean Chili Dogs shopping list
Wondering if you have to hit the store? Here's the list of items you'll need to make this recipe. For specific amounts, please refer to the printable recipe card at the bottom of the post.
Ground beef
Kosher salt
Chili powder
Onion powder
Granulated garlic
Black pepper
Cumin powder
Onion
Oil
Whole peeled tomatoes
Rotel
Garlic
Hot dogs
Hot dog buns
Shredded cheese (optional)
Get 75+ of my favorite Traeger Recipes here!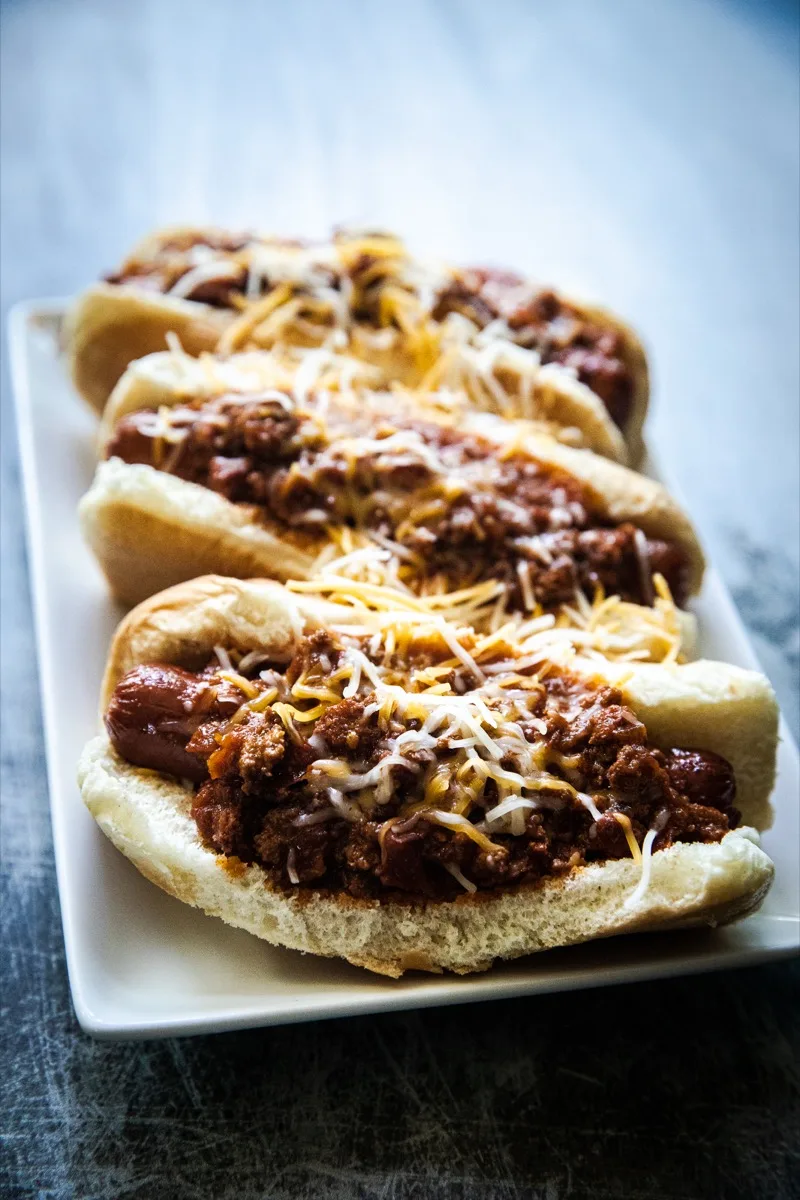 How to make Smoked Chili Dogs
This is just the overview so you can see what you're actually getting into here. When you are cooking, you'll want to use the full recipe at the bottom of the page.
Preheat
Fire up the grill and let it preheat to 225°F.
Make the chili
Form the meatball, make the sauce, put both on the smoker. Follow the instructions in the recipe card for the play-by-play.
Cook the dogs
Put your hot dogs on the grill during the last 15 minutes of the chili's cook time.
Load 'em up
Build your chili dogs and serve with all of your favorite toppings.
Try our Air Fryer French Fries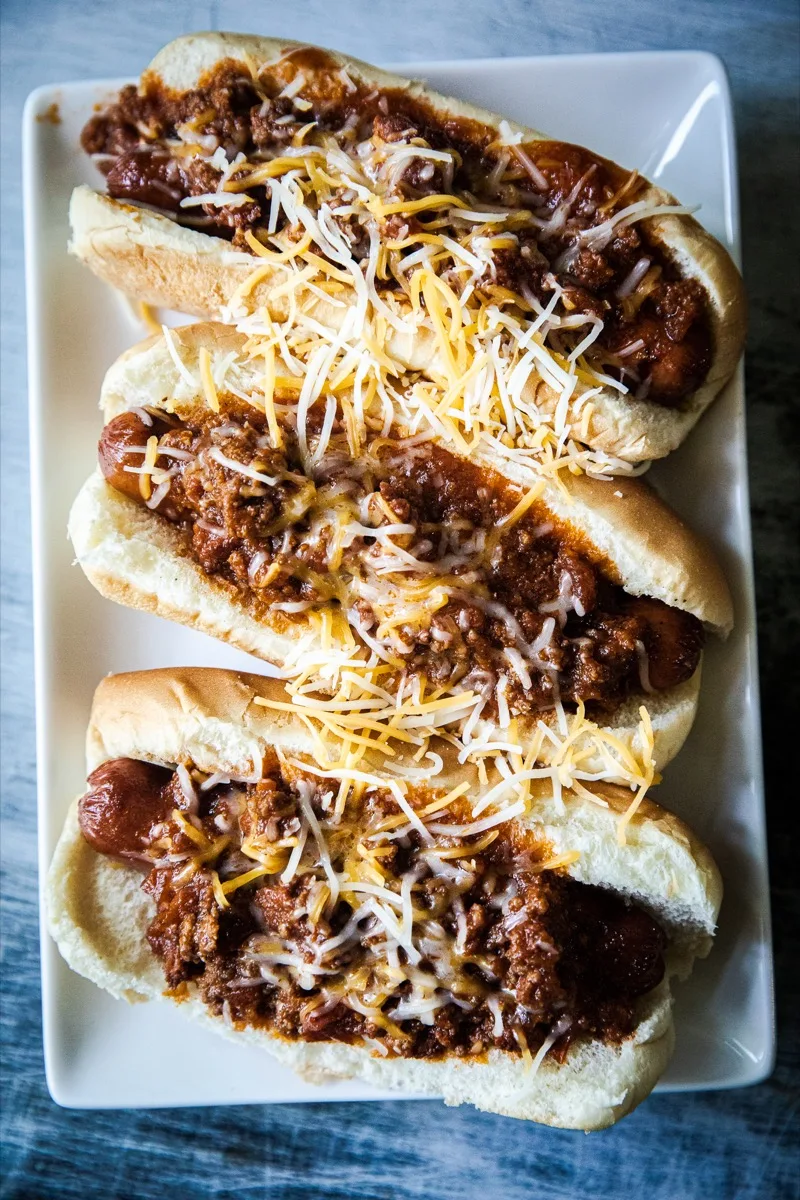 Traeger Chili Dogs FAQ
Can this be made in advance?
Yes! You can make the chili a day or two in advance and it'll be just as good. It also freezes well, if you need to make it further in advance. Just wait to cook the hot dogs until right before you serve them.
What's the best way to store and reheat leftovers?
Keep all the components separate when storing your chili dogs for the best results. Then reheat and build right before eating.
Can you use another type of meat for this recipe?
You can use ground wild game, mix in some ground pork, or you could potentially use ground chicken or turkey BUT I haven't tested with those lower-fat meats so proceed with caution and let me know how it goes. 😉
Try out Traeger Spicy Corn Salsa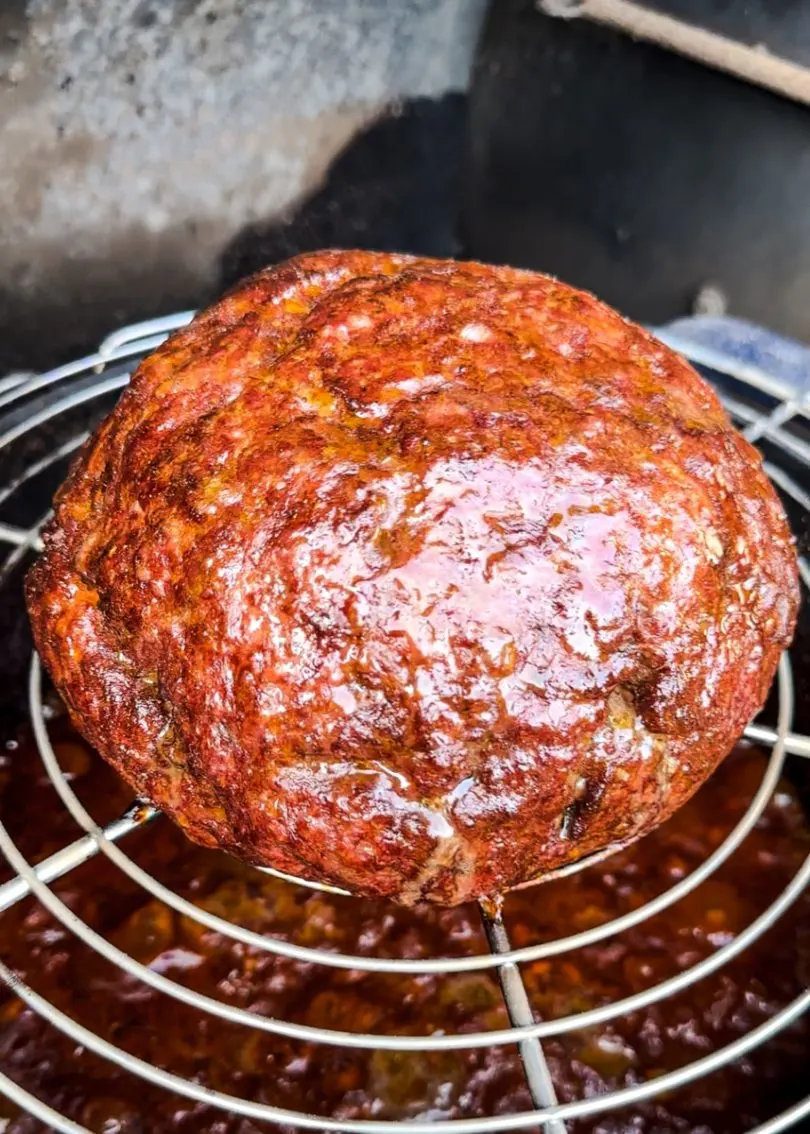 Serve this with…
Strawberry Salad with Red Wine Vinaigrette
Chips + Smoked Salsa
More great recipes to love!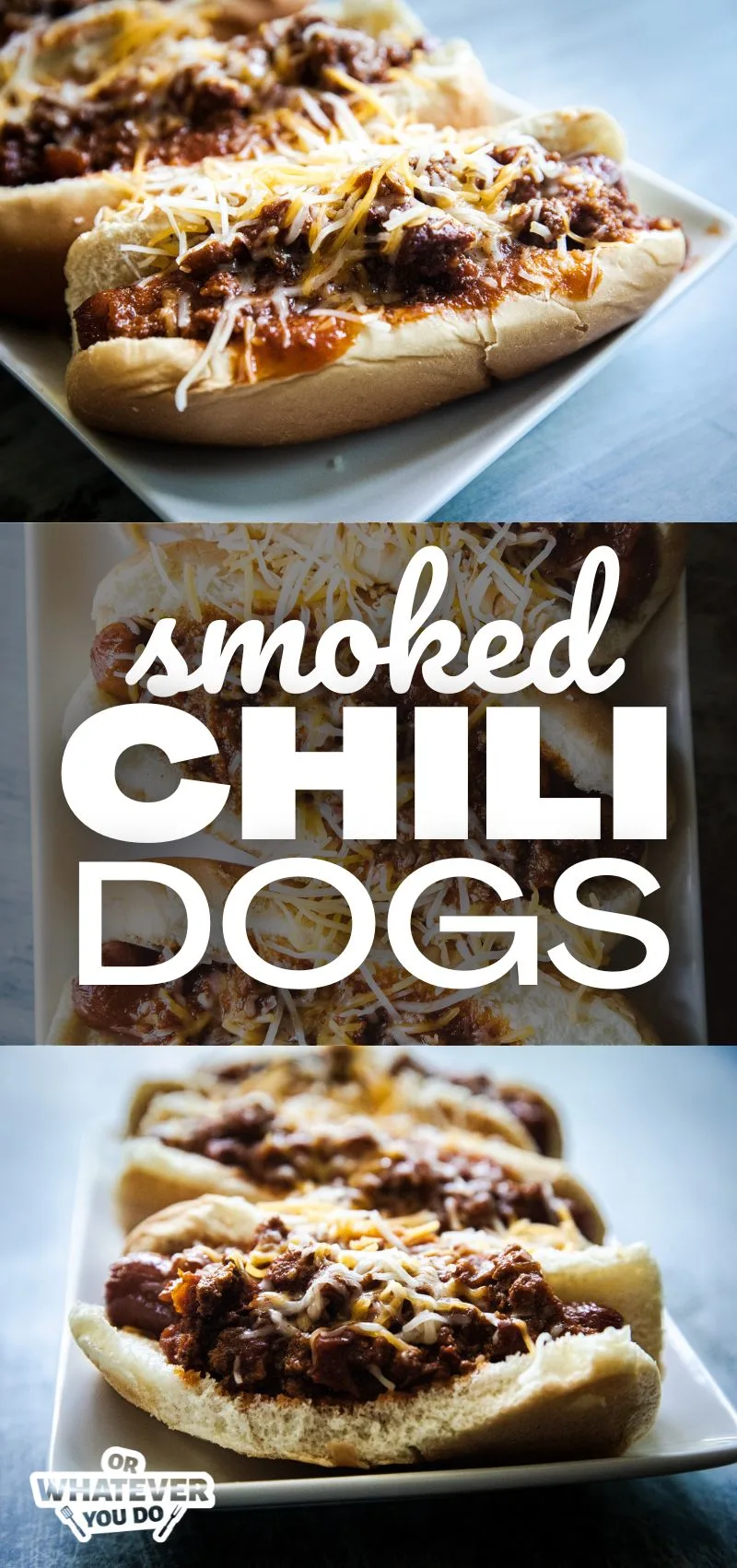 Yield: 8 servings
Traeger No-Bean Chili Dogs
We're taking the Over The Top Chili recipe to a whole 'nother level with this no-bean chili dog that's perfect for the bean-haters in your life!
Total Time
2 hours
10 minutes
Ingredients
Meatball
2 pounds ground beef
3/4 teaspoons kosher salt
1 1/2 teaspoons chili powder
1 1/2 teaspoons onion powder
3/4 teaspoons granulated garlic
1/4 teaspoon black pepper
1/4 teaspoon cumin powder
Sauce
1 medium diced onion
1 tablespoon oil
1 15-ounce can whole peeled tomatoes
1 10-ounce can of original Rotel
5 ounces water
1 1/2 tablespoons chili powder
1/2 teaspoon kosher salt
1/4 teaspoon ground cumin
3/4 teaspoons onion powder
1 1/2 teaspoons chopped garlic
Dogs
8 high-quality hot dogs
8 hot dog buns
1 cup shredded cheese (optional)
1/2 cup diced onion (optional)
Instructions
Preheat your pellet grill to 250°F.
While the grill is preheating, mix up your meatball with all of the seasonings, form into a large loaf, and place onto a wire rack that'll fit on top of your Dutch oven.
In a Dutch oven on the stovetop, add the onion and the oil and saute over medium-high heat until the onions are softened and slightly browned. Add the rest of the Sauce ingredients and stir to combine.
Place the wire rack with the meatball on it on top of the Dutch oven, and put the whole contraption into your smoker.
Smoke the chili for 60 minutes at 225°F. Stir the sauce mixture occasionally to make sure it doesn't stick or burn.
Turn the smoker up to 350°F. Let it cook at that temp until the meatball reaches 150°F. Put the meatball into the sauce and break it up with a meat masher.
Let the mixture cook, stirring frequently, for another 30 minutes or so.
During the last 15 minutes of the cook, put your hot dogs on the grill and let them get nice and hot with some grill marks on them.
Warm up the buns in the microwave. Put a damp paper towel in the bag and it'll steam them just like the hot dog stands.
Remove from the smoker, build your chili dogs, and enjoy with your favorite chili fixings.
Recommended Products
As an Amazon Associate and member of other affiliate programs, I earn from qualifying purchases.
Nutrition Information:
Yield:
8
Serving Size:
1
Amount Per Serving:
Calories:

711
Total Fat:

43g
Saturated Fat:

16g
Trans Fat:

1g
Unsaturated Fat:

20g
Cholesterol:

143mg
Sodium:

1124mg
Carbohydrates:

35g
Fiber:

3g
Sugar:

7g
Protein:

46g
Nutrition data provided here is only an estimate.