If you're looking for a fun way to make a venison roast, we've got just the thing for you! This is an osso buco-inspired recipe that plays with those traditional flavors and turns your venison roast into a tender, delicious dinner. Try our Smoked Venison Osso Buco today!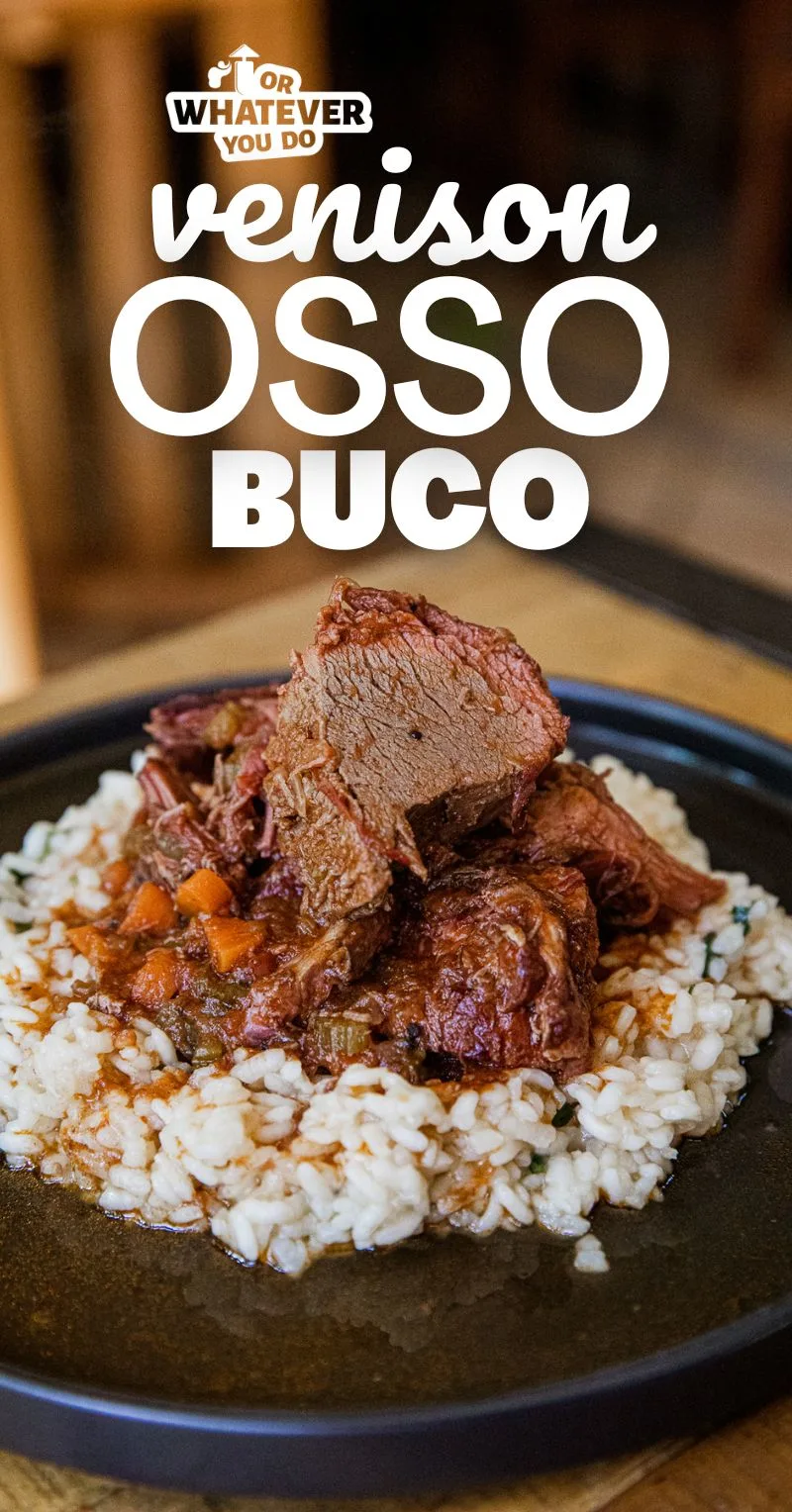 Venison Roast Osso Buco Recipe
Don't come at me in the comments telling me that osso buco is supposed to be made with veal shanks. I KNOWWWWWW. But for this version we're doing it our own way, with a big venison roast. It is more osso buco-style than actual traditional osso buco, but go with me here. It is worth it. If you have proper venison osso buco cross-cut shanks, feel free to use those. If not, pull out one of those venison roasts from the freezer and make something delicious.
What types of venison roasts are good to use for this recipe?
Shoulder Roast
The shoulder of the deer is a more tough and muscular area, which can result in a tougher roast. However, when cooked slowly and with moist heat, this cut can yield a rich, flavorful roast. It's perfect for slow cooking, braising, making pot roast, or for this tender venison roast osso buco.
Rump Roast
This roast comes from the hindquarter or the rump of the deer. It's a lean, dense cut that's excellent for slow roasting or braising. This cut often has a stronger game flavor and can be used in stews or slow-cooked dishes. This would also be a good option for this recipe.
Top Round and Bottom Round
These are both cuts from the rear leg of the deer. The top round is lean and can be cooked as a roast, while the bottom round is slightly tougher and can benefit from slow, moist cooking methods. Again – a great option!
Get all of my Traeger Recipes here!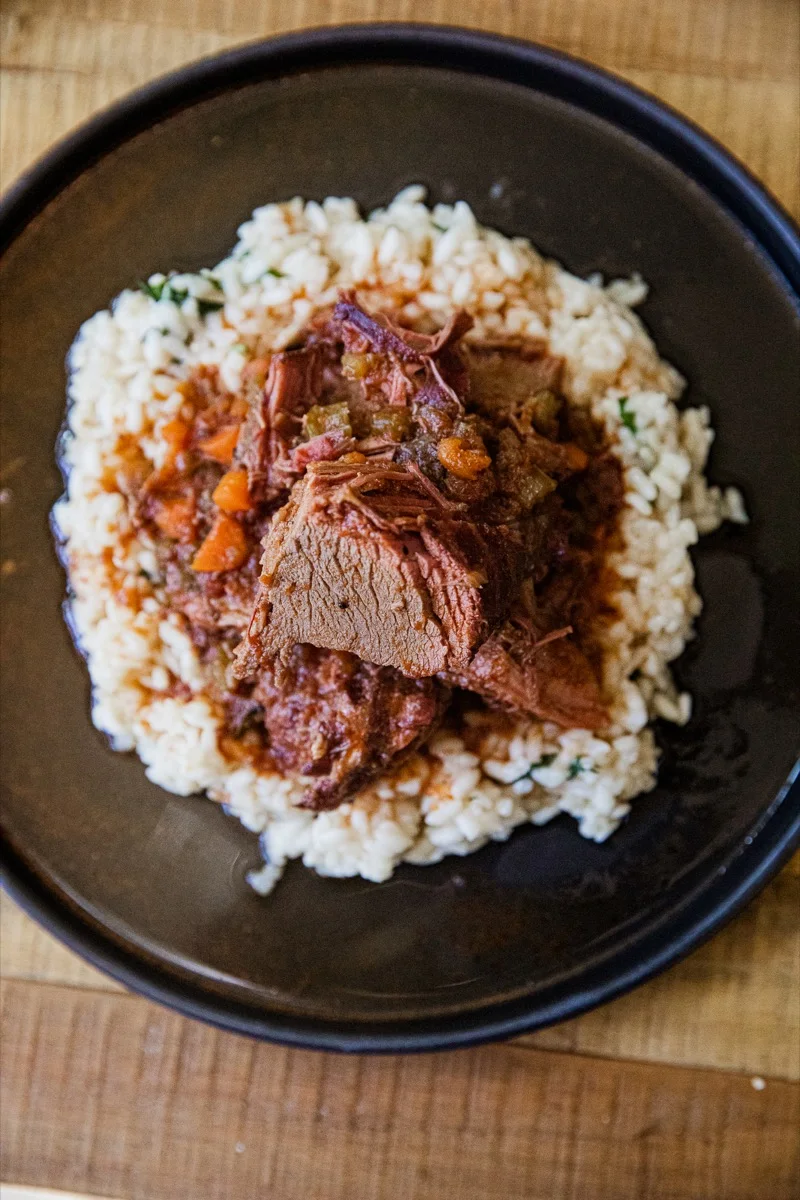 Venison Osso Buco shopping list
Wondering if you have to hit the store? Here's the list of items you'll need to make this recipe. For specific amounts, please refer to the printable recipe card at the bottom of the post.
Venison roast
Tomatoes
Yellow onion
Celery
Carrots
Garlic cloves
Olive oil
Red wine
Tomato paste
Salt
Black pepper
Paprika
Granulated garlic
Red pepper flakes
Onion powder
Fresh oregano
Bay leaf
Get 75+ of my favorite Traeger Recipes here!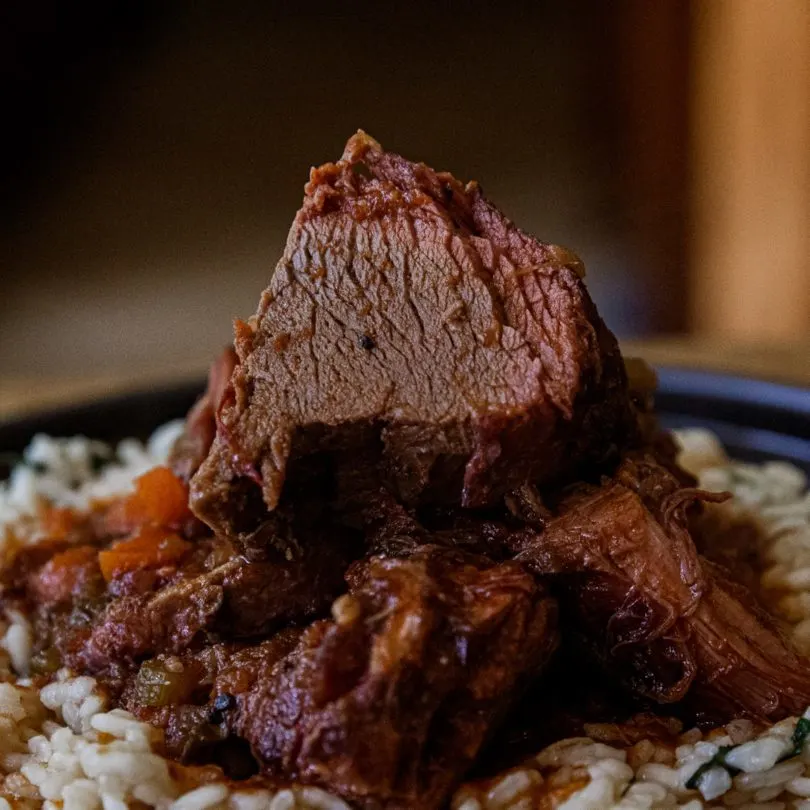 How to make Osso Buco with a venison roast
This is just the overview so you can see what you're actually getting into here. When you are cooking, you'll want to use the full recipe at the bottom of the page.
Preheat
Fire up the pellet grill and let it heat up to 275°F.
Smoke
Season the roast and smoke it until the internal temperature reaches 140°F. Remove from the grill.
Prep
While the roast is smoking, make the braising liquid on the stovetop.
Braise
Once the roast comes off the grill, cut it into large chunks and put it into the braising liquid mixture. Cover and braise for about 2 hours, or until the roast chunks are fork tender.
Try our Venison Rib Chops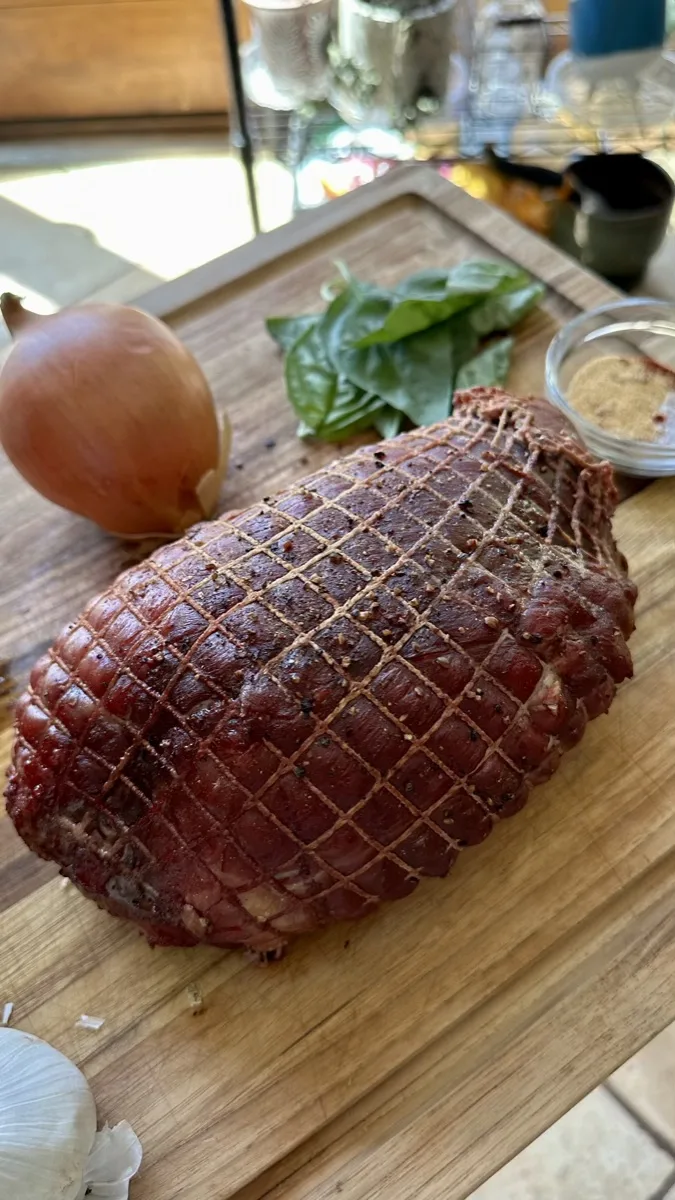 Venison Osso Buco FAQ
How long does it take to cook Venison Osso Buco?
From start to finish, the total cooking time for Venison Osso Buco is about 3-4 hours. This includes prepping the venison, grilling it to the right internal temperature, and then slow-cooking it in the Dutch oven until it becomes fork-tender.
How can I tell when my venison roast is done?
Venison roast is cooked when the internal temperature reaches 140°F on a meat thermometer. After this, it should be cut into chunks and simmered in a Dutch oven until it's tender enough to be easily pierced with a fork.
What can I do with leftover Venison Osso Buco?
Leftovers can be stored in an airtight container in the fridge for up to 3 days. You can reheat them in a saucepan over medium heat, adding a little broth or water if necessary. You can also shred the leftover meat and use it as a pasta sauce or filling for sandwiches or wraps.
Can I cook Venison Osso Buco in a slow cooker?
Yes, you can adapt this recipe for a slow cooker. After grilling the roast and preparing the vegetables, combine all the ingredients in the slow cooker and cook on low for 6-8 hours, or until the venison is fork-tender.
Try our Grilled Venison Backstrap recipe!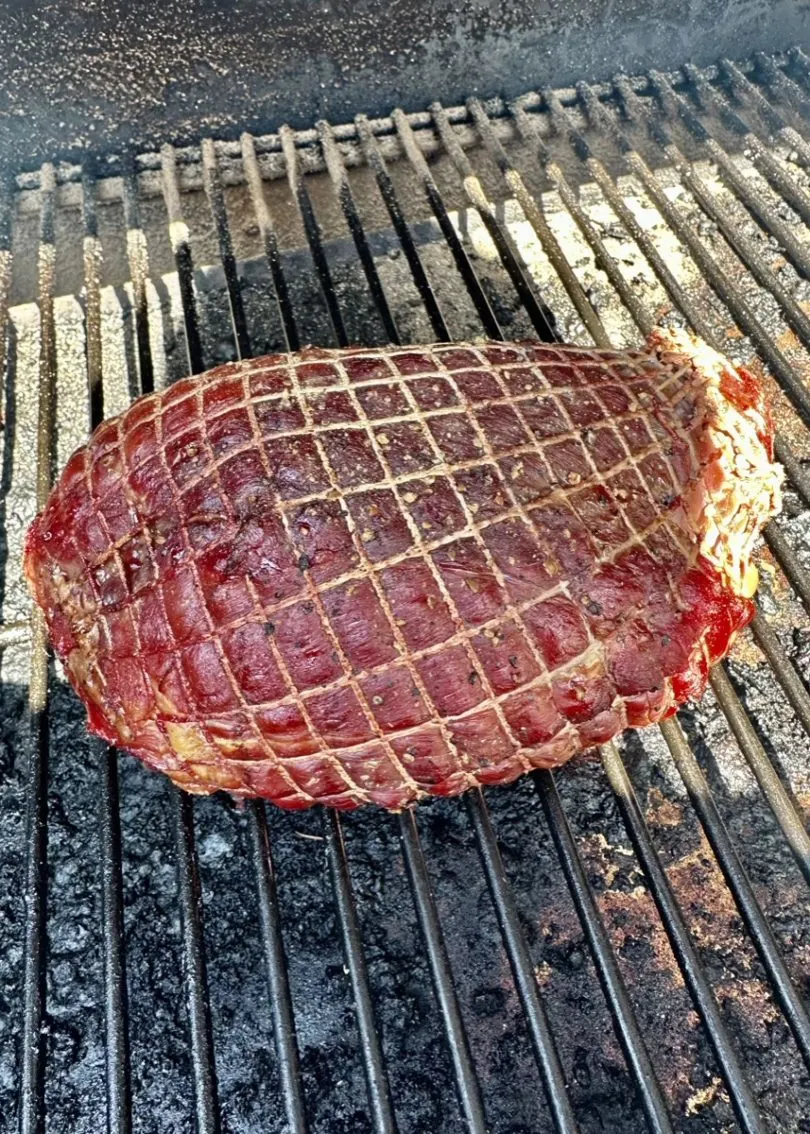 Serve this with…
More great venison recipes to love!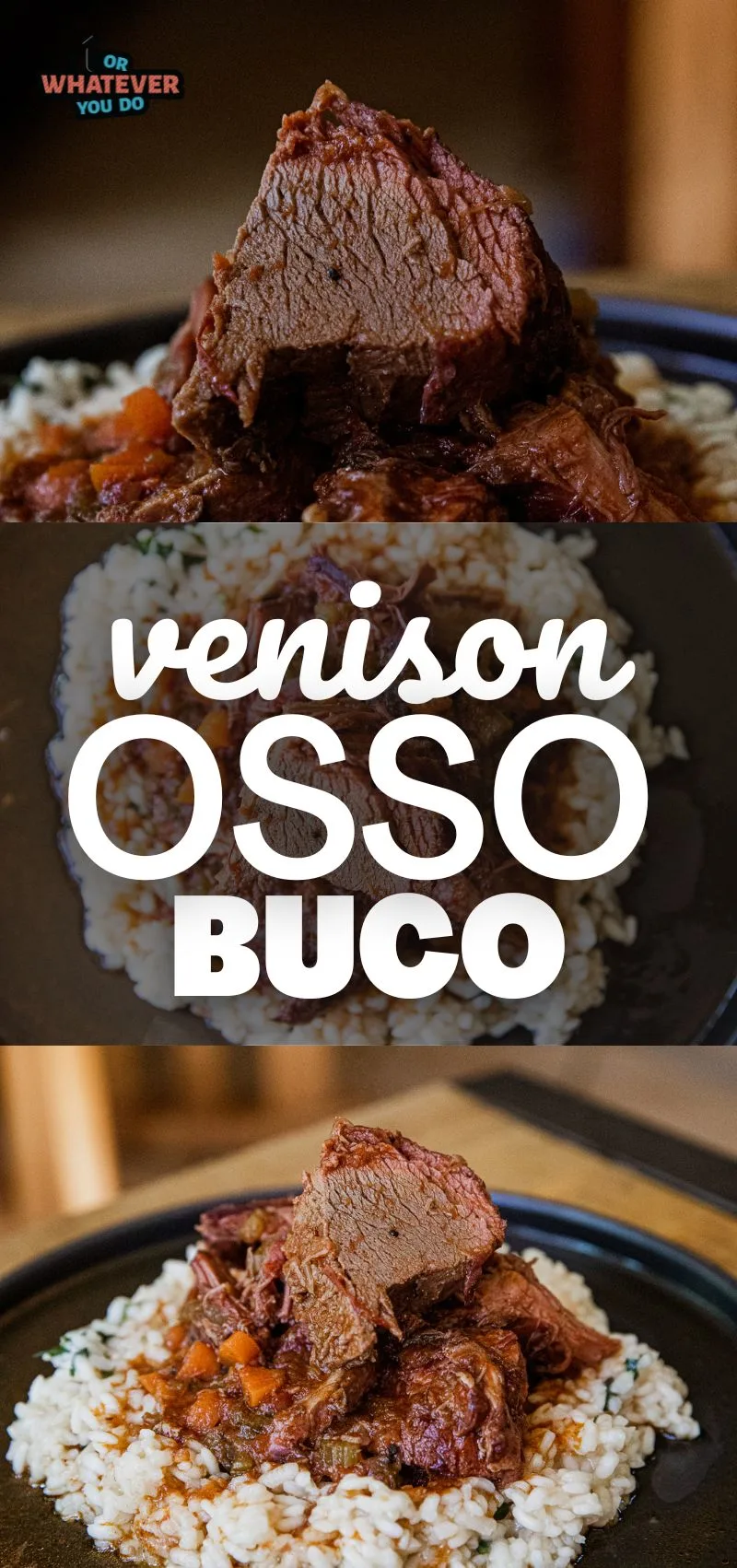 Yield: 8 servings
Venison Osso Buco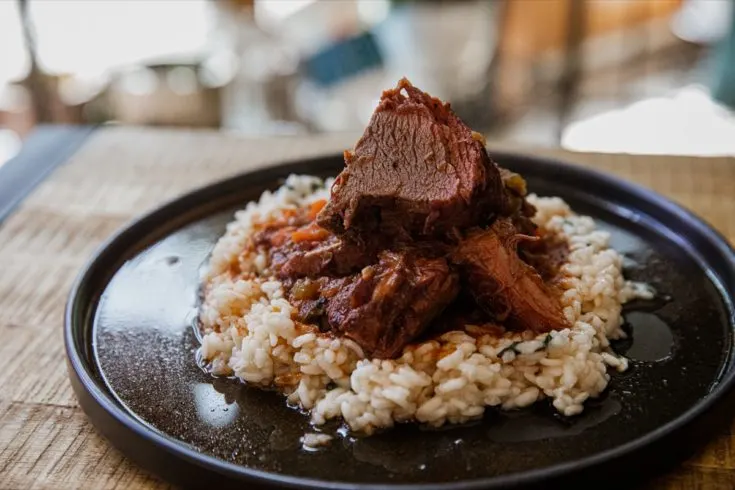 This tender, delicious roast is made using osso buco flavors to make one of the best venison roasts I've ever had!
Ingredients
5 pound venison roast
3 medium tomatoes
1 medium yellow onion
3 celery stalks
2 carrots
4 garlic cloves
1/4 cup olive oil
1 cup red wine
1 1/2 cup water
2 tablespoons tomato paste
2 teaspoons salt, divided
1 teaspoon black pepper, divided
1/2 teaspoon paprika
1/2 teaspoon granulated garlic
1/2 red pepper flakes
1 teaspoon onion powder
1 teaspoon chopped fresh oregano
1 bay leaf
Instructions
Preheat your pellet grill or smoker to 275°F.
Combine half of the salt, half the pepper, paprika, granulated garlic, and onion powder into a rub and apply it to all sides of your roast.
Place the roast directly onto the grill.
Cook the roast on the grill until the internal temperature reaches 140°F, and then remove it.
While the roast is on the grill, dice your carrots, tomatoes, celery, and onion and place into a Dutch oven along with the rest of your ingredients.
Put the Dutch oven on low heat on your stove top and bring it to a simmer.
After your roast reaches 140 degrees internal temperature, remove it from the grill and cut it into 2-inch chunks.
Place the cut-up roast into the Dutch oven and cover it.
Cook for approximately 2 hours, or until the roast is fork-tender.
Recommended Products
As an Amazon Associate and member of other affiliate programs, I earn from qualifying purchases.
Nutrition Information:
Yield:
8
Serving Size:
1
Amount Per Serving:
Calories:

655
Total Fat:

18g
Saturated Fat:

7g
Trans Fat:

0g
Unsaturated Fat:

9g
Cholesterol:

320mg
Sodium:

704mg
Carbohydrates:

7g
Fiber:

2g
Sugar:

3g
Protein:

104g
Nutrition data provided here is only an estimate.