If you've never tried Cincinnati Chili, now is the time! This unique play on traditional chili features the spicy bold flavors of cinnamon, nutmeg, and allspice in the mix along with all of the chili flavors you are used to. Another fun twist in this Smoked Cincinnati Chili Recipe is that this chili is typically no-bean, and served over a plate of hot spaghetti with cheddar cheese and onions on top.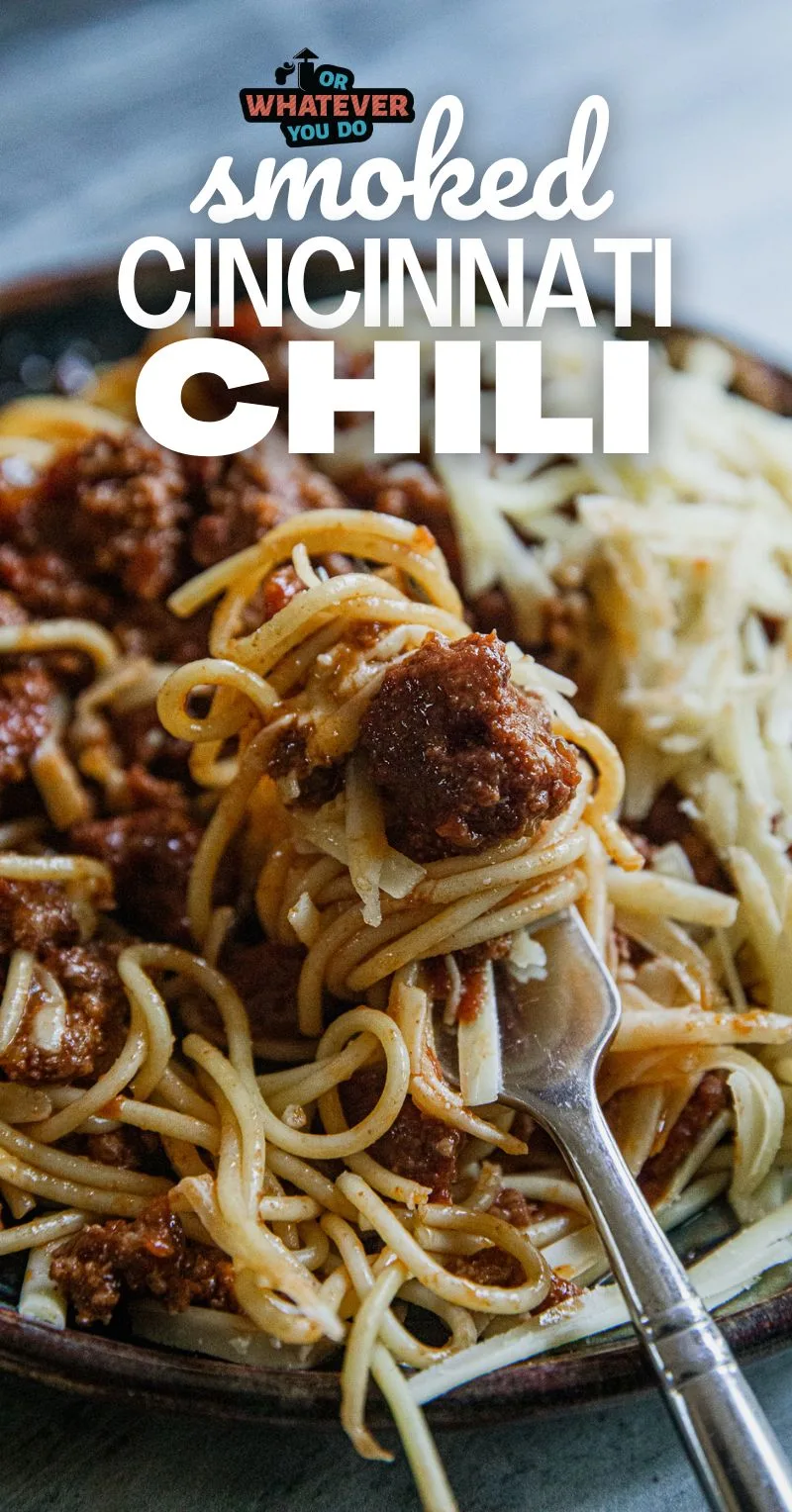 Traeger Smoked Over The Top Cincinnati Chili
With our Smoked Cincinnati Chili, we took the very best things about our Smoked Over The Top No-Bean Chili recipe and married them with the classic flavor notes of the unique Cincinnati Chili for an epic meal you'll remember for a long time.
Where did Cincinnati Chili originate?
Cincinnati chili, an iconic American dish, is a unique fusion of culinary traditions brought to life by immigrants Tom and John Kiradjieff in 1922. The founders of Empress Chili, the Kiradjieff brothers, began serving a distinctive chili with Macedonian and Greek roots to Cincinnati patrons, quickly earning the dish a dedicated following. Its unorthodox preparation, combining ground beef with unusual chili ingredients such as cinnamon, cloves, allspice, and chocolate, along with its unique serving style, has elevated Cincinnati chili from a local delicacy to a national curiosity.
"The Ways" of serving Cincinnati Chili
What sets Cincinnati chili apart, in addition to its sweet and savory flavor profile, is its layering system, which gives patrons control over their culinary experience. The "ways" system refers to the number of layers in the dish. A 1-way chili is just the chili itself, no frills attached. As you add more "ways," additional ingredients come into play. A 2-way consists of chili served over spaghetti, while a 3-way adds a layer of shredded cheddar cheese. Opting for a 4-way introduces onions or beans to the mix, and finally, a 5-way serves you chili, spaghetti, cheese, onions, and beans all in one harmonious dish.
Each additional "way" creates a new dimension of flavor and texture, appealing to diverse palates and preferences. Cincinnati chili also serves as the base for coney dogs, another regional favorite that features the chili atop a hot dog, usually garnished with mustard, onions, and a heap of shredded cheese.
Whether you're a lover of classic chili dishes or an adventurous foodie, Cincinnati chili is a culinary experience that extends beyond mere food. It's a testament to the region's cultural diversity, culinary innovation, and the embracing of unique flavors. These features make it not just an iconic American dish, but also a prominent star on the gastronomic map, captivating both locals and tourists alike with its distinct taste and serving style.
Get all of my Traeger Recipes here!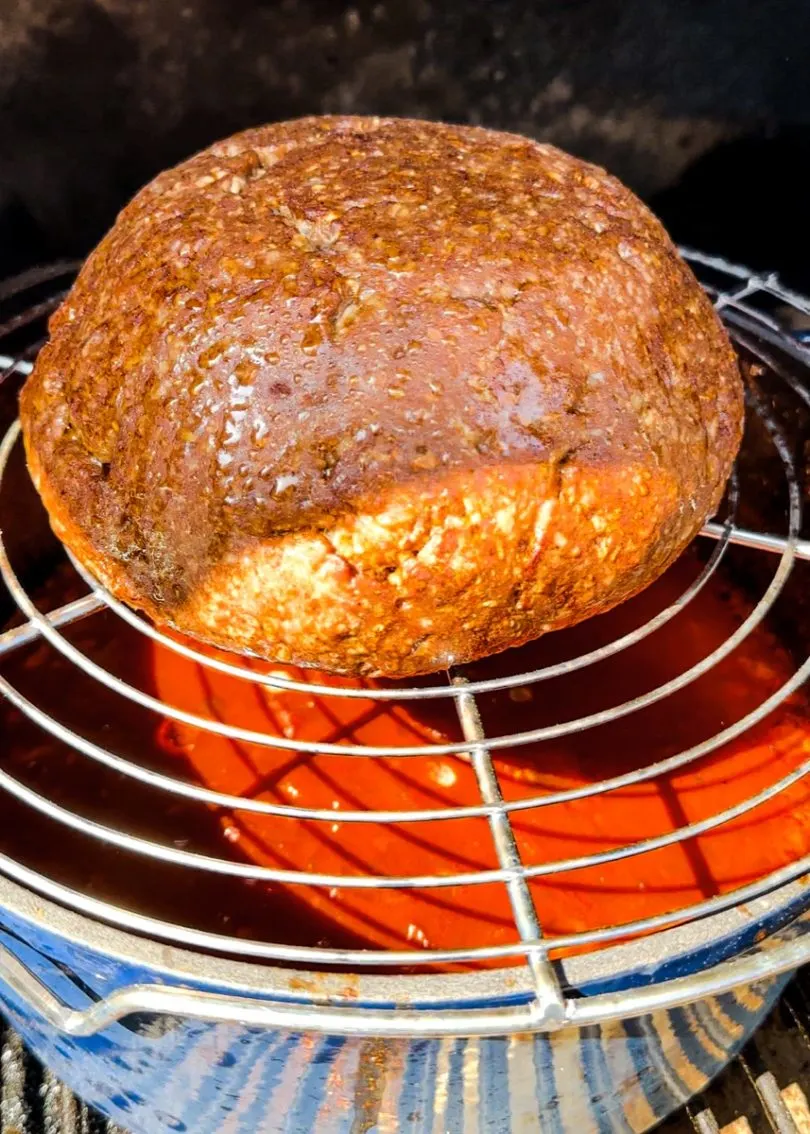 Smoked Cincinnati Chili shopping list
Wondering if you have to hit the store? Here's the list of items you'll need to make this recipe. For specific amounts, please refer to the printable recipe card at the bottom of the post.
Ground beef
Kosher salt
Chili powder
Onion powder
Granulated garlic
Black pepper
Cumin powder
Onion
Oil
Canned whole peeled tomatoes
Rotel
Apple cider vinegar
Cinnamon
Allspice
Cloves
Onion powder
Garlic
Cocoa powder (optional)
Get 75+ of my favorite Traeger Recipes here!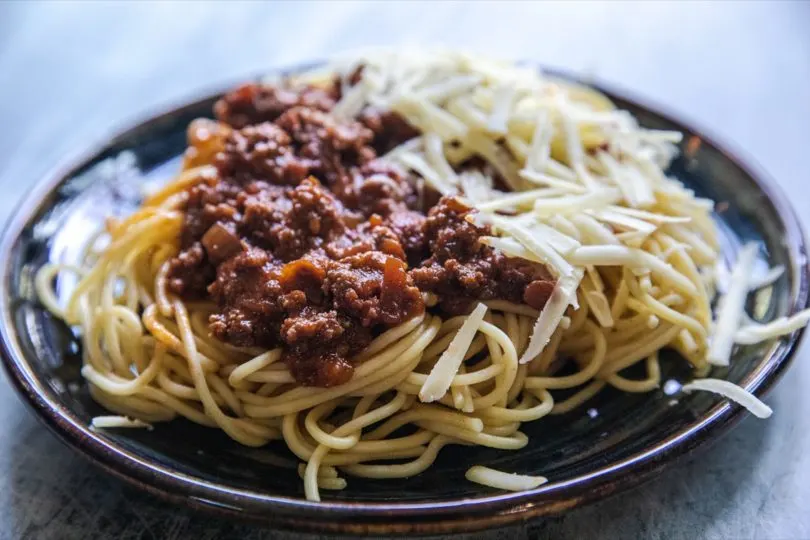 How to make Smoked Cincinnati Chili Recipe
This is just the overview so you can see what you're actually getting into here. When you are cooking, you'll want to use the full recipe at the bottom of the page.
Preheat
Preheat your smoker to 225°F.
Prep
Mix your meatball ingredients together and form a loaf. Sauté the onions on the stovetop for a few minutes before adding the rest of the sauce ingredients to the pot. Put the meatball on a wire rack on top of the pot.
Smoke
Put the whole thing on your smoker and let it ride. Smoke for about an hour or so, stirring the sauce occasionally to make sure it doesn't scorch.
Turn it up
Increase the temp on the smoker to 350°F. Let the chili cook until the internal temperature on the meatball reaches at least 150°F. Use a meat masher and break up the meatball into the chili sauce.
Enjoy
Cook for another 30-45 minutes and then serve over your hot cooked spaghetti with cheese and onions.
Try our Smoked Shotgun Shells!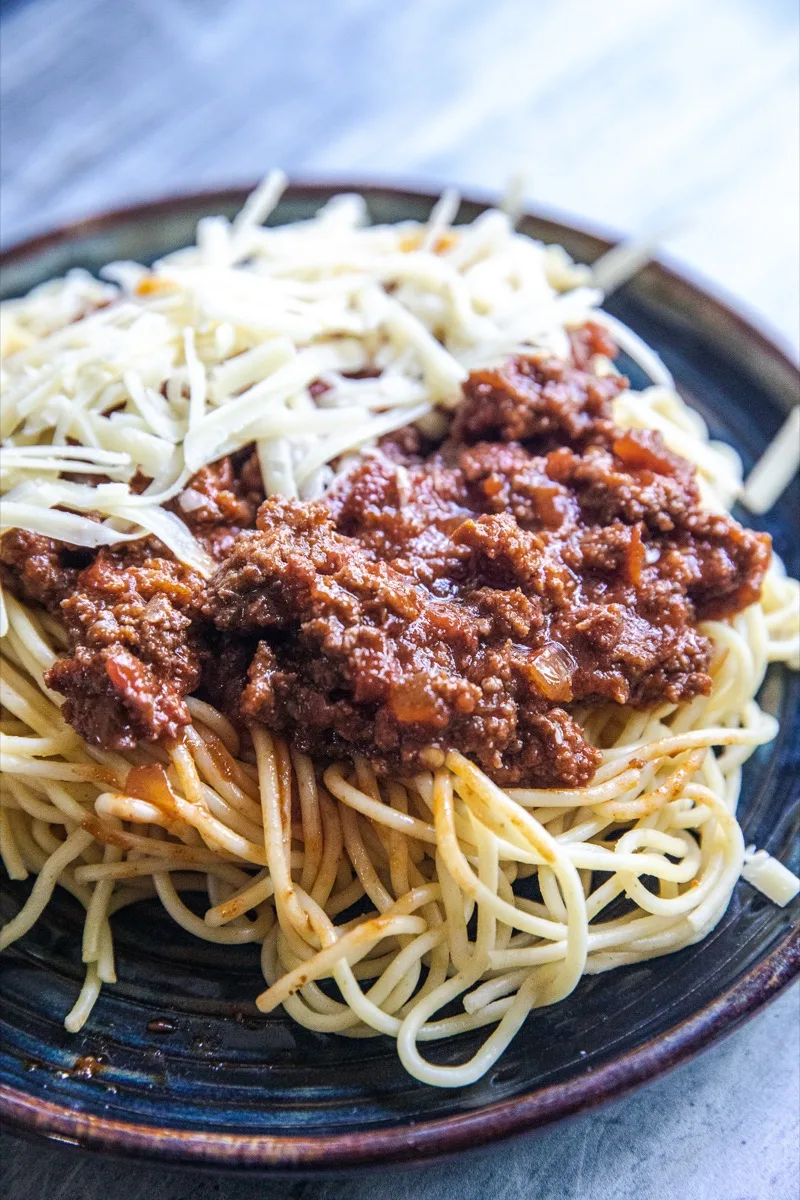 Smoked Cincinnati Chili FAQ
Can this be made more traditionally?
Yes! Typically Cincinnati Chili is made WITHOUT cooking the beef at all before it is added to the sauce. It goes right in the pot with the rest of the ingredients and gets mashed up and pulverized while everything simmers and it makes this chili a unique texture.
We didn't do that in this recipe because I LOVE doing the "Over The Top" method for my favorite recipes, but if you want to, you certainly can. Just cook the whole thing in the pellet grill and you'll still get plenty of smoke in the mix.
What's the best way to store and reheat this dish?
This one is easy! We store it right in the container we cook it in, if there's room in the fridge. If not, I toss it in whatever storage container is handy. Reheating is a snap. Just toss it in the microwave. The key is to store the spaghetti and the chili separately and also REHEAT them separately. My favorite trick for spaghetti is to reheat it in a big freezer bag. It "steams" the spaghetti and keeps it moist and produces the best results for leftover spaghetti.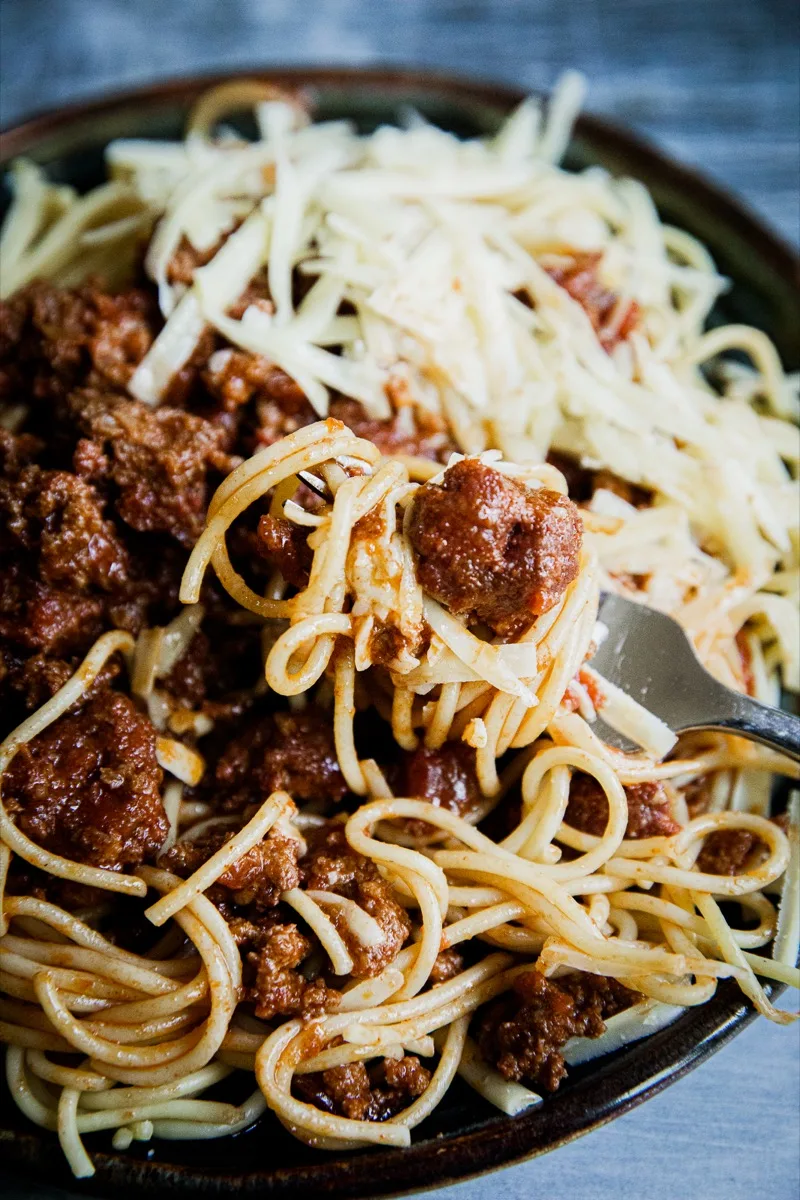 More great recipes to love!
Our original Smoked Over The Top Chili recipe is a classic and one of the most popular recipes on the site! Try that version the next time you are craving the OTHER kind of chili.
Love a good sloppy joe? Try our Over The Top Sloppy Joe recipe too! This one always surprises people, but instantly becomes one of their favorites. Join the OTT Sloppy Joe club and let me know how it goes!
Our Traeger Chile Verde Chicken is one of my new recipes and also a new favorite. We use budget-friendly chicken thighs for this recipe and you're going to be as obsessed as we have been. Plus, the homemade Verde salsa is outstanding and excellent with chips!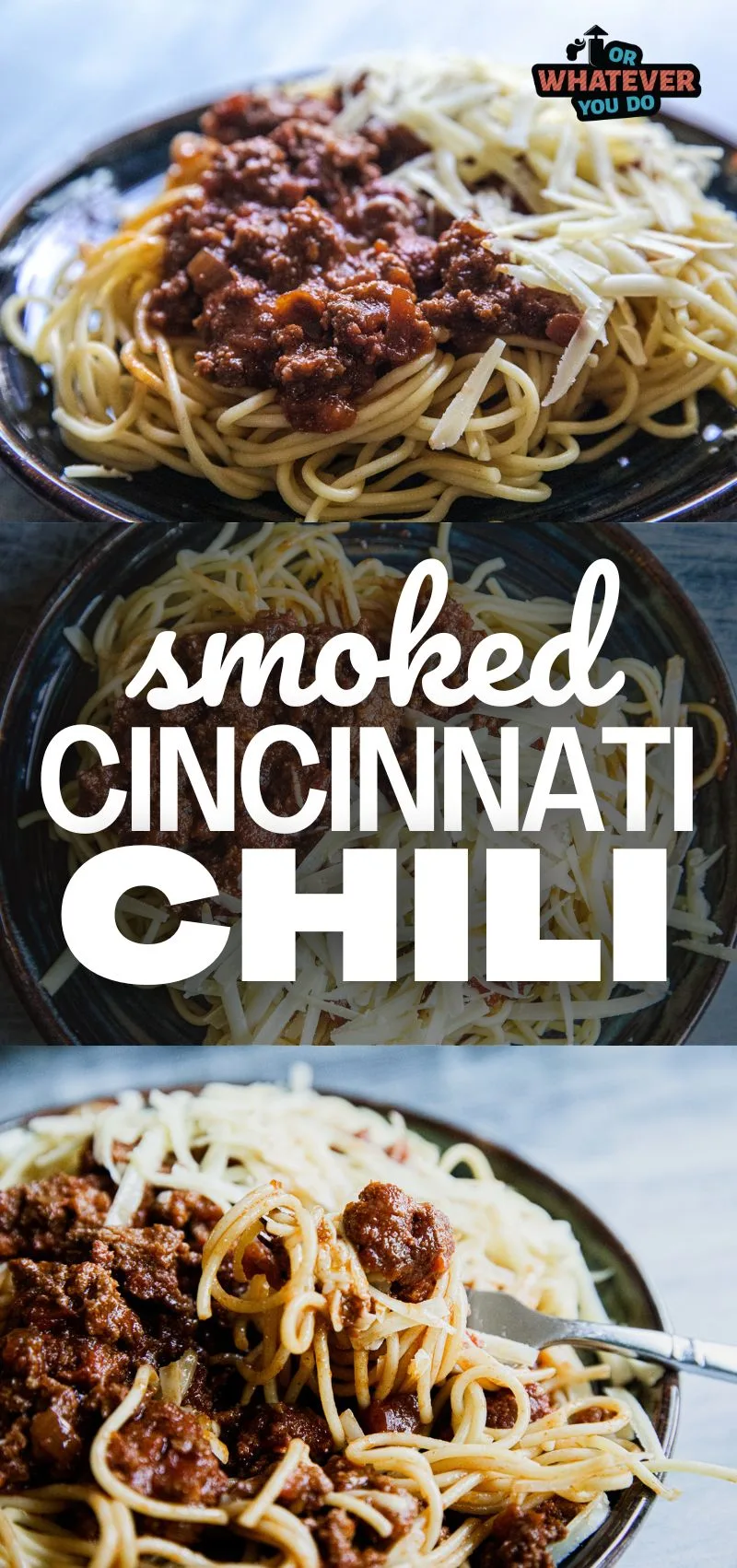 Yield: 8 servings
Smoked Cincinnati Chili Recipe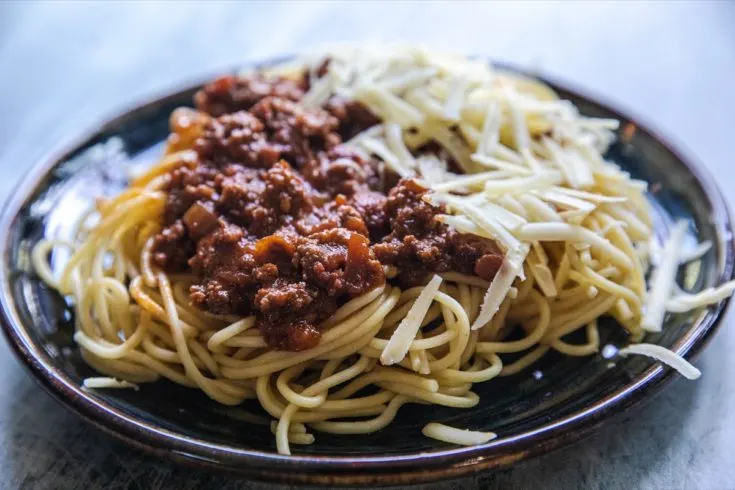 This Smoked Cincinnati Chili Recipe is a fun pellet grill twist on this classic Ohio dish. Unique blasts of flavor from the cinnamon, allspice, and nutmeg make this iconic dish stand out from the rest!
Total Time
2 hours
10 minutes
Ingredients
Meatball
4 pounds ground beef
1 1/2 teaspoons kosher salt
1 tablespoon chili powder
1 tablespoon onion powder
1 1/2 teaspoons granulated garlic
1/2 teaspoon black pepper
1/2 teaspoon cumin powder
Sauce
1 large diced onion
1 tablespoon oil
1 28-ounces can whole peeled tomatoes
1 10-ounce can of original Rotel
10 ounces water
3 tablespoons apple cider vinegar
3 tablespoons chili powder
1 teaspoon kosher salt
1 teaspoon ground cumin
1 teaspoon cinnamon
1/4 teaspoon allspice
1/4 teaspoon cloves
1 1/2 teaspoons onion powder
1 tablespoon chopped garlic
Instructions
Preheat your pellet grill to 250°F.
While the grill is preheating, mix up your meatball with all of the seasonings, form into a large loaf, and place onto a wire rack that'll fit on top of your Dutch oven.
In a Dutch oven on the stovetop, add the onion and the oil and saute over medium-high heat until the onions are softened and slightly browned. Add the rest of the Sauce ingredients and stir to combine.
Place the wire rack with the meatball on it on top of the Dutch oven, and put the whole contraption into your smoker.
Smoke the chili for 60 minutes at 225°F. Stir the sauce mixture occasionally to make sure it doesn't stick or burn.
Turn the smoker up to 350°F. Let it cook at that temp until the meatball reaches 150°F. Put the meatball into the sauce and break it up with a meat masher.
Let the mixture cook, stirring frequently, for another 30 minutes or so.
Remove from the smoker and enjoy with your favorite chili fixings.
Recommended Products
As an Amazon Associate and member of other affiliate programs, I earn from qualifying purchases.
Nutrition Information:
Yield:
8
Serving Size:
1
Amount Per Serving:
Calories:

681
Total Fat:

42g
Saturated Fat:

15g
Trans Fat:

2g
Unsaturated Fat:

21g
Cholesterol:

202mg
Sodium:

725mg
Carbohydrates:

10g
Fiber:

3g
Sugar:

4g
Protein:

63g
Nutrition data provided here is only an estimate.