It's time to fire up the pellet grill because we're going to make some Traeger Smoked Brat Burgers! Whether you find the actual brat burgers that are available or your split some regular brats and form patties all on your own, you need to try these awesome burgers!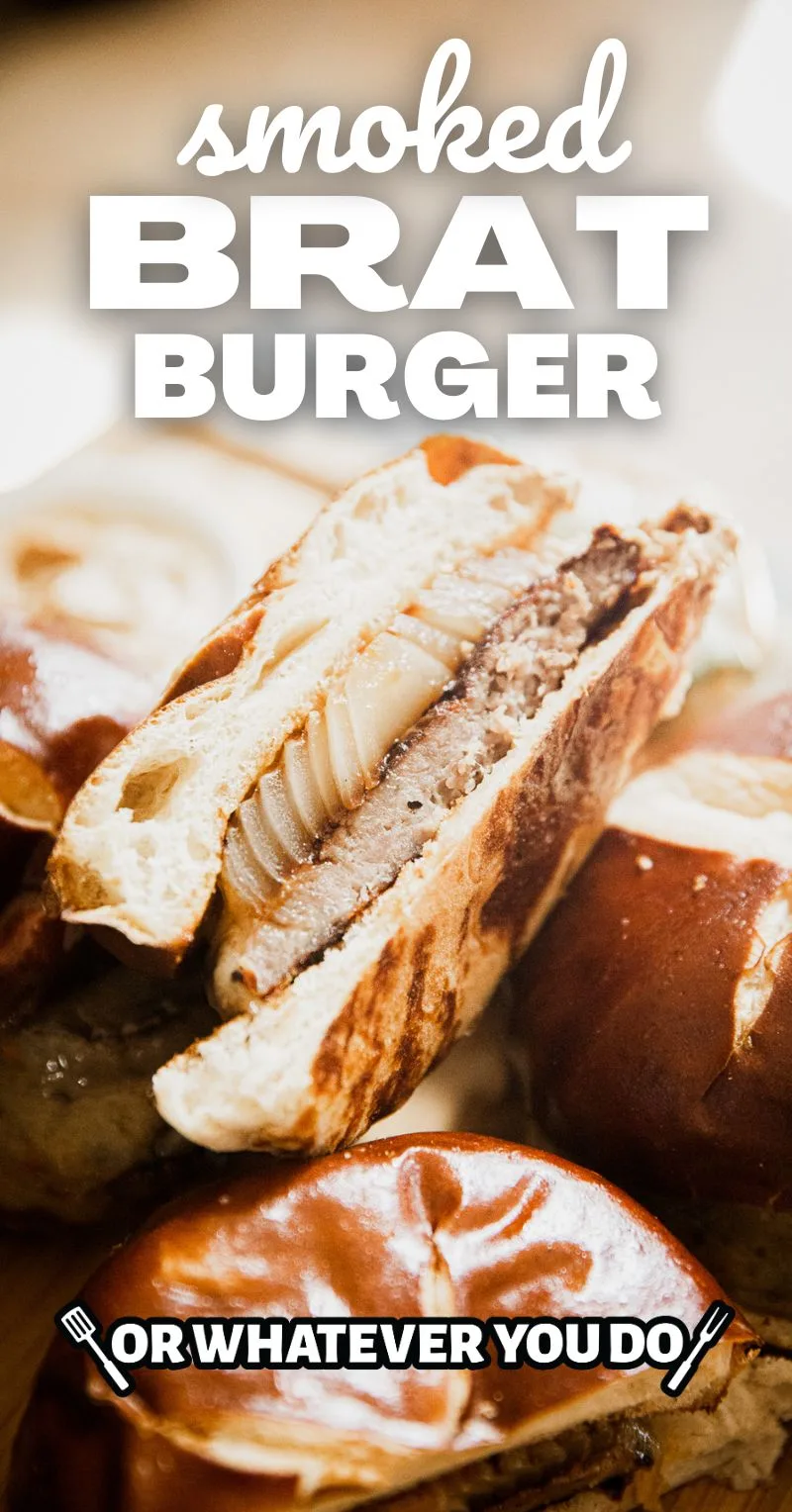 Traeger Smoked Brat Burgers
Brats are a Midwest barbecue staple, and we love them just as much as the next (former) Minnesotan. You'll find Traeger Beer Brats & Bacon-Wrapped Brats on the site already, and they are both fantastic options if you need to fulfill that particular craving.
I wanted to whip up something a little different, though, and saw some bratwurst patties in the grocery store that were begging for some smoke.
Since brats and mustard go together, I thought, "Why not stick these on pretzel buns!" Another thing that works SO well with mustard. The older I get, the more I love all things mustard. And vinegar. It is official, I've joined the oldies club and I couldn't be happier.
If you can't find Brat burgers, you can always buy uncooked bratwurst links and then take them out of their casings.
For this recipe, we're actually combining our superpowers and utilizing our gas griddle in addition to our smoker. If you don't have a gas griddle, I'd recommend using a cast iron pan on your stovetop instead.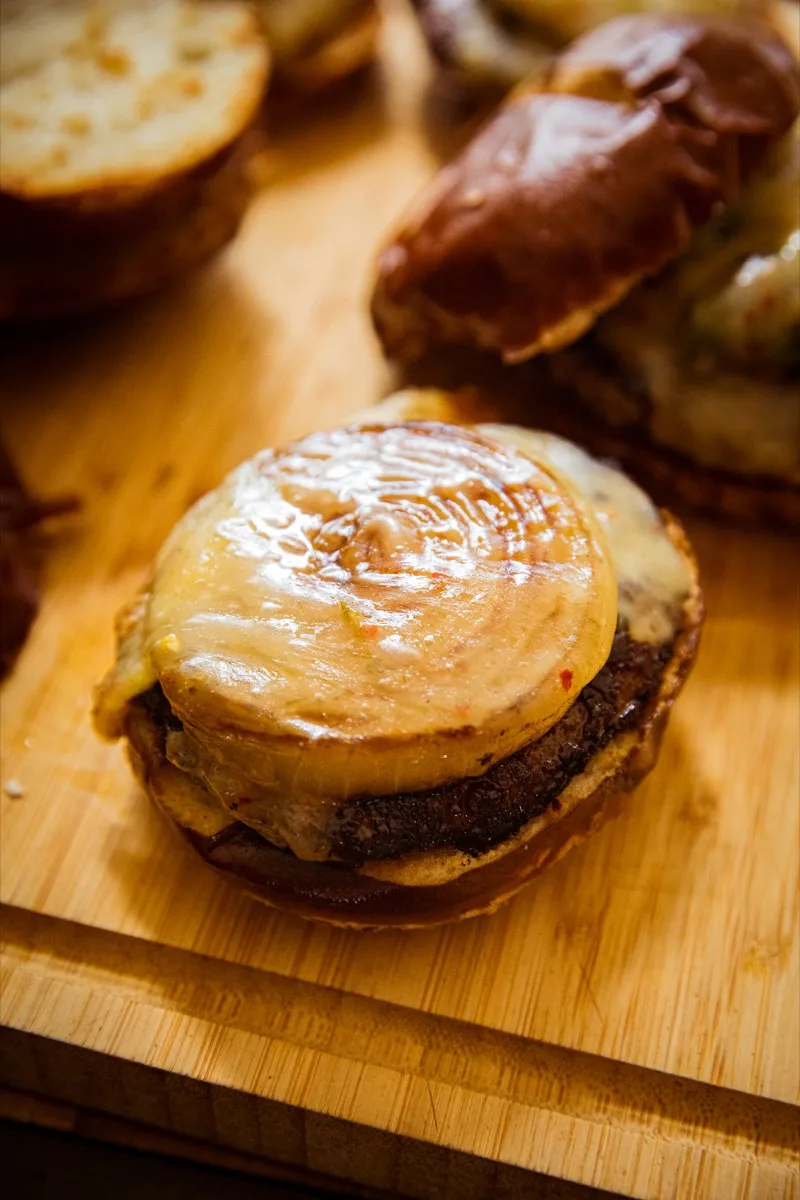 Smoked Brat Burgers shopping list
Wondering if you have to hit the store? Here's the list of items you'll need to make this recipe. For specific amounts, please refer to the printable recipe card at the bottom of the post.
Brat burgers
Onions
Jalapeños (optional)
Pretzel buns
Havarti cheese (if you find some w/ peppers in it, even better!)
Craft beer mustard
Beer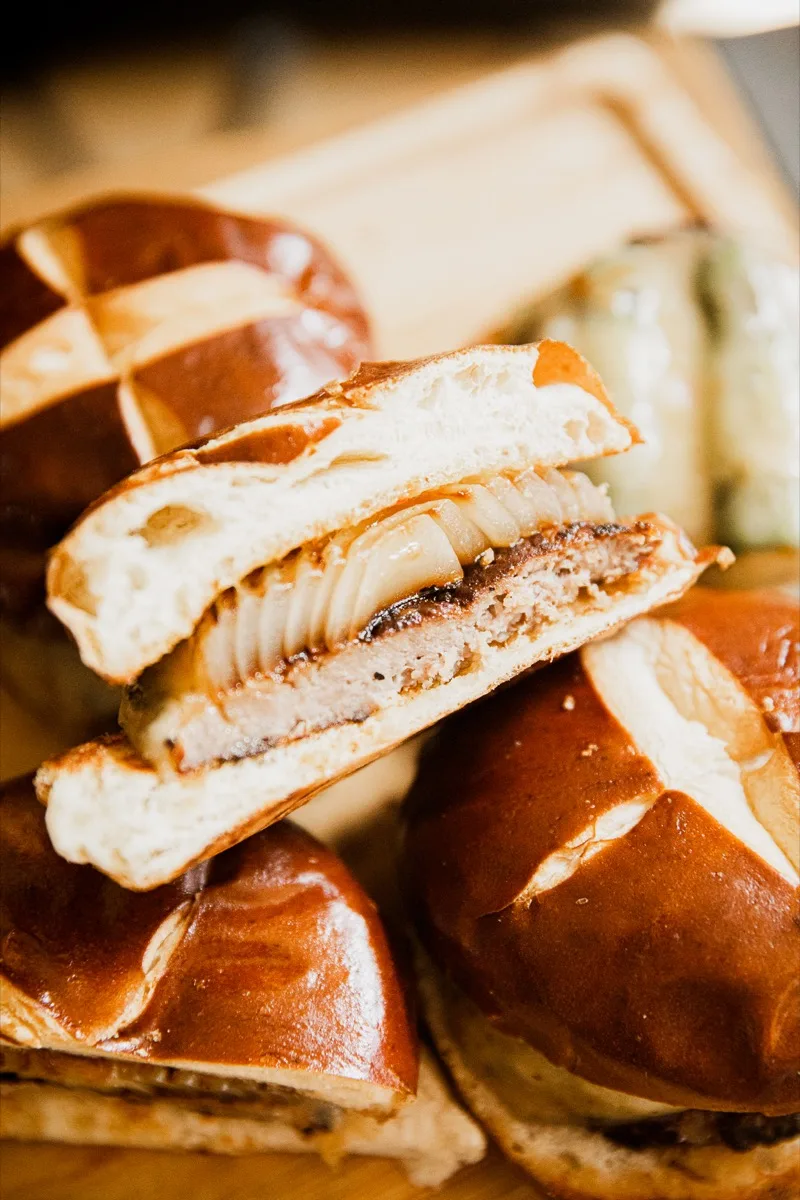 How to make Smoked Brat Burgers
This is just the overview so you can see what you're actually getting into here. When you are cooking, you'll want to use the full recipe at the bottom of the page.
Preheat
Fire up your grill and preheat it to 220°F.
Prep
Form your burgers, slice your peppers in half (if using), and cut your onions into steaks.
Get cooking
Season your burgers with salt and pepper, and place them onto the smoker. Place the jalapenos on there too while you're at it. Smoke for about 20 minutes.
Fire up the Blackstone over medium-low heat. Lightly oil the surface and place the onion steaks onto the hot griddle surface. Let them cook until they are golden brown and then flip.
Once both sides are browned, turn the heat down to low and cover with a dome until the rest of the foods are done cooking. They will release some liquid and steam themselves so the onions get super tender, but stay in steak form.
Brown the pretzel buns while the griddle is hot and remove when toasty.
Beer time
After the brat burgers are done smoking, put a little butter down on the griddle, turn it up to medium, and move the burgers over to the griddle. Let them sear on both sides on the griddle, and then take your favorite beer and pour some all around the burgers.
Quickly top with the smoked jalapeño, an onion steak, and some cheese. Cover with a large dome and cook for a couple minutes until the beer cooks off and the cheese is melted.
Serve
Put the whole shebang on your toasted pretzel buns, spread on some of that craft beer mustard (or Dijon, or Stone ground, or whatever mustard you love), and enjoy!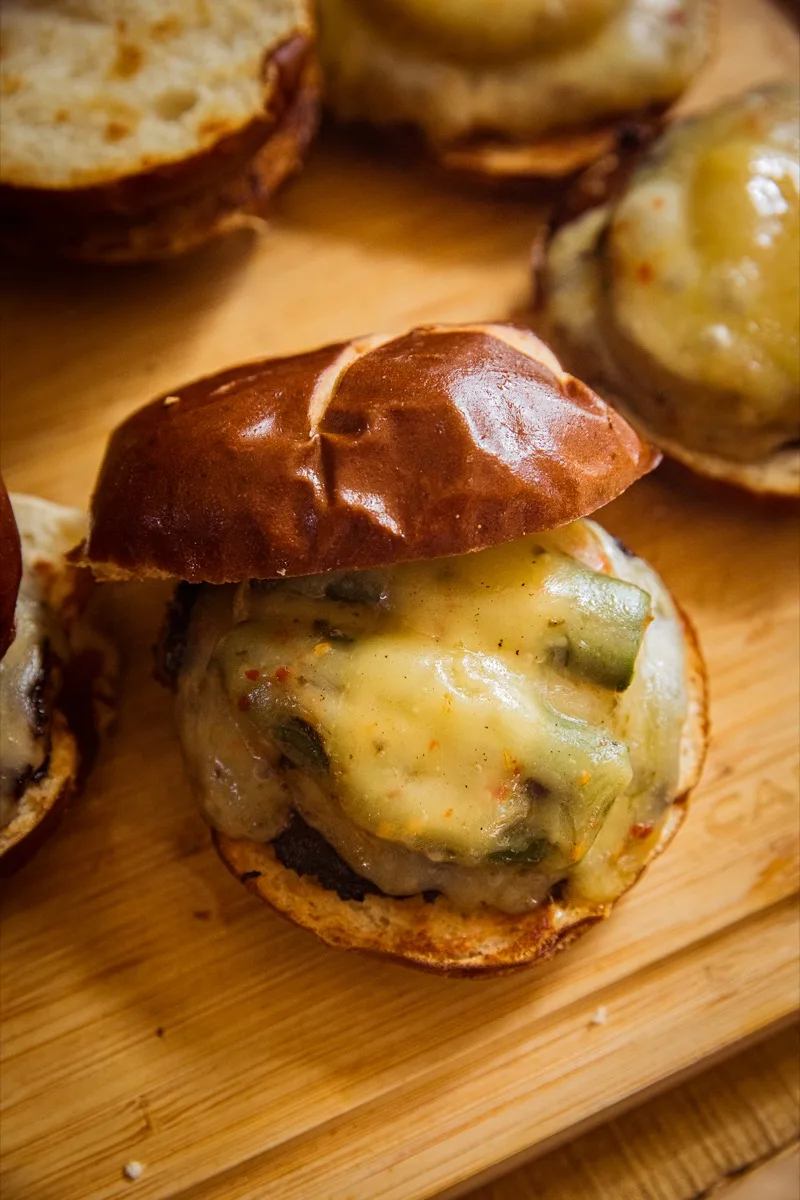 Smoked Brat Burgers FAQ
What's the best way to store leftovers?
As with all burgers, leftovers aren't ideal. If you DO make more than you can eat, keep the cheesy burger separate from the bun for storage, and keep them in an airtight container in the fridge for 2-3 days max.
How should you reheat the leftovers?
I love my air fryer for reheating these kinds of leftovers, but if your grill is already fired up that would work just as well too.
What if you don't have a gas griddle?
If you don't have a Blackstone (or the new Traeger Flatrock), you can do that portion of the cook on a cast iron pan on your stovetop.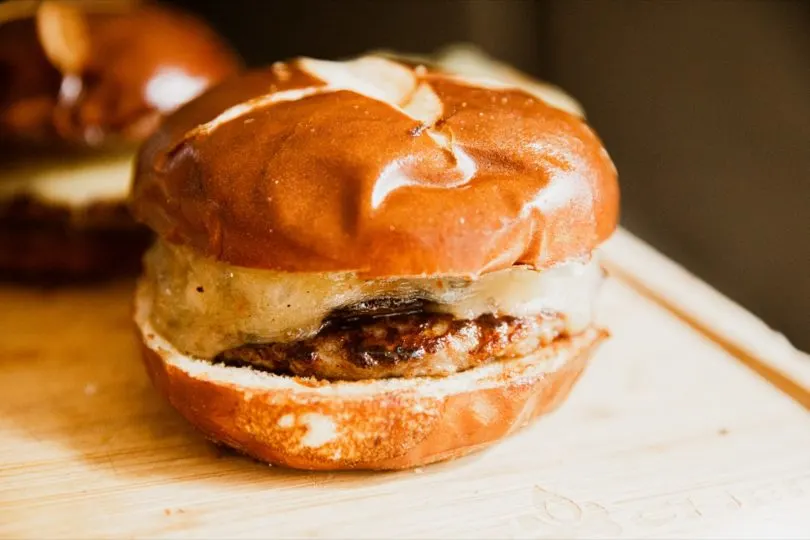 More Midwest BBQ foods to love!
The Smoked Juicy Lucy burger is a perfect meal for those who love a juicy, cheesy burger with a smoky twist. This burger originated in Minnesota, and is a local favorite!
For a unique twist on classic meatballs, try the Smoked Grape Jelly Meatballs that are on almost every holiday buffet table. Surprising ingredients, incredible taste!
Looking for a tasty snack? Give Fried Cauliflower a try – it's crispy, flavorful, and is perfect for dipping into a homemade cheese sauce.
A picnic classic, Classic Potato Salad is a simple yet delicious side dish that everyone will love.
Smoked Baked Beans are a great addition to any BBQ or picnic, with a sweet and smoky flavor that is better than anything you can dump out of a can. You'll never go back!
Minnesota Wild Rice Hotdish Soup is a hearty and comforting soup that is perfect for those chilly nights.
If you're looking for a filling and savory pastry, you'll love our Cornish Pasty Recipe which is packed with meat and veggies.
For a delicious and easy dinner, try Traeger Grilled Venison Backstrap that is packed with flavor and so simple to make. Deer hunting and deer season is legendary in the Midwest, and this is one of the best ways to use one of the best cuts of venison, ever.
Beef & Wild Rice Stuffed Zucchini is a healthy and delicious dinner option that is the perfect way to use up those zucchinis that got away from you a bit in the garden.
Traeger Hot Roast Beef Sandwich Boats are a fun and unique way to enjoy a classic roast beef sandwich.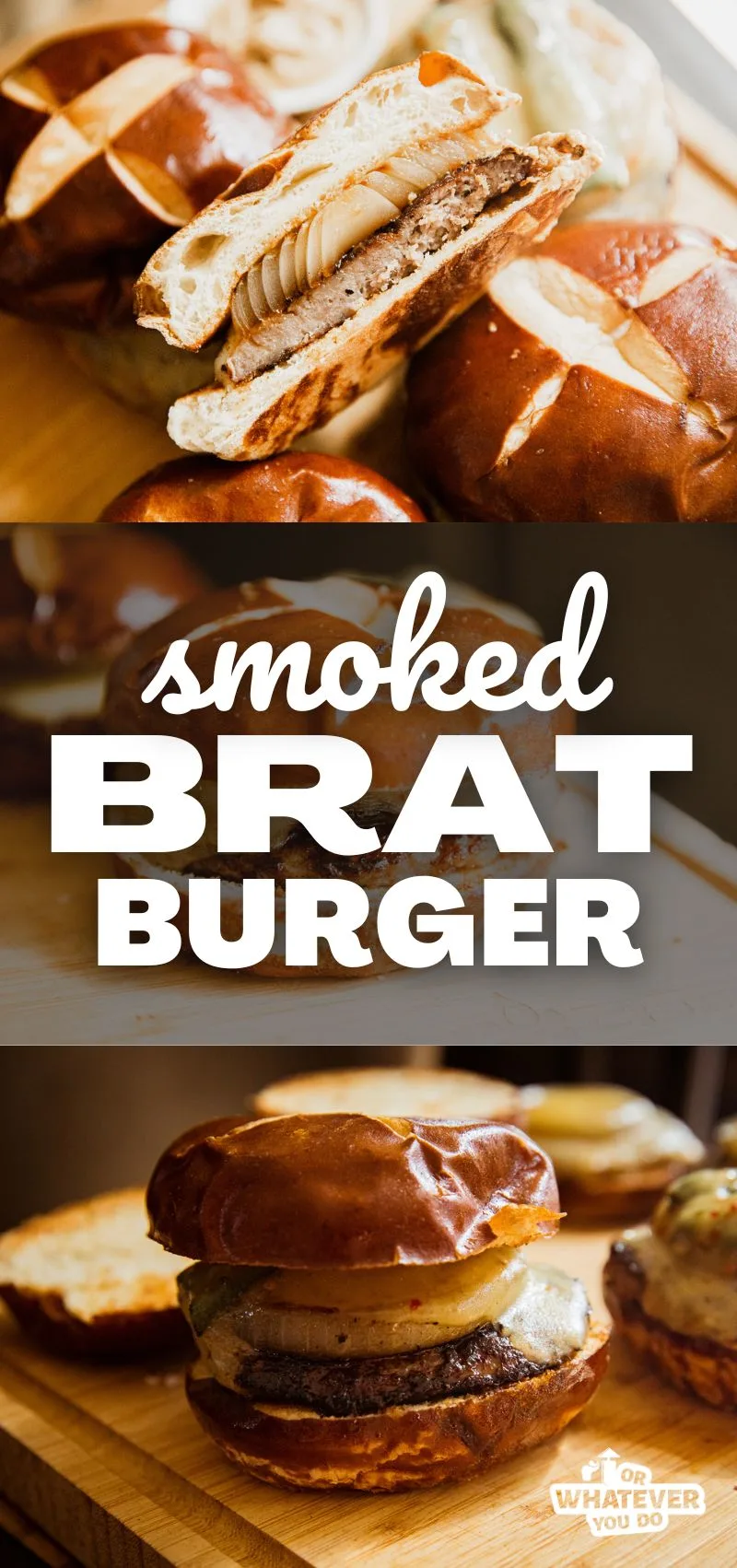 Yield: 6 servings
Smoked Brat Burgers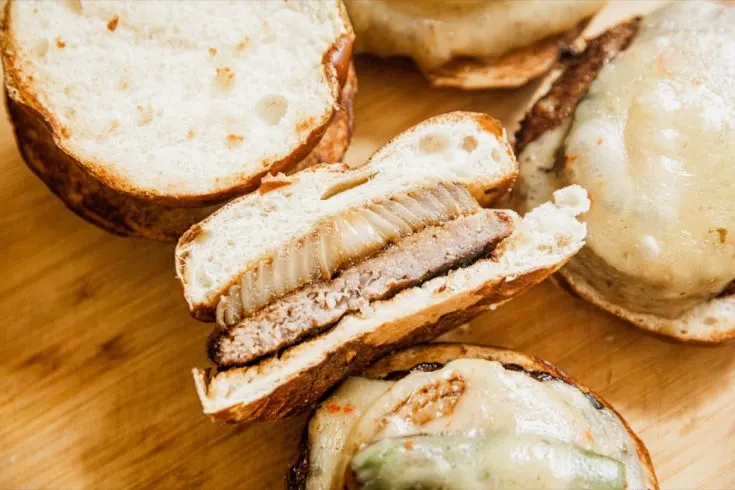 Take your brats to the next level by making them in burger form on your smoker!
Ingredients
6 brat burgers
1 tablespoon SPG (salt, pepper, garlic)
6 pretzel buns
6 slices Havarti cheese
2 tablespoons butter
2 large yellow onions (optional)
6 jalapeños (optional)
2 tablespoons beer mustard
1/4 cup beer
Instructions
Preheat the smoker to 220°F.
Season the brat burgers with SPG. Slice the jalapenos in half and put the burgers and the peppers into the smoker. Smoke for 20-25 minutes.
While those are cooking, slice your onions into 6 1/2-inch thick steaks and preheat your griddle over medium heat. Put the butter down on the griddle and the onion steaks on top of the butter.
Cook until the onions are golden brown, flip, and brown the other side. Once they are browned, cover them with a dome and let them continue to cook over medium-low heat.
Put down a little more butter or a thin layer of oil and brown the insides of the pretzel buns until they are toasty.
After 20-25 minutes on the smoker, put the brat burgers onto a lightly oiled griddle surface over medium heat and sear on both sides. Once they are lightly browned, top them with the jalapenos, onion steaks, and cheese.
Pour some beer around the burgers and cover them with a dome. Cook until the cheese is melted and the beer has cooked off.
Place onto your toasty pretzel buns and spread a generous amount of mustard onto the buns.
Enjoy!
Notes
If you don't have a gas griddle, you can use a cast iron pan on the stovetop for searing the brat burgers and cooking the onion steaks. You can also use a cast iron pan in the grill too if you want to stay outside and enjoy the weather! You do you!
Recommended Products
As an Amazon Associate and member of other affiliate programs, I earn from qualifying purchases.
Nutrition Information:
Yield:
6
Serving Size:
1
Amount Per Serving:
Calories:

698
Total Fat:

45g
Saturated Fat:

20g
Trans Fat:

0g
Unsaturated Fat:

22g
Cholesterol:

142mg
Sodium:

5252mg
Carbohydrates:

43g
Fiber:

2g
Sugar:

5g
Protein:

29g
Nutrition data provided here is only an estimate.