If you are craving a great sandwich, let me present to you this Traeger Reuben Sandwich! Made with smoked corned beef, copious amounts of sauerkraut, a melty slice of swiss and a dollop of 1000 Island for good measure.
Traeger Reuben Sandwich Recipe
Welcome to the world of mouth-watering sandwiches, where the Reuben reigns supreme. This iconic deli delight has stood the test of time, consistently satisfying taste buds with its unique combination of flavors and textures. At the heart of this classic lies the deliciously tender smoked corned beef, which sets it apart from other sandwiches.
Corned beef, originally known as a preservation method for meat using coarse grains of salt, has evolved into a culinary staple. Smoked corned beef adds an extra layer of depth to the traditional Reuben, infusing each bite with a smoky, savory twist.
A Reuben sandwich is more than just its corned beef; it's a harmonious blend of complementary ingredients that work together to create something greater than the sum of its parts.
From the tangy sauerkraut and creamy Thousand Island dressing to the gooey Swiss cheese and hearty rye bread, each component plays a crucial role in the overall experience.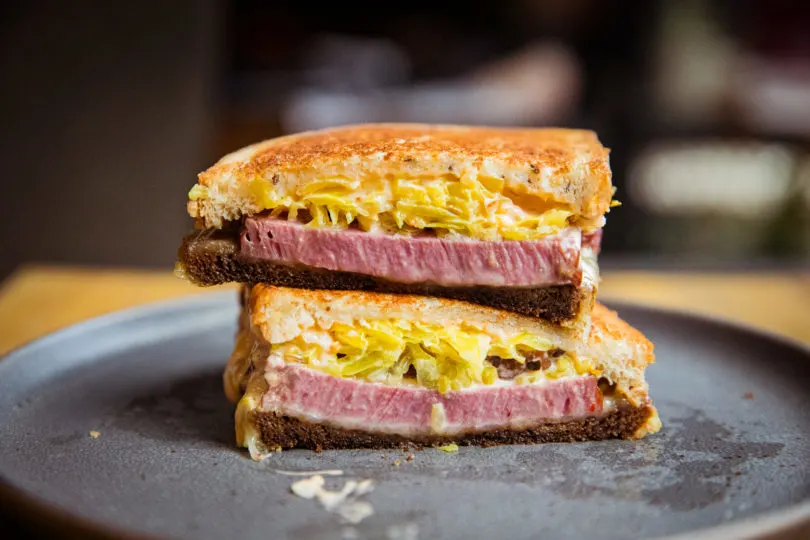 Traeger Reuben shopping list
Wondering if you have to hit the store? Here's the list of items you'll need to make this recipe. For specific amounts, please refer to the printable recipe card at the bottom of the post.
smoked corned beef
sauerkraut
Thousand Island dressing
Swiss cheese
rye bread
Here's a great recipe for smoked corned beef if you need one! Want to get fancy and make your own kraut? Check out this Homemade Sauerkraut Recipe from Farmhouse on Boone.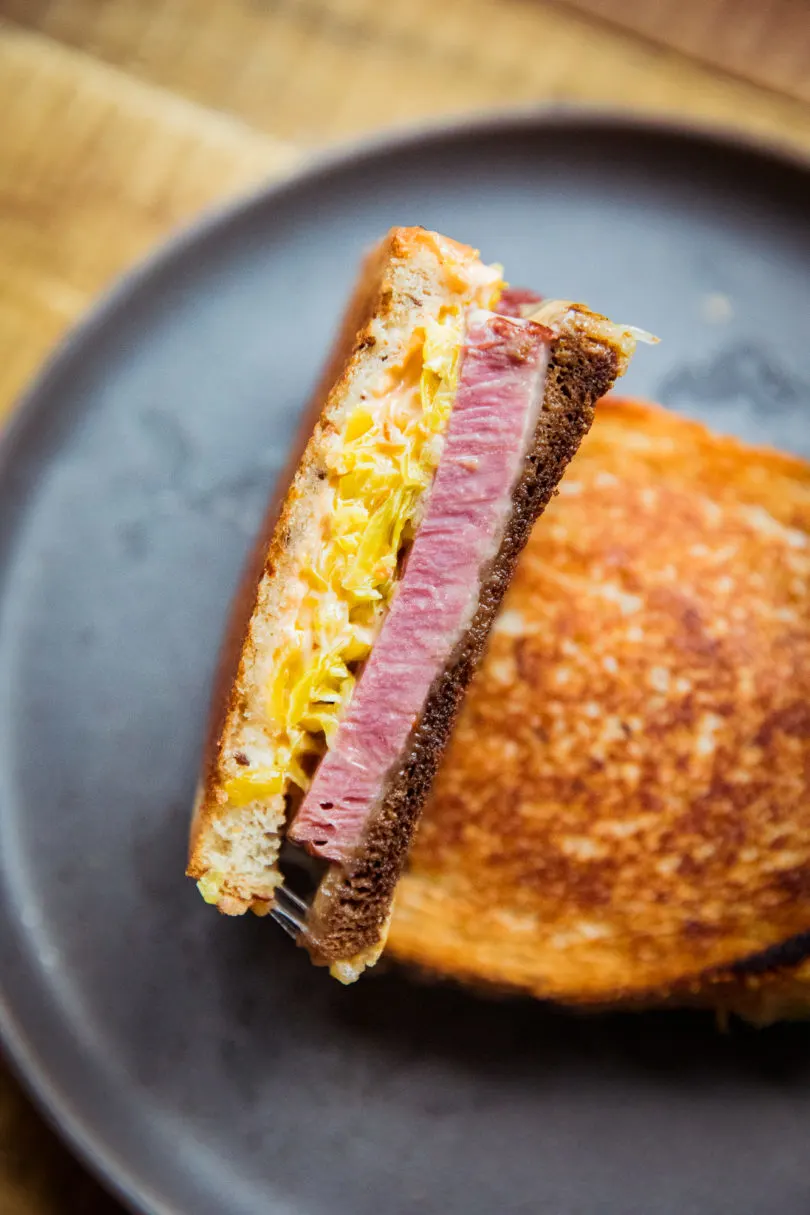 How to make a Reuben with Smoked Corned Beef
This is just the overview so you can see what you're actually getting into here. When you are cooking, you'll want to use the full recipe at the bottom of the page.
Butter your bread
Butter one side of each piece of bread.
Load 'em up
Place one slice of bread butter-side down in a skillet over medium heat. Load up with the rest of the ingredients and top with another piece of bread.
Brown
Cook for 3-4 minutes per side, carefully flip, remove when both sides are browned and the insides are nice and melty.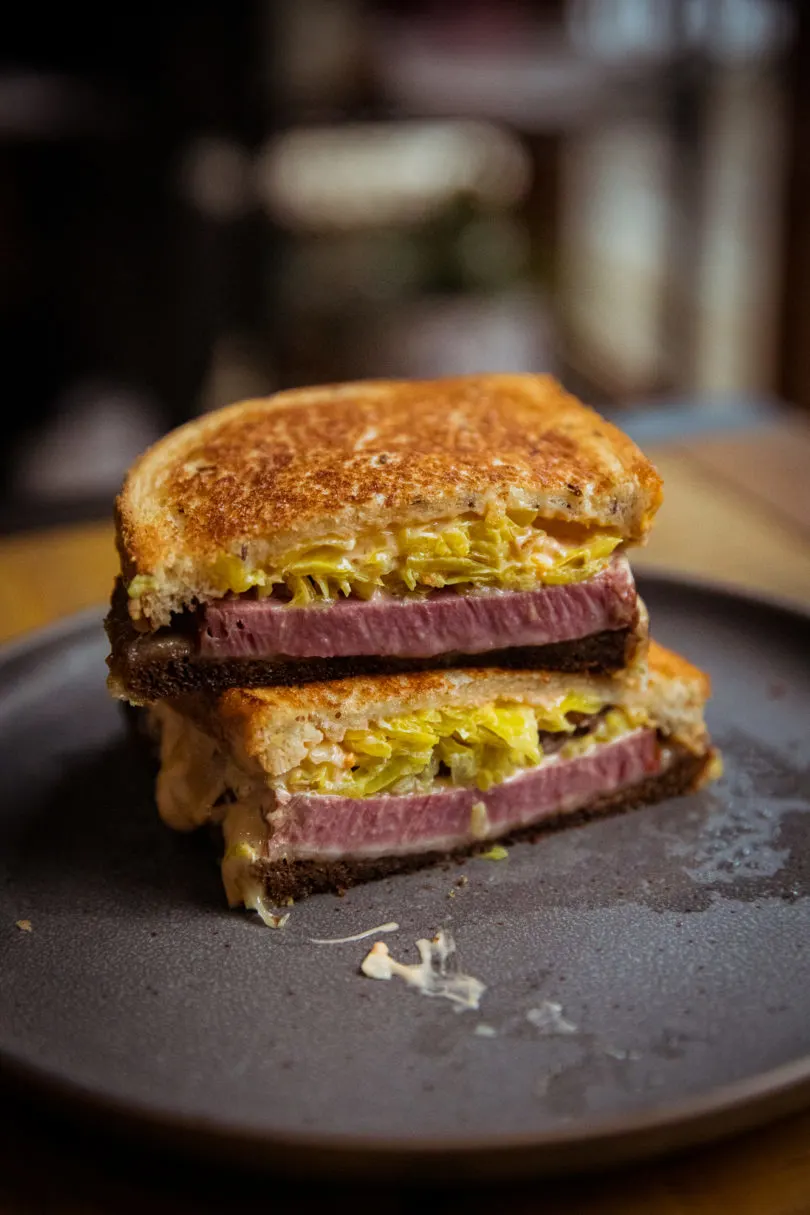 Smoked Reuben FAQ
Can I use regular corned beef if I don't have smoked corned beef on hand? 🤔
Absolutely! While smoked corned beef adds a lot of flavor, using regular corned beef will still give you a delicious Reuben sandwich. Just make sure to cook it until it's nice and tender, so it melts in your mouth with every bite.
I'm not a fan of sauerkraut, can I substitute it with something else?
If sauerkraut isn't your thing, try swapping it out for some coleslaw or even thinly sliced pickles. The goal is to have a tangy crunch that balances the rich flavors of the sandwich, so feel free to get creative with your substitutions. Kimchi would also be a spicy substitute to change things up a bit if you're brave!
I can't find rye bread at my local grocery store. Any suggestions for alternatives?
While rye bread is the traditional choice, you can definitely experiment with other types of bread. Sourdough, whole grain, or even a nice crusty ciabatta can work well. Just make sure your bread is sturdy enough to hold all those tasty ingredients without falling apart.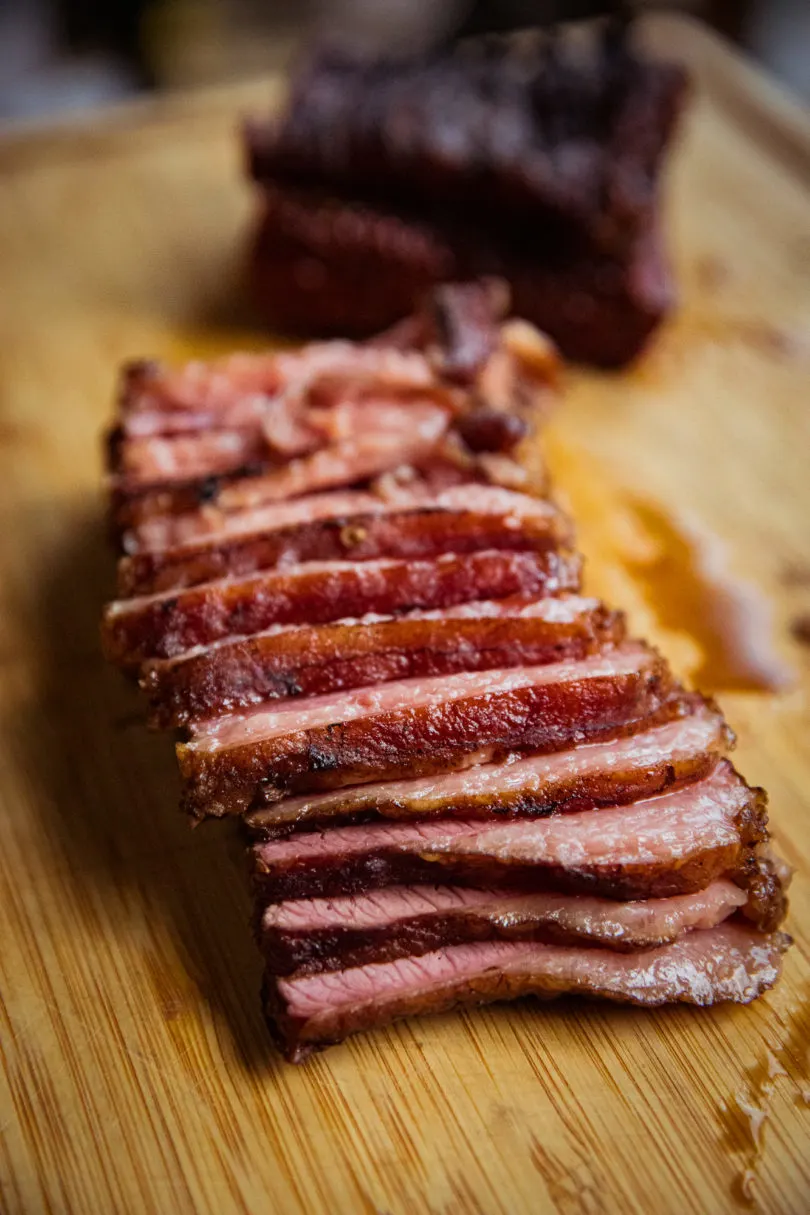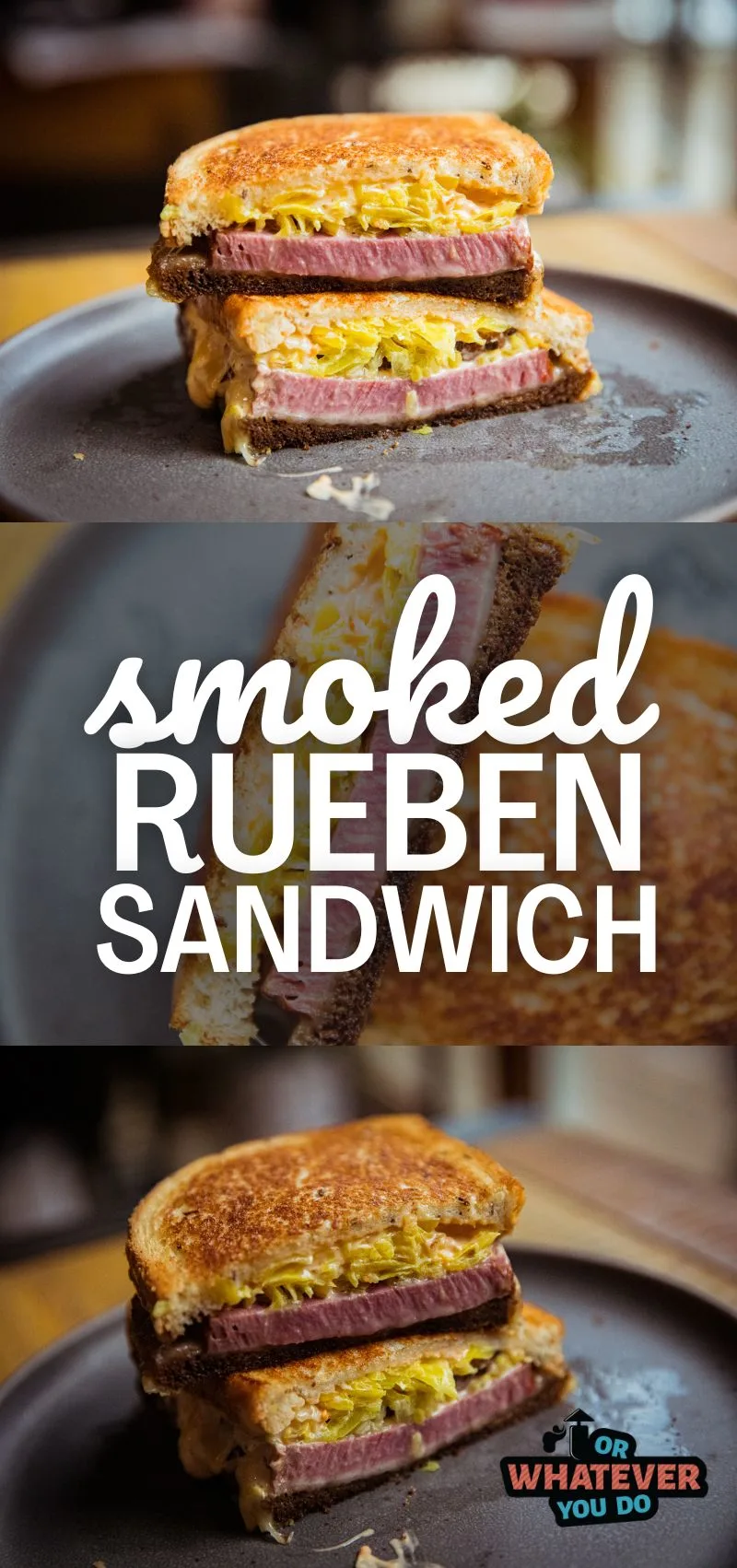 Yield: 4 sandwiches
Traeger Reuben Sandwich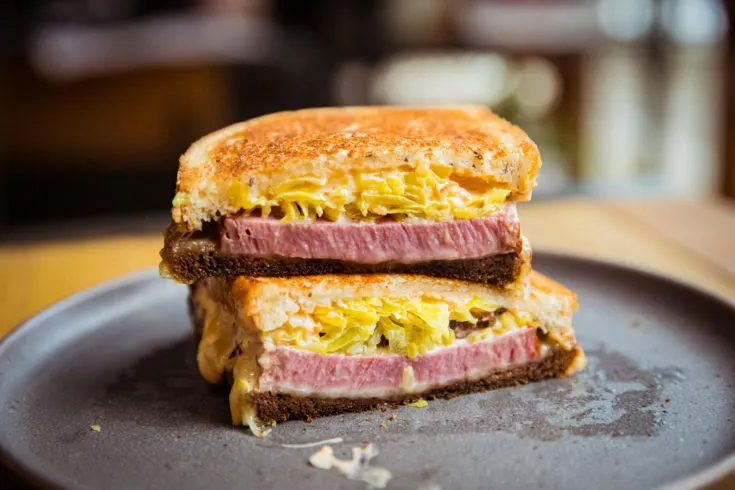 We took tender, delicious smoked and beer braised corned beef and turned it into a Reuben! Lots of sauerkraut, cheese, and 1000 Island dressing make this one of the best sandwiches of the year.
Ingredients
2 pounds cooked sliced corned beef or pastrami
1 cup sauerkraut
4 tablespoons thousand island dressing
4 slices Swiss cheese
Instructions
Butter each slice of bread on one side.
Place butter-side down into a skillet.
Top with a slice of cheese, 1/4 of the corned beef, 1/4 cup kraut, and a tablespoon of the dressing. Top with the other slice of bread, butter-side up.
Cook over medium heat until both sides of the sandwich are browned and the entire sandwich is cooked through.
Recommended Products
As an Amazon Associate and member of other affiliate programs, I earn from qualifying purchases.
Nutrition Information:
Yield:
4
Serving Size:
1
Amount Per Serving:
Calories:

774
Total Fat:

58g
Saturated Fat:

21g
Trans Fat:

0g
Unsaturated Fat:

30g
Cholesterol:

264mg
Sodium:

2915mg
Carbohydrates:

6g
Fiber:

2g
Sugar:

3g
Protein:

53g
Nutrition data provided here is only an estimate.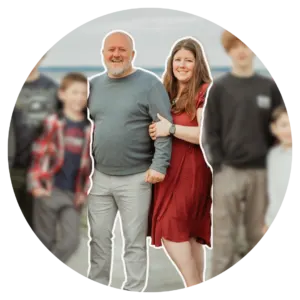 Nicole Johnson, a self-taught expert in grilling and outdoor cooking, launched Or Whatever You Do in 2010. Her blog, renowned for its comprehensive and creative outdoor cooking recipes, has garnered a vast audience of millions. Nicole's hands-on experience and passion for grilling shine through her work. Her husband, Jeremiah Johnson, also plays a pivotal role in recipe development, adding his culinary flair to the mix. Together, they form a dynamic duo, offering a rich and varied outdoor cooking experience to their followers.