Chashu Pork is a tender, melt-in-your-mouth marinated and rolled pork belly that is braised in a super flavorful mix of sweetened soy sauce and is a traditional topping for your ramen.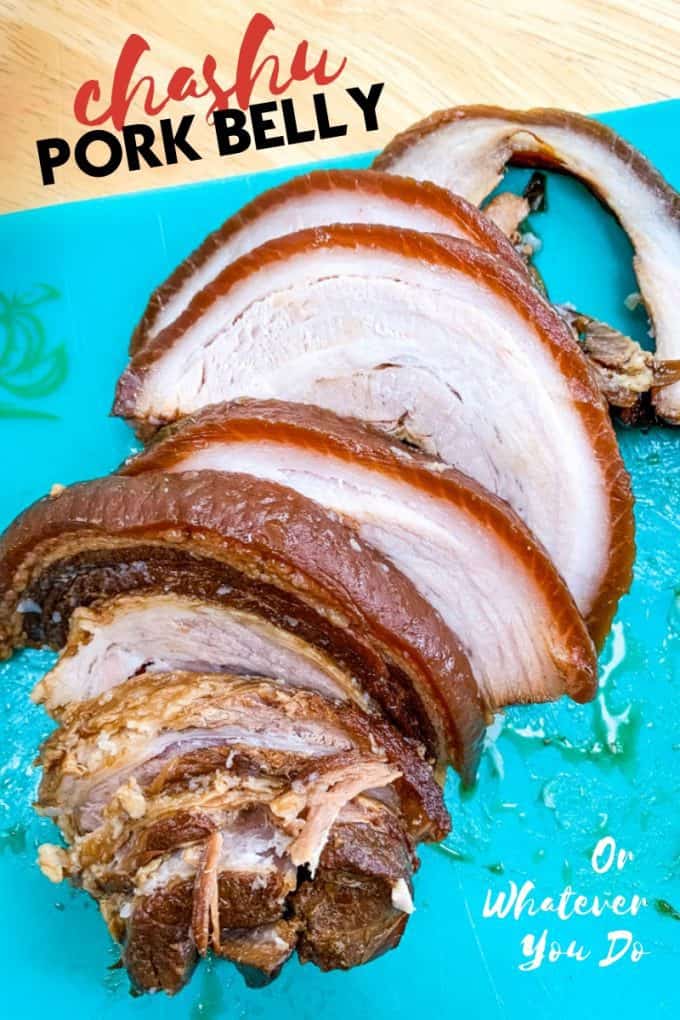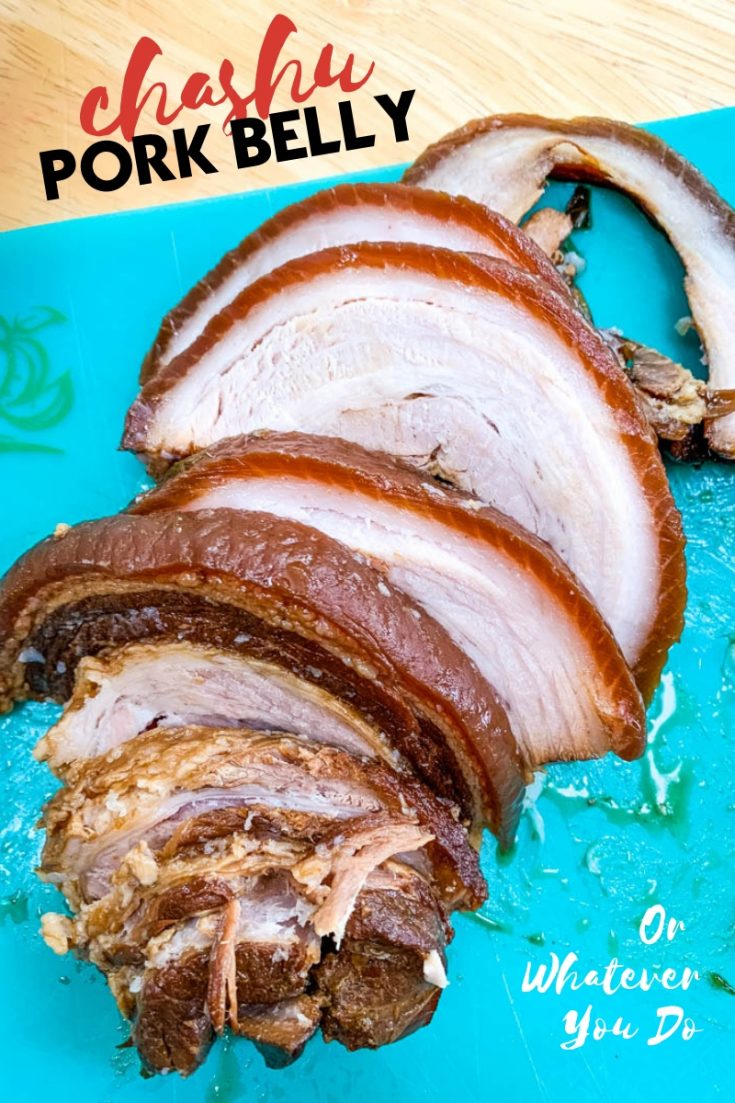 Chashu Pork Belly Recipe
Since we're going all out on this bowl of ramen in our not-too-distant future, we might as well REALLY go all out and whip up a little batch of Chashu Pork to top that bowl of wonder.
This recipe is a conglomeration of about 10 different versions of this that I've found all over the interwebs. The end result was a tender, delicious piece of pork belly that was the perfect topping for my bowl of tonkotsu ramen.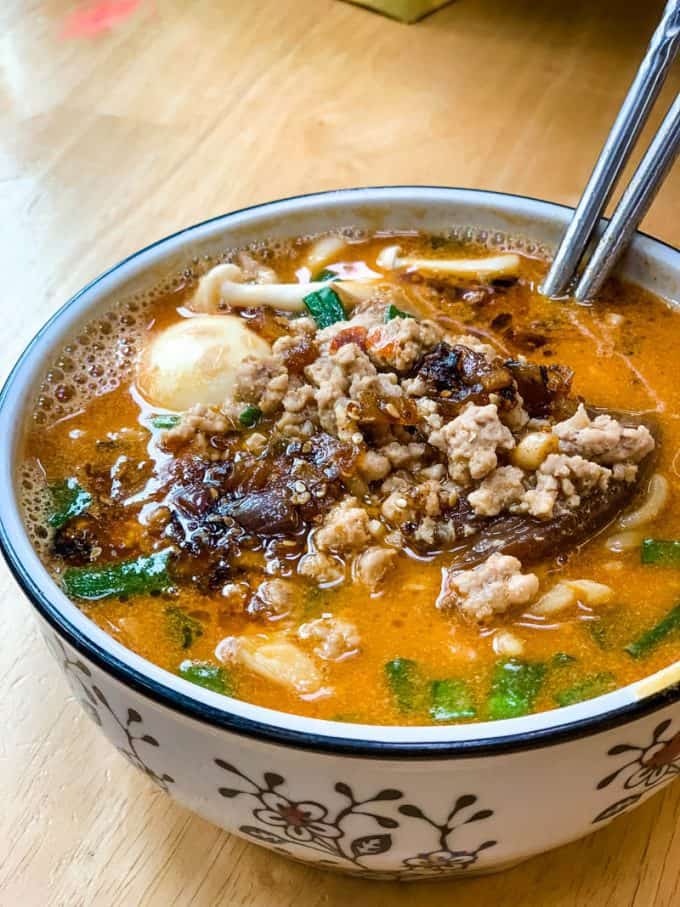 Ramen Week
Welcome to RAMEN week! If you haven't been following along so far, earlier this week we made homemade tonkotsu pork broth, and homemade ramen noodles too.
Those posts plus this one are leading up to the grand finale, a piping hot bowl of homemade Spicy Tonkotsu Miso Ramen.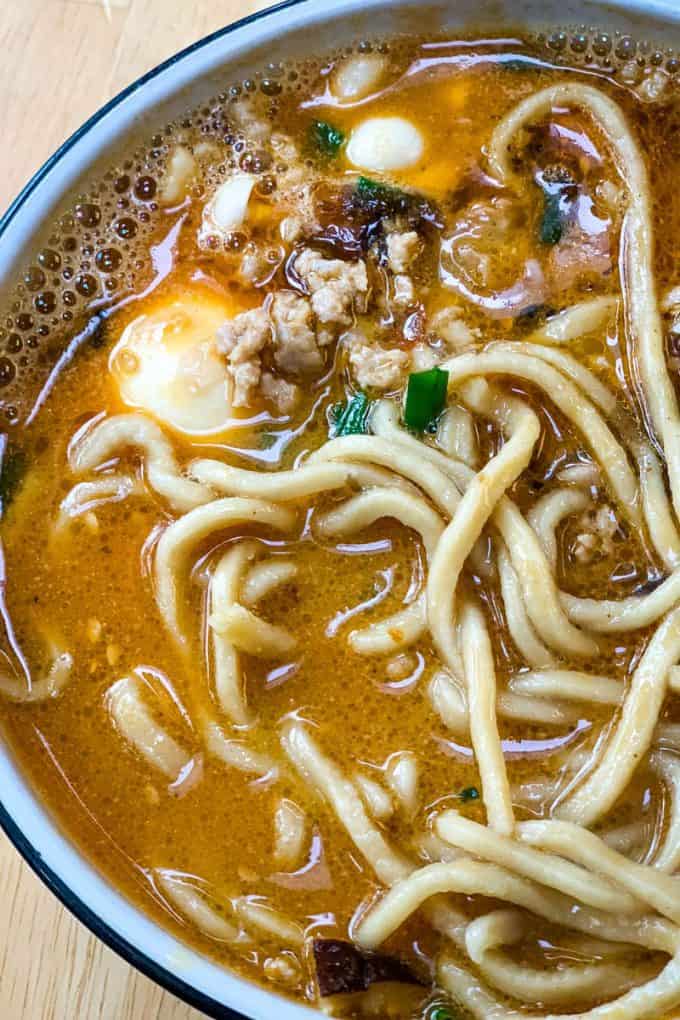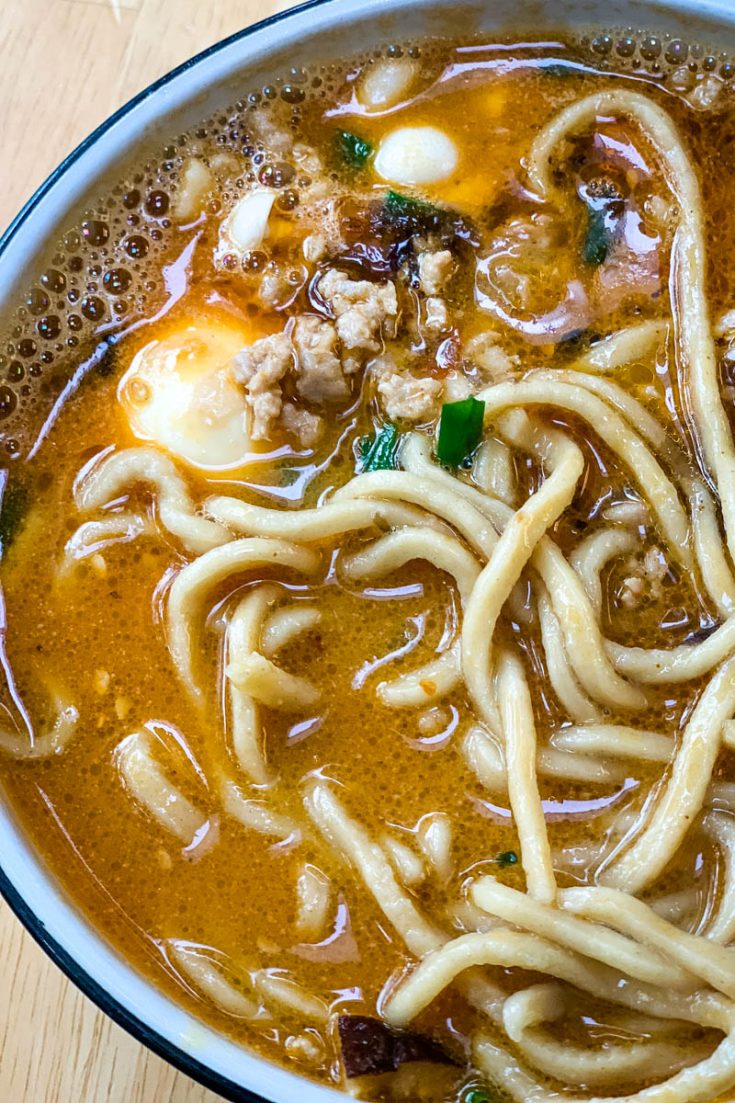 Do I need special ingredients or equipment to make chashu pork?
This recipe doesn't require any crazy ingredients, but you might not have sake and mirin laying around if you aren't into making Asian-inspired dishes on the reg. You can pick up sake in most major grocery stores these days.
Otherwise, all normal stuff!
If you get a larger piece of pork belly that I had and want to tie it up properly, I highly recommend checking out this amazing post from the Chopstick Chronicles!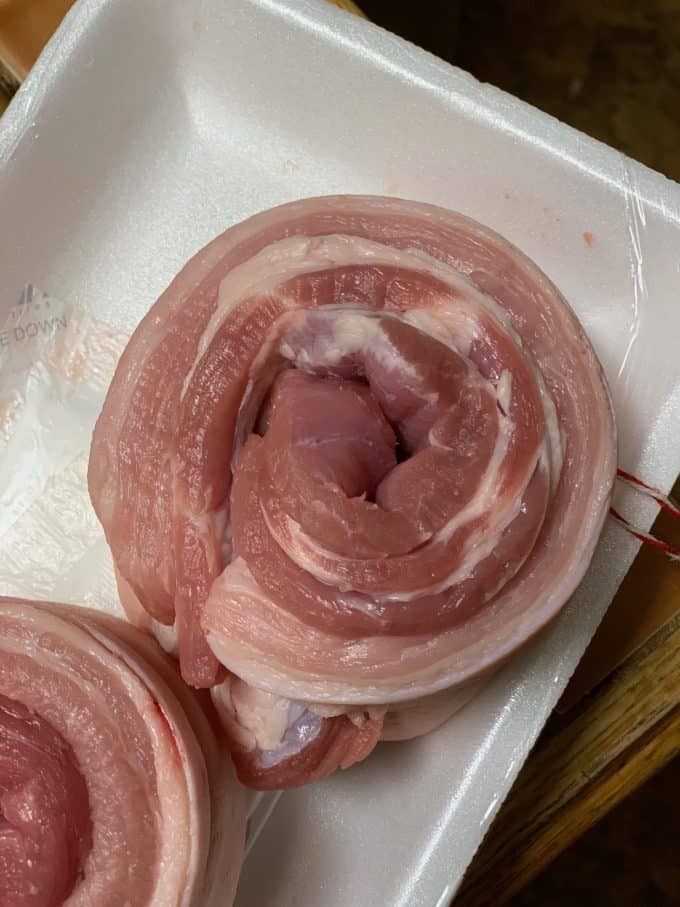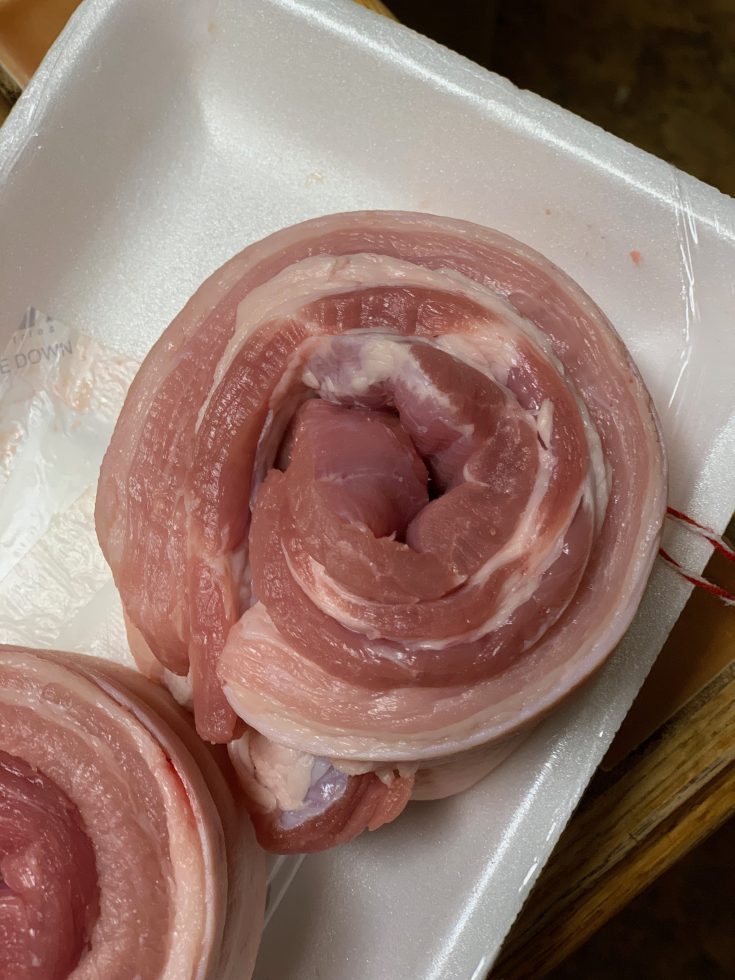 Tips for making tender chashu pork belly
Chashu pork is really easy to make, but you DO need to pay attention when it is braising.
You want it at the tender point, and not overcooked because it can dry out if you leave it too long. So just start checking for tenderness at about the 2-hour mark, and check every 30 minutes or so to make sure it is progressing as you'd expect it to. Low and slow is the key here!
What else can I do with the marinade?
I am SO glad you asked because this stuff is like liquid gold. Save it for your marinated soft-boiled eggs that are going to give your homemade ramen ANOTHER authentic boost. To make the ajitsuke tamago, soft boil 1 egg per serving of Ramen for 4:30 seconds at a light simmer.
When the eggs are done, transfer to a bowl of ice water and let them cool completely. Once cool, peel the eggs and place them into the marinade. Place a paper towel on top of the whole thing. It'll soak up the marinade and make sure the eggs get every side soaked properly without a bunch of manual turning. They should marinate for 4-5 hours ideally.
Once they are ready to serve, you can place them into your bowl of ramen and let the hot ramen broth reheat them.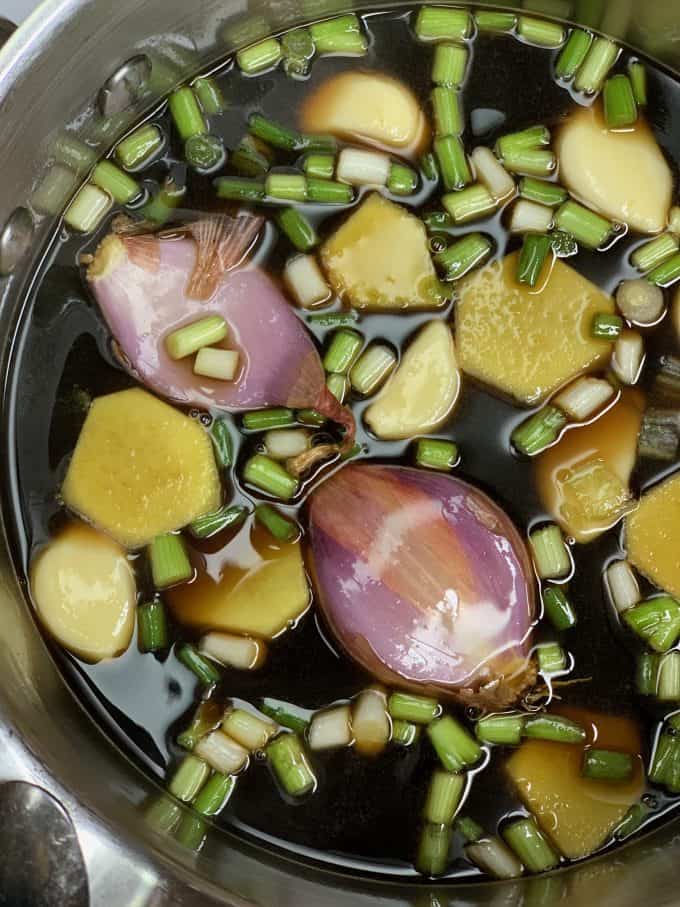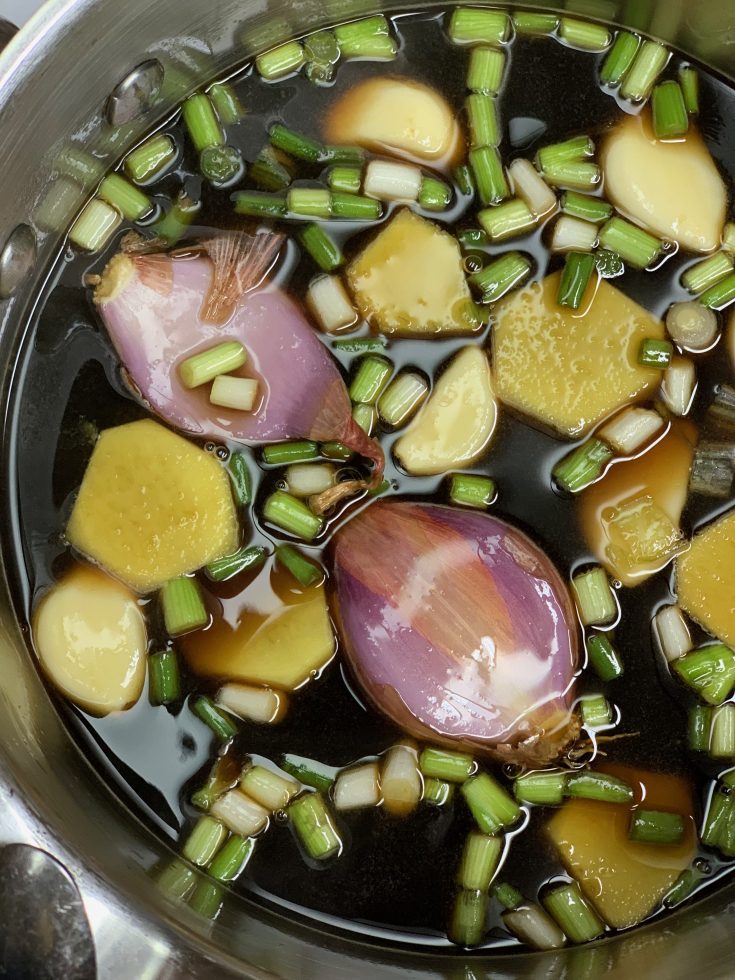 WORD OF CAUTION a.k.a. don't put eggs in the shell in the microwave
If you start peeling your soft boiled eggs and realize that you didn't cook them enough, DO NOT DECIDE TO JUST STICK THEM IN THE MICROWAVE FOR A LITTLE MINUTE TO FINISH THEM OFF.
Don't do it.
Did you know that the egg yolk cooks at a different speed than the white does in the microwave?
Did you also know that an egg can EXPLODE when you cut it in this case?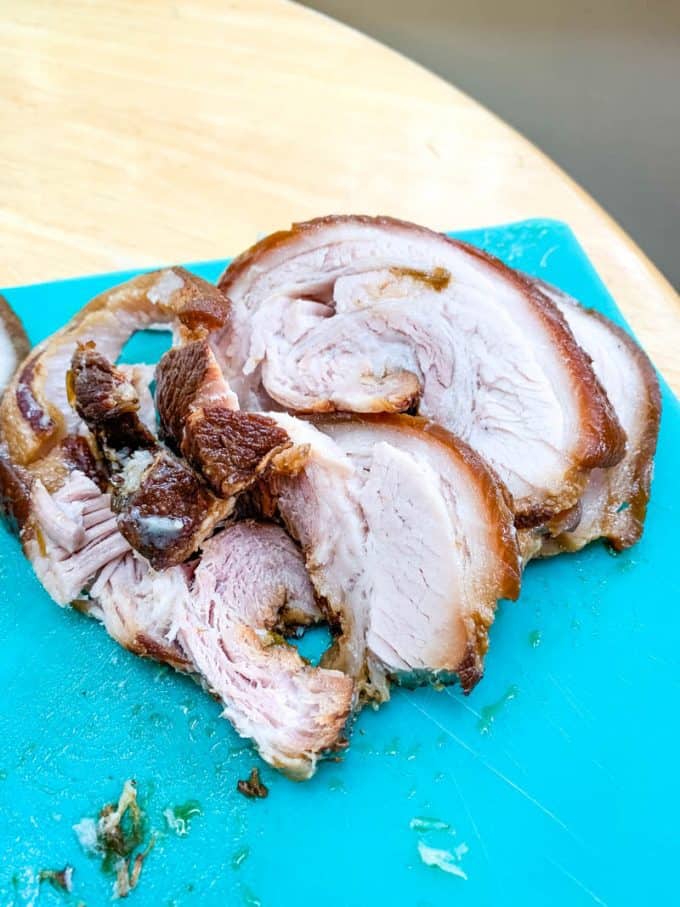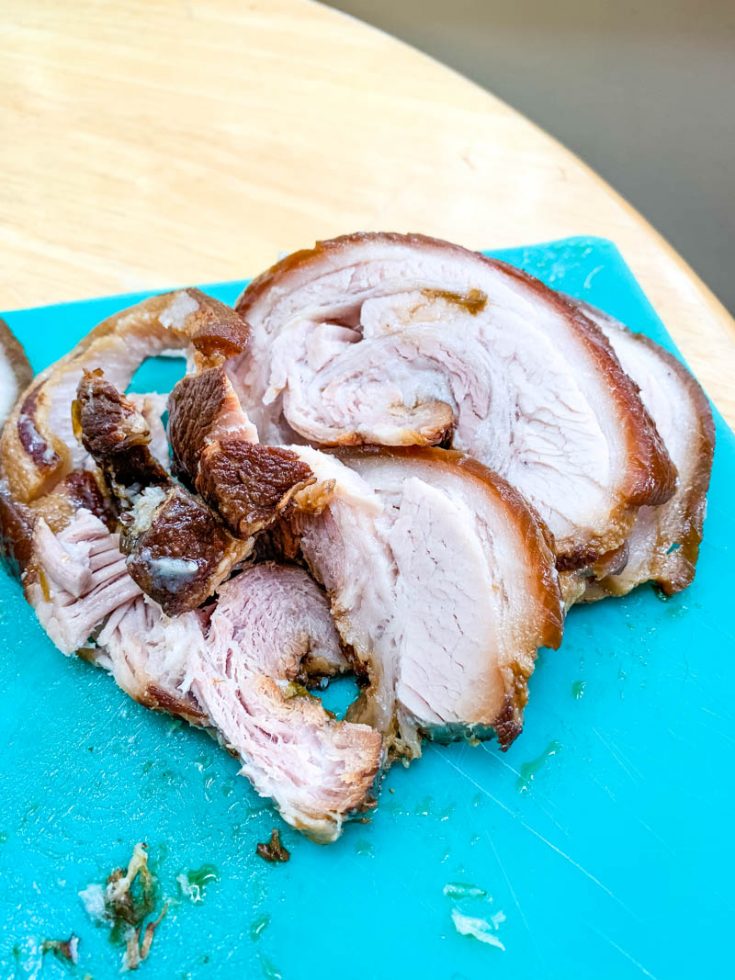 Cause I do.
It is not pretty, and it could've been reallllllllly bad and resulted in some not fun burns, but I lucked out and learned that lesson the hard, but thankfully NOT painful way.
DUH.
We all have our moments. That was not one of my best ones!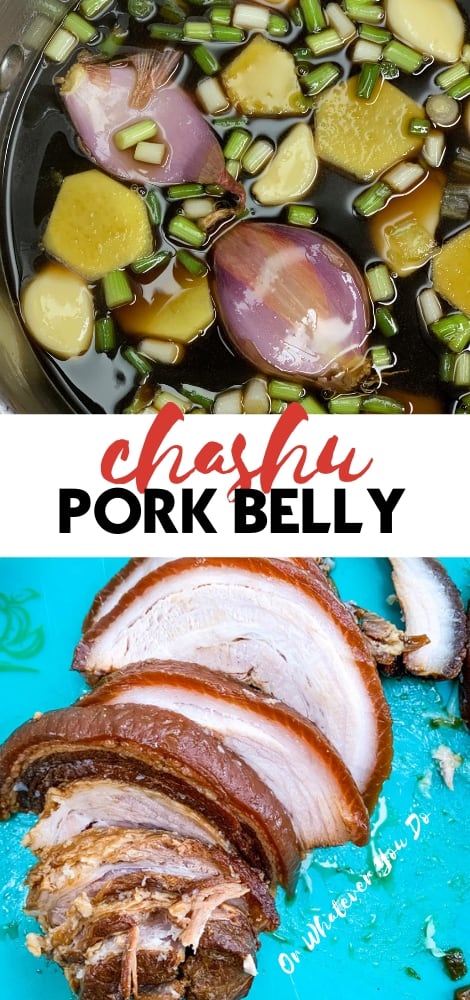 Yield: 8 servings
Chashu Pork Belly Recipe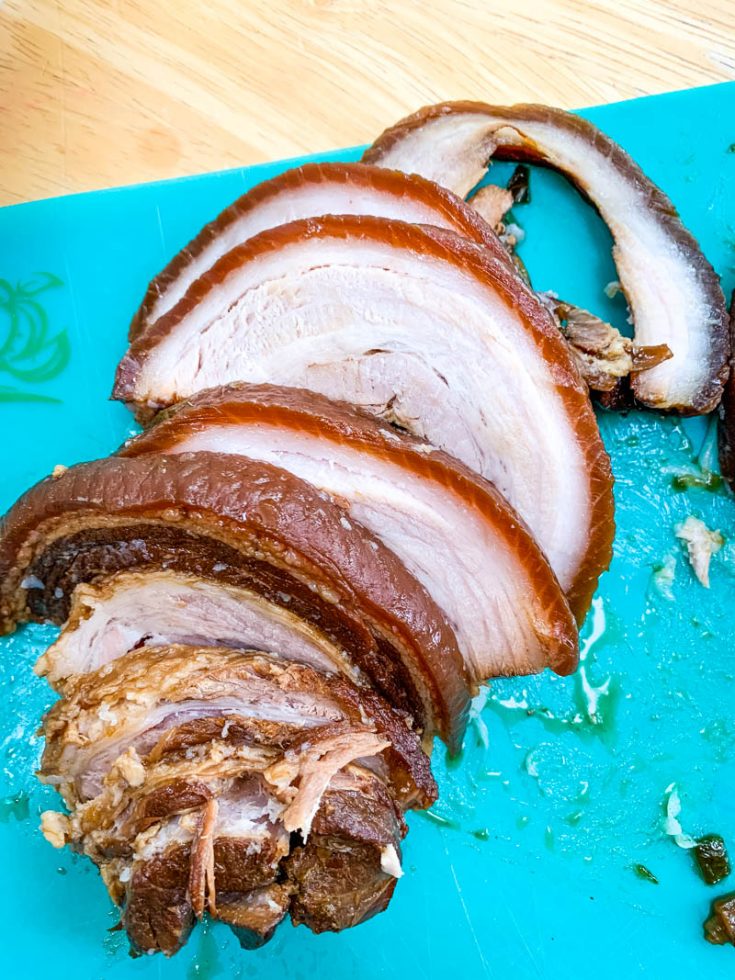 Tender marinated pork belly is what we are making here with the authentic Chashu pork recipe! You're going to love this on top of your next bowl of homemade ramen.
Total Time
4 hours
15 minutes
Ingredients
1 pound pork belly, with skin
1 cup soy sauce
1 cup sake
1 cup mirin
1 cup water
3/4 cup sugar
10 cloves garlic
1-inch ginger, peeled and sliced
2 shallots, roughly chopped
1 bunch green onions, greens and whites, sliced
Instructions
Tie up the pork belly in a rolled-up round, with the skin facing out.
Place all of the marinade ingredients into an oven-safe sauce pan that is large enough to hold all of the ingredients without overflowing. You want the pork to be covered in marinade for the braising portion.
Heat the liquid on the stovetop until it is boiling. Remove from the heat, place the pork belly into the liquid, cover and place in the oven.
Cook for 3-4 hours at 275°, until the pork is fork-tender.
Place the whole shebang in the fridge overnight.
Cut in half, lengthwise, and then slice into thin pieces.
Let it reheat in your ramen.
Reserve the cooking liquid for marinated eggs (ajitsuke tamago).
Nutrition Information:
Yield:
6
Amount Per Serving:
Calories:

379
Total Fat:

12g
Saturated Fat:

4g
Trans Fat:

0g
Unsaturated Fat:

7g
Cholesterol:

48mg
Sodium:

1809mg
Carbohydrates:

39g
Fiber:

1g
Sugar:

33g
Protein:

16g
Yield: 6 servings
Marinated Soft-Boiled Eggs (Ajitsuke Tamago)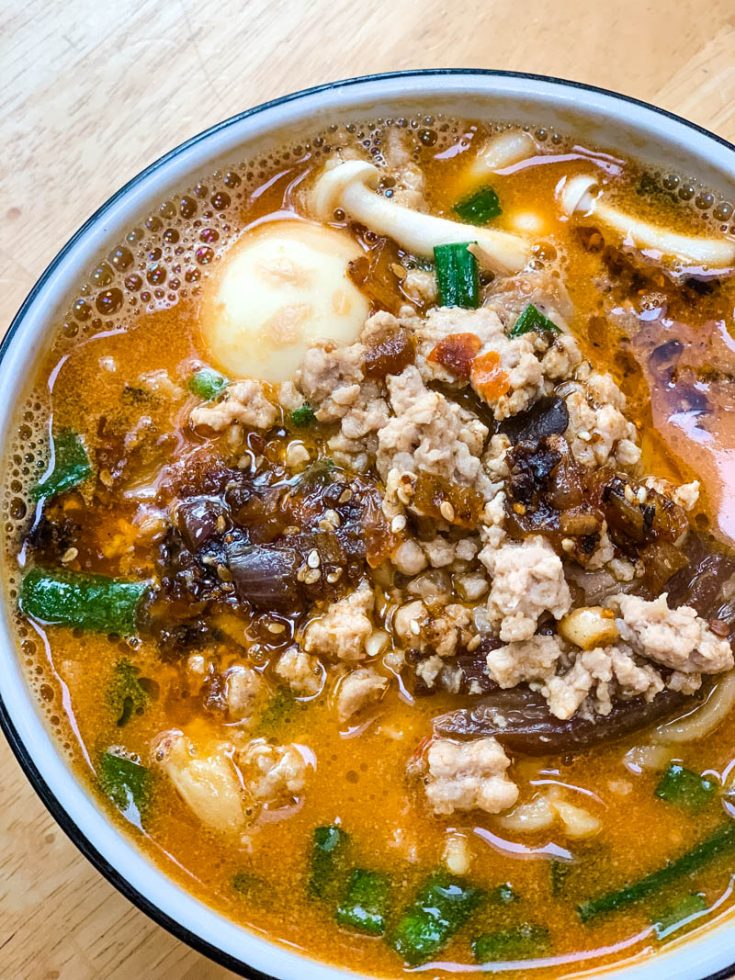 Marinated soft-boiled eggs are the perfect compliment to your next bowl of homemade ramen! Use the cooking liquid from your Chashu Pork for your marinade!
Cook Time
4 minutes
30 seconds
Total Time
4 hours
9 minutes
30 seconds
Ingredients
6 eggs
4-6 cups Charshu braising liquid
Instructions
Bring a pot of salted water to a low simmer, and carefully place the eggs in. Simmer lightly for 4.5 minutes.
Remove from the water and place directly into a bowl of ice water.
Once the eggs are cool, peel carefully and gently, and place into the braising liquid.
Put a paper towel on top of the eggs so it will soak up some of the liquid and ensure that they marinate properly.
Marinate in the fridge for 3-4 hours before reheating in your bowl of ramen. The piping hot ramen broth will be just right for that!
Nutrition Information:
Yield:
6
Amount Per Serving:
Calories:

72
Total Fat:

5g
Saturated Fat:

2g
Trans Fat:

0g
Unsaturated Fat:

3g
Cholesterol:

186mg
Sodium:

71mg
Carbohydrates:

0g
Sugar:

0g
Protein:

6g