Fire up the pellet grill and get out the cabbage! We're making Traeger Cabbage Rolls today and they are going to be your new favorite thing. This classic recipe has been made by Grandmas across the country, but it is time to bring this recipe home to your own kitchen too.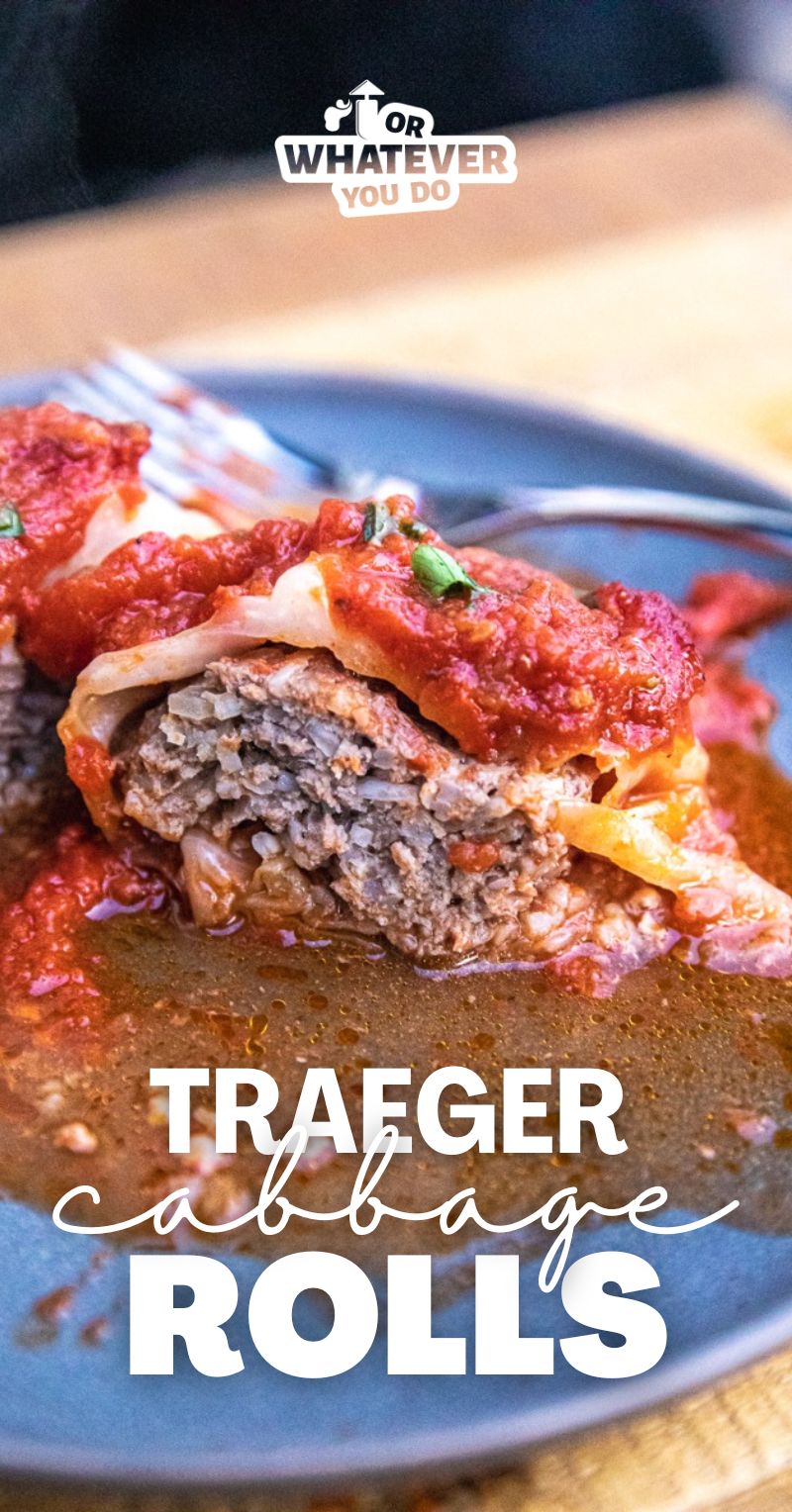 Traeger Cabbage Rolls
I've eaten cabbage rolls quite a few times, but up until this week I hadn't actually ventured into making them. The closest I'd gotten is a soup version (my Sarma Soup), which was delicious, but an entirely different experience than having an actual cabbage roll.
This recipe uses pretty traditional cabbage roll ingredients and flavors, but pumps up the sauce with the addition of some red bell peppers, red pepper flakes, and some other herbs and spices. The sauce is good enough to eat over pasta too, so feel free to whip up a double batch of this stuff. It is phenomenal.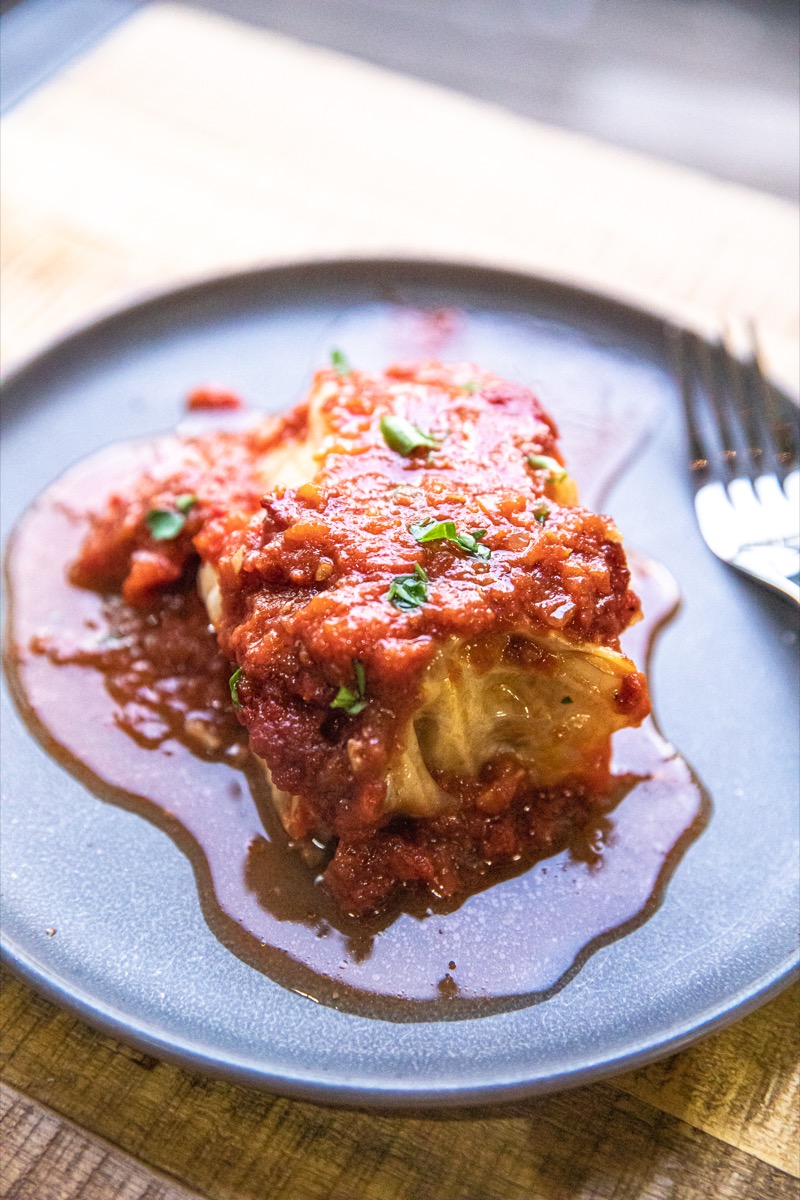 Traeger Stuffed Cabbage Rolls shopping list
Wondering if you have to hit the store? Here's the list of items you'll need to make this recipe. For specific amounts, please refer to the printable recipe card at the bottom of the post.
cabbage
olive oil
garlic
onion
red bell peppers
canned San Marzano whole tomatoes
salt & pepper
paprika
brown sugar
apple cider vinegar
oregano
eggs
lean ground beef
white rice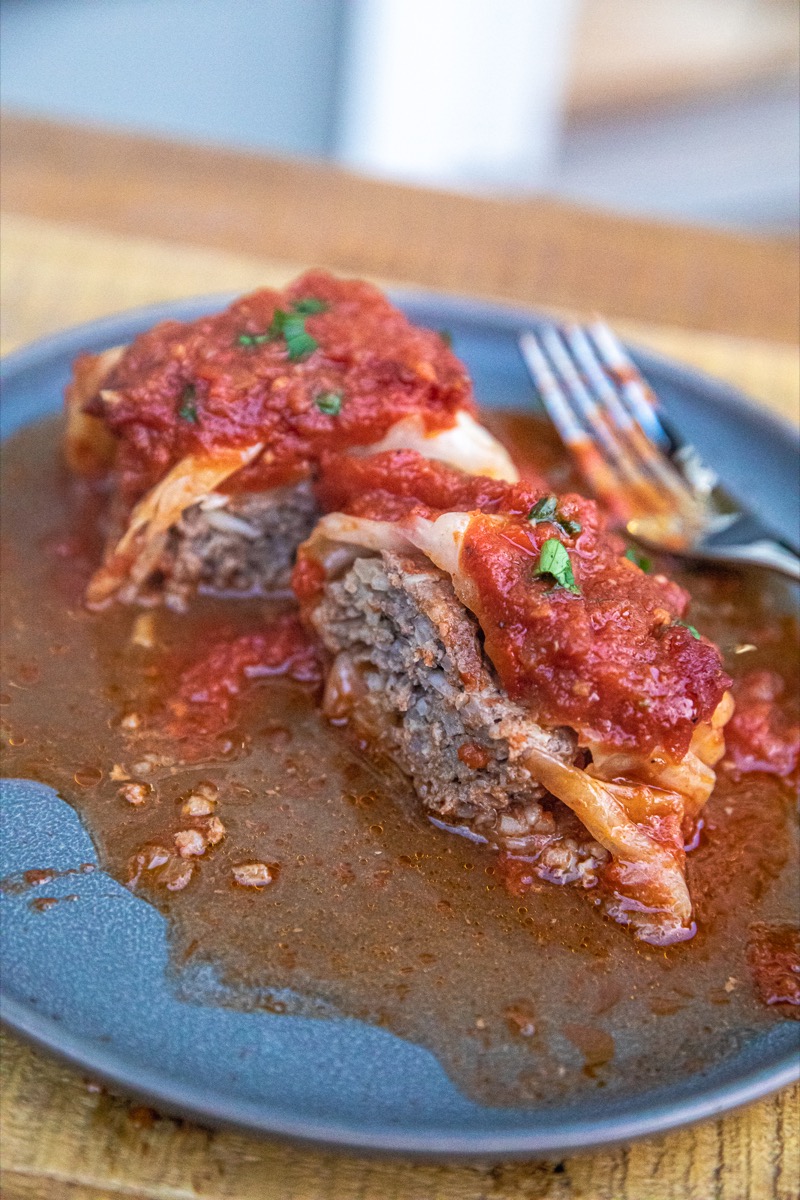 How to make Stuffed Cabbage Rolls
This is just the overview so you can see what you're actually getting into here. When you are cooking, you'll want to use the full recipe at the bottom of the page.
Prep the cabbage
Remove the core from the cabbage and submerge it in boiling water for about 10-12 minutes. Drain water and separate leaves from the head.
Make the sauce
(and turn on the grill)
Whip up the sauce and get it simmering so it can cook while you wrap the rolls.
Turn your grill onto 325°F to preheat.
Get rollin' rollin' rollin'
Mix together all of the meat mixture ingredients and put generous amounts into each cabbage leaf. Fold over the end and then roll the sides over.
Put each cabbage roll into a prepared 10×13 inch grill-safe pan, seam-side down.
Sauce 'em
Blend the sauce with an immersion blender (or a regular blender, just be careful blending hot sauces and liquids!). Pour it over the cabbage rolls.
Grill 'em
Put the baking dish into the grill and let it cook for around an hour, or until the internal temp of the meat mixture reaches at least 160°F.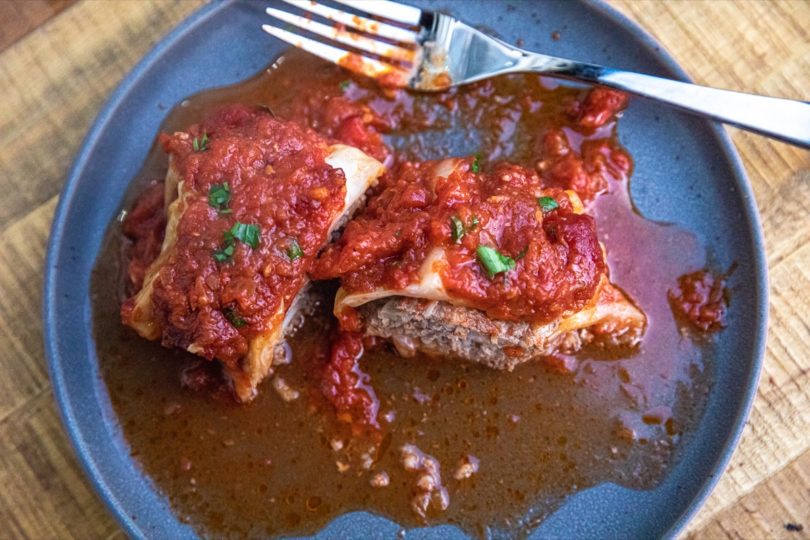 Traeger Cabbage Rolls FAQ
Do I have to make this on the grill?
Nope! This recipe will work just as well cooked in the oven using the same temps and (approximate) times. If your grill is buried in snow or it is too cold to go out there willingly, or if you haven't jumped on the pellet grill bandwagon yet, don't let that stop you!
What's the best way to store leftovers?
We threw ours (gently) into a storage container and put it in the fridge. It should keep for 3-4 days in the fridge.
How should you reheat leftover cabbage rolls?
The microwave works really well to reheat these. Probably the best way, actually. You can also use an air fryer if you'd like.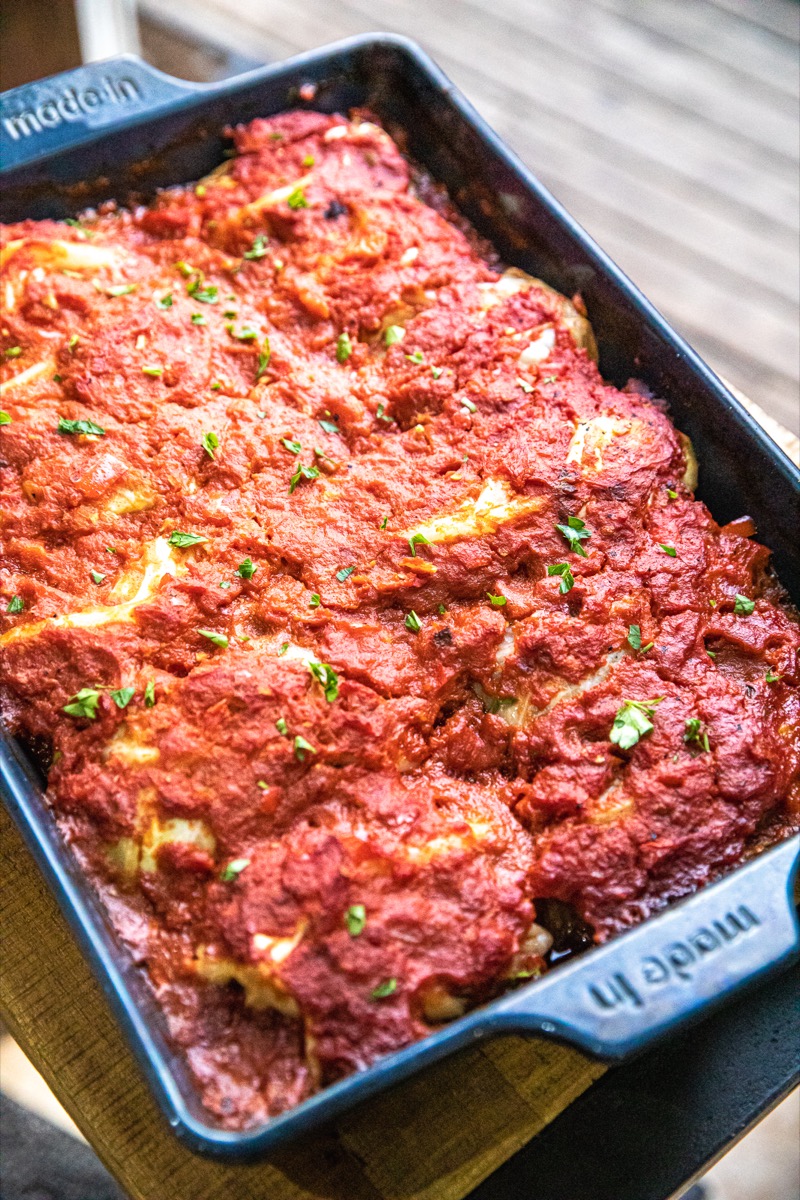 More great recipes to love!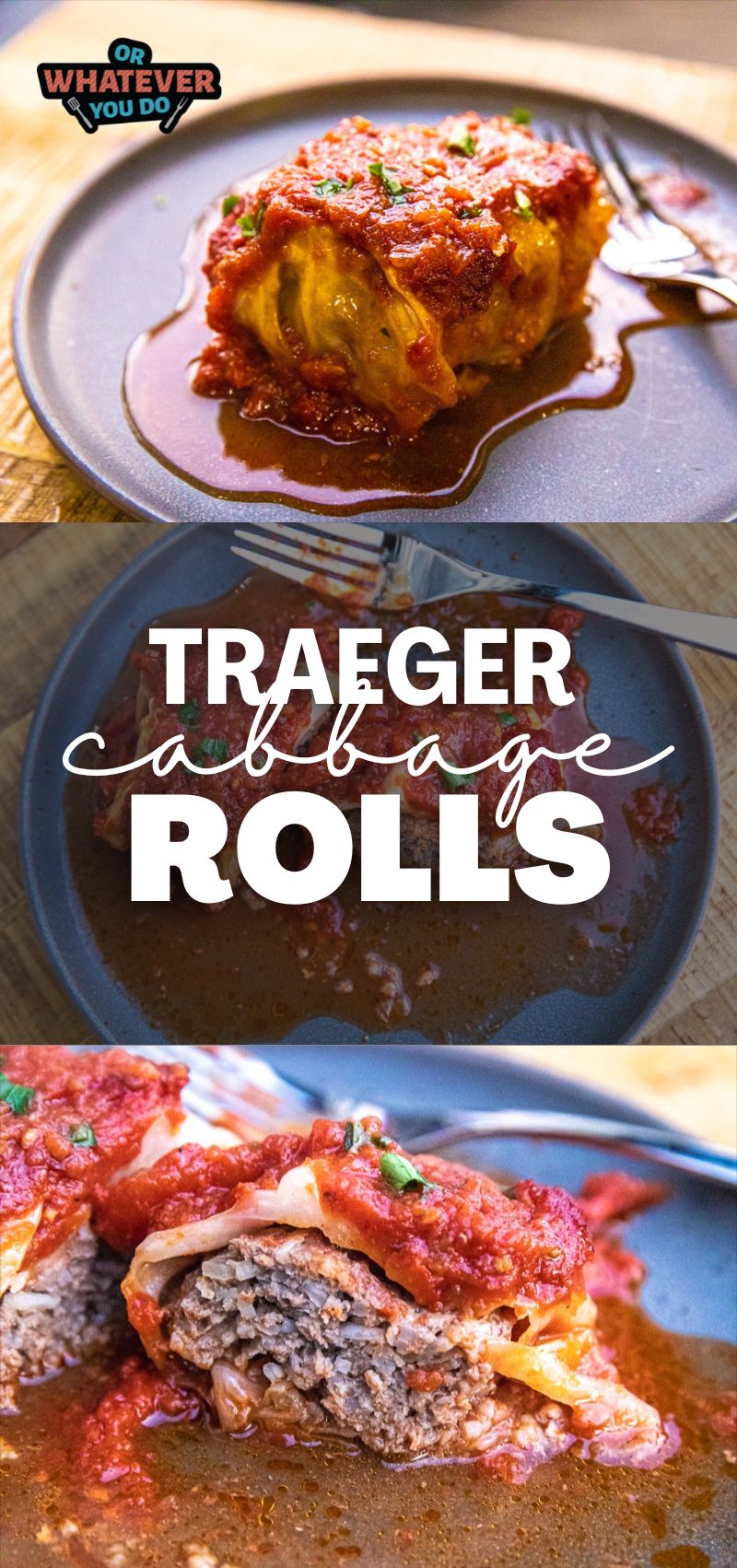 Yield: 12 servings
Traeger Stuffed Cabbage Rolls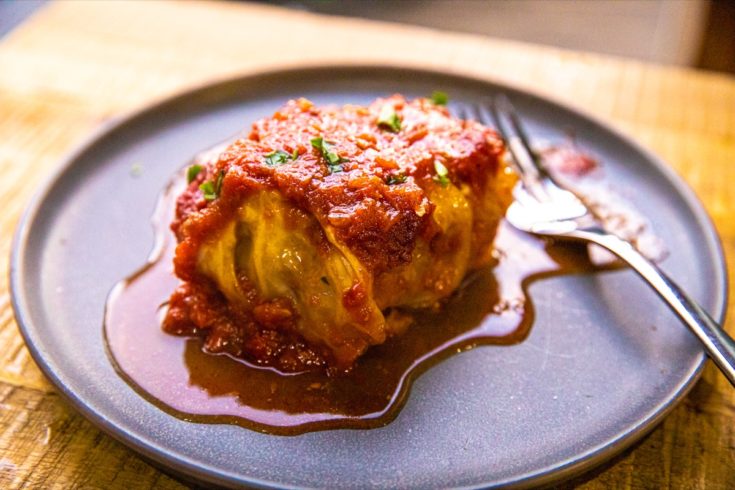 These homemade Traeger Stuffed Cabbage Rolls are one of our new favorite meals! Savory, hearty, and just like grandma used to make. You're going to want to eat this sauce with a spoon!
Cook Time
1 hour
15 minutes
Total Time
1 hour
40 minutes
Ingredients
1 medium head green cabbage
Sauce
3 tablespoons olive oil
3 cloves garlic, minced
1 medium onion, diced
2 red bell peppers (cored, seeded, and diced)
2- 28 ounce cans San Marzano whole tomatoes
1 teaspoon salt
1/2 teaspoon pepper
1 tablespoon paprika
3 tablespoons brown sugar
2 tablespoons apple cider vinegar
1/2 teaspoon oregano
Meat
2 eggs
2 pounds lean ground beef
1 medium yellow onion, minced
4 cloves garlic, minced
2 cups cooked white rice
1 teaspoon salt
1/2 teaspoon pepper
1/2 teaspoon dry oregano
Instructions
Remove the core from the head of cabbage and discard. Bring a large pot of water to boil, and submerge the head of cabbage. Simmer for 10-12 minutes.
Drain the water from the cabbage and peel the leaves off the head. Pat dry.
Prepare the sauce by heating the olive oil in a large saucepan over medium heat. Add the garlic and onions and saute for 30-60 seconds.
Put the diced red bell peppers and San Marzano tomatoes into the pot along with the salt, pepper, paprika, brown sugar, and apple cider vinegar. Chop up the tomatoes as best as you can and bring the sauce to a simmer over medium to medium-low heat. Stir occasionally.
While the sauce simmers, mix all of the ingredients for the meat mixture together in a large bowl.
Spoon generous portions of the meat into the cabbage leaves, and then fold the end over and roll. Place into a greased 10x13 grill-safe baking dish. Repeat until all of the leaves are filled and then meat mixture is gone.
Let the sauce simmer for about 30 minutes. Use an immersion blender to blend the sauce smooth.
While the sauce simmers, preheat your pellet grill to 325°.
Pour the sauce over the cabbage rolls. Put into the preheated pellet grill and cook for approximately 1 hour, or until the internal temperature of the inside of each cabbage roll reaches at least 160°F.
Remove from the grill and let sit for 10-15 minutes before serving.
Recommended Products
As an Amazon Associate and member of other affiliate programs, I earn from qualifying purchases.
Nutrition Information:
Yield:
8
Serving Size:
1
Amount Per Serving:
Calories:

457
Total Fat:

21g
Saturated Fat:

7g
Trans Fat:

0g
Unsaturated Fat:

12g
Cholesterol:

147mg
Sodium:

661mg
Carbohydrates:

30g
Fiber:

4g
Sugar:

12g
Protein:

38g
Nutrition data provided here is only an estimate.