My Traeger Grilled Prosciutto Asparagus is the perfect side dish that is a must-make for your spring and summer cooking. If you haven't bought your Traeger yet, no problem, these can easily be made on any wood-pellet or other bbq grills.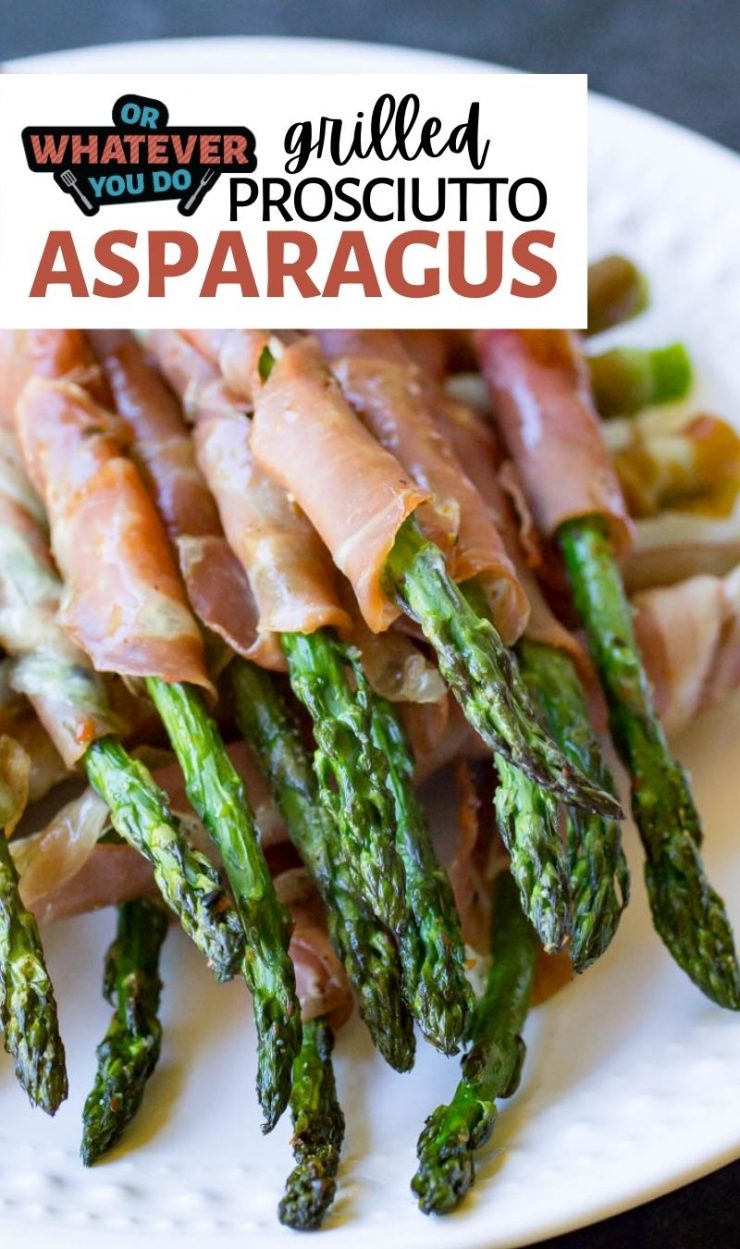 Traeger Grilled Prosciutto Asparagus
Coming up with a side that the whole family loves can sometimes be a little challenging since there are 9 of us here, but because I love these kids, I keep trying! This is one of those dishes that MOST of us like.
I have found that Prosciutto is kind of like bacon, everybody loves it! So when I am trying to get the kids to eat some veggies, why not wrap it in this salty buttery goodness? It gets them every time.
More Easy Traeger Recipes here!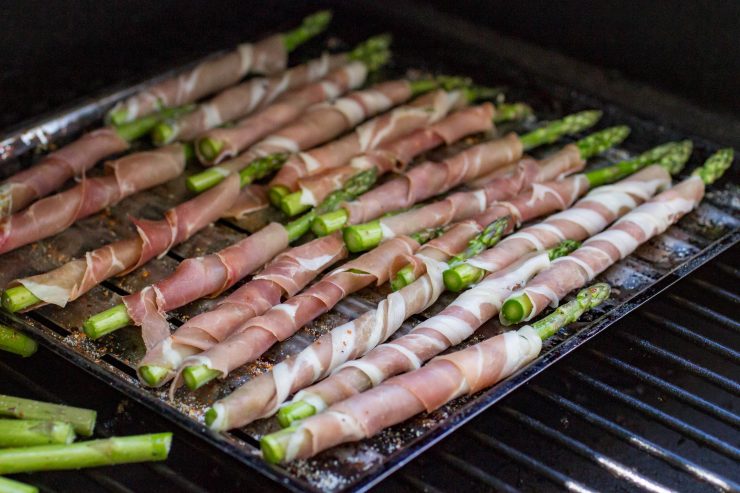 This is also the kind of side dish that when brought to a family function, it is one of the first dishes to go. It would go perfectly with my Traeger Prime Rib Roast or my Traeger Grilled Shrimp Kabobs.
You pick your favorite meat and this side will pair perfectly with it. My favorite is my very simple Traeger Grilled Chicken. Simple and full of smoky chicken flavor. You really can't go wrong with that one and everyone loves it!
Get more awesome Appetizer Recipes!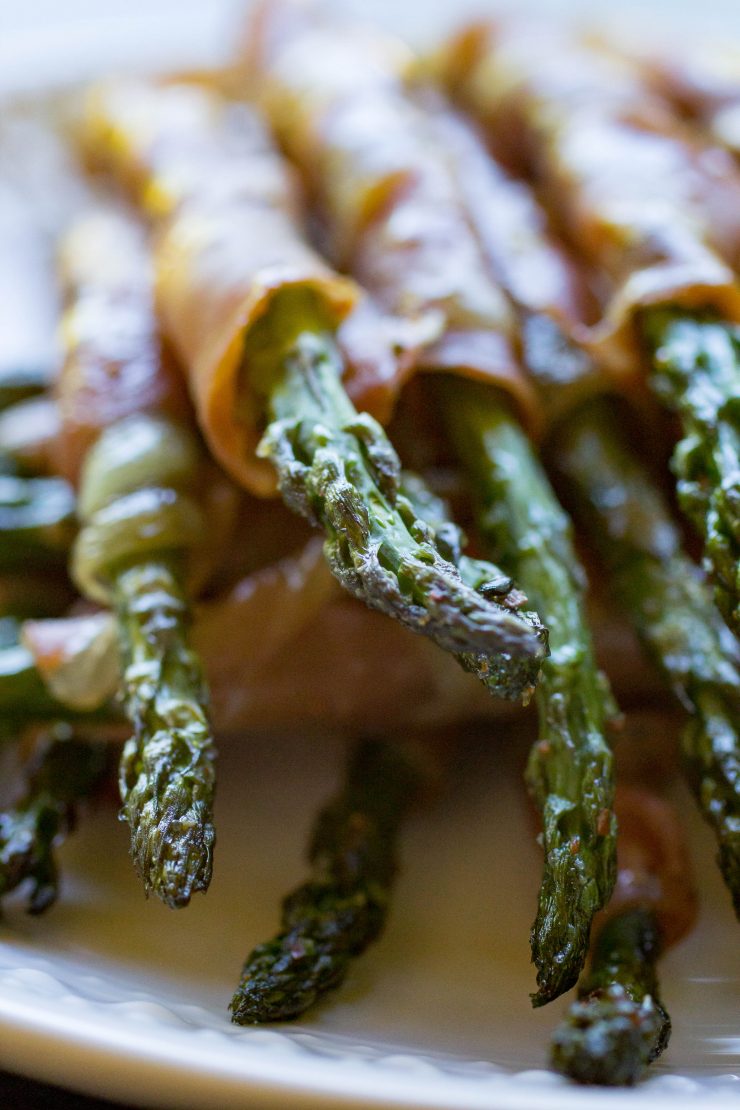 How to make easy Traeger Grilled Prosciutto Asparagus
First, you want to toss the asparagus in a little oil, I use olive oil but you can use whatever kind you prefer. Next, salt and pepper to taste, then wrap it fully in Prosciutto. Grilled these for ten minutes and you are done.
So simple and so delicious. Let me know how you like them and tell me if you tweaked the spices at all. This is one of those recipes that you can really make your own depending on how you like it.
Follow me on Instagram!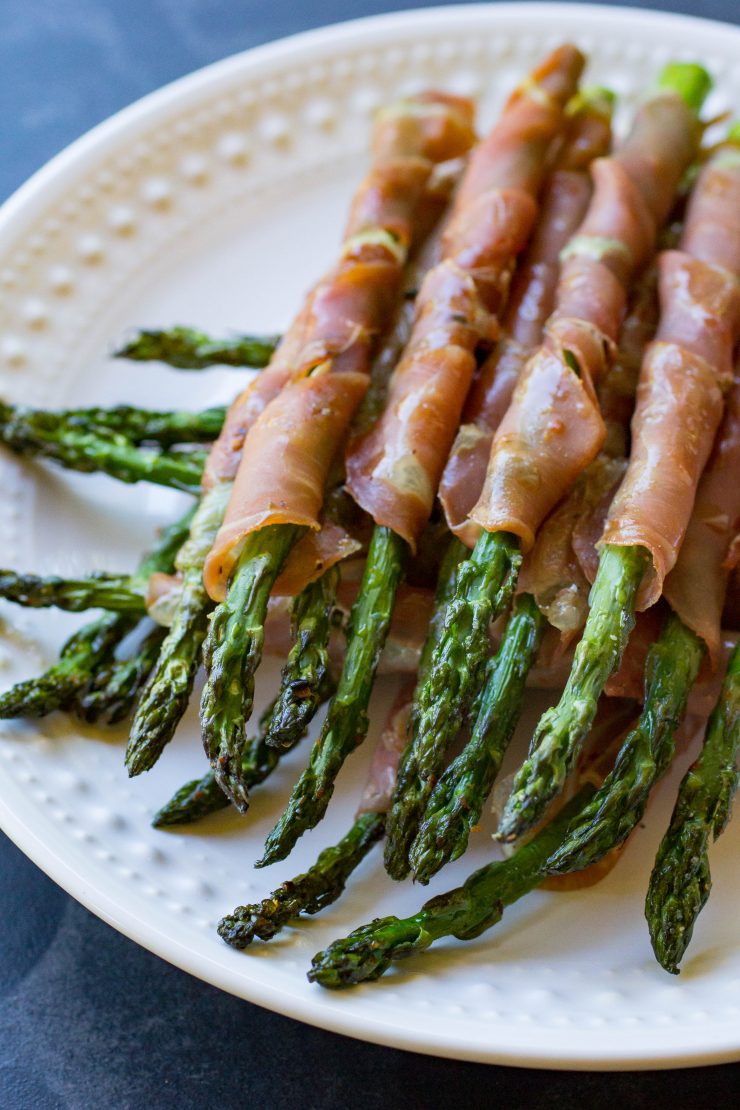 Where does asparagus grow?
You can grow asparagus almost anywhere in the country but does best in cooler regions. In Minnesota where I grew up, it grew wild in the ditches. People would harvest them every year. Free asparagus! Of course, I didn't actually LIKE asparagus back then
You can plant them in your designated area to keep weeds down but don't get too excited just yet, it will be two to three years before you get a bite of the delicious stalk.
You will want a sunny location with well-drained soil. Close to the edge of your garden usually works best.
Once you have the right amount for your family and have found the right spot where they will grow well, these plants can last up to 30 years! Hopefully, you like your house because you aren't going to want to leave these beauties.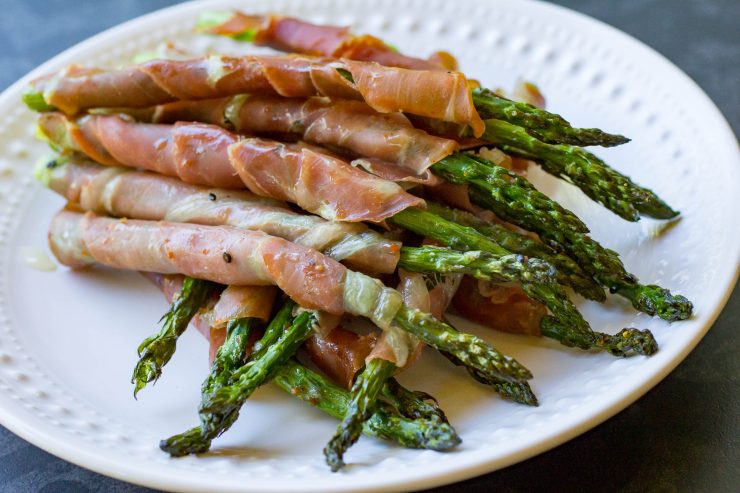 What is Prosciutto?
Did you know that prosciutto is actually a type of ham?
I didn't either until I went to a session allllll about that beautiful meat a few years ago at a conference.
Prosciutto is dry-cured and sliced very thin, and goes back about two-thousand years. This delicious Italian ham can take up to 18 months until it is finished. They use the salting method for two months, then wash off all the salt. It is then left in a cool environment to do it's a beautiful thing.
Did you hear that? That means it isn't actually COOKED, it is cured.
The picky person inside me twitches a little bit when you realize you are basically eating thin slices of raw rotten meat, but uhhhhh the taste totally makes up for it. Plus, it isn't ACTUALLY raw and rotten. 😀
What you get then is a thin, buttery, melt-in-your-mouth meat that is a must-try.
Join our Easy Traeger Recipes Facebook Group!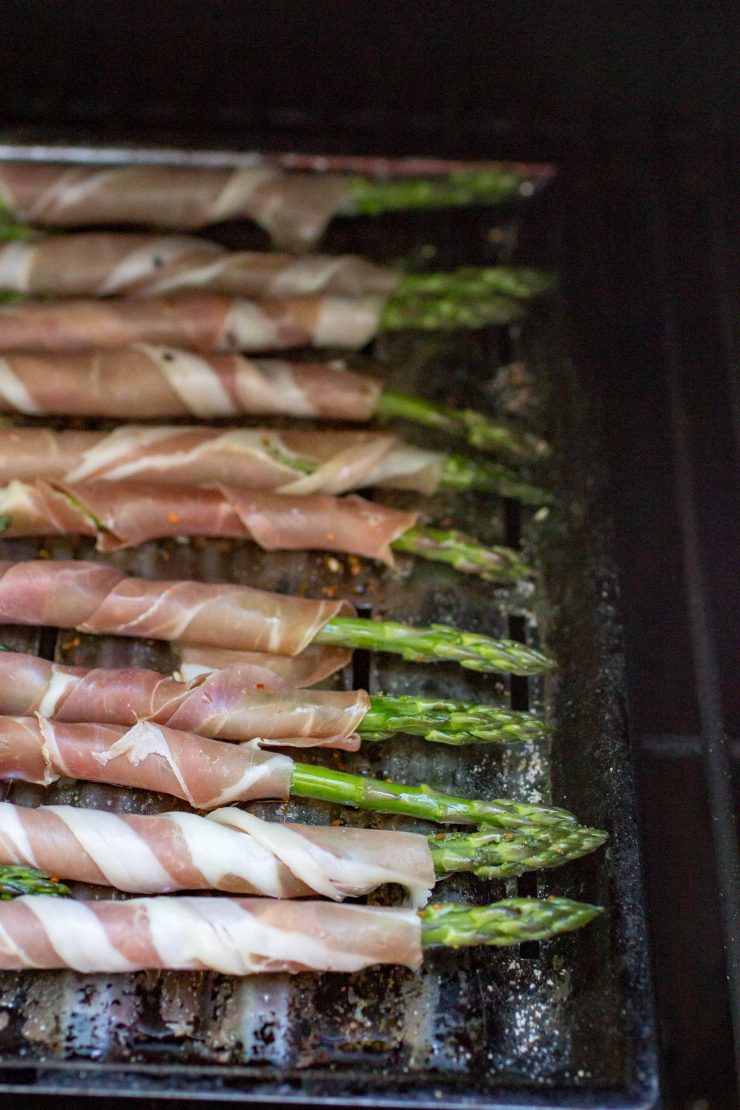 Can you use bacon instead of prosciutto for this recipe?
Yup! If you don't have prosciutto you can substitute bacon in this recipe. I'd par-cook it before wrapping the asparagus, however, and thin-cut bacon will work much better than thick for this purpose.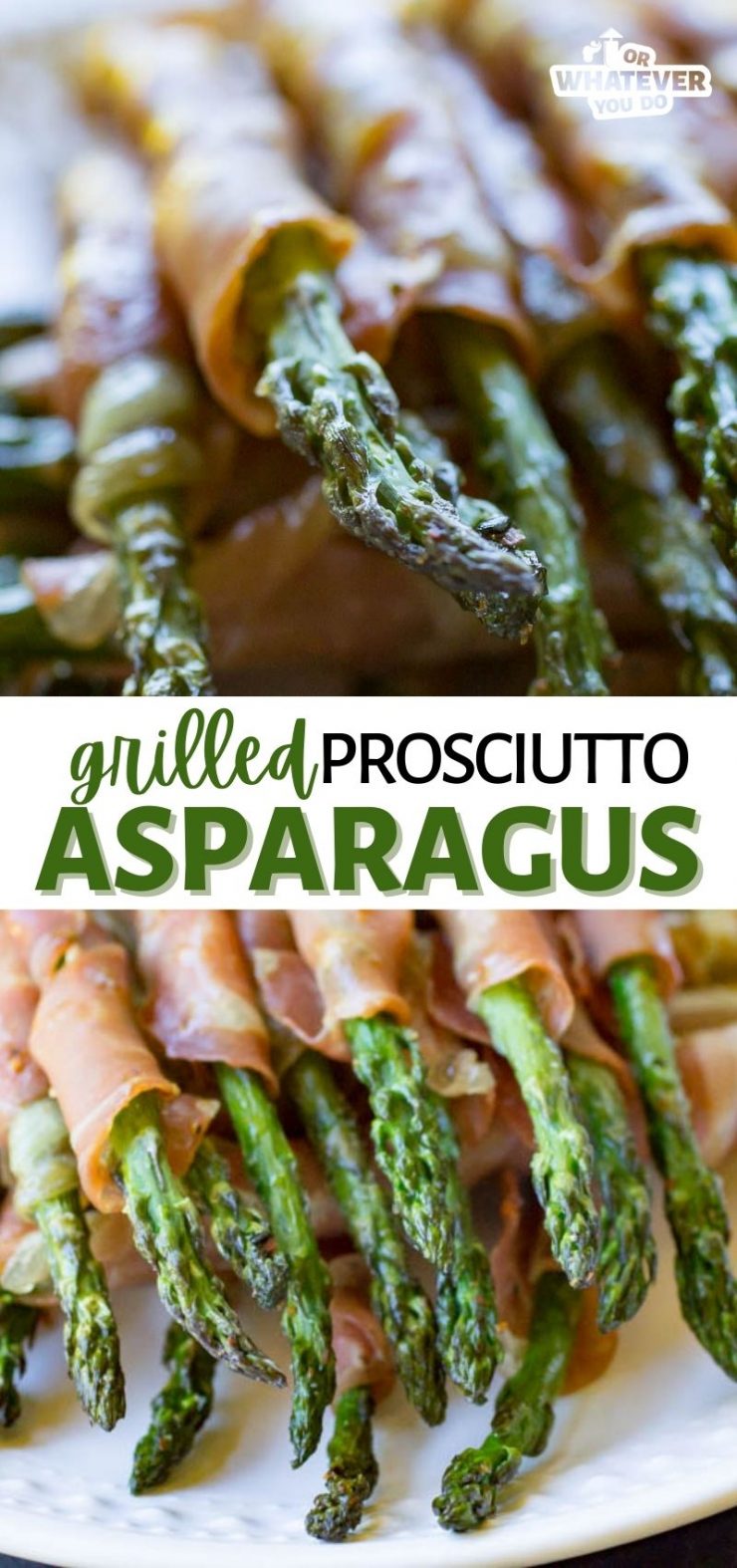 Yield: 5 servings
Traeger Grilled Prosciutto Asparagus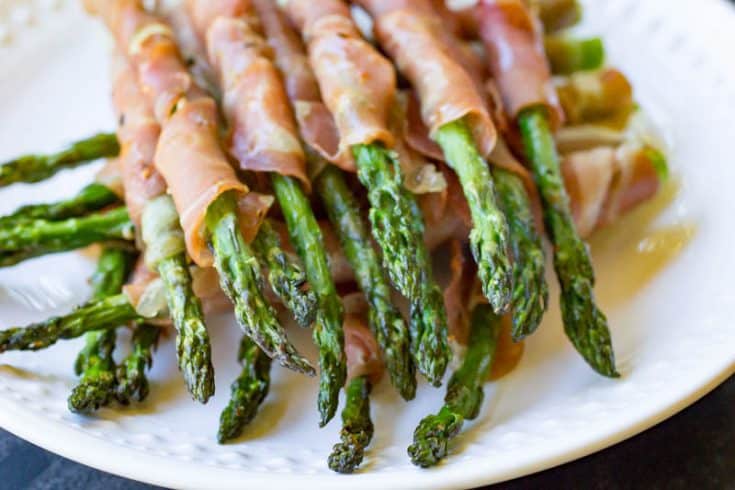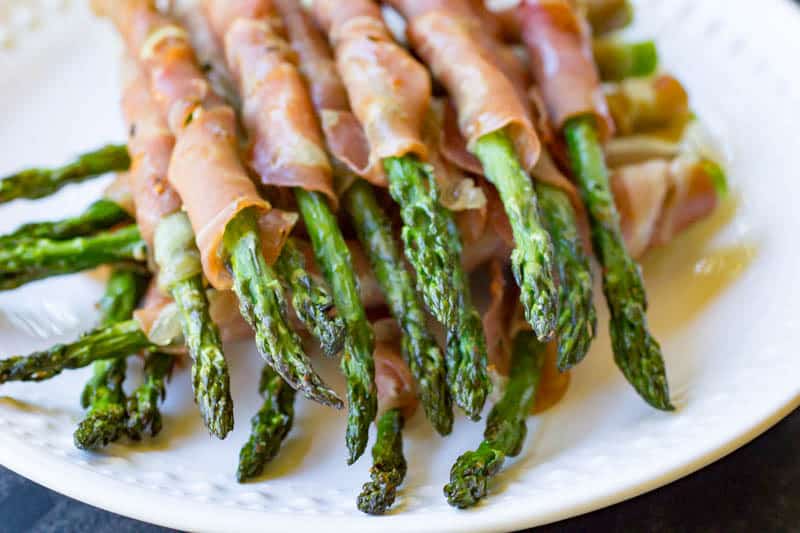 Easy Traeger Grilled Prosciutto Asparagus only takes about 10 minutes to prep, and another 10-15 to grill, and you are left with the meatiest and fanciest appetizers or side dishes that you ever did see!
Ingredients
1 pound asparagus, ends snapped off
1 tablespoon canola oil
1 tablespoon Traeger Vegetable Rub
5 ounces prosciutto, sliced in half the long way
Instructions
Preheat your grill to 375 degrees.
Toss your asparagus in the canola oil, and then sprinkle with the vegetable rub.
Wrap your prosciutto around and up your asparagus spears, and carefully place on a tray.
Place on the grill across the grates, and cook for 10 minutes, flipping once mid-cook.
Recommended Products
As an Amazon Associate and member of other affiliate programs, I earn from qualifying purchases.
Nutrition Information:
Yield:
6
Serving Size:
1
Amount Per Serving:
Calories:

83
Total Fat:

4g
Saturated Fat:

1g
Trans Fat:

0g
Unsaturated Fat:

3g
Cholesterol:

17mg
Sodium:

647mg
Carbohydrates:

3g
Fiber:

2g
Sugar:

1g
Protein:

8g