Our Spicy Smoked Pork Ribs lean heavily on one of my favorite Korean flavors, gochugaru. This spicy pepper powder is central to many of the Korean dishes that I love, and is featured here in both the rub and the sauce too.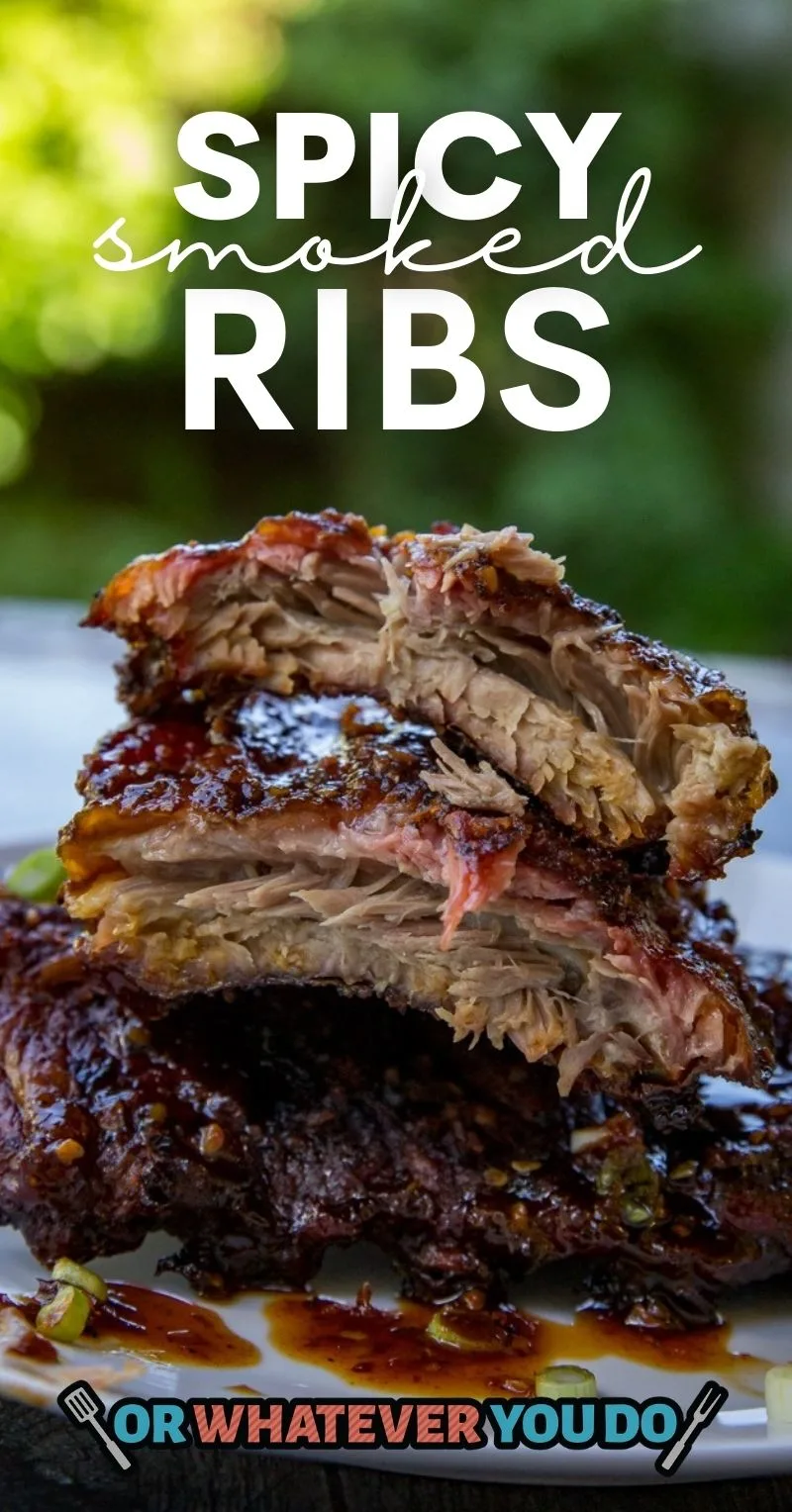 Spicy Smoked Pork Ribs
Ribs are kind of our thing, around here. We do them often, and we do them well. Our controversial 5-4-1 Ribs are tender, fall-off-the-bone perfection, but we have all of the love for our St. Louis Pork ribs too, which are grilled straight through, no-wrap required.
Don't forget my new favorite barbecue sauce, either, slathered all over our Cherry Coke Ribs.
More Easy Traeger Recipes here!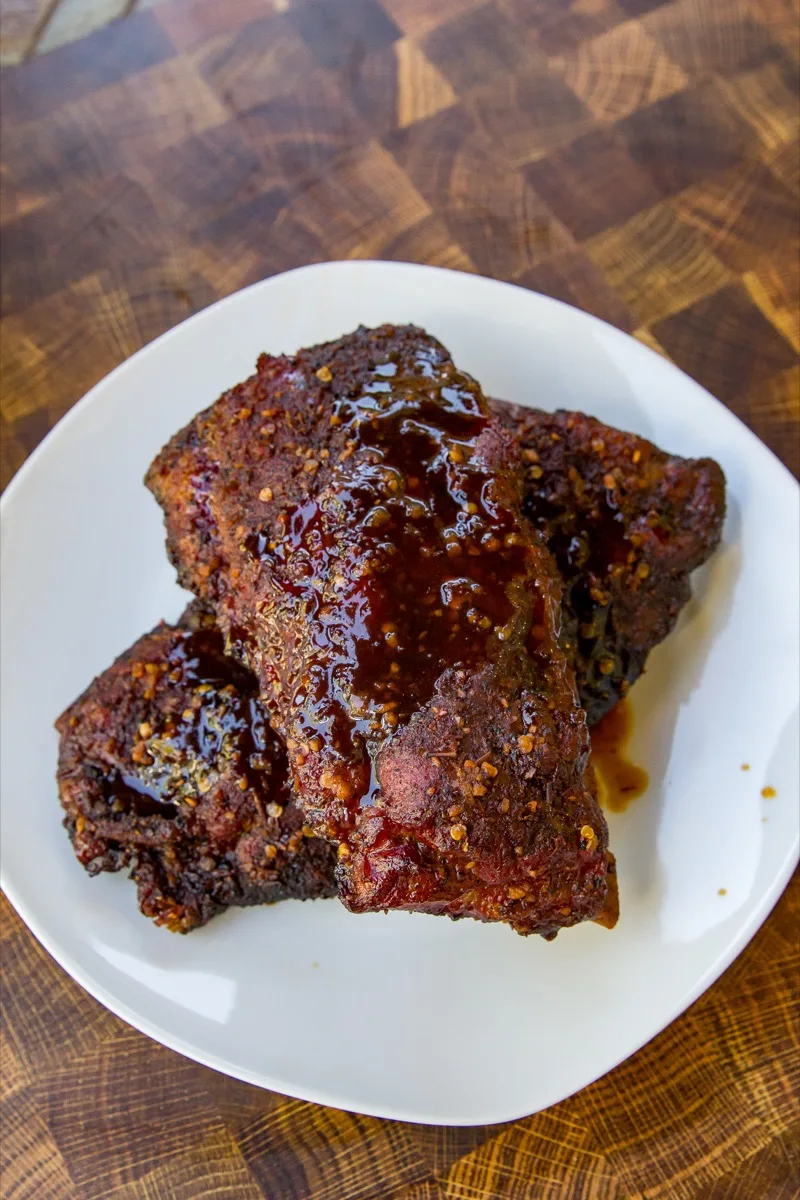 Smoked Spicy Gochugaru Pork Ribs shopping list
Wondering if you have to hit the store? Here's the list of items you'll need to make this recipe. For specific amounts, please refer to the printable recipe card at the bottom of the post.
ribs
salt & black pepper
chili garlic sauce
honey
vinegar
Get all my recipes for RIBS here!
How to make Spicy Smoked Ribs on the pellet grill
This is just the overview so you can see what you're actually getting into here. When you are cooking, you'll want to use the full recipe at the bottom of the page.
Mix & rub
Combine all the dry rub ingredients and rub those racks!
Make the sauce
Toss all those sauce ingredients into a saucepan and let them mingle.
Sauce, cover, and cook
Technically you can do this part in the oven if you want to save the pellets. In the summer, I often avoid the oven at all costs so I don't heat up the house, but you do you! Another 2-3 hours here. Uncover every hour and baste with more sauce.
Get all of our PORK RECIPES here!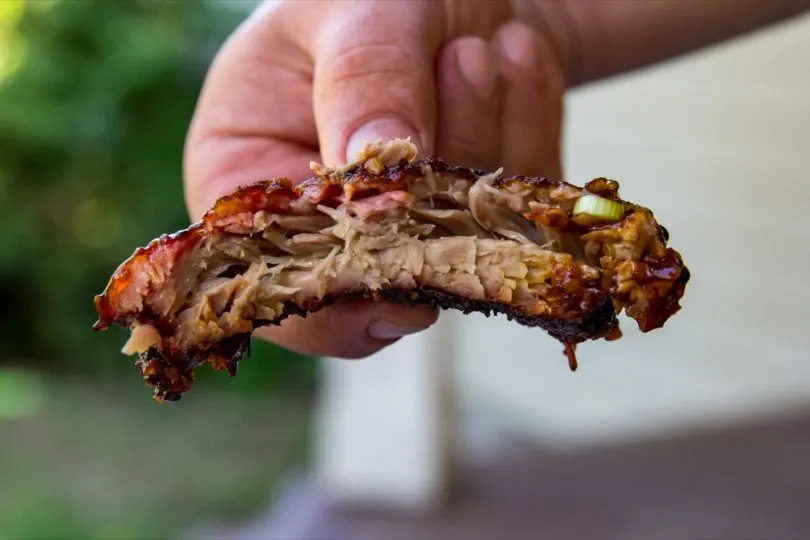 Tips for the best pork ribs on the smoker
There are about a million different methods to getting a perfect rack of ribs off of your grill or smoker, and about a million different definitions of "perfect ribs" too.
For me, I like my ribs JUST this side of "can't pick them up on the bone cause the meat falls right off". I want to be able to pick up a rib and bite off of it, but I want that bite to be supremely tender, moist, and full of smokey, barky everything.
Other people like more of a bite to their ribs. "Competition style" ribs is a term you'll hear pretty often in bbq circles. According to ThermoWorks, competition-style ribs are ribs that are slightly chewy, but still very tender, and will leave behind a clean bone.
"Competition-style ribs are still slightly adhered to the bone and have a slightly chewy texture, yet they are still tender. The meat should pull off the bone with little effort, and leave a bare bone behind. This is often called "perfect bite" in competition circles. The goal is for each bite to leave the bone clean, and have the bite marks intact in the meat on either side."

-ThermoWorks Blog
The most important factors for smoking ribs:
Wrap or no-wrap
Overall cook time
Generally speaking, the longer you cook ribs, the more tender they will be. If you wrap your ribs part way through the cook with some additional liquids in the mix, you'll have ribs that are much more likely to be described as "fall off the bone".
3-2-1 Ribs
The 3-2-1 Rib Method is very popular and does a pretty good job of landing you somewhere between "competition style" and "fall off the bone" ribs. It involves 3 hours on the grill, 2 hours wrapped with a liquid, and then one final hour right on the grill, sauced.
For some people, that's perfect, and for others, it just doesn't really hit either target dead-on, and isn't really greater than the sum of its parts.
5-4-1 Ribs
When I'm cooking ribs, I tend to learn more towards our 5-4-1 rib method instead. That's for a number of reasons. The main one being that I like long cooks and hands-off time. With 5-4-1 you smoke your racks at around 175° for 5 hours, braise them in a covered pan with barbecue sauce and hard apple cider for 4, and then finish them off on a 300° grill for a final hour.
Sometimes we skip the last hour on the grill, sometimes we shorten phases 1 and/or 2 depending on how early we got started, but with this method, you reliably end up with incredibly tender, moist, consistent pork ribs. Our Cherry Coke Ribs are another variation of 5-4-1, and have a homemade barbecue sauce that also features the cherry coke in it too.
3-5 at 225°
Our St. Louis Ribs are a departure from either of those methods, and are grilled straight through, no wrap required, for 3-5 hours at 225°. No muss, no fuss, and still – you wind up with a GREAT rack of ribs.
Join our Easy Traeger Recipes Facebook Group!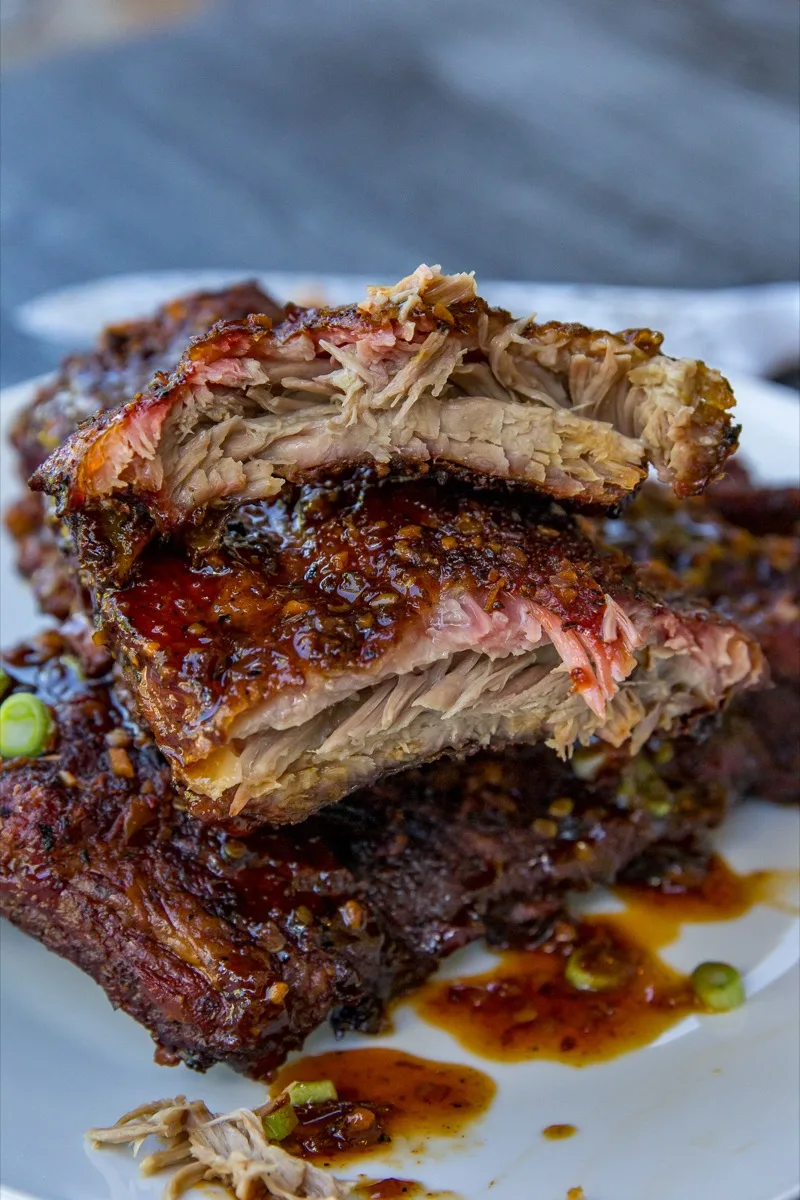 Spicy Pork Ribs FAQ
How spicy are these, really?
I don't have any exact measurements, but they are moderately spicy even for those who really enjoy spicy for sport. Don't let that scare you off though! You can use a little less gochugaru if you need to, but really if you aren't super into spice you might just want to make my Cherry Coke Ribs instead.
How do you store leftover smoked pork ribs?
Store these tightly covered in the fridge for up to 3-4 days. I like to keep them in the excess sauce.
What's the best way to reheat pork ribs?
I like to heat these up in the air fryer, personally. If you don't have an air fryer yet you can also use an oven too. Just don't turn up the heat too high on either. Gentle heat is best for reheating smoked meats.
Follow me on Instagram!
What is gochugaru?
Gochugaru is a staple in Korean cooking, and is one of the main ingredients in Gochujang.
Many of the grocery stores are starting to carry this ingredient in their Asian food sections, but it is also easily accessible online too.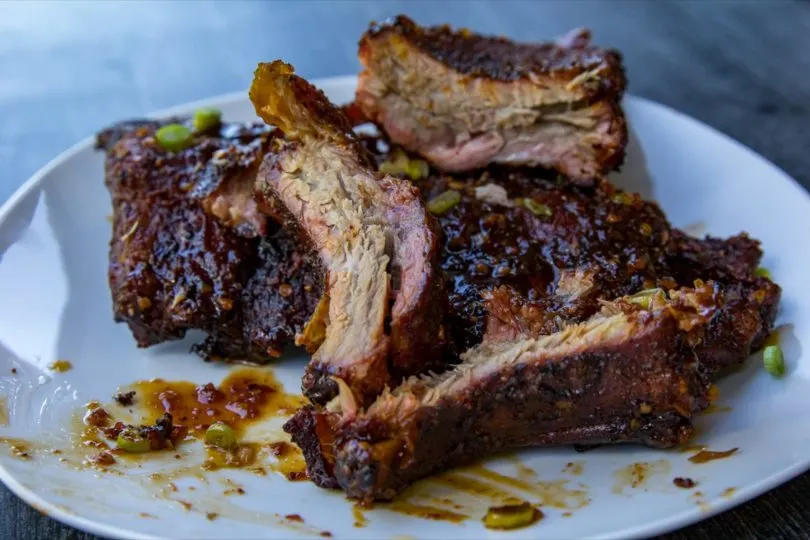 More ways to use gochugaru
Gochugaru is not an ingredient that I grew up with and is something that I just started using regularly in my home and kitchen over the last several years. For all of the authentic Korean recipes that you could ever possibly want, please check out one of my favorite Korean Food Bloggers below and some of their incredible recipes featuring this versatile ingredient!
Korean Bapsang | My Korean Kitchen | Kimchimari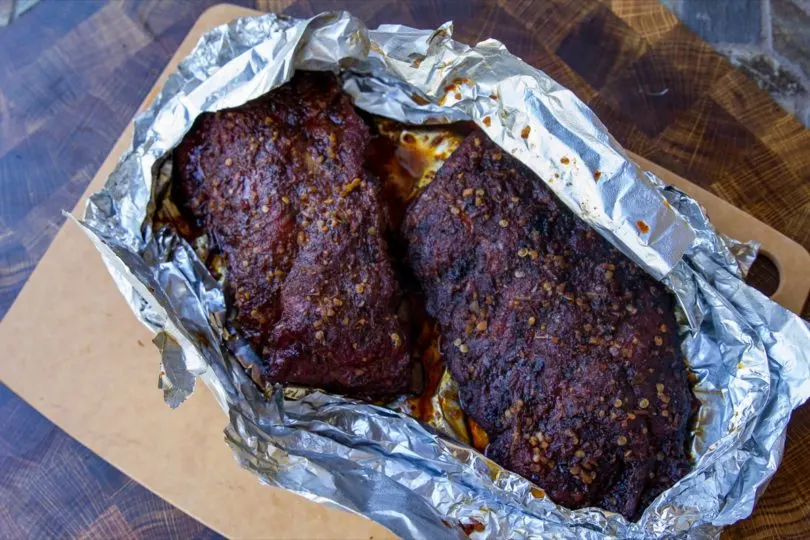 More Ribs Recipes to love!
More great recipes to love!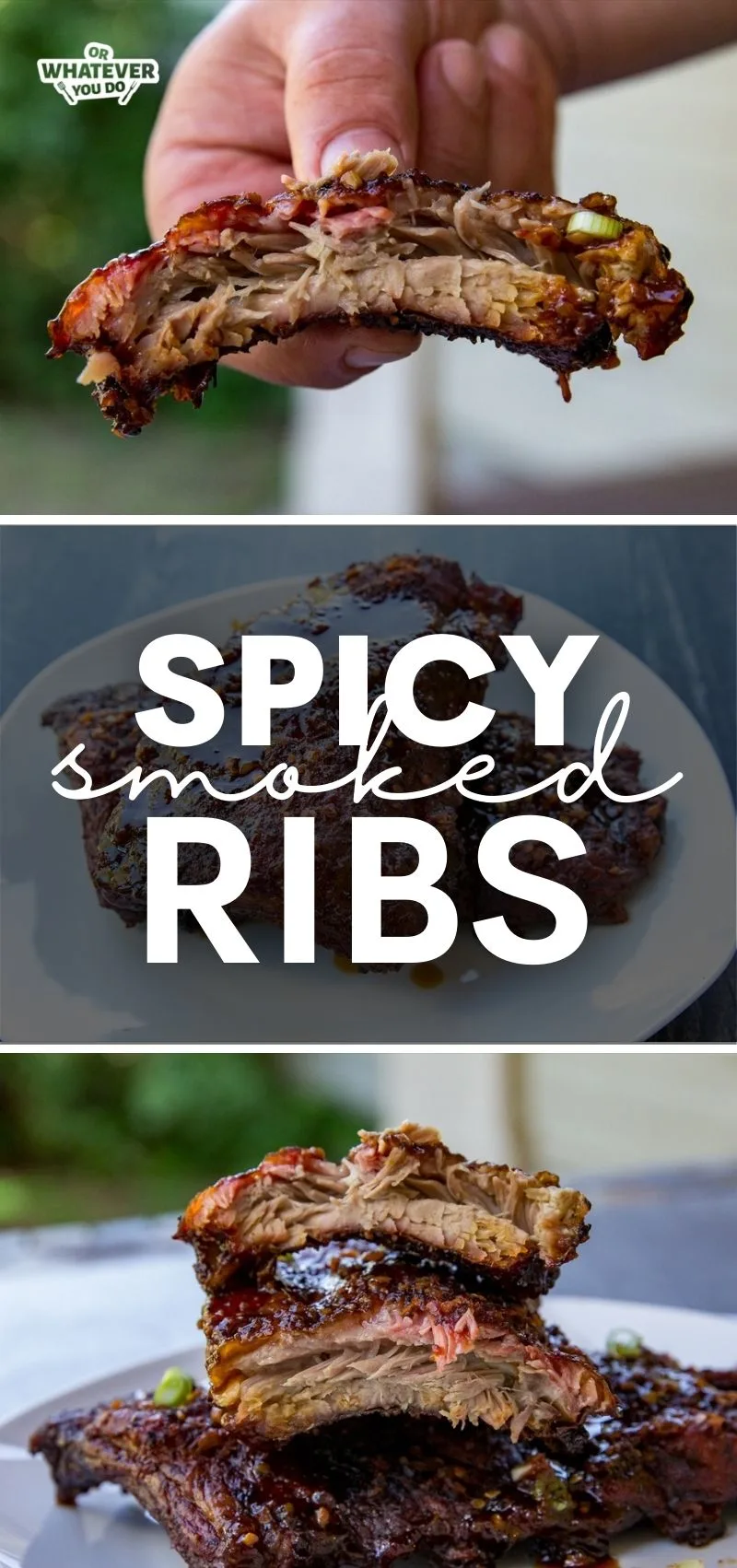 Yield: 6 servings
Spicy Smoked Pork Ribs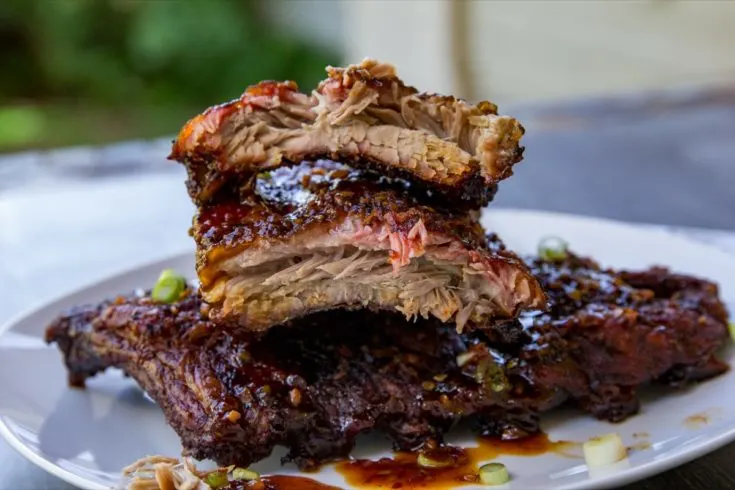 These spicy, tender ribs can be made from either St. Louis ribs, spare ribs, or baby back ribs. They have a spicy rub and a spicy sauce and are a delicious way to enjoy the bold flavor of gochugaru.
Total Time
5 hours
15 minutes
Ingredients
Dry rub
1 tablespoon togarashi spice blend
1 tablespoon gochugaru
2 teaspoons roasted garlic blend
1 teaspoon salt
1/2 teaspoon black pepper
Sauce
1 cup water
2 tablespoons chili garlic sauce
2 tablespoons honey
2 tablespoons vinegar
1 tablespoon gochugaru hot pepper powder
1/2 teaspoon salt
Instructions
Preheat your grill to 180-190°, or the "Smoke" setting, if it has one.
Combine all of the ingredients for the dry rub. Coat your ribs with the dry rub mixture and place them on the grill.
Smoke for 3 hours.
Combine the sauce ingredients in a small saucepot and mix to combine. Bring the mixture up to a simmer, stirring frequently, and simmer lightly for 5 minutes.
Place the ribs into a foil pan and coat with the sauce and cover tightly.
Place back into the grill and turn the heat up to 300-325°. (You can also use the oven for this if you want to save pellets.)
Check on the ribs hourly and baste with the excess sauce. You'll want to cook them for 2-3 more hours, or until you can stick a fork in them and they are tender.
Optional – Place the ribs back on the grill for 20-30 minutes at 350°, uncovered and right on the grates, to caramelize and set the sauce.
Recommended Products
As an Amazon Associate and member of other affiliate programs, I earn from qualifying purchases.
Nutrition Information:
Yield:
4
Serving Size:
1
Amount Per Serving:
Calories:

106
Total Fat:

5g
Saturated Fat:

2g
Trans Fat:

0g
Unsaturated Fat:

2g
Cholesterol:

18mg
Sodium:

953mg
Carbohydrates:

11g
Fiber:

0g
Sugar:

9g
Protein:

4g
Nutrition data provided here is only an estimate.