Garlic Fry Bread is something you can't forget once you try it. A decadent and amazing treat that your whole family is going to love!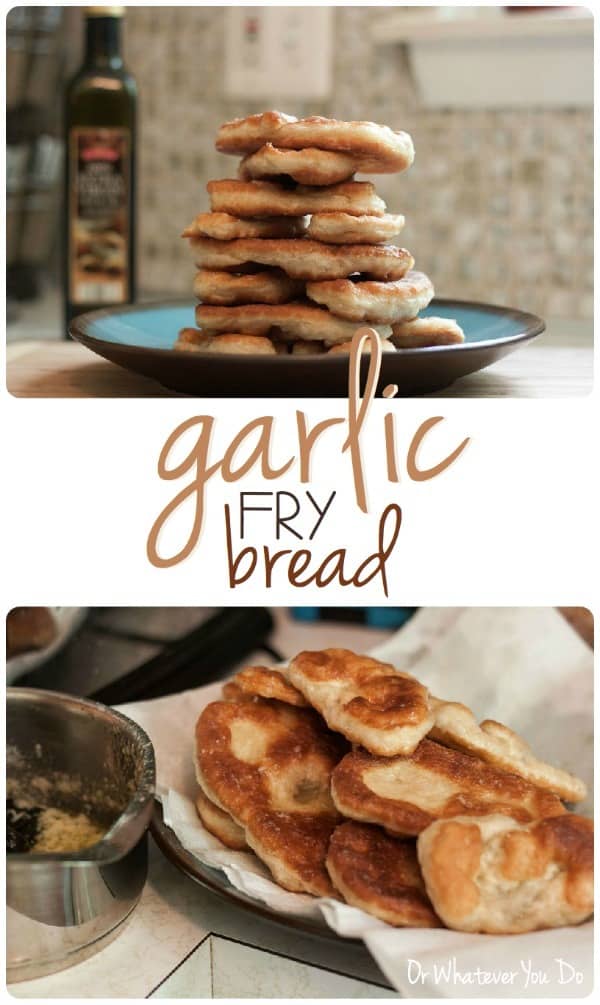 Garlic Fry Bread
Things have been awfully quiet around these parts lately. I moved.
Again.
This is our 6th house in as many years. This time it was just across town instead of across the country, but ARGHHHHHHHHH!!!!!!!!!!!!! I hate moving. Actually, hate isn't a strong enough word for what I feel for moving. Someday you will find me sitting in my favorite chair, an empty house around me, because one of these times I will just say "NO MORE! I am staying here until I DIE!" Well, maybe that is a little dramatic.
So I am here, back, in the saddle. My house is in shambles around me, and I have little to no motivation to do anything about it, but I am working on it. Our meals have consisted of a lot of things that go directly from freezer to oven to table, or come out of the microwave. I don't remember the last time I actually baked anything. My poor camera has been sitting, all alone, in its poor camera bag, neglected.
The kids actually are loving the new place. You see, kids see the brightest side of things, and for that I am so thankful. We had to find a place that was relatively temporary and a lease that is easy to get out of due to a potential move out of state in the not-too-distant future. So instead of another house, we rented a "Mobile home" in one of the "Premier mobile home communities in the great state of Michigan." My secret is out. My location now officially matches my disposition.
The kids are thoroughly enjoying themselves though. We are within sight of the playground, where they have been spending most of their days. There are neighborhood kids that come and knock on the door to come and play. Their bedrooms are bigger. My kitchen is bigger.
MY bedroom is bigger and we have our own bathroom again! Hallelujah! Maybe there is more to like about this place than I originally though? This is a lesson in practicing being thankful for what I have, and being content where God puts me. And with us moving approximately every 20 minutes, I can always day-dream about the NEXT house. 😉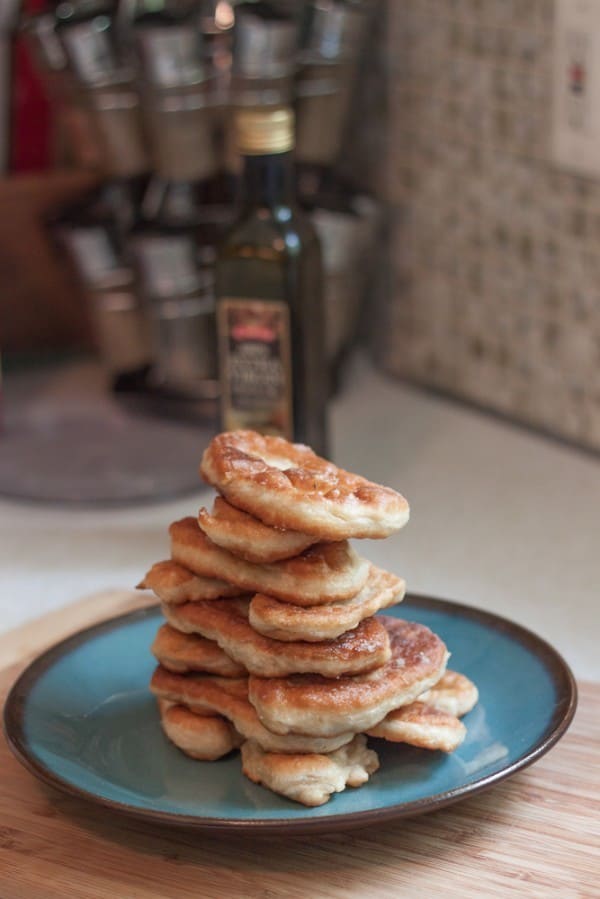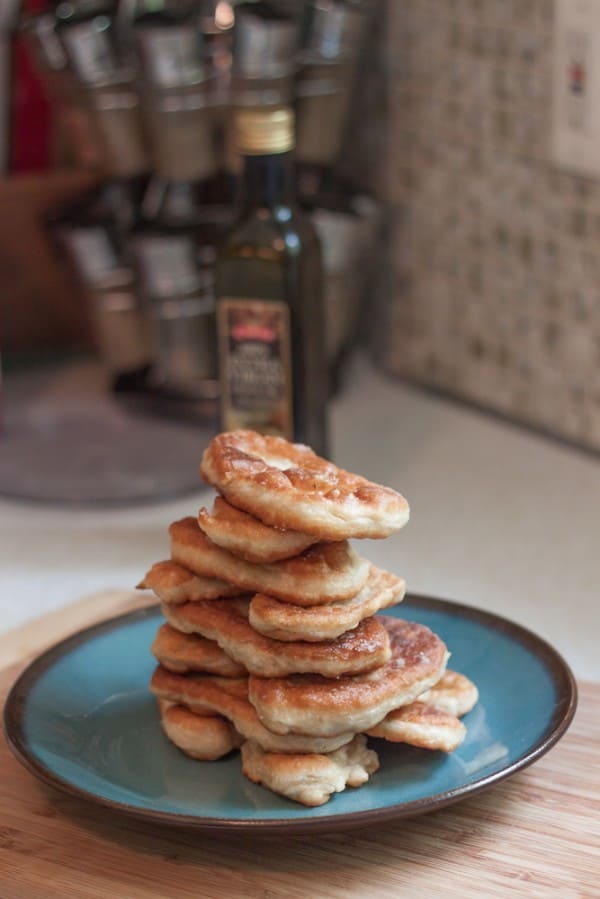 Onto the FOOD! That is what you are really here for anyway. If you skipped over the whiny drivel above, I totally forgive you. I would have too. This recipe comes from my sister-in-law Jen. She made us this fabulous stuff when we were out visiting in June, and I knew I had to snag it up for you all to share the pounds with. Because if you eat more than a crumb of this, it will stick directly to your butt. It is worth it though.
This garlic fry bread is not a diet meal. There is nothing low calorie, low carb, or low fat about this. I would plug it into a calculator and get actual numbers for this, but I am afraid if I knew I would never eat it again. And what is a life without garlic fry bread once in a while? This is a "once in a great while because I want to indulge" kind of thing. They are amazing. They go perfectly with spaghetti, as an appetizer on pizza night, or with anything you would normally serve garlic bread with.
How to make garlic fry bread
Start by mixing up a batch of pizza dough. Let it rise, and then punch down. You can find my pizza dough recipe HERE.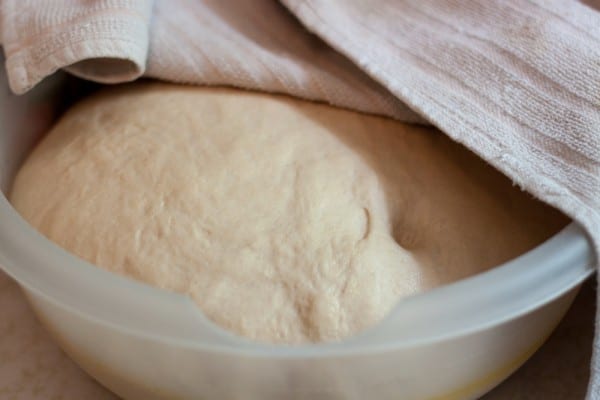 Melt your butter in a small saucepan over medium-low heat.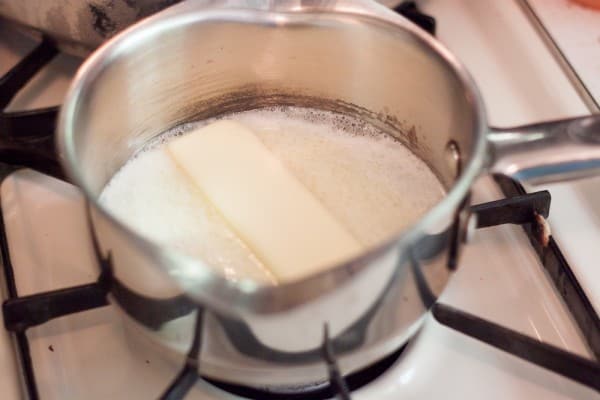 Add garlic and cook 30 seconds. Remove from heat and mix in garlic salt and parsley. Set aside. Preheat your oil in a frying pan over medium-high heat. Take golf-ball sized balls of dough and flatten in your hand into an oval shape. Place one into the preheated oil and fry until golden brown on one side.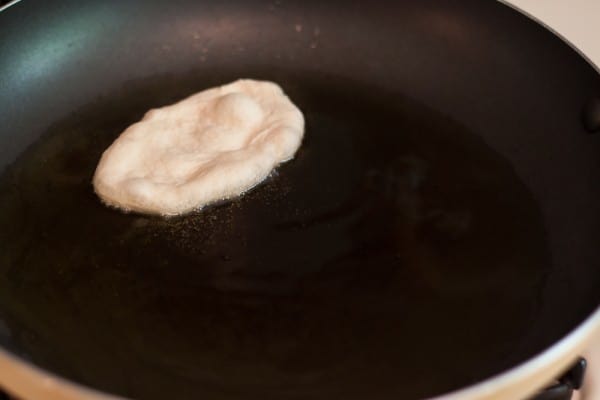 Flip and fry until golden on the other side and remove from pan. Test it to make sure the inside is fully cooked and not doughy. If all is well with your oil temperature, fry the rest of the dough as you did the first in batches. If the inside is still doughy, reduce the heat a bit before frying more bread.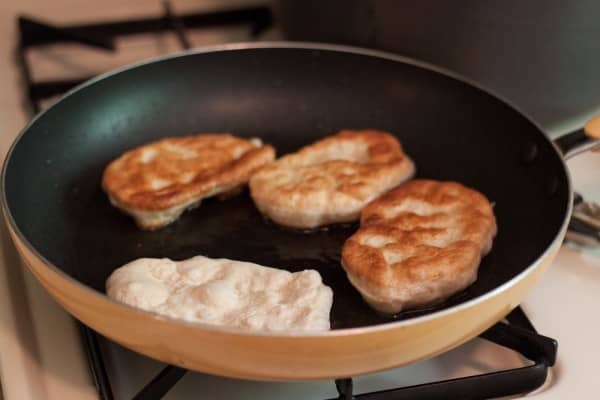 Remove when done from oil and brush on both sides with garlic butter mixture.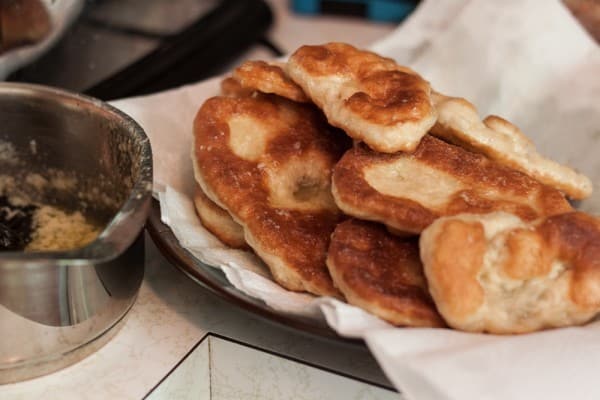 Serve hot, and enjoy this "once in a while" treat!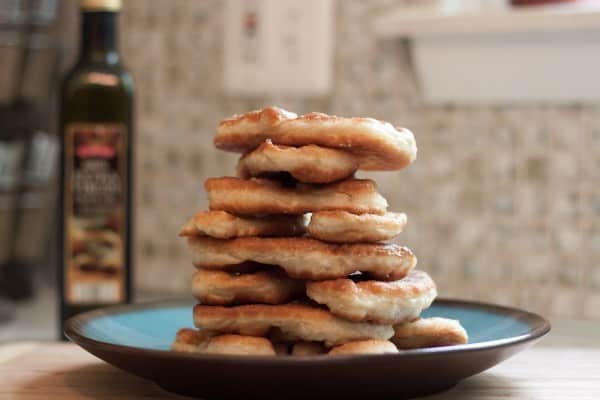 Yield: 6 servings
Garlic Fry Bread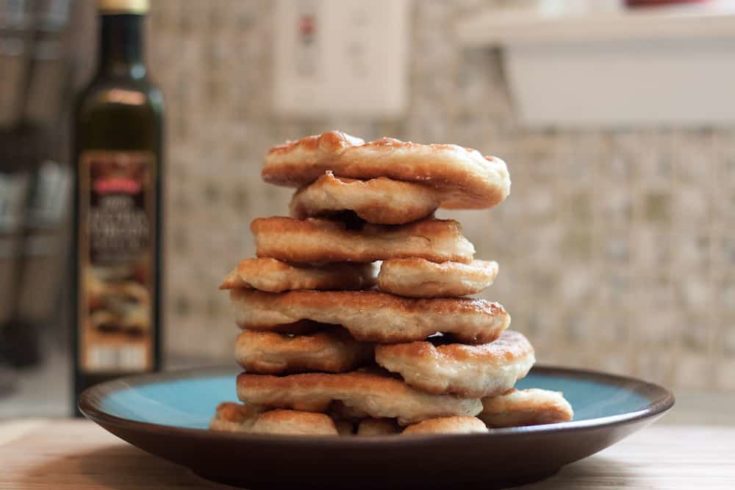 Buttery, garlicy, freshly fried pizza dough made into the perfect appetizer, or perfect side dish for your next pizza or spaghetti night!
Total Time
1 hour
20 minutes
Ingredients
1 batch pizza dough
1 stick butter
2 TBSP garlic, minced
2 tsp parsley
1/2 - 1 tsp garlic salt
1 cup oil, for frying
Instructions
Mix up a batch of pizza dough. Let rise, and punch down.
Melt butter in a saute pan and add garlic. Let cook 30 seconds. Remove from heat. Mix in parsley and garlic salt. Set aside.
Preheat oil over medium to medium-high heat. Pull off small golf-ball sized segments of dough and flatten into oval shapes. Place in hot oil and fry until golden brown. Flip and fry other side until golden brown. Test first one to make sure they are fully cooked. If still doughy inside, place back into oil and reduce the heat a little for the rest of the cooking.
Remove to a paper towel and brush with garlic butter mixture. Serve hot.
Recommended Products
As an Amazon Associate and member of other affiliate programs, I earn from qualifying purchases.
Nutrition Information:
Yield:
8
Serving Size:
1
Amount Per Serving:
Calories:

361
Total Fat:

40g
Saturated Fat:

9g
Trans Fat:

1g
Unsaturated Fat:

28g
Cholesterol:

30mg
Sodium:

203mg
Carbohydrates:

2g
Fiber:

0g
Sugar:

0g
Protein:

1g