Traeger Apple Cake is a perfect way to bake a cake. In this case, apple cake is transformed by the magic of pellet grill baking. Bet you didn't think you could bake a cake on your pellet smoker. Well, guess again.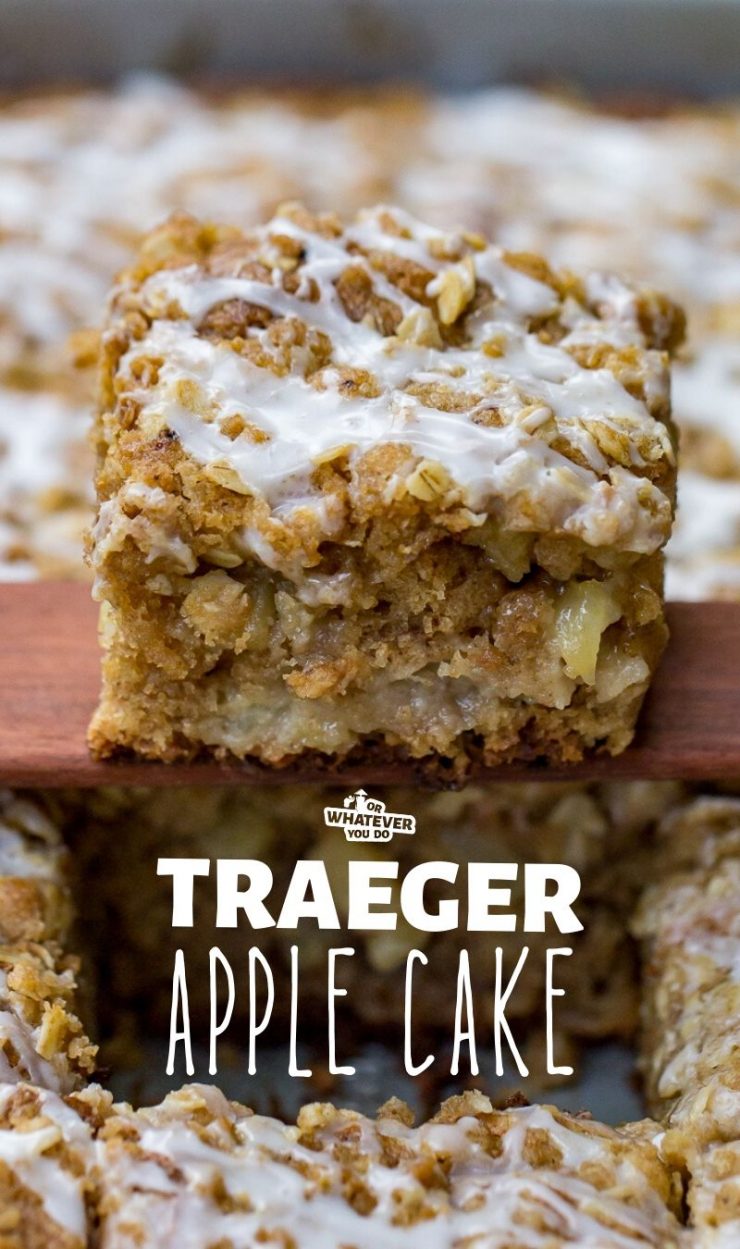 Traeger Apple Cake Recipe
Apple cake is one of those desserts that I'll make all year long. Typically we think of apple cake as a fall dessert, but when you have a Traeger or other brand of pellet grill you can really keep baking all year long.
This is the perfect cake for a Sunday morning. It is great for a dessert too. Make sure to warm it before you serve it though! That's when it REALLY shines.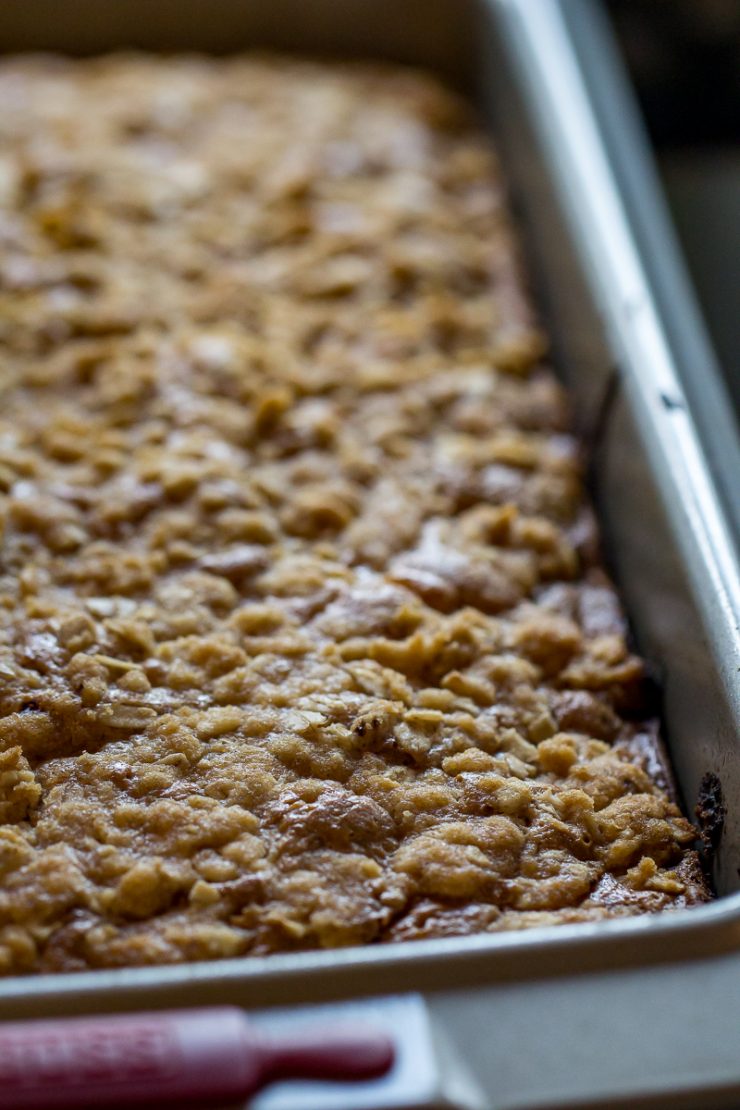 Baking Apple Cake On A Traeger Grill
If you don't have a Traeger pellet grill, then any pellet grill will do the trick. Pellet grills make it easy to get a good even temp which is ideal for baking. When you cook at higher temperatures the smoke is really a non-factor. There is a touch of it, but it really works here. Remember this is how your grandma's grandma's grandma used to bake the cakes everyone loved back in the day.
This recipe is the same cake recipe as my apple streusel coffee cake recipe, but done on the Traeger. I have said before that I try to find new and novel ways to use my Traeger smoker, and if a smoked streusel coffee cake doesn't qualify then I don't know what does.
Check out all of my Traeger Recipes!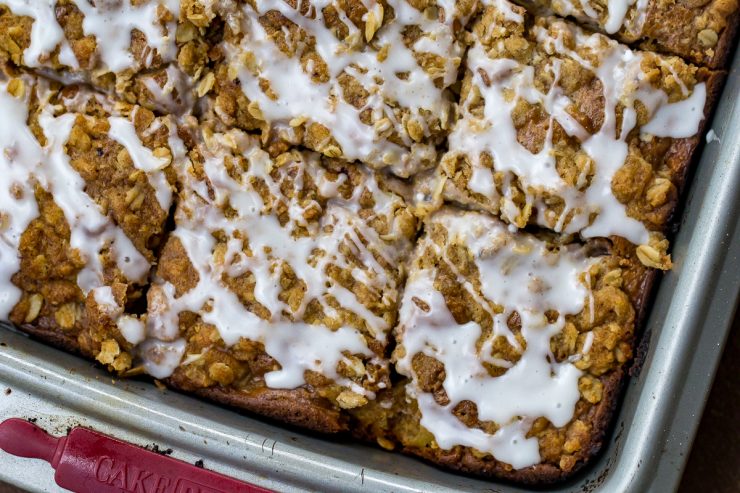 Where do streusel coffee cakes come from?
Streusel coffee cakes come from Germany where they are known as "streuselkuchen". It is a light and crumbly cake that is super easy to make. By "crumbly" cake, I don't in any way, shape, or form, mean to suggest the cake is dry.
In fact, far from it.
This cake recipe is actually quite moist. Even baked in a pellet grill for an oven, the cake is moist and spongy and delicious. The crumble part comes from the streusel-style crumbles on top of the cake. That is what gives streusel style cakes its name.
Why they became so popular a cake to go with coffee, I'm not sure. I guess you could just as easily refer to it as a tea cake if you prefer tea to coffee. All I do know is they go really well with a hot beverage.
Get all of my easy dessert recipes here!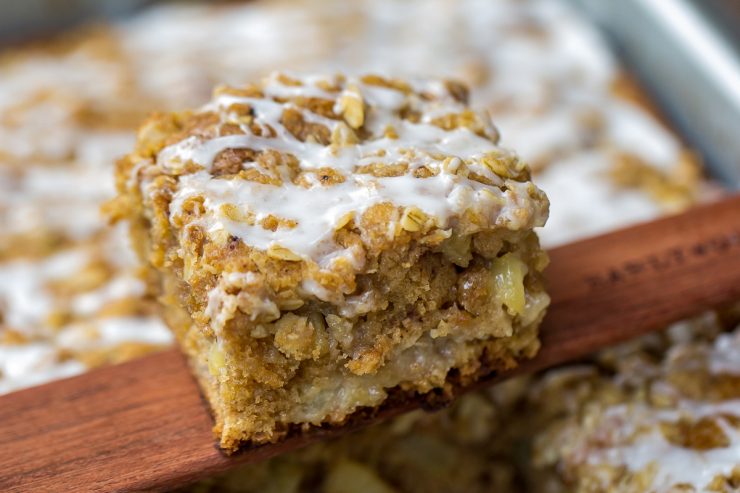 What is streusel?
Streusel refers to that brown sugar, cinnamon, and oats topping baked on top. Think of streusel-style toppings as a frostless frosting. Instead of a creamy butter-based style frosting, you create a sweet nutty crumble on top. You don't lose the sweetness of a spread-on sugar and butter frosting.
The thing about streusel cakes is there is no denying how well they go with coffee or tea. Just wait until you try one that has been baked in a pellet grill.
You may be tempted to serve it as a main course.
Follow me on Instagram!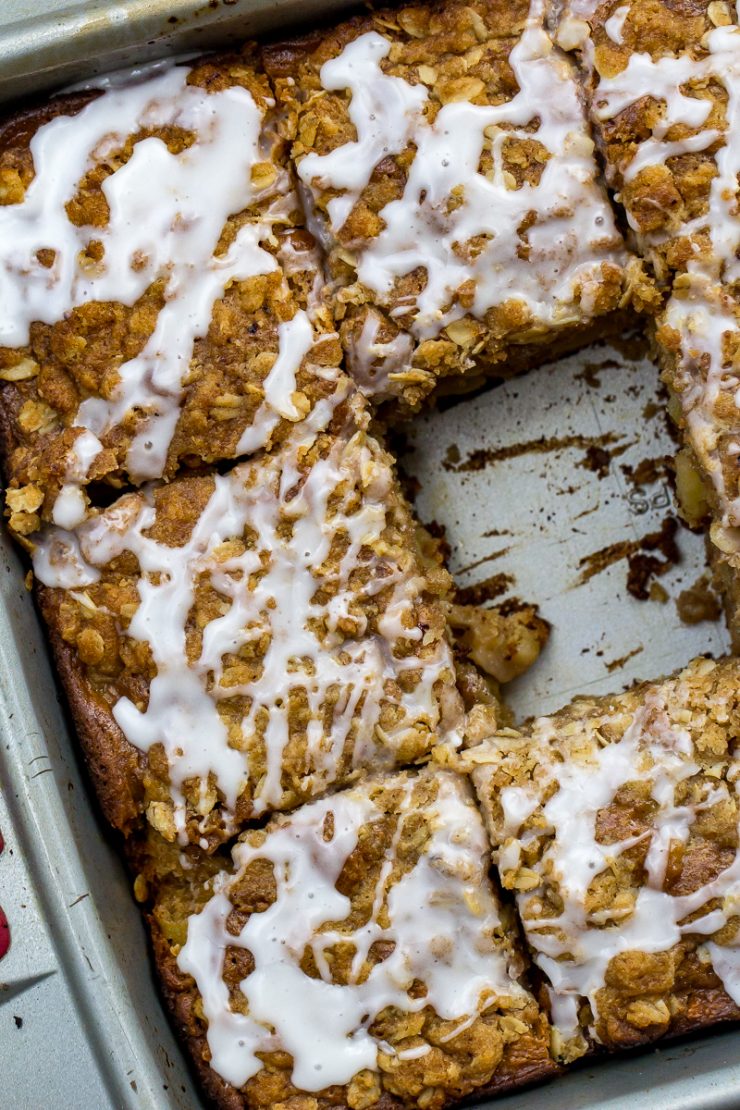 What kind of apples work best?
Some apples are better for baking than others. Apple varieties like honey crisps and granny smiths are perfect. They don't tend to get mushy during the baking process. You can actually use any style of apple, like Golden or Red Delicious too.
I like the granny smiths for the bit of tartness they add. It helps offset the sweetness just a little bit and they still have a modest amount of crunch, even after baking. Oftentimes, I'll buy a few different types of apples to use in my apple dishes so there is some variety.
More great BREAKFAST RECIPES here!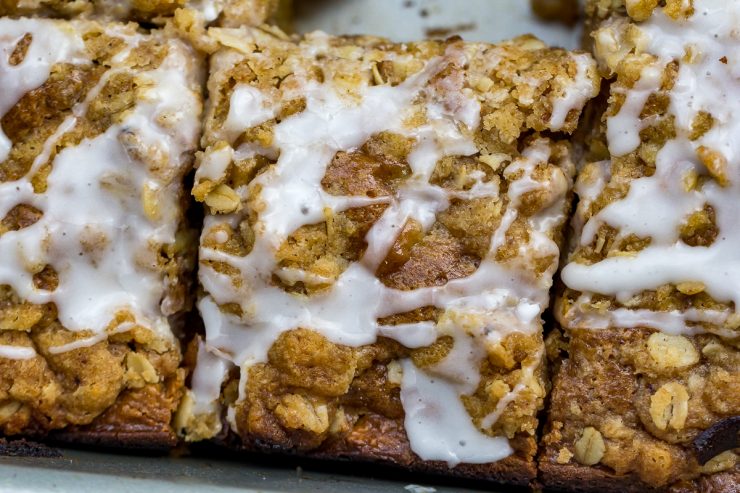 Cinnamon And Apples
Cinnamon has been making apples taste better for thousands of years. The earliest reference to cooking them together goes back to the 1300s, but that just means that someone figured it worked so well he or she wrote it down.
Cinnamon comes from the bark of a variety of evergreen trees. It is actually the inner layer of bark. If you ever thought bark was something you would only eat if you were desperate, like really really desperate, guess again.
Cinnamon goes great on many things, but when it comes to apples, cinnamon holds a special place of greatness.
Check out our OWYD shop!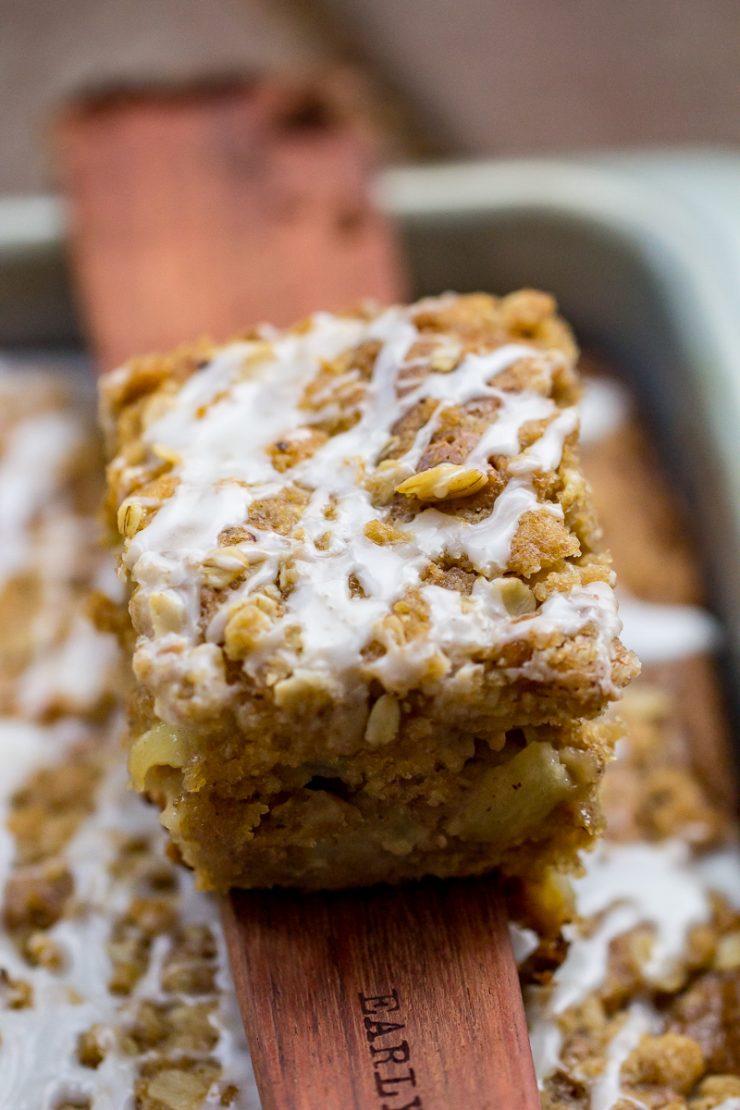 More dessert recipes to cook on the pellet grill!
You know when you get it in that bake something sweet mode, but your house is already hot so firing up the oven isn't an option? Or maybe it is a holiday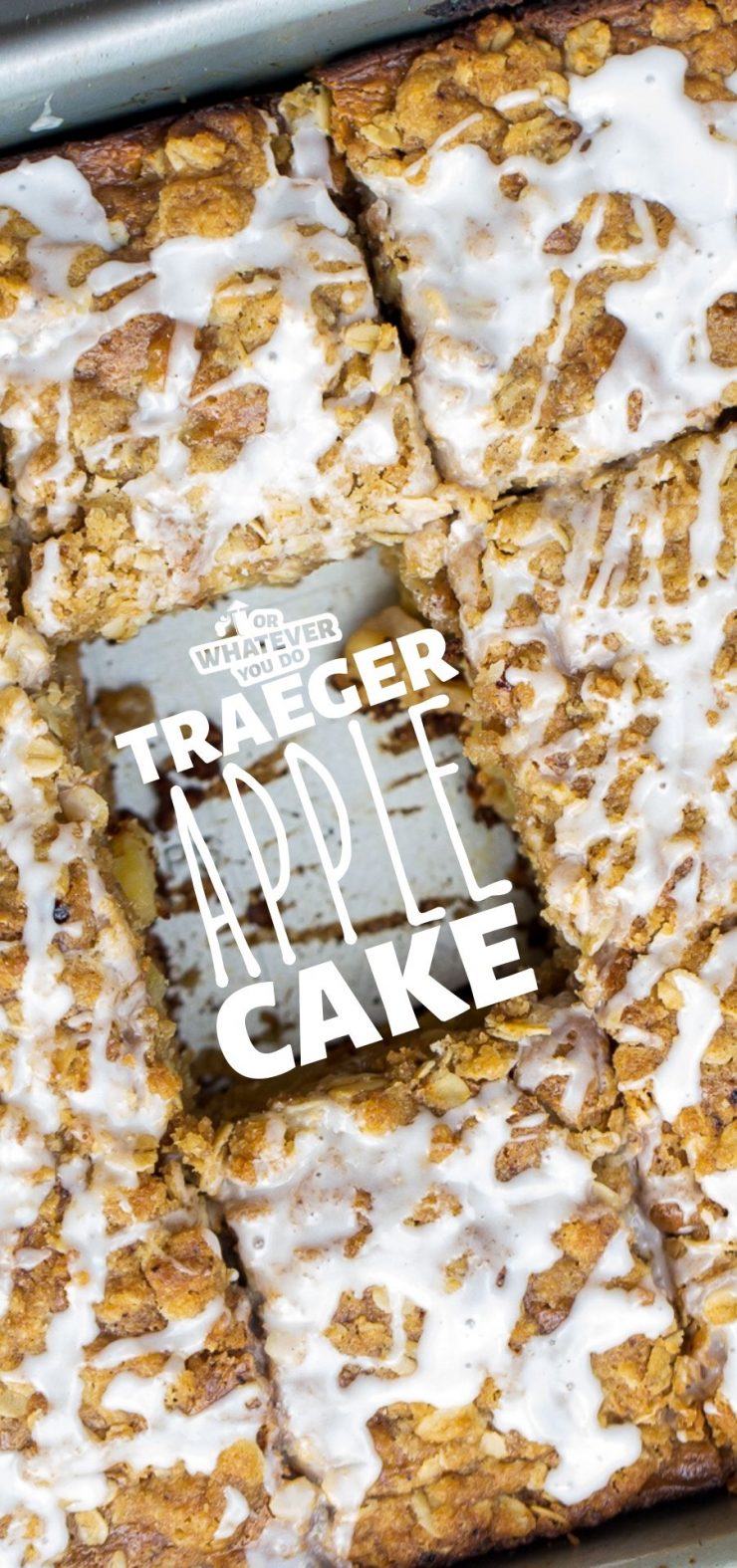 Yield: 12 servings
Traeger Apple Cake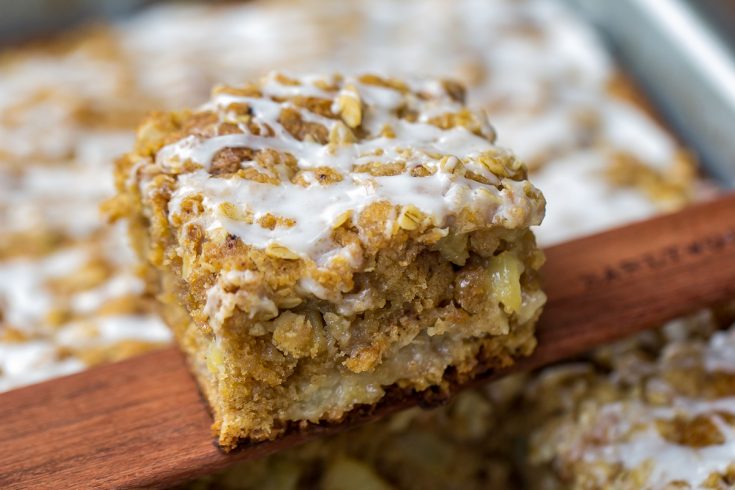 This delicious fruit-filled coffee cake is cooked on your pellet grill! Apples, streusel, and a glaze that's simple and amazing, you'll want to reheat this for breakfast all week!
Ingredients
Cake:
1/2 cup canola oil
1 1/2 cups brown sugar, firmly packed
1 egg
1 cup sour cream
1 tsp baking soda
1/2 tsp baking powder
1 1/2 tsp vanilla
2 1/2 cups flour
2 lg apples, finely diced
Streusel:
1 stick butter, softened and cut into cubes
1/2 cup brown sugar, packed
1/2 cup flour
1/2 cup oats
1/2 - 1 tsp cinnamon
Glaze:
2 cups powdered sugar
1 teaspoon Apple Cinnamon blend (optional)
3 tablespoons milk
Instructions
Preheat your pellet grill to 325° according to factory directions.
Mix together the oil, sugar, egg, sour cream, baking soda, baking powder, baking soda, vanilla, and flour in a mixer until well combined. Add in diced apples and fold in.
Spread batter into a prepared 9x13 baking pan. Mix together streusel ingredients by hand until crumbly, and sprinkle evenly over the top of the batter.
If you have a second rack in your pellet grill, place the cake on the top rack. If you do not have a top rack, invert a 9x13 high-sided empty pan and place on the rack, and then place the batter-filled pan on top to create some additional space between the bottom of the cake pan and the fire below.
Bake in a preheated 325° pellet grill or oven for 35-45 minutes, or until a tester comes out with only moist crumbs.
Cool for 10 minutes, and serve warm if possible.
Recommended Products
As an Amazon Associate and member of other affiliate programs, I earn from qualifying purchases.
Nutrition Information:
Yield:
12
Serving Size:
1
Amount Per Serving:
Calories:

452
Total Fat:

21g
Saturated Fat:

8g
Trans Fat:

1g
Unsaturated Fat:

12g
Cholesterol:

47mg
Sodium:

207mg
Carbohydrates:

61g
Fiber:

2g
Sugar:

34g
Protein:

5g