A big delicious smoked turkey leg is something that most everyone has had, or at least smelled. Whether at your local fair or at Disney, these Traeger Smoked Turkey Legs are a classic dish that is easily made at home right on your pellet grill.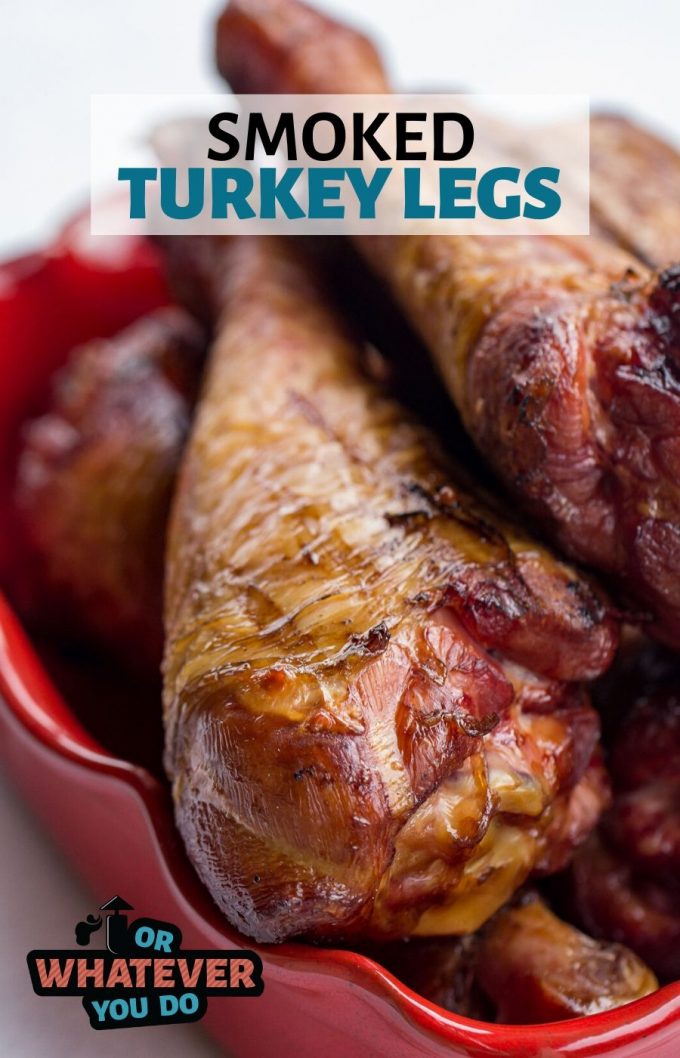 Traeger Smoked Turkey Legs
Smoked Turkey Legs are something that has been around for a very long time, but aren't a dish that usually shows up on your family dinner table.
If you aren't frequently at Disney you may be able to find a good variety of these at your local bbq joint, but even that isn't a certainty.
The other choice is to buckle up and make these yourself, and I think you're going to find it is way easier than you imagine.
Try our Traeger Smoked Turkey too!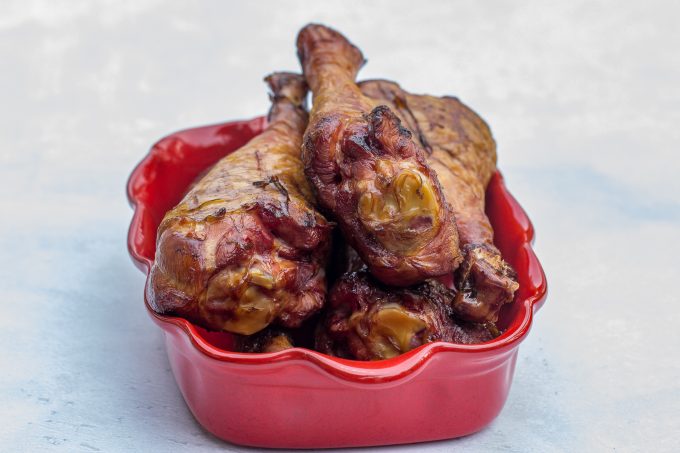 Smoked Turkey Legs Shopping List
The list is short for these beauties, but there are some odd ingredients that you might have to order online. If that's the case, I have some options down in the recipe card for you to check out.
Turkey Legs (the brine recipe is enough to brine 8-12 legs)
1 cup bbq rub (I love the Spiceology Poultry Spice myself and that's what I used!)
Curing Salt (aka, pink salt, Prague powder)
brown sugar
bay leaves
whole peppercorns
More Easy Traeger Recipes here!
Where to buy turkey legs
Turkey legs should be at most of your local grocery stores. I find them very regularly at all of the grocery chains around town. If you have trouble finding them locally, check your local farms for availability, or you can also check out some farms that'll ship (I've never used their services, just found them on the Google).
How to smoke turkey legs
To properly smoke turkey legs, first you need to brine them for 24 hours.
After you brine then, rince off the excess brine and dry them off well, and toss them right on your smoker.
Let them smoke for 4-5 hours, or until the outsides are golden brown and the interior is fully cooked. You can cook them to 165 or you can cook them to 180°, the debate is on about which one is best.
I, personally, prefer the 180° cook. Don't worry too much about drying the legs out. The smoke and the brine make sure that won't be a thing.
See my Whole Smoked Turkey recipe too!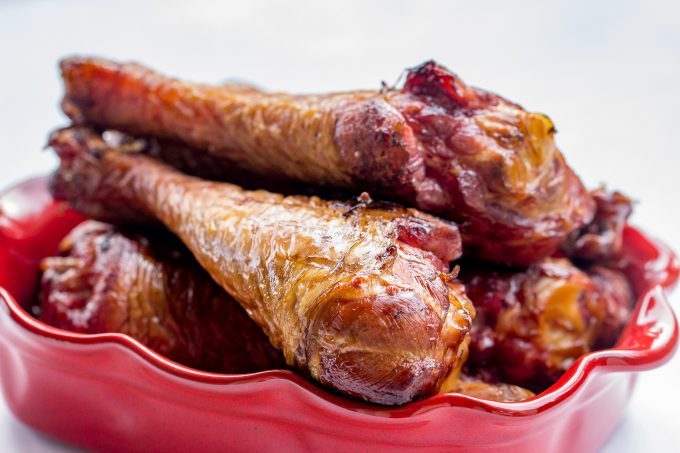 How to prepare the brine
To make the brine, you first need to heat it up in order to dissolve all of the salt you've got going on. So throw a large stock pot onto the stove and put two gallons of water inside along with the curing salt, poultry seasoning or bbq rub, and the rest of the herbs and spices.
Simmer the brine for 5-10 minutes, or until the salt it is fully dissolved.
Once the brine is finished with the cook portion, you'll want to remove it from the heat and let it cool for about an hour.
Next, dump in the ice water, and stick the whole thing in the fridge and let it chill for 4-6 hours.
Make sure that you don't put your turkey legs into the brine before the brine is chilled. Especially if the brine is hot. Hot brine will start to cook your turkey legs and you don't want that to happen at this stage.
Make our Turkey Noodle Soup too!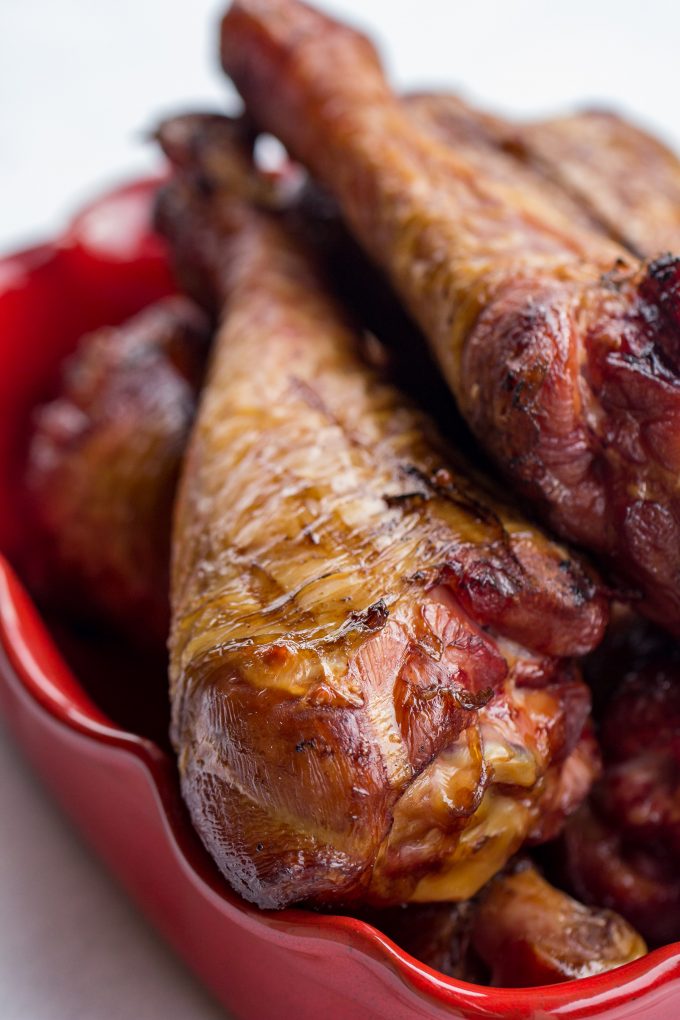 How long do you cook turkey legs?
The time it'll take to finish smoking your turkey legs depends on a lot of different factors, but generally speaking you should plan on between 3-5 hours.
You want the end result to be golden brown, and the inside to be fully cooked. In order to be fully cooked, it needs to be at least 165°. Most people prefer turkey legs to be cooked a bit further than that though to help to dissolve the connective tissue in the legs to make for better eating.
Do you have to bring turkey legs before smoking?
You don't HAVE to, but if you don't brine the end results will be much different. It also won't have that signature pink color inside that is there because of the curing salt + the smoke, and the meat will be tougher too.
Serve with my Dole Whip with Rum!
Do smoked turkey legs taste like ham?
A little bit, and that's intentional.
The pink Prague salt cures the meat while it brines, and gives it that signature flavor and color along with the long smoke from the grill.
You can skip the curing salt if you'd like, but you'll need to replace the salt with kosher salt to make it work.
What else can you serve with smoked turkey legs?
I like traditional bbq side dishes for smoked turkey legs, so I'd recommend you pick a few of the following: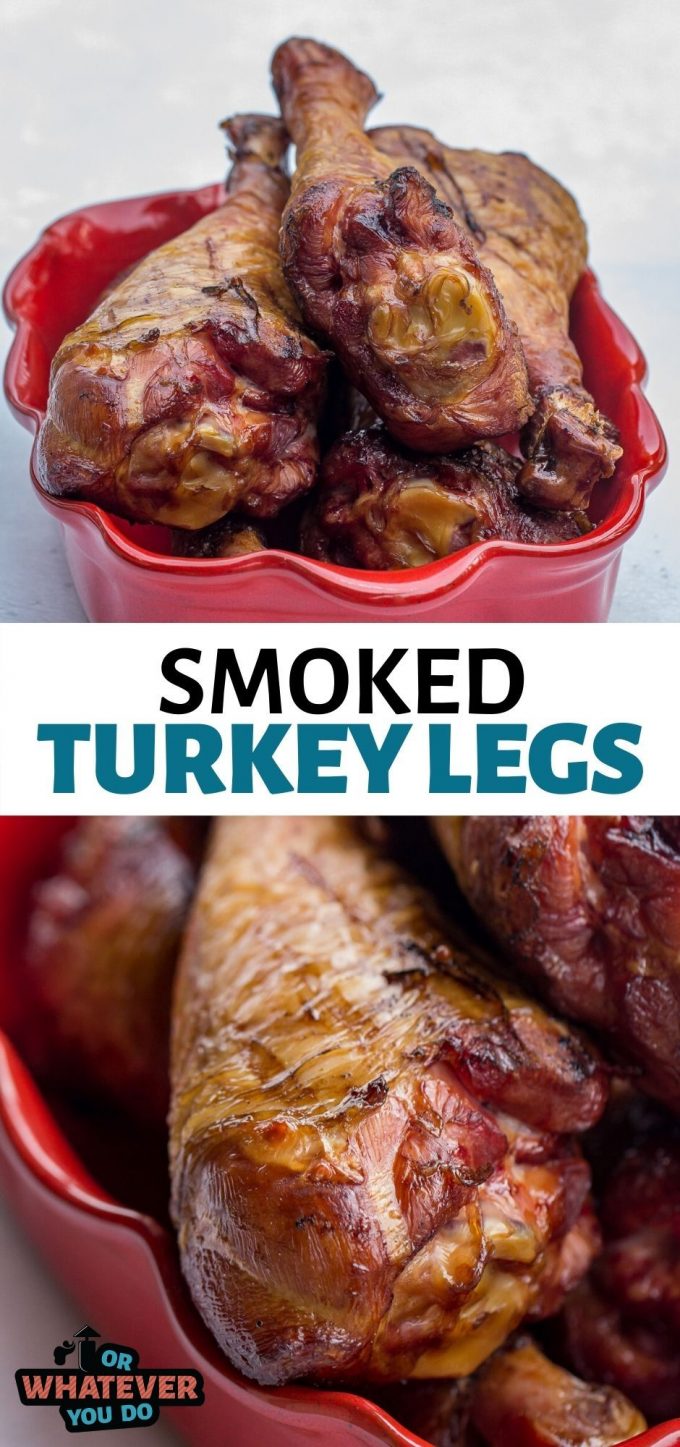 Yield: 8 servings
Smoked Turkey Legs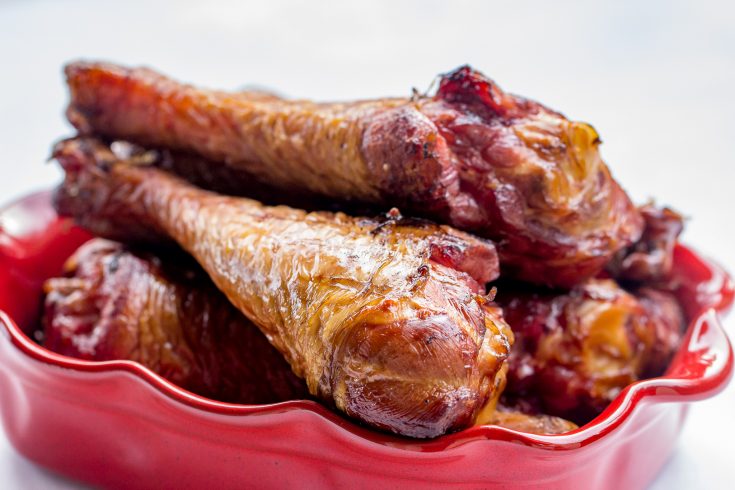 Traeger Smoked Turkey Legs made at home on your pellet grill! Brine them, smoke them, and enjoy one of the best bites that BBQ can produce.
Total Time
1 day
5 hours
20 minutes
Ingredients
8-12 turkey legs
1/2 cup canola oil
Brine
2 gallons of warm water
1 cup poultry seasoning
1 cup barbecue rub
1 cup curing salt
1 cup dark brown sugar
2 tablespoons black peppercorns
4 bay leaves
1 gallon cold water
8 cups ice
Instructions
Place 2 gallons of water and all of the salts, herbs, and seasonings into a large stock pot over high heat. Bring the mixture up to a boil, reduce heat and simmer for 5 minutes, or until all of the salt is dissolved.
Remove from the burner, let cool to room temperature.
Add in the ice and cold water, and place into the fridge until it is refrigerator temperature.
Add your turkey legs to the brine, cover, and let brine for 24 hours.
Preheat your pellet grill to 200°. Using hickory pellets for a strong smoke flavor, or milder fruit tree pellets for a less prominent smoke.
Rinse the excess brine from the legs and dry them well. Brush the skin with a light coating of oil, and place onto the smoker.
Let smoke for 3-5 hours, turning periodically, until the internal temperature is 165-180° and the exterior is golden brown.
Remove and serve hot!
Recommended Products
As an Amazon Associate and member of other affiliate programs, I earn from qualifying purchases.
Nutrition Information:
Yield:
12
Serving Size:
1
Amount Per Serving:
Calories:

701
Total Fat:

35g
Saturated Fat:

7g
Trans Fat:

0g
Unsaturated Fat:

25g
Cholesterol:

330mg
Sodium:

9785mg
Carbohydrates:

20g
Fiber:

1g
Sugar:

15g
Protein:

78g
Nutrition data provided here is only an estimate.