Dole Whip with Rum is an easy summer frozen cocktail that is perfect sipped lakeside or poolside out of a fresh pineapple!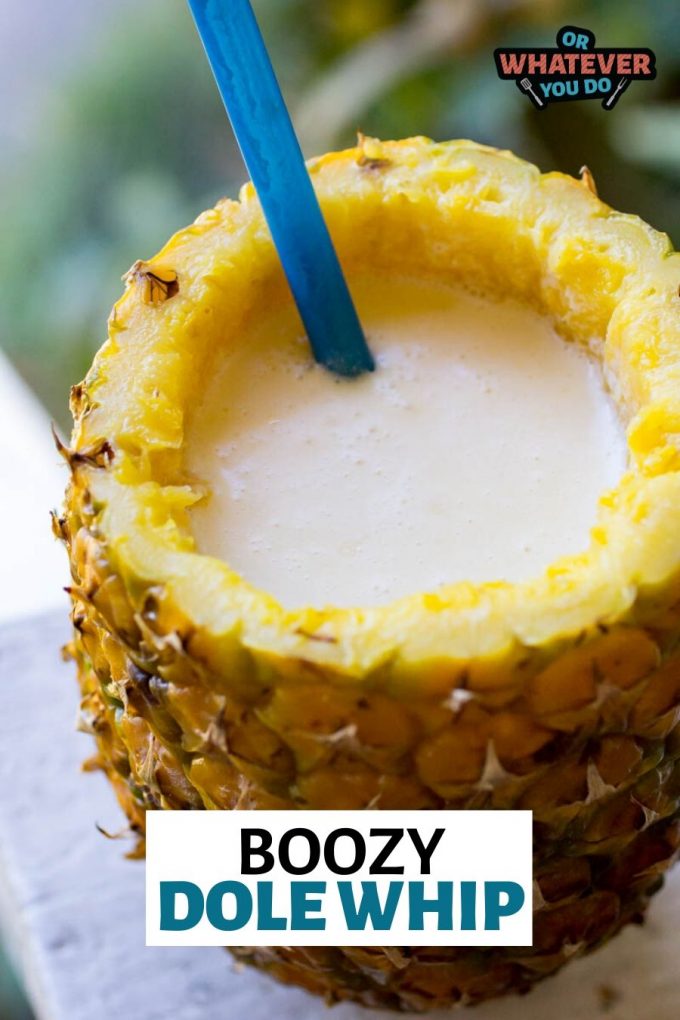 Dole Whip with Rum
So by now, you have probably realized that I love making drinks.
Like, really love it.
I spent over 10 years as a bartender, and part of the fun of that was mixing fabulous cocktails and blending up delicious frozen drinks. You'll probably have seen my Raspberry Margaritas, Blackberry Margaritas, Baby Blue Punch, Blue Hawaiian Long Island, and the ever-famous Pineapple Prosecco Cocktail.
This homemade Dole Whip with rum is great for summer, and especially for your summer parties. Plus, who doesn't love an actual pineapple for a glass?!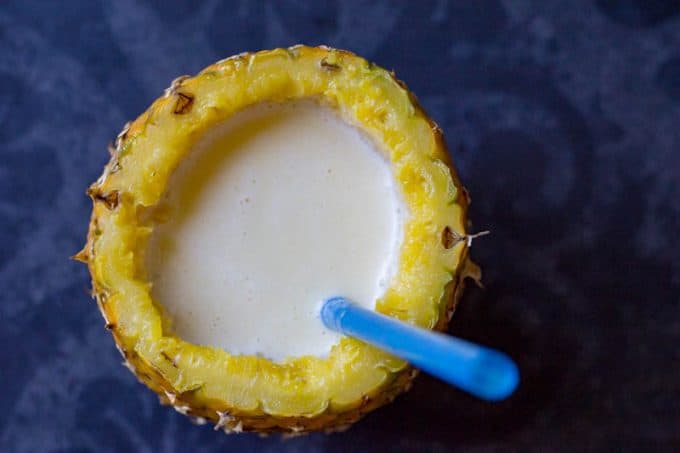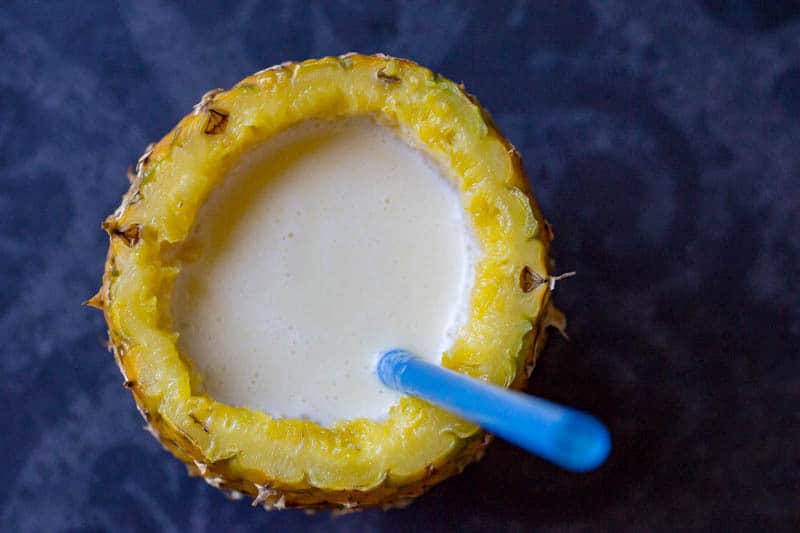 Where did Dole Whip come from?
This is my version of the famous Dole Whip, but the original Dole Whip was first introduced in 1986 by the Dole Food Company. Soon after, they started selling it at Disney World and now there is quite a cult following. The lines literally wrap around the Dole Whip stands I've heard!
Currently, there are six different flavors which include orange, strawberry, lemon, raspberry, and mango. The best one of all, and the original flavor?
Pineapple, of course.
So this is the flavor I chose to make here at home, far far away from all things Disney where I will always prefer to be. Sorry Disney fanatics. I remember every word of The Little Mermaid and a myriad of other Disney movies from my childhood, but I draw the line personally at long lines in sweaty weather with a bunch of screaming and cranky kids.
Before you go calling CPS on me or anything, I DO hope to get my bunch there with us (and some volunteer extra adults probably so I don't lose my actual mind), I just can't say with much certainty that I'll enjoy it all that much. 😉
You might want to try a different flavor, and you can do that really easily by just tossing in some more frozen fruit. I love keeping the summer harvest or farmer's market score in the freezer to pull out all year long. I really love the sound of the mango one, myself. So tropical!
I also chose to adult it up a little too. I used coconut rum because what goes best with pineapple?
Coconut. Hands down.
If I were to try my hand at an orange or lemon one and needed to add a little kick I would probably use regular rum or vodka.
You can easily make this recipe kid-friendly by leaving out the booze because I know your kids will love this just as much as my kids did.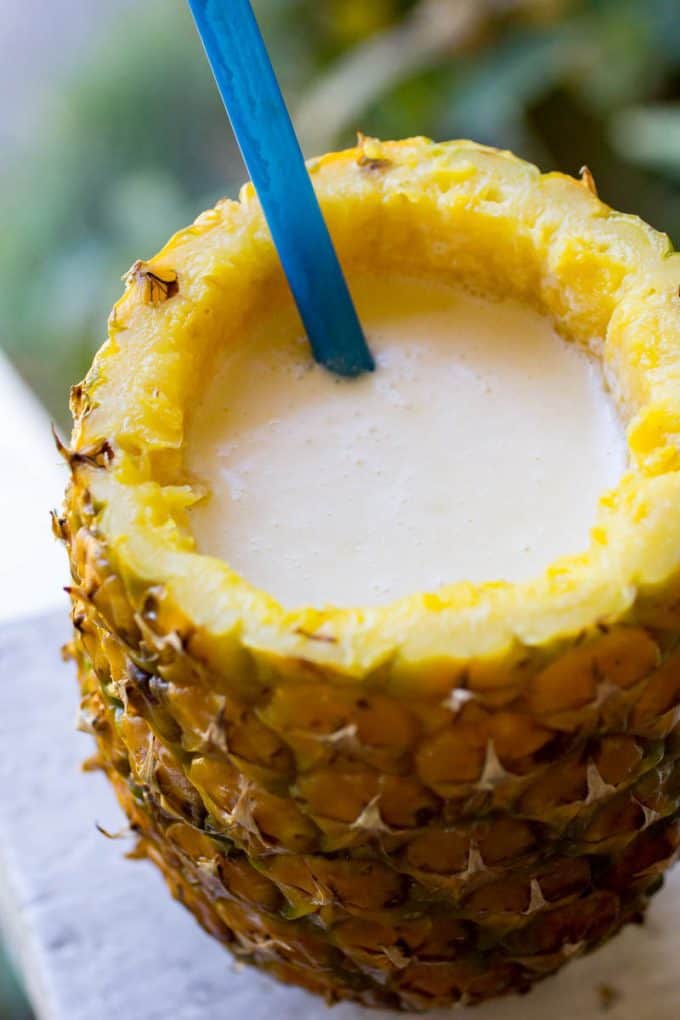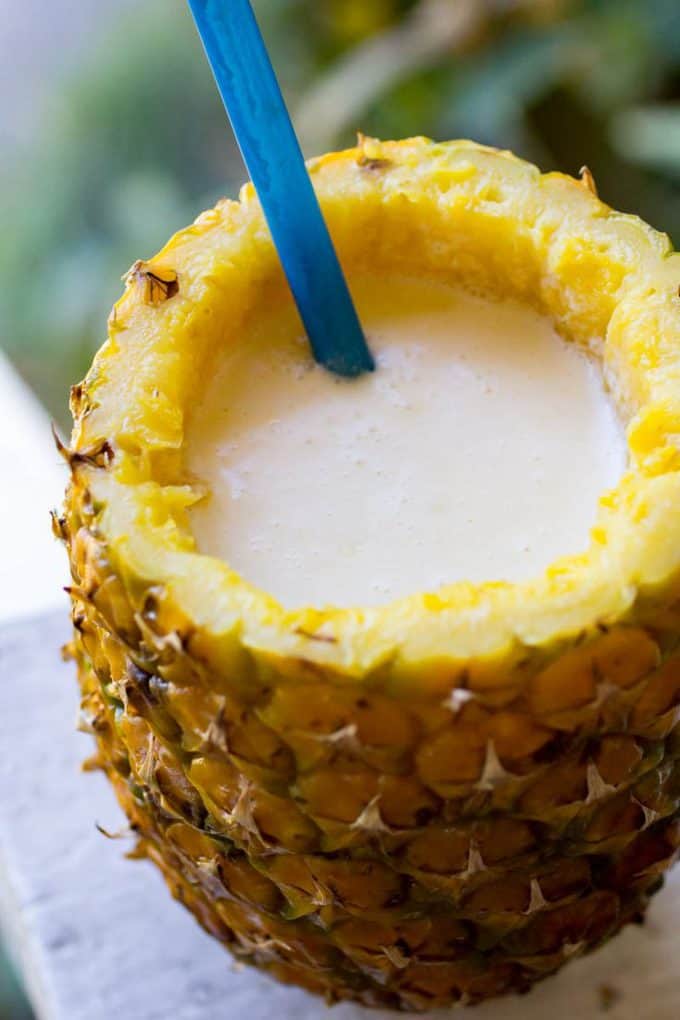 How to Core a Pineapple Without a Special Tool
While one of those fancy pineapple corers is the easiest way to go, they aren't totally necessary if you want to serve your tropical drink in a tropical cup.
First, just cut the top of the pineapple off. Then you take an extra sharp knife and stick it down the side of the pineapple, about a ½ inch from the outside edge. Gently cut around the pineapple.
Next, take a big spoon and scoop out the fruit. Be careful not to knick the edges! We definitely don't want a leaky cup.
Don't worry though, you won't be wasting that pineapple you dig out because you'll need it for the drink.
Place all the pineapple in the freezer, along with the coconut cream. Put that in popsicle molds or in ice cube trays for the best effects.
Before you pull it out, make sure it is frozen really good and solid because you need it to be in order to make this a true frozen drink. Once it has been frozen long enough, take it all out and place it in the blender and blend it really well. This would be a good time to take some out for your kids before you add the coconut rum.
Add some coconut rum and give it a few swirls around in the blender and you are all set! Pour into your pineapple and enjoy!
Perfectly refreshing and delicious Dole Whip with Rum. You really can't go wrong with this recipe.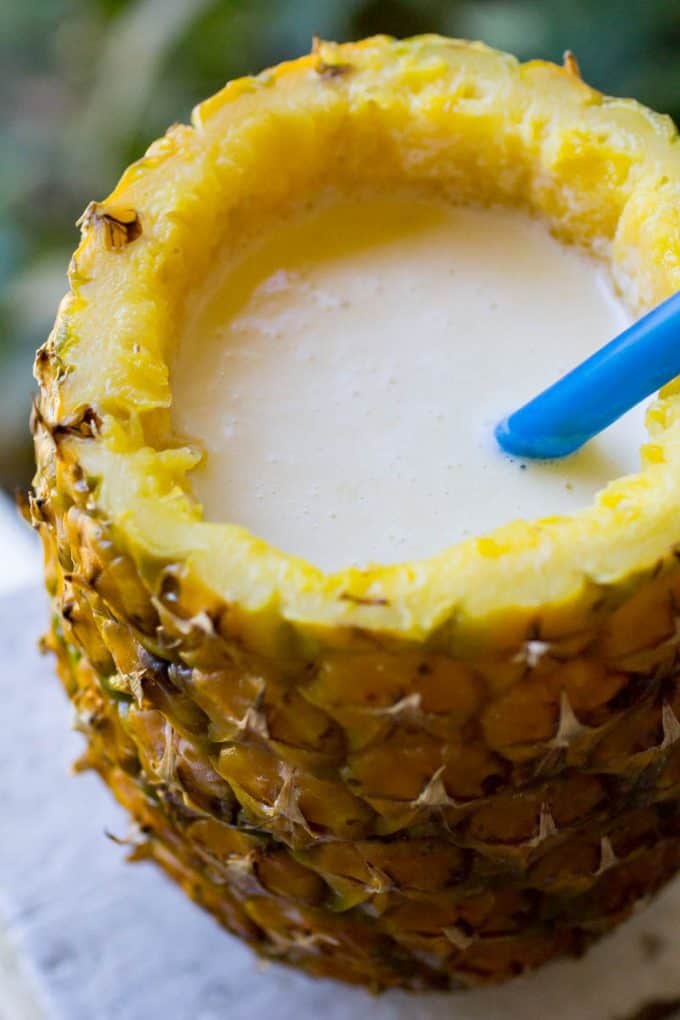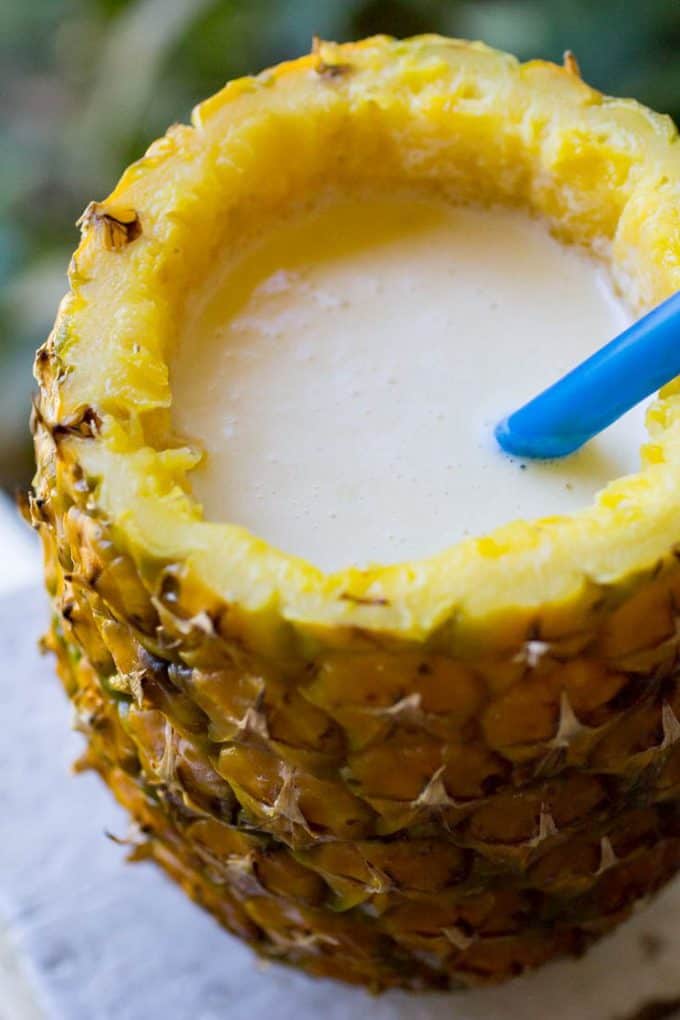 Does that sound like a lot of work? You can also buy a tool here!
Different Dole Whip Flavors?
I know that when I see a recipe, I think…hmmmm, how can I change this up a little to make this the way I would love it more?
One thing that I thought would be wonderful is a big ole scoop of vanilla ice cream in it. A Dole Whip float. They make those at Disney World too. Hope you're enjoying your summer! You'll enjoy it even more after you make this. 😉
Here are some ideas for mix-ins. Just add them in during the blend phase.
Strawberries
Ice Cream
Fresh Cherries
Mango
Ice Cream
How would you change it up? Which flavor would you choose?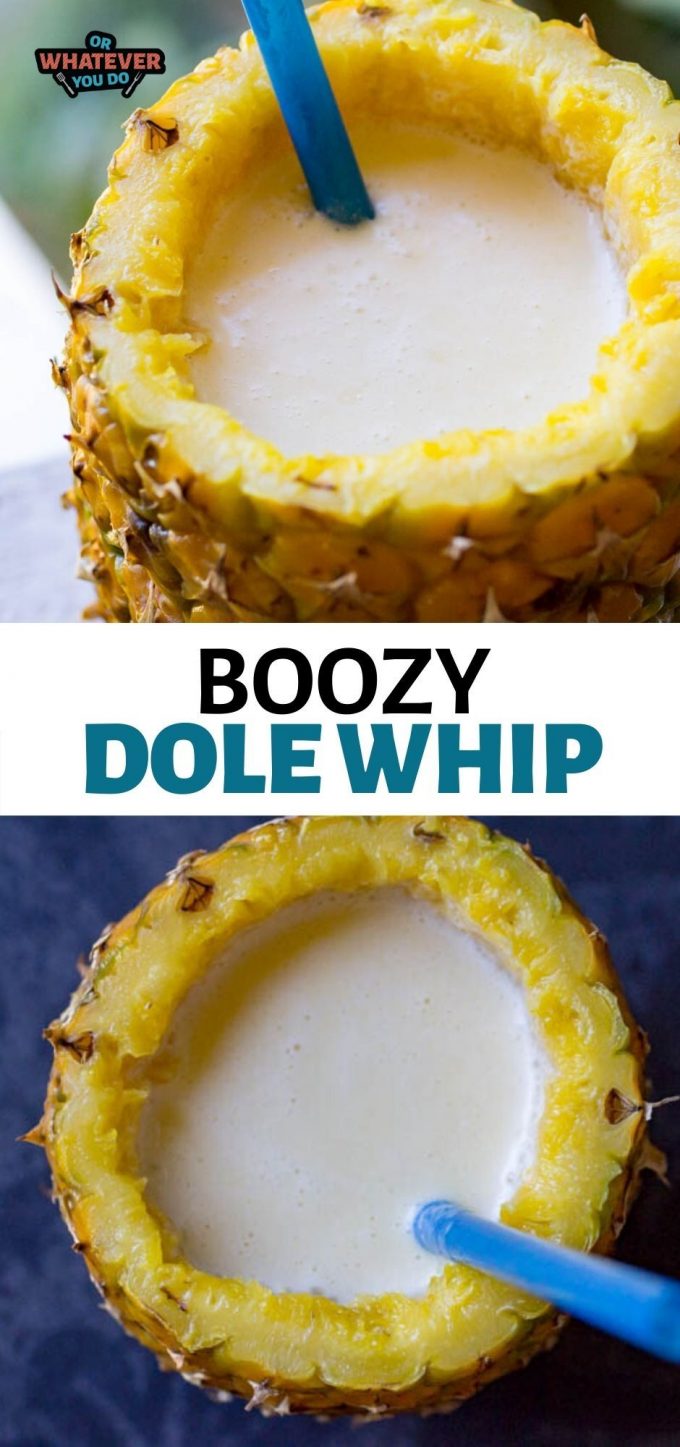 Yield: 1 drink
Dole Whip with Rum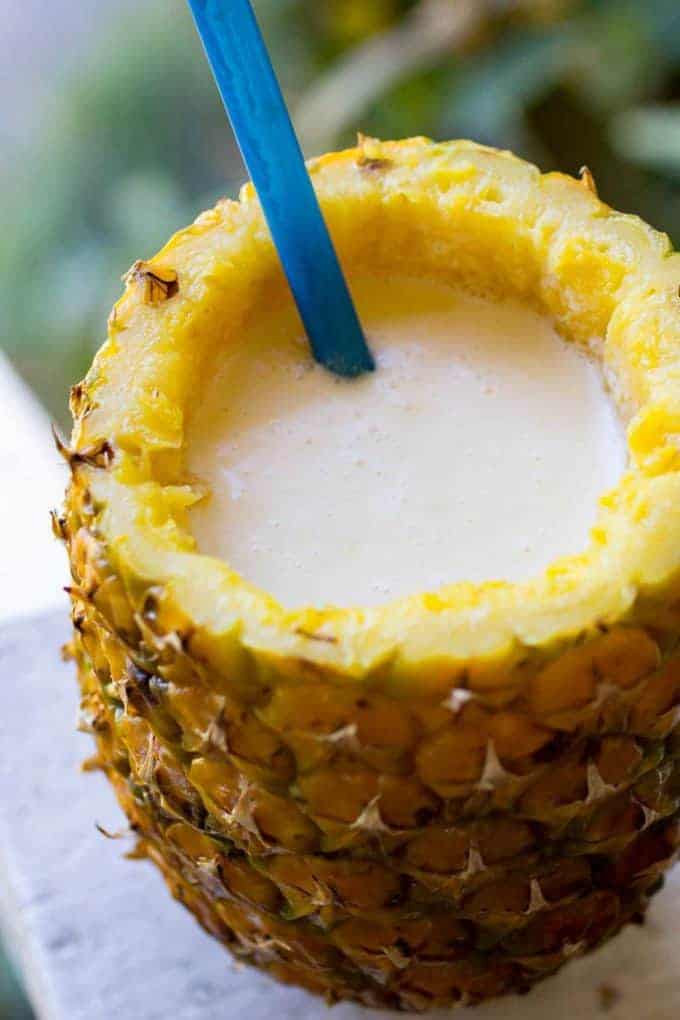 Delicious frozen homemade dole whip with rum is a fabulous drink to have on a hot summer day!
Ingredients
1 whole pineapple, cubed and frozen
1 cup coconut cream, frozen into cubes
3 ounces coconut rum
Instructions
Place the ingredients into a blender and blend until smooth!
Serve immediately and enjoy!
Recommended Products
As an Amazon Associate and member of other affiliate programs, I earn from qualifying purchases.
Nutrition Information:
Yield:
1
Serving Size:
1
Amount Per Serving:
Calories:

1290
Total Fat:

48g
Saturated Fat:

46g
Trans Fat:

0g
Unsaturated Fat:

3g
Cholesterol:

0mg
Sodium:

110mg
Carbohydrates:

195g
Fiber:

3g
Sugar:

184g
Protein:

4g
Nutrition data provided here is only an estimate.