The Camp Chef Pizza Oven is a propane-powered pizza oven that sits on top of the Sidekick attachment. It produces the most pizzeria-like crust you'll find outside of a true brick oven, and puts all other grilled pizzas to shame.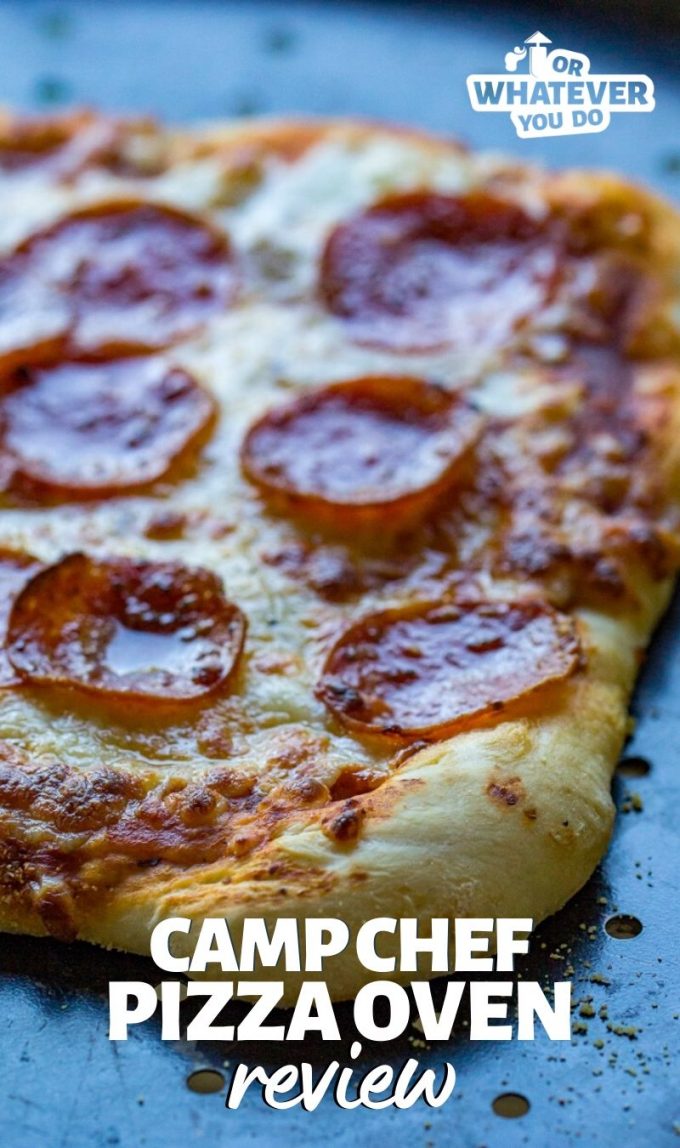 Camp Chef Pizza Oven Review
Last fall, Camp Chef reached out and sent me a grill and some accessories to test out.
The Camp Chef Pizza oven supposedly can simulate the brick ovens that make Italian pizza so famous. Even better, it actually runs on a small propane tank like you would use for any typical Coleman-style camp grill.
This post is going to detail my experiences with the Camp Chef Pizza Oven, give you some tips and tricks for success, and I'll even give you information on where to buy them too.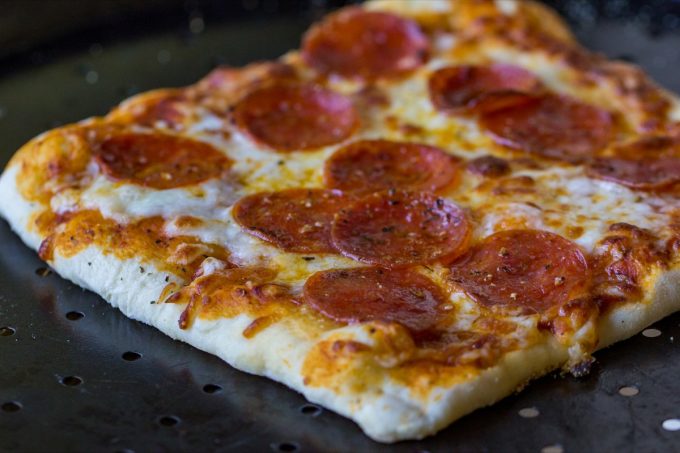 What makes a Camp Chef Pizza Oven great?
A pizza oven that can reach 700 degrees in a few minutes and cook real pizza in less than five is impressive. That high temperature is the golden zone of heat when cooking pizza. It helps cook the dough quickly and gives it the perfect pizzeria texture.
With the high heat, the goal is to get the exterior heated so the crust cooks quickly, with just a little bit of scorching. The scorched dough adds flavor complexity, but you still want the inside of the dough to stay relatively chewy.
At the same time, you need the ingredients on top to heat quickly. You need the cheese to melt, and the pepperonis to crisp up a bit. Whatever you prefer on your pizza. The sky is the limit. The most important thing is to have everything come out right at the right time.
Too hot and the bottom burns, and the top doesn't cook enough. Too cool, and you never get the bottom slightly scorched, which is a delicate balance. You want a bit of scorching, not for the entire bottom to be burned to a crisp.
The stone in the oven is ideal, but this is also the one part you need to be careful with. When stones cool too quickly, they can crack.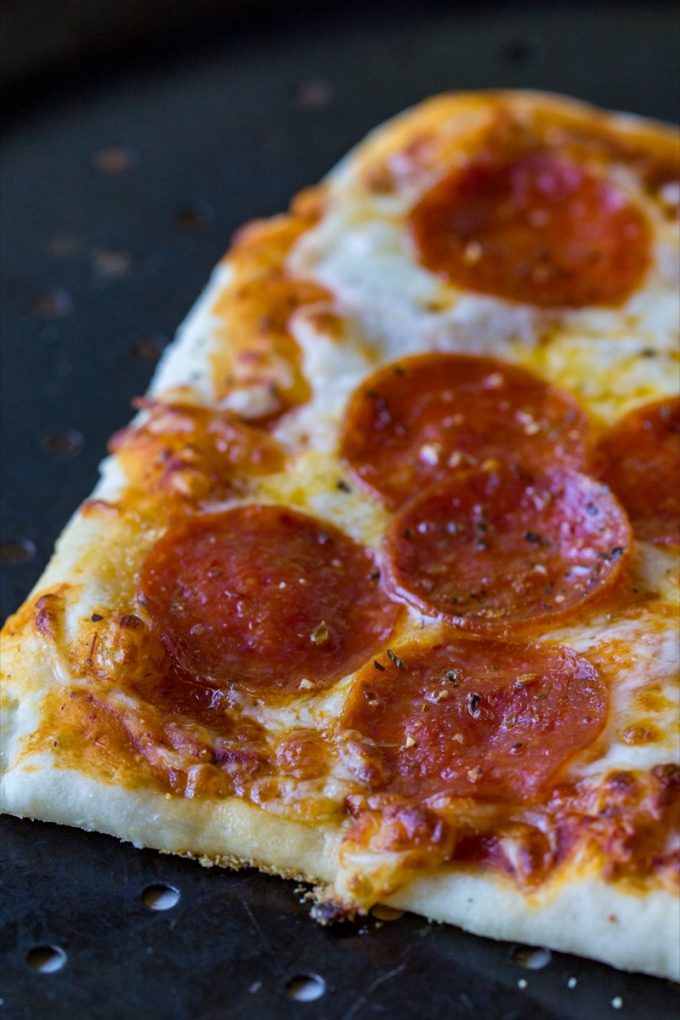 What's the secret to great pizza with the Camp Chef Gas Pizza oven?
It takes some trial and error.
Pizza oven cooking is different than regular oven cooking, but be patient! My first instinct was to think the oven had issues, but then I realized the obvious. I was just not used to cooking with heat that intensely hot.
Make sure you don't get over-ambitious and try to cook too many pizzas simultaneously. You need there to be air around the pizza for it to properly bake. You can cook a pizza the size of the oven, but I suggest making smaller ones. They come out better and are easier to get in and out of the oven itself while you are learning your way around a pizza peel.
I learned the hard way. You will quickly burn areas since the temperature gets uneven without proper air flow.
Also, the Camp Chef pizza oven works best for relatively thin-crust pizza. You can do a semi-thick crust, but you don't want the crust to rise so high the top gets burned.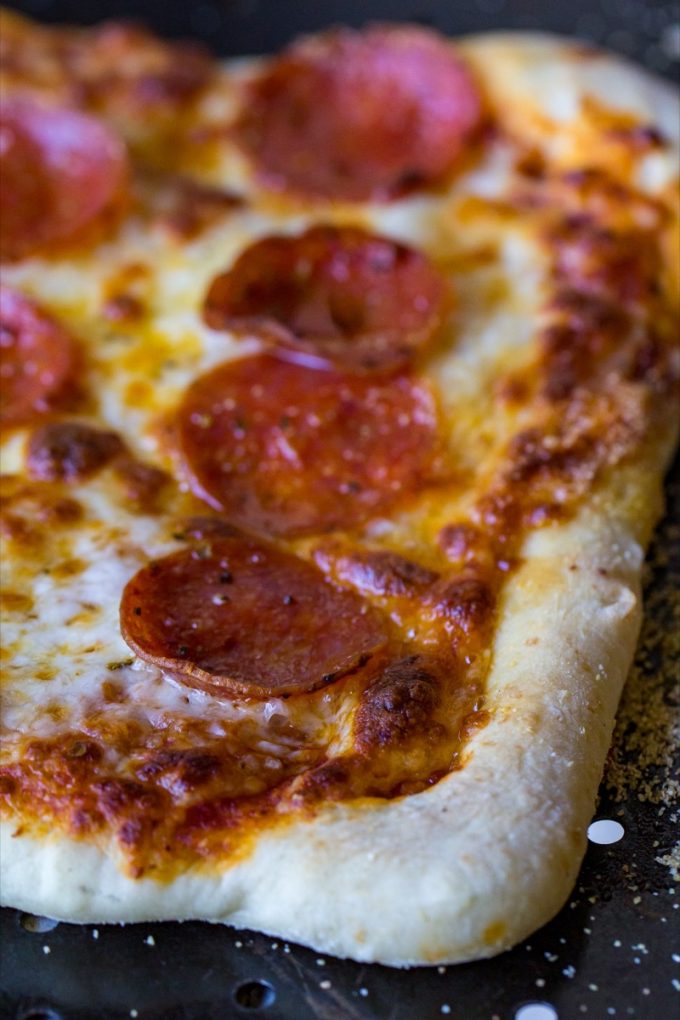 Can the Camp Chef Pizza Oven be converted to work with natural gas?
When I first used the Camp Chef pizza oven, I was talking about it later to a neighbor. He asked if it worked with other gas besides the little propane tank. I looked it up, and it does, but I would definitely say to consult a gas company about installation. It requires different hardware, etc.
You don't want to mess with flammable gas apparatus without the assistance of a trained professional!
Can you cook things other than pizza in this pizza oven?
Sure, but know that it is specially made for cooking pizza. It is like a rice cooker. Sure, you can cook other stuff in it, but it is truly designed to specialize in making pizza. If you are looking for a camp stove, many better options are available.
However, you can get away with doing some flatbread or breadsticks there. Calzones would work, as long as they are not too thick. Pasties would be a great option too.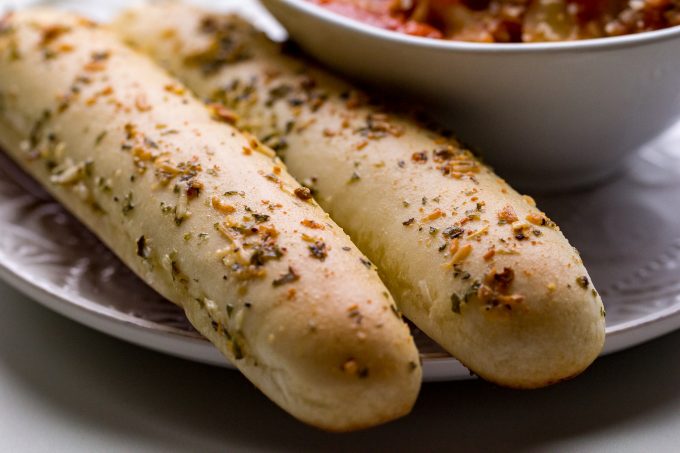 Final thoughts
I was skeptical about how this thing would work, but overall I'm impressed and I'm glad to have this in my outdoor kitchen arsenal.
Be prepared to fail a few tries before you get the thickness of the crust and the toppings down too. If you make pizza at home in your regular oven that only goes to about 450 or 500 degrees Fahrenheit then it can be a bit of a learning curve.
I highly suggest buying a big bag of corn meal and the pizza oven accessories kit. You can find links to those below.
While the version I tested requires the Sidekick (an attachment for a Camp Chef Woodwind Pellet Grill) to work correctly, there are standalone versions you can also buy that are very similar.
Overall, I like the Camp Chef Pizza oven. I would recommend it to anyone that loves making pizza. It is great outdoors on the patio, and if you are doing car or camper-style camping.
Curious about other types of pizza ovens? Check out this full review of all of the most popular gas pizza ovens in this The Best Gas Pizza Ovens post by Pala Pizza.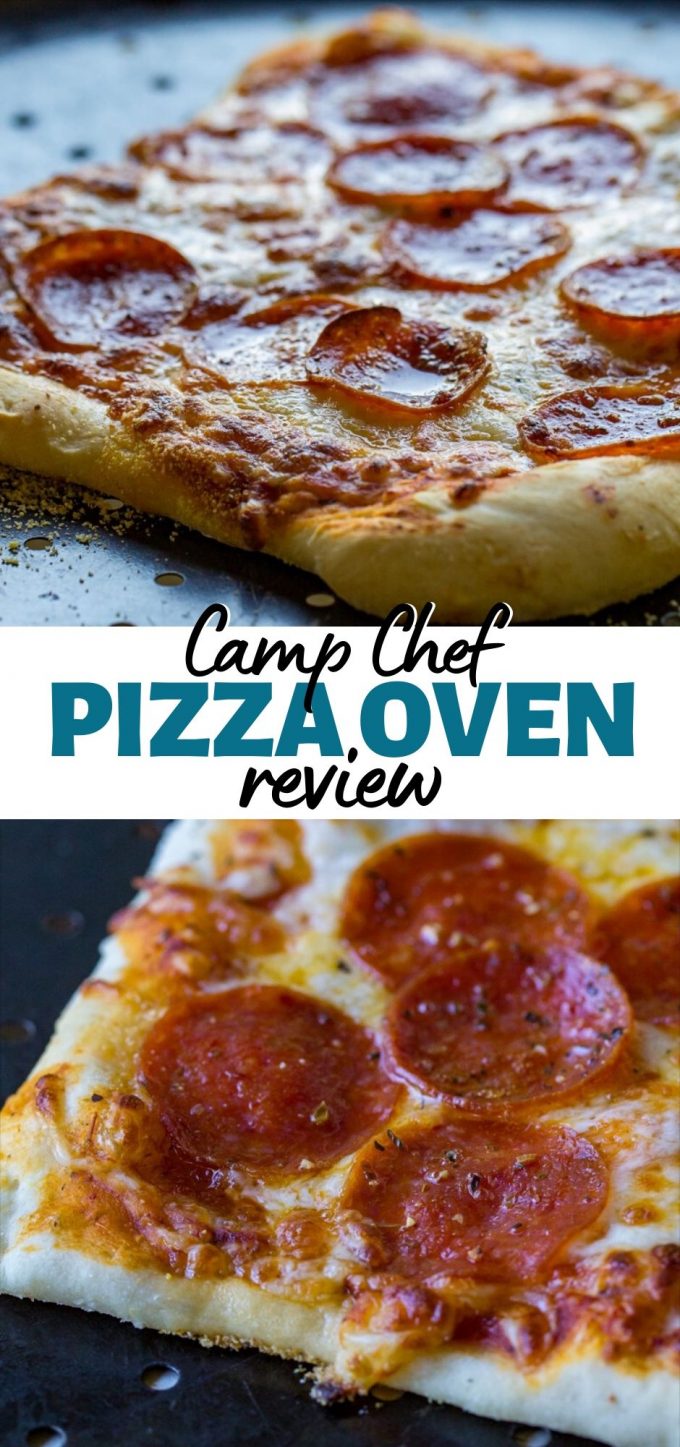 Yield: 4 pizzas
Camp Chef Pizza Oven Pizza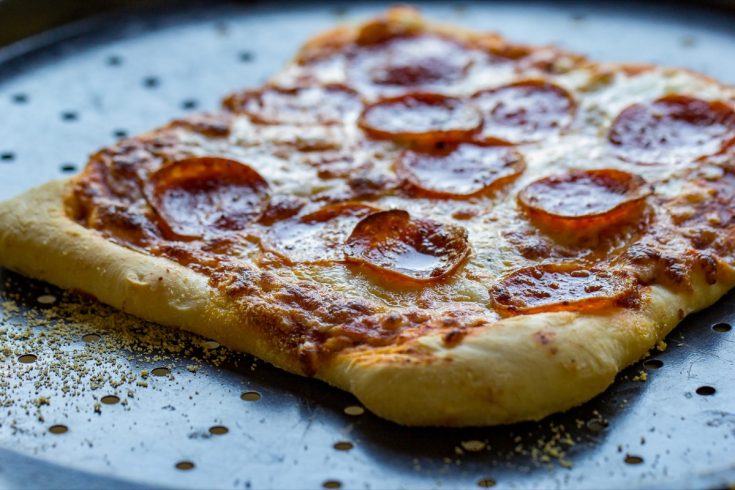 This homemade pizza is packed with pepperoni and cheese, and is on a homemade crust with freshly made sauce, all cooked in the Camp Chef Pizza Oven.
Total Time
1 hour
50 minutes
Ingredients
1 batch pizza dough
1 batch pizza sauce
16 ounces sliced pepperoni
12 cups shredded mozzarella cheese
cornmeal
Instructions
Make the pizza dough according to the recipe directions, or use your favorite pre-fab pizza crust from the grocery store.
Prepare the pizza sauce according to the directions included above, or buy your favorite pre-made sauce.
Preheat your pizza oven to 700° for about 15 minutes.
Take a round of the pizza dough and stretch it out into a circle, taking care to ensure it'll fit easily into the pizza oven. Your pizza peel should be a good guide for this. Use plenty of flour while stretching your dough, and put down a healthy dose of cornmeal on the peel before carefully laying the stretched dough on top. The goal is that you want the dough to slide off easily.
Top the pizza with sauce, cheese, and your desired toppings. Take care not to press the crust down onto the pan. You still need it to slide off the peel!
Carefully slide the crust into the oven. The first try is the only try so be confident and get it done!
Bake for 7-8 minutes, or until the crust is golden brown and the cheese is bubbly and melted. You may want to turn the pizza halfway through through the cooking time to ensure it is cooking evenly.
Remove and let sit for 2-3 minutes before slicing.
Recommended Products
As an Amazon Associate and member of other affiliate programs, I earn from qualifying purchases.
Nutrition Information:
Yield:
6
Serving Size:
1
Amount Per Serving:
Calories:

629
Total Fat:

41g
Saturated Fat:

20g
Trans Fat:

1g
Unsaturated Fat:

17g
Cholesterol:

111mg
Sodium:

1437mg
Carbohydrates:

28g
Fiber:

2g
Sugar:

3g
Protein:

37g
Nutrition data provided here is only an estimate.
Yield: 3-4 pizzas
Pizza Dough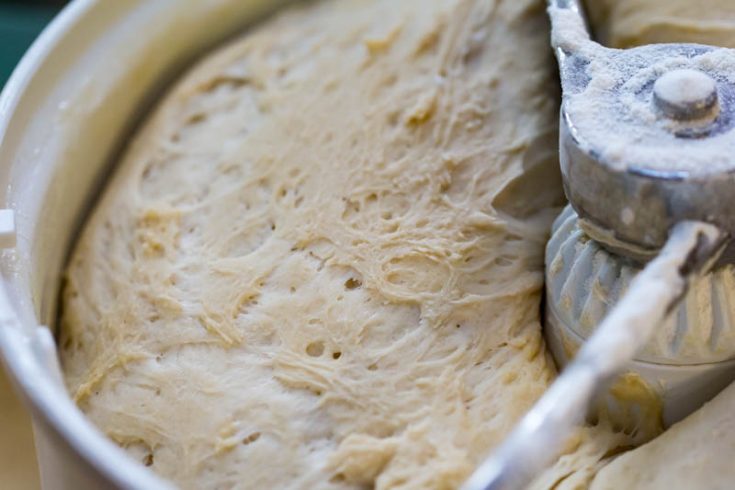 This simple homemade pizza dough recipe makes 3-4 large pizza crusts, depending on how thick you like them!
Additional Time
2 hours
1 second
Total Time
2 hours
25 minutes
1 second
Ingredients
4 cups warm water
4 teaspoons yeast
4 teaspoons red, pink, or kosher salt
1/8 cup honey
1/4 cup olive oil
9-11 cups bread flour
Instructions
Place the water, salt, yeast, and honey into your mixer with the dough hook attached. Mix about 30 seconds.
Turn the mixer on medium speed and begin adding flour until a soft dough is formed that cleans the side of the mixer. Mix for 4 minutes after the sides are cleaned.
Turn mixer to low and drizzle in the olive oil and mix until it is kneaded into the dough.
Cover and let rise in a warm place until doubled.
Take a large handful of dough and press and gently onto a large pizza pan. Par bake for 5 minutes at 450°. Remove from the oven and top with sauce and desired toppings.
Bake an additional 10-12 minutes, or until crust is golden brown and the cheese is melted.
Recommended Products
As an Amazon Associate and member of other affiliate programs, I earn from qualifying purchases.
Nutrition Information:
Yield:
32
Serving Size:
1
Amount Per Serving:
Calories:

875
Total Fat:

9g
Saturated Fat:

1g
Trans Fat:

0g
Unsaturated Fat:

5g
Cholesterol:

0mg
Sodium:

76mg
Carbohydrates:

309g
Fiber:

10g
Sugar:

2g
Protein:

51g
Yield: 4 pizzas
Easy Pizza Sauce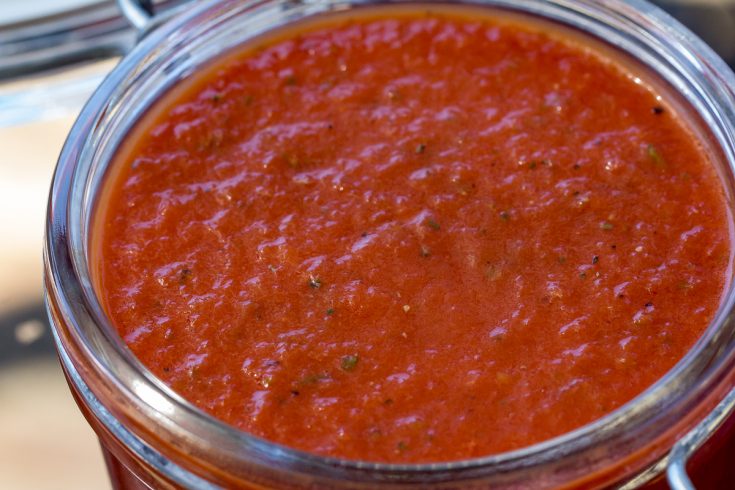 This quick and easy pizza sauce gets thrown together in about 15 minutes, uses common ingredients, and is better than anything that comes pre-made. Make it while your dough rises!
Ingredients
1/4 cup olive oil
1 tablespoon garlic, minced
2 28-ounce cans crushed tomatoes
1 teaspoon garlic powder
1 teaspoon onion powder
2 teaspoons salt
1 teaspoon pepper
2 teaspoons crushed red pepper flakes
2 teaspoons dried basil
2 teaspoons dried oregano
2 teaspoons dried parsley
1 1/2 tablespoons sugar
Instructions
Place everything in a food processor or blender and pulse until combined.
Spread on pizza crust and cook the pizza as you normally would.
If the sauce will be used for dipping and won't be cooked with the pizza, I recommend simmering it in a saucepan for 5-10 minutes before serving.
Recommended Products
As an Amazon Associate and member of other affiliate programs, I earn from qualifying purchases.
Nutrition Information:
Amount Per Serving:
Calories:

339
Saturated Fat:

3g
Sodium:

1689mg
Carbohydrates:

35g
Fiber:

7g
Sugar:

21g
Protein:

7g