Smoked Tonkotsu Pressure Cooker Ramen Broth might be a mouth full to say, but it is a very descriptive, very accurate mouth full. This is tonkotsu in HIGH gear because it features pork bones that have first been smoked on my pellet grill. Then it gets an asynchronous trip into my Instant Pot in which I can make ramen broth and not have to babysit my stove for a day or two.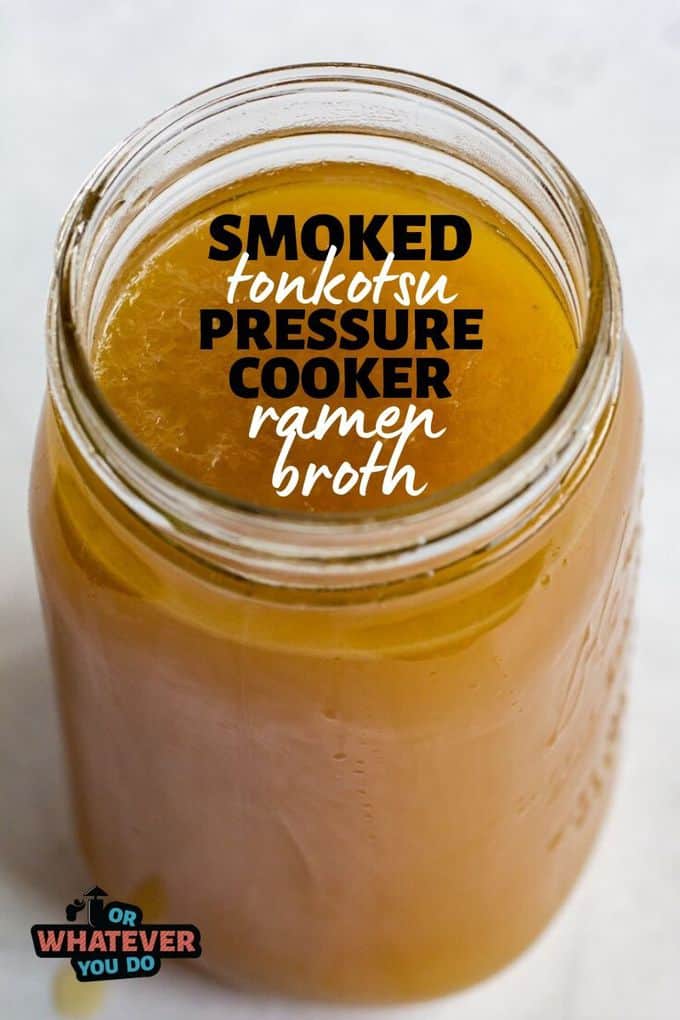 Smoked Tonkotsu Ramen Broth
This is really very similar to my tonkotsu pork ramen broth already on the site, but this time I smoked the neck bones and chicken thighs for 2 hours, and then used the Instant Pot on 2 4-hour cycles under high pressure instead of doing a 12-20 hour simmer on the stove.
The end result was a darkler colored, bolder flavored, silky bone broth. The smoke and heat on those bones adds a touch of smoke to the end result, and some major complexity to the whole bowl.
More Easy Traeger Recipes here!

What is different about this smoked tonkotsu broth and the normal tonkotsu broth?
Normally, tonkotsu broth is almost milky white and opaque. You would also usually "clean" the bones by giving them a pre-boil and rinsing them down, or at the very least skimming the water for the stuff that boils up during the cook process.
This, due to the pressure cooking, doesn't get that skim. Also, the smoke colors the bones and that leads this smoked ramen broth with a much darker color than its non-smoked counterpart.
Use this broth in Spicy Miso Ramen!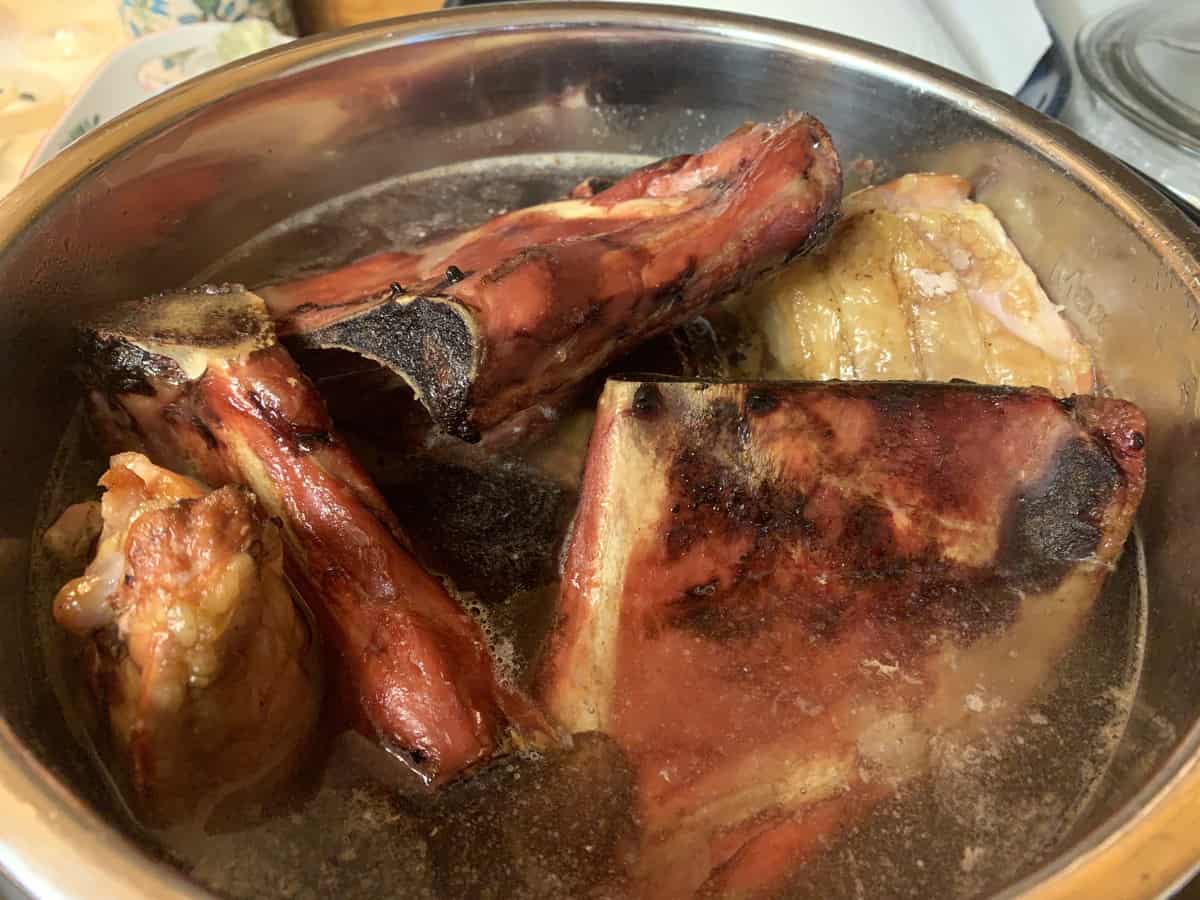 Can I use an Instant Pot to cook tonkotsu ramen broth?
I hope so because that's what I used!
Usually I cook my ramen on the stove for a LONG time. Like 12-24 hours long. It is amazing, but it is a lot of attention and care being paid to stirring, adding more liquid, making sure it isn't too hot or not hot enough, and not forgetting it is a thing at all.
With the Instant Pot you can set it and forget it, essentially. It keeps the liquid IN the pot, so no need to add additional liquid. No need to babysit a pot on the stove. I set it for a 4-hour soup cycle on high pressure in the afternoon, and then set it again once that runs out before bed, and then let it stay on warm until the morning.
When I open the pot it is steaming hot still, the bones are soft enough to break with a spoon and a little pressure, and is concentrated and the porkiest of porks a pork could ever pork.
Silly, but for real.
This Smoked Tonkotsu Ramen broth is concentrated. There is as much bone as water in the post, basically, so you can easily cut this in half with water and it'll still be the porkiest broth EVER, with a silky creamy mouthfeel and the deepest, richest flavor.
Make Homemade Ramen noodles!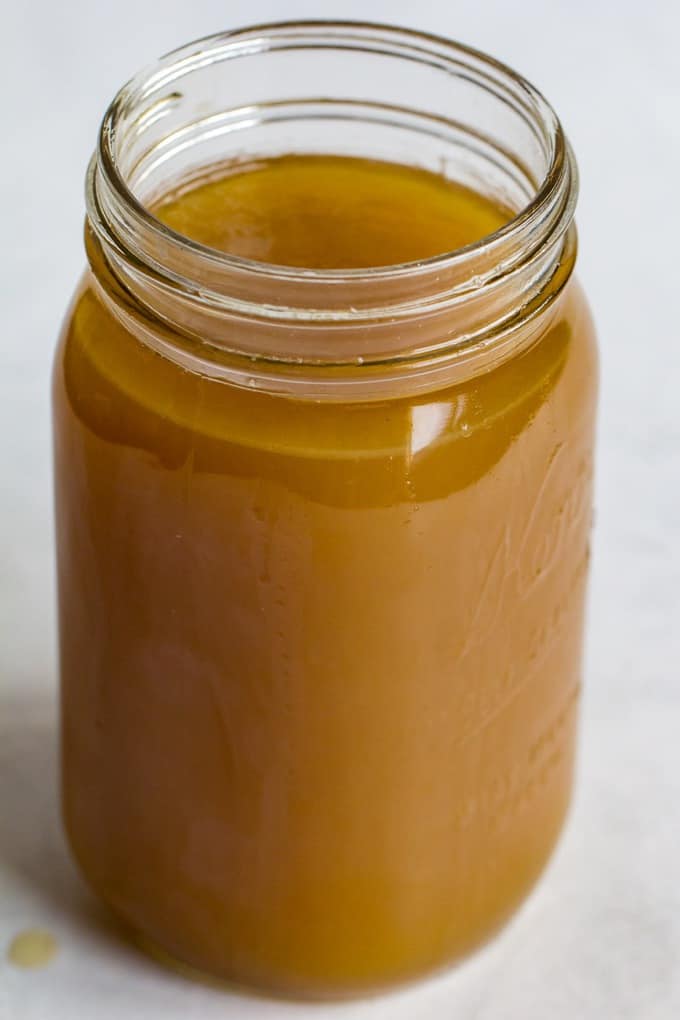 What kind of meat do you need for ramen broth?
In order to make a proper ramen broth, the key is BONES. You need the bones to make the broth, it just can't be properly done without them. I have a hard time finding trotters in my town but have discovered that pork neck bones are pretty reliably sourced and ALSO happens to make amazing broth.
Whatever kind of pork bones you find, make sure that they are fresh, still have a little meat left on them, and you get plenty. I used 10-12 neck bones for this batch, as well as 4-6 chicken thighs.
Get all of our PORK RECIPES here!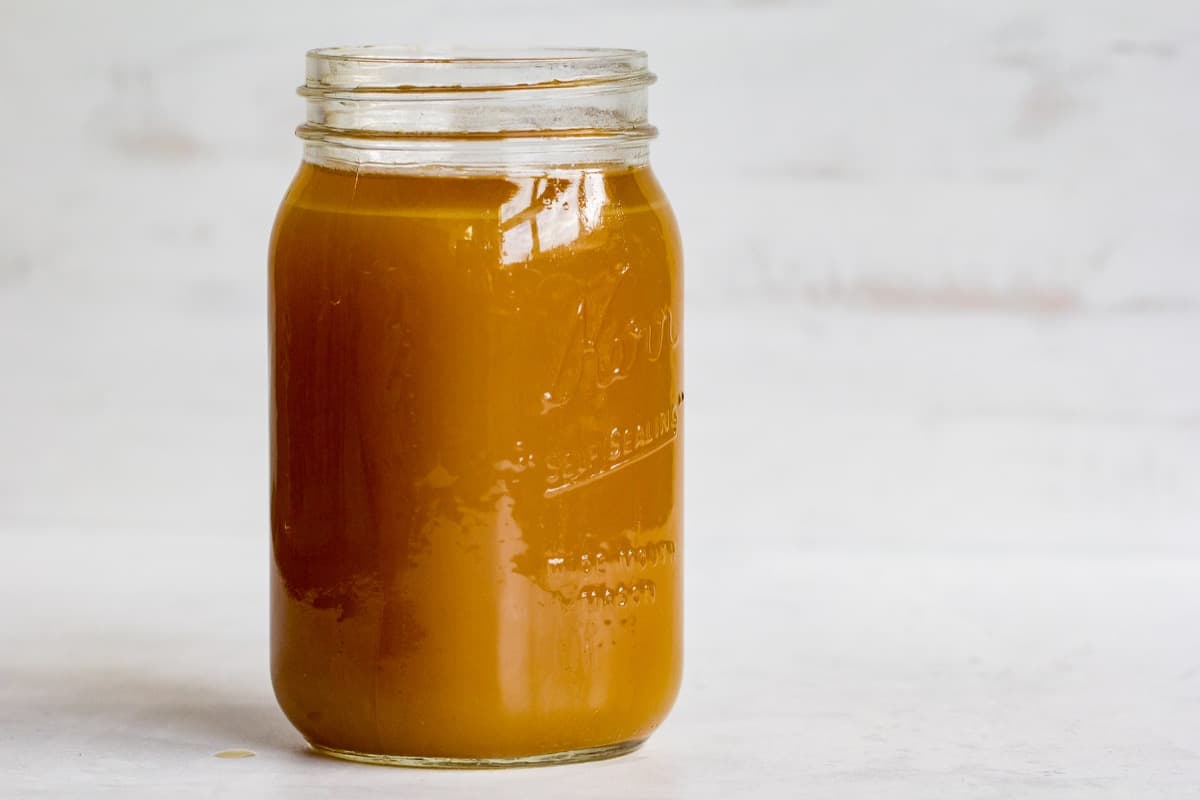 Smoked Tonkotsu Ramen Broth Shopping List
The ingredient list is relatively short here for a complex broth, and everything should be available at your local grocery store. If you have trouble finding the pork neck bones, ask your butcher or meat counter which day they typically put those out, or if they know of a place that carries items like that.
pork neck bones
chicken carcass
onion
ginger segment
shallots
head of garlic
3 leeks
2 bunches green onions
dried shiitake mushrooms
Follow me on Instagram!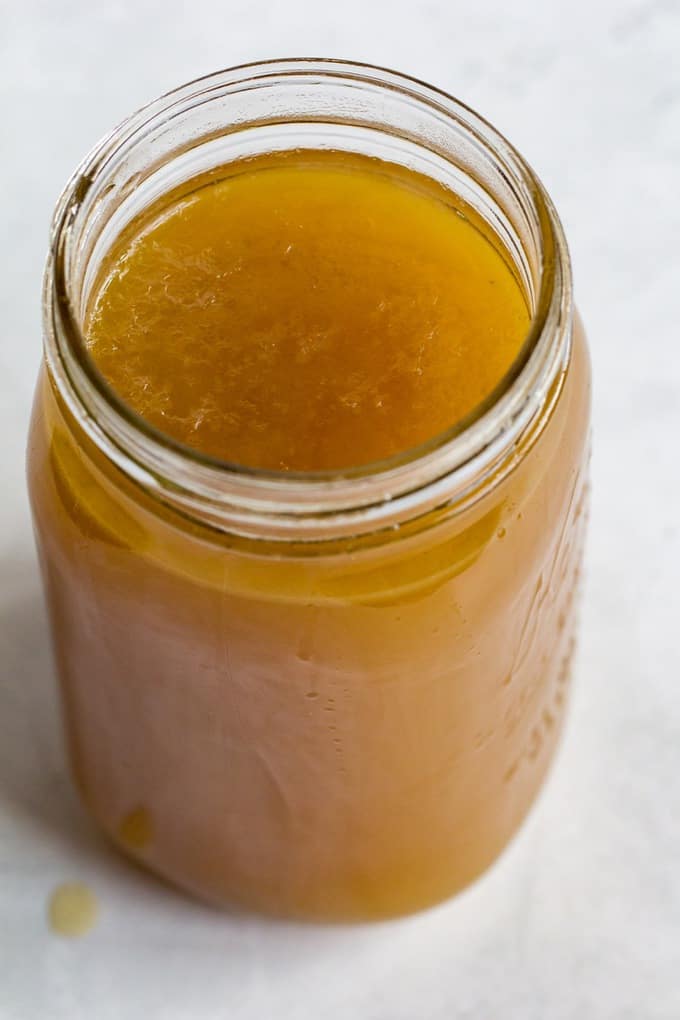 Do I have to use an Instant Pot or Pressure Cooker?
If you don't have an Instant Pot or stove-top pressure cooker, you can just make this the old fashioned way in a big pot on the stove.
You'll want to cook it until the bones are soft and the broth is no longer clear. That can take 12-24 hours, depending, so buckle up! That's why I prefer the Instant Pot method. It is faster AND easier.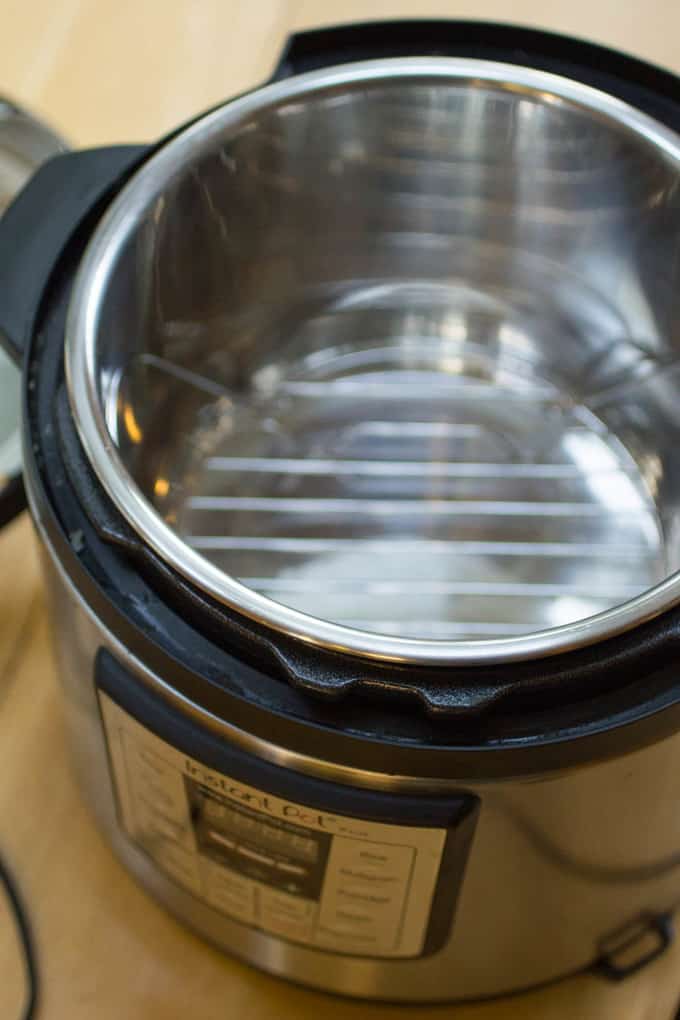 What kind of grill or smoker do you use?
For this recipe, I used my Traeger Pellet Grill. We also have a Camp Chef Woodwind pellet grill as well that would've worked just as well. For a full run-down of all of the tools and equipment we use around here, check out my new Tools page!
What size Instant Pot should you use?
In this recipe I use my 8-quart Instant Pot. If you want to use a smaller pot, I would halve the recipe. In the 8 quart pot the bones filled the whole thing, so in a smaller pot they most likely wouldn't fit, and there wouldn't be enough room for the water needed to properly make the stock either.
Eat more soup!
What kind of pellets should I use?
I get this question a lot, and my answer is always the same.
Use whatever pellets you have.
I know some BBQ purists will swear that the type of wood makes a huge difference in the end results, and maybe it makes a bit of a difference, but all of the mainstream commercial Traeger pellets that I've tried have been awesome, no matter what I cook with them.
I can't vouch for other pellets. We've used some Camp Chef pellets in the Camp Chef pellet grill with great success, but I still don't think that the actual flavor of the pellets makes a big enough difference to actually have a stated "best" flavor.
The best pellet is always the one that's already in your hopper.
How's that for an unpopular opinion?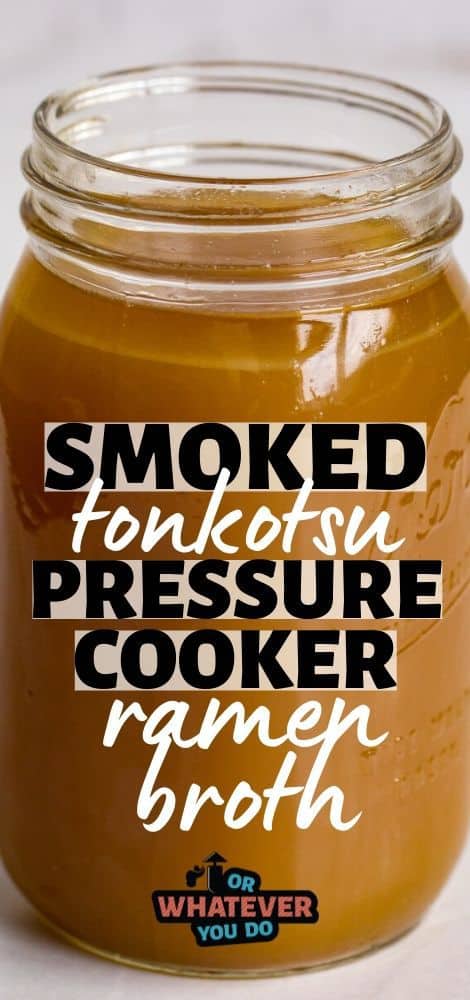 Yield: 10 servings
Smoked Tonkotsu Pressure Cooker Ramen Broth Recipe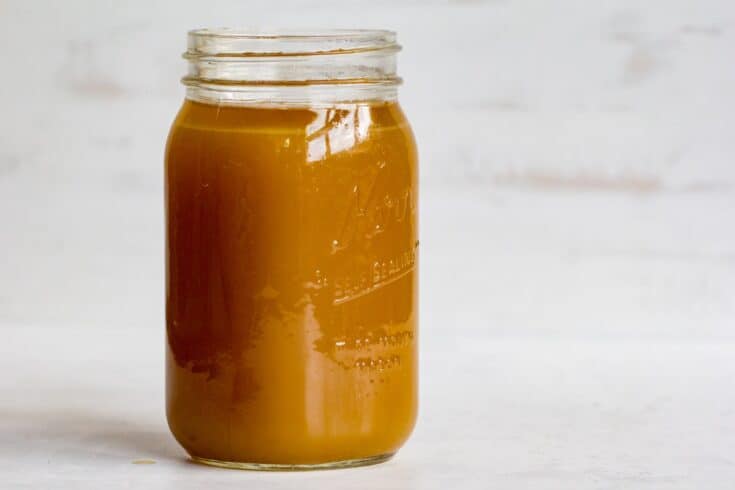 This tonkotsu ramen broth is homemade with smoked pork neck bones for extra flavor and then utilizes your electric pressure cooker to cut down on the cook time and the need to babysit a pot all day long.
Ingredients
3 pounds pork neck bones
1 chicken carcass
1 large onion
2 inches ginger, peeled
2 whole shallots
8 whole cloves garlic
3 whole leeks, washed thoroughly and diced
2 bunches green onions, white part only (save the greens for the soup!)
6 dried shiitake mushrooms, rinsed and diced
Instructions
Preheat your pellet grill to 200-225° according to factory directions.
Place the pork bones onto the grill along with the chicken thighs, and smoke for 2 hours, turning mid-cook.
Remove the meat from the grill, and place them into an 8 quart Instant Pot, and cover with water. Don't fill past the MAX line!!
Place the rest of the ingredients into the pot, seal the lid, put the lid on the pot and set it to 4 hours (240 minutes) on high pressure. On my pot, that's maxed SOUP mode.
Once the pot beeps, you should set it for another 4 hours, and then let it release pressure naturally before opening.
Let cool for a while, and then remove all of the solids you can with tongs and a slotted spoon. Next, strain the broth with cheesecloth or a large clean kitchen towel. I have found the easiest way to do this is to place the cheesecloth in several layers over a large bowl that will fit all of the broth, pour the broth in, and then gather the edges of the cloth together to pull all of the solids out of the broth. You can do this however is easiest for you though!
This makes a super-concentrated broth that can be cut with water when you serve it. It can also be frozen for future use.
Notes
This broth is not salted, on purpose, so if you aren't going to add miso or something else that is salty, you'll need to add soy sauce before serving for the best flavor.
Recommended Products
As an Amazon Associate and member of other affiliate programs, I earn from qualifying purchases.
Nutrition Information:
Yield:
12
Serving Size:
1
Amount Per Serving:
Calories:

262
Total Fat:

11g
Saturated Fat:

3g
Trans Fat:

0g
Unsaturated Fat:

6g
Cholesterol:

97mg
Sodium:

62mg
Carbohydrates:

7g
Fiber:

1g
Sugar:

2g
Protein:

33g