My old elementary school favorite gets revamped for the Blackstone and was instantly a hit with the kids! Blackstone Italian Dunkers have toasty garlicky outsides, soft, fluffy centers, and are dunked into rich robust meat sauce!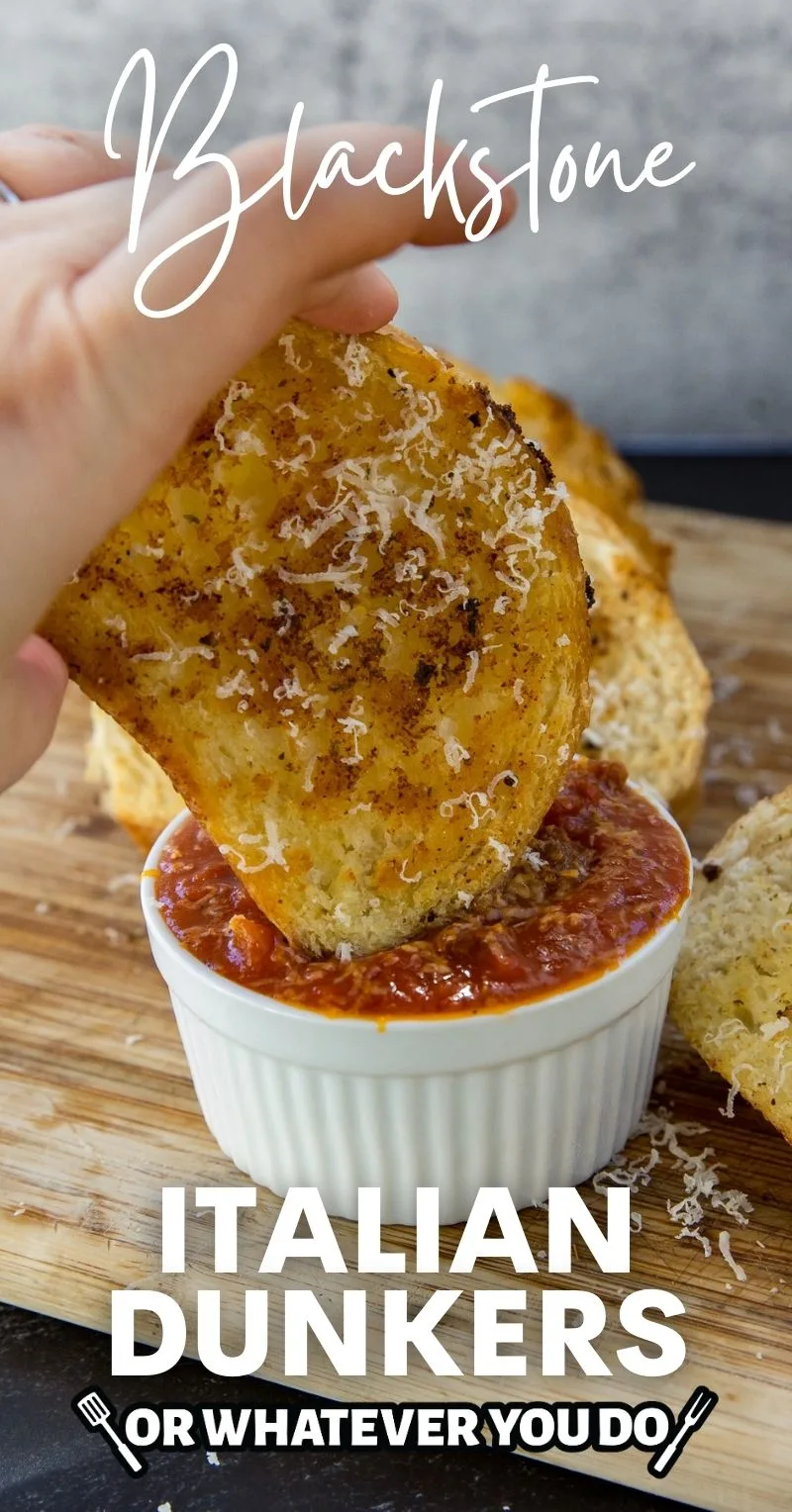 Blackstone Italian Dunkers Recipe
Surprise, surprise. Another way for me to get as much marinara in my face as is possible for humans because I just cannot get enough. It has always been, and I imagine will always be, one of my very favorite things.
This recipe takes me way back to my elementary school days in Northern Minnesota on the edge of the Iron Range. I was a picky eater as a kid (okay until I was well into my 20's actually, but I digress.) I always ate school lunch but rarely really enjoyed it. Not that it wasn't awesome, I was just kind of a jerk about food in general.
Well, these were one thing I actually got a little excited about when I walked down the stairs into the basement/cafeteria we called home, and smelled the tell-tale scent of garlic bread.
I wanted to see if my kids (6/7ths of them are also big fans of a good red sauce) would be as big of fans as I was.
More Blackstone Recipes here!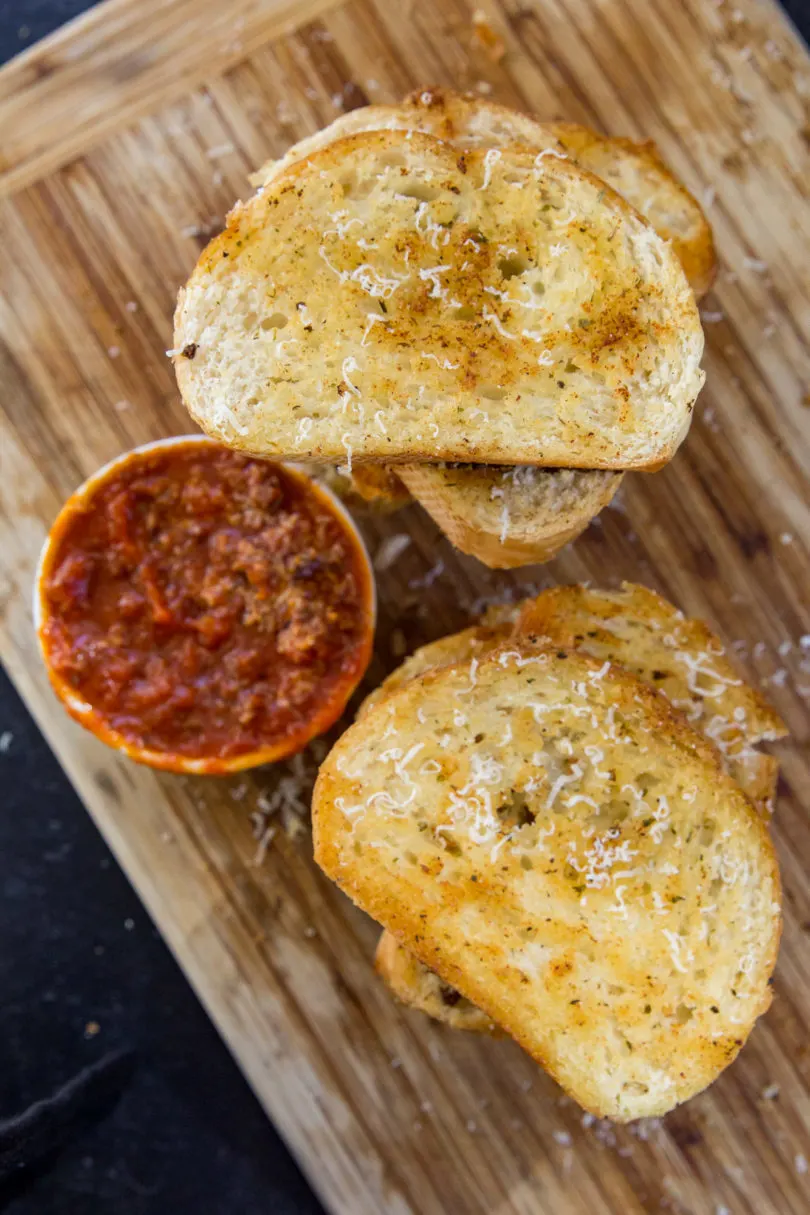 Italian Dunkers shopping list
The full amounts are listed down in the recipe card below! Use this list to see what you might need to order or pick up from the store.
French or Italian bread
Butter
Marinara
Ground beef
Parmesan
Mozzarella (optional)
Follow me on Instagram!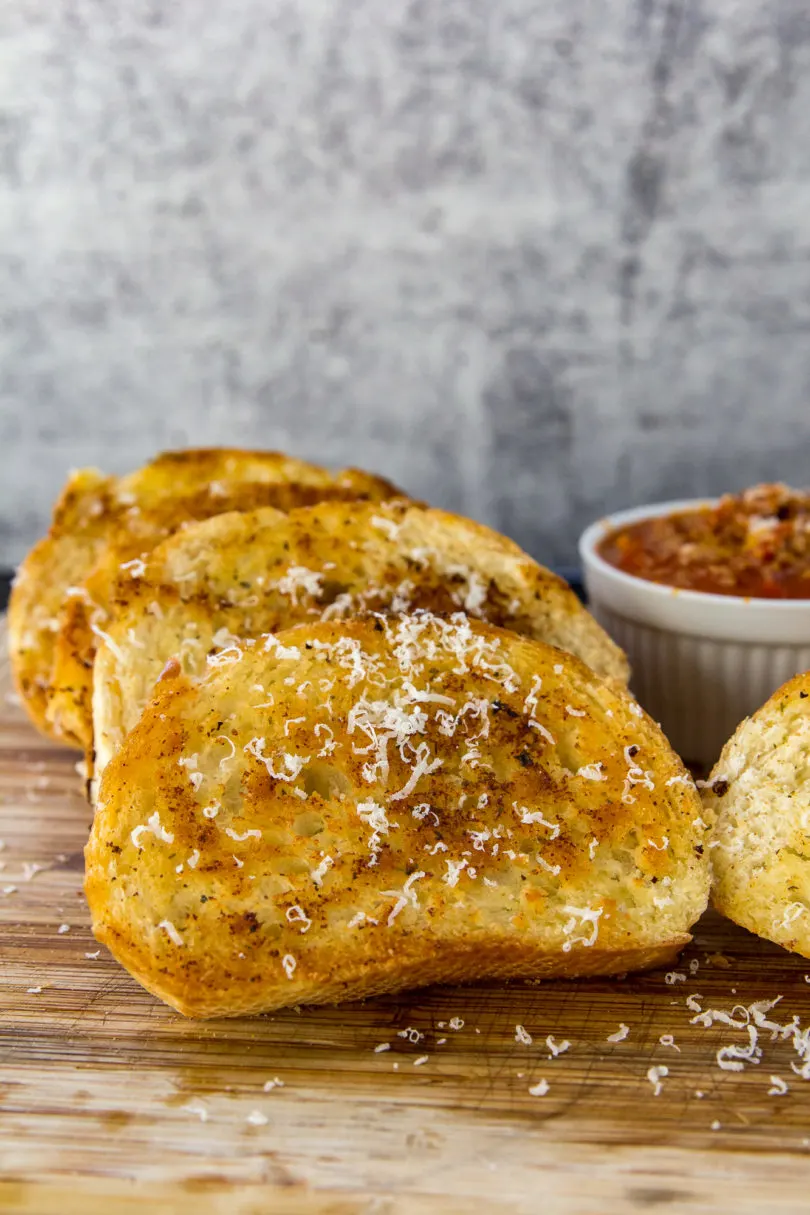 How to make Blackstone Italian Dunkers
This recipe is SO EASY! Promise. If you want to know what you're in for (and some tips for success), read on! Make sure to follow the full instructions in the recipe at the bottom of the post when you're actually cooking though.
Slice the loaf
Even slices, but don't make them too thin! The soft center of the bread is the best part besides the initial crunch.
Butter BOTH sides
Don't skimp! This is not the time for a light hand. No way, no how. You're going to have garlic breath for days and not even be sorry about it, these are so good.
LOW HEAT, please
We're lightly toasting, and it only takes a second or heat that's too high to burn them and make the garlic bitter and gross. If you don't have an IR gun, get thee one of these from ThermoWorks! It doubles as a nearly-instant-read thermometer. My favorite Blackstone accessory!
Cook your beef and heat up your sauce
This can be done on the stovetop if you want, but we used the griddle top instead. If you get impatient, like I do, you can turn up the heat on one of your burners for this part. Just don't forget to turn it back down again when you're done!
Toast and dunk
Toast both sides of your garlic bread rounds on the griddle. If you're feeling it, top them with cheese and either close the lid (if you have a lid on your griddle), cover with one of these awesome half-sheet metal domes (worth EVERY penny), or do it the old fashioned way and throw them under a broiler for a minute or so.
Join our Easy Griddle Recipes Facebook Group!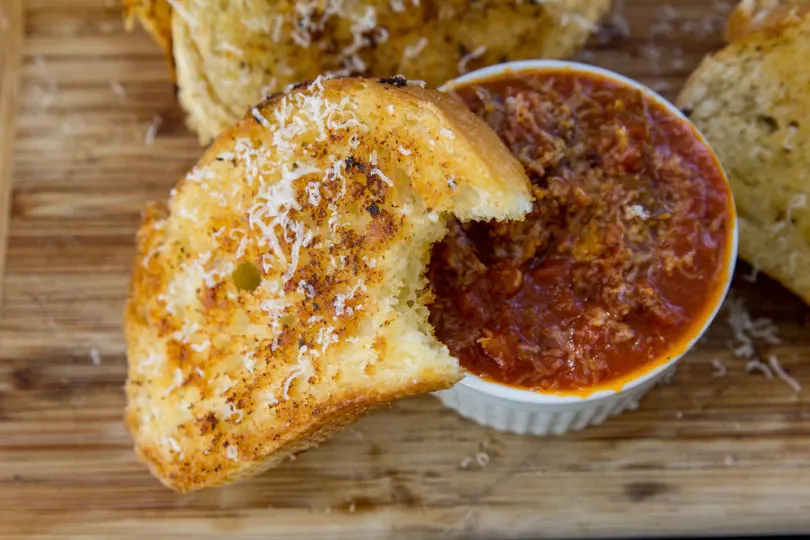 What else can you serve with Italian Dunkers?
Well – these are kind of meant to either be made into a meal in that way where it is slightly more effort than frozen pizza, but also tastes way better too, but is definitely still in "comfort food" territory.
If you want to be an overachiever, you could make your own loaves of bread using the dough recipe that I shared here in this Grilled Dinner Rolls post.
How about something green in your life? I need some reminders for more of that most days myself. Try our homemade Caesar dressing! If creamy Caesar isn't your favorite, this Greek Viniagrette just might be your jam.
Know what would be a hit here? Serving this alongside a big pile of our smoked Italian meatballs!
Make some of my Homemade Bolognese and use the leftovers!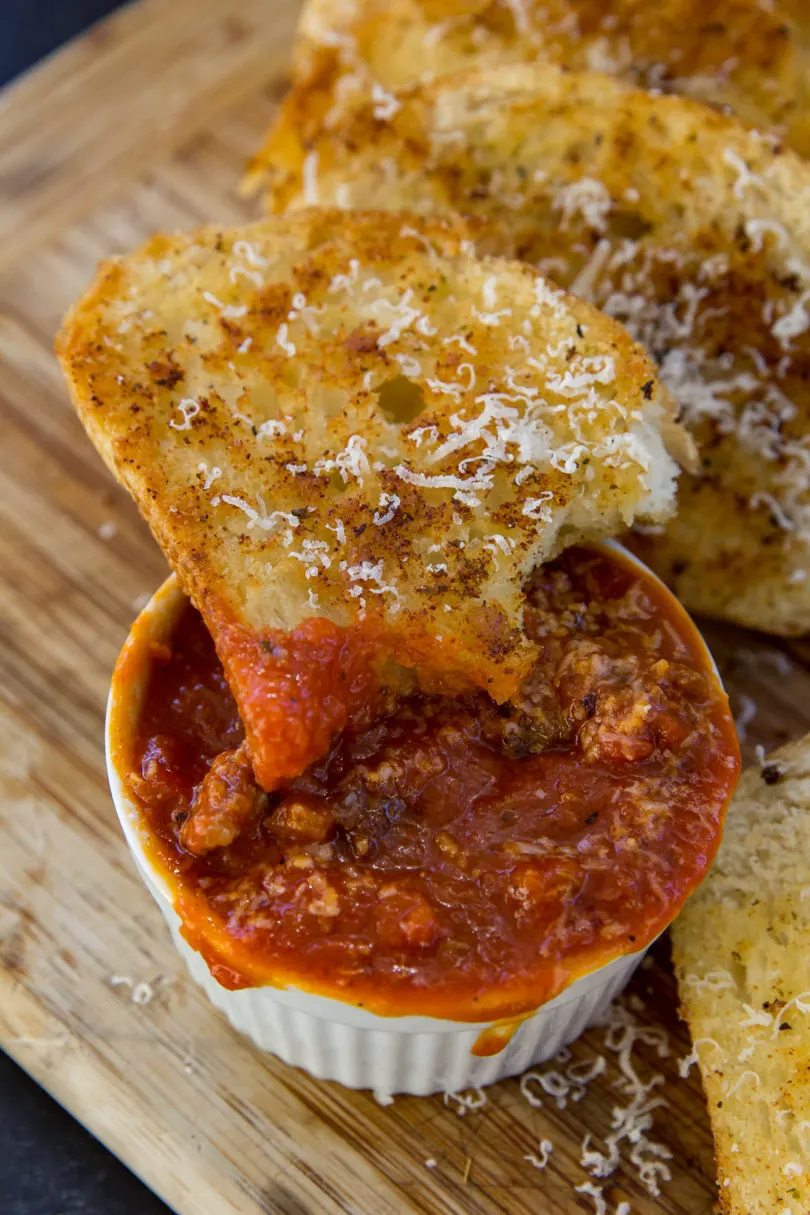 Italian Dunkers FAQ
What kind of marinara is best?
If you are hitting the easy button, I LOVE the Rao's Marinara and the Victoria Marinara the best, out of all of the store-bought brands that I've seen and tried. Costco usually sells them, though it is sometimes seasonal. If you see them, stock up! It is much more expensive at the regular grocery store and sky-high on Amazon.
Want to make your own? Whip up a batch of my quick no-fuss marinara here!
How do you store leftover dunkers?
I keep these in a large sealable bag on the counter if I make too many, which doesn't usually happen around these parts.
How do you reheat leftover Italian dunkers?
You can reheat them in the toaster, air fryer, or oven when you want to fire them up. They are best eaten within a day.
Our Garlic Bread Sticks would be great dunkers too!
More recipes to love!
Check out these great recipes too!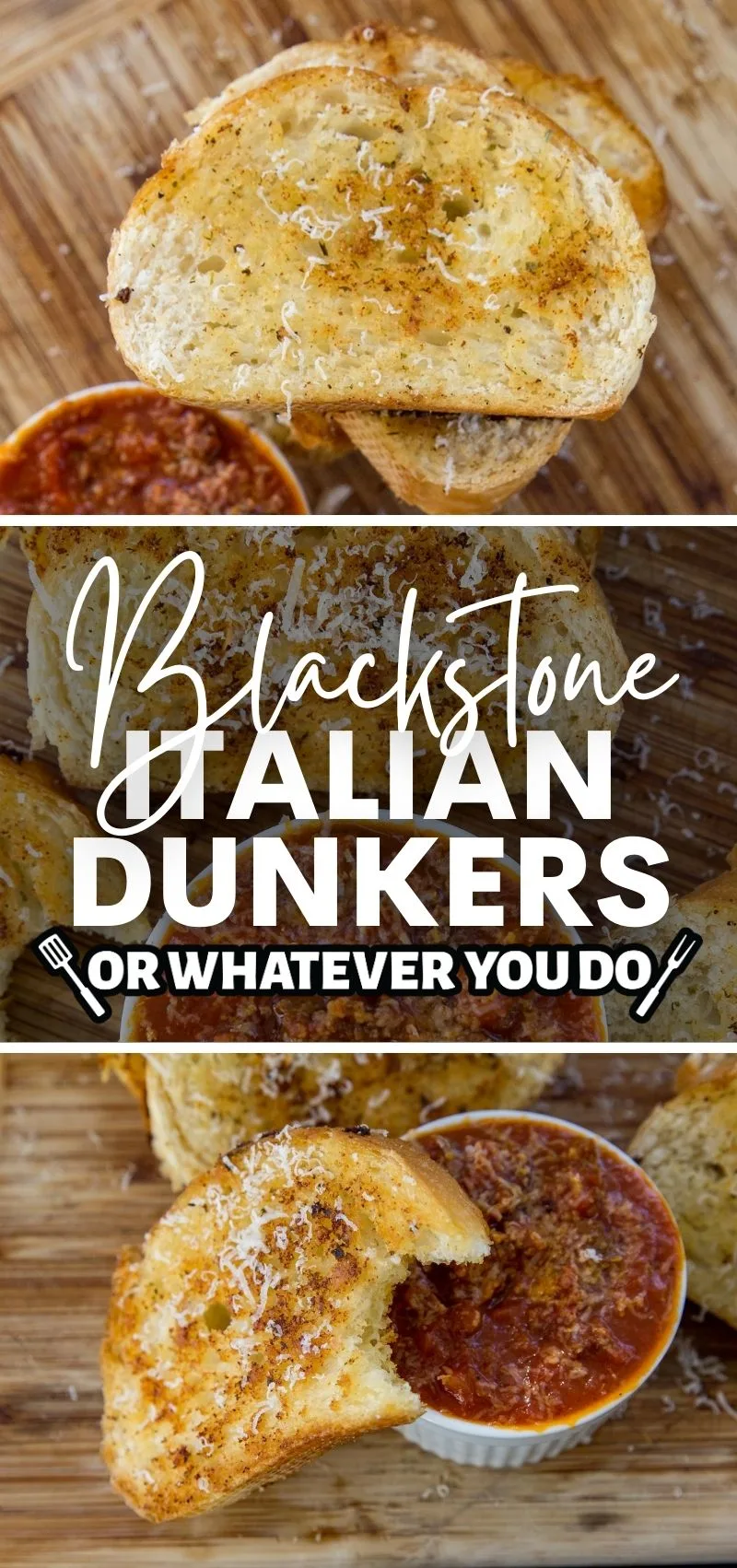 Yield: 6 servings
Blackstone Italian Dunkers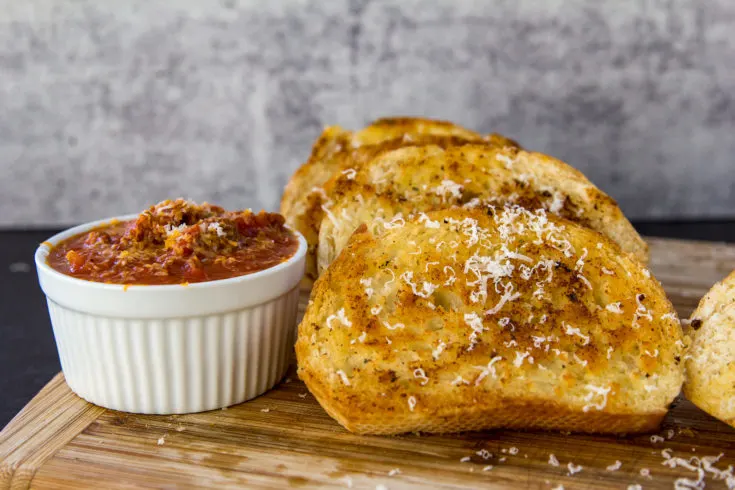 This old-school cafeteria lunch is revamped and turned into a new favorite in our house! Cheesy garlic bread dunked in heart meat sauce in an endlessly enjoyable dippable lunch or dinner.
Ingredients
1 loaf Italian (or French) bread
1 stick salted butter
2 tablespoons Johnny's Garlic Bread Seasoning
1 cup shredded Parmesan cheese
2 cups shredded mozzarella cheese (optional, and not included in photos)
1 pound ground beef
1 teaspoon salt, pepper, garlic blend (or approximately 1/3 teaspoon of each to add up to 1 teaspoon if you don't have a blend.)
1 - 48 ounce jar marinara
Instructions
Slice the bread into rounds. Combine the butter and Garlic Bread seasoning, and spread over both the front and the back of the cuts.
Preheat the Blackstone over low heat. You want to run it around 325°-ish for the best results.
Cook the ground beef over medium heat. Season with the SPG. Place the cooked ground beef into a saucepan and top with the marinara sauce. Place the pan on the griddle to heat while you are toasting your garlic bread.
Toast each side of the garlic bread until golden brown. If desired, top with cheese(s) and cover or pop into an oven under a broiler for a minute until it is melted and bubbly.
Serve the toasted garlic bread with the meaty marinade for dipping!
Recommended Products
As an Amazon Associate and member of other affiliate programs, I earn from qualifying purchases.
Nutrition Information:
Yield:
6
Serving Size:
1
Amount Per Serving:
Calories:

633
Total Fat:

43g
Saturated Fat:

21g
Trans Fat:

1g
Unsaturated Fat:

17g
Cholesterol:

141mg
Sodium:

2144mg
Carbohydrates:

25g
Fiber:

5g
Sugar:

14g
Protein:

37g
Nutrition data provided here is only an estimate.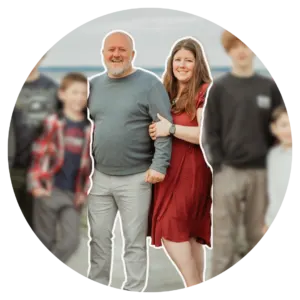 Nicole Johnson, a self-taught expert in grilling and outdoor cooking, launched Or Whatever You Do in 2010. Her blog, renowned for its comprehensive and creative outdoor cooking recipes, has garnered a vast audience of millions. Nicole's hands-on experience and passion for grilling shine through her work. Her husband, Jeremiah Johnson, also plays a pivotal role in recipe development, adding his culinary flair to the mix. Together, they form a dynamic duo, offering a rich and varied outdoor cooking experience to their followers.