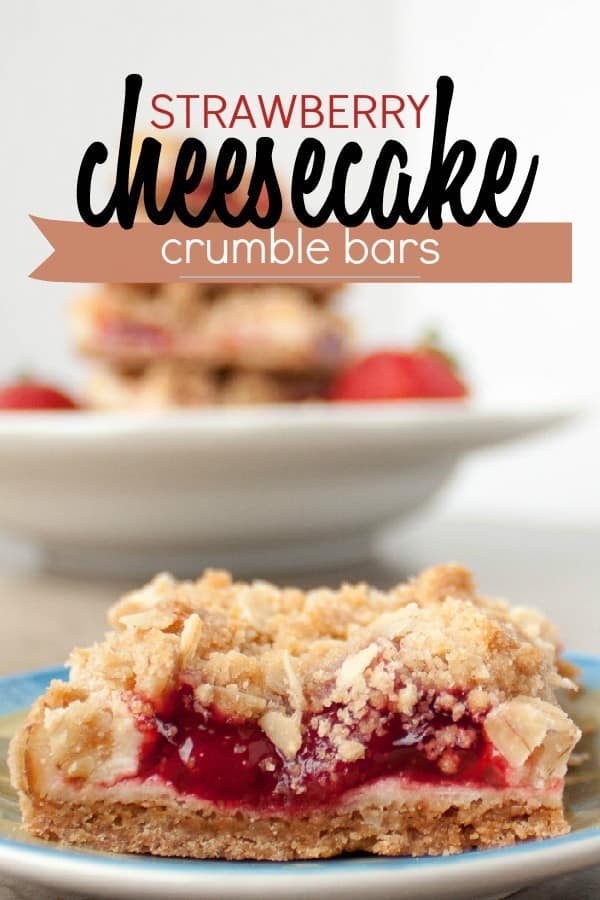 Yessssssss!!!!! These strawberry cheesecake crumble bars were SO easy, but completely amazing. This is one that's going on THE LIST. The list in which I pull from regularly or I get into a bit of trouble around here. Yeah. That good. EVERY child liked these. I consider a recipe a success if 4/7 of our house likes it. Well, sometimes even 3/7. By those standards, these may have been my most successful dessert in quite a while. Before we go any further, I have to credit the AMAZING Recipe Critic for the inspiration and the idea, and also Crunchy Creamy Sweet who was The Recipe Critic's inspiration! I love food blogs and pinterest for this very reason. So much great food and beautiful photos of that food are out there just waiting to be seen, and experienced. My "Food to Make" Pinterest board is bursting at the seams currently with things I see and HAVE to have. I will never get through it all, but it will be so much fun trying!
My version of these bars is slightly different from both The Recipe Critic's and Crunchy Creamy Sweet, in that I LOVE any reason to incorporate cream cheese into my desserts, and also I can't stop myself from tossing in some cinnamon and oatmeal into a crumb. See my Apple Cinnamon Streusel Coffee Cake AND the Banana Crumb Cake for examples of the cinnamon oatmeal obsession. See my 8 million cheesecake posts as well. Well, not 8 million. But there would be if anyone in this house besides ME liked cheesecake!! Also, I cook for a small army, so instead of an 8×8 I made this in a jelly roll pan that's 10.5 x 15.5. If you don't have that particular size, a 10 x 13 would work fine as well. Just use the closest equivalent that you have. You'll get a thicker crust with a smaller pan, but YUM. Who is going to complain about more of this awesome crust? Not me!
So, start out by mixing together all the dry crust/crumb ingredients (except for the cinnamon and oats) in your mixer until they are well combined. Then add your melted butter, mix until the dry ingredients are moistened, and pour 3/4 of it out into a prepared pan. My favorite way to prepare pans these days is by using the Reynolds Wrap Heavy Duty Non-stick Aluminum Foil
. Works amazingly well, and no baking spray residue that you can sometimes get with the flour baking spray.
By the way, I always use a mixer, so my directions always explain things in that way, but with 99.9% of my recipes, a stand mixer isn't necessary. You can use a hand mixer, or even mix by hand on most of them.
Press down the crust until it is relatively smooth and compact.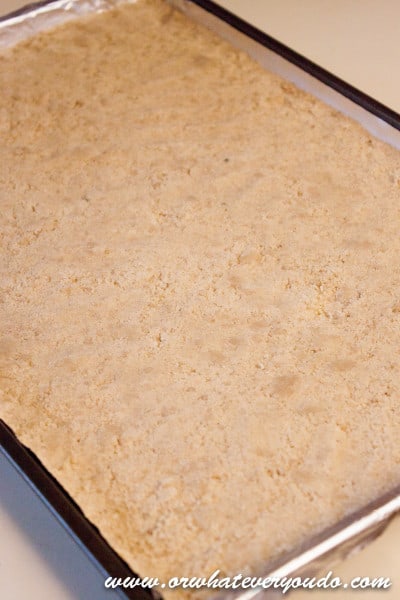 Mix in 1/2 cup of oats and 1/2 tsp cinnamon to the remaining crust mix and set it aside while you mix up the filling!
For the filling, put the sour cream, cream cheese, and sugar into your mixer and mix until smooth and combined. Add the vanilla and the flour. Mix well. Next add in the eggs, and mix JUST until you can't see any more big strings of egg white. You don't want to overmix it at this stage. If in doubt, finish the last bit of mixing with a rubber spatula or scraper to prevent overmixing.
Pour the filling over the crust and carefully spread it out to within 1/4 inch of the edge.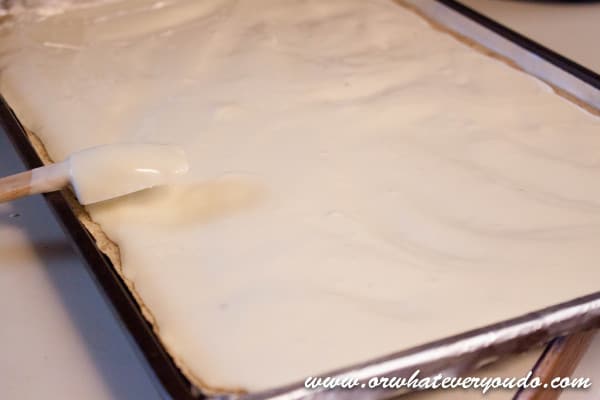 Next spoon the strawberry pie filling over the top in blobs. Blob is the technical term. Just go with it.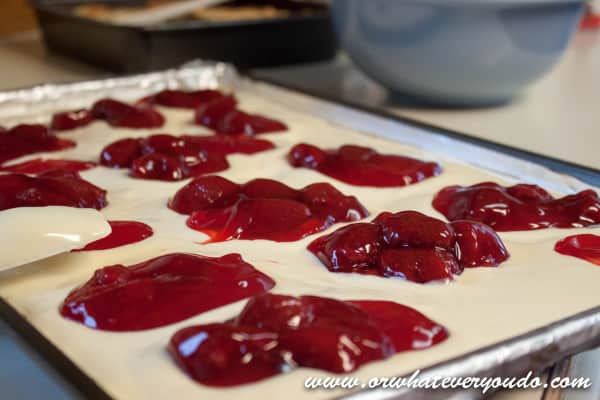 Now you are going to carefully move around some of the blobs in a swirly pattern so that all of the bars will have some yummy berries on them.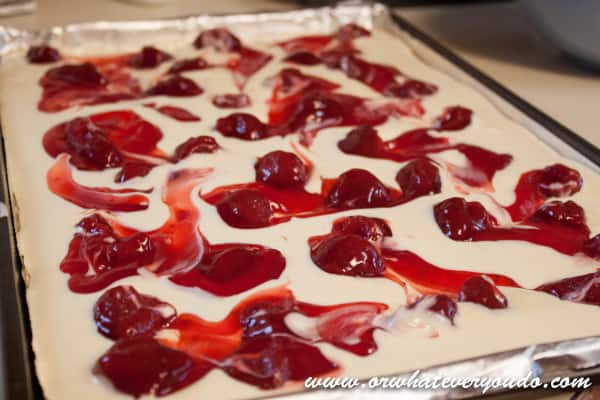 Finally, take the crust mixture that you added the cinnamon and oats to, and sprinkle it over the top of the whole shebang. I lightly compressed it in my hand to make some bigger chunks because I like bigger chunks, but you can skip that part if you aren't into it.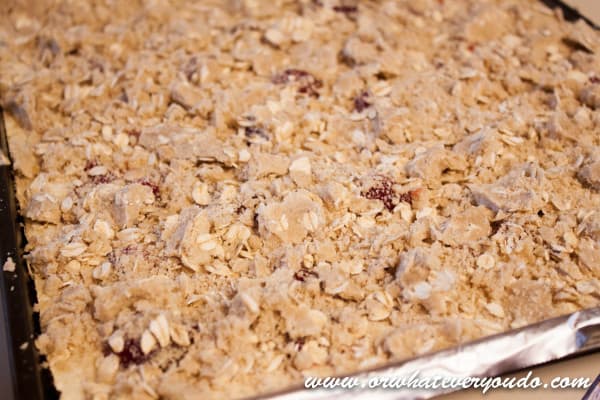 Bake this whole thing at 350 for 25-30 minutes. Take it out when its a bit golden brown on top. It is a little hard to tell because its already a bit brown from just the ingredients. I wouldn't bake this longer than 35 minutes, at any rate. If it needs more, check your oven because your temps are off!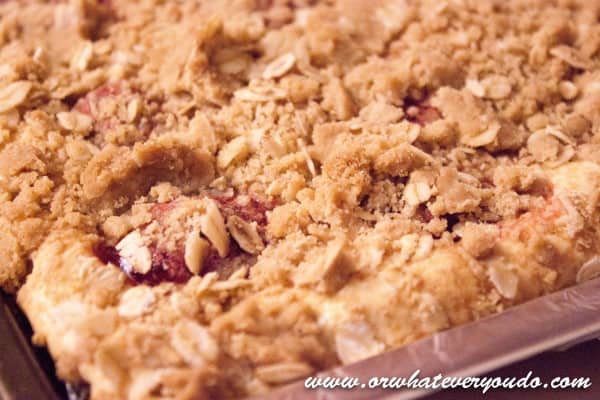 Let cool for about 10 minutes on the counter, and then chill for several hours before you slice and serve it.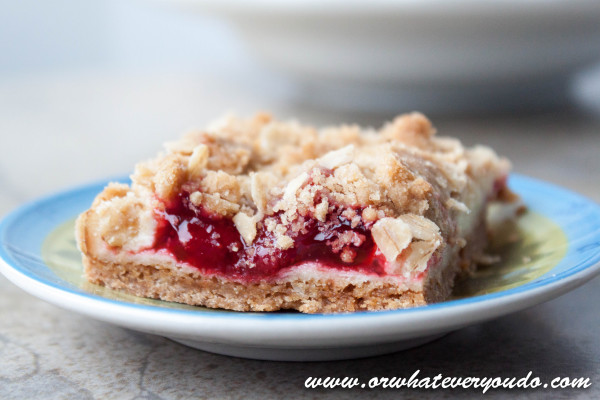 This makes a 1/2 sheet of bars, so its perfect for a crowd.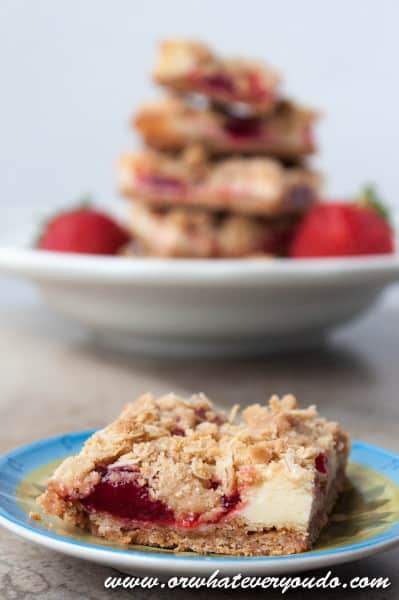 Yield: 12 servings
Strawberry Cheesecake Crumble Bars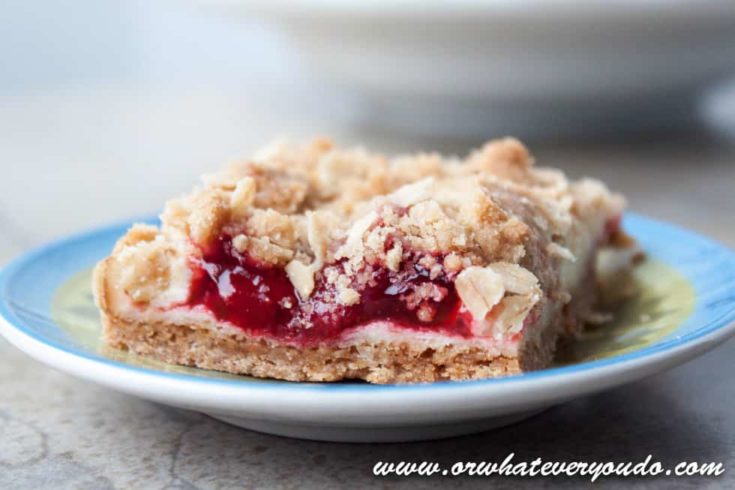 These delicious bars have a hint of cheesecake and all of the awesome crumble toppings you could ever want.
Ingredients
Crust:
1 cup salted butter, melted & cooled
1/2 cup light brown sugar
1/2 cup dark brown sugar
1/4 sugar
1 tsp baking soda
1 tsp baking powder
3 cups flour
1 cup oats
1/2 tsp cinnamon
Filling:
1 can strawberry pie filling
1 cup sour cream
8 oz cream cheese, softened
3/4 cup sugar
1 TBSP vanilla
3 TBSP flour
2 eggs
Instructions
Preheat oven to 350. Prepare your 10.5 x 15.5 inch pan (or your closest equivalent) with non-stick foil or baking spray and set aside.
Mix the brown sugars, white sugar, baking soda, baking powder, and flour. Add the melted butter and mix until everything is moistened. Pour 3/4 of the crumb mixture into the prepared pan and press down firmly. Mix the oats and cinnamon into the remaining crumb mixture and set aside.
Place the sour cream, softened cream cheese, and sugar into your mixer, and mix until smooth. Add the vanilla and flour and mix until combined. Add the eggs and mix until just incorporated, finishing the mixing with a rubber scraper. DO NOT OVERMIX!!
Pour filling over crust and carefully smooth out to within 1/4 inch of the edge of the crust. Place dollops of strawberry pie filling over the filling mixture at evenly spaced intervals. Carefully swirl it a bit and distribute the berries over the crust and filling.
Sprinkle remaining crumb mixture on top, and bake at 350 for 25-30 minutes until the topping is a light golden brown. Remove from oven and let cool on counter for 10 minutes, and then chill for several hours.
Nutrition Information:
Yield:
12
Serving Size:
1
Amount Per Serving:
Calories:

536
Total Fat:

28g
Saturated Fat:

16g
Trans Fat:

1g
Unsaturated Fat:

9g
Cholesterol:

105mg
Sodium:

366mg
Carbohydrates:

64g
Fiber:

2g
Sugar:

32g
Protein:

7g
Nutrition data provided here is only an estimate. If you are tracking these things for medical purposes please consult an outside, trusted source. Thanks!
As always…
Thank You for looking! I LOVE comments. Use the comment form below to interact, or if you like what you see, and want to see more, please feel free to jump on over to my Facebook page and like me there. I post teasers for upcoming recipes, answer any and all of your questions, and every recipe from here gets linked to there as well.

If you are a Pinterest fanatic like I am, you could also drop by and follow me there, and pinning my images is always appreciated!
Find me on Instagram!
Thanks for dropping by! Hope to see you again soon!
~Nicole~