Sorry OWYDers for the unplanned, extended absence. June has been crazy for me, as the summers usually are. This was a special kind of crazy though.
First we had a birthday party for my oldest son, who turned 8! I tried my hand at marshmallow fondant, my first try with fondant of any kind.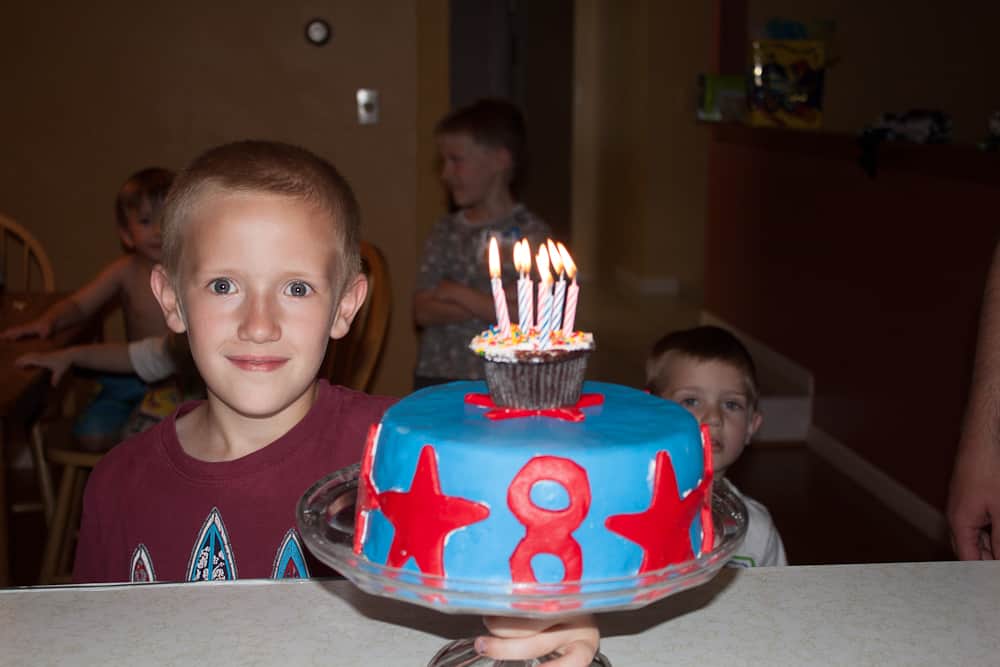 Needless to say, I will never be a professional cake decorator.
The kids are off of school, we took a 9 day trip to Washington to be in my lovely sister-in-law's wedding, we made some new English family/friends when they were stranded in the great state of Michigan on their way to London, and we have found out that we will need to move from our current home sooner than we expected. It has been one of the busiest months I can remember lately, and I have hardly had time to do anything, much less blog.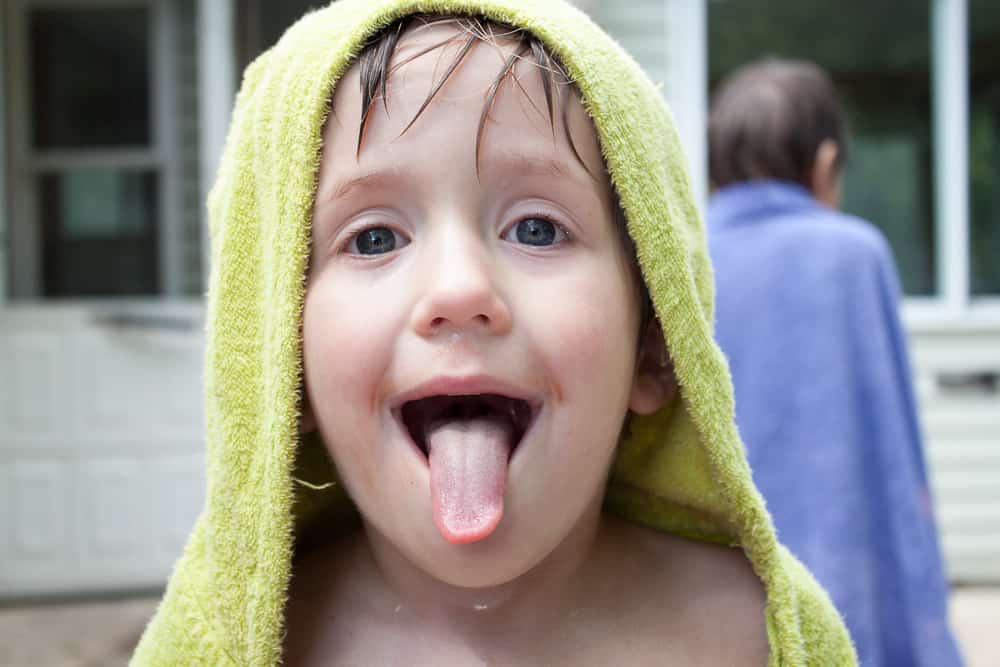 I have a lot of recipes in the works, and some on the back burner too, so you can expect to see those in the near future! In between packing boxes, looking at houses, breaking apart kids fighting, cleaning up the kids' messes so our rented house can be shown to potential buyers, looking for new houses online, going to see new houses in person, and figuring out how God is going to accomplish all of this, of course. It has been a difficult month for me, to say the least!
I do best when I have the ability to at least pretend well enough to myself that I am in control of my surroundings. I like to KNOW things. Little things; like what we are planning for the week or when my husband will take his dinner break from work, or big things; like where we will live next month. When things start to stray outside of that little box I have built for myself to try and control my environment, my emotions, my anxieties, my worries, my ambition, and my life, I start to grasp at any and all of it and struggle with just LETTING go. I know that my anxieties and my worry won't actually SOLVE any of my problems. I know who is the only one who can do that. I KNOW that I am not in control of my life, my family, my surroundings, or my circumstances, but it is so hard to be able to rest in that. I trust that HE has got this, and He cares for me and loves me and won't forsake me, I do, but  (and really, there shouldn't be a BUT here.) unknown possibilities and outcomes weigh on me.
God says that we shouldn't be anxious, we should cast our worries on Him.
"Do not be anxious about anything, but in everything, by prayer and petition, with thanksgiving, present your requests to God. And the peace of God, which transcends all understanding, will guard your hearts and your minds in Christ Jesus" (Philippians 4:6-7)

"Humble yourselves, therefore, under God's mighty hand, that he may lift you up in due time. Cast all your anxiety on him because he cares for you" (1 Peter 5:6-7)

"Then Jesus said to his disciples: 'Therefore I tell you, do not worry about your life, what you will eat; or about your body, what you will wear. Life is more than food, and the body more than clothes. Consider the ravens: They do not sow or reap, they have no storeroom or barn; yet God feeds them. And how much more valuable you are than birds! Who of you by worrying can add a single hour to his life? Since you cannot do this very little thing, why do you worry about the rest?'" (Luke 12:22-26, NIV).
So as a Christian, sometimes I wonder, why am I so anxious?
Anyway, a little person venting, call for prayer if you will, on what is going on here with me. I don't normally venture into the personal on this blog, but being open, honest, and transparent about myself, my walk, and my life, the struggles as well as the victories, is important to me. I want this to be not only a food blog, but a ministry as well. Do ALL to the glory of God, right?
So, without further ado…here is my recipe for Corn Crepes that was passed onto my by a dear friend I made via a message board I frequent. She has given me her permission to pass this on and I hope you enjoy it.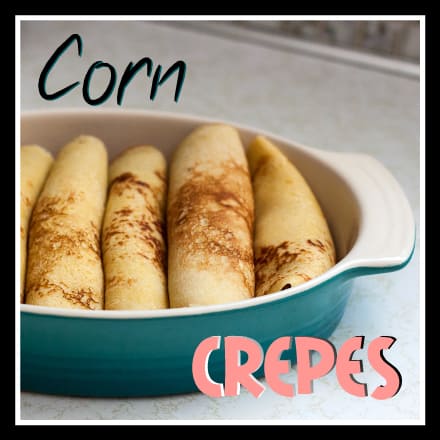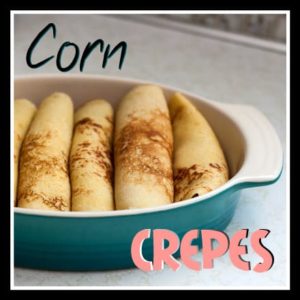 When I first started making homemade enchiladas I used to use the store-bought corn tortillas. I would briefly fry them in oil, and proceed to make my enchiladas like I do now. It was okay, but there is something about the store-bought tortillas that just didn't really compliment the rest of the dish. They ended up greasy, full of oil, and they fell apart after baking when I was serving the enchiladas. Not my favorite thing.
A friend turned me onto these homemade corn crepes, and I've never looked back. They are easy to make, stay together very well during baking, and perfectly compliment my homemade enchiladas.
Mix all the ingredients together besides the vegetable oil for frying.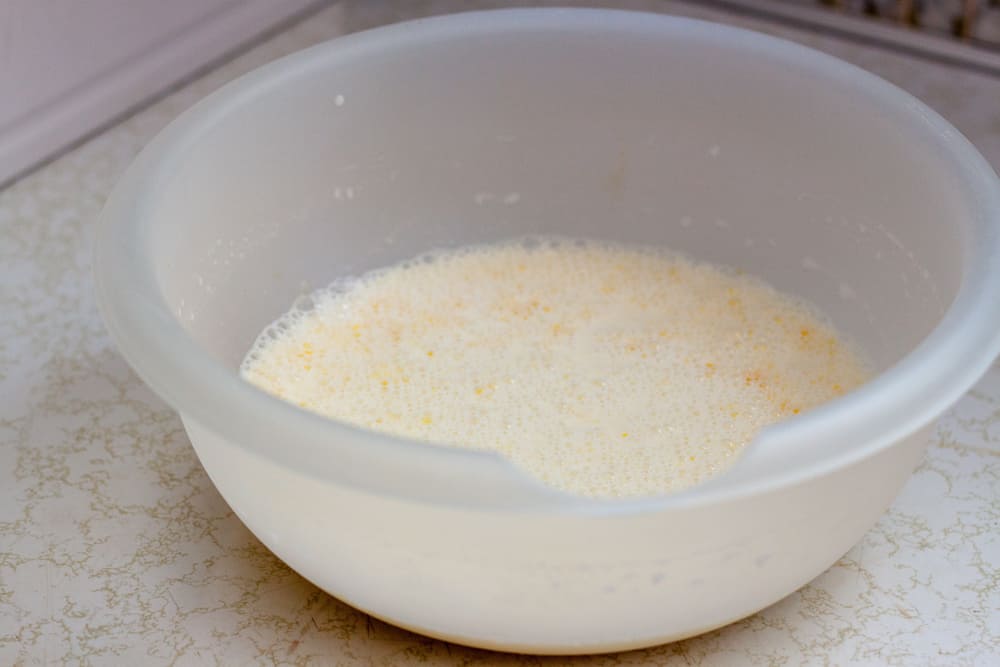 Preheat a small non-stick pan with a teaspoon or two of vegetable oil. Pour in 1/4ish cup of batter (enough to coat the bottom of your pan, or make the desired size of crepe), and tilt the pan around to distribute the batter evenly.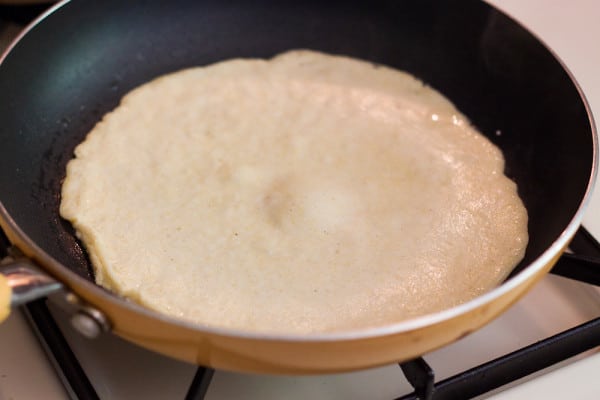 Cook for 1-2 minutes, or until the batter has set up. Carefully flip over and cook an additional 30 seconds. Remove and place on a paper towel.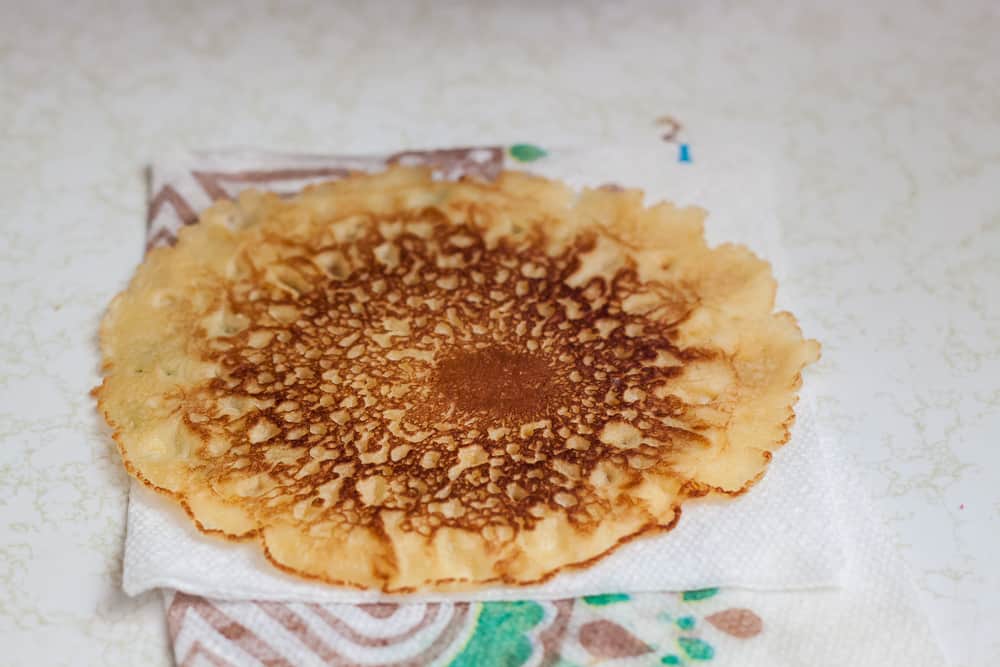 Add additional oil as necessary. If your non-stick is in really good shape, you may not need much. Use for enchiladas or tacos!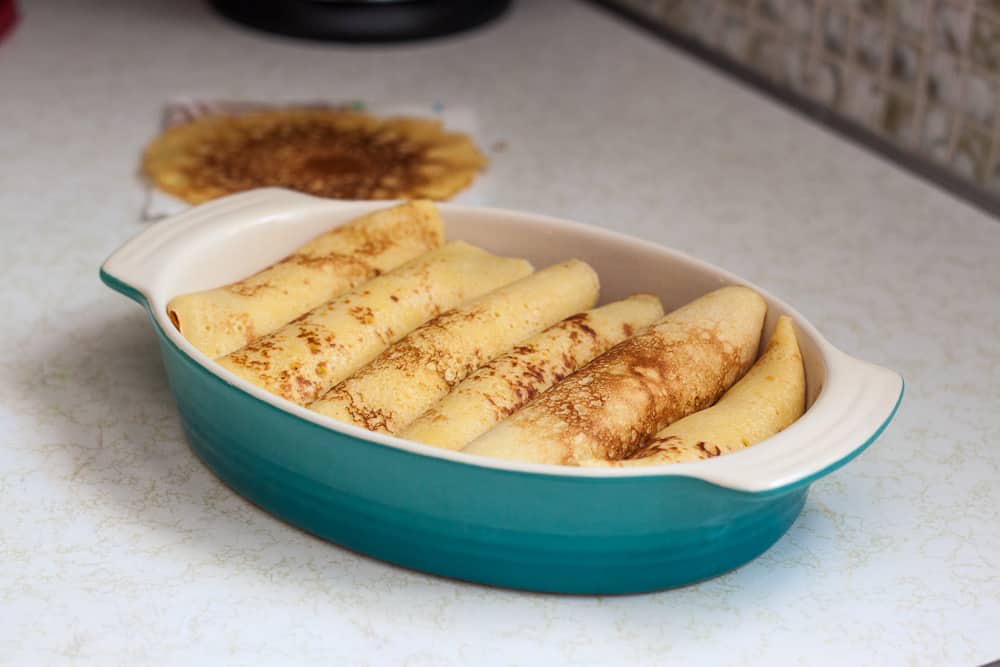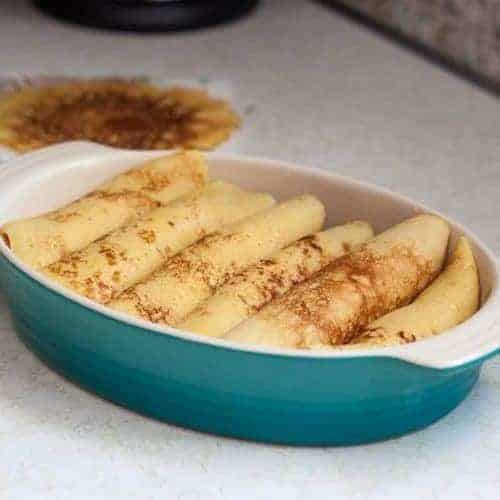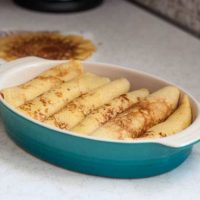 Corn Crepes
These corn crepes are like the best homemade tortillas, but hitting the easy button! I love these for homemade enchiladas.
Ingredients
2 Lg eggs
1 cup milk
1/2 cup flour
1/2 cup yellow cornmeal
1/2 tsp salt
1/4 tsp sugar
2 tsp butter, melted
3-4 tbsp vegetable oil, for frying
Instructions
Combine all ingredients except the vegetable oil and mix well.
Heat a small non-stick pan over medium heat with a couple of tsp of oil in it. When it is well heated, pour approximately 1/4-1/3 cup of the crepe batter into the pan and tilt to distribute. Cook for 1-2 minutes, until the top looks solid. Flip over and cook 30 seconds on other side.
Remove from pan onto a paper towel and repeat with the rest of the batter, adding additional oil when necessary.
Use immediately for enchiladas, or your favorite mexican filling.