Every now and again a decadent dessert comes along that you can't wait to make. For me, that dessert is Cherry Berry on a Cloud. By now, I have made it a few times, but I cannot wait to share this recipe with you. If you can imagine a dessert so delicious that it's worth waiting for, then this is it! Let's learn more about Cherry Berry on a Cloud and get to making it.
Cherry Berry on a Cloud
Cherry Berries on a Cloud is one of those desserts that you could eat 3 or 4 days in a row and not think twice. It's not a super heavy dessert, and is one of my favorite flavor combination. It is so delicious!
The first time I had cherry berry on a cloud, I declared it the VERY BEST THING I had ever eaten. (Thank you LISA!) Even though the ingredients are common, and I'd certainly had them in all sorts of different concoctions, it was never quite like this. If fancy had a flavor, this would be it.
See all our DESSERT RECIPES here!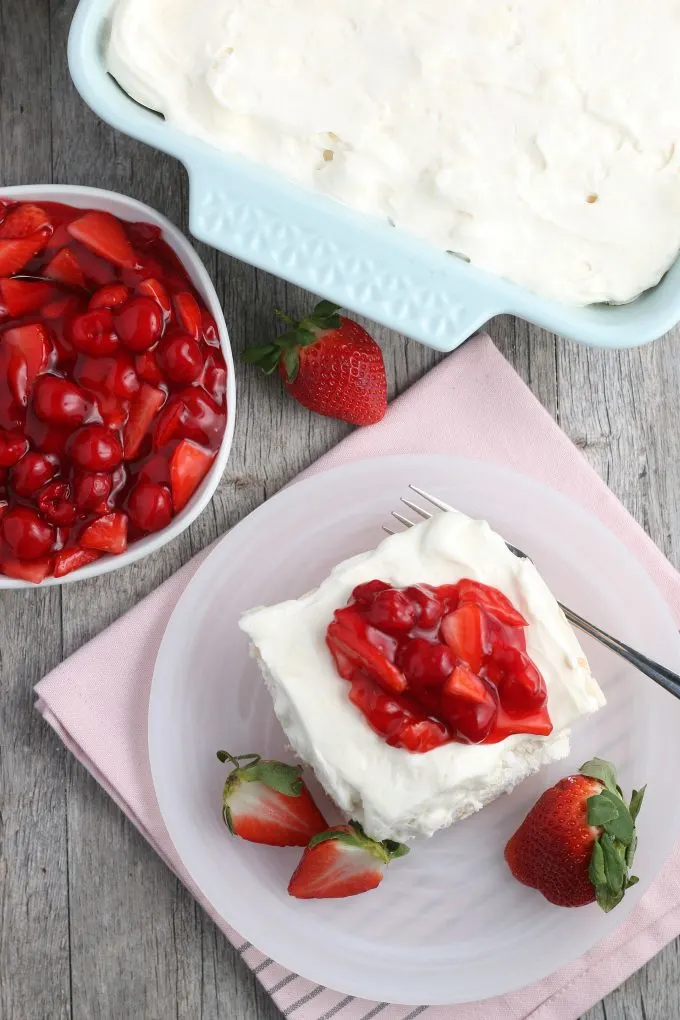 What is Cherry Berry on a Cloud?
The "cloud" is a light and fluffy "crust" that is actually a meringue base. After the base, you have a layer of cream cheese that includes marshmallows and whipped cream that have been folded in.
The final layer is diced strawberries and cherry pie filling. This may sound like a lot of ingredients, but each one is important to this dessert.
The layering of each of the ingredients is truly what makes it so delicious. It's a fun dessert because every time you put a piece in your mouth, it feels like a party for your tastebuds! You get to taste a lot of yummy ingredients that work as a whole to create this amazing dish.
Get all of my easy dessert recipes here!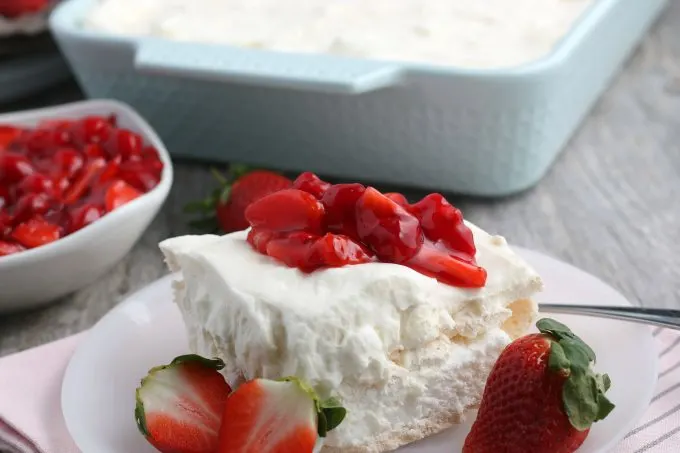 How to store the leftover Cherry Berry on a Cloud
There are a lot of dessert recipes that you can leave on the counter, but this is not one of them. You will want to make sure you have an airtight container on hand to store this dessert. Because of the amount of dairy in Cherry Berries on a Cloud, you cannot store it on the counter.
Every time I've made this dessert it has not even lasted long enough to have leftovers. I would say that this dessert would be could in the fridge for 1-2 days before it starts losing its flavor and its fluff.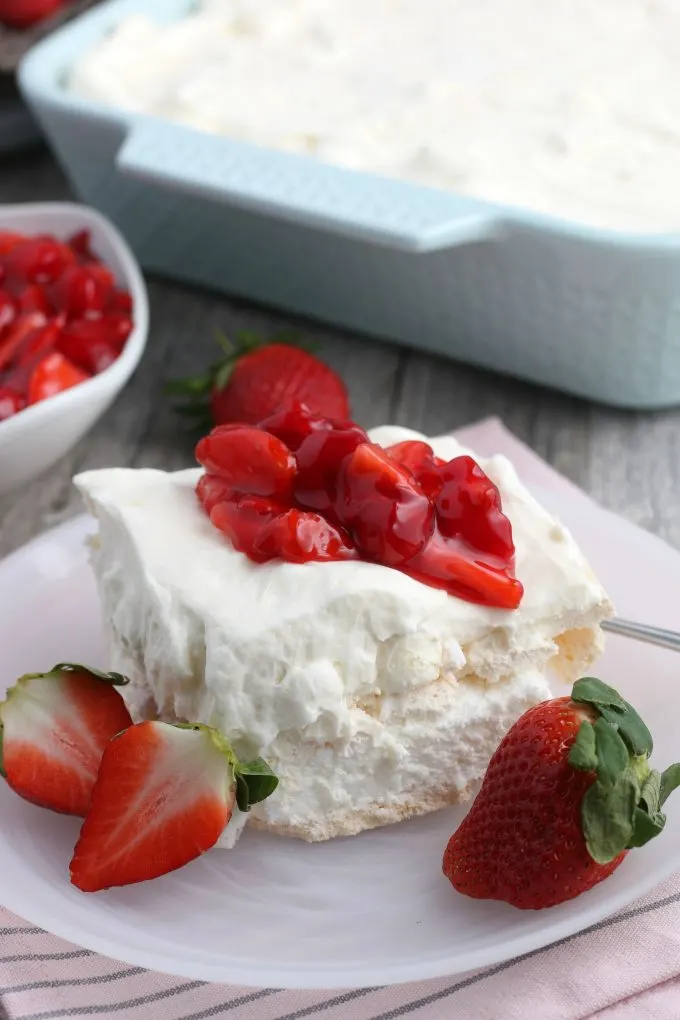 How long does it take to make this dessert?
I won't sugar coat it. This isn't a quick dessert. It takes a long time to make cherry berry on a cloud. Don't be discouraged by this.
While the recipe itself doesn't take a lot of energy, it does take time. This is not a recipe you can whip up in one hour and be on your way. The first step of the recipe requires you leaving the egg whites, spreading them on a pan, baking them, and then leaving it in the oven overnight. This is just a step I do before bed, so it's not even a big deal.
However, I do like to know WHAT I'm getting into before I make a recipe. On the other hand, this step has never stopped me from making this incredible dessert. If you love the idea of all these ingredients put together, then you should know it's worth making.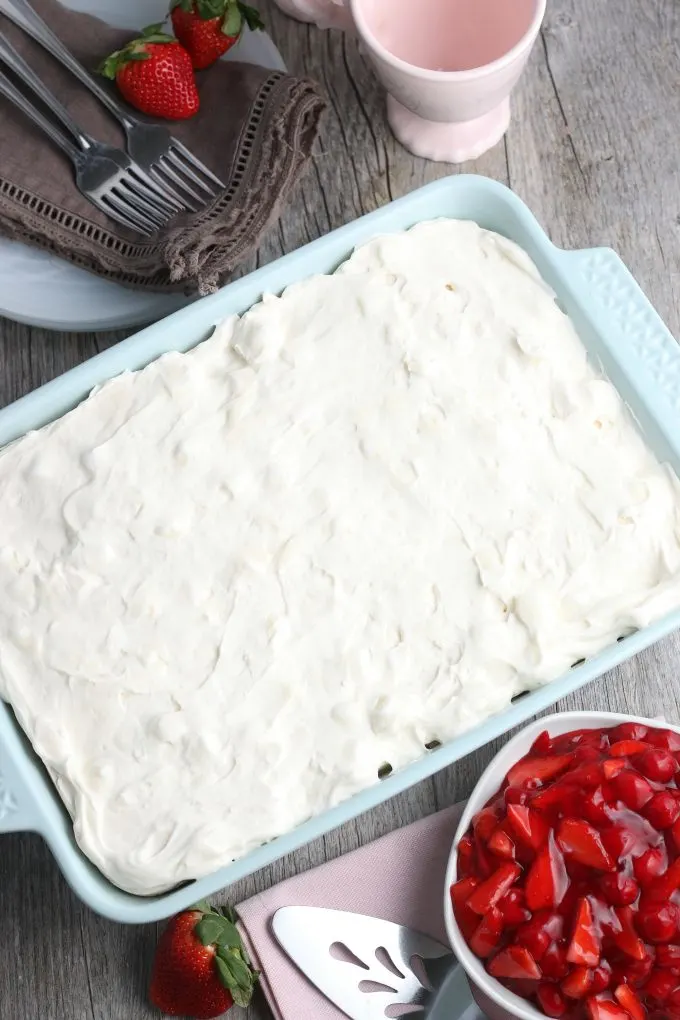 How to make Cherry Berry on a Cloud
Start by whipping up 6 egg whites and the cream of tartar and salt in your stand mixer on medium to high speed with the beaters attached.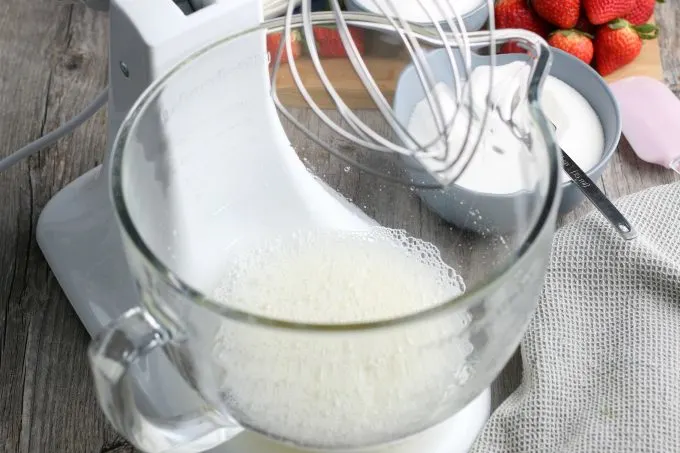 When the egg whites are foamy, begin incorporating the sugar 1 tablespoon at a time until it is all added and the egg whites form stiff, glossy peaks.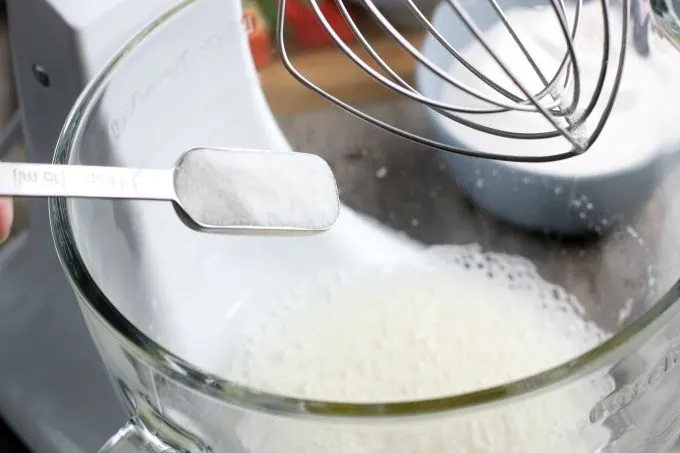 Don't underbeat the whites. They should be glossy and have stiff peaks.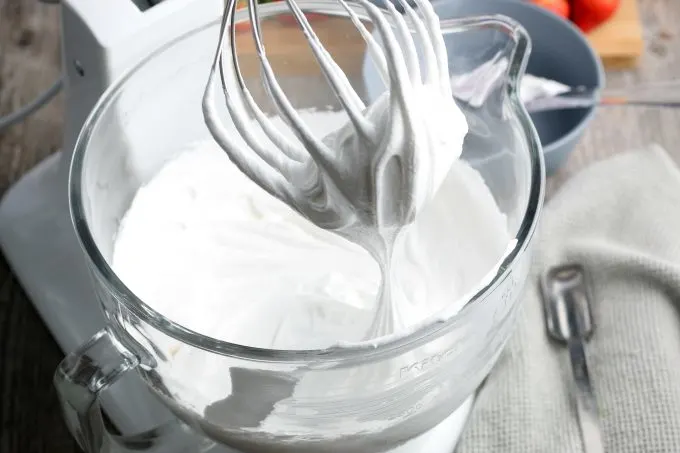 Spread the egg whites into a greased 9×13 pan and bake at 275 in a preheated oven for 1 hour. After the hour, turn off the oven, but leave the pan in for 12 hours (I do this right before bed!) without opening the door.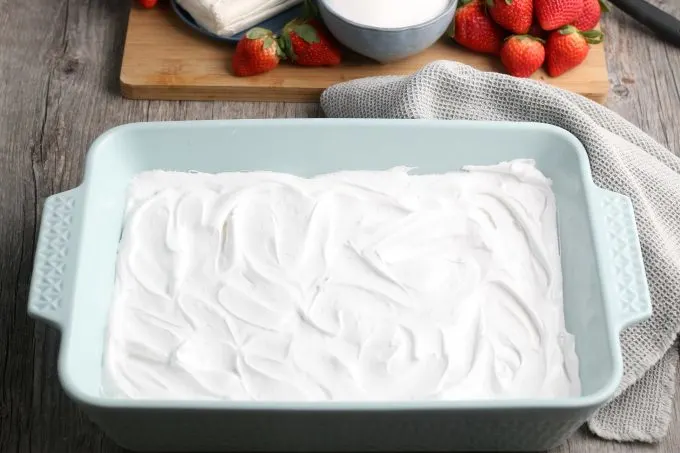 Pull the pan out of the oven after 12 hours and marvel at your creation.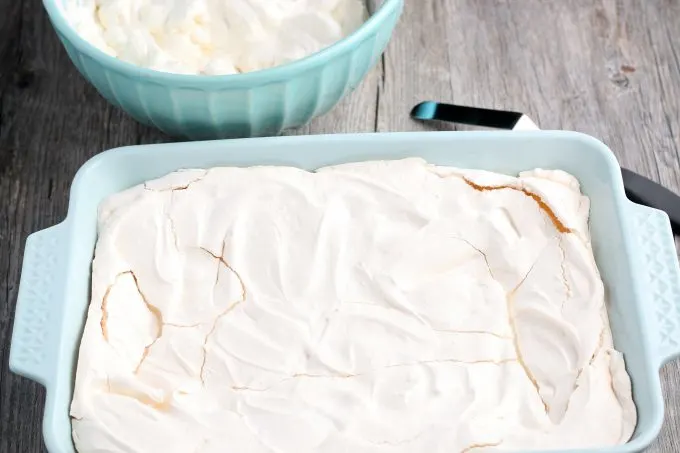 Now take your room temperature cream cheese, sugar, & vanilla and mix together until smooth.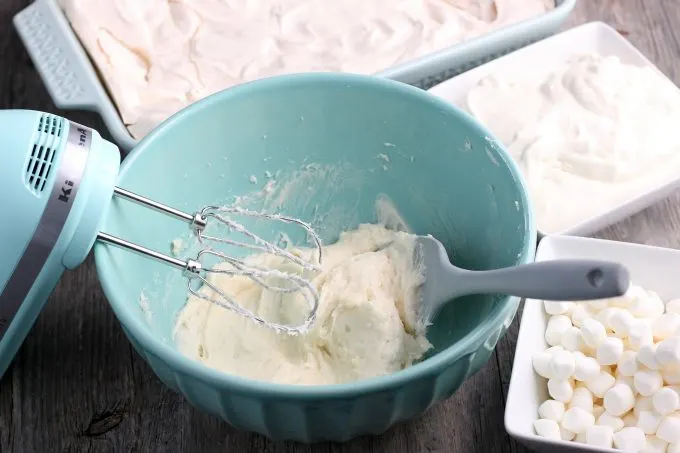 Remove to a separate bowl, clean your mixer bowl and beaters (unless you're lucky enough to have TWO mixing bowls, you lucky duck you!), and whip your cream until it is stiff. Don't make butter, like I did, by turning away from your cream that is whipping for a second. It goes from PERFECT to ruined in a few seconds if you are beating on high speed.
Combine the cream cheese mixture, whipped cream, and marshmallows by folding gently together until combined.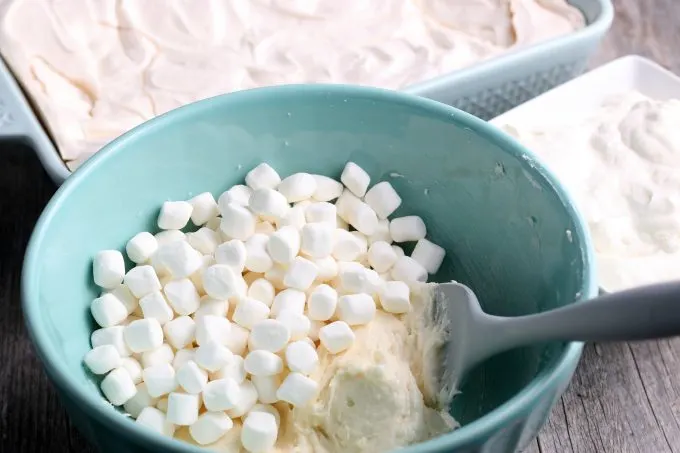 Spread over the meringue.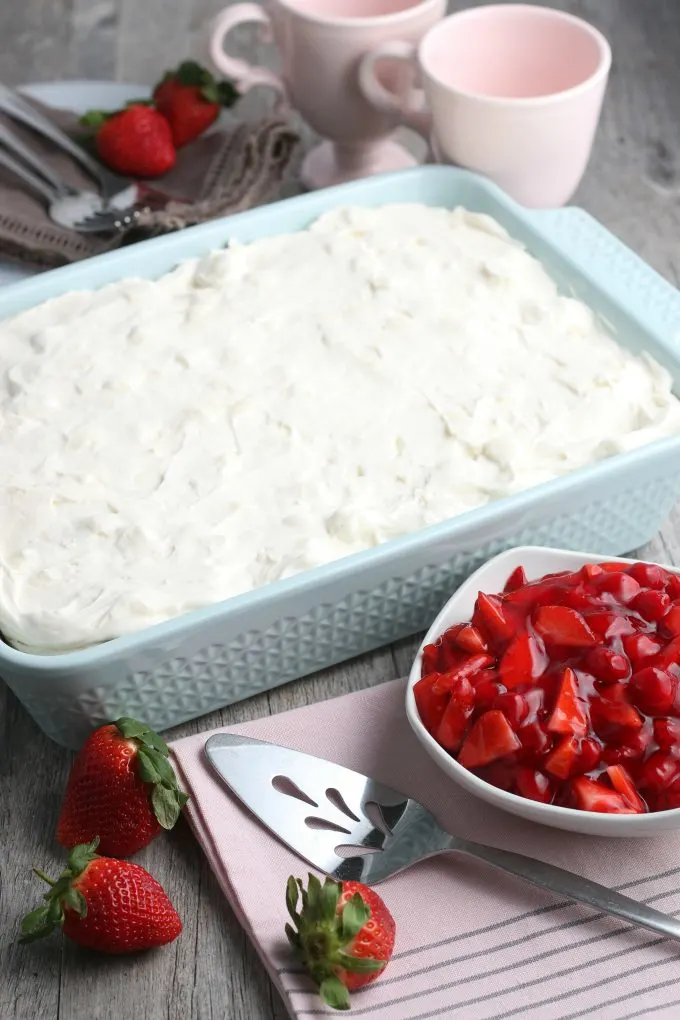 Let this chill for 12 hours in the fridge.
I brought this whole pan to a get together with 3 people. It was a LOT. We had leftovers for DAYS, even in my 6 person household. The point being, you have some wiggle room in these chill times. If you have an evening affair that you are bringing this too, and get the meringue out of the oven at 8am, get it all put together and chilling by 9am, you will probably be good to serve it for a dinner even though it hasn't chilled the entire 12 hours.
Lastly, mix together a can of cherry pie filling with a pint of fresh sliced strawberries. Add in a teaspoon of lemon juice for a little tartness, and a dash of vanilla if you love vanilla like I do.
Spoon this mixture over individual portions of the dessert, and serve immediately. Top with a dollop of whipped cream if you want to be extra decadent.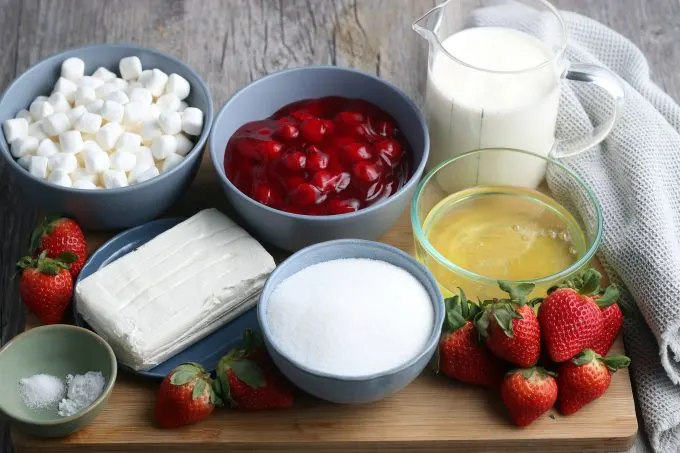 What should you serve with this dessert?
Once you've made Cherry Berry on a Cloud, you may be wondering what you can serve with it. I like to make and take this dessert with me to various parties because it's always a hit. It goes wonderful with any other dessert you may be serving.
Do you know what else goes great with Cherry Berry on a Cloud? A scoop of ice cream! I don't know why but ice cream compliments everything, especially dessert.
Looking for something to serve before the dessert comes out?
I highly recommend my Coconut Shrimp. It is AMAZING and definitely a thing you'll want to make a whole meal of.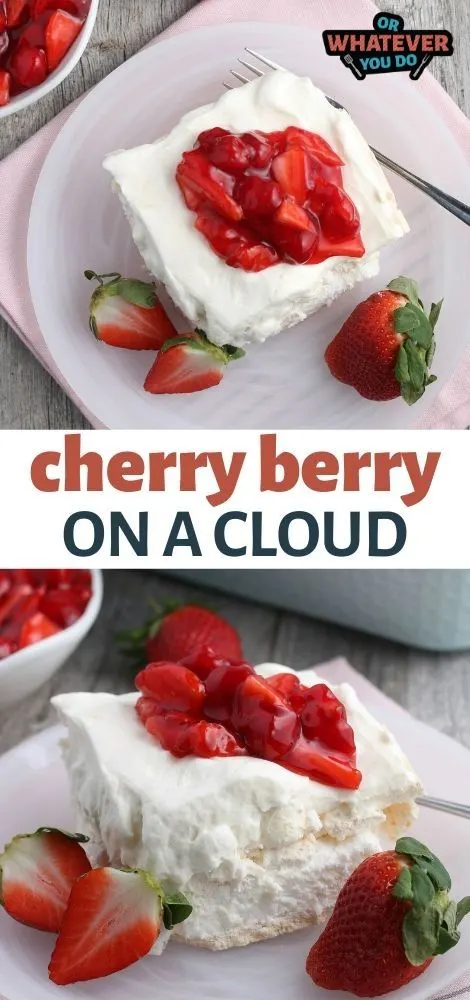 Yield: 12 servings
Cherry Berry on a Cloud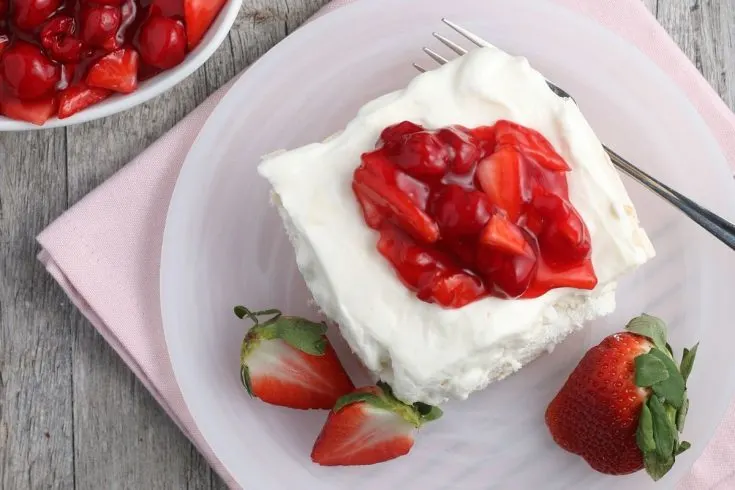 This dessert is fluffy, sweet, and covered in fresh strawberries and cherry pie filling. On a bed of meringue, and topped with a sweetened whipped cream, marshmallow, and cream cheese mixture.
Total Time
13 hours
25 minutes
Ingredients
6 egg whites
1/2 tsp cream of tartar
1/4 tsp salt
1 3/4 cup sugar
1 packages cream cheese, 8oz
1 cup sugar
2 cups heavy whipping cream
2 cups mini marshmallows
1 can cherry pie filling, 21 oz
1 pint fresh strawberries
dash vanilla, optional
Instructions
Preheat oven to 275 degrees. Whip egg whites, cream or tartar, and salt until foamy. Start adding sugar, 1 TBSP at a time, to the mixture until all 1 3/4 cups are incorporated and the whites for stiff, glossy peaks.
Spread into a greased 9x13 pan and bake for one hour. Shut off oven, DO NOT PEEK, and leave in oven for 12 hours.
Remove from oven after 12 hours and prepare filling by mixing cream cheese, sugar, and vanilla until well combined. Fold in whipped cream and marshmallows. Spread over meringue.
Chill for 12 hours and make topping by combining cherry pie filling with lemon juice and 1 pint of sliced fresh strawberries. Add a dash of vanilla if desired. Spoon filling over individual portions of dessert and ENJOY!
Nutrition Information:
Yield:
12
Serving Size:
1
Amount Per Serving:
Calories:

481
Total Fat:

21g
Saturated Fat:

13g
Trans Fat:

0g
Unsaturated Fat:

6g
Cholesterol:

64mg
Sodium:

162mg
Carbohydrates:

71g
Fiber:

1g
Sugar:

54g
Protein:

5g
Nutrition data provided here is only an estimate. If you are tracking these things for medical purposes please consult an outside, trusted source. Thanks!