This Smoked Chicken Chile Verde recipe is one you're going to make over and over again! It is great on its own, stuffed into a tortilla, served with chips, or folded into an omelette.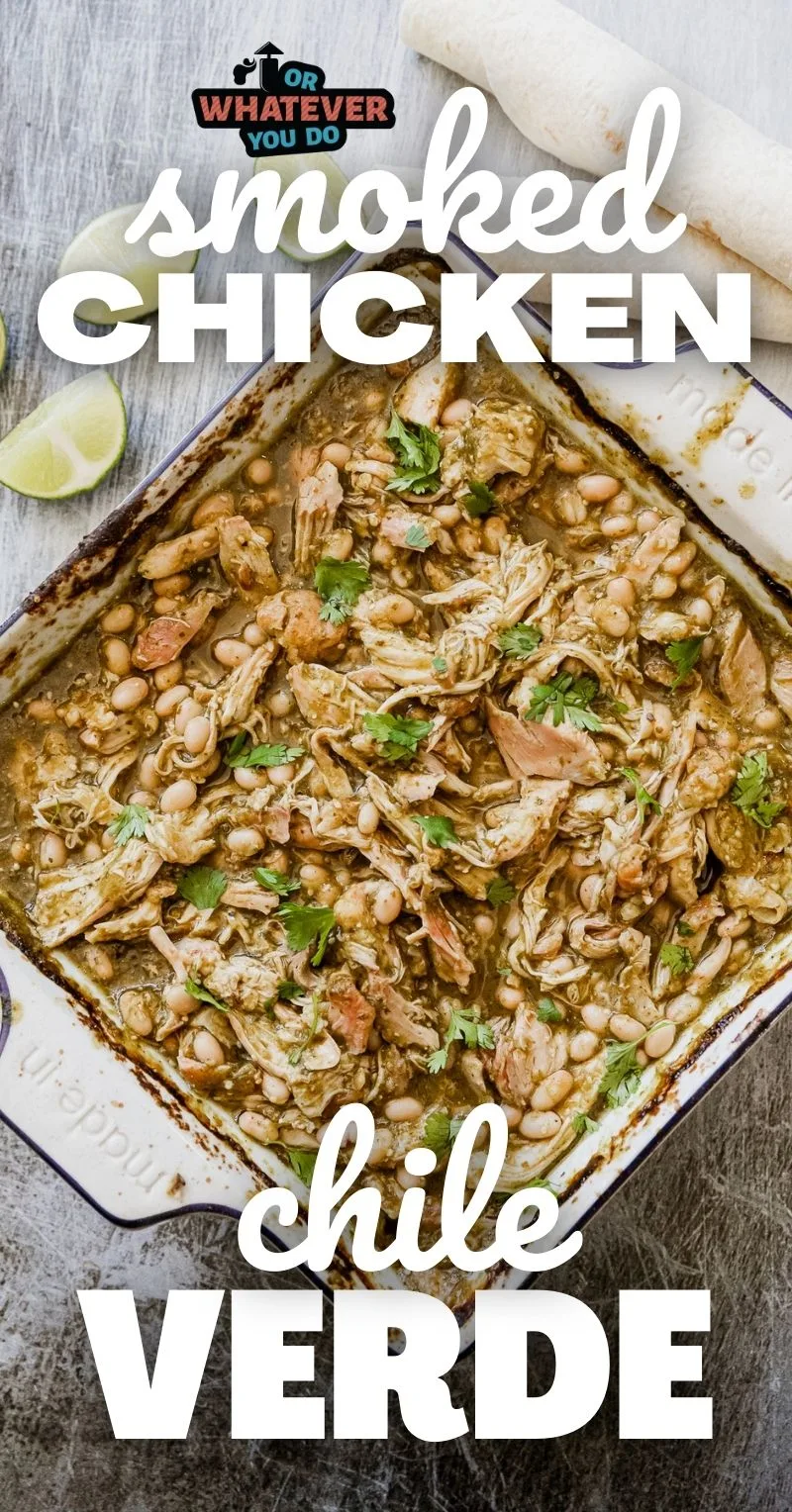 Chile Verde Chicken
I'm not being dramatic when I say that I LOVE this chicken. I happened upon it by accident a bit after spending this spring making giant batches of salsa that the kids were after constantly. It is nothing new, but it was new to me and I am impressed.
As someone who didn't grow up loving big bold flavors or spice, or even tolerating it, really, developing an appreciation for salsas has been one of the most fun things about changing from an ultra-picky eater to someone who will eat justttttt about anything these days.
Whether you grew up more upper Midwest, like me, and are relatively new to the spice game or if you have enjoyed the culinary heat since you were a tiny child, I'm going to bet that you're going to love this recipe.
Fair warning – it makes a LOT of salsa. It made enough to make this entire dish and then have two pints of salsa extra for snacking.
We appreciated that fringe benefit so I kept it in the final version because I figure you will too. If you don't have a bunch of people waiting in the wings to pounce on any snacks available, give a jar to a neighbor! Turns out summer is here and it is time to get out into the world again.
If you aren't feeling sociable (I get it!) – you can also freeze the extra salsa for later on.
Get all of my Traeger Recipes here!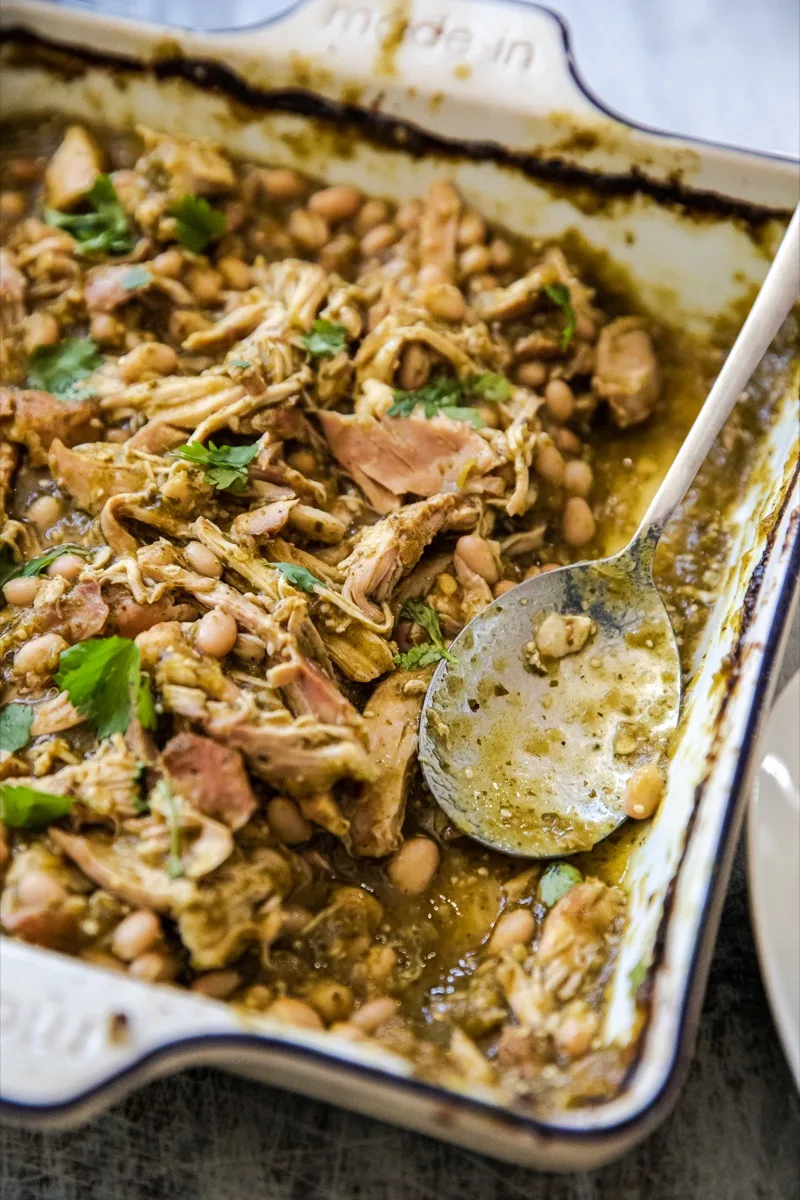 Smoked Chicken Chile Verde shopping list
Wondering if you have to hit the store? Here's the list of items you'll need to make this recipe. For specific amounts, please refer to the printable recipe card at the bottom of the post.
Chicken thighs
Yellow onion
Garlic
Poblano peppers
Anaheim peppers
Jalapeño peppers
Tomatillos
Limes
Cilantro
Salt
Great northern beans, drained
Cannellini beans, drained
Get 75+ of my favorite Traeger Recipes here!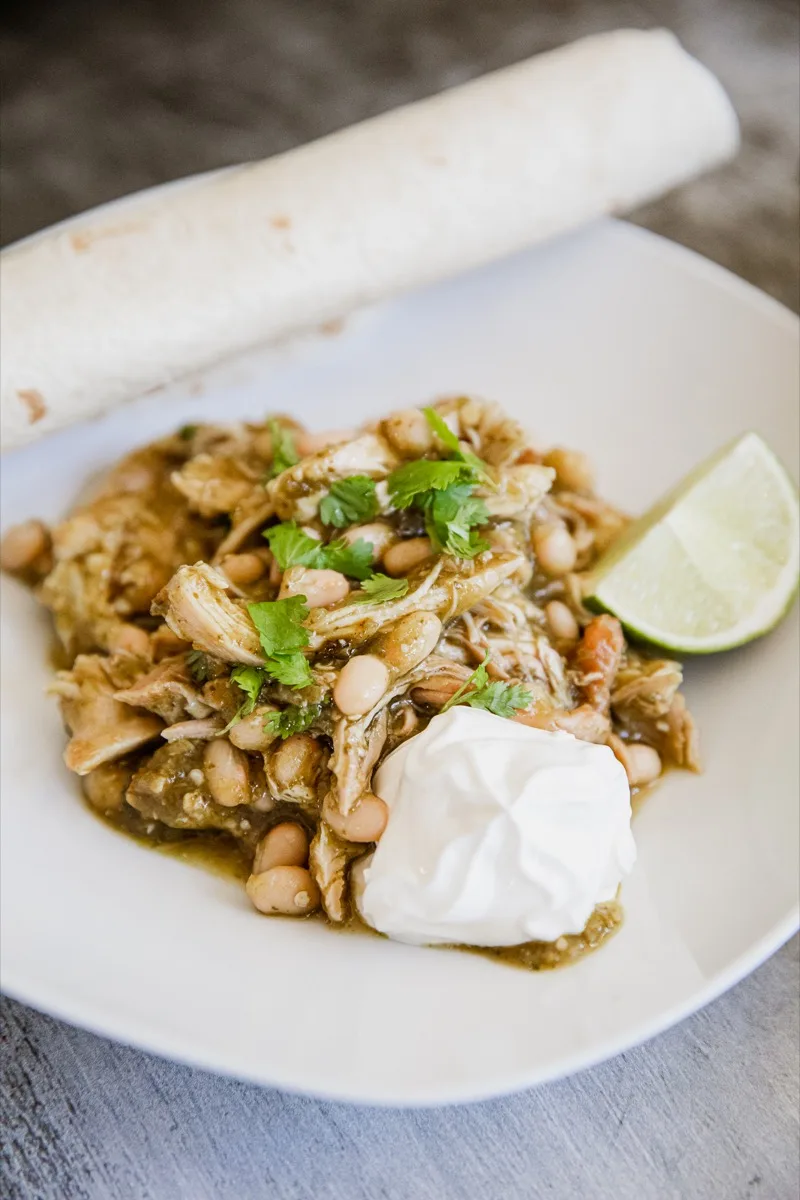 How to make Chicken Chile Verde on the Traeger
This is just the overview so you can see what you're actually getting into here. When you are cooking, you'll want to use the full recipe at the bottom of the page.
Preheat
Fire up your grill and get it roaring! We're going for 400°F here to roast these vegetables.
Make the sauce
Follow the instructions in the recipe card for roasting. The tl;dr is that you need to let them get roasty toasty and then make them into the sauce.
Chicken
Turn the grill down to 250°F. Season the chicken and toss it on the grill. They need to smoke for about 45 minutes.
Put half the sauce into a baking dish. Put the chicken in the dish with the sauce. Turn the heat up to 350°F. Let the chicken simmer in the verde sauce until it is fall-off-the-bone tender.
Make the dish
Take the meat off the bone and discard the bones and skin. Put the meat back into the sauce and add the beans. Put it back in the smoker for 15 minutes or so.
Enjoy
Serve with warm tortillas, fresh tortilla chips, sour cream, and additional hot sauce.
Our Smoked Salsa Verde is a popular recipe too!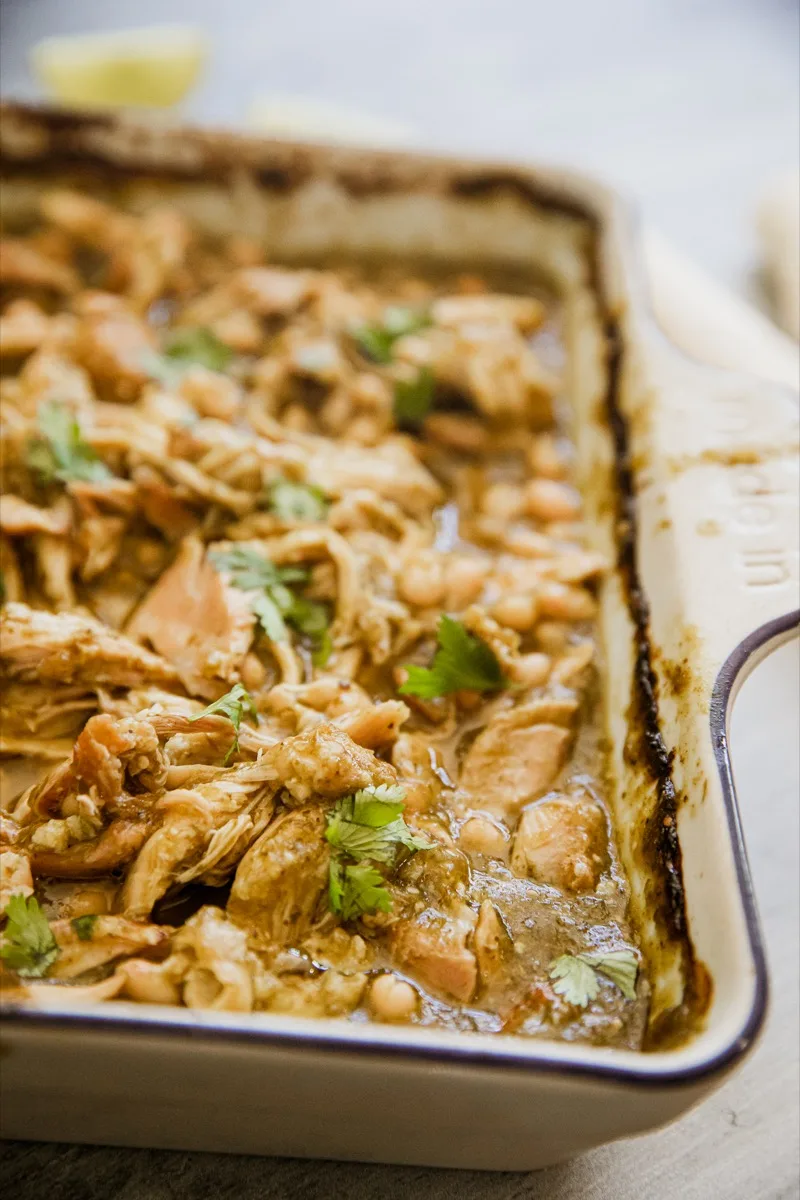 Smoked Chicken Chile Verde FAQ
Can I use jarred sauce instead of making my own?
Yes! You certainly can. If you have a killer verde salsa you love and can grab locally you can totally grab a few of those and use them. Similarly, if you don't feel like using chicken thighs (or you need this to be one the table in less than an hour) you could use a rotisserie chicken.
Will it be AS good as this version? No. But it'll still hold its own and I wouldn't hesitate to use whatever tools I needed to, to ensure I was able to get a meal on the table for the fam.
What's the best way to store and reheat this dish?
This one is easy! Store it in whatever you have available. Glass container. Plastic container. Freezer baggie. What.ever. You can even cover the baking dish with foil. That's what we did.
Reheat it in the microwave or on the stovetop. Put it inside a quesadilla. Scramble it into eggs. You decide how you get to use the leftovers.
Try our Smoked Shredded Beef Burritos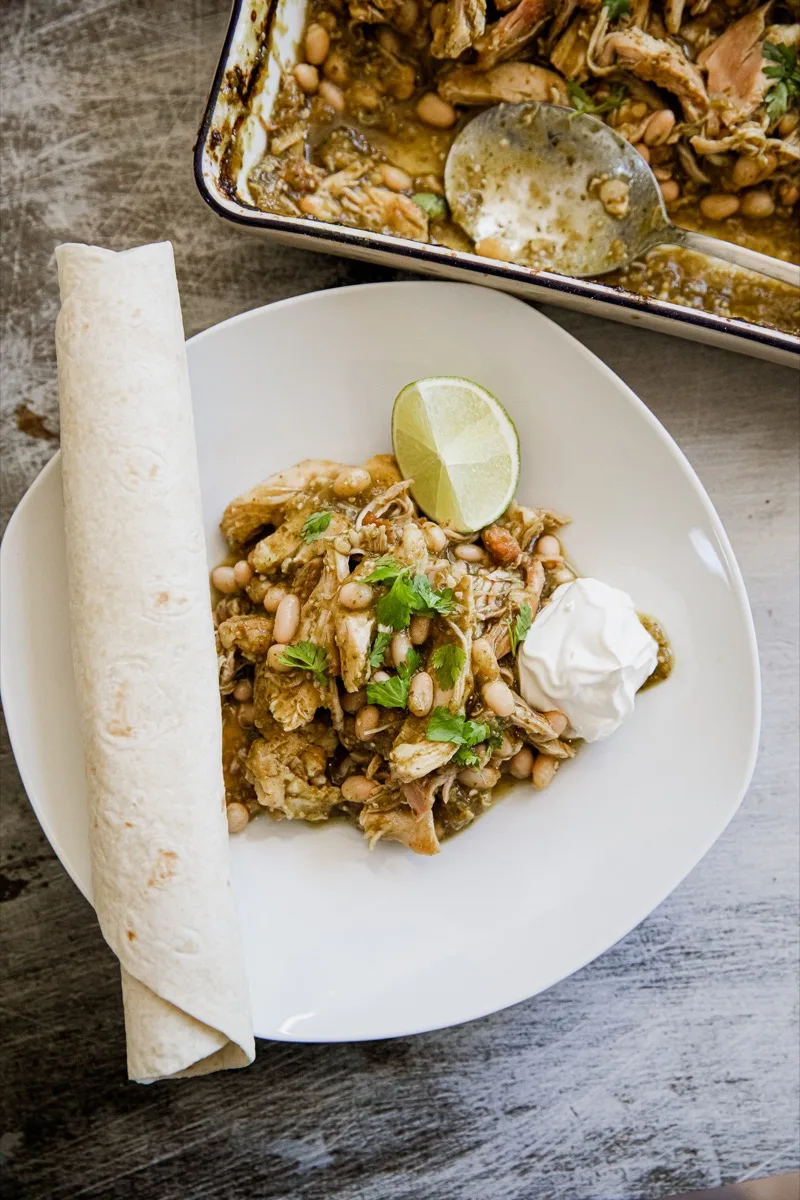 Serve this with…
More great recipes to love!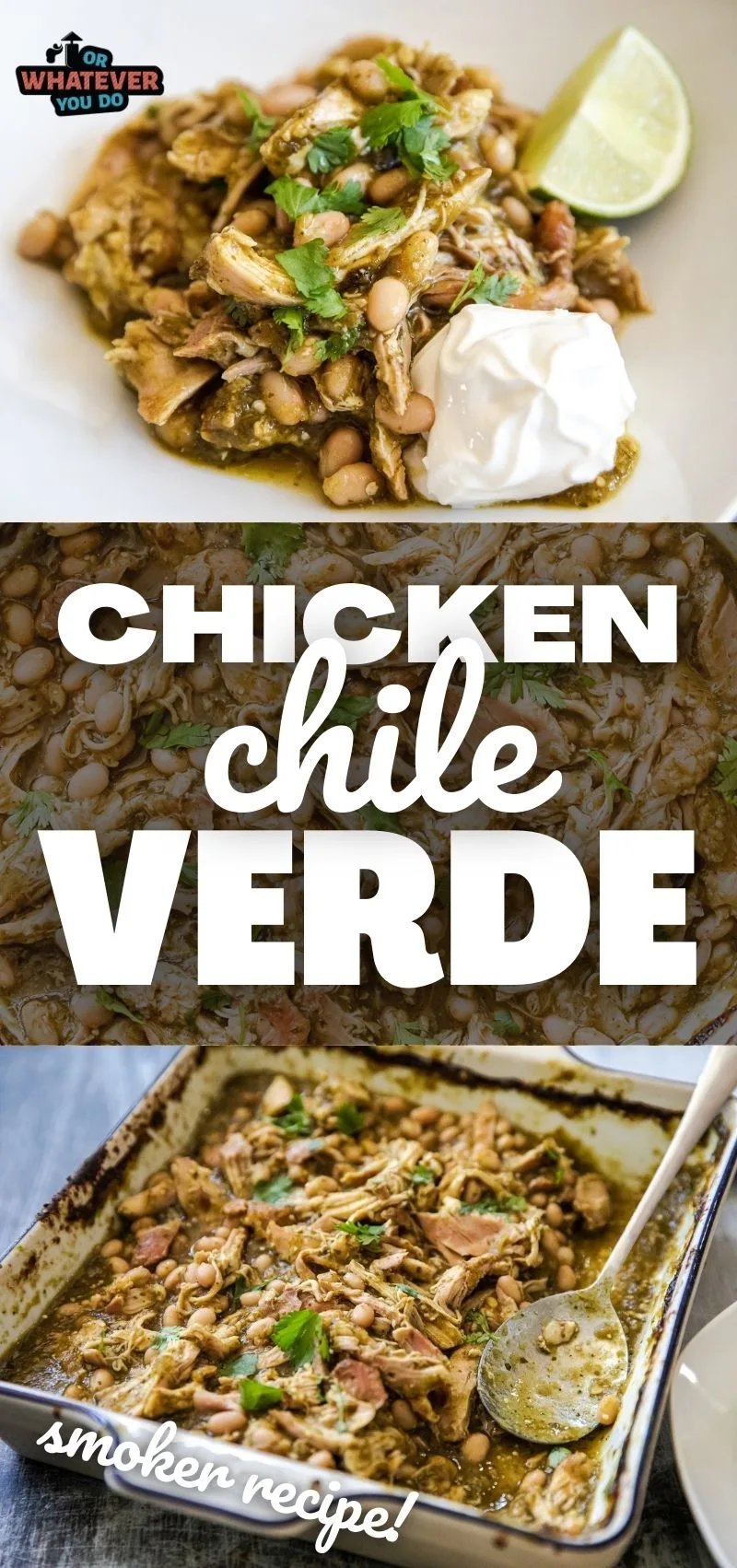 Yield: 8 servings
Smoked Chicken Chile Verde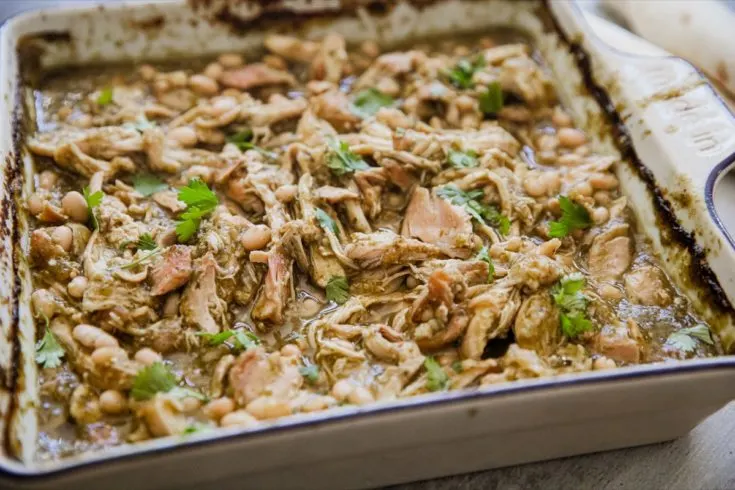 Tender, moist smoked chicken thighs get cooked in our homemade verde sauce for an epic meal! This recipe makes extra sauce so you can have some for chips and tacos the next day.
Total Time
2 hours
15 minutes
Ingredients
Verde Salsa
1 medium yellow onion, diced
4 cloves garlic, quartered
3 poblano peppers, whole
3 Anaheim peppers, whole
4 jalapeño peppers, whole
12 tomatillos, (peel off the papery outer layer, but leave them whole)
2 limes, juiced
1 handfull cilantro
2 teaspoons salt
Beans
1 can great northern beans, drained
1 can cannellini beans, drained
Instructions
Prepare the salsa by preheating your grill to 400°F. Put the onion and garlic on a small grill-safe baking sheet or a double layer of tin foil. Place on the preheated grill. Put the peppers and tomatillos right on the grill grates.
Let the onion and garlic cook for about 10-15 minutes. The tomatillos can come off the grill as soon as they have some grill marks. Let the peppers cook until the skin is blistered and has some color. Remove the peppers from the grill and put onto a tray. Cover the tray tightly with foil right away. We want them to steam a bit in their own steam.
Reduce the heat on your smoker or pellet grill to 250°F.
Season the chicken thighs with the Verde rub. If you don't have any, you can sub in generous amounts of salt, pepper, garlic powder, and onion powder.
Put the chicken thighs on the smoker.
While the chicken is smoking, peel the skin off of the peppers and toss out the stems. If you keep the seeds in, it'll preserve some of the heat. How hot the end result will be depends on how hot your peppers are.
Put the freshly peeled roasted peppers and whole tomatillos for the verde sauce into a large blender and pulse until everything is chopped up. Add in the cilantro and lime juice and pulse just to chop up the herb a bit and combine things. Taste, and then add half the salt. Mix. Taste again. Add the rest of the salt, if necessary.
Put about half of the the verde sauce into a grill-safe baking dish that's big enough to fit all your chicken thighs. Bring it out to the grill and put it in. Once the chicken thighs have smoked for about 30-45 minutes they can go into the sauce to finish cooking. Add a little more sauce if you need to. You want the chicken thighs to have a good amount of sauce to cook in. Put the rest of the verde sauce in the fridge for another time. You'll thank me later. 😉
Turn the grill heat up to 350°F. Let the thighs simmer in the sauce for an hour or so. The meat should be super tender and come off the bone easily.
Remove the skin from the thighs and debone. Add the meat back into the pot with the chile verde sauce and add in the white beans. Stick it back in the smoker for 10-15 minutes.
Serve with sour cream, shredded cheese, hot sauce, and tortillas and/or tortilla chips.
Recommended Products
As an Amazon Associate and member of other affiliate programs, I earn from qualifying purchases.
Nutrition Information:
Yield:
8
Serving Size:
1
Amount Per Serving:
Calories:

249
Total Fat:

14g
Saturated Fat:

4g
Trans Fat:

0g
Unsaturated Fat:

10g
Cholesterol:

125mg
Sodium:

702mg
Carbohydrates:

9g
Fiber:

3g
Sugar:

4g
Protein:

24g
Nutrition data provided here is only an estimate.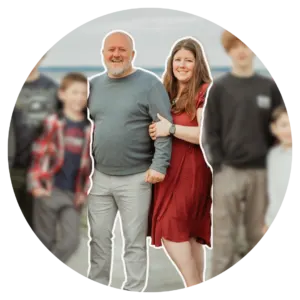 Nicole Johnson, a self-taught expert in grilling and outdoor cooking, launched Or Whatever You Do in 2010. Her blog, renowned for its comprehensive and creative outdoor cooking recipes, has garnered a vast audience of millions. Nicole's hands-on experience and passion for grilling shine through her work. Her husband, Jeremiah Johnson, also plays a pivotal role in recipe development, adding his culinary flair to the mix. Together, they form a dynamic duo, offering a rich and varied outdoor cooking experience to their followers.