Is that zucchini still coming out of your ears? Or ending up on your porch from your favorite neighbors? You'll want to try this Beef & Wild Rice Stuffed Zucchini! Cheesy seasoned beef is mixed with wild rice and orzo in a creamy sauce and then baked in seasoned zucchini boats and baked.
Beef & Wild Rice Stuffed Zucchini
I made these zucchini boats the same day I made this creamy zucchini bisque. Both were amazing. Like a little zucchini-palooza that day. Now I just need to beg some more off of my amazing neighbor so I can make these again but for dinner this time.
Its been almost two months since our newest additions got here, and it has been a crazy, fun, intense, and amazing roller coaster ride. But 2 toddlers and a baby plus 4 wild and crazy (and awesome) older boys to keep alive and relatively healthy and happy?
It's kind of insane.
Good insane most days, but these couple of days away recharging without any diapers to change or little people to boss around is going to go a looooooooooooong way towards refilling my tanks! Those smiles do almost the same thing every day though. In some ways, it feels like a day since they got here and in others? It just kind of feels like they've always been.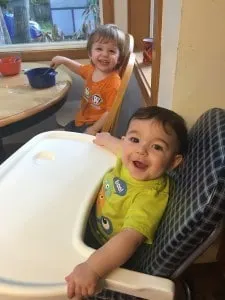 They are busy learning and playing and growing and doing their best to drive the big guys crazy, and succeeding sometimes at it even. The older boys have been amazing. They are my more-than-willing extra eyes and hands, helping little ones walk out to the truck, making sure no one escapes or you know, does crazy toddler things like brushing their teeth in the toilet. Not that I have any experience with that or anything. 😉
So fellow conference attendees – if you see someone running up to the conference hall like this and randomly hugging people? That would be me.
Of course, I'll probably look the same way running home again on Sunday. 😀
So – stuffed zucchini. That's what we were talking about before I got distracted by cute babies and weekends away.
These are super easy. If you've never worked with wild rice before – here are a few tips:
It takes MUCH longer than regular rice to cook. Like, 45ish minutes. So plan ahead. But unlike other kinds of rice, it's really easy to make. You just boil it and then drain it when it's done. And you know its done because it will kind of puff up and the hulls will be broken.
Better yet, make it in your Instant Pot if you have one!
Wild rice has a pretty strong flavor. If it is a little much for you, rinse it, and rinse it good. You can rinse before and after it's cooked if you'd like to.
Salt the water well! Or use broth. It makes it EXTRA awesome.
Minnesota wild rice is the best. Not that I'm biased or anything, but it is amazing.
Don't be sticker shocked by the price. A little goes a long way. I rarely use more than a cup in any meal I make with it.
Here is an online source you can get wild grown Minnesota wild rice from at a decent price if you can't find it at your local grocery store.
First, brown your ground beef and onions with the seasonings, and while you are at it boil your wild rice and cook your orzo. Once they are all done, combine in a big pan.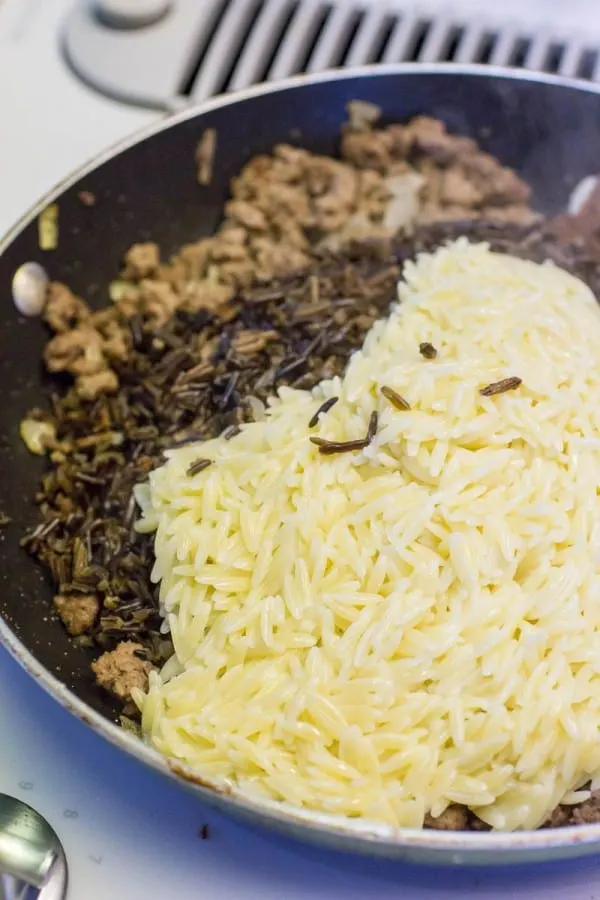 Add the cream, the cheese, and optionally – the nut mixture, and mix well. You could totally stop right here if you really wanted and just serve this up. It's amazing. I ate this for lunch that day. No zucchini needed.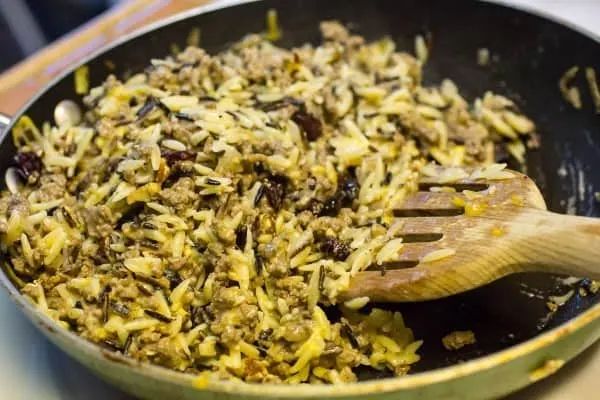 But since we're going for it today – let's do it. Hollow out your zucchini, and give it a sprinkling of salt and pepper. Fill it with your filling mixture.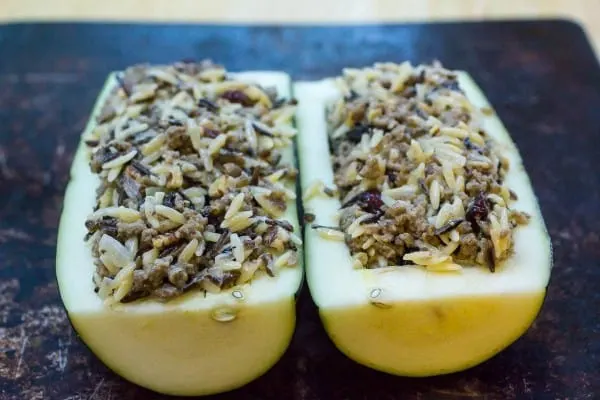 Top with some cheese, and bake at 325 for about 30-35 minutes.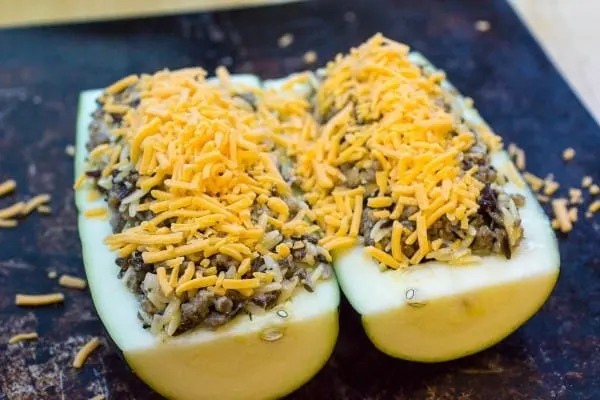 Enjoy!
Need some more great wild rice recipes?
Yield: 6 servings
Beef & Wild Rice Stuffed Zucchini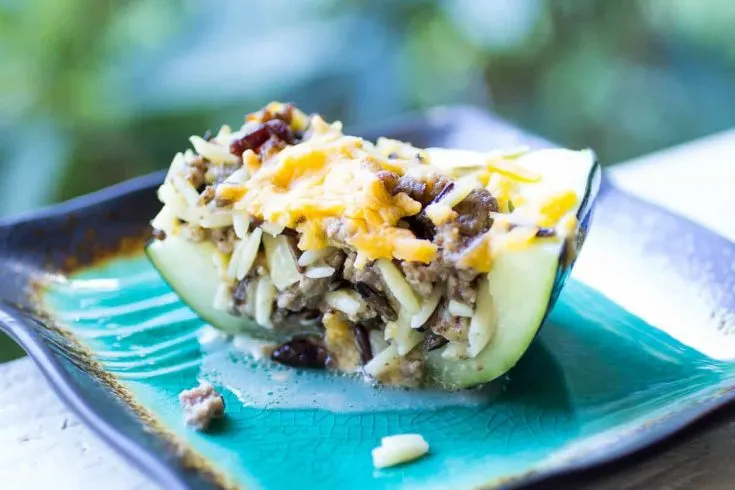 Giant zucchini make the best cooking vessel for this flavorful beef, wild rice, and orzo mixture! It is fresh and filling and everything you need for a perfect summer meal.
Total Time
1 hour
10 minutes
Ingredients
1 pound lean ground beef
1 medium onion, diced
1/4 teaspoon salt
1/4 teaspoon pepper
1/2 teaspoon garlic salt
1/4 teaspoon onion powder
1/2 cup wild rice
1/2 cup orzo
1 cup heavy cream
3 cups shredded cheddar cheese, divided
2 large zucchini, hollowed out
sprinkling salt and pepper
*optional - fruit and nut mix with pecans and cranberries
Instructions
Brown ground beef with onions, salt, pepper, garlic salt, and onion powder over medium heat in a large skillet. While the beef is browning, prepare the wild rice by boiling in 2 cups water according to package direction. Also cook the orzo until al dente. Drain both well, and rinse the wild rice well.
Preheat oven to 325.
Mix together the rice, orzo, and beef/onion until well distributed. Add in the cream and 2 cups cheddar cheese (reserving the last cup) and stir well. (Optional: add in nuts/cranberry mixture at this time)
Hollow out 2 large zucchinis, sprinkle with liberal amounts of salt and pepper, and stuff with ground beef mixture. Top with remaining cheese, and bake for 30-40 minutes.
Nutrition Information:
Yield:
6
Serving Size:
1
Amount Per Serving:
Calories:

661
Total Fat:

47g
Saturated Fat:

24g
Trans Fat:

1g
Unsaturated Fat:

18g
Cholesterol:

169mg
Sodium:

733mg
Carbohydrates:

22g
Fiber:

2g
Sugar:

7g
Protein:

40g
Nutrition data provided here is only an estimate. If you are tracking these things for medical purposes please consult an outside, trusted source. Thanks!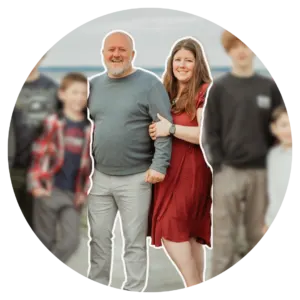 Nicole Johnson, a self-taught expert in grilling and outdoor cooking, launched Or Whatever You Do in 2010. Her blog, renowned for its comprehensive and creative outdoor cooking recipes, has garnered a vast audience of millions. Nicole's hands-on experience and passion for grilling shine through her work. Her husband, Jeremiah Johnson, also plays a pivotal role in recipe development, adding his culinary flair to the mix. Together, they form a dynamic duo, offering a rich and varied outdoor cooking experience to their followers.