Fried cauliflower is one of my favorite appetizers, but it MUST be served with gooey cheese sauce. You don't have to be in a bar in Minnesota to get this awesome deep fried veggie. You can make it really easily, right at home.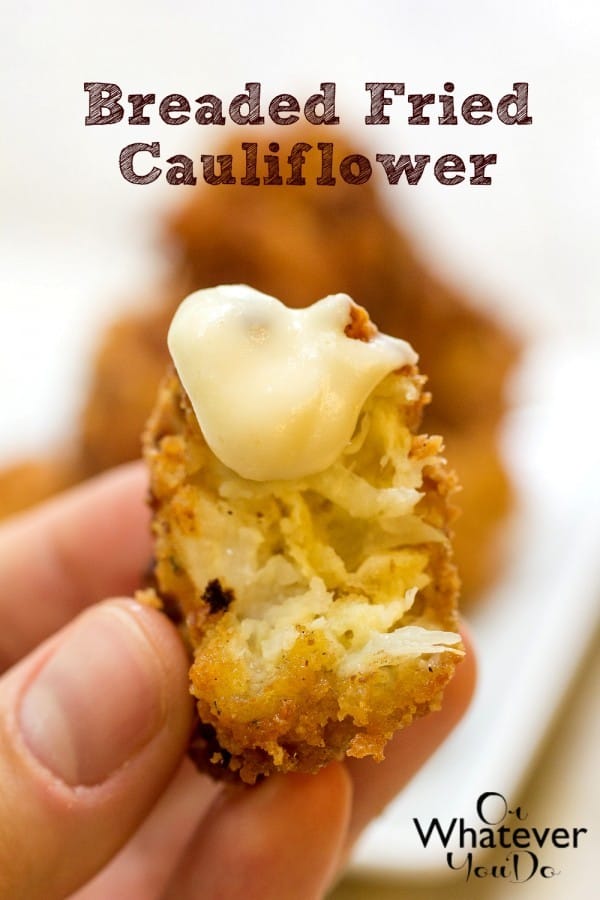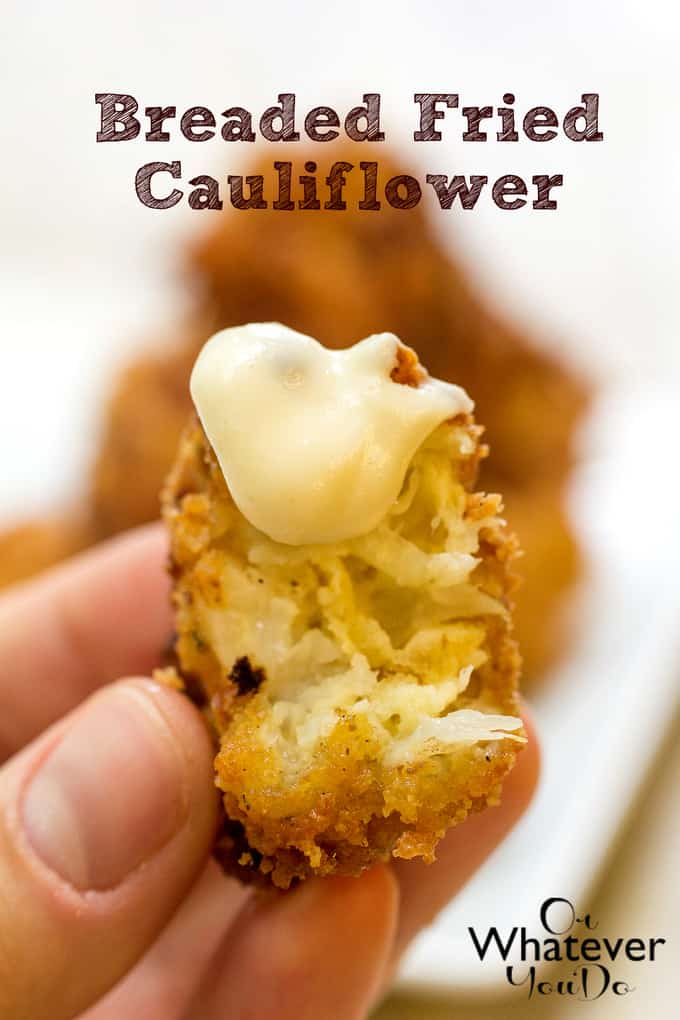 Fried Cauliflower
If you have ever been to a bar in Minnesota, you've probably had these breaded fried cauliflower bites. They are fantastic and come together in a flash.
This was always one of my Mom's favorites, but I didn't discover the awesomeness of these until after I had already moved away from home. That's probably a good thing, because if I could just go out and pick up an order of these any time I wanted that probably wouldn't be a great idea.
You've seen my love of the appetizer before in my herbed bread dip, Dungeness crab cakes, or my sriracha dip with spinach – among many others.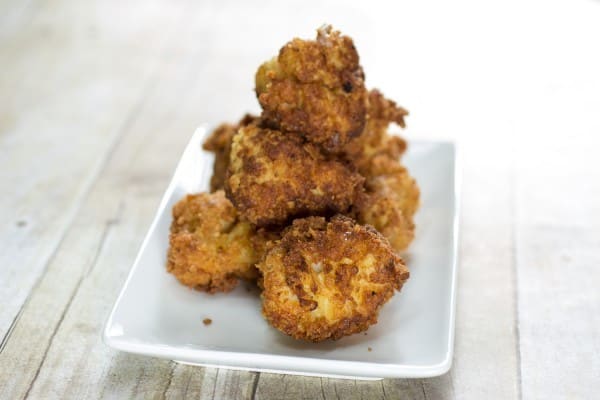 Start these by parboiling your cauliflower florets. The bigger the better for these babies, because smaller pieces tend to fall apart. Boil the florets until they are fork tender, but still hold together well. Drain and rinse with cold water to stop the cooking process.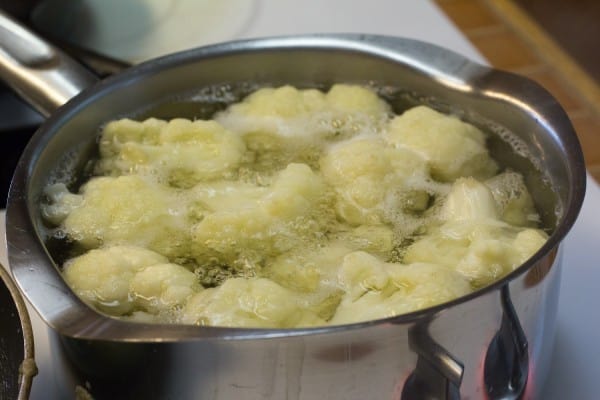 Let them dry for a few minutes, and then toss them into a large gallon baggie. Now pour in the flour, salt, pepper, and cayenne powder. Shake to lightly coat the florets.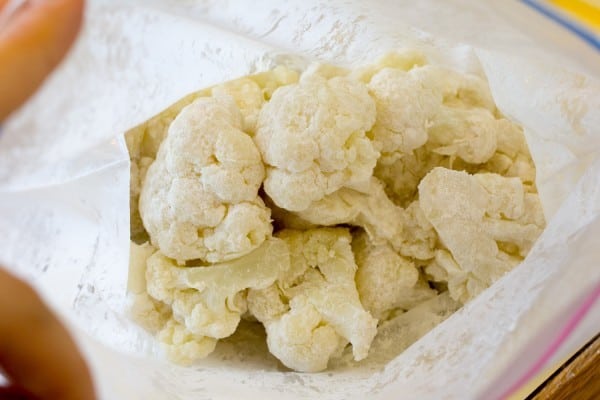 Next, pour in the egg wash mixture, and shake to coat.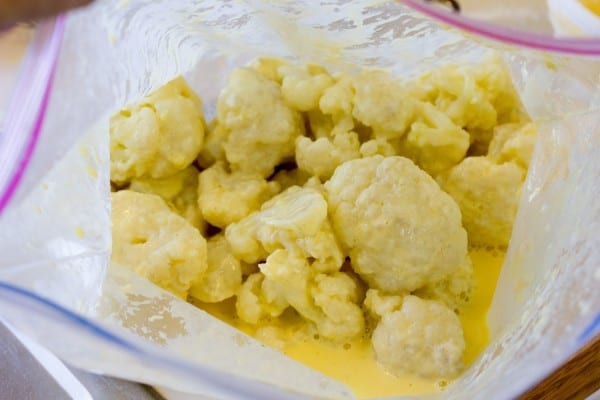 After all the cauliflower is coated with the egg wash, dump in the panko/bread crumb/flour mixture and shake well. The mixture will be a bit like batter on some. That's okay! Fry in canola oil that's over medium-high heat.
It should take about 3-4 minutes to fully brown the cauliflower. If it takes less time your oil is too hot. More time and it isn't hot enough. Be careful!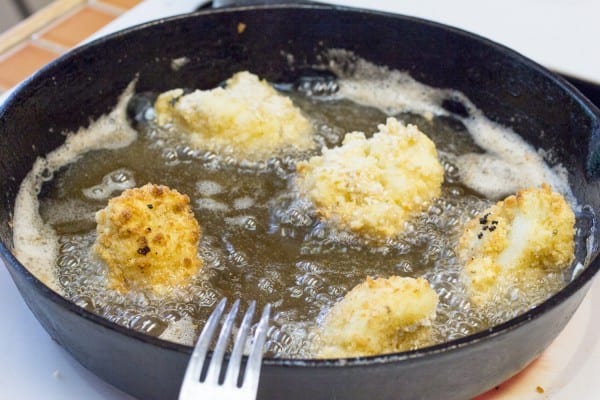 When fully browned, remove to a paper towel and continue frying the rest.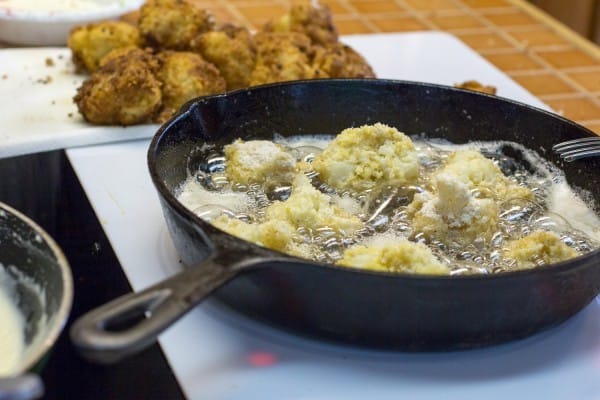 Serve with ranch, or more traditionally with a melted cheese sauce. Typically the bar variety comes with the melted cheese in a can. You can make your own if you would rather.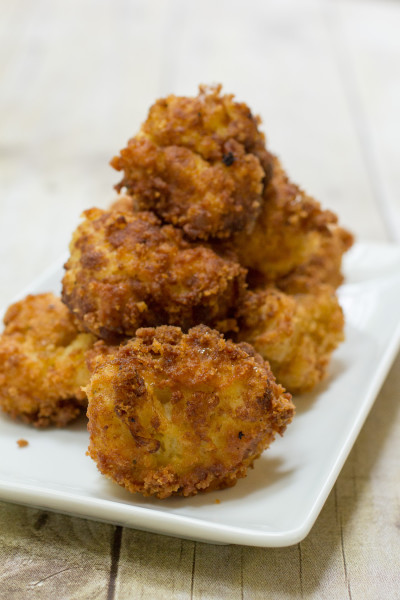 Yield: 6 servings
Breaded Fried Cauliflower Recipe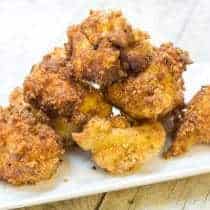 Midwestern bar food at its finest! Fried cauliflower is comfort food, dipped in cheese sauce.
Ingredients
12 large cauliflower florets
1/2 cup flour
1/2 teaspoon salt
1/8 teaspoon pepper
pinch cayenne powder
2 large eggs, beaten
1/2 cup milk
1 cup panko bread crumbs
1/2 teaspoon seasoning salt, Lawry's or Johnny's works great!
1/2 cup Italian bread crumbs
1/4 cup all purpose flour
Instructions
Simmer florets until they are fork tender, but will still hold together. Remove and rinse with cold water. Let florets dry, and then place in a large gallon baggie.
Mix 1/2 cup flour, 1/2 teaspoon salt, 1/8 teaspoon pepper, and the pinch of cayenne powder together well. Toss into baggie and shake to coat the florets.
Beat together the egg and milk. Pour into the baggie and shake to coat.
Combine the panko, bread crumbs, seasoning salt, and 1/4 cup flour. Pour into the baggie and shake and combine by lightly moving the florets around in the baggie.
Fry in 1 1/2 - 2 inches of oil, heated over medium-high heat. The florets should cook in 3-4 minutes. Any more and the oil is not hot enough. Less and it is too hot.
Serve with ranch dressing or cheese sauce.
Nutrition Information:
Amount Per Serving:
Calories:

5