Our Traeger Mini Hasselback Potatoes are tender little baby potatoes that have been sliced, smoked, and sprinkled with salt before getting served next to whatever you can dream up next! Get crazy and top them with some cheese and bacon and chives and make loaded minis if you're feeling crazy!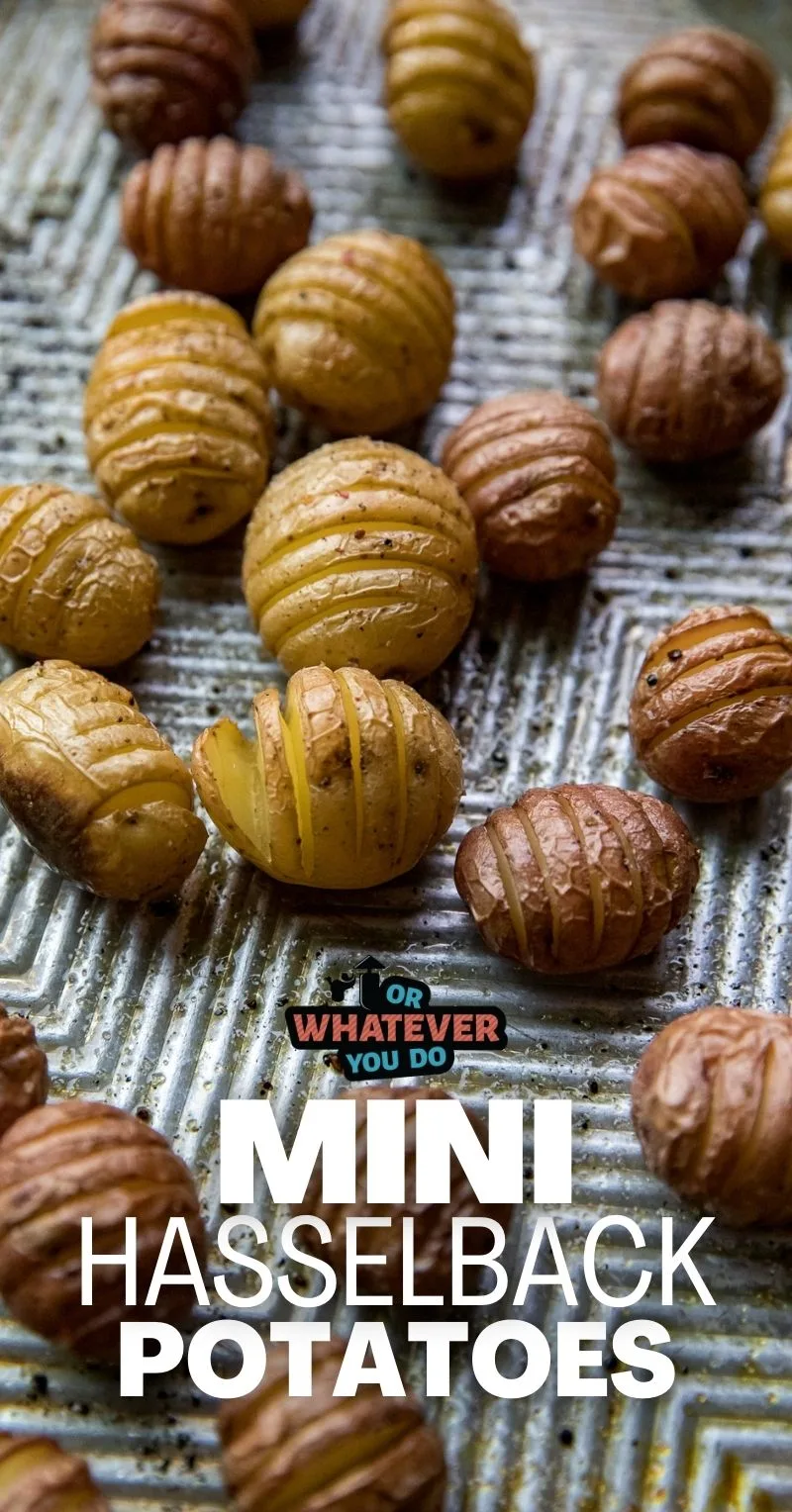 Traeger Mini Hasselback Potatoes
Hasselback potatoes are such a fun side dish to serve. You can do so many things with them, and there's just something about that texture that I can't get enough of! Serve these with a steak, our epic Traeger seafood feast, or really any main dish worthy of a potato side.
Hasselback Potatoes are a specific style of potatoes where several slices are made almost through to the bottom, but not quite. It lets the potato fan out as it cooks, creates lots of crispy edges, and tons of opportunity for stuffing. We've done a big version of Smoked Hasselback Potatoes before on the grill and they were amazing!
The mini versions here are really more for show, presentation, and to have something a little different. They don't actually taste better than the large versions, and it can be a little bit annoying to cut soooooo many potatoes like this (more bang for your prep-time-buck when you use bigger spuds), but what fun is cooking if you can't waste a little time on something fun just because you feel like it?
Check out all of my Traeger Recipes!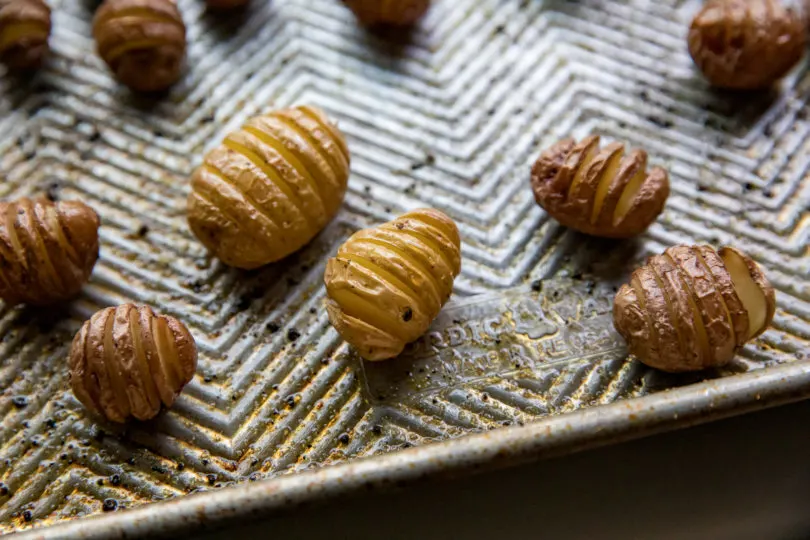 Mini Hasselback Potatoes shopping list
Wondering if you have to hit the store? Here's the list of items you'll need to make this recipe. For specific amounts, please refer to the printable recipe card at the bottom of the post.
oil
baby potatoes
flaky salt
Get my easy Side Dish recipes!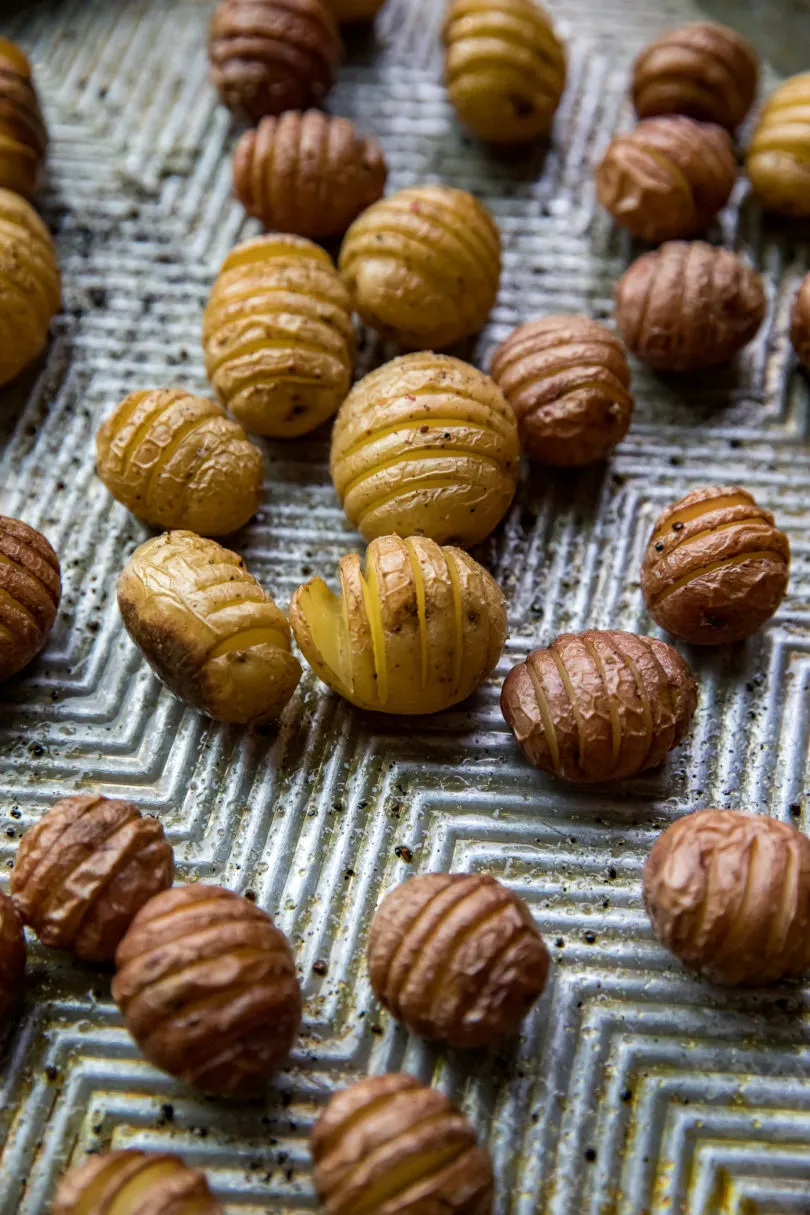 How to make Smoked Mini Hasselback Potatoes
This is just the overview so you can see what you're actually getting into here. When you are cooking, you'll want to use the full recipe at the bottom of the page.
Preheat your grill
Hot and fast is how we're cooking these! Preheat your pellet grill to 450°F.
Slice and prep the potatoes
If you need to, place two chopsticks on either side of the potato before slicing. The goal is to NOT cut through all the way. Leave about 1/4 inch so the potato holds together. Repeat this until they are all sliced.
Cheat. . . . . . . . . . . or don't
When we are cooking potatoes we usually cheat a little and toss them in the microwave for a few minutes to get the cooking process started. You can do this, or not. Up to you!

Put the spuds on a grill-safe pan and toss in the oil and sprinkle with your flakey salt.
Grill
Place the potatoes on a lightly oiled grill-safe baking sheet, and place them on the grill. Let cook for about 15 – 30 minutes (depending on whether you cheated or not, the outside temp, how windy it is, how often you open the grill, etc). The timing here is a big time guesstimate. Just cook them until the are fork tender.
Enjoy
You can top these with cheese, stuff them with bacon, cover them in sour cream and chives, toss them in butter and parmesan, or any number of things. Pictured here is just the plain seasoned potatoes. They were delicious! We served them on our Traeger Surf and Turf Seafood Feast.
Follow me on Instagram!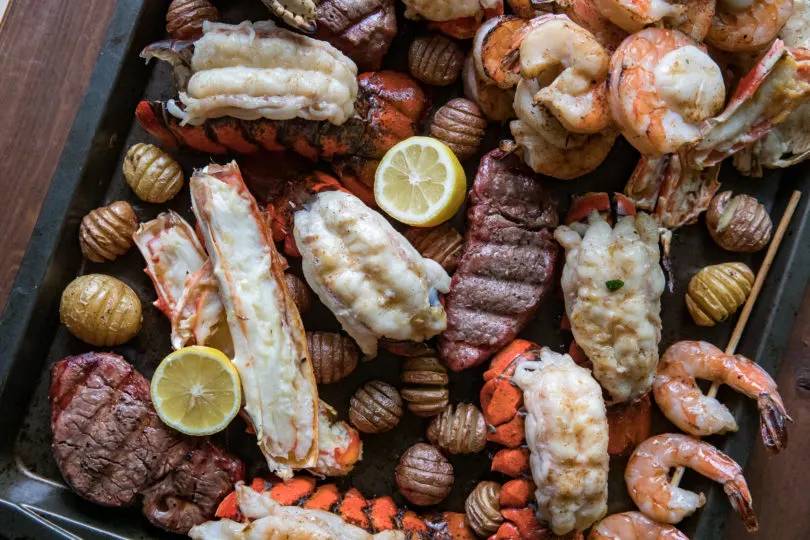 What are the best kinds of potatoes to use for mini hasselback potatoes?
Pictured here we used a bag of mixed baby Yukon Golds and red potatoes. I like to vary them because it is pretty, but really any of the small bite-sized potatoes that you can find at your grocery store will work here.
What's the best way to store leftover mini hasselbacks?
These are so easy. Just toss them in a sealable plastic bag, sandwich between some Press-and-Seal (love that stuff), stick in a covered glass container, or whatever you usually use to store leftovers.
What else can you serve with these mini hasselback potatoes?
These fancy little bites would be great loaded up for an appetizer, alongside your favorite Traeger Steak, or even next to a big plate of cheesy scrambled eggs.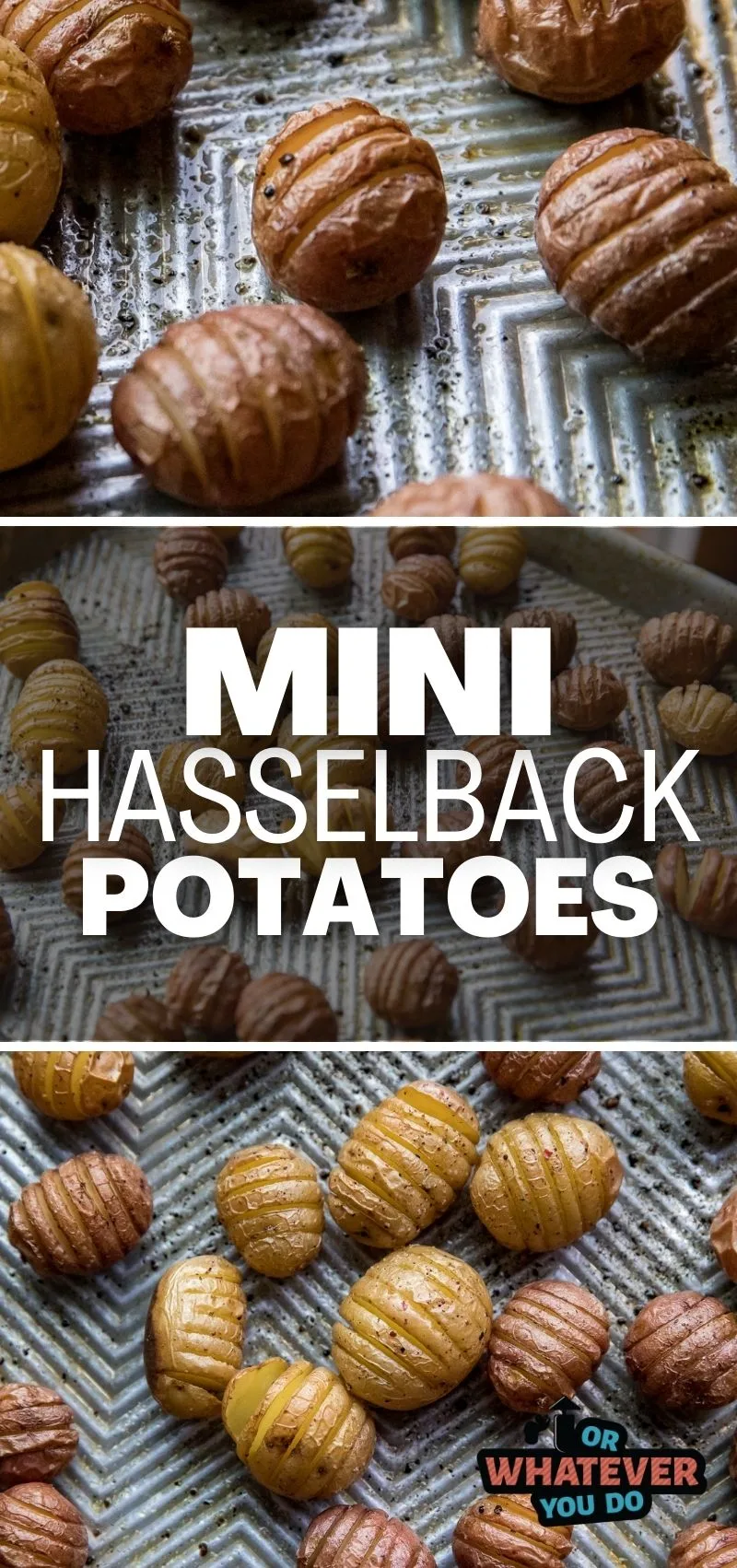 Yield: 8 servings
Mini Hasselback Potato Bites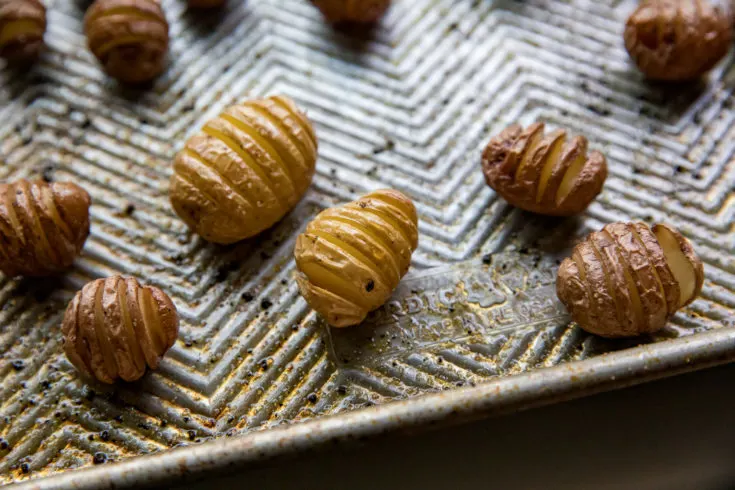 These mini hasselback potato bites might just be the perfect potato!
Ingredients
1.5 pounds mini potatoes, washed
avocado oil
1 tablespoon flakey salt
Instructions
Preheat your grill to 450°F.
Slice the potatoes partway through the potato, leaving the last 1/4 inch so that they don't come apart.
Microwave for 4-6 minutes on high (if desired).
Place the potatoes on a grill-safe baking sheet and drizzle with avocado oil. Give the tray a gentle shake to coat the potatoes in the oil. Shake with the flakey salt and place the pan on the grill.
If you microwaved the potatoes, it should only take about 20-30 minutes until the skin is getting crispy and the potatoes are cooked through. If you didn't microwave the potatoes, I'm not sure how long it'll take. Just keep an eye on them and test one every so often. 😉
Remove from the grill and serve warm!
Recommended Products
As an Amazon Associate and member of other affiliate programs, I earn from qualifying purchases.
Nutrition Information:
Yield:
8
Serving Size:
1
Amount Per Serving:
Calories:

95
Total Fat:

2g
Saturated Fat:

0g
Trans Fat:

0g
Unsaturated Fat:

2g
Cholesterol:

0mg
Sodium:

802mg
Carbohydrates:

18g
Fiber:

2g
Sugar:

1g
Protein:

2g
Nutrition data provided here is only an estimate.