Our Blackstone Blackened Fish Sandwich recipe only takes about 20 minutes to make and is the perfect quick lunch or dinner option if you are in a hurry but want to get some more fish into your life.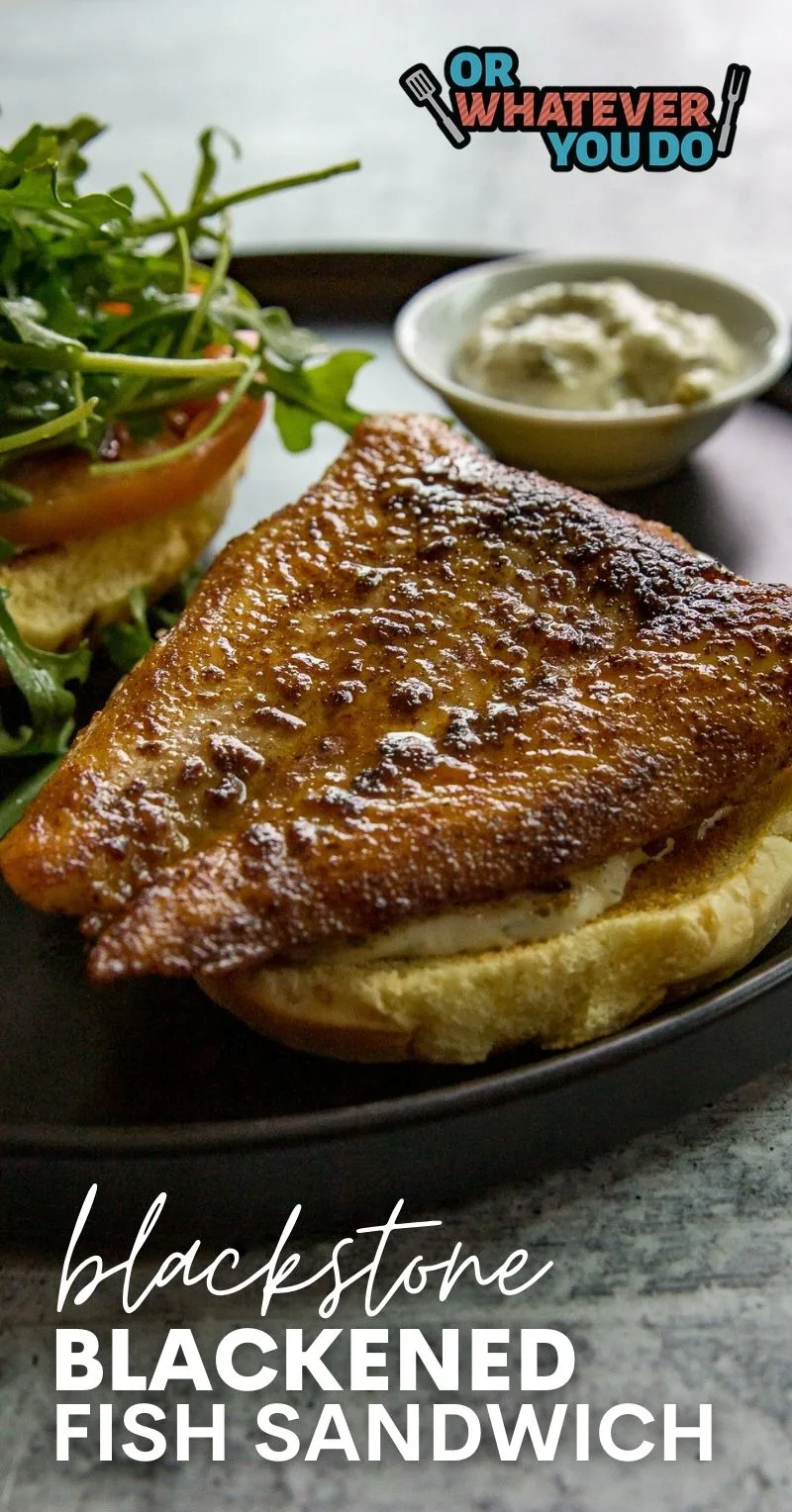 Blackened Fish Sandwich
Fish sandwiches don't have to be heavy, breaded, and fried. Fire up your Blackstone and make it fresh, healthy, and fast. You can skip the bun if you are trying to have less bread in your life, but we're on the BRING ON THE CARBS bus still and I can't see getting off anytime soon because bread is amazing.
More Blackstone Recipes here!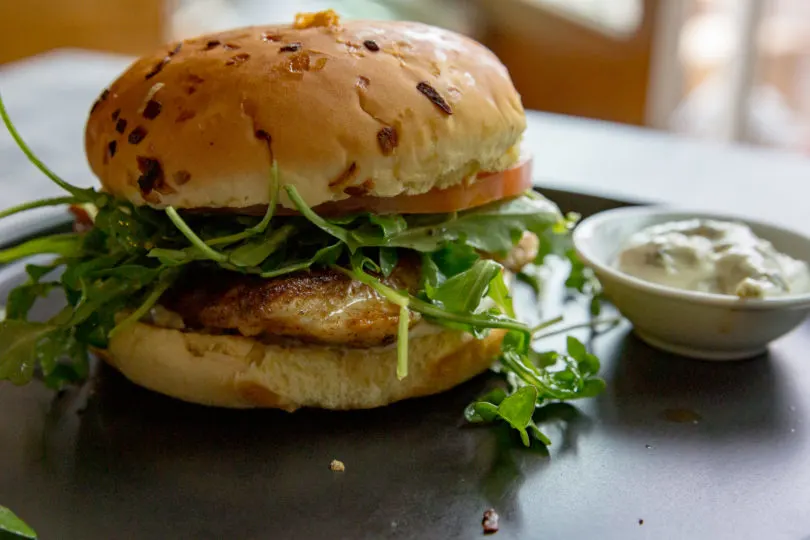 Blackened Fish Sandwich shopping list
Here's the rundown on what ingredients you'll need to make this dish. Make sure to read the recipe card at the bottom of the post when you're cooking!
whitefish like rockfish, lingcod, halibut, walleye, etc
olive oil
buns
mayo, aioli, or tartar sauce
baby arugula
Follow me on Instagram!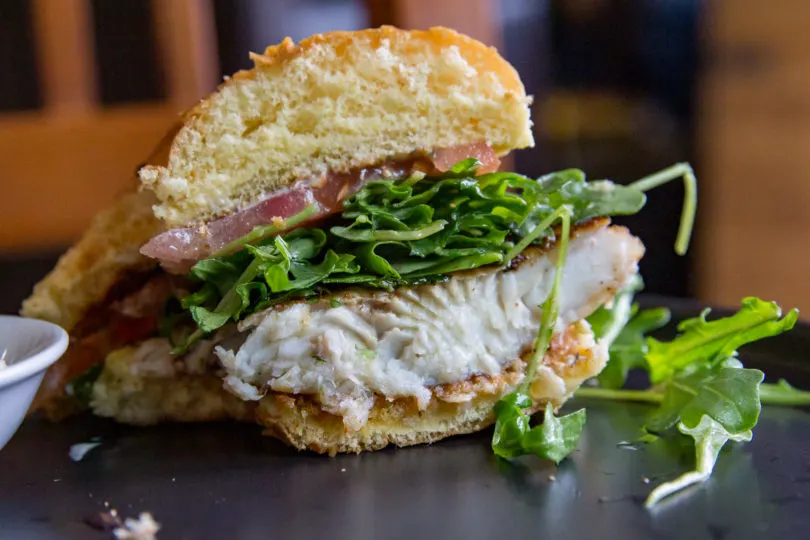 How to make Blackened Fish Sandwiches
These sandwiches are so simple to make. Read on for the overview. For the full deets, make sure to cook from the recipe card at the end of the post! 😉
Season the fish
You want bun-sized filets, liberally seasoned with the Blackening rub. Don't be shy here. This is not the time.
Preheat your griddle
You need at least 10-15 minutes to let it get all the way up to temp. Don't try and rush it!
Cook the filets
It only takes about 2-3 minutes, max, per side. Overcooked fish is not something you are going to love, so make sure you only take them to about 140° (or 145° if you are a rule follower).
Build your sandwiches
Toasted buns are not optional for me, but you do we. Top with arugula. We dressed ours with a homemade vinaigrette, but plain arugula are also a legit option here. As is a squeeze of lemon and a light toss with oil and vinegar. Again, the world is your oyster.
Try it with this Homemade Lemon Aioli from Sweet Tea and Thyme!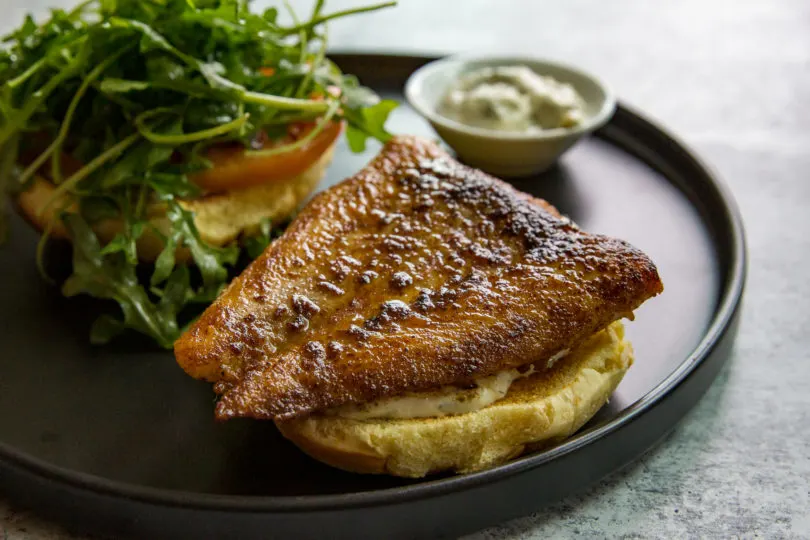 What are good sides to serve with a fish sandwich?
When I have fish I usually want coleslaw along with it. My favorite coleslaw with this fish sandwich would definitely be my Homemade Creamy Coleslaw. If you like a tangier version, my Vinegar Coleslaw is super popular!
I also really like a good, crisp green salad alongside a meal like this, and my Greek Salad would be perfect.
If you are into more of a potato phase in your side dish life, we've got you covered on that front too. Potatoes are my favorite vegetable. Try the Blackstone Smashed Potatoes, or if you have a pellet grill or smoker a slice of creamy Traeger Funeral Potatoes would be perfect too.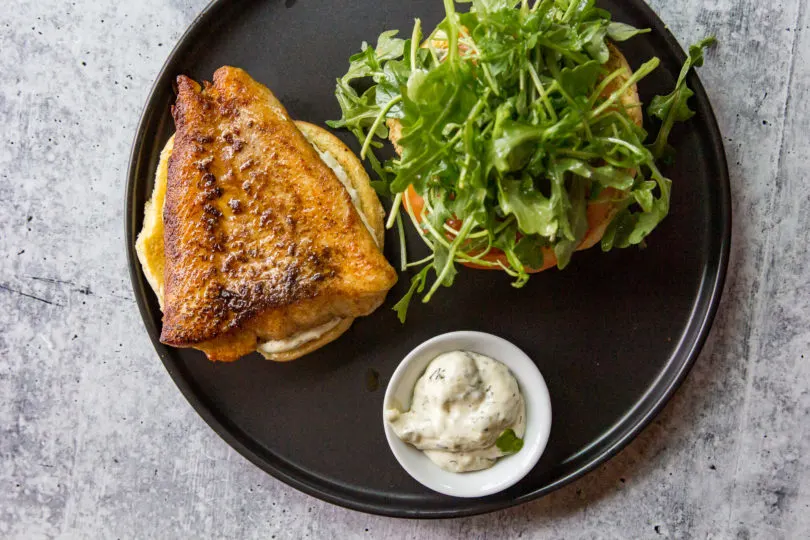 Blackened Fish Sandwich FAQ
What's the best kind of fish to use to make blackened fish sandwiches?
Our favorite fish to use for this is lingcod, but that isn't a super common fish to find available for purchase. Any of the firm white fish will do here. Halibut, cod, rockfish, bass, walleye, mahi mahi, grouper, northern pike, catfish, etc. Preferably whatever you can find that was swimming in the water very recently. If you can't be a fisherman, befriend one. 😉
How should you store leftover blackened fish?
Preferably you'll not want to make so much of this that you have leftovers. Fish is best served freshly cooked hot off the griddle or pan. If you do go a little overboard, store it in a plastic storage baggie or container that's air-tight.
How do you reheat the leftovers?
Whatever you do, NOT in the microwave.
The gentlest way to reheat fish would be in a sous vide machine. If you don't have one, a hot water bath works really well too. Just take a straw and suck out as much of the air from a sealable baggie with the cooked, refrigerated fish in it, and submerge for about 10-12 minutes in a pot of HOT (but NOT boiling) water. 145° is the ideal temp here, so break out that thermometer and try and keep the water around that temp.
Also, sous vide machines are more affordable than ever and SO versatile! Get one!
Can you make this on the stove instead of a griddle?
Absolutely! I recommend a well-seasoned cast iron or non-stick pan for the best results. You can follow largely the same instructions, except that "low" on the stove is MUCH different than "low" on the Blackstone, so you'll likely want to cook this over medium-ish heat if you are using the stovetop.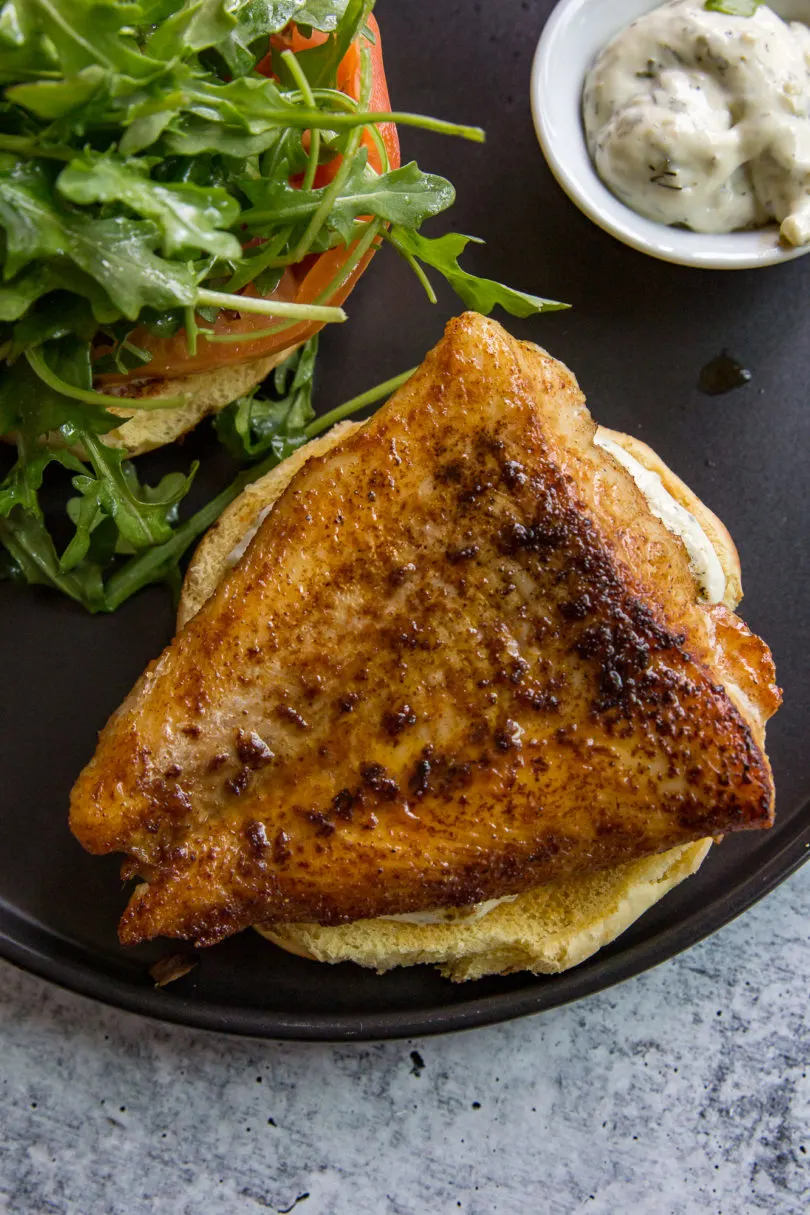 More recipes to love!
Check out these great recipes too!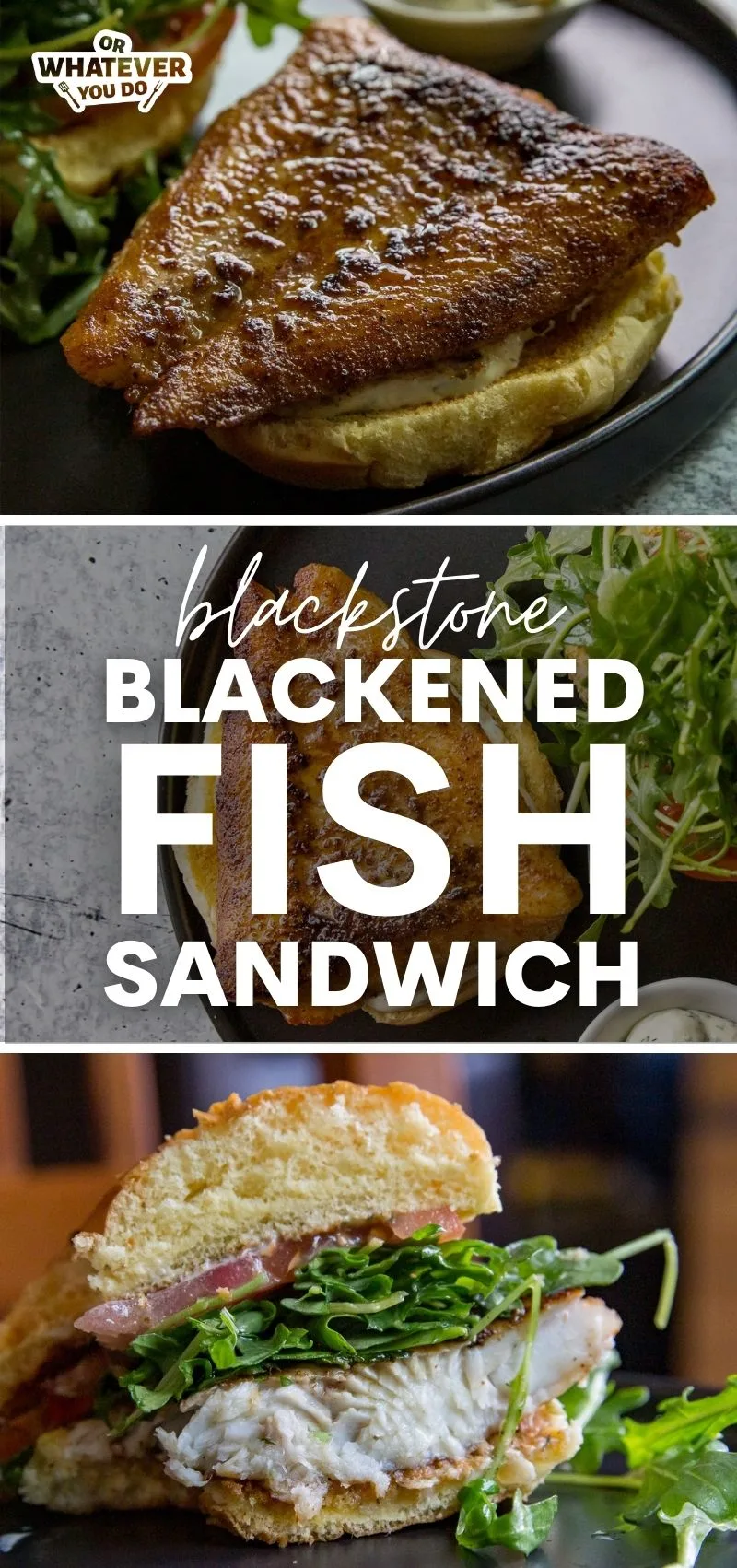 Yield: 6 servings
Blackstone Blackened Fish Sandwich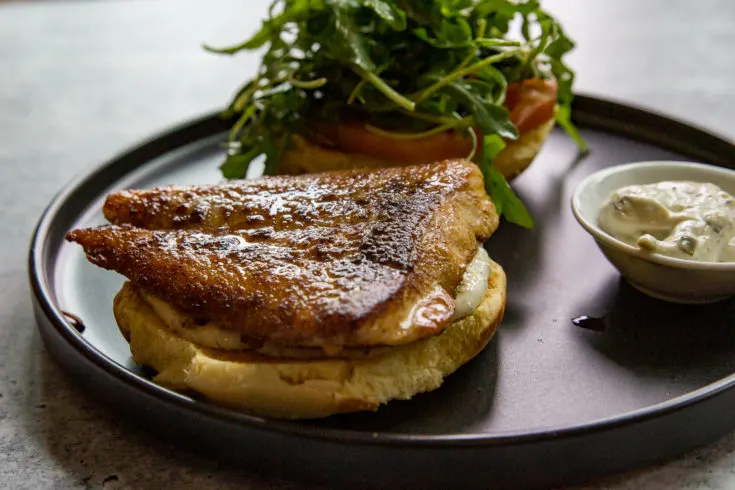 Fresh white fish is quickly cooked on the Blackstone griddle after being seasoned with Cajun Blackening seasoning. Delicious, easy meal!
Ingredients
6 white fish filets, skinless
2 tablespoons blackening seasoning
2 tablespoons olive oil
6 brioche buns
baby arugula
tartar sauce or mayo
Instructions
Season the filets with the blackening seasoning on both sides and set aside.
Preheat your Blackstone over medium-low heat for 10-15 minutes.
Put down a thin coat of oil and place the fish down on the griddle. Cook for 4-5 minutes per side.
Remove from the griddle and set aside.
Toast the buns and top with the fish and some baby arugula and tartar sauce or mayo, if so desired.
Recommended Products
As an Amazon Associate and member of other affiliate programs, I earn from qualifying purchases.
Nutrition Information:
Yield:
6
Serving Size:
1
Amount Per Serving:
Calories:

529
Total Fat:

23g
Saturated Fat:

9g
Trans Fat:

0g
Unsaturated Fat:

11g
Cholesterol:

265mg
Sodium:

2063mg
Carbohydrates:

34g
Fiber:

2g
Sugar:

6g
Protein:

45g
Nutrition data provided here is only an estimate.