Sometimes during the week, you need a very easy meal, but you don't want to compromise on flavor. With these Traeger Blackened Pork Chops, you don't have to. This is the perfect midweek meal that will please the whole family.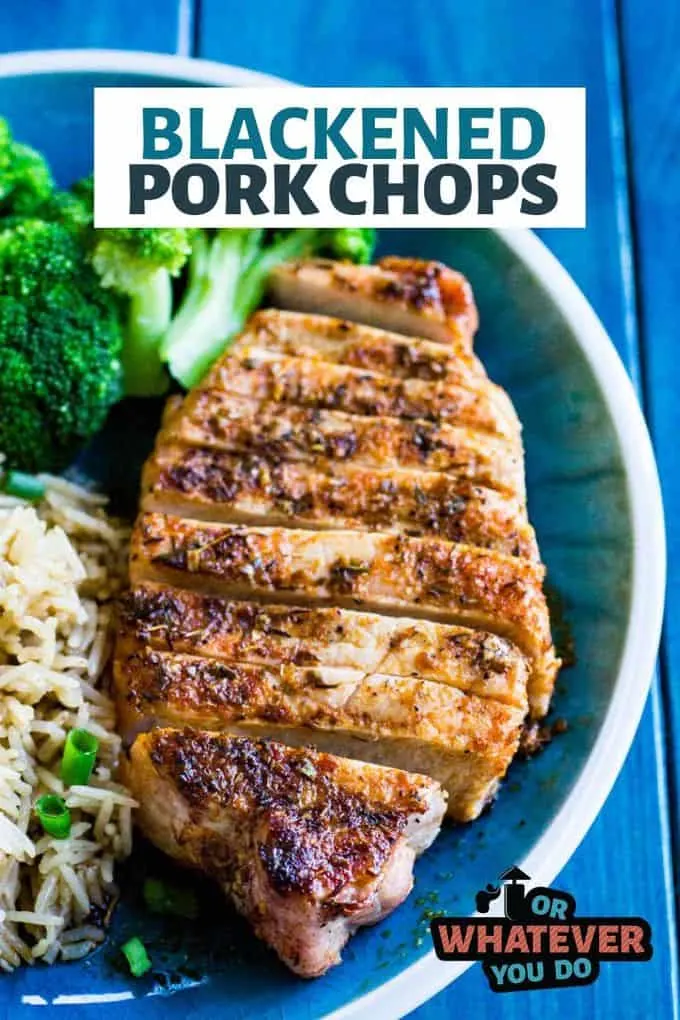 Traeger Blackened Pork Chops
These Traeger Blackened Pork Chops are tender, juicy, and full of flavor with a kick from the Cajun Blackening Blend by Spiceology. This is a must-have spice in our household. They are made with high-quality spices and all the flavors are great. Try my Lemon Pepper Traeger Grilled Salmon for some more delicious spices from Spiceology.
This post is not sponsored! I'm just a huge fan of this brand. I have almost their whole collection here at the house already, and I'm working on more!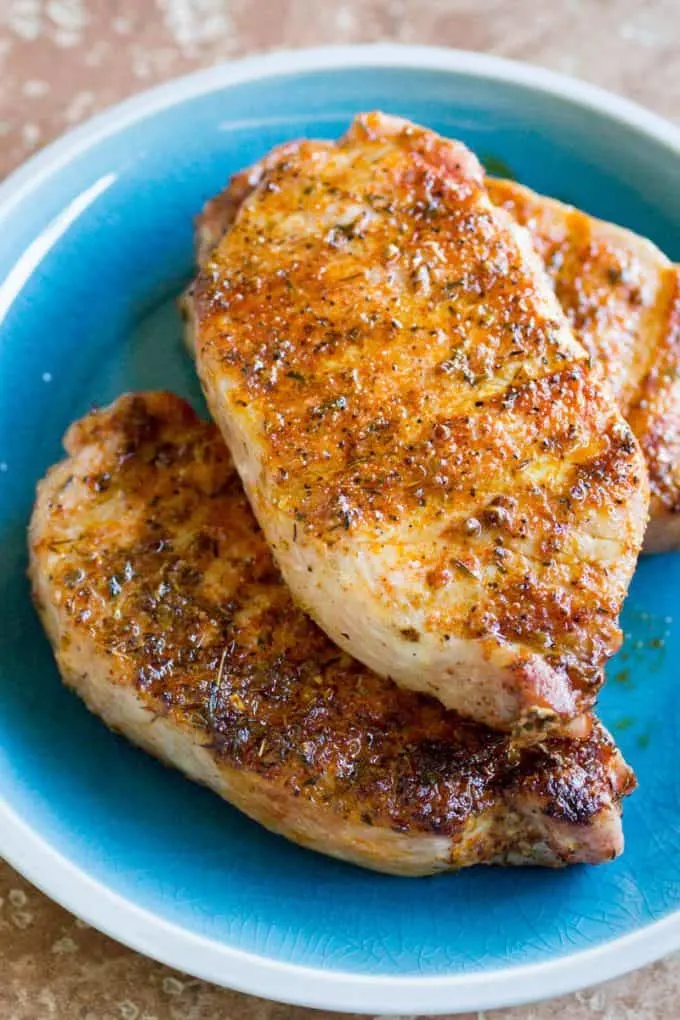 What kind of Pork Chop should I use?
I prefer to use a boneless pork chop when making this recipe, but if you are a bone-in person, that works great too. Some people think that leaving the bone in gives a little more flavor to the meat. The pork loin chop, which is what I used, is a very moist cut.
Make sure to keep a close eye on the temperature so these don't get overcooked. Pork should be cooked to a temperature of 145°. This has been recently changed from 160°.
Rest your pork chops for at least 3 minutes. This keeps the juices from flowing out and keeps your meat juicy.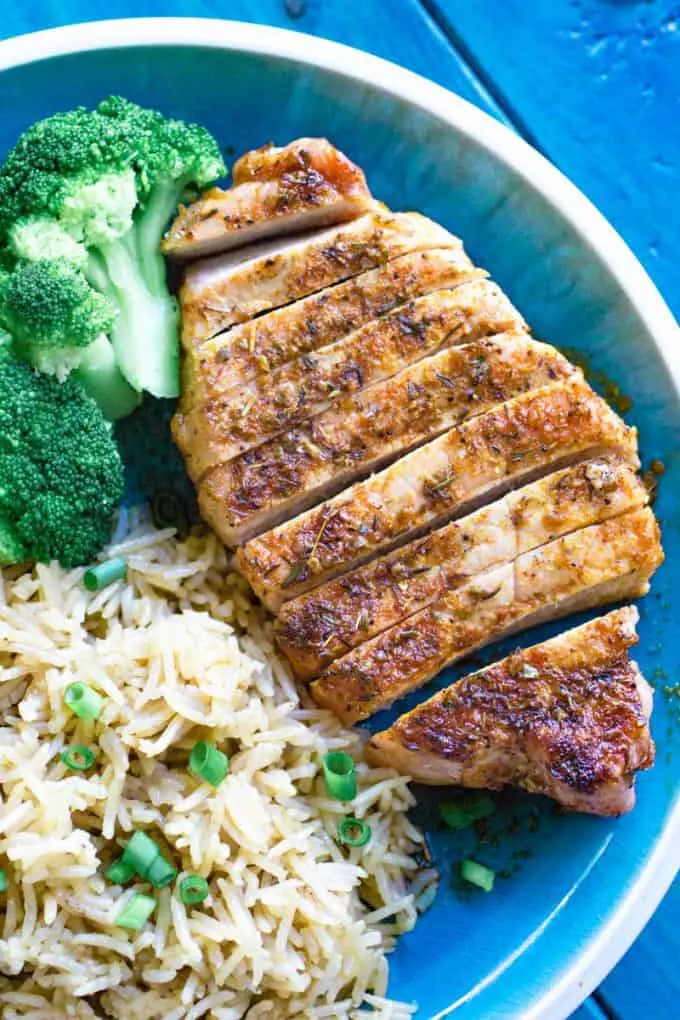 How long should you cook pork chops on the grill?
How long it'll take for your pork chops to cook depends on a lot of different factors.
Consider the following when grilling pork chops:
How thick are the chops?
Do they have a bone?
How hot is your grill?
The best way to cook on the grill and ensure that everything is cooking properly is to cook by temp and not by time. It is the only way to ensure you have consistent results.
In order to cook by temp, I've found the best way is to use a wireless thermometer. I use (and love) the ThermoWorks Smoke.
Pork needs to be cooked to an internal temperature of 145°. If you are NOT a millennial, you're probably gasping at this. That's because back when I was growing up, the recommendation used to be to cook pork to 160°. It also used to be BIG BAD NEWS to have any trace of pink in your pork.
Not anymore.
No more dry, gross, overcooked pork for us. Cook it to 142ish and then pull it. It'll continue cooking a bit after it comes off of the grill. Make sure and give it a good 5-10 minute rest before slicing.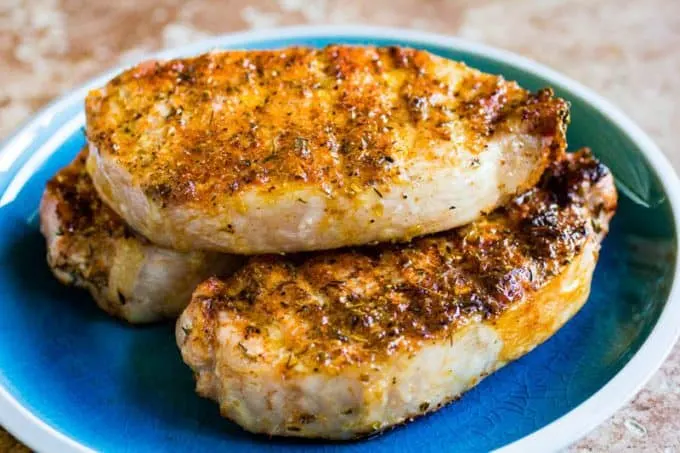 What is the best seasoning for pork chops?
I'm partial to this blackening seasoning, for sure, but there are a lot of other great options as well. My homemade BBQ Rub is amazing. I'd also really dig a simple seasoning of salt, pepper, garlic powder, and onion powder.
Experiment a bit to find out what you like best!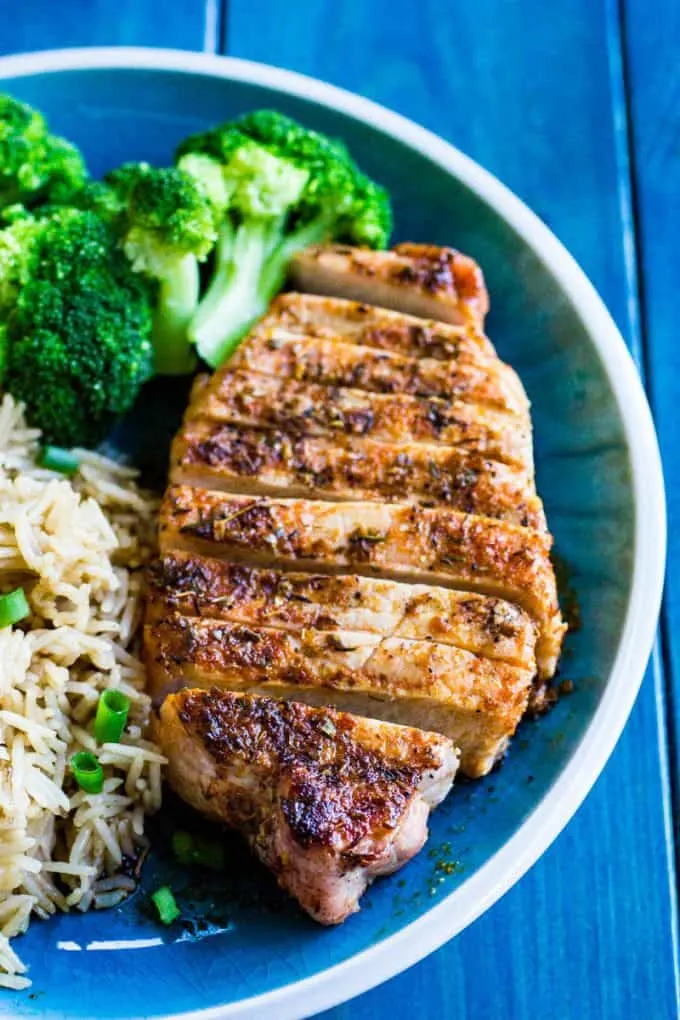 What should I make with my Traeger Blackened Pork Chops?
In our house, we love pasta! My Browned Butter Mizithra Pasta will be perfect with my grilled pork chops.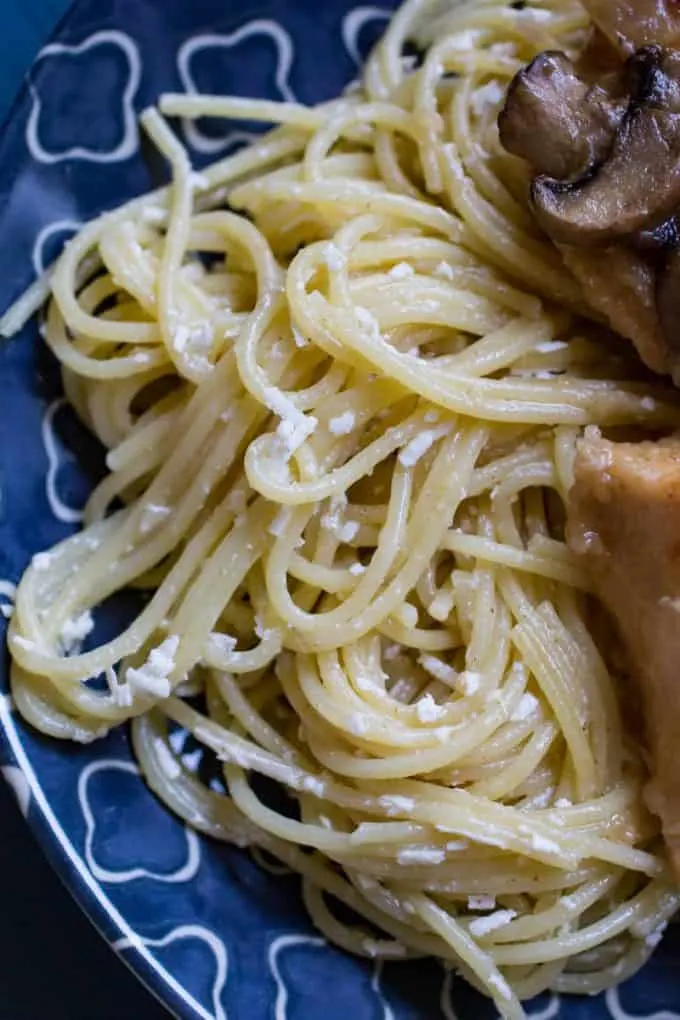 Want to keep a more mild flavor to really get the full flavor punch of this meat? Try my Pressure Cooker Basmati Rice. So easy and fast, you will love the texture and it comes out perfect every time.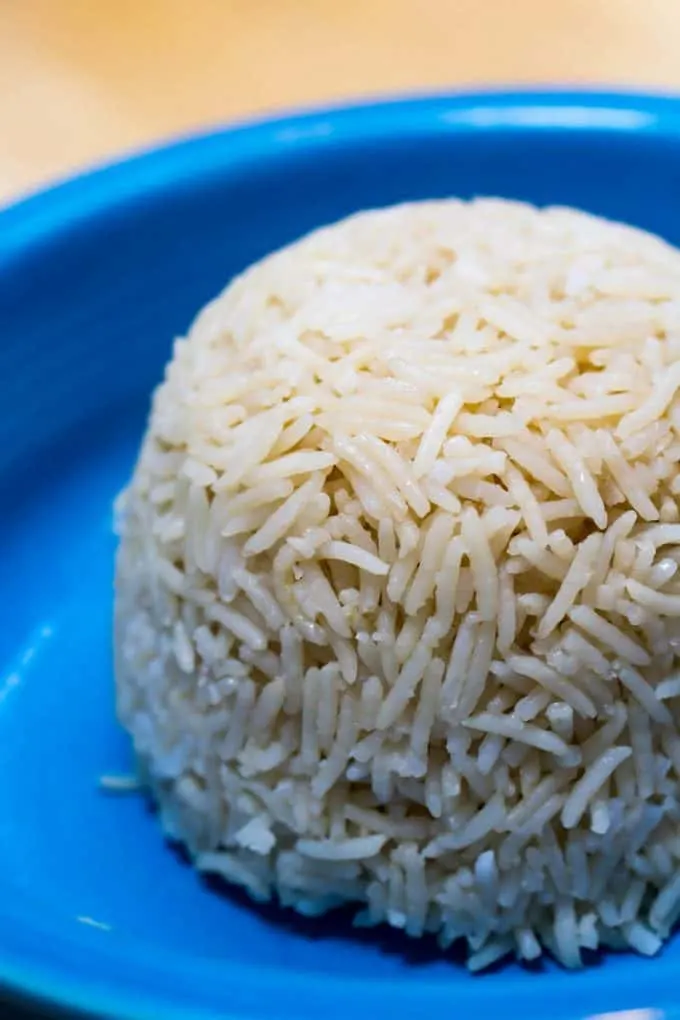 If you love rice but want ALL THE FLAVOR, I highly recommend my Stick of Butter Rice recipe.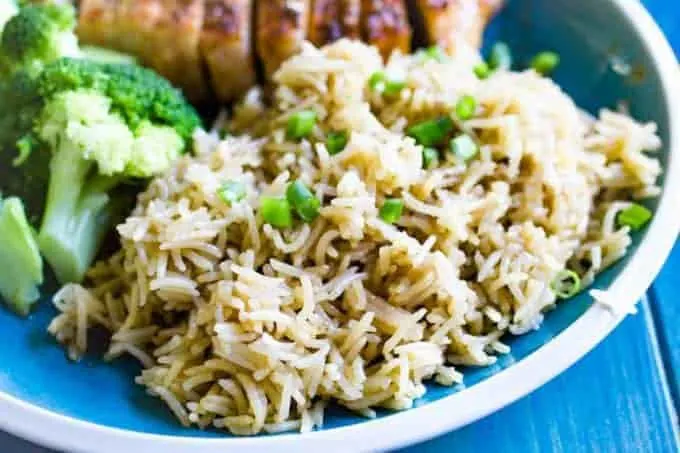 Don't forget your veggies friends. Make my Traeger Grilled Vegetables. No compromise on flavor with these vegetables.
If you are a fan of Brussels Sprouts, I've got just the thing for you!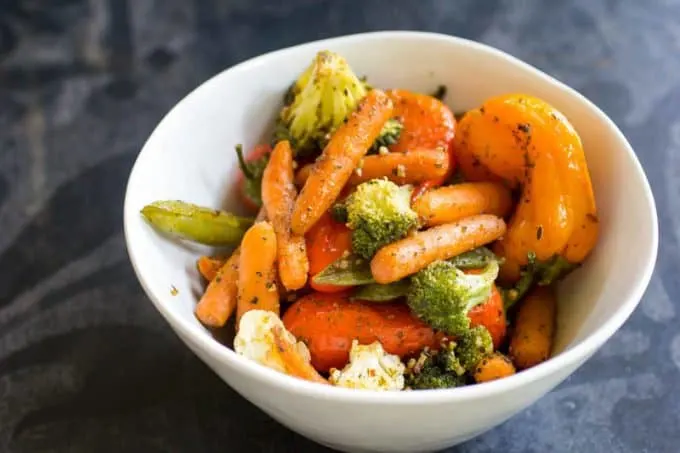 You can turn dinner into a real comfort meal and make my extra delicious Fettucine Alfredo. This pasta is so rich and creamy you need to make extra because everyone will want seconds. This is a real hit with the family and goes great with the spicy flavor of my Traeger Blackened Pork Chops.
If you still have room for dessert after all this fabulous food, we've got you covered there also. Try my Vanilla Bean Creme Brulee. This creamy goodness is so much easier than you think and just a little fancy.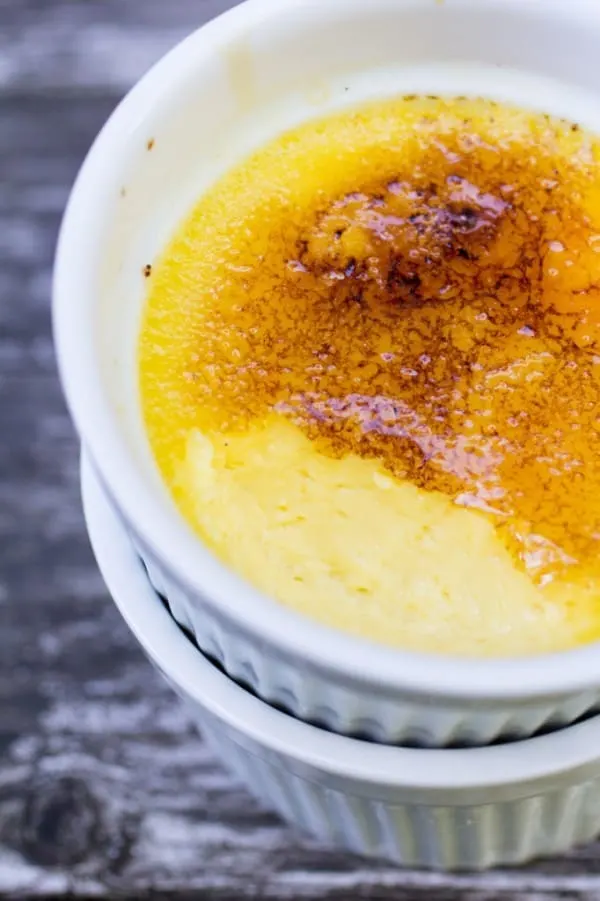 Maybe you are a berry fan? Then my Instant Pot Strawberry Cheesecake is for you. Yes, I said Instant Pot. This is so easy and fast, you will love it.
Pin for later!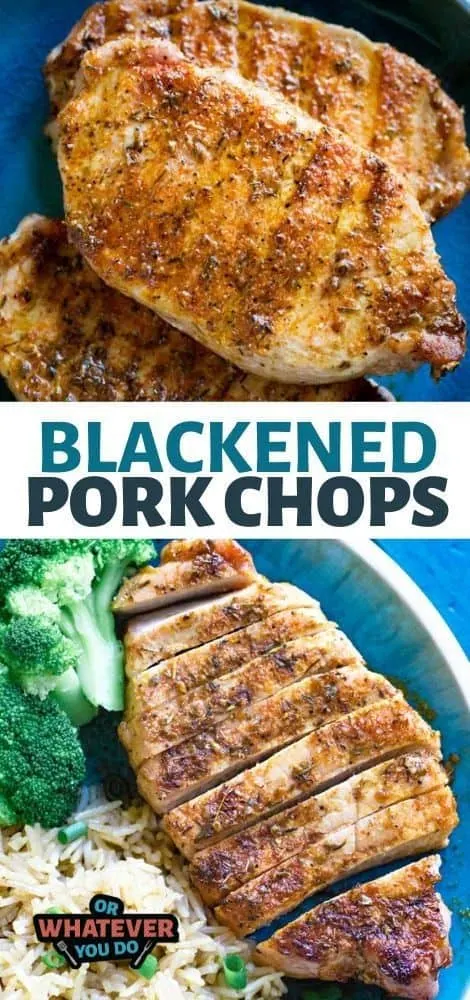 Yield: 6 servings
Traeger Blackened Pork Chops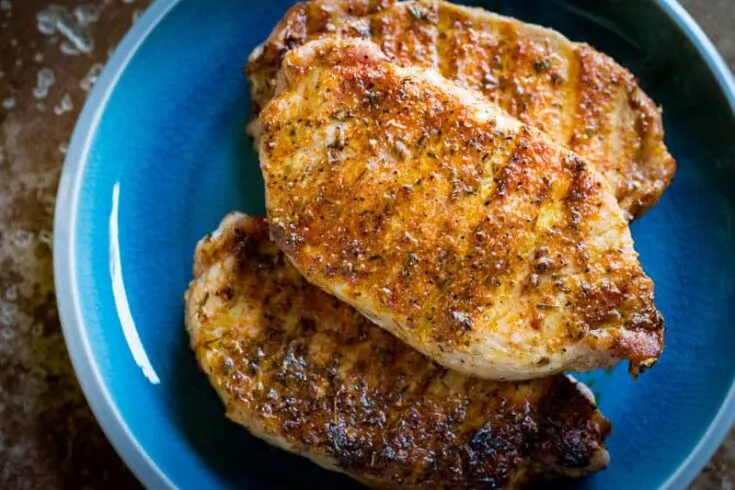 Delicious blackened pork chops cooked on the Traeger grill! These are juicy, flavorful, and delicious.
Ingredients
6 pork chops
1/4 cup blackening seasoning
salt & pepper
Instructions
Preheat your pellet grill to 375° following factory instructions.
Season the pork chops on both sides liberally with the blackening seasoning and salt and pepper.
Place on the grill, and close the lid. Grill for 7-8 minutes, and the flip.
Place a grill-safe temperature probe in the center of one of the chops, and cook until the center reaches 140-142°.
Pull the chops and let rest for 5-10 minutes before slicing.
Recommended Products
As an Amazon Associate and member of other affiliate programs, I earn from qualifying purchases.
Nutrition Information:
Yield:
6
Amount Per Serving:
Calories:

333
Total Fat:

18g
Saturated Fat:

6g
Trans Fat:

0g
Unsaturated Fat:

9g
Cholesterol:

132mg
Sodium:

3175mg
Carbohydrates:

1g
Fiber:

1g
Sugar:

0g
Protein:

40g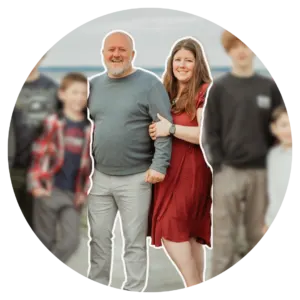 Nicole Johnson, a self-taught expert in grilling and outdoor cooking, launched Or Whatever You Do in 2010. Her blog, renowned for its comprehensive and creative outdoor cooking recipes, has garnered a vast audience of millions. Nicole's hands-on experience and passion for grilling shine through her work. Her husband, Jeremiah Johnson, also plays a pivotal role in recipe development, adding his culinary flair to the mix. Together, they form a dynamic duo, offering a rich and varied outdoor cooking experience to their followers.