Italian Dunkers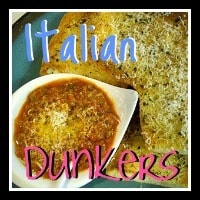 Ring-o-french bread
Someday I'm going to have to give you guys my go-to french bread recipe. Bread recipes are hard for me because I don't ever measure when I'm making bread, and writing out a recipe without any measurements is not the easiest thing in the world to do. I'm not much of a guesstimater, so my recipes are often off when I try and do that. Then I'll try to actually, you know, measure sometime, and I'll think to myself, "Self, you don't need to actually WRITE DOWN these measurements! You will totally remember them. Nevermind this morning when you spent 1/2 hour looking for your phone that was IN YOUR HAND. You have a GREAT memory because you are a GREAT person, self." Then I'll measure measure measure and forget forget forget, ending up so frustrated in the process that I scrap the idea until "next time".
Well, its a good thing we live in the age of internet land and there are enough sources out there for amazing french bread recipes…
Like THIS ONE from The Ginger Cook who I JUST came across, but I can tell is going to be one of my new favorite. A Midwest transplant to Seattle? Check. That's all I know. Her about me page is 'under construction', but if her food tastes say anything about her, and they usually do, I think I'm in for a "I got nothing done" afternoon from browsing that blog!
Her french bread uses a slightly different method than mine, but looks amazing and would work perfectly for this recipe.
And THIS ONE from What Megan's Making
That one is closer to what I normally do, and looks delicious. I need picture-taking lessons, for reals.
I have wanted to do this recipe for a long time now. Back in elementary school, there was never a day I dreaded MORE than "Italian Dunker" day at lunch. Nothing like frozen garlic bread and canned spaghetti sauce with mystery meat to get your appetite going, huh? It sounded like such an amazing idea, but the execution just wasn't there. So I decided that since I had a whole heap of bread needing to be eaten, along with some meat sauce in the fridge yelling to be finished off or frozen, this would be the perfect solution.
Garlic Bread ingredients…
Start with some good french bread, and slice it in half the long way.
Saute about 2 TBSP of minced garlic in 1/4 cup of good quality olive oil over medium heat until garlic is fragrant and JUST starting to slightly brown. Remove from heat and let cool 10 minutes. Mix garlic/EVOO mixture with softened butter, 1/2 tsp garlic powder, 1 tsp parsley, and salt, to taste. I used about 1/2 tsp here, but you won't want that much. My bread was lacking a bit of salt, and I also used unsalted butter. I'd start with maybe 1/4 tsp and work your way up from there.
Spread mixture over french bread. Place under broiler on the 2nd highest oven rack and do not look away. Broil until golden brown. Top with some shredded Parmigiano-Reggiano, and serve next to a good meat sauce, also generously topped with Parmigiano-Reggiano.