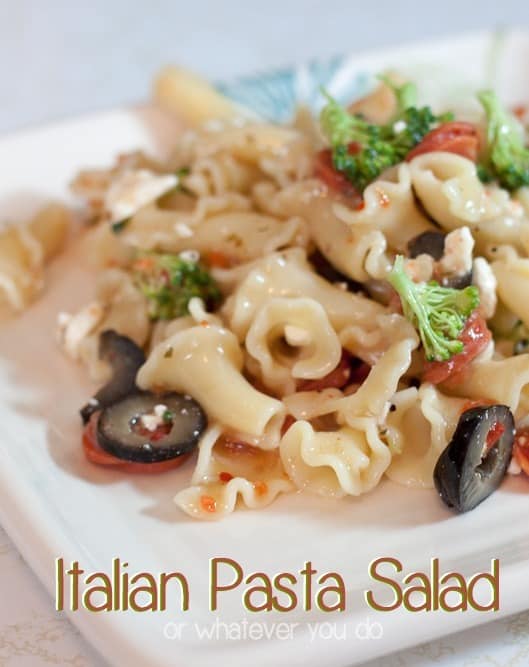 We are currently in the great state of Washington to celebrate my sister-in-law's wedding next Saturday! We're so happy to be back here with family and friends this week. Fun times to be had!
I thought I'd give you a simple summer-ish BBQ recipe like this Italian Pasta Salad. It's been a staple of mine, and many others, for as long as pasta salad has been around, so I'm sure it's not new to you. But if it is, enjoy!
Nothing goes better with a summer BBQ than a good assortment of cold pasta salads. This Italian pasta salad has a million different variations, is simple to throw together, and is always a crowd pleaser. Feel free to substitute your favorite toss ins. These just happen to be mine.
Boil a pound of pasta until al dente and drain well. Rinse in cold water and set aside.
Combine crumbled feta, sliced black olives, mini pepperoni, and cut up broccoli in a bowl.

Pour your favorite brand of Italian dressing over them and stir well. I prefer Kraft Zesty Italian, but just about any will work!
Toss in the pasta and toss with some additional dressing. A great way to add a little more ZING without adding more dressing is to mix in about a half of a packet of dry Italian dressing mix. It gives you the flavor without all the fat.

Serve immediately, or refrigerate for a few hours before serving. If you don't serve it immediately you may need to add additional dressing because the pasta tends to soak it up a bit.

Italian Pasta Salad
Ingredients
1

lb

Pasta

1

cup

sliced black olives

1/2

cup

crumbled feta cheese

1

cup

chopped broccoli

1

cup

mini pepperoni

1/2

packet dry Zesty Italian Dressing mix

1/2

bottle Italian Dressing
Instructions
Boil pasta until al dente. Drain and rinse with cold water.

Combine other ingredients with pasta and mix well.
Follow me on Facebook, Twitter, Pinterest, Google+, Foodie, and Instagram!