This Blackstone Duck Fried Rice takes tender sous vide duck breast and stir-fries it on the Blackstone griddle with jasmine rice, peas, carrots, onions, and seasonings for restaurant-quality fried rice right at home!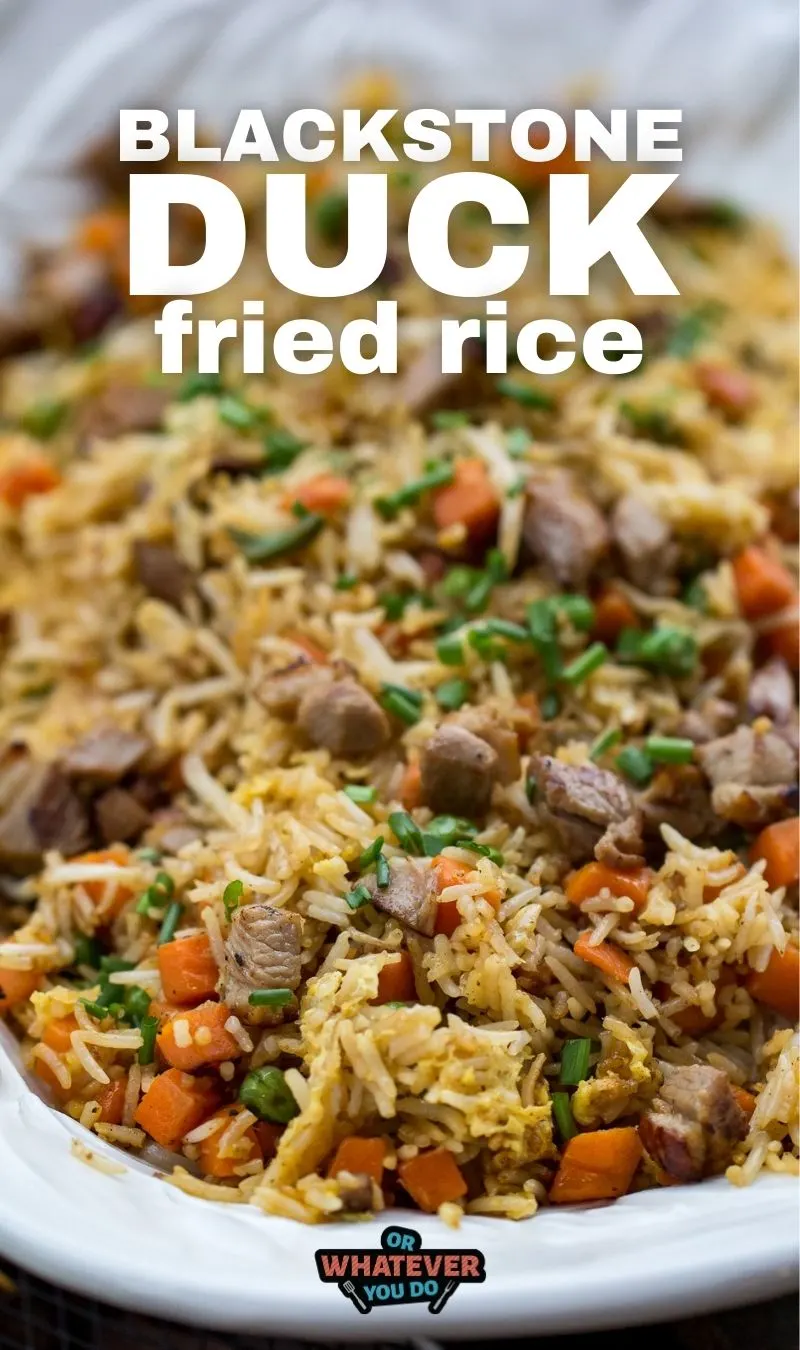 Blackstone Duck Fried Rice Recipe
I love fried rice because it has all the fixings of a whole meal right in one dish. It is also really easy to make for a crowd! With just a little pre-planning and prep, you can have a restaurant-style take-out fake-out any day of the week.
For this recipe, we actually used a sous vide duck breast that was PERFECT for fried rice. If you have a sous vide machine, I highly recommend taking that route! If you do, just make sure to add the diced duck breast last, when you are mixing everything together. You want it to be warm but not cooked more than it already was during its water bath.
If you don't have a sous vide, duck fried rice is still amazing! Just quickly stir fry the diced duck breast with the vegetables, according to the recipe directions below. 😉
Get all of my BLACKSTONE RECIPES here!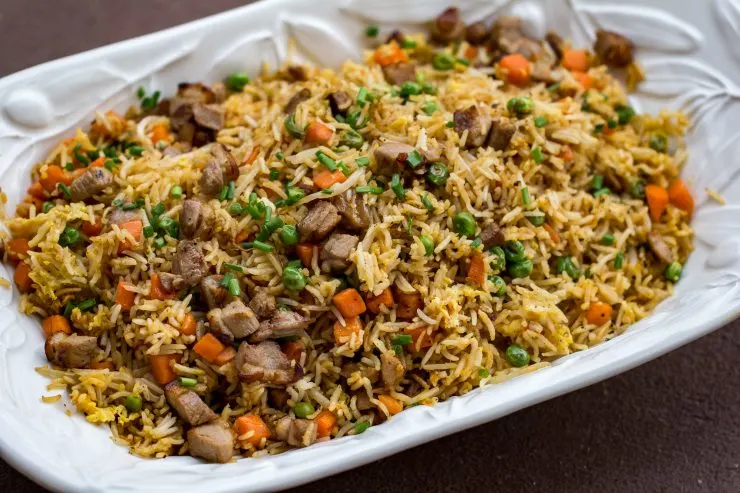 Duck Fried Rice shopping list
duck breasts
Jasmine rice
peas
carrots
onion
green onion
avocado oil
sesame oil
togarashi or midnight toker
Follow me on Instagram!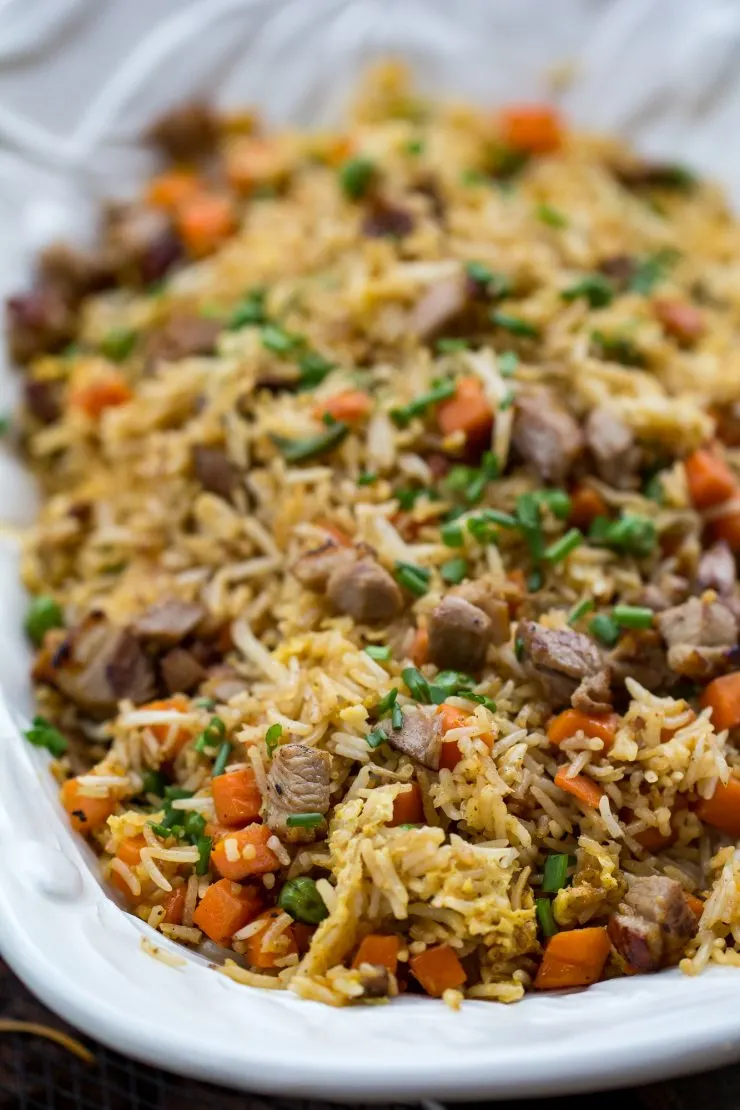 How to make duck fried rice on the Blackstone Griddle
Want to know what you're getting yourself into? Here's the overview of what this recipe entails. When you make the real deal, make sure to follow the FULL instructions below in the recipe card!
Make your rice. Spread it out on a cookie sheet and refrigerate, uncovered, overnight.
Heat the griddle. Cook the vegetables. Cook the meat. Cook the rice. Mix them all together.
Cook the eggs. Mix in the sauce and seasoning.
Eat!
Join our Easy Griddle Recipes Facebook Group!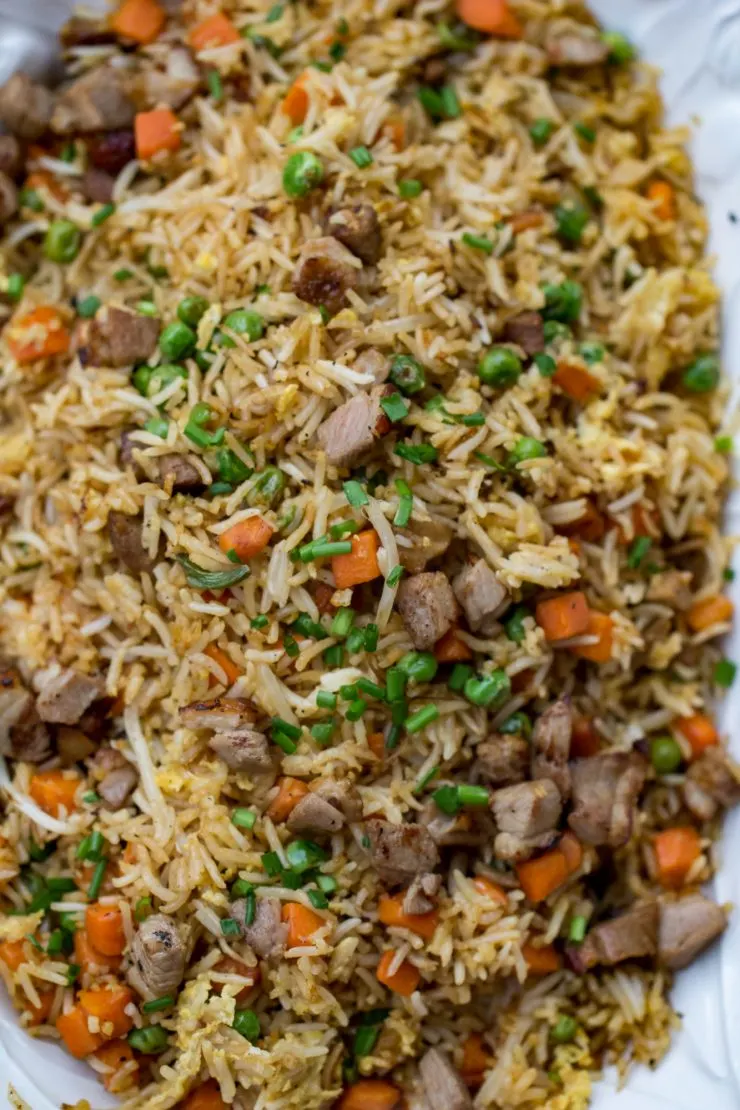 Tips for amazing fried rice at home
Use real jasmine rice, and don't skip the chill.
Please stay away from the Minute Rice for this, folks. Break out the rice cooker or Instant Pot, cook your rice, and don't skip the overnight chill. It helps keep the rice from getting mushy during the cook.
Cook everything separately and mix in at the very end.
I like to cook my vegetables in one area, the rice in another, and the meat in another. Mix it all together, form a donut, quick do your egg in the middle, pour your sauce over the rice, mix it all. Serve.
Need rice? My Instant Pot Rice recipe is perfect for this!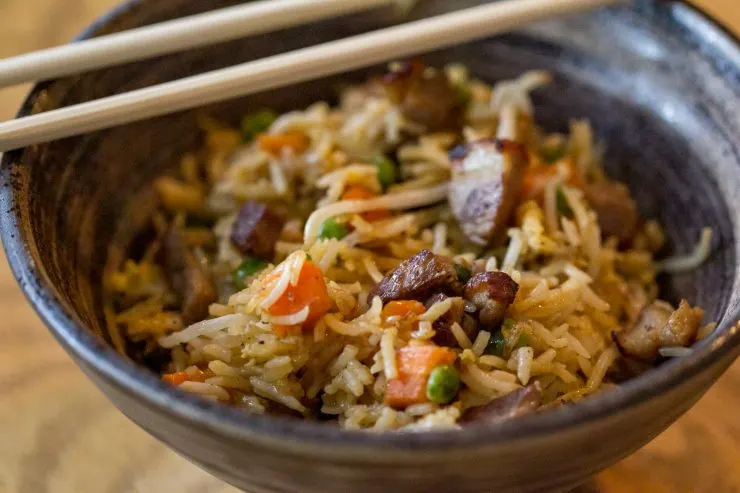 These accessories make fried rice SO easy!
Fried rice is fast and easy to make, but if you are cooking for a crowd on your gas griddle these tools will make your life much easier. They aren't required, by any means, but you're going to enjoy the process a whole lot more with some tools helping you out!
Blackstone Accessories for Fried Rice
Great for keeping your soy sauce, sesame oil, vegetable oil, and seasoned rice vinegar handy!
You need big spatulas to flip all that rice! These ones are great, and the short one doubles as a griddle scraper!
This giant food mover is perfect for getting all of that fried rice, stir fry, or countless other
Want to make it a meal?
We eat fried rice as our meal pretty often, so you could definitely just serve this as a stand-alone meal.
If you want to add some more variety to your dinner, I've got some great options for you.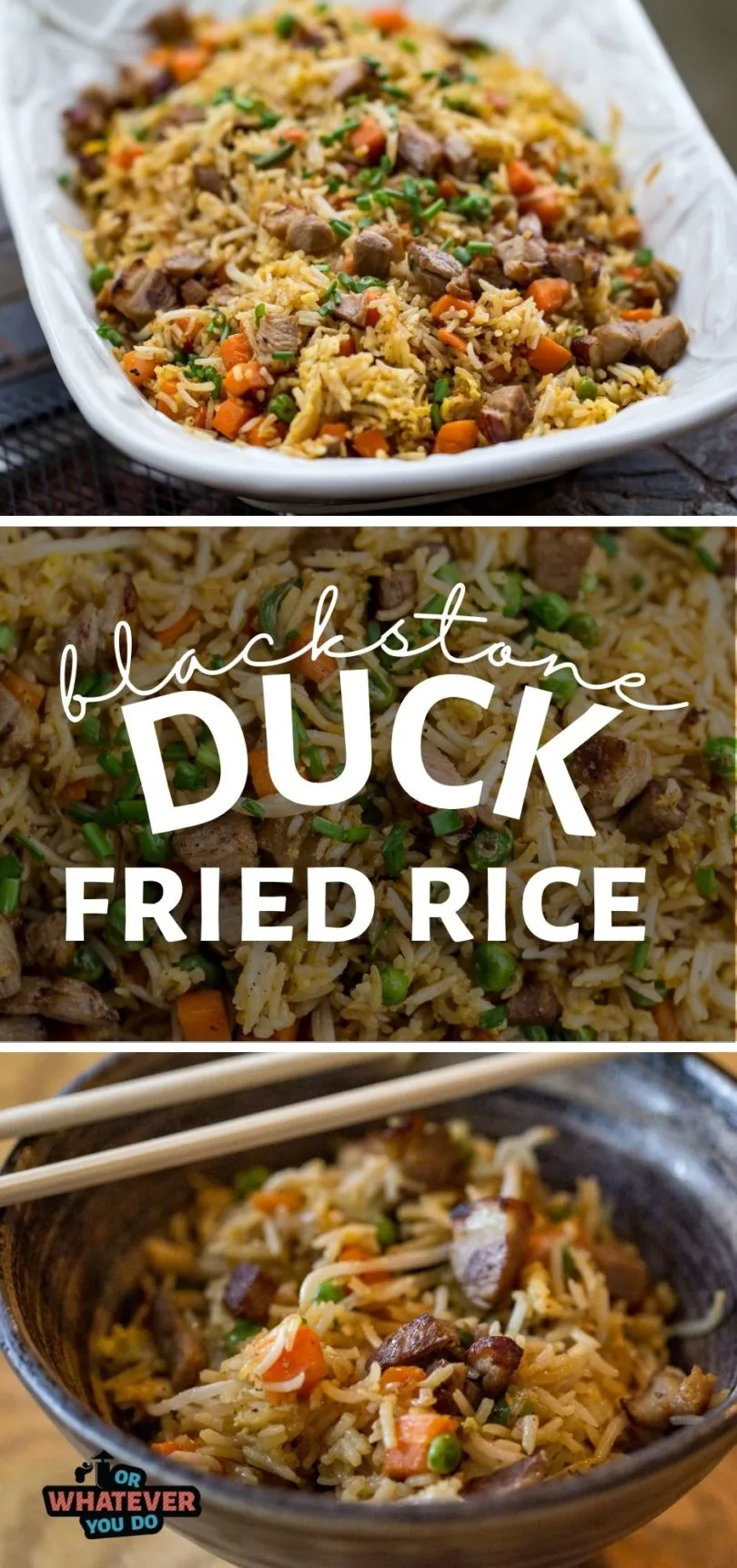 Yield: 8 servings
Duck Fried Rice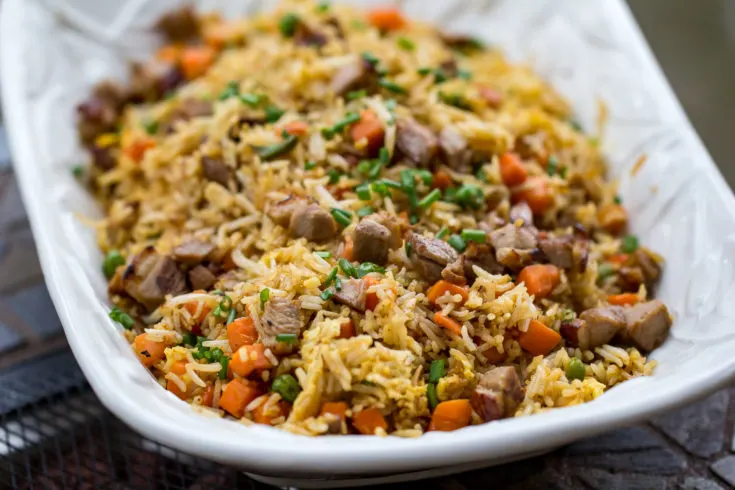 Duck Fried Rice is just like take-out, but made at home on your gas griddle! The Blackstone will give you that teppanyaki-style fried rice you love, without even leaving your house.
Ingredients
4 tablespoons canola oil, divided
1 small onion, diced
1 teaspoon minced garlic
2 duck breasts, diced
1 cup frozen peas and carrots
3 cups cooked Jasmine rice, chilled
2 eggs, lightly beaten
1/8 cup soy sauce
1 teaspoon sesame oil
salt and pepper
Instructions
Preheat your griddle to medium-high or high heat (basically you just don't want to light the oil on fire), and place about a tablespoon of oil down.
Dump on the onions, frozen peas, and carrots and stir fry until heated through and the edges get a little crispy.
Add in the duck breast and cook for 2-3 minutes.
Move the duck breast and the vegetables over to the side of the griddle that is NOT a hot spot (if your griddle has multiple heat zones, turn one down). If you need to, remove it from the griddle to a pan. Ideally, you want it to stay warm but not continue to cook.
Put down some more oil on the griddle and let it heat up. Add on the cold rice and break it apart with your spatula. Continue moving it around the griddle, evenly coating it with oil and letting it get toasty. Add in the garlic during the last minute of cooking. (Add more oil as needed throughout the process.)
Combine the duck breast, vegetables, and rice together and stir and toss until they are evenly combined. Drizzle the soy sauce and sesame oil on top and continue to stir and cook until it is evenly distributed.
Make a hole in the middle of the rice and add a little more oil. Crack the eggs inside, stir with the spatula, and toss to combine with the rice.
Recommended Products
As an Amazon Associate and member of other affiliate programs, I earn from qualifying purchases.
Nutrition Information:
Yield:
12
Serving Size:
1
Amount Per Serving:
Calories:

198
Total Fat:

10g
Saturated Fat:

2g
Trans Fat:

0g
Unsaturated Fat:

8g
Cholesterol:

85mg
Sodium:

220mg
Carbohydrates:

13g
Fiber:

1g
Sugar:

1g
Protein:

13g
Nutrition data provided here is only an estimate.
Dessert, anyone?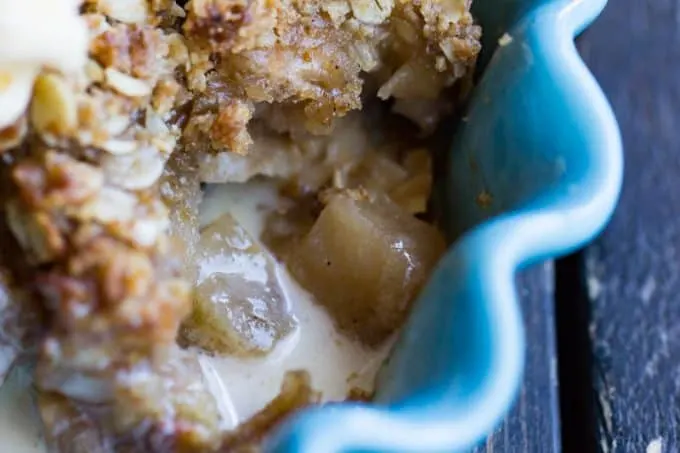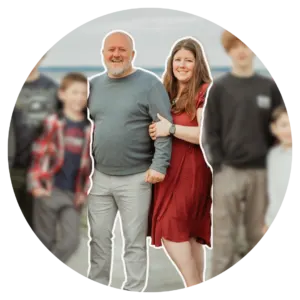 Nicole Johnson, a self-taught expert in grilling and outdoor cooking, launched Or Whatever You Do in 2010. Her blog, renowned for its comprehensive and creative outdoor cooking recipes, has garnered a vast audience of millions. Nicole's hands-on experience and passion for grilling shine through her work. Her husband, Jeremiah Johnson, also plays a pivotal role in recipe development, adding his culinary flair to the mix. Together, they form a dynamic duo, offering a rich and varied outdoor cooking experience to their followers.