Our Blackstone Smashed Potatoes are one of the best sides you can make on the griddle! Stick with our seasonings listed here, or venture out and try something new.
Blackstone Smashed Potatoes Recipe
The Blackstone is the perfect tool to use for Smashed Potatoes because it gets so blazing hot, and there's so much space to spread them out to really give them room to crisp up properly.
When I make these in the oven, it always takes two separate batches to make enough to feed this crew, and that wound up being more trouble than it was worth in most cases.
I love potatoes because ultimately, whether they are fried, baked, boiled, or smoked they are amazing.
Get all of my BLACKSTONE RECIPES here!
Blackstone Smashed Potatoes Ingredients
baby potatoes
kosher salt
fresh rosemary
avocado oil
butter

How to make crispy potatoes on the griddle
The key to making crispy potatoes is to use plenty of oil and butter and lots of patience. Moving the potatoes too much can cause them to break apart and doesn't allow them to develop that delicious crispy crust that we're after.
Another important thing is to make sure the potatoes are DRY. Moisture is also the enemy of crust, so make sure you aren't working with wet potatoes or steamed potatoes straight from the pot.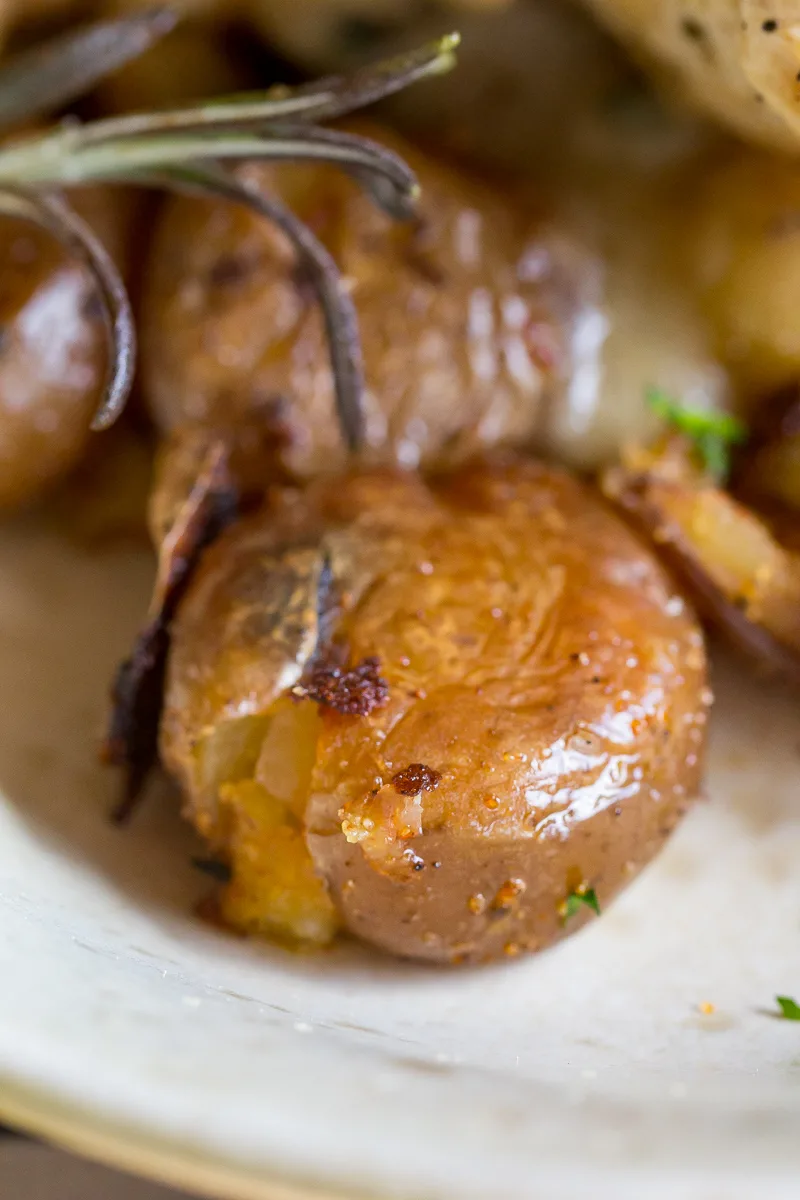 Blackstone Fried Baby Potatoes
I love the Blackstone griddle for these because it is easy to get hot and keep hot and has so much surface area for cooking. Cooking things like this is so difficult on the stovetop because there's never enough surface area to give the individual pieces sufficient room for crisping without doing things in a million batches and it taking forEVER.
The griddle is great for any sized family, but it is a big family's best friend.
More Potato Recipes here!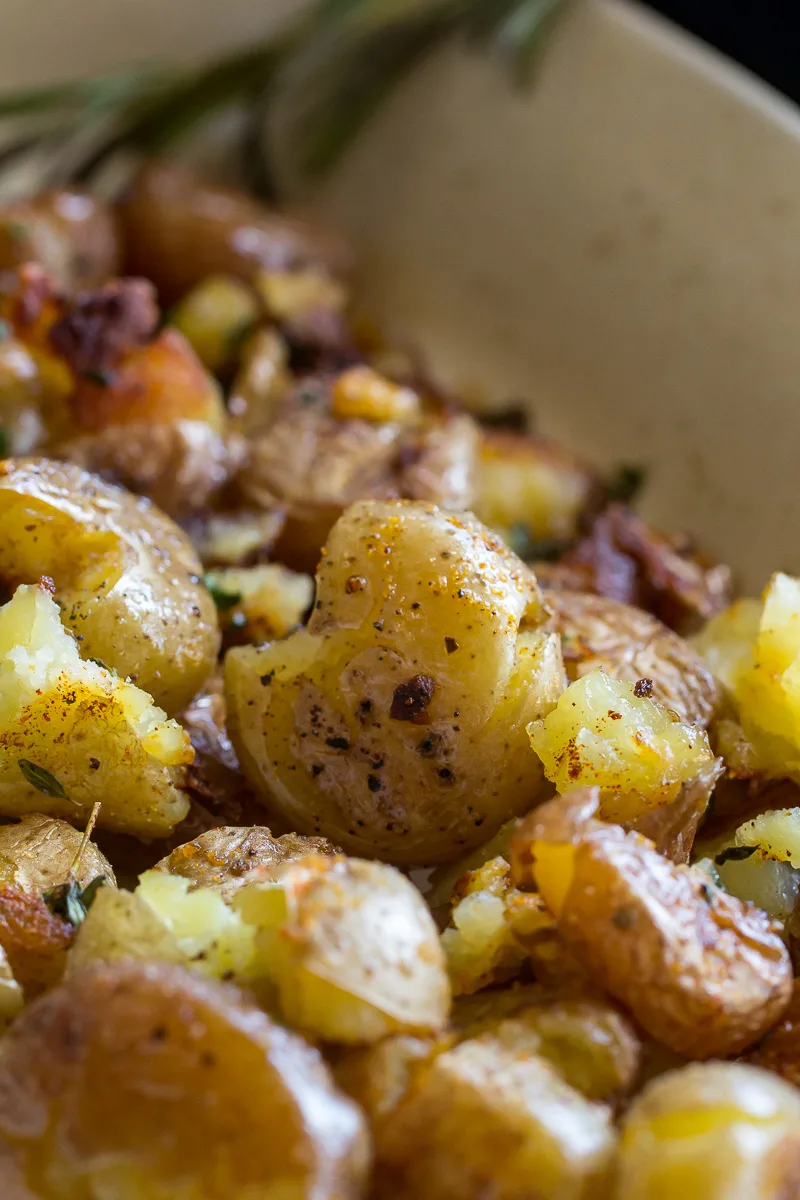 What kind of potatoes are best for Smashed Potatoes?
I like to buy the itty bitty red or Yukon Gold potatoes that are sold in mesh bags for these. Sometimes they are multi-colored, but my preference is the red-skinned variety. What is important is that you buy the small ones. The skin is an important part of the final results!
Fun fact though – you know those little trays of baby potatoes that are pre-seasoned and you just pop in the microwave?
You can totally use those here as well, in most cases. (I'm not sure I'd use any with actual SAUCE in the mix if that's a thing.)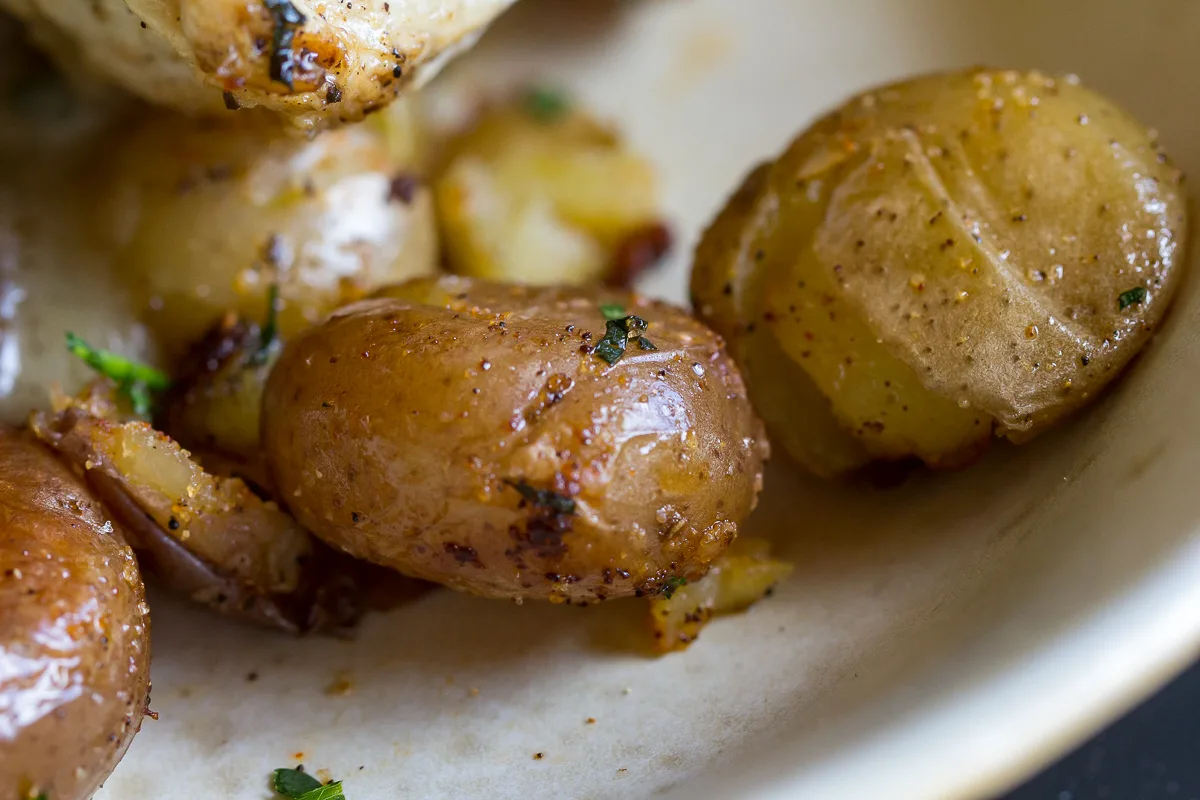 How do you store and reheat the leftovers?
If you have leftover smashed potatoes, store them in an air-tight container or plastic baggie in the fridge.
To reheat, the oven is your best bet, but a microwave will work in a pinch!
More recipes to love!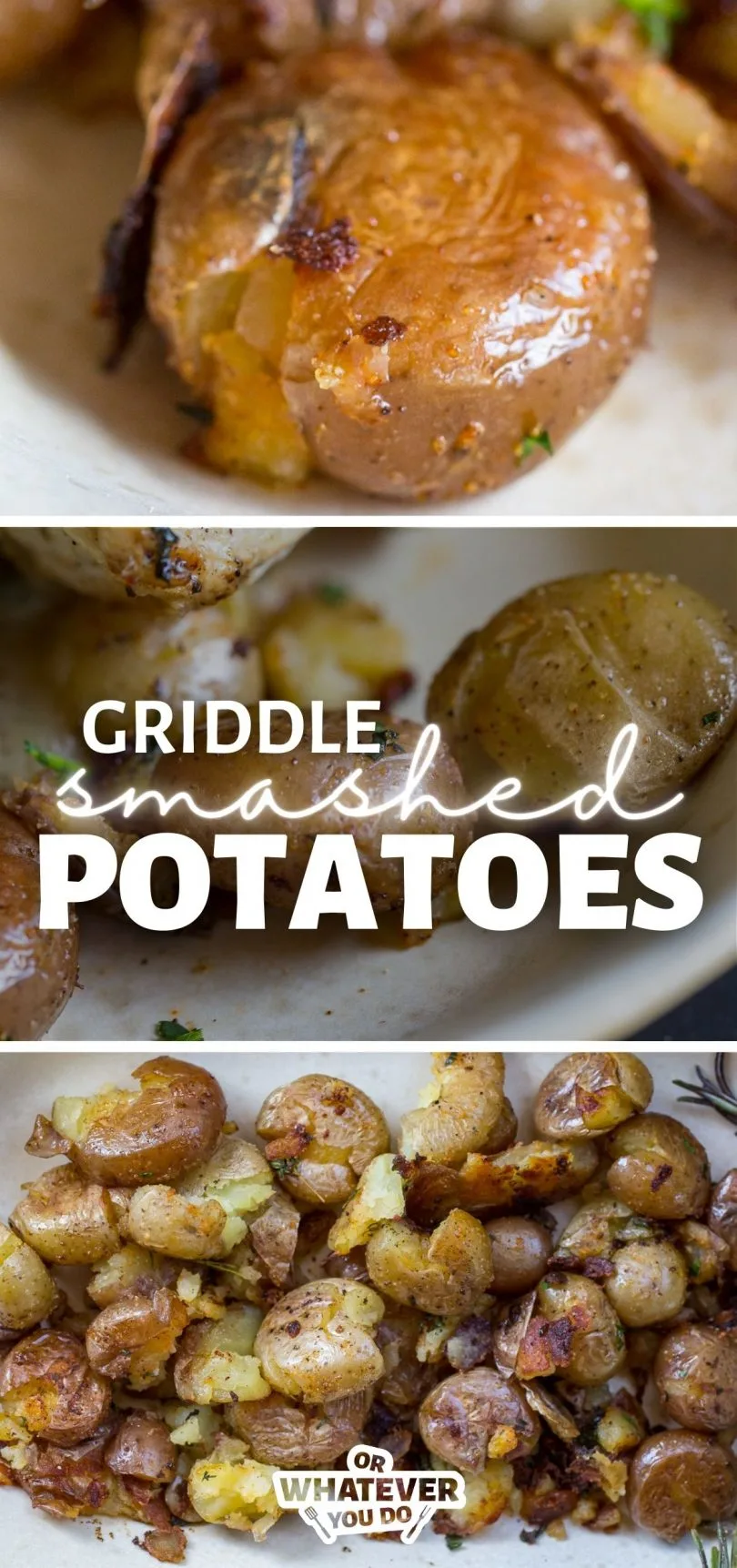 Yield: 6 servings
Blackstone Smashed Potatoes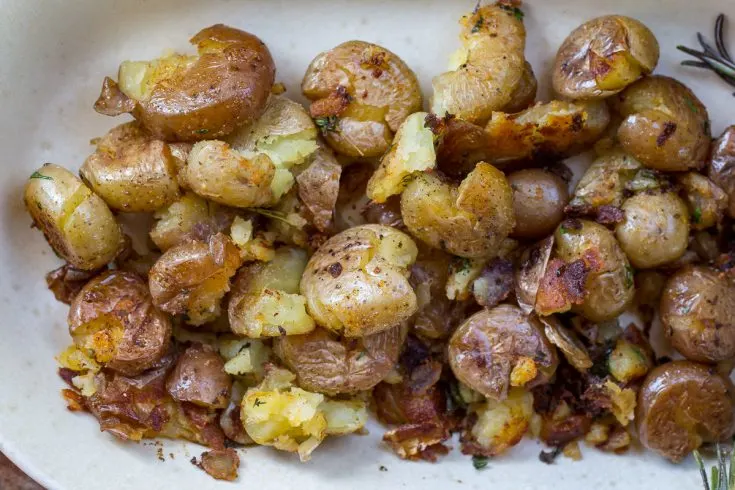 These tender baby potatoes are salt boiled before being smashed on the Blackstone griddle and cooked until the skin is a crisy, delicious crust.
Ingredients
1 pound baby potatoes
kosher salt
rosemary
4 tablespoons oil
4 tablespoons butter
Instructions
Pre-cook your baby potatoes in WELL-salted water until they are fork-tender.
Drain the potatoes and set them out on a cookie sheet lined with paper towels to dry for 60 minutes. If you want to speed up this process or add a little smoke to the mix, you can use your oven or pellet grill running at about 180-200 degrees to speed up the drying process. Cook them for about 20-30 minutes using this method.
Once the potatoes are dry, preheat your griddle to medium to medium-low heat. Place some oil and butter over the cooking surface, and place the potatoes on, leaving about 2 inches between each potato.
Use a heavy spatula or griddle press and squish the potatoes down a bit so there is more of the surface touching the griddle.
Sprinkle with salt and pepper and let cook for several minutes, until the bottoms are browned.
Drizzle a little oil over the top of the potatoes and lay some more butter down on the griddle if necessary, and then flip the potatoes to cook and crisp up the other side.
Remove to a plate, sprinkle with a little chopped rosemary, and serve.
Recommended Products
As an Amazon Associate and member of other affiliate programs, I earn from qualifying purchases.
Nutrition Information:
Yield:
6
Serving Size:
1
Amount Per Serving:
Calories:

221
Total Fat:

17g
Saturated Fat:

6g
Trans Fat:

0g
Unsaturated Fat:

11g
Cholesterol:

20mg
Sodium:

165mg
Carbohydrates:

16g
Fiber:

2g
Sugar:

1g
Protein:

2g
Nutrition data provided here is only an estimate.