Tortilla Dogs are a super easy appetizer that your kids will LOVE. Next time you have a gathering or a birthday party, try these out!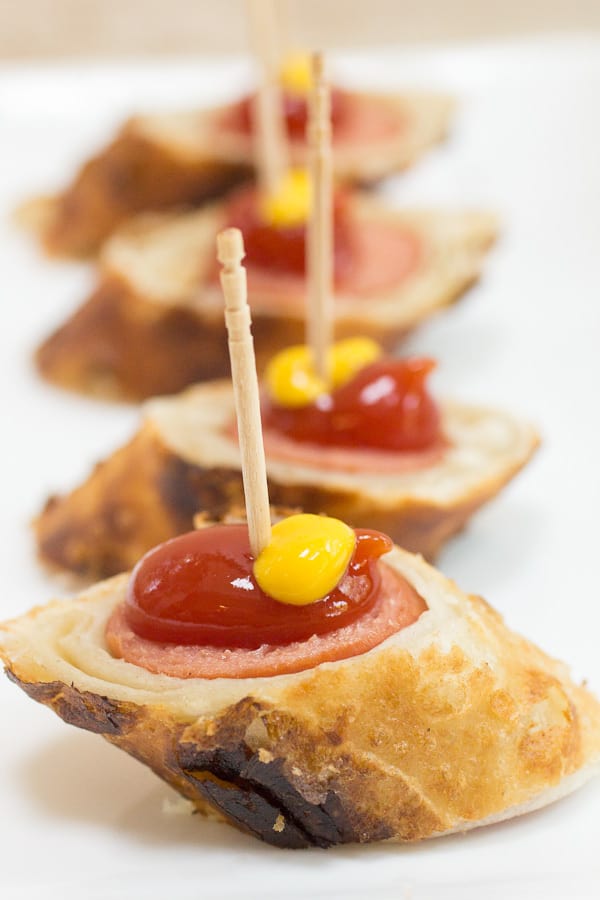 Tortilla Dogs
I was really really pleasantly surprised how these tortilla dogs turned out. I wasn't even planning on photographing them or posting about them, but ALL of my kids raved about them and that almost NEVER happens so I had to take a few quick shots and share!
These tortilla dogs would make a perfect and fun party appetizer done up with tooth pics and condiments as I've shown above, or they also make a great on-the-go lunch for kids (or hot dog loving adults).
I used the uncooked flour tortillas that you find in the refrigerated section of Costco. I have also seen these at a few major grocery stores now, so be on the lookout. There is nothing like a great fresh tortilla, and the pre-made ones are a great alternative to making tortillas from scratch.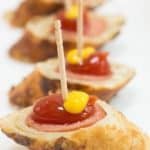 Tortilla Dogs
Ingredients
8

raw and uncooked flour tortillas

8

hot dogs

inch

Cooking oil

enough to get about 1/2 deep in your pan
Instructions
Preheat oil over medium to medium high heat in a shallow pan.

Lay out a raw tortilla, and place a hot dog just slightly short of the middle of a tortilla. Fold the sides over the ends of the hot dog, and then grab the short side of the tortilla and fold it over the hot dog. Roll the hot dog up in the tortilla, and place in hot oil seam side down. Cook until browned, turning frequently to ensure even browning. Repeat with the rest of the hot dogs until they are all cooked.