Vegetable Yakisoba is a vegetarian-friendly dish that also will appeal to die-hard meat lovers. If you are so inclined, then you can always add chicken, shrimp, or slices of beef or pork to it too.
Vegetable Yakisoba Recipe
If you are not familiar with yakisoba-style noodles, then it is time to learn more about this versatile noodle that comes to us from Japan. It is very similar in style to Italian spaghetti noodles. However, the term translates as "fried buckwheat", and they are not interchangeable.
The noodle itself is typically a bit slimmer than spaghetti, but thicker than angel hair. It has a nice bite to it and a unique flavor too.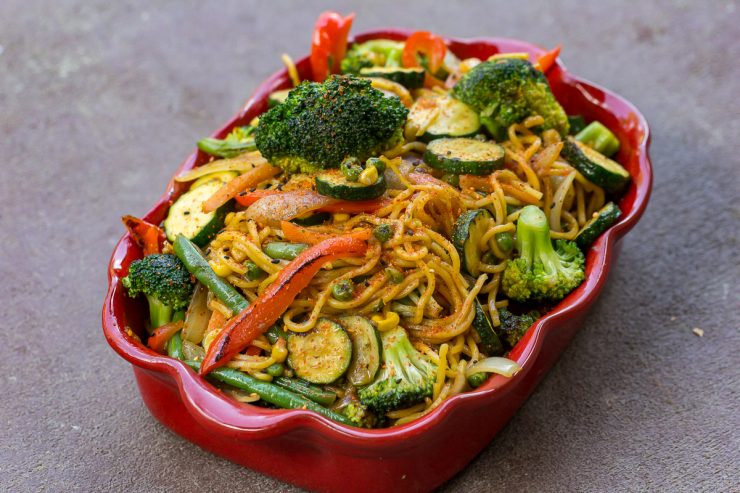 Vegetable Yakisoba Noodles
Just like the term "spaghetti" refers to a specific style of wheat noodle, yakisoba noodles also are a type of noodle.
Also, ramen style noodles are often used to make yakisoba. If you can't find yakisoba noodles then you can use some packets of ramen noodles instead, but leave the dried version in the packets alone. That has no place here.
You can usually find both Ramen and Yakisoba in the refrigerated section of the market, and at any Asian market.
Sometimes they are labeled as Chinese-style noodles.
The best part of fresh noodles like yakisoba is they cook very quickly. Right when you take them out of the package they are already "al dente". So cooking them really comes down to heating them up to the perfect temp and softening them up a touch.
Make sure not to treat them like dried pasta because they will be falling apart by the time you take them out.
They also tend to come in bags and not be cut to a specific length like spaghetti noodles. So you tend to cut them up a bit as you cook them so it is easier to serve.
More Blackstone Recipes here!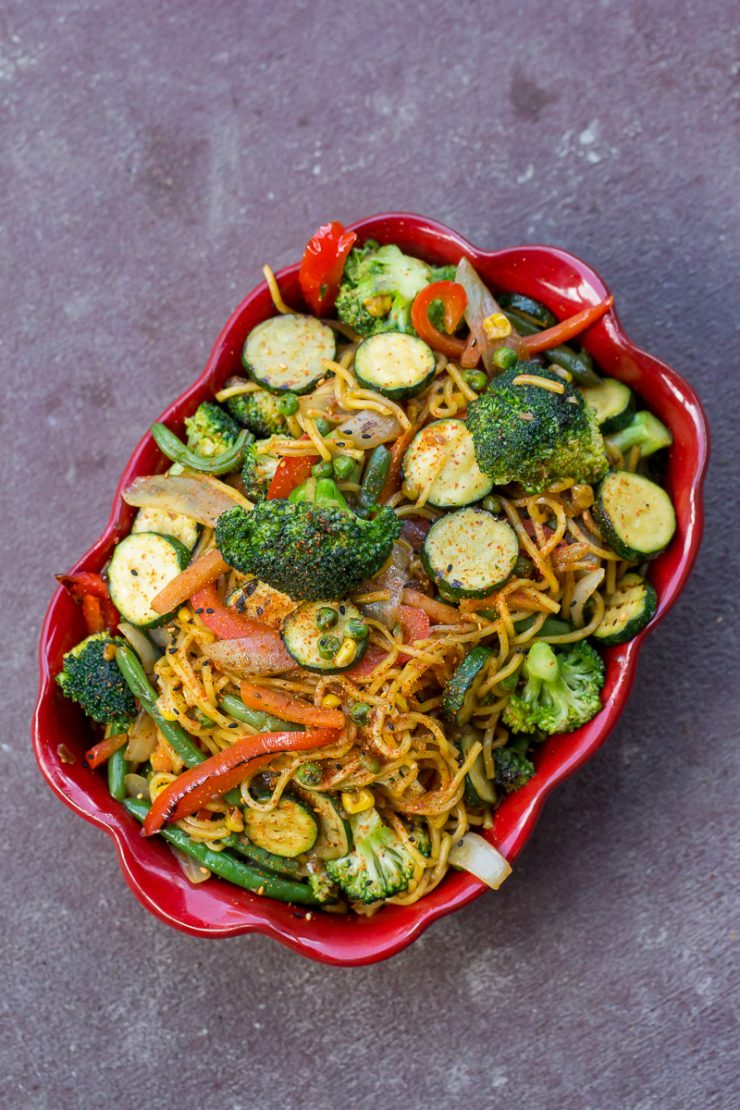 Yakisoba with vegetables
In Japan, yakisoba noodle dishes are highly revered as the ultimate comfort food. The super-long noodle is meant for slurping up. The more noise you make slurping them up, the more you honor the chef who made the dish.
So, have fun with that, and don't worry about scolding anyone that seems to be making a spectacle of it.
In Japan, these noodles are so popular that they are even served in sandwich buns similar to hot style buns. Next time someone offers you a noodle sandwich now you know they are not completely nuts.
This Grilled Shrimp Kabob would be perfect with yakisoba!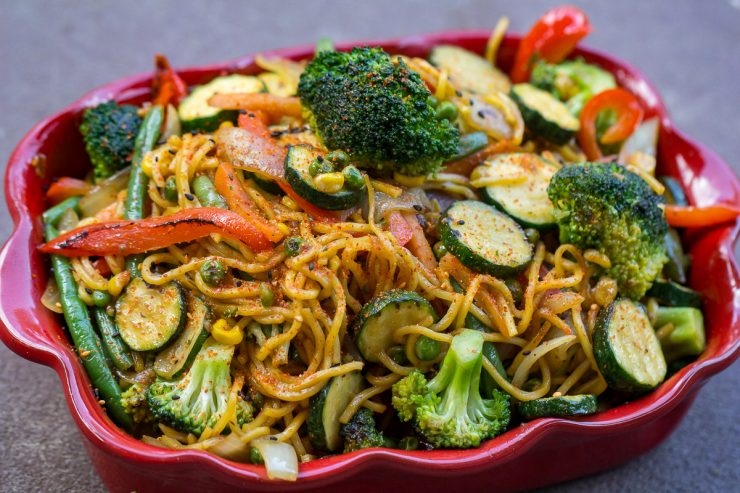 What kind of vegetables should I use?
Any veggies that you like to use for your typical stir fry dish works here too. Everything from mushrooms, to carrots, broccoli, and zucchini all work great. Eggplant is another great way to go. Onions of course can't be overlooked. Throw in some asparagus if you have it, and whatever else came in your vegetable delivery that you haven't found another good use for.
If you want to spice things up a bit, then mince some Thai chilis into the stir fry. They do pack some heat, but you can control how much by how many you chop into it.
I've heard it said that when the restaurant asks if you want "one, two, or three-level spice", that usually just means whether or not they use one, two, or three hot chilis in the dish. (Cue "the more you know" banner.)
Egg Rolls are my favorite appetizer for stir-fry night!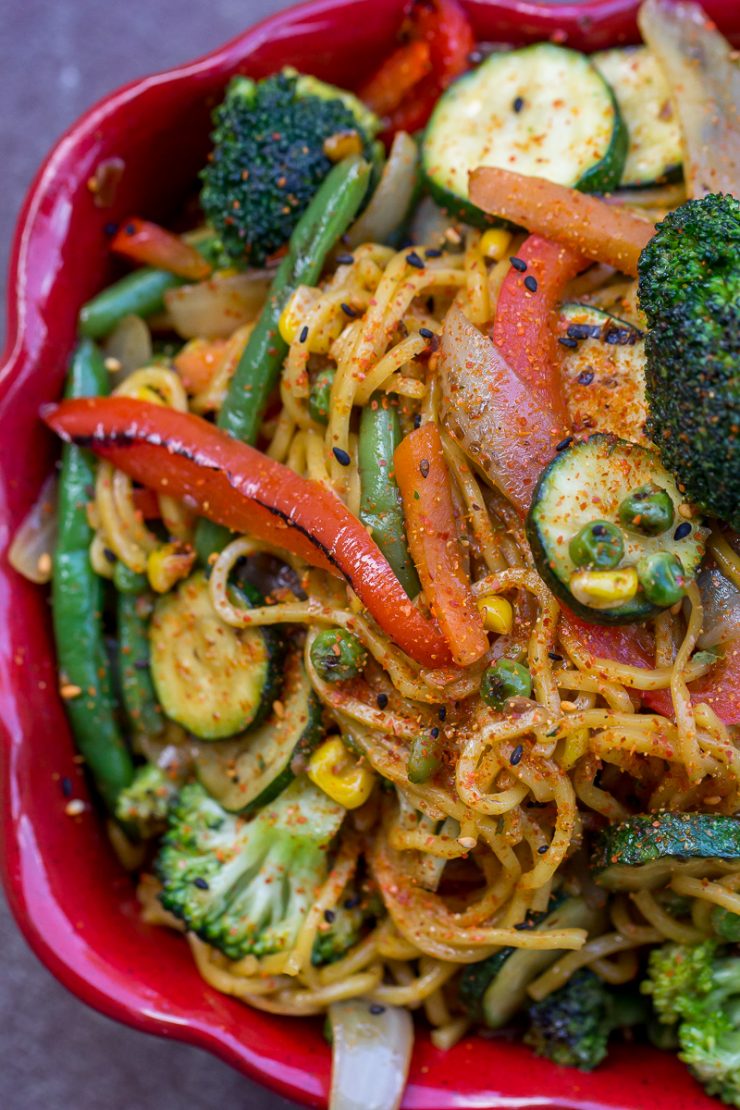 What kind of sauce should you use?
Once you try my stir-fry sauce, you're going to be looking for excuses to put it on everything. It is a sauce with a bit of spice, a touch of sweet, a lot of savory umami, and a hint of sour.
The sauce is full of garlic and simmers soy with vinegar and a bunch of other Asian spices and flavors like ginger.
It adheres nicely to the noodles and since it has a bunch of garlic in it you don't have to add garlic to the stir fry necessarily…unless you completely love garlic and can't get enough. Totally valid.
How about some Fried Pork Dumplings?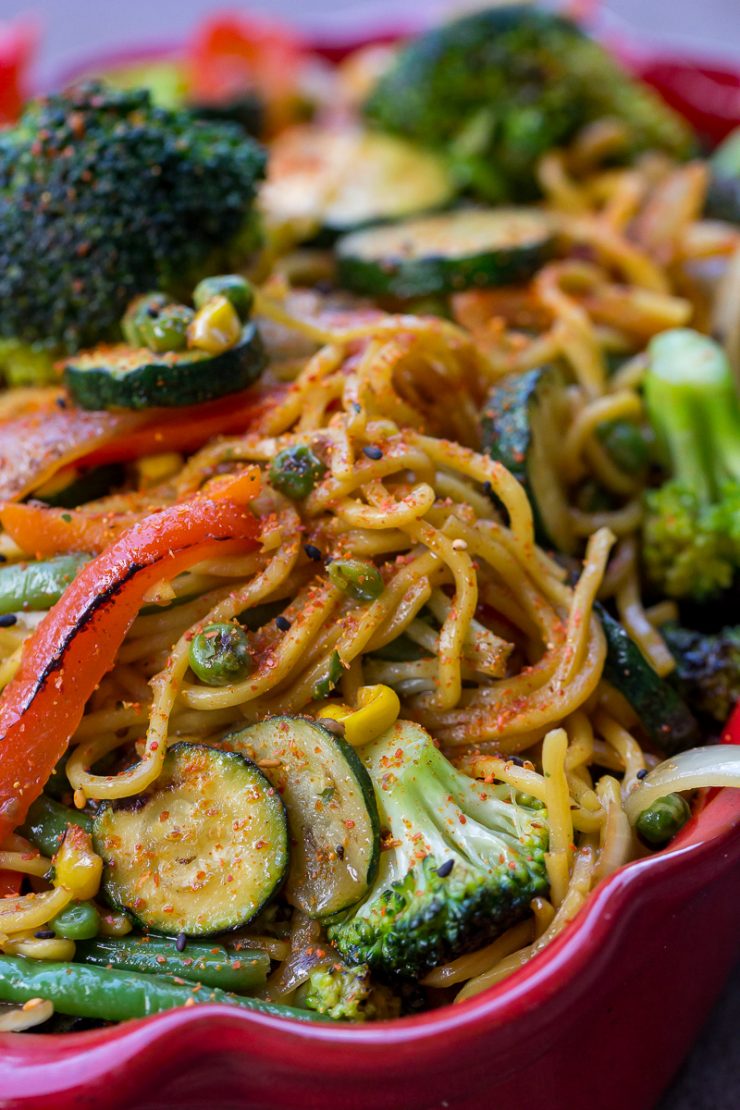 Want some more Asian inspired dish ideas?
If you want to serve yakisoba noodles as a side or a main dish then, either way works fine. You might be looking for a couple more Asian style dishes to serve with it too. In which case… look no further!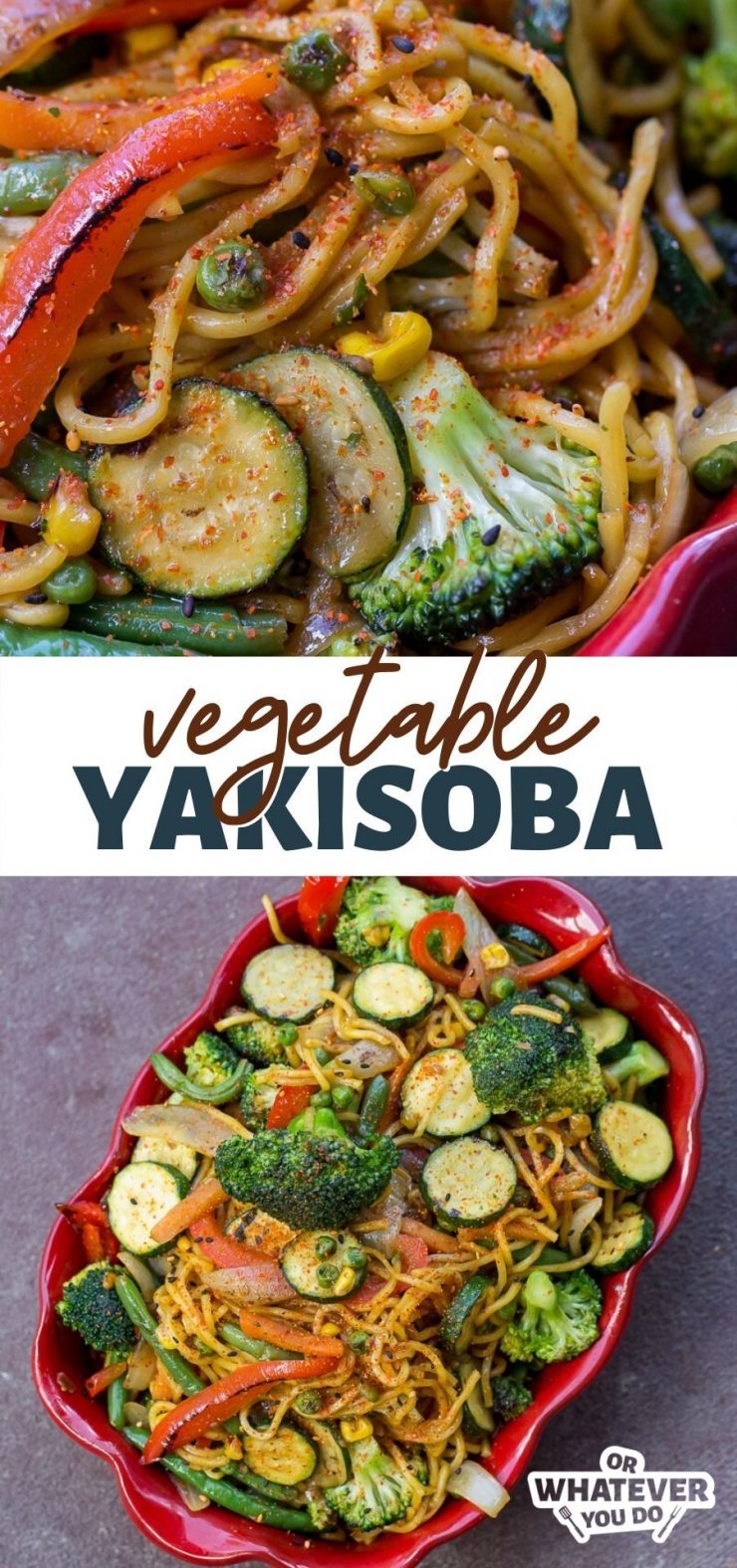 How to RE-SEASON your Blackstone
Yield: 8 servings
Blackstone Vegetable Yakisoba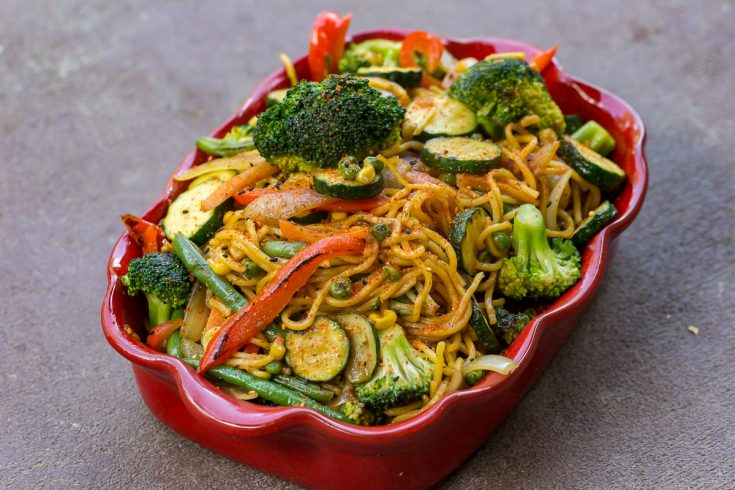 This delicious vegetable yakisoba is a stir fry with tons of broccoli, zucchini, green beans, peppers, and onions. Keep it vegetarian or add in some protein of your choice!
Ingredients
Sauce
2 tablespoons soy sauce
4 tablespoons water
2 tablespoons mirin
1 teaspoon sesame oil
2 teaspoons minced garlic
2 teaspoons chili garlic sauce
1 teaspoon sriracha
2 tablespoons brown sugar
1/2 teaspoon ground ginger
1 tablespoon cornstarch
1 teaspoon canola oil
Stir-Fry
3-4 tablespoons oil
1/2 cup sliced onions
1 sliced bell pepper
1 cup chopped broccoli
1 cup sliced zucchini
1/2 cup matchstick carrots
1 handful baby spinach (optional)
17 ounces fresh yakisoba noodles
Instructions
Combine all of the sauce ingredients together, and whisk to combine. Set aside.
Preheat your griddle to medium-high heat, place 1 tablespoon of oil on the griddle, add a dash of sesame oil, and quickly stir-fry the vegetables until they are crisp-tender (about 3-4 minutes). Remove from the griddle, cover, and set aside.
Preheat the other tablespoon of oil on the griddle and add in the noodles, the vegetables, and the shrimp. Stir fry for one minute and then add on the sauce.
Stir until thickened, keeping as much of it with the noodles (and not running into the grease bucket) and serve immediately.
Recommended Products
As an Amazon Associate and member of other affiliate programs, I earn from qualifying purchases.
Nutrition Information:
Yield:
8
Serving Size:
1
Amount Per Serving:
Calories:

225
Total Fat:

9g
Saturated Fat:

1g
Trans Fat:

0g
Unsaturated Fat:

8g
Cholesterol:

120mg
Sodium:

802mg
Carbohydrates:

18g
Fiber:

1g
Sugar:

6g
Protein:

16g
Nutrition data provided here is only an estimate. If you are tracking these things for medical purposes please consult an outside, trusted source. Thanks!