Easy and delicious Garlic Bread Spread for you to try! Never buy the frozen or pre-made variety, ever again.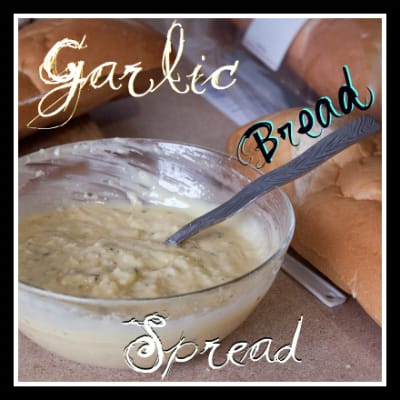 Is anyone ready for a savory recipe? I know I am! After the Christmas sugar high, I think we are all ready for something on the other side of the spectrum. Because my diet train got derailed in such an awesome way by our latest addition, I am not going to be inundating you with a ton of healthy, low-calorie recipes to start the new year. There are enough places to do that. I will save that until this summer, when I am back on the down slide, and by then a bunch of you will have fallen OFF the diet wagon and will be ready to get back on again, right? I hope not! If you have made a "MUST LOSE WEIGHT!" New Year's resolution, I sincerely hope you stick to it and succeed. Its a hard, difficult journey, and you probably shouldn't use my recipes more than once in a while, because the ones that I post are often not very diet friendly. We are going to brave the Y today and take the kids swimming. I am anticipating record numbers of new members there this week. We'll see!
This is the easiest side dish to accompany your next pizza or pasta meal. This spread comes together in about 5 minutes, and it is so simple and versatile you can add or omit as your tastes dictate.
Gather your ingredients together.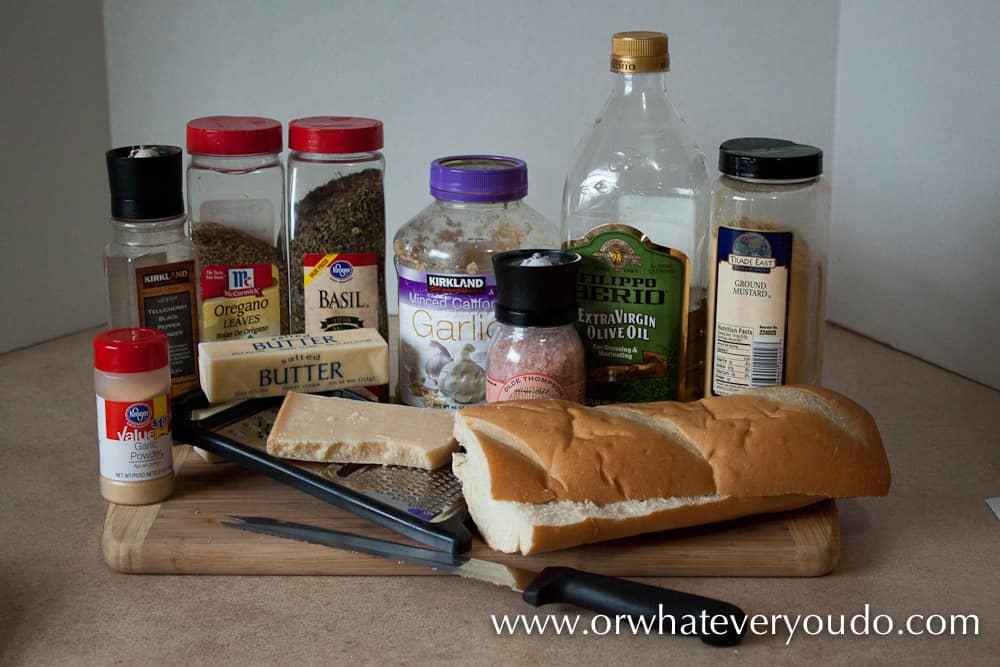 Toss them all into a bowl, and mix. Simple, huh? You can add some red pepper flakes if you like a little of that. You can use roasted garlic instead of raw. You can use a little onion powder if you like that kind of thing. If you don't have good Parmigiano, you can use the green stuff in a can even.
Rub a fair amount onto a fresh loaf of french bread, slice, and bake.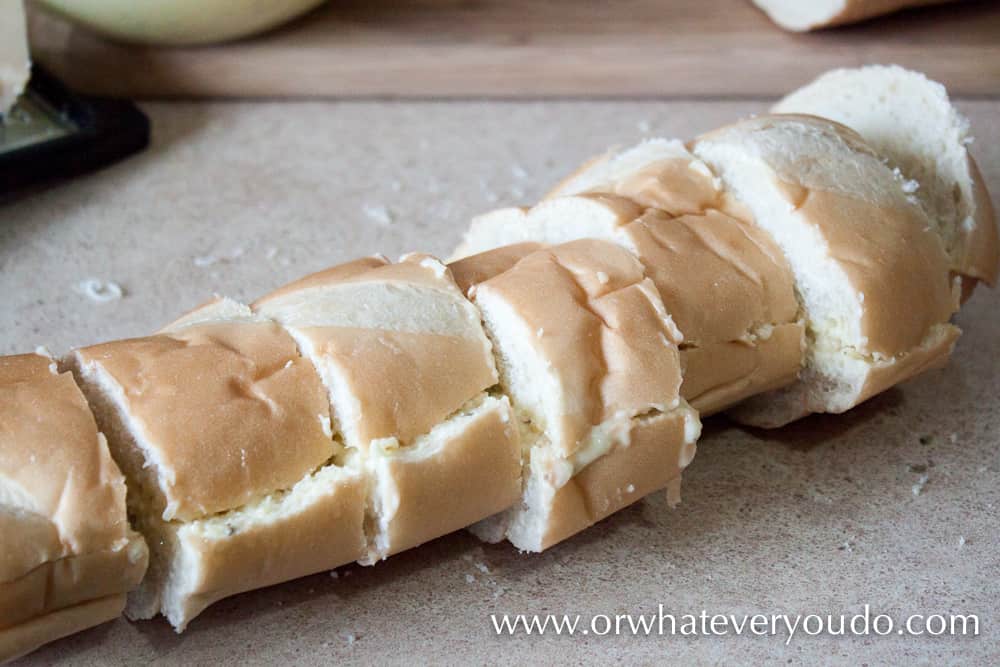 The amounts listed made enough spread to cover both sides of two GIANT loaves of Sam's Club french bread. This can easily be refrigerated if yours are smaller, for the next time you get a craving for some fresh garlic bread.
I have no after pictures of this because it got eaten so fast! You will have to use your imagination this time, until the next time I make up a batch. 😉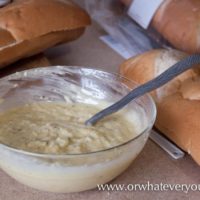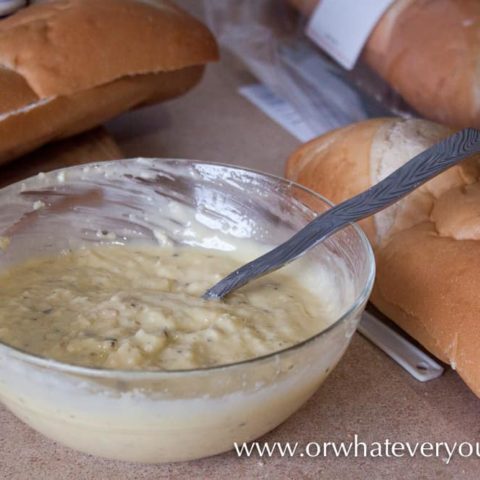 Garlic Bread Spread
Yield: 8 servings

Prep Time: 5 minutes

Total Time: 5 minutes

This homemade garlic bread spread is better than anything you can buy at the store. Make your own and save the money and get a spread that is delicious and easy.
Ingredients
1 cup softened butter, salted
1/2 cup extra virgin olive oil
1/2 cup grated Parmigiano Reggiano
2 tsp chopped garlic
1/2 tsp salt
1/4 tsp garlic powder
1/4 tsp oregano
1/4 tsp basil
1/2 tsp parsley
1/4 tsp ground mustard
Sprinkle ground pepper
Instructions
Mix together until combined.
Spread on sliced french bread.
Bake until toasted.
Nutrition Information:
Yield: 10 Serving Size: 1
Amount Per Serving: Calories: 281 Total Fat: 31g Saturated Fat: 14g Trans Fat: 1g Unsaturated Fat: 15g Cholesterol: 53mg Sodium: 353mg Carbohydrates: 1g Fiber: 0g Sugar: 0g Protein: 2g

Nutrition data provided here is only an estimate. If you are tracking these things for medical purposes please consult an outside, trusted source. Thanks!