This simple Homemade Garlic Butter will have you ditching that frozen loaf and whipping up your own batches of this to keep in the fridge. Fresh ingredients make all the difference, and this simple garlic bread spread only takes 10 minutes to whip up!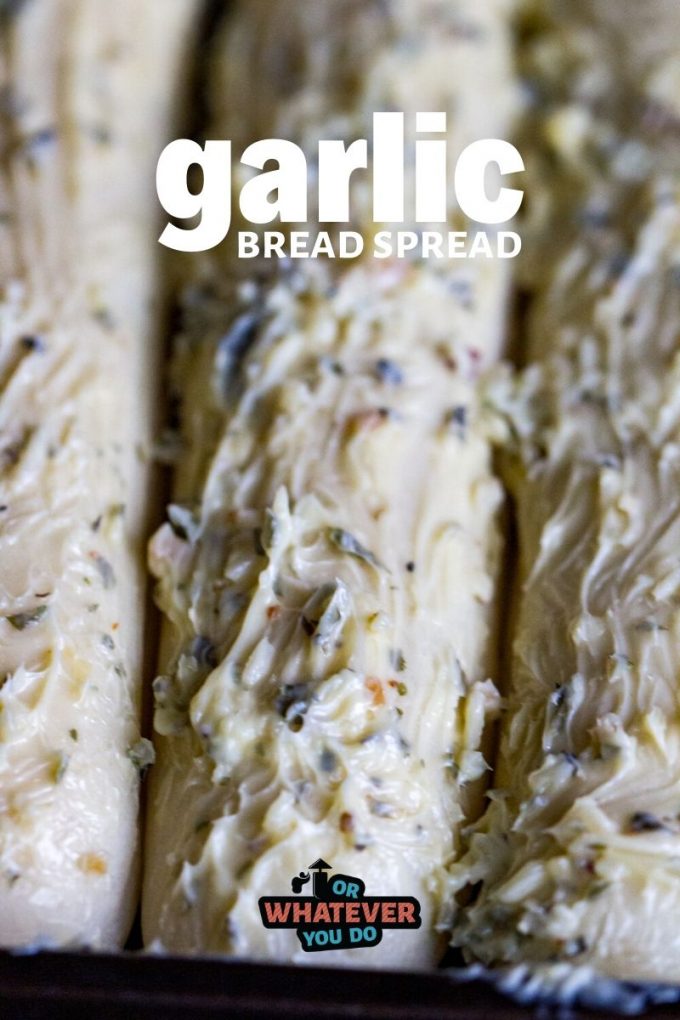 Garlic Bread Spread
Nothing beats a crusty loaf of garlic bread or a basket of buttery breadsticks with a big plate of pasta, and making it on your own is SO simple.
For a long time I used to buy those frozen loaves of bread with the garlic butter already painted on them. You stick the whole thing in the oven for 20 minutes, and it comes out crusty and garlicky, but the texture just isn't there like it is with REAL fresh bread.
The frozen variety definitely works in a pinch, but if you are a big pasta house or carb fan like we are, why not just keep a small vat of this homemade garlic bread spread in the fridge so you can have it anytime.
There is just no substitute for this tiny little effort, with ingredients you probably already have on hand. You can turn any ordinary meal into an extraordinary taste explosion with this little trick in your pocket.
Grab some whipped butter, fresh garlic, parsley, parmesan cheese and some Italian Seasoning and get ready to WOW your family and friends.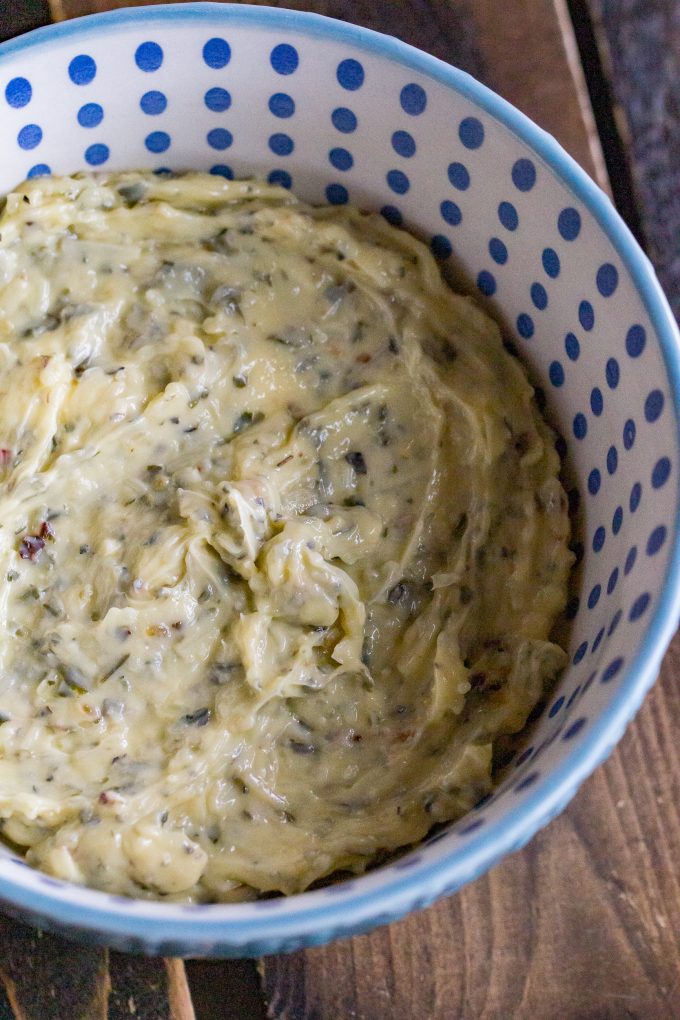 What kind of butter should you use for garlic bread spread?
Usually I'd say that the type of butter doesn't really matter, but in this case it is the base of the whole thing so you'll want to make sure you are using something that is high quality for the best results.
I used Kerrygold butter in this batch, but any salted butter that you'd gladly eat spread over a piece of bread will do.
Get all my delicious PASTA RECIPES!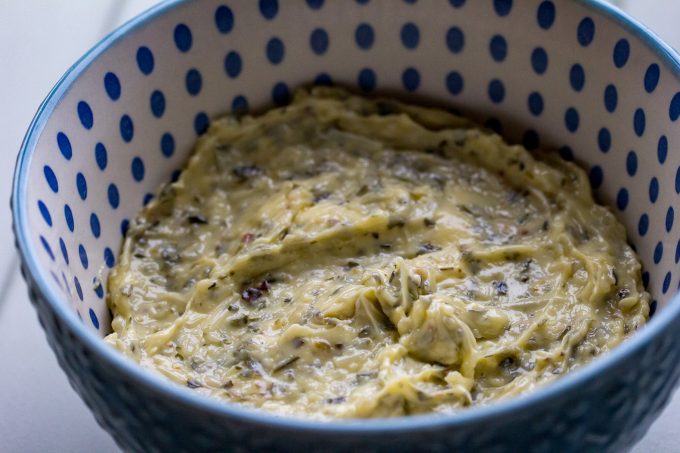 Garlic Bread Spread Shopping List
salted butter, the good kind
fresh garlic
parsley
Italian seasoning
freshly grated parmesan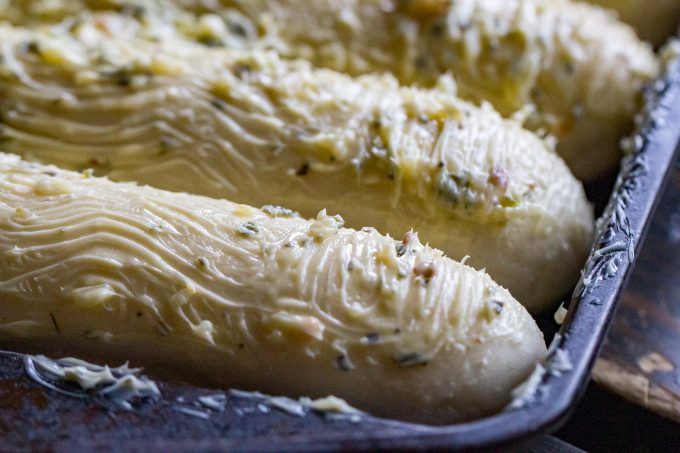 What kind of bread is best for garlic bread spread?
French Bread
Usually I buy one of those loaves of freshly baked French bread from the grocery store whenever I go. We use it for giant sub sandwiches, to make French Bread Pizzas, or for big loaves of crusty toasted garlic bread.
Breadsticks
Pictured here you see some pre-made breadsticks that my local grocery store carries in the bread aisle. They are the "heat and eat" variety, and should be browned before serving. That makes them perfect for this use because you can slather them in butter before heating in the oven and it takes care of the browning and buttering all at once.
Toast
One of our favorite things to serve with a big plate of spaghetti is a big plate of garlic toast. Use your favorite sandwich slices and toast them up and slather on some of this awesome garlic bread spread.
My kids like to make spaghetti toasts and load up piles of noodles on the toast for bites.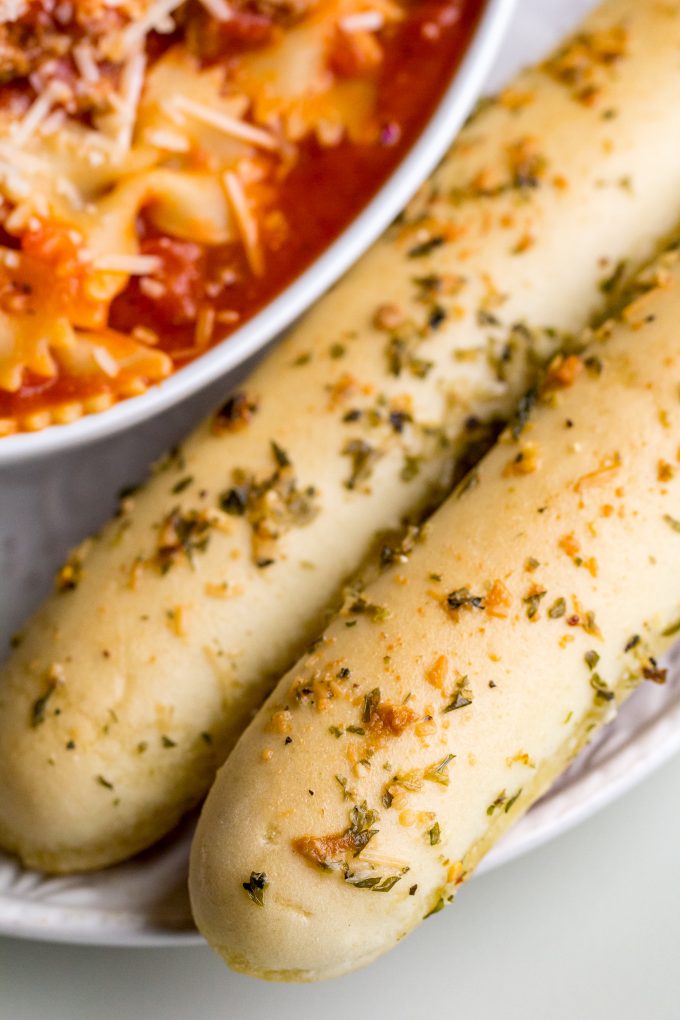 What else can I make with this Garlic Butter?
Garlic butter isn't only for bread!
You can use it to make shrimp scampi, to saute chicken or fish. Anything that would benefit from a little blast of garlic, butter and seasonings.
Pizza boats! Yes, French bread, garlic butter, and your favorite pizza toppings. Quick, easy and delicious.
Try a little of this on your next homemade pizza. Just a bit spread on the crust, then topped with your favorite Alfredo sauce and chicken, spinach, cheese. My mind is wandering again. Sorry.
My point is, this Garlic Butter has a million and a half different uses.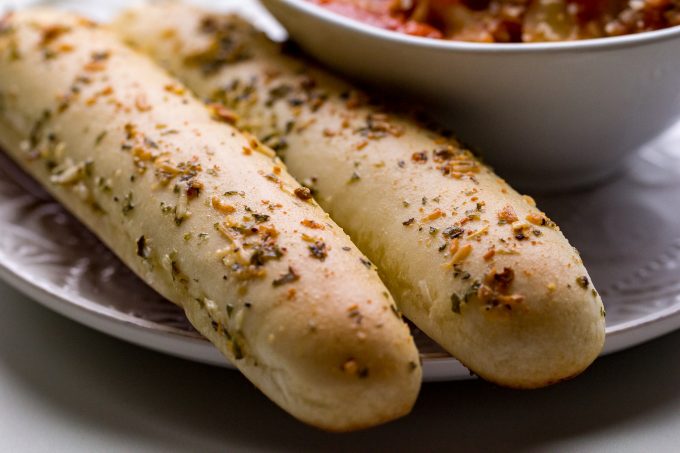 What should I serve with homemade garlic bread?
I am OBSESSED with pasta, so this is an easy one. First, my favorite, love of my food live, pasta with bolognese sauce. A very close second would be my homemade lasagna. I also have an awesome alfredo lasagna if that's more your style.
How do I store this Garlic Butter?
The great thing about this is you can mix this up at any time the feeling strikes you. Or, you can whip up a bowl-full and store it in the refrigerator in a covered container for up to 2 weeks. In the freezer this keeps for up to 12 months!
Try freezing it in an ice cube tray so you have a little flavor bomb ready to get tossed into a pan, or thawed and spread on a loaf of fluffy french bread.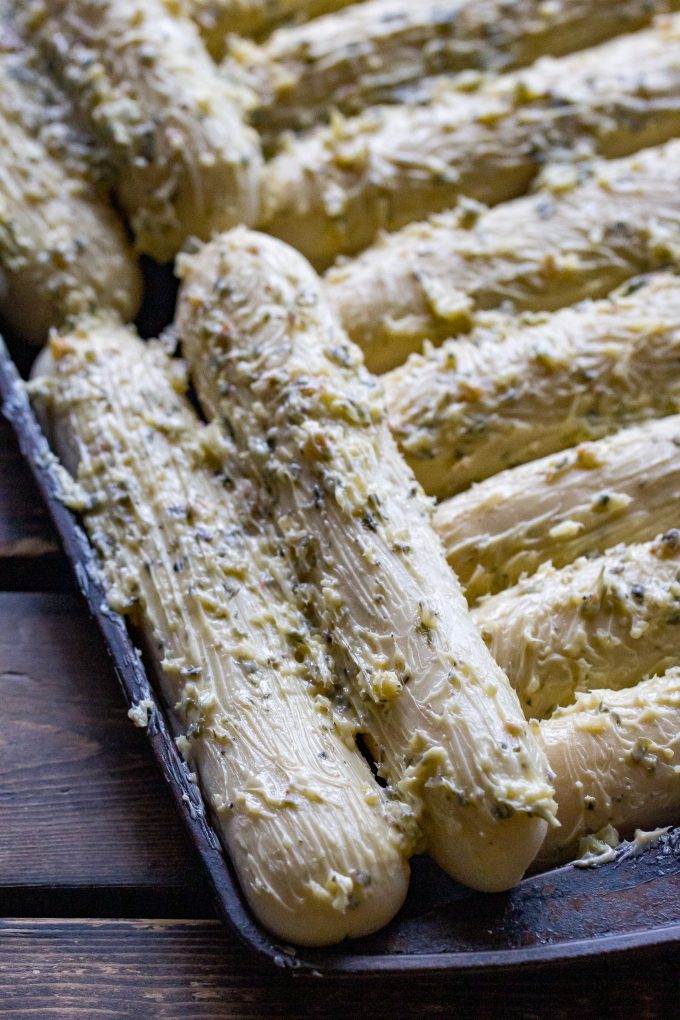 More uses for homemade garlic butter
This Garlic Butter can be used in so many ways, it just makes sense to have it around. Use it in:
Baked potatoes
Garlic mashed potatoes
Scampi
Toss with noodles and top with more cheese
Steamed vegetables
Grilled or baked salmon
You name it. You create it. Your family will LOVE it.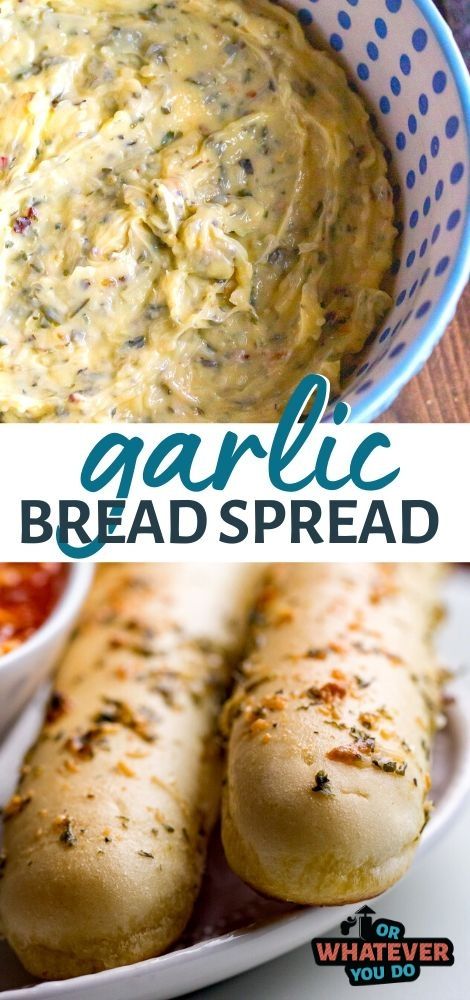 Yield: 8 servings
Garlic Bread Spread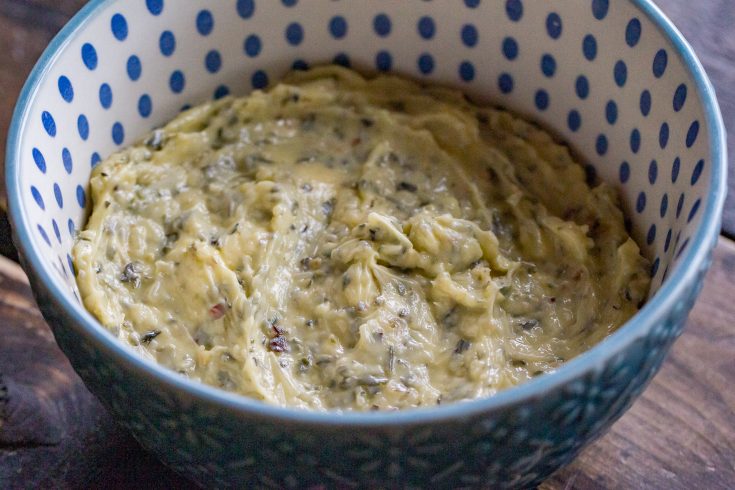 This homemade garlic bread spread is better than anything you can buy at the store. Make your own and save the money and get a flavorful spread that is delicious and easy.
Ingredients
1 cup salted butter, softened
1/2 cup extra virgin olive oil
1/2 cup grated Parmigiano Reggiano
2 teaspoons chopped garlic
1/2 teaspoon salt
1/4 teaspoon garlic powder
1/4 teaspoon oregano
1/4 teaspoon basil
1/2 teaspoon parsley
1/4 teaspoon ground mustard
Sprinkle ground pepper
Instructions
Mix together all ingredients until combined.
Spread on bread.
Bake until toasted.
Recommended Products
As an Amazon Associate and member of other affiliate programs, I earn from qualifying purchases.
Nutrition Information:
Yield:
12
Serving Size:
1
Amount Per Serving:
Calories:

234
Total Fat:

26g
Saturated Fat:

12g
Trans Fat:

1g
Unsaturated Fat:

12g
Cholesterol:

44mg
Sodium:

285mg
Carbohydrates:

1g
Fiber:

0g
Sugar:

0g
Protein:

1g
Nutrition data provided here is only an estimate. If you are tracking these things for medical purposes please consult an outside, trusted source. Thanks!