Cheesy Artichoke Dip is the sort of fabulously decadent appetizer that will destroy appetites, but the good news is no one will mind if it does. Instead of bringing your bread to the dip, bring the dip to your bread.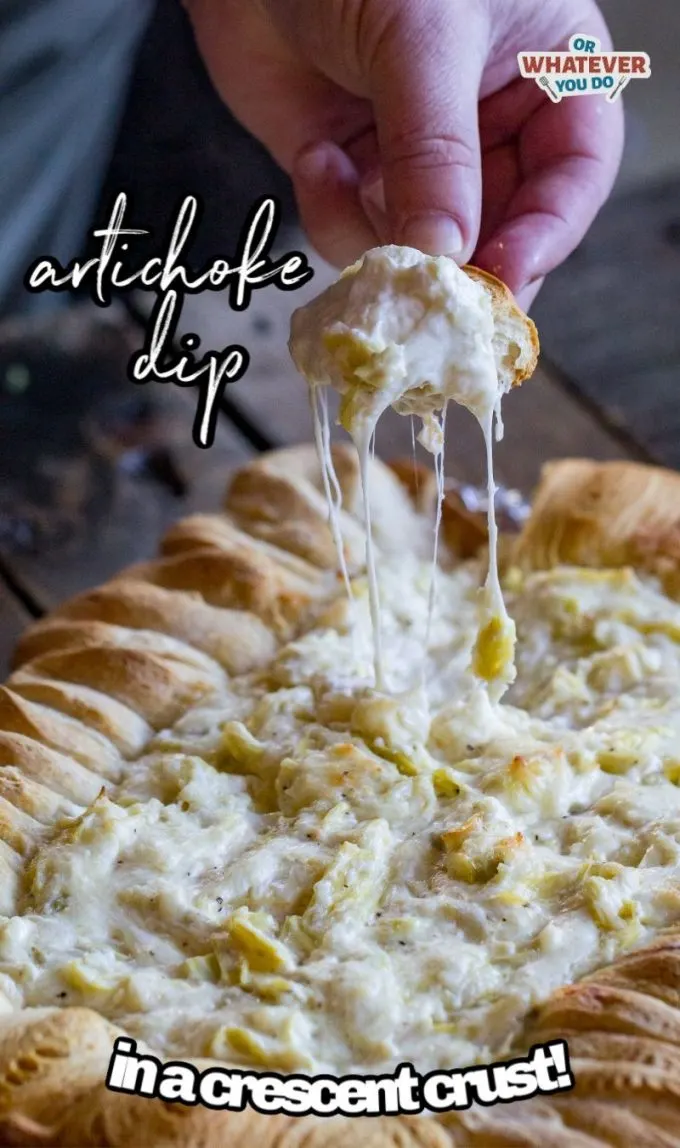 Homemade Cheesy Artichoke Dip
With flaky and buttery crescent roll dough baking on the bottom, a perfect crust forms. Keeping the artichoke dip in the center, the surrounding buns form a wall. As a result, the cheesy artichoke dip melts into the crust perfectly.
Before everyone starts diving in for a bite, enjoy a moment of pride and satisfaction. It is a dish that looks and tastes much fancier than its simple ingredients and quick preparation suggests. Feel good food never looked so good too.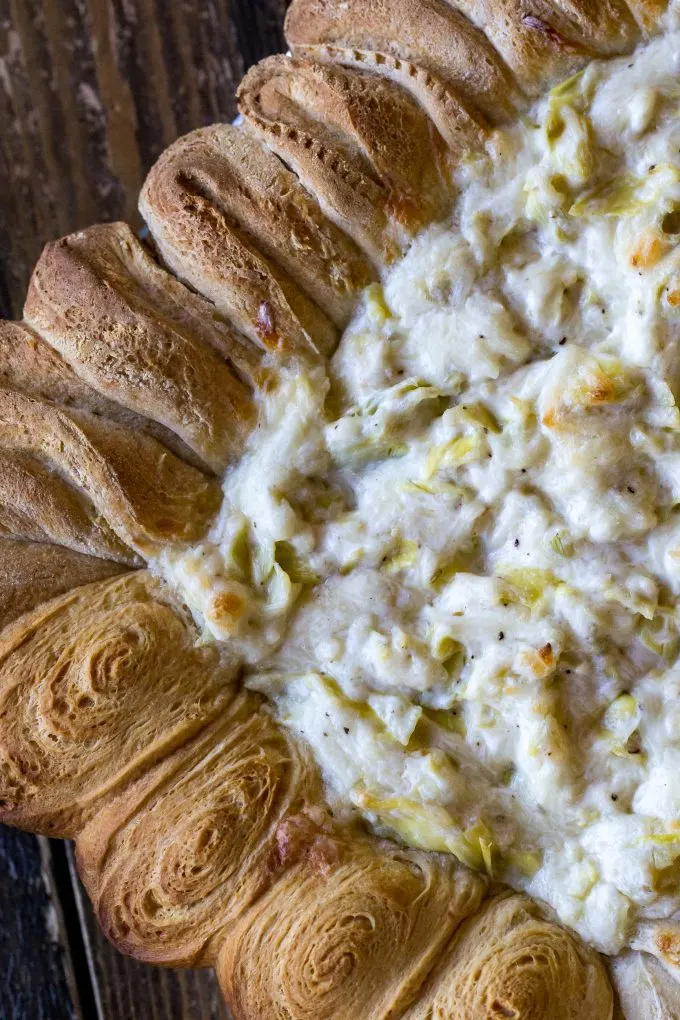 All You Need For Cheesy Artichoke Dip
Making cheesy artichoke dip is really easy. You set up the dough, par bake the crescent crust, and dump in the dip. The dough can be the quick dough you find in the foil lined tubes. Or you can make your own of course. But I recommend you keep it simple.
If you want to even use pre-made artichoke dip, I won't be mad at you. Making it at home is simple, but if you have a brand you love feel free to use it.
Artichoke dip can often be found often in the deli section, or look on the aisle where the crackers and chips typically are kept.
Artichoke dips usually contain cheese, but don't let that stop you from adding your own cheese or cheese blend. Making it cheesier is never a problem unless you are a comedian and your set is starting to bomb.
Get more awesome Appetizer Recipes!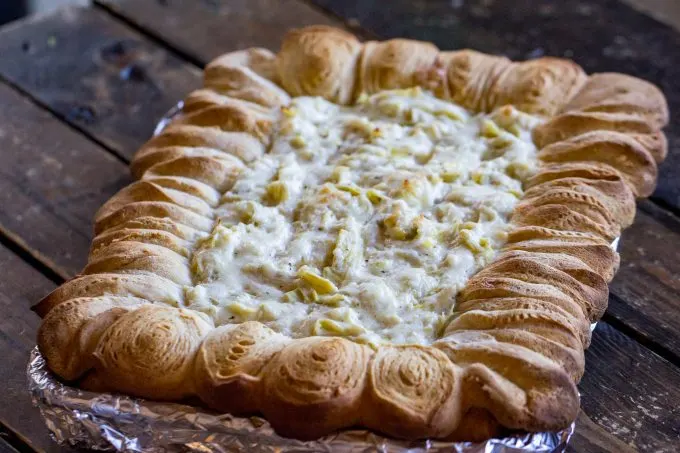 What kind of cheese can you use?
If you want to add more cheese to the dip, then I can recommend a couple. You certainly can go with whatever cheese you have on hand, or prefer most.
A crumble of goat cheese brings out the vinegar tang of the artichoke dip nicely. Or, some fresh buffalo mozzarella ripped into bits melts into wonderful cheese pools. Mexican cotija crumbled on or Greek Feta adds a bit of saltiness that plays well too.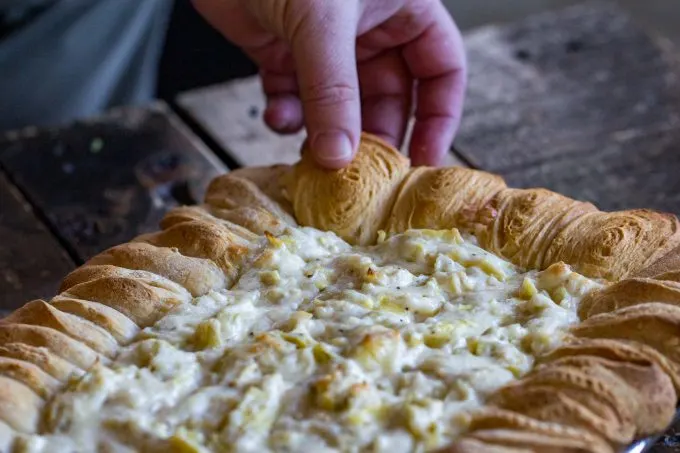 Beware Of The Cheesy Artichoke Dip
Now keep in mind, the oil from the dip and cheese will be piping hot when you pull it from the oven. The temptation to dig in before it cools a bit will test your will. Don't succumb to the urge to dig in too soon.
If it is really oily, then you might want to hold the corner of a paper towel in the oil. The hot oil will quickly soak up into the paper. You don't have to pat it down with the paper. You risk damaging that perfectly golden flaky crust and pulling off the dip topping. Let the paper towel wick it up instead.
How much this will be a factor depends on what types of cheese you use, but either way it'll be delicious so don't let that deter you.
Do you like dips? Try this spinach artichoke version!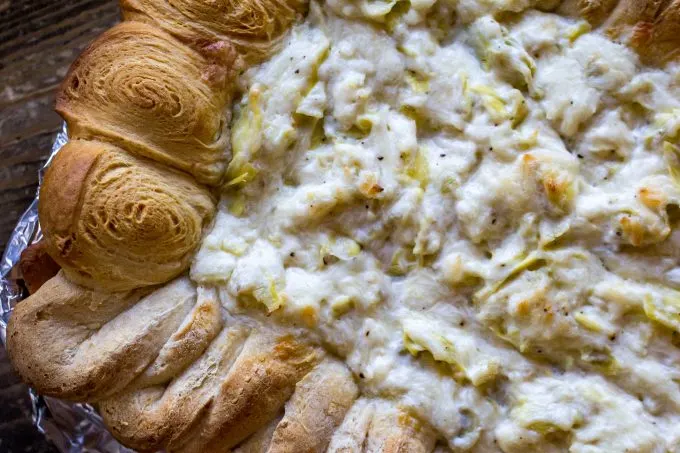 Can I Save Leftovers?
In the extremely unusual event that you have some leftovers, then they store easily. You can keep it up to a week in the fridge then reheat. Preferably in the oven rather than the microwave for the sake of the crust.
Ideally you'll store it right on the pan you cooked it on.
I would not suggest shooting for leftovers though, this dish is definitely best served hot and fresh.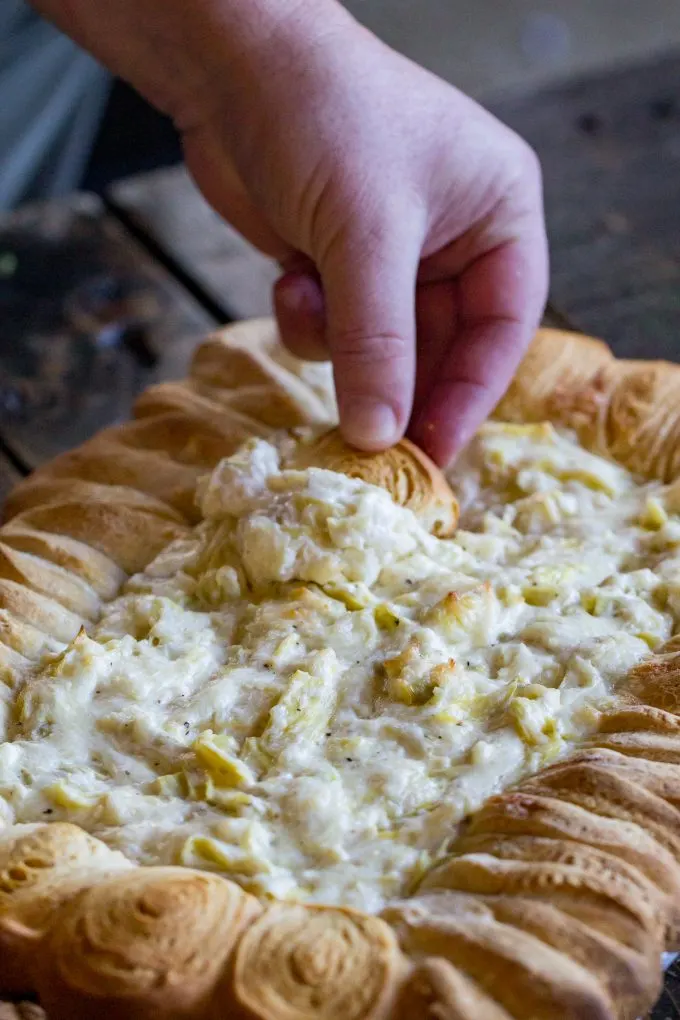 What Can I Serve With Cheesy Artichoke Dip?
Since the cheesy artichoke dip is a meal unto itself, you can make it a meal with combined with a soup or a salad. I have a few recipes in mind that might work.
Try one of these:
Enjoy the meal!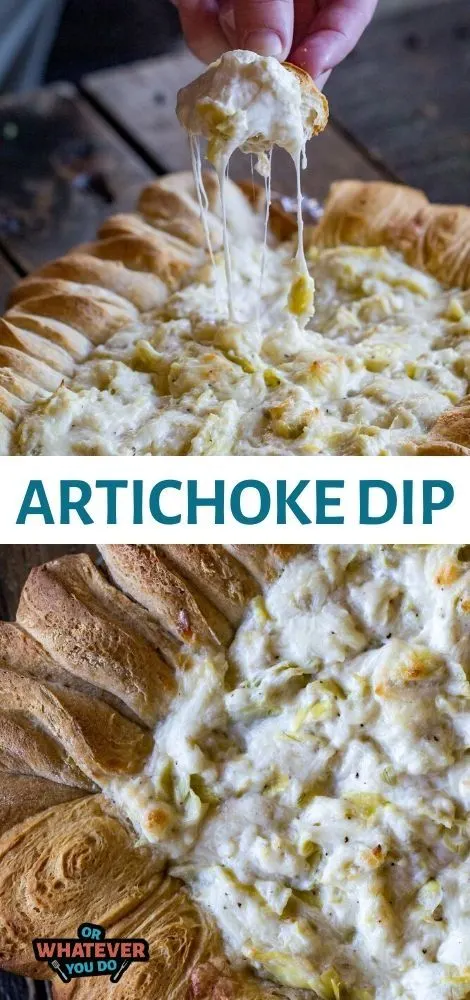 Yield: 12 servings
Cheesy Artichoke Dip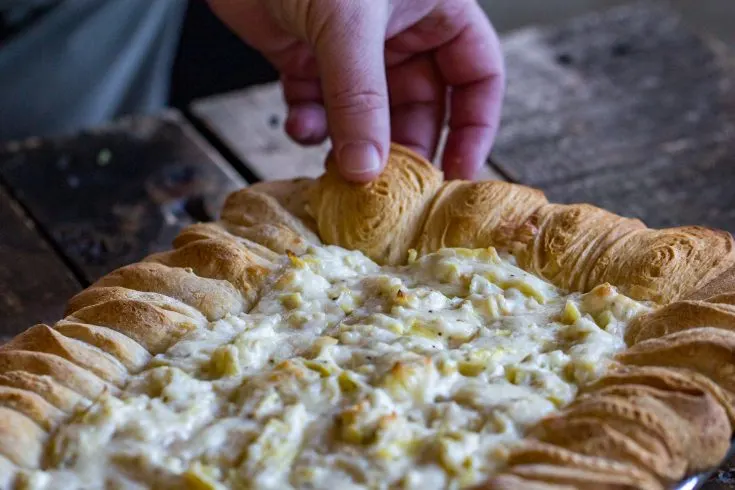 This homemade cheesy artichoke dip features a crescent sheet crust and crescent rolls and biscuits all around the edges. A homemade artichoke dip and copious amounts of cheese make this a must-have dip for any of your upcoming gatherings.
Ingredients
1 roll crescent roll dough (sheet style is easier but either one will work)
1 tube refrigerated mini biscuits (regular-sized will work, I'd just cut them in half)
1 tube refrigerated biscuits (regular size)
Artichoke Dip
1 teaspoon minced garlic
1 cup mayo
8-ounce block cream cheese (softened)
1 cup sour cream
1/2 teaspoon salt
1/4 teaspoon freshly ground black pepper
2 cups chopped and drained artichoke hearts (marinated or canned, or a combination)
2 cups shredded mozzarella
1 cup shredded parmesan
Instructions
Preheat the over to 375°.
Spray a large cookie sheet with baking spray, and lay out the crescent dough along the bottom.
Par-bake the crust for about 10 minutes, or until it is lightly golden brown.
Place the biscuits around the outside edges of the pan. Lightly fold in half to make them all fit, if necessary, as pictured.
Mix together all of the artichoke dip ingredients, and place on top of the dough.
Bake at 375° for 15-20 minutes, or until the dip is bubbly and the biscuits around the edges are cooked.
Remove and let cool for 5-10 minutes, and serve.
Nutrition Information:
Yield:
12
Serving Size:
1
Amount Per Serving:
Calories:

450
Total Fat:

36g
Saturated Fat:

13g
Trans Fat:

0g
Unsaturated Fat:

20g
Cholesterol:

54mg
Sodium:

655mg
Carbohydrates:

23g
Fiber:

2g
Sugar:

3g
Protein:

10g
Nutrition data provided here is only an estimate.